The landscape of indie publishing is so rich and diverse right now. Risk of failure might be high, but that hasn't stopped so many courageous people fighting to forge, and make roaring successes of, some of the best publishing companies in the world right now – all with nothing but their own blood, sweat, and tears.
In recent years we've seen indie authors from indie publishing houses receive everything from Booker Prize nominations to Nobel Prizes. It's a fine time for all of these incredible indie book publishers.
The best Indie Publishing Houses in the UK
The indie publishing houses listed here, in particular, have impressed us endlessly through either their achievements or the standard of books they've put out in last few years. These are our top ten indie publishers in the UK, a list that we'll be updating often.
Red Circle Authors

As they explained to The Japan Times, Red Circle Authors are less about being a part of the ocean of publishing companies and more about being a home to Japanese and Japan-based writers.
And that idea of a home, in true Japanese fashion, comes through in the quality of their authors' writing, the translations, and even the aesthetics and feel of the books themselves.
With two directors and a handful of Japanese authors – Koji Chikatani, based in Tokyo, and Richard Nathan, based in London – Red Circle Authors are already carving out their niche in the world of indie publishing; and what a different niche it is.
In 2019, Red Circle Authors published a small collection of three short story chapbooks: Red Circle Minis. Three tales by three authors.
Each of them is an infinitely memorable and poignant work of its time – truly contemporary, honest, and insightful. Red Circle Authors have already done so much with so little, and we're eagerly anticipating so much more from them.
Drawn & Quarterly
For years now, Drawn & Quarterly have been at the vanguard of top-quality comics and graphic novels. The quality they maintain is astonishing – you can pick up anything published by them and be assured that it will be a smart, beautiful book worthy of your time.
But why was 2019 so special for them as one of the great indie publishing houses? Well, they published a ground-breaking, boundary-shaking Korean graphic novel: Grass by Keum Suk Gendry-kim, translated by the aggressively talented Janet Hong.
This book alone is reason enough for us at Books and Bao to sing Drawn and Quarterly's praises a hundred times over. But this book was also release on the heels of another incredible 2018 Korean graphic novel, also translated by Janet Hong: Bad Friends by Ancco.
This upward trajectory has us more grateful than ever for what D&Q is accomplishing with its indie authors – and this is what makes it one of the best publishing companies of 2019.
Strangers Press
In 2017, this small indie publishing house, based in Norwich UK, release a set of Japanese chapbooks known as Keshiki: a collection of fantastic Japanese short stories by some of the best writers of modern Japan.
Two years later, Strangers Press brought us the logical follow-up to Keshiki. Shifting their gaze from Japan to Korea, Stranger Press gifted the world with Yeoyu; another set of chapbooks, this time from some of the best Korean writers and translators in the business.
These writers and translators include such legendary authors as Han Kang and beloved translators like Sora Kim-Russell and Deobrah Smith (owner of Tilted Axis Press, which we'll get to shortly).
Keshiki put Strangers Press on the map as a publisher of original Japanese short stories. Now, in 2019, Yeoyu has cemented their place as a very special kind of indie publishing house.
Guts Publishing
Their tagline is "ballsy books about life" and that sums them up rather well. As their name implies, London-based Guts Publishing is one of those rare indie publishing houses that takes a fluffless, aggressive approach to life. They put a spotlight on the voices of working class poets and writers with a story to tell.
Uncensored and raw, the poetry and memoirs published by Guts Publishing detail the lives of their writers without a filter, giving them a voice that would be denied by any of the larger publishing houses.
Take Fish Town by John Gerard Fagan or Euphoric Recall by Aidan Martin — two memoirs by two working class Scottish men who have unique perspectives on youth, work, and politics. These voices are rarely heard in today's political climate but, thanks to Guts Publishing, they have a platform of their own.
Oneworld Publications
In 2019, Oneworld published An American Marriage by Tayari Jones, which went on to win the Women's Prize for Fiction 2019. While that is a wonderful and deserved achievement all on its own, it's Oneworld's dedication to publishing excellent works of translated litertature that garnered them a place on this list.
In 2019 they published Mouthful of Birds by Samanta Schweblin (translated by Megan McDowell), a book of weird and wonderful short stories from early in the year which we were chilled and stunned by (and which was shortlisted for the Man Booker International Prize 2019).
Other fantastic literature in translation from Oneworld in 2019 include: In The Shadow of Wolves by Lithuanian author Alvydas Šlepikas (translated by Romas Kinka) and Zuleikha by Guzel Yakhina (translated by Lisa C. Hayden).
In short, Oneworld is doing magnificent work in the world of translated literature.
Influx Press
London-based indie publisher Influx Press pride themselves on publishing fiction and non-fiction "from the margins of culture" and this is certainly an apt description.
The literature that Influx Press publishes ranges from marginalised stories by black writers to international gems of experimental translated literature. Many of the books they've published (such as Plastic Emotions by Shiromi Pinto and Boy Parts by Eliza Clark) have been prize-winners, either in the UK or in their country of origins.
If you're looking for a publisher that promotes and lifts up marginalised voices, Influx Press is who you're looking for. From ever spectrum of race, culture, class, gender, and sexuality, they celebrate diverse voices in literature and, in turn, they deserve to be celebrated by readers all over the UK and beyond.
Dead Ink Books
Like Influx Press, the Liverpool-based Dead Ink Books is one of the indie publishing houses that aims to raise up and champion smaller voices in literature. They support new authors who might be ignored or overlooked by the mainstream publishing industry.
It's these voices that often prove to be the most revolutionary and important. Radical in their thinking, their approach to writing, and their narrative voice, the writers published by Dead Ink Books are experimental, fresh, and exciting.
If an author has been published by Dead Ink Books, it's usually a sign that they have something unique and important to say through their literature. That they will provide readers with a unique reading experiences that pushes the boundaries of form and narrative. Look no further than Harriet Mercer's Gargoyles for proof of this.
Comma Press
Comma Press initially caught our eye through their 'A City in Short Fiction' series, in which a selection of short stories by local authors are picked and curated as a literary symbol of a city, summing up what one of Earth's cities is in terms of art and literature.
In 2019, they have released several of these, with their Book of Tehran and Book of Cairo being our favourites.
In 2019, they also released one of the year's most important books: Refugee Tales III, a selection of short stories by refugees in the UK. Hot on the heels of that book, they also released an incredible Palestinian short story collection by Nayrouz Qarmout: The Sea Cloak (translated by Perween Richards).
Both this collection and Refugee Tales III demonstrate the importance that Comma Press place on the voice of the unheard.
Comma Press give a platform to communities, cultures, and individuals who often go unheard, and they deserve all the success going forward as they continue on with their incredible mission.
Tilted Axis Press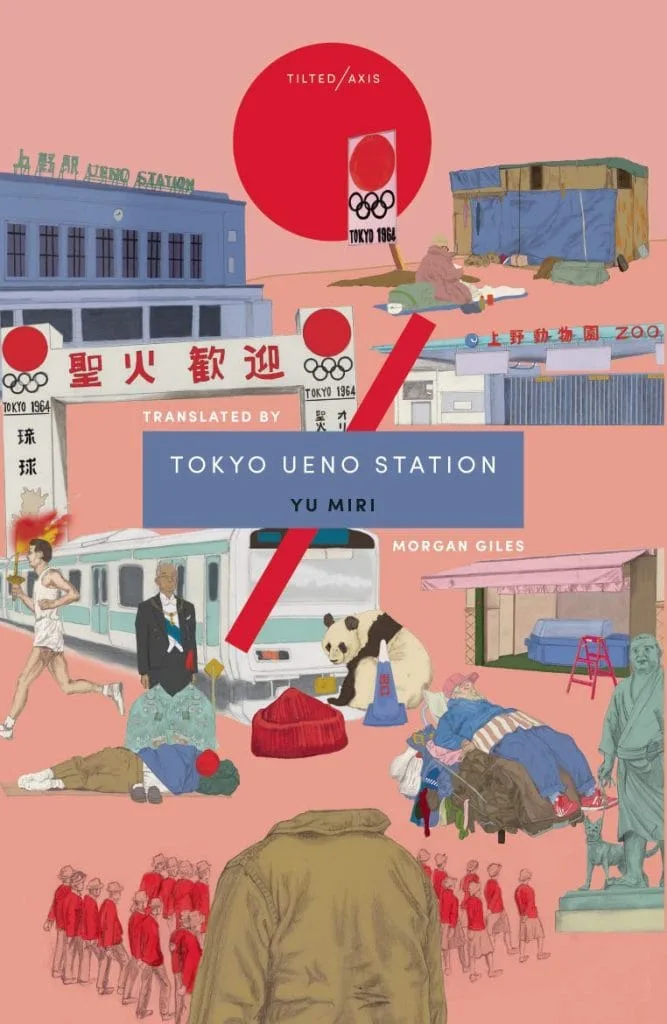 For several years now, Tilted Axis Press have been at the vanguard of literature in translation. They are press which began in the UK with Deborah Smith, legendary translation of Korean to English and co-winner of the Man Booker International Prize with Han Kang for The Vegetarian.
Tilted Axis is now run by people based all over Europe, and it keeps turning out ground-breaking works in translation from the world over.
2019 was perhaps their biggest year yet, with the release of Hamid Ismailov's new novel: Of Strangers and Bees (translated by Shelley Fairweather-Vega) and the insane smash hit Tokyo Ueno Station by the powerful rebel author Yu Miri and translated by the insanely talented Morgan Giles.
If 2019 is anything to go by, Tilted Axis will continue steadily taking over the world for years to come. And, truth be told, without Deborah and TAP, there wouldn't be a Books and Bao.
Peirene Press
Some of our favourite publishing houses focus on one specific genre or style. Others zero in on a world region and mine it for its finest books and authors. Peirene Press does exactly this.
This phenomenal publishing house has the uncanny and wonderful ability to find the most unique, challenging, and exciting short works of literature coming out of Europe right now, before having it translated into English by the best in the business.
Just look at the recent Snow, Dog, Foot for a prime example. Peirene Press is one of those rare publishing houses whose books don't need to be scoured. Just close your eyes, pick one up, and you're guaranteed to enjoy it.
Thanks to publishers like Peirene Press, it is such an exciting time to be a lover of world literature, as they work so hard to bring obscure works of literary genius to English shores.
And just look at those covers. Between Peirene, Tilted Axis (above) and Charco Press (below), we are living in a golden age of indie book design, with each and every one effortlessly taking your breath away.
Cipher Press
London-based Cipher Press is one of the most vital indie publishing houses the UK has. This is a UK publisher that promotes and celebrates queer writers of all times. Publishing both fiction and nonfiction, the books of Cipher Press are written by gay, lesbian, transgender, and otherwise non-cisgender and non-heterosexual authors.
Ranging from Brontez Purnell's 100 Boyfriends — a collection of queer Black short stories set in modern America — to Alison Rumfitt's Tell Me I'm Worthless — a haunted house novel about transgender identity and fascism — these are books as queer activism, and they're the reason Cipher Press deserves so much love and celebration.
No other UK publishing house is paying so much attention to, and thus raising up, the voices and experiences of LGBTQ writers from around the world. These are queer stories that transcend race, class, and gender, bringing us important stories both fiction and nonfiction from beyond the binaries and borders of sex and gender.
Charco Press
Charco Press are one of the great independent publishing companies of the last ten years. We at Books and Bao love them to pieces. Why? Because Latin America is where so much of the best literature in the entire world is coming from right now.
If you're looking for the very finest, most thought-provoking, challenging, genre-bending literary fiction, you'll find it across Latin America. And Charco Press, based in Edinburgh UK, take that literature and bring it to you. Every single book published by Charco Press is award worthy.
They have an astonishing eye for talent, get the best translators on board, produce stunning cover art and quality paperbacks, and through all this prove themselves to be one of the great indie publishing houses
In 2019, Charco Press published our favourite novel of the year: The Wind That Lays Waste by Argentinian author Selva Almada (translated by Chris Andrews).
They've also brought us a slew of other incredible books, including Loop by Brenda Lozano (translated by Annie McDermott) and An Orphan World by Giuseppe Caputo (translated by Juana Adcock and Sophie Hughes).
For the sheer staggering and consistent quality of these books, Charco Press deserve the world.
Galley Beggar Press
We are comfortable, if a little embarrassed, to admit that, before 2019, we had never come across Galley Beggar before. But then came Ducks, Newburyport.
Lucy Ellmann's 1,000-page epic, often compared to Joyce's Ulysses, was longlisted for the Booker Prize (and shafted – if they were going to have two winners, Ducks should have been one of them), and at the time of writing is also shortlisted for the awesome Goldsmiths Prize.
Ducks, Newburyport has been the most talked-about underdog novel of 2019: an absolute literary sensation, and a book that has skyrocketed Galley Beggar's popularity.
We could not be happier for them, and this is why they take the number two spot. While their publications are not part of the Books and Bao 'niche', we have adored Ellmann's novel as much as everyone else has, and we look forward to seeing all the success that Galley Beggar find in the future. They've earned it, and more.
Fitzcarraldo Editions
Fitzcarraldo Editions are the indie publishing darlings of 2019 and have proven themselves for two years in a row (at least) to be an unstoppable force – frankly, one of the best publishing companies on Earth.
In 2018, they published Flights by Olga Tokarczuk (translated by the staggeringly clever Jennifer Croft), which went on to win the Man Booker International Prize.
Flights was an astonishingly clever and powerful book that left a lasting impression on us. If that wasn't enough, Tokarczuk then went on to be awarded the 2018 Nobel Prize for Literature, spotlighting Fitzcarraldo's amazing ability to discover and publish only the finest literature from around the world.
Fitzcarraldo publish both fiction (in their now iconic blue covers) and essays (in their white covers). One of these essays, Annie Ernaux's Happening (translated by Tanya Leslie) was one of our favourite reads of early 2019.
Quite simply, Fitzcarraldo can do no wrong. They have gone from strength to strength, publishing both English books and works in translation – works that push boundaries and become instant classics. They are a sensation.
Read More: How East Asian Designers Created Honford Star's Unique Covers