If you've managed to exhaust the cultural hub that is London and are looking for an adventure that's easy to reach and offers you even more cultural and historic activities then look no further than these easy day trips from London.
Sure to satisfy any wanderer, whether they're looking for a stroll around a quaint village or are itching to explore some of the UK's finest stately homes and cathedrals; there's so much to discover just under two hours from London.
Note: For many of these we have full guides which we've linked to under the posts.
Day Trips from London for History Buffs and Bookworms
Each of these places is charming in its own way and you're guaranteed to leave will leave with wonderful memories.
Many of these places were also featured in our Literary Cities Guide if you want to find out more about a particular city.
1) Lavenham (Godric's Hollow)
Escape to Suffolk and visit one of the UK's best-preserved Medieval villages, with more than 350 listed buildings to admire as well as a 15th Century church. It's also one of the best and easiest day trips from London.
There's plenty to do in this historic town but it has garnered a lot of attention with Harry Potter fans in recent years.
Lavenham's stunning De Vere House was used as the filming location for Harry's childhood home and Ambus Dumbledore's former home in Godric's Hollow.
Since then, the house has become available for guests on Airbnb. Whether you want to stay there or not (costs are approximately £254 for two nights, including cleaning) simply taking a look at this marvellous property is enough to warrant the trip.
Similarly, make sure to pay a visit to 4th Century Hall House on the main square which mirrors the history of Lavenham over the centuries.
The village also has a delightful selection of independent shops, restaurants, and bakeries to enjoy with some highlights including the family-run artisan bakery Sparling and Faiers, award-winning ice cream at Hadley's, and the unique gallery space Posy.
If you're considering staying overnight (and aren't going for De Vere House) then we recommend the fifteenth-century Swan at Lavenham.
Lavenham offers some amazing guided walks for visitors which we highly recommend checking out to get the most out of this, one of the most historic day trips from London.
How to get to Lavenham from London
Accessible by train from Liverpool Street Station, you'll be changing at Colchester and heading towards The Swan station in Lavenham.
The journey will take around two and a half to three hours so best set out early. It's also an easy drive to Lavenham along the M11 which will also take two and a half hours.
2) Highclere Castle (Downton Abbey)
If you love Downton Abbey or simply enjoy exploring stately homes, then head over to Highclere Castle. The Grade I listed country house, built in 1679, is where the entire Downton Abbey series was filmed.
It's one of the easiest day trips from London and very much worth the time and money to get there. You can also explore the nearby 'Downton Village', the Church, and Yew Tree Farm.
When the castle is open (during the summer months and for holidays, as well tours throughout the year) you can explore the state rooms inside the castle, the Egyptian exhibition, and explore the extensive ground and gardens.
Today, the house is occupied by the current Earl's family, who have been living on the estate since 1679.
How to get to Highclere Castle from London
Here's an easy Downton Abbey Tour to get you there. As you will also see Downton Village, the Church, and Yew Tree Farm, places which are difficult to access via public transport, this tour is definitely worth it if you want the full experience.
If you do have a car then you'll be driving for an hour and forty-five minutes from London to Highclere Castle via the M25 and the M4.
To get there by public transport, you'll need to take the train to Newbury (48 minutes directly from Paddington Station). By train, this is one of the easiest day trips from London.
From there, there is a very limited local bus service between Newbury and the village of Highclere, then a very long walk. Most people will take a taxi from Newbury Station taxi rank to the castle.
Read More: Find out more books like Downton Abbey in our list of Books for Downton Abbey Lovers
3) Hampton Court Palace
Whether you're interested in learning more about the life of Henry VIII and his wife and children, or you simply want to experience the grand baroque palace built for William III and Mary II, Hampton Court is one of the best day trips from London.
There's so much to see at Hampton Court Palace, with sixty acres of gardens and grounds to cover, making it one of the best historical day trips from London.
Then there's the spectacular interior, including the State Rooms.
These include the infamous haunted gallery, the Tudor Kitchens, and Henry's Great Hall — complete with a timber roof that features Anne Boelyn's coat of arms and tapestries, hung in 1546, which depict Abraham's life from the Book of Genesis.
If you arrive in the winter season then you'll even be able to enjoy the ice rink which feels like a wonderfully traditional way to spend a crisp winter day. You can book tickets through the Hampton Court website and find out the latest opening times.
How to get to Hampton Court Palace from London
To get there by public transport, you'll need to get the train from Waterloo Station straight to Hampton Court Station and walk for twelve minutes.
This should take around fifty minutes making it one of the quickest day trips from London. You can also drive there in fifty minutes via the A4.
4) Stratford-upon-Avon
Birthplace of the world's greatest poet and playwright, William Shakespeare, Stratford-upon-Avon is a well-maintained medieval market town full of historic pubs and shops.
It's so wonderfully fitting that the town where Shakespeare was born is one that has remained looking so Shakespearean at its heart.
One of the most ideal day trips from London for theatre lovers, this is also the home of the Royal Shakespeare Company (RSC), so when you visit Stratford make sure to check what's on and go see a play. While you're there, you can also visit Shakespeare's family home and birthplace.
Aside from the great playwright, there's plenty to see in Stratford-Upon-Avon and a variety of independent shops, cafes, and restaurants lining the quaint side streets.
To carry on the Shakespeare theme, make sure to visit the adorable vintage tea room Shakespaw Cat Cafe which serves a fabulous breakfast, lunch, and dinner while surrounded by adorable rescue cats.
Make sure to reserve your slot before you go. If you're thinking of extending your trip then we recommend the Mercure, The Shakespeare hotel.
How to get to Stratford-upon-Avon from London
You can reach Stratford-upon-Avon by train in two to two and a half hours leaving from a number of London stations (Marlybone being the best choice) or drive there in two hours via the M40.
If you're driving, this is one of the smoothest day trips from London.
5) Bath
One of the easiest and most rewarding day trips from London, you can learn all about Jane Austen and do some of the best book shopping outside London. We listed all the great Independent Bookshops in Bath to help you on your way.
Jane Austen lived in Bath for a while so you can see (and even stay in) Jane Austen's house and visit the Jane Austen Museum which has a wonderful gift shop inside and find all those places mentioned in the novels.
Bath is also known for its fantastic vintage shopping and cute cafes but the historic city also boasts a thriving dining scene, complete with Michelin star restaurants and trendy cocktail bars.
Bath really is a city that has it all while also being designated a UNESCO World Heritage Site.
Every building is a marvel, made with uniform Bath Stone which is most masterfully seen at The Royal Crescent and the Circus which also houses a museum where you can wander a Georgian home.
You can also visit the oldest house in Bath at Sally Lunn's Historic Eating House where you can try their famous buns. Make sure to catch a show at the Theatre Royal Bath or live music, comedy, and cinema at Komedia Bath.
Famous for the Roman Baths themselves, Bath is also one of the centres for relaxation in the UK with spa treatments, healing steam rooms, and incredible 360-degree views of Bath from the rooftop pool.
It's one of our favourite cities in the UK and favourite day trips from London. It's somewhere we visit over and over and honestly a day won't be enough.
Read More: A Perfect Bath Day Trip for Culture Lovers
How to get to Bath from London
The train is the easiest way to reach Bath, it's direct from London Paddington and gets there in just over an hour. You can also drive there in two hours and twenty via the M4.
You can also get the National Express Coach directly from Victoria Coach Station if you'd like to save money.
Tip: You can easily extend your trip with a visit to neighbouring Bristol which has a lot to offer if you like live music, street art, amazing vegan food, and international restaurants. Bath is also a great base for exploring Lacock and the mysterious Stonehenge.
Read More: A Complete Jane Austen Tour of England — Eleven Places to Visit
6) Harry Potter Studios
If you're a Harry Potter fan then this is one of the best day trips from London for you. The studios are so much fun, highly interactive, and as magical a day out as you would expect.
It's in a location where you'll be going solely for the studio so the best way to get there is via the Harry Potter Studios coach which you can find out more about in our Harry Potter Guide to London.
Or you can book this handy coach and studio ticket combo. The studios have a huge gift shop, a restaurant, and butterbeer on tap so you'll have everything you need for a great day out.
Read more: The Ultimate London Literary Itinerary
7) Oxford
Oxford is so much closer to London than most people would expect. The city makes for a perfect day trip and offers so much in terms of culture, literary history, and special architecture.
Home to the world's most famous and beloved university, Oxford is a historic town of gorgeous stone buildings and welcoming locals.
Oxford also has ties to so many of our most treasured writers, most famously Philip Pullman and J.R.R. Tolkein. Exploring the university buildings and going book shopping for a day in Oxford is truly one of life's great pleasures.
We have a perfect one day itinerary in Oxford and a guide to the most beautiful colleges in Oxford which should help you have the perfect day in the city of spires.
If you're thinking of spending the night then we'd recommend the Museum Hotel, a historic Oxford hotel in a building dating from 1594.
How to get to Oxford from London
You can enjoy one of the simplest day trips from London by taking the train from Paddington Station to Oxford in around fifty minutes. You can also drive in an hour and fifteen minutes via the M40 or take the coach from Victoria Station.
Tip: Extend your trip with a visit to Blenheim Palace and Woodstock – If you're a big fan of period homes and quaint villages then you can hop on the bus to Blenheim Palace in Oxford which is another beautiful day out!
One of the trees on the ground was even used in the filming of Harry Potter and The Order of the Phoenix.
8) Cambridge
Cambridge is often jilted as a London day trip in favour of Oxford but, truthfully, it's just as fast to get to Cambridge from London and just as rewarding.
Generally, people either prefer Oxford or Cambridge and hold some pretty strong views but I personally think they're both vibrant, beautiful cities with a lot to offer.
Two of the things which Cambridge is most famously associated with, aside from the university, are punting and romantic river walks.
Punting is an old tradition in Cambridge, in which you go for a boat ride along the River Cambs, past the beautiful town centre, the extensive green space in the city, and the Cambridge University college buildings.
A visit to the Fitzwilliam Museum is a must and there is endless book shopping to do in Cambridge with some notable spots being Heffers Bookshop and Sarah Key: The Haunted Bookshop.
No trip to Cambridge would be complete without stopping at Fitzbillies, a hundred-year-old cafe (and now a restaurant) famous for its fluffy Chelsea Buns.
Independent shops, cafes, and restaurants waiting for you on the side streets which all seem to culminate at the market square where you'll be delighted with street food, fresh produce, bubble tea, and more. If you'd like to stay overnight in Cambridge, we'd recommend the Hotel du Vin & Bistro.
How to get to Cambridge from London
Very easily accessed by train, the Thames Link from King Cross Station will take you straight there in under an hour.
You can also drive there in just under an hour and a half via the M11 or take the National Express from Victoria Coach Station.
Tip: There are lots of charming villages near Cambridge so there are plenty of places if you want to extend your trip. We'd recommend a visit to Ely which boasts a stunning cathedral, Oliver Cromwell's house, a sake brewery, and one of our favourite book shops Topping & Co.
Read More: A Perfect Day trip to Cambridge for Culture Lovers
9) Canterbury
A city strongly associated with The Canterbury Tales and its magnificent cathedral, Canterbury has a lot to offer for a London day trip. It's ideal if you're looking for a coastal escape with trails to follow that can be tackled by foot or on a bike.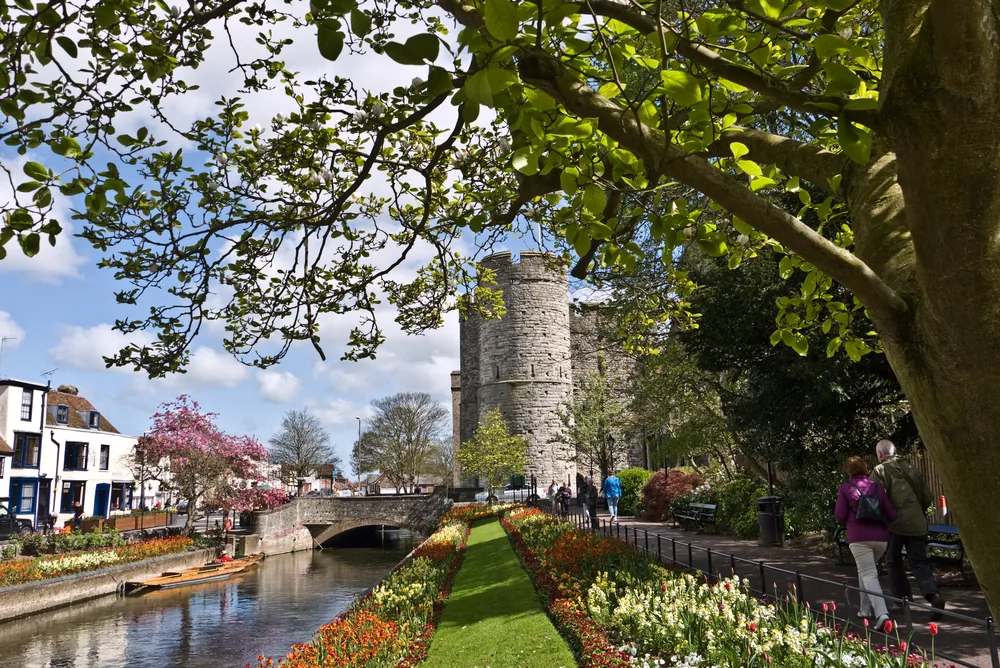 Cambridge isn't the only place you can go punting, with Canterbury also offering its own 45-minute tour along the river where you learn stories about Canterbury's medieval past or even take a haunted trip at night.
For more history, you can also visit the Canterbury Roman Museum where you can see a beautifully preserved Roman floor mosaic.
Canterbury has some great bookshops with one of the most famous being The Chaucer Bookshop, found in an eighteenth-century building and specialising in second-hand and antiquarian books.
For food and drink, Canterbury doesn't disappoint with highlights like Tiny Tim's Tearoom which is in a 1920s style and offers fantastic afternoon tea, and Houdini's Magic Bar where you can catch live magic shows and fabulous cocktails.
If you'd like to stay overnight in Canterbury, we recommend the fifteenth-century Cathedral Gate Hotel found in the heart of the city.
How to get to Canterbury from London
You can reach Canterbury in fifty minutes from London on the train from St Pancras Intl. Or you can drive there in an hour and a half via the M2.
10) Chawton
Chawton in Hampshire is where Jane Austen called home for the last eight years of her life, this is one of the most perfect day trips from London for Jane Austen fans aside from Bath. Here you can visit Jane Austen's home where she wrote and revised her novels.
Visitors can also take the Jane Austen 4.8 mile circular walk which will take you from her house through the village of Farringdon and beautiful countryside, and visit Chawton House Library where her brother Edward Knight lived.
Nearby Alton is also worth visiting as this is where Jane used to go shopping. For places to eat and drink at while walking you'll pass Cassandra's Cup which is a tea room named after Austen's sister, The Greyfriar, The Rose and Crown at Upper Farringdon and can take a short detour to The Golden Pheasant at Lower Farringdon.
Likewise, nearby Winchester is where you can see Jane Austen's grave and some other places she used to frequent.
Tip: Check out our Instagram reel for a snapshot of our day in Chawton.
How to get to Chawton from London
Take the train from London to Alton Station and then take a bus or taxi to Jane Austen's house or you can drive. There's ample parking in the area.
Read More: A Perfect Day Trip to Jane Austen's House & Chawton
11) York
You'd think York was a long way to go for a London day trip but, if travelling by train, you can actually be there within two hours directly so it's definitely worth it.
There are so many unique things to do in York you will be spoiled for choice.
Famous for the seventh century York Minster which is one of the world's most magnificent cathedrals, York is endlessly majestic.
York is a UNESCO City of Media Arts and a book lover's haven with several book shops to explore as well as The Shambles, a street of independent shops that inspired Harry Potter's Diagon Alley.
Also, did you know York is the most haunted city in Europe? It's often known as the 'city of a thousand ghosts'.
If you love chocolate, York has a long history associated with the stuff giving it the name the UK's home of chocolate.
You can find out everything, including the 300-year history behind chocolate, at York's Chocolate Story Museum and even stay in a chocolate themed hotel at Hotel Indigo. Make sure to visit York Cocoa House to treat yourself before you leave.
For more history, the award-winning York Castle Museum is not to be missed with recreated Jacobean dining rooms and infamous Victorian criminals. There really is an endless amount of things to do in York so you'll have trouble prioritizing.
How to get to York from London
The train is the absolute best way to get to York from London, just take the train towards Edinburgh to York from King's Cross Station.
Extend your trip: If you'd like to extend your trip then I'd recommend visiting Haworth, a charming village where the Bronte family grew up. Or discover some of your favourite things to do in Yorkshire.
12) Hampstead Heath
This is technically a day trip in London if you're pushed for time and want to experience somewhere very different to the bustling city but still with ample literary history and culture.
Hampstead Village honestly doesn't feel like the rest of London. Much like Richmond, there's a sense of peace and tranquillity and you can easily get lost in the narrow streets and historical buildings.
Wander along the pretty eighteenth-century promenade Church Row for literary history and Flask Walk: a tiny cobbled street with restaurants, antiques, a secondhand bookshop, and florists.
There's a wealth of literary history to explore in Hampstead. You can pay a visit to the romantic poet Keats' house, go plaque hunting for the many famous writers who've lived there
You can find Daphne Du Maurier, who lived there for two years (her father and grandfather are buried in the local churchyard), George Orwell, and Aldous Huxley. Plaques for history's other greats like Anna and Sigmund Freud can also be tracked down.
Hampstead was even featured in novels like Dracula:
"Lucy lies in the tomb of her kin, a lordly death house in a lonely churchyard, away from teeming London, where the air is fresh, and the sun rises over Hampstead Hill, and where wild flowers grow of their own accord."
Hampstead also has a number of London bookshops, charity shops like the Oxfam Bookshop, vintage stores, handmade craft spots, cafes, and is a hub for antique shopping.
Plus, if you want a beautiful walk and one of the best views over London, stroll up Hampstead Heath, 790 acres of park, fields, and woodland.
How to get to Hampstead from London
Hampstead Station is on the northern line towards Edgware, zone 2.
While these are just some of the amazing day trips from London on offer, these are some of the very best for culture lovers. We hope you enjoy exploring some of the best of England within easy reach of the capital.
13) Brighton
An easy day trip from London at just one hour on the train. Brighton is one of the UK's art and culture hubs with a thriving LGBTQ+ community — it also has a fine collection of independent bookshops mostly to be found in The Lanes which is Brighton's famous and colourful shopping streets.
One of the must-visit bookshops includes the crowdfunded The Feminist Bookshop which features books about and written by women and also provides a vegan cafe and reading room to relax in. Brighton itself has also appeared as a setting in so many books with one of the most notable being Brighton Rock. Pick up a book and take it to the seaside for a truly bookish Brighton experience.
The market town of Lewes, which is just fifteen minutes away by train from Brighton also offers some fantastic book shopping which must include a visit to the historic Fifteenth Century Bookshop.
How to Get to Brighton from London
There are 500+ direct trains from London to Brighton every day so you won't need to be careful with regards to timing. You'll need the Thameslink train which goes between Cambridge and Brighton, passing through several stations in London including London St Pancras.
Read More: How to Spend a Perfect Day in Brighton, UK
14) Audley End Estate and Gardens
Escape to this beautiful stately home and gardens within an hour of London for a change of scenery and quite frankly, just a lovely day out. One of the finest Jacobean homes in England, it's also one of the most popular stately homes to visit in the UK.
The house has a number of royal connections and an interesting history Audley End is built on the foundations of a 12th-century Benedictine monastery after Henry VIII's reformation led to him handing the site to his chancellor Thomas Audley in 1538.
Not only the house to explore, enjoy beautiful flower gardens, an organic kitchen garden, the stables, and a nearby miniature railway.
Read More: Read about our day at Audley End, what to see there, and see lots of pictures.
How to Get to Audley End from London
You can catch the train from London direct to Audley End Station from London Liverpool Street and it takes just over an hour. It's then a short walk from the station.
15) Strawberry Hill House
Still standing two hundred years after Horace Walpole's death, the gothic castle that the wildly eccentric author originally converted from two cottages stands to welcome guests to this day.
A pastiche of Walpole's absurd imagination and the gothic places he visited on his grand tour of Europe, Strawberry Hill House is a surprise and an eccentric gothic experience, comprised of themed rooms and careful fostering of artful, campy tones
Anyone who enjoys gothic literature will have heard of Horace Walpole and The Castle of Otranto, widely considered to be the first ever supernatural and gothic novel.
Read More: Read about our day at Strawberry Hill House, what to see there, and see lots of pictures.
How to Get to Strawberry Hill House from London
Strawberry Hill House can be easily accessed by train which runs on a circular route from London Waterloo to Strawberry Hill. You can also take the District Line westbound to Richmond. From there you can catch the R68 from bus stop Z towards Hampton Court and alight at Michelham Gardens.
Looking to go further afield? Try these literary places in Cornwall and Devon.