As one of the oldest and most architecturally beautiful little cities in the UK. Bath is a favourite place to visit amongst bookworms and culture seekers.
The city of Bath has a museum dedicated to Jane Austen (with a gift shop and tearoom), the historic Roman baths which gave the town its name, the magnificent Royal Crescent and, of course, several of the most fabulous bookshops in the country.
You can even catch the Jane Austen festival, thrown every September.
Bath provides everything that a bookworm could want. Eat at a centuries-old pub, wander the friendly cobbled streets, visit some of the unique museums, and pay a visit to all of these wonderful Bath bookshops. Every bookworm is at home in Bath, and the bookshops of Bath are a big reason why.
1) Mr B's Emporium of Reading Delights
A bookshop with a name this glorious couldn't live anywhere but Bath. It fits this friendly city so perfectly. Once inside, you'll immediately see the appeal of Mr. B's Emporium of Reading Delights.
This award-winning Bath bookshop is flooded with natural light, and is also the right kind of cramped, where every turn of the body yields a new bookshelf or display to admire and be tempted by.
There are three floors: the ground floor, which has the newest stock and most of the fiction, as well as delightful window displays and the friendliest staff.
The basement is where all the history and philosophy can be found, as well as a toilet that was hand-decorated by the legendary Children's Laureate, Chris Riddell.
Upstairs hides a fantastic little secret: the reading room. This is a tiny but bright and comforting space, a few chairs to perch upon, and a quiet calm in which to read as you flick through a few chosen temptations.
These simple details make it one of the best Bath bookshops for a reading retreat.
The store also offers something very special. For £80 you can buy yourself or a loved one a 'Book Spa'. This includes a visit to the bookshop where you'll be treated to some bibliotherapy: a member of the store will sit down with you and chat about your favourite books, listen to your tastes, and return with a stack of books tailored to your tastes.
You'll leave with £55 worth of new books, a mug, a tote bag, and a gift card. We cannot think of a better gift for a bookish friend.
Mr B's Emporium of Reading Delights is located in the town centre, just off from the main street, around the corner from the aforementioned Jane Austen Centre, and a few doors down from an excellent pub with an excellent name: The Raven.
Website | Address: 14-15, John St, Bath BA1 2JL, United Kingdom
Read More: 21 Must-Visit Independent Bookshops in the UK

2) Topping & Co, Bath
We frankly adore this shop. Everyone who works in Topping is so incredibly passionate and knowledgeable about literature and what they do.
I can't tell you how many authors, publishers, and translators we've been introduced to thanks to the staff here
It's very easy to while away an hour on a quiet day chatting with the staff about your favourite indie publishers and Latin American authors, as we have done in the past.
Note: The Bath branch of Topping has since moved location (to the address below) but the shop's iconic aesthetics remain. In fact, they now have Roman columns and a balcony!
The shop is a beautiful display of traditional ladders that are lifted straight out of Beauty and the Beast. And you can actually use them to help you to reach up to those top shelves, with the shop stretching back as far as the eye can see.
They also wrap many of the books in soft plastic coverings that make them look like irresistible gifts for yourself. No bookshop makes buying new books more deliciously tempting than Topping & Co.
The books themselves are separated into specific and useful sections, which is always appreciated and, despite it being a relatively small shop, I have never not found what I've been looking for, including special editions of specific titles.
The wealth of books on offer here matches the sheer antique beauty of the shop itself.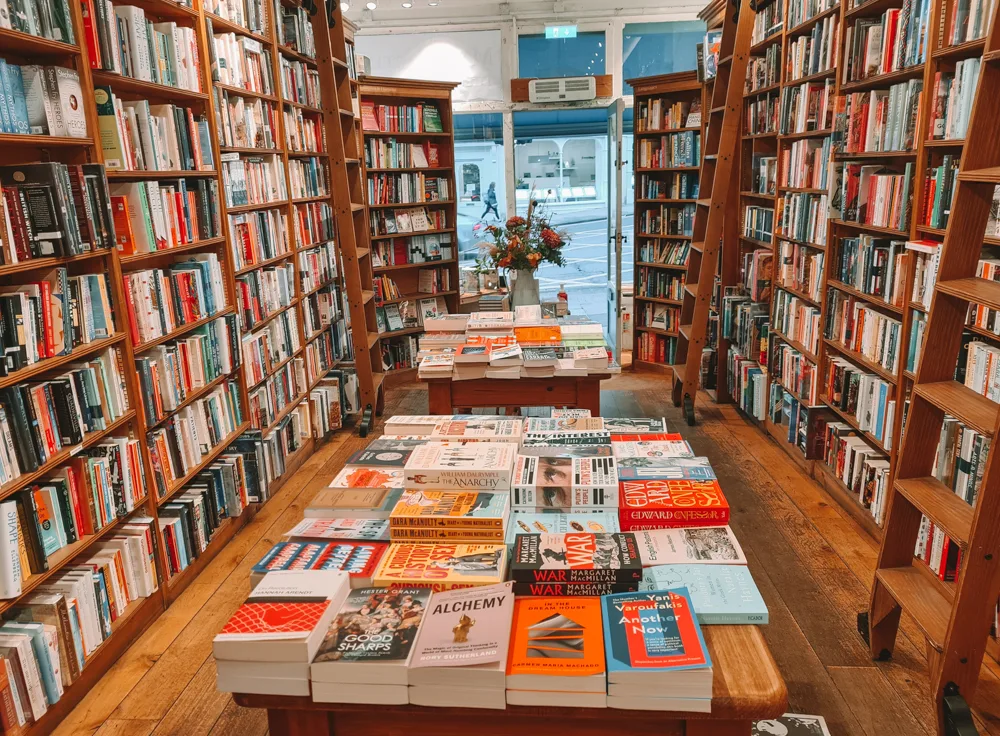 Another area where Topping & Co excel is in their selection of first editions and signed-by-the-authors editions.
Tucked in amongst the normal books, you'll find these gems everywhere and they're rarely more expensive than their unsigned counterparts.
Topping & Co. also host literary events throughout the year so it's well worth keeping an eye on their website. They have other branches in the UK, including in the historic city of Ely.
Website | Address: York St, Bath BA1 1NG

Read More: Visit Hay-on-Wye – the UK's Beloved Booktown.
3) Persephone Books, Bath
Persephone Books was a beloved London indie bookshop haunt before they announced their recent exciting move to the city of Bath. This move felt so right, given how Bath is one of the most celebrated literary cities in Britain.
With a uniform design that has become so iconic — a dove grey cover and spine with unique and colourful paper inlays (of which you can usually buy off-cuts for craft projects) — Persephone Books publishes out-of-print women writers, mostly from the 19th and 20th centuries, that otherwise might have been lost to history.
This small bookshop is incredibly aesthetic with piles of these iconic numbered books and unique postcards, tote bags, and bookmarks you won't find anywhere else.
If you fall in love with this independent publisher and Bath bookshop, which is highly likely, they have subscription services where you can receive one of these special books every month, right to your door.
Read More: A Perfect Bath Day Trip for Culture Lovers
Website | Address: 8 Edgar Buildings, Bath BA1 2EE
4) Bath Old Books
While Mr B's Emporium and Topping both fit that mould of meticulously designed fairy tale book shops, Bath Old Books is Bath's answer to the old guard of booksellers that revel in being cluttered with stacks and shelves of beautiful old tomes. In other words, Bath Old Books is a true cave of wonders.
Carpeted rooms lined with wooden bookcases from floor to ceiling make for a literal house of books where anything and everything is possible. Bath Old Books provides hours of browsing possibilities.
Along with the Jane Austen museum and the baths themselves, Bath Old Books is an historic and essential part of the city of Bath. Without it, Bath would not be Bath.
What sets this Bath bookshop apart is its selection of antiquarian books from centuries passed. If you're in the market for old and rare books in Bath, this is where you must take yourself.
Website | Address: 6A Margaret's Buildings, Bath BA1 2LP, United Kingdom
Read More: Check out some of our favourite independent bookshops in London

5) Skoob Books
Who doesn't love a good second-hand bookstall? Centrally located in Guildhall Market, with stacks of books to dig through, this is where you'll find battered and beloved Penguin Classics and all the latest paperbacks.
At wonderfully affordable prices, you are sure to pick up a book or two, or three.
Website | Address: 40 – 42 Guildhall Market, Bath BA2 4AW
Read More: Pay a visit to Gladstone's Library, the UK's only Residential Library
6) George Bayntun
George Bayntun was a bookbinder, and a legend of one at that. Though he died back in 1940, his legacy continues in this, the oldest bookshop in Bath.
In his last few years of life and work, Bayntun's shop was often visited by Queen Mary, wife of King George V, who spent her golden years living in the Bath area.
Today, George Bayntun is a specialist in antiquarian books of the rarest and most beautiful variety. Beyond this, the bindery which was set up by George Bayntun, and by which he was best known, is still in operation today.
If you're looking to have a rare and broken book rebound, or a new book bound, consider turning to the historic George Bayntun for their services.
Website | Address: 23 Manvers St, Bath BA1 1JW, United Kingdom
Read More: A Complete Bookish Guide to Norwich, UK
7) The Beaufort Bookshop
Found in the charming district of Larkhall, northeast of the centre of Bath, you can find this lovely independent bookshop run by former Head of English, James Thomas, and a number of volunteers.
They mainly sell secondhand books so this is the ideal place if you're looking for something unique or simply want to find a bargain.
Like all the best secondhand bookshops, be prepared to scour the shelves and browse the piles of books in the hope of finding that special something, the lack of organisation certainly adds to the charm here.
Endlessly passionate about books, if you're looking for a recommendation then be sure to ask the friendly staff.
Website | Address: 1 Beaufort Pl, Bath BA1 6RP
8) The Oldfield Park Bookshop
Found on the bustling Moorland Road, a favourite amongst locals in Bath for its collection of independent eclectic shops and cafes, you will find this local bookshop that does its best to give back to the local community.
Run by two book-lovers Harry and Phillip, they're always on hand for a friendly book chat and put huge effort into making the book displays as tempting as possible. With a diverse range of books to suit everyone, make sure to pay this charming bookshop a visit.
Website | Address: 43 Moorland Rd, Bath BA2 3PN
9) Oxfam Bookshop
One of the UK's most beloved charity bookshop chains, the Oxfam bookshop may not be an independent bookshop in the same way as the other's on the list but it does mean you shop for secondhand books while also giving to a good cause.
The branch in Bath is particularly good and often have some of the latest hardbacks for a fraction of the price that you'll find elsewhere.
Address: 4, 5 Lower Borough Walls, Bath BA1 1QR
10) Waterstones Bath
Though this is a chain bookshop, sometimes you do just need to visit a branch of Waterstones.
The Bath branch is excellent and is also the only bookshop in this list to have a cafe located onsite though Bath does have a wide range of independent cafes to choose from so you certainly won't have trouble finding coffee.
This Waterstones has two floors to enjoy, bathrooms, and has a wide selection of books including their own special editions.
Website | Address: 4-5 Milsom St, Bath BA1 1DA
Read More: