With the south-coastal city of Brighton being a hub of UK art and culture, as well as a loudly and proudly queer city, it's no wonder that so many independent bookshops can be found in the wonderful city of Brighton.
Just an hour outside of London, this easily accessible coastal city is a wonderful place to spend some time and go book shopping. Take your new read to Brighton Beach, Brighton Pavilion Park, or one of the many bright, independent cafes with seaside views.
Many of the most exciting Brighton bookshops can be found in The Lanes, an iconic central area not too far from the seafront. This tight labyrinth of side streets, shops, cafes, and market stalls is the heart of independent shopping in Brighton.
A short walk along the promenade will take you to the district of Hove where you can find several of the other most beloved and busy Brighton bookshops.
Since the charming and historic town of Lewes is just fifteen minutes on the train from Brighton and Hove, and has one of the oldest buildings housing a bookshop in the entire country, we also included a couple of bookshop gems found in this nearby market town, one which makes for a great day trip from Brighton.
Brighton Bookshops
Here are the best bookshops in Brighton. Fiercely feminist bookshops, proudly independent bookshops, and important charity bookshops. Every one of them adds to the colour and variety that Brighton is so famous for. These are all must-visit Brighton bookshops.
This bright and cosy bookshop tucked away in central Brighton, is a quiet haven for anyone looking to pick up the latest diverse reads and relax downstairs in the reading room with a coffee from their plant-based cafe.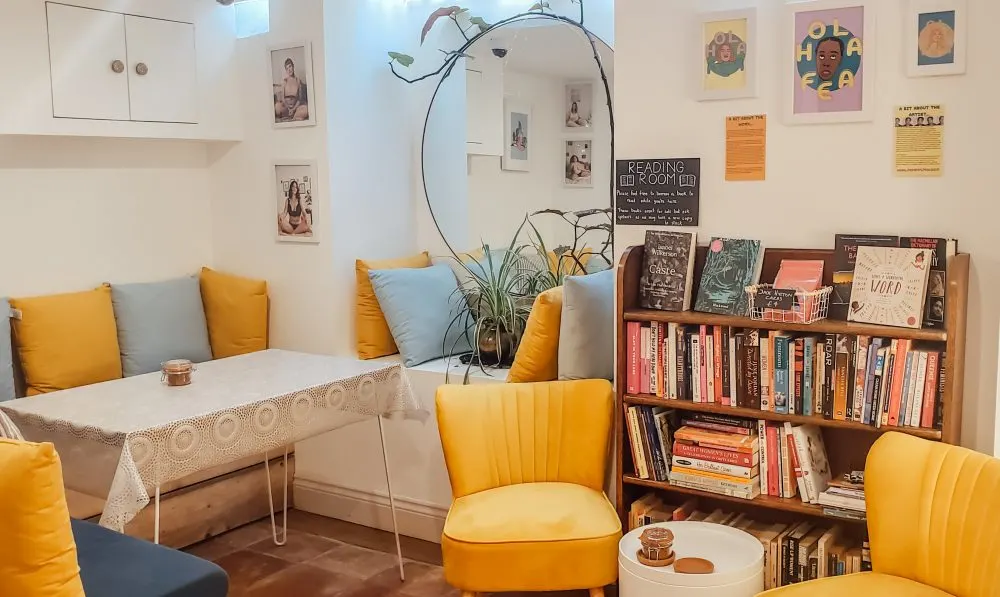 A recent addition to the Brighton bookshop scene, opeing in 2019 thanks to a sucessful crowdfunding campaign meant the owner Ruth could convert her living room into what is now The Feminist Bookshop.
Floor to ceiling, bookshelves offer everything from feminist theory, to graphic novels, the latest diverse YA reads. They support and promote self-identifying female and non-binary writers, creatives and entrepreneurs and their regular events mean you can become part of the community.
Well organized, you'll undoubtedly find something interesting to pick up, and of course the friendly faces in the shop are more than happy to help out. This really is a must-visit on your Brighton literary trail.
Read More: How to Spend a Perfect Day in Brighton, UK
Dave's Comics
A staple of The Lanes in Brighton, Dave's Comics is one of the most iconic Brighton bookshops; a reliable linchpin of the Brighton bookish and nerd communities. While its original founder — the famous Dave — is no longer with us, Dave's legacy lives on in this magical comic book store.
Consisting of two tightly-packed floors, lined with comics and full of colour, Dave's Comics is a happy haven to visit and explore. Its iconic Batman symbol awning and recognisable logo lure shoppers into this wondrous cave of comics.
You'll find everything from the best-selling DC and Marvel comics that inspired their modern movie adaptations to indie comics that push boundaries and speak for marginalised voices.
The staff at Dave's are friendly, knowledgeable, and helpful. Whether you're a connoisseur or a newbie in the world of comics and manga, they can help you out, make suggestions, and offer some enthusiastic conversation.
Dave's Comics is one of the most essential and welcoming Brighton bookshops, and a shop bursting with joy and good energy.
Goldsboro Books
The original Goldsboro Books can be found at Cecil Court, London — a street lined with curious independent booksellers. However, Goldsboro Books has also expanded to include a Brighton branch.
What makes Goldsboro unique amongst Brighton bookshops is its gimmick: this bookseller only stocks signed first editions. If you see a book on their shelves, you know it is signed by the author(s) and is of the first of its kind.
This unique gimmick offers a distinctive allure for collectors and those who take pride in having the best, and the rarest, version of each and every book they buy.
The team of booksellers at Goldsboro Books take pride in what they do, and their shelves are perfectly curated to tempt the most voracious collectors of signed first edition books.
Oxfam Bookshop, Brighton
Not enough praise is lavished on Oxfam Bookshops (and UK charity shops in general) for the good they do for readers and the literary world.
They give readers a place to take their dearly loved or unwanted books. They give beady-eyed shoppers the chance to find hidden gems, rare classics, and books they've been itching to read for a fraction of their regular price.
When you stumble upon a big, beefy Oxfam Bookshop, it's a very exciting occasion. And the Oxfam Bookshop in Brighton is certainly that.
Spread across two rooms and, in true Brighton fashion, delightfully colourful, this is one of the best bookshops for finding hidden gems and secondhand books in Brighton that you've wanted for ages but have put off buying. You might find it here for £1 and not be able to resist!
Amnesty Bookshop, Brighton
Much like the Oxfam Bookshop, the Amnesty Bookshop is another series of second-hand bookshops around the UK. You'll find them in Cambridge, Bristol, Norwich, and, of course, Brighton.
What makes the Amnesty Bookshop one of the most iconic Brighton bookshops is its neon pink walls. Bright, gay, and colourful, Brighton's Amnesty Bookshop offers as much of an allure as the vibrant Dave's Comics does.
This is another charity shop packed full of ever-changing secondhand stock: books of every kind for a fraction of their RRP. Pop in often to see what new gems they have recently stocked.
Read More: Literary Things to Do in Norwich
When you picture an independent bookshop, it's likely that what springs to mind closely resembles Kemptown Bookshop in Brighton. This is your quintessential UK independent bookshop.
Open for more than fifty years, with books spread over three floors, Kemptown Bookshop stocks fiction, non-fiction, children's books, stationery, and even children's games.
Kemptown Bookshop stocks new bestsellers and modern classics; has won multiple bookseller awards; is run by booksellers fuelled by knowledge and passion for literature.
The games and toys they sell are vintage, educational, and wholesome. Their stationery is top-quality. They stock the best books of the moment and curate their shelves beautifully.
Here is everything you want in an independent bookshop, making Kemptown Bookshop one of the best Brighton bookshops, full stop.
Located in Hove, City Books proudly calls itself "Brighton and Hove's Largest and Liveliest Independent Bookshop". It's very hard to argue with that, and why would you want to?
Boasting plenty of fiction, children's books, and non-fiction of every kind (including poetry and cookbooks), City Books has it all.
What makes City Books one of the liveliest Brighton bookshops is its author events and promotions, including stocking unique signed editions of upcoming titles. City Books is also the sponsor and official bookshop of the Charleston Festival.
Another Hove bookshop, The Book Nook is a specialist bookshop that sells a wide range of children's books. An adorable bookshop requires a delightful name, and The Book Nook is certainly that.
The Book Nook proudly stocks diverse and inclusive children's books, and the shop's booksellers are experts in children's literature. They're here and happy to help you find what you're looking for, or to recommend something you might like.
Like several other Brighton bookshops, The Book Nook has its own cafe, offers special author events, and even hosts storytime.
In terms of stock, The Book Nook has shelves of books for children of all ages, from picture books for the youngest readers to the newest YA fantasy novels.
Lewes Bookshops
Just a quick train ride from Brighton, spending a day or a few hours is well worth your time if you love secondhand bookshops and historical sites.
Lewes Castle, a well-preserved grand Norman fortress, Anne of Cleves house which houses a museum showcasing the Tudor way of life, eclectic shops, and pubs. The Rights of Man pub named after the seminal work by local author and political theorist Thomas Paine is certainly one that should be on your radar.
Fifteenth Century Bookshop
If you visit Lewes for one reason, let it be this stunning bookshop with visible wood beams on the inside and out at the top of the high street.
A staple of the town, the shop specialising in secondhand books and has a particularly large selection of antiquarian children's books.
While the building has a long history, it's only the last fifty years or so that it has operated as a bookshop
Box Windows Bookshop
With its prominent space on Lewes high street and iconic red facade, you won't be able to miss this antiquarian bookshop full of rare and fine books. Spanning most genres, the owners Ric Latham and Jonathan Menezes are very helpful if you're looking for more information or need something special found.
Whether you are looking for a leatherbound classic or a contemporary first edition, or just want to enjoy that old book smell, then make sure to stop by this staple of Lewes's literary scene.