For many of us, British or otherwise, the places and people of Jane Austen's novels represent that quintessential English life. But these places and people were inspired by Austen's own home and life, all of which can be experienced by a Jane Austen tour of England.
Taking a tour of the towns and villages, the houses and homes of Jane Austen's life — everything from her birthplace to her resting place — gives Austen fans the opportunity to step into her world; the world that directly inspired her novels.
From Chawton House (the place that inspired "the big house" of Austen's novels) to her beloved and beautiful cities of Bath and Brighton, there is so much to see on a Jane Austen tour of England. Allow us to be your guides.
Read More: Iconic Jane Austen Quotes
A Complete Jane Austen Tour of England
We will begin with the historic city of Bath, before moving on to Chawton House and Jane Austen's House Museum, then too many of the historic and regency places that were visited by Austen or that inspired her in some vital way.
From the cradle to the grave, here is your complete Jane Austen tour of England.
Bath
We'll begin our Jane Austen tour with Bath, partly because it is the English city best associated with Jane Austen (you'll see exactly why in a moment), but also because Bath is a tremendously beautiful and friendly historic city in its own right.
Famous for its Roman baths, Royal Crescent, charming Bath bookshops, literary culture, and iconic Bath stone buildings, Bath is a small city overflowing with things to see and do. But today we're here for Jane Austen.
First is the Jane Austen Centre: an immersive and interactive experience that lifts the veil on the period in which Jane Austen lived and worked. Period decorations, actors in regency dress, and themed exhibits bring her world to life for each and every visitor.
From the moment you arrive, you'll be greeted by dedicated and professional Austen fans (one of whom, who performs as Mr Bennet from Pride and Prejudice, is said to be the most photographed man in England!)
One of these Austen aficionados will be your guide, teaching you about Austen's life, family, and her connections to Bath. You'll then be given a chance to dress up in period costumes and be photographed with Mr Darcy. An afternoon at the Jane Austen Centre is one full of silly fun and laughter.
The exhibits at the Jane Austen Centre make it an essential stop on your Jane Austen tour of Bath, but so do the Regency Tea Rooms. You can visit the tea rooms by themselves but a ticket to the Jane Austen Centre gives you 10% off your bill at the tea rooms.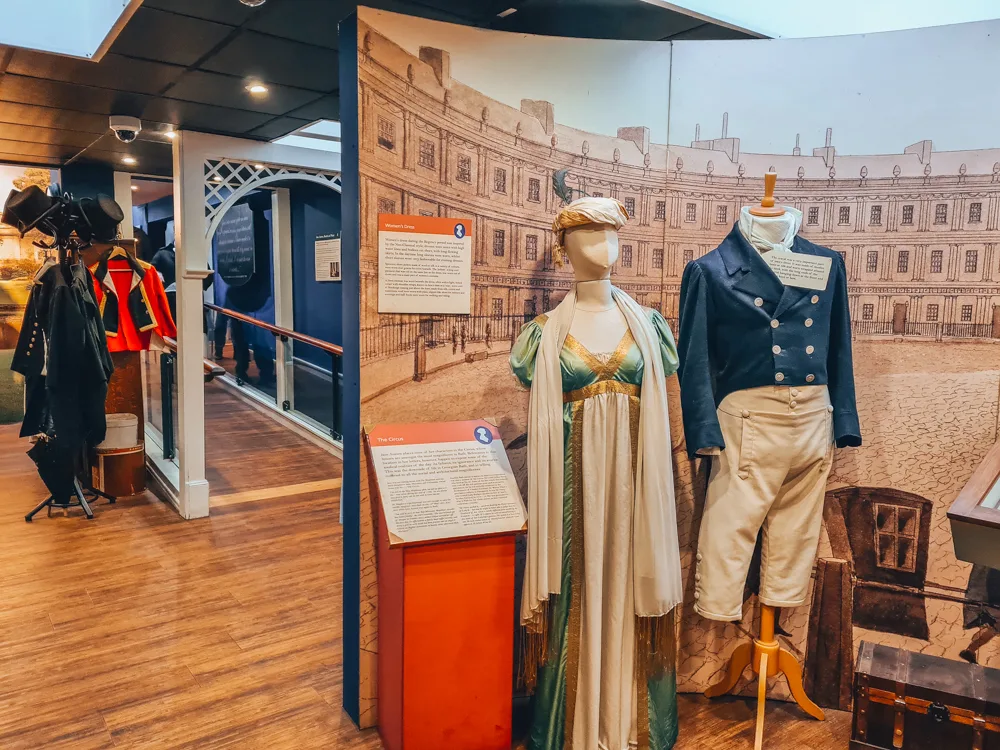 The Regency Tea Rooms provide homemade cakes, afternoon cream tea, and light snacks. For a short time, you can live the life of Jane Austen herself.
The bookshops of Bath are also a must-visit. The iconic Mr B's Emporium of Reading Delights and Topping & Co are essential Bath bookshops for any bookworm to explore, as is the fantastic feminist bookshop Persephone, which made a move from London to Bath in 2020.
Jane Austen herself also lived in Bath for five years, between 1801 and 1806. If you head to the Visit Bath website, you can download a free audio walking tour of the city: "In the footsteps of Jane Austen."
Read More: A Perfect Bath Day Trip for Culture Lovers
Chawton House
The village of Chawton, Hampshire is where Jane Austen did most of her living, writing, and editing. But, before you visit Jane Austen's house itself, a Jane Austen tour of England must also include a visit to Chawton House (aka The Big House).
Many of Austen's novels feature a local home known as The Big House, and Chawton House is what these places in her books were based on.
Austen was personally tied to Chawton House when her brother, Edward Austen — later Edward Knight — became the owner, after his adoption into the wealthy Knight family. With the power and money he inherited, Edward provided his sister with her cottage.
Today, Chawton House is a museum to itself, featuring original furniture and furnishings from Austen's time. It is also a museum to women's writing, featuring manuscripts and first editions of books by the likes of Mary Wollstonecraft and George Elliot.
Impressively sized, Chawton House was frequently visited by Jane, whose own house is only a five-minute walk away. She would spend afternoons at "the big house", whiling away her time reading, dining, and playing with her brother's children (especially Fanny, Jane's favourite niece).
When visiting Chawton House on your Jane Austen tour of England, you'll see the dining room (which includes the places at which Jane and Edward sat), an upstairs room in which Jane often sat and read, and a library beside the gift shop which houses a gorgeous collection of old tomes.
The walk from Chawton House to Jane Austen's House Museum is also a delightful one, leading you past the grounds and onto the most awe-inspiring part of your Jane Austen tour of England.
Read More: Bookish and Cultural Day Trips from London
Jane Austen's House (Chawton)
It's no surprise that Jane Austen's House Museum is going to be the most impressive part of your Jane Austen tour. What is a surprise, however, is just how intact the building and its interiors are. The details and features of Jane Austen's house are flabbergasting.
The red brick house itself remains perfectly intact, as does her garden. But it's when you get inside that your jaw really drops. From the kitchens to the bedrooms, everything you see is an original or a painstakingly researched and recreated copy.
The most impressive original feature of Jane Austen's House Museum is her writing desk: a tiny round table which sits in the corner of a small study, one chair tucked underneath it, with a grandfather clock ticking behind it.
Jane Austen wrote all six of her novels — from Sense and Sensibility to Persuasion — at this tiny table. In the room's other corner is a tea cabinet which Austen herself kept locked. The servants were not permitted to attend it at all.
In Jane Austen's bedroom, you'll find laid out on the bed a dress worn by Anne Hathaway in the movie Becoming Jane. In a nearby room is a large quilt stitched by Jane's favourite sister Cassandra.
There is also, naturally, a gift shop that sells several different editions of Austen's novels (including our beloved Chiltern Classics).
Read More: A Perfect Day Trip to Jane Austen's House and Chawton House
Winchester
Not far from Chawton (around a twenty-minute drive), you can visit Winchester where Jane Austen spent the final years of her life and died.
Jane Austen's grave can be found within Winchester Cathedral. It's also a beautiful city in its own right with preserved buildings, cobbled streets, and an old bookshop said to have been frequented by Austen herself.
Tip: The No 64 bus runs from Winchester bus station to Chawton and back.
Steventon
In North Hampshire, you can visit Steventon where Jane Austen was born and spent the first twenty-five years of her life. While all that remains there is a lime tree, planted by Austen's brother, marking the spot of the rectory where her father and brother worked and the family used to live. In Steventon, you can also visit the local church which has memorials to James Austen and his nephew William Knight.
Seven miles away in Basingstoke, where Austen visited frequently and attended gatherings, a Jane Austen bronze statue was recently unveiled to mark the two-hundredth anniversary of her death.
To extend your trip in Steventon, you can walk part of the Wayfarer's Walk to Deane and take in some of the beautiful Hampshire countrysides.
Chatsworth House
A perfect reason to visit the gorgeous Peak District National Park and visit one of the UK's grandest estates and famous filming locations.
It is believed that Jane Austen based Pemberley on Chatsworth House, as she wrote the first draft of the novel while in nearby Bakewell (to forget to try the Cherry Bakewell cakes while you're there).
The stately home in Derbyshire has been owned by the Cavendish family since 1549 and was famously the setting for Pemberley in the 2007 film Pride and Prejudice. Take some time to explore the house and grounds, enjoy the farm shop as well as the restaurant and cafe.
Lyme Park Estate
Also in the Peak District, you can visit Lyme Park Estate which was the filming location used for Pemberly in the famous BBC series adaption. There's also a two-mile National Park Pemberley Walk that you can take from the estate which takes you in the footsteps of the BBC series to fully enjoy all of the filming locations.
Unfortunately, you won't be able to see Colin Firth rising from the lake but you will, in fact, be able to see the lake which is the next best thing. Take some time to explore the house, gardens, and follies, and structures dotting the grounds. The shop and cafe are the perfect way to end your trip.
Westminster Abbey – Poet's Corner
More than 100 poets and writers are buried or have graves or memorials at Poet's Corner in Westminster Abbey including Jane Austen. The first poet to be buried there was in fact Geoffrey Chaucer in 1400 and since then the legacy of honouring writers here has continued making it a pilgrimage site for literature lovers across the world.
Highclere Castle
While this grand home is most closely associated with the British tv show Downton Abbey these days, many don't know that it actually has connections with Jane Austen too.
Austen visited the Lord Carnarvon-owned grounds and wrote of her visit there in a letter to Cassandra Austen in 1800. A perfect excuse to see one of the UK's finest stately homes and carry on your Austen tour of England.
Lyme Regis
A beloved town of Jane Austen, as mentioned in her letters, on the UK's South West Jurassic Coast. Persuasion is most famously set here and the 2007 adaptation was also filmed in the town.
Whether you're interested in fossil hunting, fudge, antiques or simply some afternoon tea overlooking the ocean and charming ammonite street lamps, follow in Austen's footsteps and find out why she loved this town so much.
Stourhead – Temple of Apollo
A gorgeous place to visit and instantly recognisable to fans of the Pride and Prejudice movie starring Keira Knightly and Mathew Macfadyen as the site of the rain proposal scene.
The Stourhead landscaped gardens, on the border of Wiltshire and Somerset, is a wonderful day out and National Trust owned so if you have a membership you can enter for free and enjoy over a thousand hectares of land. There's also a lovely shop and restaurant onsite.
Brighton
A fantastic city to visit for so many reasons, including its wonderful collection of independent bookshops, Brighton was also a location mentioned in Pride and Prejudice with Lydia Bennett exclaiming "If one could but go to Brighton!".
We don't know if Austen ever visited Brighton and her opinions on it but Brighton was considered a healthy seaside escape during the period and a popular swimming spot.
Read More: How to Spend a Perfect Day in Brighton
Jane Austen Hotels and Places to Stay
Fans of Jane Austen who have set out on the great pilgrimage that is the Jane Austen tour of England will want some Austen-inspired places to stay. Here are your finest options.
This luxury hotel housed in an 18th-century house is not only a wonderful hotel but also has links to Austen who was born in Steventon and regularly visited her friends Wither and Mary Bramston at the estate. The window transparencies at the estate which she mentions in her letters are also thought to be referenced in Mansfield Park within Fanny Price's East Room.
It doesn't really get better than staying in Jane Austen's Bath home. Built in 1794, 4 Sydney Place was the Austen family home from 1801 to 1805. This Grade I listed, period-feature-filled courtyard apartment will help you live out your period drama dreams.
Discover other literary day trips and cultural visits: