From Shakespeare to the Brontes, no nation on Earth has so many great names that define the world of literature as the United Kingdom.
In these literary cities, we live and breathe the work of these authors; their homes and settings draw tourists from around the world; their characters are alive in the cobblestone streets and the walls of our townhouses and factories.
Many cities around the UK are famous for their authors, the ties between them being so unbreakable that when one thinks of Stratford-upon-Avon, one thinks of Shakespeare. In more ways than one, Dickens embodied London and its people.
So, what are the best cities to visit in the UK in order to see its literature come to life? Here are our top five literary cities (with a few extra honourable mentions at the bottom, of course, because we could go on and on).
Read More: 5 Literary Holidays in the UK and Ireland
1) Bath
Beautiful Bath. It's still easy to imagine it as the city Austen and Dickens knew all those years ago since most of the buildings have been untouched for over 300 years. There are plenty of things to do for the literary lover in this impressive city defined by its Bath stone buildings and its deep Roman history.
This is where the aforementioned authors completed their first works and you'll find plenty in the city dedicated to them, including an Austen festival in September.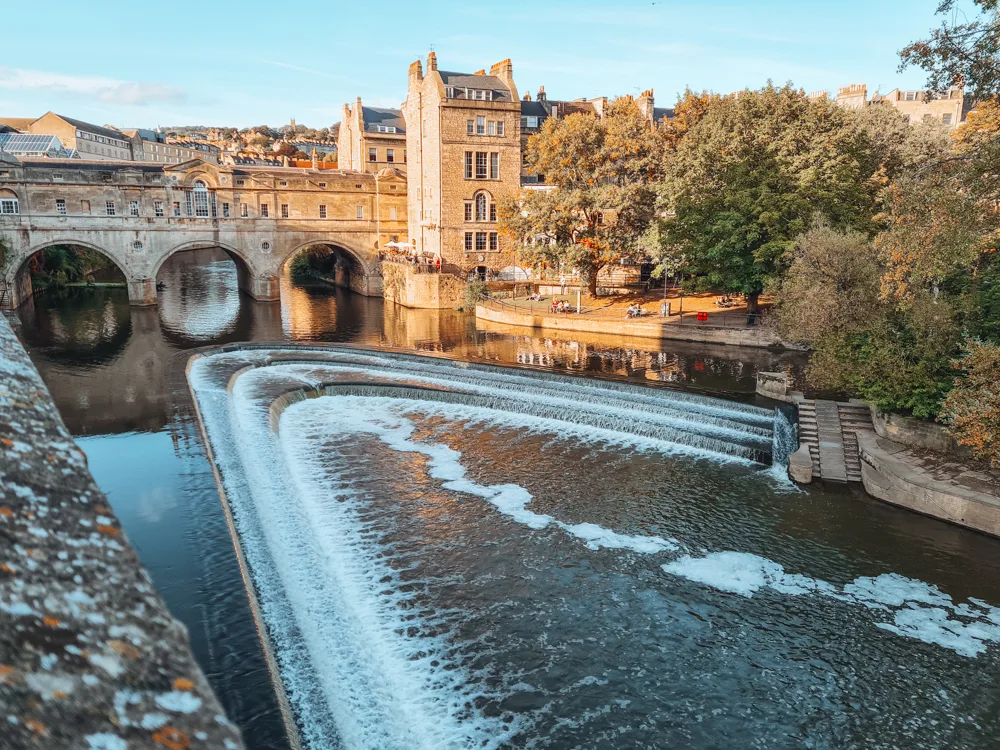 Our favourite bookshops
Bath has no shortage of bookshops but these are our absolute favourites.
Three delightful floors with plenty of cosy nooks and a toilet door drawn on by Chris Riddell, what more could you want. With plenty of literary events throughout the year and an incredibly passionate and warm staff.
This is one of the only places you can go on a reading spa. A unique and personalised experience of bibliotherapy that has to be tried.
Read our full review of this wonderful bookshop here.
Address: 14-15 John Street, Bath, BA1 2JL
Everyone who works in Topping is so passionate about literature and what they do. Knowledgeable doesn't begin to cover it. The shop is beautiful with traditional ladders to reach up to those top shelves and all the books are separated into useful sections.
This is where you come to find first editions and editions signed by the authors tucked amongst the normal books. They do literary events throughout the year so it's well worth keeping updated on their website.
Address: The Paragon, Bath, Somerset, BA1 5LS
Read More: Visit the Best Independent Bookshops in Bath
Authors from Bath
Jane Austen
Bath features in most of Jane Austen's novels and provides memorable backdrops for both Persuasion and Northanger Abbey. Austen was a frequent visitor to Bath before moving there towards the end of her life in 1801.
You can stay in her original home and you'll find the Jane Austen Centre nearby where you can find out all about Austen, visit the gift shop, dress in regency clothing, and enjoy the Regency Tea Rooms after.
Read More: A Complete Jane Austen Tour of England — Eleven Places to Visit
Charles Dickens
Although often associated with London, Dickens first visited Bath in 1835 staying at the 'Saracen's Head Pub' on Broad Street and the city provided Dickens with inspiration for many of the characters in his novels.
The most famous being Mr Pickwick who is thought to be based on Moses Pickwick, the landlord of the White Hart Inn. You can visit the plaque dedicated to him on 35, St. James Square.
Literary Hotels in Bath
Dickens, Hardy, Austen, Shelley, and Brontë are just some of the literary associations this quaint hotel has to offer. The charmingly decorated rooms are named after famous authors and poets.
It doesn't really get better than staying in Jane Austen's Bath home. Built in 1794, 4 Sydney Place was the Austen family home from 1801 to 1805. This Grade I listed, period-feature filled courtyard apartment will help you live out your period drama dreams.
Combine a stay here with:
Read More: If you love books and book-related stays then check out our experience staying at Gladstone's Libray– the UK's only residential library. Or The Wizarding Chambers in London.
Read More: A Guide to Hay-on-Wye: Britain's Beautiful Book Town
2) Oxford
Perhaps the UK's most prized city outside of London, due almost entirely to it housing the world's most prestigious university and associated libraries. A literary tour around this city needs an entire guide of its own (perhaps more than one). We're going to focus on the highlights of this fabulous literary city.
It's unsurprising that the most prestigious university will have produced some of history's most prestigious scientists, artists, mathematicians, and writers.
The city's most famous author alumni include J.R.R. Tolkien (whose time in Oxford supposedly inspired The Hobbit and Lord of the Rings), C.S. Lewis, Oscar Wilde, and Philip Pullman (Pullman, in fact, still lives in Oxford to this day).
Take a trip to the Oxford Botanic Gardens to visit Will and Lyra's bench from the Northern Lights Series. The garden is also thought to be the inspiration for the Queen's Garden in Alice's Adventure in Wonderland.
The university is enough of a draw for anyone venturing into Oxford, but there is plenty more besides, like the Ashmolean Museum of arts and culture and The Story Museum.
Read More: Enjoy this Three Day Oxford Itinerary
Any visit to Oxford must include a trip to these iconic spots
One of the great libraries of the world active since the 17th century making it one of the oldest libraries in Europe. It holds every new book published in the UK totalling nearly 6 million books with many of the books being held underground.
Where Alice Liddell, the girl who inspired Charles Dodgson (better known as C.S. Lewis) lived and where he studied and taught. It's also one of the filming locations for the Harry Potter films and includes a gorgeous library and gardens to explore.
What more do you need? Head from here to St Mary's Passage and you'll find the door to Narnia and Mr Tumnes himself.
An infamous spot where you can not only enjoy a pint or some traditional English grub but enjoy the meeting place of 'The Inklings' who were a literary discussion group including both Tolkien and C.S. Lewis.
Many historical moments took place in this pub including the handing out of the first proofs of The Lion, the Witch, and the Wardrobe.
Read More: Don't Miss an Oxford Day Trip to Blenheim Palace
Our favourite Oxford bookshops
Arguably one of the most famous bookshops in the UK, Blackwell's main bookshop is comprised of four old shops in Broad Street: Nos. 48, 49, 50, and 51. All four are Grade II listed buildings. Blackwell's is an Oxford institution and home to over 250,000 books.
The Norrington Room even earned a place in the Guinness Book of Records as the largest single room selling books in the world. A perfect place to get lost (literally) for an afternoon.
48-51 Broad Street, Oxford OX1 3BQ
Tucked away in the Jericho neighbourhood is this excellent independent bookshop/cafe. You won't find wifi but you will find books upon books to buy stacked up in every which way and over seventy kinds of tea. It's open until 11 pm most days, which makes it amazing for those non-pub goers who want someplace quiet to go.
They also hold literary events and talks throughout the year. Pick up a book and a coffee and settle in for a long reading session.
34 Walton Street, Oxford OX2 6AA
Secondhand bookshops are beloved in the UK. Most towns will have at least one lurking somewhere. Any bookshop loving UK citizen will happily point you in the direction of the nearest Oxfam bookshop but the Oxford branch is original dating back to 1987 and is situated over two floors.
With a mix of rare first-editions, antiquarian, and brand new books, it's difficult not to go crazy.
56 St Giles Street, Oxford OX1 3LU
Authors from Oxford
J.R.R Tolkien
The relationship between the man who created Middle Earth and the city of Oxford runs deep. Originally having studied English Language and Literature at Exeter College, Oxford, graduating in 1915 with first-class honours, he then — following World War I — went on to teach at several different colleges in Oxford.
It was during his time as a teacher that he penned The Hobbit.
C.S. Lewis
Once a tutor of English at Magdalen College (well worth a visit, it's gorgeous) where he wrote most of his famous works, including The Chronicles of Narnia.
Philip Pullman
An alumnus of Exeter College, Oxford, like Tolkein before him, Pullman has shown his love for the city of Oxford through his depictions of it in his fiction. Most famously, it is the home of Lyra, the protagonist of His Dark Materials, who spent her youth roaming the halls of Jordan College.
Literary hotels in Oxford
This hotel is situated in the Cotswolds just outside Oxford, and is surrounded by famous filming locations for the Harry Potter films.
Whilst staying here, we encourage you to track down these famous locations. Beyond that, these old stone cottages are simply gorgeous, and an intricate part of England's history, just as the city of Oxford itself is.
What better location for a hotel than opposite the nation's most famous library: Oxford's Bodleian Library. This Georgian style building is magnificent and fits the Oxford aesthetic perfectly.
But it's the location beside the Bodleian, as well as Oxford's Christchurch and All Souls colleges, that make it a must-stay for literature and history lovers.
Combine a stay here with:
Read More: 19 Unique and Unusual Places to Stay in the UK
3) London
England's capital city, and home to countless writers, poets, painters, composers, and all in-between. The city where Shakespeare – although famously born in Stratford – spent all of his working life. Home of George Orwell, T.S. Eliot and Virginia Woolf.
London is England, in so very many ways. It epitomises the grandeur of the bourgeois and the struggles of the working classes. It is beautiful and ugly in the most wonderful of ways. But what does it offer a visitor who wants to see its literary roots exposed through the cracks in the cobbles?
Don't forget to see a play at Shakespeare's Globe or visit the gift shop for some amazing Shakespeare and Christopher Marlowe themed treasures.
Check out our favourite independent bookshops in London.
Designed to mimic Argentinian author Jorge Luis Borges's Library of Babel, Libreria feels never-ending with its mirrored ceiling and wall-to-wall bookshelves. Technophiles beware: phones are banned in this literary sanctuary.
65 Hanbury St, London E1 5JP
For the travel addict, Daunt Books pairs destination guides with the best literature from that region of the world. Each branch has its own charm, but the original shop in Marylebone is particularly beautiful: the Edwardian building features oak balconies, stained glass windows, and viridian walls.
83 Marylebone High Street, London W1U 4QW (they have other London locations)
Read More London Content:
The Best Bookish Cafes and Bars in London
A Perfect Six Day London Bookish Itinerary
Cultural and Bookish Day Trips from London
Authors from London
Virginia Woolf
Born in the beautiful South Kensington, Woolf was a pioneer of the modernist movement of literature in the 20th century.
After suffering through the deaths of both of her parents, Woolf moved to Bloomsbury where she helped found the famous Bloomsbury Group, a collection of intellectuals, writers, and artists of the area. Author E.M. Forster was also a member of the Bloomsbury Group.
Mary Shelley
Although famous for having travelled and lived extensively around Europe with her husband, the poet Percy Shelley, Mary was born and raised in Somers Town, London. Although her childhood home is now gone, a plaque at the site remains.
The grave of Shelley's mother, Mary Wollstonecraft – a famous and greatly celebrated feminist writer – can be found in the churchyard of St. Pancras Old Church.
Douglas Adams, George Eliot, and Christina Rosetti
The graves of all three of these wonderful and beloved authors can be found at Highgate Cemetery. The graves are always decorated with items left by fans (usually pens and notes), which is a very heartwarming sight.
Read More: Discover our Bookish Guide to Covent Garden
Literary hotels in London
There's no end to the hotels with literary themes and connections in London. Here are a few favourites.
This hotel is a quaint enough stay without the wonderful addition of their themed rooms, the Wizarding and Enchanted Chambers are the most magical stay in London imaginable.
They also offer their own Harry Potter-themed walking tours and Potions themed cocktail making sessions. Read our full review of our stay in their wizarding chambers.
It's hard to believe a hotel with this many literary connections exists but the opulent hotel stands in central London and is ready to be explored.
The Bloomsbury Group included writers such as Virginia Woolf and E.M Forster and you can find out all about them in the literary-inspired lounge that houses artwork, books, and pamphlets. You're also just four minutes' walk from The British Museum.
This hotel overflows with more literary history than most buildings on Earth, with Rudyard Kipling having finished The Jungle Book during his stay here, Agatha Christie basing At Bertram's Hotel on this building, and authors such as Henry James, Mark Twain, and Stephen King also having stayed here in their time.
Combine a stay here with:
Read More: Explore the Harry Potter Sites in London
4) Edinburgh
Ah, Edinburgh, one of the most stunning cities in the UK. The capital of Scotland, crowned by an enormous castle, and home to some of the most beautiful old architecture to be found anywhere in Europe.
Birthplace to Robert Louis Stephenson, Sir Walter Scott, and Arthur Conan Doyle, there are certainly some big literary names to come out of this beautiful city. Edinburgh is our romantic capital, a place we hold dear to our hearts and the world's first UNESCO City of Literature. What better choice for a literary cities list?
Our favourite bookshops in Edinburgh
This shop is the quintessential bookstore. The one. It is instagram-famous for a reason. Books are stacks from floor to ceiling on every wall, with cramped walkways between them. It is dizzying and dripping with ancient literary atmosphere.
72-74 West Port, Edinburgh EH1 2LE, UK
One of the most well-stocked and celebrated bookstores in Edinburgh was also awarded Scottish Independent Bookstore of the Year 2018, and deservedly so. Expert booksellers are there to be your friend, connect with you about books, and remind us that books form bonds.
219 Bruntsfield Pl, Edinburgh EH10 4DH, UK
This bookstore doubles as an independent publisher known as Word Power Books. Their collections focus on lefty socialist politics, LGBTQ writers, environmentalism, and feminism, all things that we will endlessly praise them for. Every bookshop should be promoting love and the right kind of revolution, after all.
43-45 W Nicolson St, Edinburgh EH8 9DB, UK
Authors from Edinburgh
Sir Walter Scott
Born in Edinburgh in 1771, Scott was a true polymath of all things to do with pen and paper. A prolific writer of novels, plays, poetry, and essays, Scott left behind an extensive bibliography of work. His primary work was as an advocate (lawyer) and a judge. His family home still stands today in Edinburgh's George Square.
Arthur Conan Doyle
One of Britain's most famous authors, famed for creating the beloved characters of Sherlock Holmes and Dr. John Watson – more famous now than ever thanks to the popular BBC TV adaptation.
Doyle was born in Edinburgh and lived there for a series of sad situations until the death of his father and Doyle's relocation to England. Although his birthplace was demolished, a statue of Sherlock Holmes stands in Edinburgh, facing where the home once was.
Robert Louis Stephenson
The man who did so much for the early days of science fiction and children's literature was born, raised, and schooled in Edinburgh. His family home still sits in the city's Heriot Row and memorials to him exist all over Edinburgh.
You can visit some of these statues and carvings at St Giles Cathedral, West Princes Street Gardens, and in the Writers' Museum of Edinburgh.
Literary hotels in Edinburgh
With Literary Suites on offer, this is a prime spot to learn about some of Edinburgh's most famous writers. The Place Hotel is bringing the literary life of the city into the hotel with four literary-themed hotel suites inspired by great Edinburgh writers.
Guests are invited to discover the literary city by reading books by Edinburgh authors on your hotel suite bookshelf to the well-known characters and stories to be found in the very streets and closes of the city
Edinburgh is very much associated with JK Rowling and Harry Potter and the sheer amount of Potter related things to do here is incredible. What better way to finish it off than staying in the room Rowling herself finished the iconic series? She's even signed the bust of Hermes in the room.
Combine a stay here with:
Read More: The Best Gifts for Bookish People
5) Stratford-upon-Avon
There is little more to be said for a place when it is the birthplace of Planet Earth's most famous, celebrated, and accomplished writer.
But beyond the Shakespeare fame, Stratford is also a beautiful little town, home to the Royal Shakespeare Company, and a really beautiful place to visit in the dead of winter. There is magic in the air of an evening in Stratford, and a lot to see and do.
Don't forget to try some delicious Butterbeer at Magic Alley, a shop celebrating magic in all its forms and go see a play, or simply browse the fantastic gift shop at the RSC (Royal Shakespeare Company).
Our favourite bookshops in Stratford-upon-Avon
Named for medieval England's most treasured writer, this bookstore deals in rare and antiquated books. In short, it's a treasure trove of ancient wonders of the literary world.
The things you might find here are unexpected and profound. It's a gorgeous store in the heart of Shakespeare's hometown, and definitely warrants a cheeky look inside.
21 Chapel St, Stratford-upon-Avon CV37 6EP, UK
Authors from Stratford
William Shakespeare
Arguably the English speaking world's greatest writer, Shakespeare was born and raised in Stratford-upon-Avon. The birthplace of the man himself, the family home of his wife, Anne Hathaway (not that one), as well as her grave, can all be found in Stratford.
Today, the Royal Shakespeare Company has its base in Stratford, where performances of his works can be seen on-stage all year round.
Literary hotels in Stratford-upon-Avon
With artefacts dating back as far as the bard himself, this old inn is overflowing with history. We cannot think of a better place to stay if you want to step back in time to the streets that Shakespeare himself walked.
Ludicrously grandiose, this old gothic house is pulled straight out of a fairytale, and, if you're travelling to the UK for the first time from a place that doesn't have its own castles and fairytale buildings, this is one of the best places to stay, not only in Stratford, but in the whole country.
Combine a stay here with:
A visit to Shakespeare's Schoolroom
Seeing Shakespeare's birthplace and family home
Where Next?
When it comes to literary cities and bookish spots in the UK, this is just the start.
Discover other literary day trips and cultural visits: