Bath is one of the oldest cities in the UK. But, unlike many other ancient cities, it almost completely retains that unique historical beauty.
A Bath day trip is enough to see this beauty for yourself, given Bath's compact size and the fact that every street — long and narrow — is spilling over with charm and sweetness.
On a Bath day trip, you'll shop the independent Bath bookshops, enjoy afternoon tea, dine at award-winning restaurants, take unforgettable photos, learn about Bath's literary history, and take a steam in the baths which the city is, naturally, known for.
How to Get There: A London to Bath Day Trip
By train: If you are arriving in Bath by train then most journeys (unless you're arriving from Wales, the South West or the Midlands) will have you change in London. The train is generally the most convenient way to arrive in Bath and the station is central.
You will be leaving London Paddington and arriving at Bath Spa Station which will take around an hour and a half.
From other destinations, you will likely be changing at Bristol Temple Meads and arriving at Bath Spa which takes under twenty minutes. You can easily book tickets, including tickets, on Trainline.
By Coach: It's also possible to take the National Express or Megabus from London to Bath which takes slightly longer at around three hours but can be significantly cheaper. The bus station is next to the train station.
By Car: If you're driving to Bath then your journey from London will take around an hour and a half and predominantly follow the M4 after exiting the M25 motorways.
How to Spend a Day in Bath
Once you arrive, if you're in immediate need of refreshment then check out our favourite brunch and coffee spots in Bath. Otherwise, you can skip ahead and get on with our bath day trip itinerary.
Best Brunch in Bath
Wild Cafe Bath: Tucked away down a cobbled stree is the charming Wild Cafe which serves some of the most wonderful brunch dishes in the city as well as locally roasted coffee, loose leaf tea, and freashly basked cakes and pastries.

Sally Llun's Bath: One of the oldest houses in Bath which serves the famous Bath Bun, a huge scone-like regional specialty. that can be served with savoury or sweet toppings Other dishes are available such as french toast, soup, various cream teas, and cakes.

Boston Tea Party: A small south-west English chain with a big menu, you can find all of your favourite brunch specials with various dietry options available including gluten-free and vegan options. There are two locations in Bath to choose from. Coffee, fresh juices, cocktails, and craft ales are also available.
Best Bath Coffee Shops and Tea Rooms
Society Café: With two locations in Bath and a passion for serving excellent specialty coffee, you can't go wrong.

Sweet Little Things Tea Room and Bakery: A cute tea room, this is the perfect place to come if you want a hot drink and a scone along with the ideal Bath aesthetic.

Cortado: Perfectly located under Bath Abbey with a gorgeous minimalist interior, order a coffee and muffinf and enjoy the view.
The Perfect Bath Day Trip Itinerary
Here are the must-visit places while you're in Bath. It's possible to do all of these things in a day as Bath is so compact that the distance between these activities is usually just a few minutes walk.
Pick and choose the activities that suit you best and enjoy Bath!
Take Pictures at The Pultney Bridge
One of the most iconic sights in Bath, Pultney Bridge stretches over the River Avon and is one of only four bridges in the world to have shops stretching across both its sides.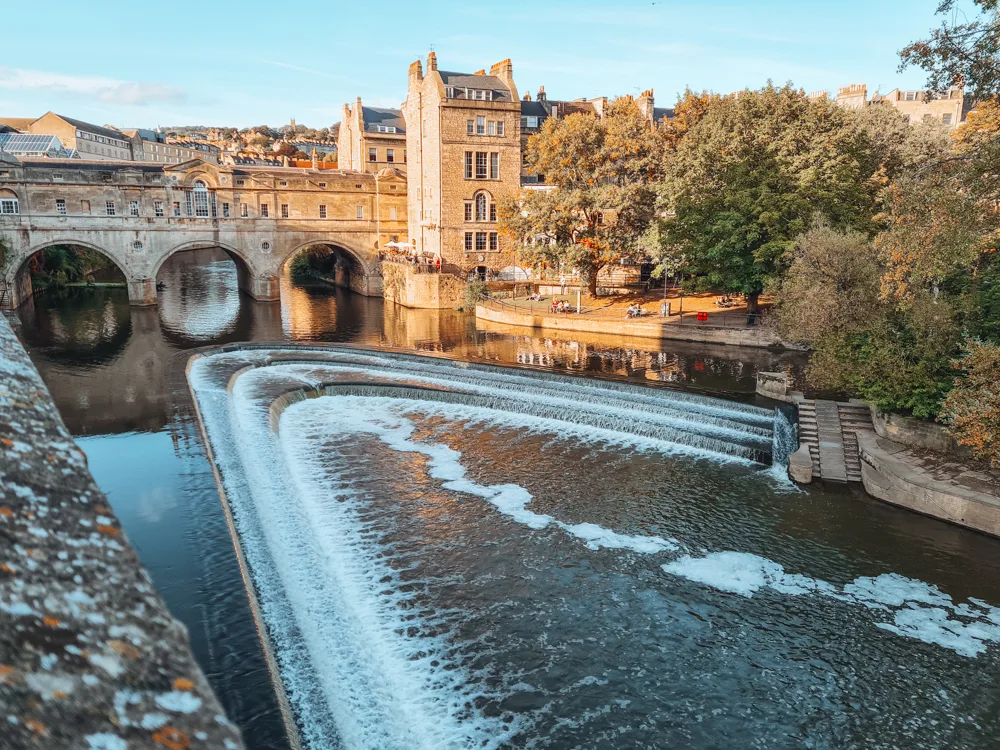 Designed in 1769 by Robert Adam, he was heavily influenced by the Ponte Vecchio and Ponte di Rialto bridges in Florence and Venice which also incorporate shopping into their design.
Visit the Jane Austen Centre
A must for any Jane Austen fan, Jane spent a significant part of her life living in the city of Bath and many of her characters pay visits to Bath for the social scene in various novels.
The Jane Austen Centre treats you to a talk on the life of Austen before letting you loose to explore the paintings, costumes, and items that let you into the world of Regency Britain.
You will also be able to watch a short film, try on regency costumes and visit the excellent gift shop. They even have a tea room upstairs to enjoy!
A trip around the centre will take around an hour so it is perfect to squeeze into your day in Bath.
Read More: A Jane Austen Tour of England
Get Spooky at The House of Frankenstein
Just a few doors up from The Jane Austen Centre you can learn about another of Britain's famous writers who also lived in Bath for a period of her life.
Mary Shelley, the author of Frankenstein is honoured in this new interactive museum which takes you through her life with its many twists and turns and also the writing and publication of Frankenstein.
The museum also takes you through the cinematic and stage history of Frankenstein and how the character has been used in marketing through the years including a room of memorabilia.
You can also watch the first silent film version of Frankenstein in their upstairs cinema and visit the basement (if you dare) where you will be scared out of your wits.
They also have an excellent gift shop to enjoy with exclusive Frankenstein bears and other Mary Shelley themed items. You will need around 45 minutes to explore The House of Frankenstein.
Step into History at the Roman Baths
An absolute must for anyone interested in Roman history, this was once the site of one of the great religious spas of the ancient world and is open to explore.
Inside the Roman Baths, you can see the ruins of the Temple of Sulis Minerva, a museum collection of artefacts, and, of course, the baths themselves.
You can also visit their neo-classical fine dining restaurant The Pump Room who boast famous historic patrons such as Jane Austen and Charles Dickens. You can even try spa water from the fountain.
Marvel at Bath Abbey
At the centre of Bath, this grade I listed building is particularly noted for its fan vaulting and depiction of Jacob's Ladder with sculptures of angels climbing to heaven on two stone ladders that run up the west front.
Go inside and explore, or enjoy a coffee at one of the surrounding cafes and admire it from outside.

Tip: Pop around to Abbey Green to see the old yew tree planted in 1793, the cobbled square, and enjoy some of the small shops there
Visit the Holburne Museum
An impressive collection of fine and decorative art, this newly transformed Holburne Museum, with Garden Cafe, is situated on lovely grounds that are ideal for a quiet wander on your Bath day trip.
They also have revolving art shows so make sure to check what's on before you visit.
Fun fact: The museum was also used in the filming of the tv show Bridgerton as Lady Danbury's house.
Go Bath Book Shopping
Bath has an incredible number of independent bookshops to enjoy, here are a few of our favourites and all conveniently located in the city centre.
Note: For more, check out our Best Bath Bookshops guide.
Persephone Bookshop
Newly relocated from London, Persephone Books' iconic dove grey facade, welcoming interior and catalogue of books by women who have been lost to history make it one of our favourite shops in the city.
The shop is quaint, and the booksellers are always up for chatting about their books and their history.
Persephone is a publisher and a bookshop that is so vital to the literary landscape of the UK.
Where would we be without this proudly feminist bookshop reigniting the works and genius of some of the best women writers of the 19th and 20th centuries!
Topping & Co Bath
If you travel around the UK, you'll find a handful of Topping & Co. booksellers dotted about, but our favourite branch is in Bath.
The layout and aesthetics alone are enough to mystify you, but you'll stay for the conversation and passion offered by this Bath bookshop's booksellers.
Topping & Co host regular and varied events, most notably talks and book launches from some of the world's biggest and best authors.
They excel at offering gorgeous signed copies and first edition hardbacks. Honestly, when you think of the ideal independent bookshop, it's Topping that should come to mind.
Note: They have recently expanded into a bigger location on York Street, Bath – this picture is of the older store. The new location is somehow more impressive.
Mr B's Emporium of Reading Delights
Or, perhaps, it's Mr B's Emporium that should spring to mind instead. That's the sheer power of Bath's literary scene!
Mr B's Emporium of Reading Delights is, as the name states, a delight. This Bath bookshop famously offers a reading spa: a consultation with a bookseller to judge your reading habits and favourite genres. You walk away at the end with a stack of fresh books of your own.
The shop itself is also such a beauty to wander and explore. The booksellers are knowledgeable, kind, and welcoming. The designs and aesthetics are heartwarming. Mr B's is the perfect independent bookseller.
Wander the Royal Crescent and No 1 Museum
One of the most iconic sights in Bath are the Georgian houses built between 1767 – 1796 which make up the Royal Crescent and it also makes for a perfect stroll without going to far outside town.
If you would like to learn more about the Georgian period and spend some time inside one of the houses then do not miss the No.1 Royal Crescent museum.
Relax at the Thermal Baths
This is one of the only places in Britain to enjoy warm thermal waters so definitely set aside some time for this rejuvenating experience on your trip to Bath.
A basic package at Thermae Bath Spa without any massage options added is between £37-£45 depending on weekday or weekend hours and allows you two hours in the spa.
While it seems like a short time, it actually felt like more than enough and we even had time to relax in the cafe during that time.
The heated rooftop pool offers amazing views out over the city of Bath which is worth the fee alone. Then inside you have an indoor heated swimming pool, sauna, steam room, and ice bath.
Robe, slippers, and towels are provided with your fee and anything you purchase at the cafe will be added to your band and paid for at the end.
Tip: As Bath is so close to Bristol, if you're able to extend your trip then you can also enjoy Bristol.
Best Restaurants in Bath for Dinner
1) Green Rocket Cafe
A fantastic multi-award-winning vegan/vegetarian restaurant next to the Pultney Bridge. Serving some of the best coffee in the city, they also deliver a truly innovative lunch and dinner menu.
Some highlights include the katsu curry (made with gluten-free battered silken ed tofu) and the gluten-free bang bang cauliflower which tastes so much like Korean fried chicken that I came back the next day for more. They also serve desserts, beer, and kombucha.
2) Noya's Kitchen
Some of the best Vietnamese food we have tried outside Vietnam. Noya's Kitchen is an elegant restaurant which serves all your favourite dishes such as pho, Vietnamese curries, spring rolls, and dumplings as well as our favourite Vietnamese coffee.
The restaurant also hosts supper clubs where you can enjoy special dishes in the cosy fairy-lit surroundings. You can also pick up Noya's Kitchen Cookbook if you want to recreate some of her dishes at home.
3) Chai Walla
A firm Bath favourite and one of the most highly recommended restaurants when we called out for suggestions. This counter-serve Indian street food joint had lines around the corner at whatever time of day we passed by.
At our time of visit, it was takeaway only so it's perfect if you want to grab something for lunch and continue your wandering or want to take something to eat in the park.
4) The Bath Stable
A small chain of pizza and pint restaurants (we also visited their Bristol branch), these freshly basked sourdough pizzas are genuinely excellent and choosing between the huge range of toppings and sauces will leave you struggling.
They also serve craft beers and ales including their incredibly popular tasting boards of beers and ciders in casual and warm surrondings.
5) The Coconut Tree
Get ready to indulge in Sri Lankan street food and unique cocktails at this multi-award-winning vibrant restaurant run by friends.
Whether you want to sample the goat curry, the fiery devil chicken wings, or the extensive vegan and vegetarian menu — with delights such as polenta battered mushrooms and pineapple curry — you can enjoy multiple of these smaller dishes to yourself or share amongst friends for a tapas-style feast.
Warning: deciding what to have from this menu is almost impossible.
See a Show at the Bath Royal Theatre
If you are interested in watching a show after dinner then make sure to visit Bath Royal Theatre which is one of the only Georgian theatres in The UK. There is always something interesting on so make sure to check their website to make sure you don't miss anything.
We hope you liked this Bath Day Trip Itinerary, if you found it useful then please consider sharing.
Enjoy some of our other favourite UK trips:
The Best Cultural Day Trips from London
How to Spend a Day in Cambridge
A Perfect Day Trip to Brighton
The Best Things to do In York
A Weekend in Haworth, Yorkshire
A Gothic Day Trip to Strawberry Hill
A Perfect Day in Blenheim Palace and Woodstock
How to Spend a Day in Oxford and The Most Beautiful Oxford Colleges