As you step into Haworth village in West Yorkshire, it wouldn't take much convincing to believe these words written so long ago had come true.
Haworth Yorkshire is famous for being the home to the Bronte sisters and the place where much of their great literary works were written.
Haworth retains an old fashioned charm that will have you scouring the surrounding countryside for a glimpse of Cathy and Heathcliff and wondering where you left your bonnet!
You can almost hear the eerie cries of the ghostly characters as you explore the mystical alleyways and desolate moors. Haworth is a village that truly brings the past to life.
The small village itself is built on a hillside. From the top of the hill, you can look down the cobblestoned main street with its charming brick houses and views of meadows beyond.
Take a route to your right and you'll be lost in desolate moorland, at the mercy of the Northern elements. Haworth itself is small and could easily be seen in a morning or afternoon, but you'll want to spend a little longer here to get a real understanding of where the Brontes got their inspiration.
This detailed itinerary is perfect for a weekend in Haworth, but could easily be extended to a week with a few day trips or a little more time for some R and R in the numerous coffee shops and tea houses – trust me, you're going to want to visit them all!
Day 1 in Haworth
'Heathcliff, make the world stop right here. Make everything stop and stand still and never move again. Make the moors never change and you and I never change.'
Emily Bronte, Wuthering Heights
The Bronte Parsonage In Haworth Yorkshire
The number one thing to do when you visit Haworth is to take a sneak peek into the lives of the Bronte family at the Bronte Parsonage Museum, and it's the perfect place to start to ensure you really get a feel for the village.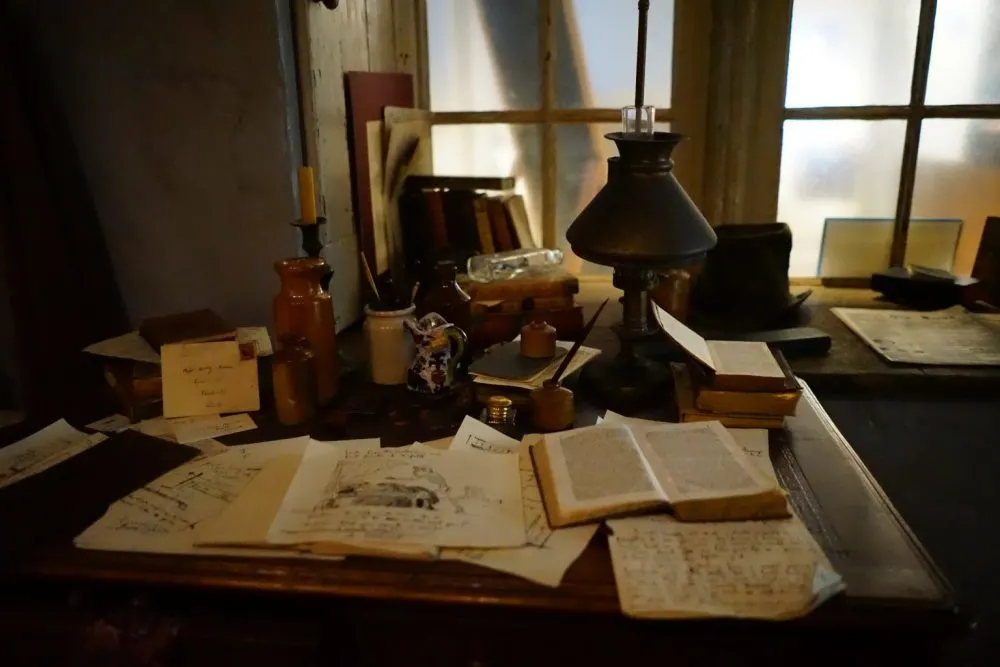 For just under £10, you can visit the home to the family from 1820 to 1861. Charlotte, Emily and Anne wrote some of England's best-loved books in this beautifully preserved Georgian house, the place where they spent most of their lives.
The house has become a museum and many of the rooms have been reconstructed to look as they would have when the Bronte family were living there.
The dining room table where Jane Eyre, Wuthering Heights and The Tenant of Wildfell Hall were written sits in pride of place in the room where the books were written and where the Bronte sisters shared and discussed their great works.
Even if you aren't a fan of their writing it would be hard not to appreciate the history. Items on display include letters, notebooks and household artefacts.
The 'Little Books', showing just how tiny the sisters' handwriting is fascinating to see. It's hard to imagine a time when books were handwritten and there is something quite special about seeing the original words in their handwriting.
I was particularly taken with the story of Branwell, the Bronte sisters only brother, who drove himself mad through the use of drink and drugs and died young without any of the fame of his sisters.
You can even visit the apothecary where he first got a taste for the drugs that would eventually kill him.
There is a changing exhibition at the end of the museum, so you can use your ticket to return for a year (particularly handy if you live nearby).
Read More about Bronte Country in our Literary Guide to Yorkshire.
Lunch In Haworth Village
After a morning spent delving into the past it's time to treat yourself to something delicious. Haworth is full of pretty little cafes with appetising menus.
I thoroughly recommend The Cookhouse for their fresh ingredients and local coffee. The cakes are particularly special, and they cater for a range of different dietary requirements. You'll need all the energy you can get for an active afternoon in the moors of Yorkshire.
The Yorkshire Moors
After something to eat head out into the open moorland that was made so famous by the legendary Wuthering Heights. Take the pathway through the church graveyard and you'll find yourself in atmospheric wide, open moorland.
Follow the wooden signposts towards Top Withens (supposedly the inspiration behind the farmhouse in Wuthering Heights) and the Bronte Waterfall.
The 43-mile trail winds its way through the moors, down the valleys and up to the hill peaks. There are various stops along the way from the famous Bronte novels, and plenty of pubs to stop off at and warm-up or refresh! So just pick a direction and go!
Although it's normally not recommended to wander off into the moors without a map or some previous knowledge, if you stick to the signposts you can't go far wrong as this is a much-walked tourist route.
The moorlands are famous for their wild and unpredictable weather so it might be wise to take some warm, waterproof clothes and you'll need sturdy footwear for the stony paths.
Read More: For more rugged nature, here are eight things to do in the Yorkshire Dales.
Eating Out in Haworth
You deserve a proper pub dinner after all that fresh air, so make sure you visit The Kings Arms for proper English fish and chips served with loads of salt and vinegar, and why not treat yourself to a pint of your favourite Bronte sister's ale!?
It caters to four-legged friends too with it's (rather large) doggy menu! This pub was recommended by several of the locals and didn't disappoint.
Day 2 in Haworth
Even if you don't have the cash to splash you should make time to check out the specialist, independent shops in the village. They are full of interesting and unique wares, and the window displays alone are worth a look.
Go Shopping In Haworth
I loved browsing the shelves of Rose & Co Apothecary, the perfect place to pick up a treat for a loved one (or perhaps just a special something for yourself!)
It's a restored druggist, the very chemist that Branwell picked up his supply of laudanum that eventually contributed to his death, and it is now full of wonderful smelling bath salts, perfume and exotic oils, all specially made to help relieve specific ailments.
The old fashioned 'Mrs Beighton's Sweet Shop', at the top of Main Street, sells in jars of liquorice humbugs, cola cubes and rhubarb and custards (my favourite!)
It was just far too tempting to leave empty-handed! They also sell a huge range of gift type chocolates if you're doing a spot of souvenir shopping.
Make A Lunch Stop
You could check out yet another of Haworths pretty little cafes for lunch. Alternatively, you could head a short walk out of the village to Ashmount Country House, for their award-winning homemade cream teas. The gardens here are lovely too, especially during the summer months.
Visit The Iconic 'Railway Children' Railway Station
Alongside it's Bronte history, Haworth boasts a fabulous old railway station that has been used as the setting for many films over the years, including the 1970 film version of E.E. Nesbitt's 'The Railway Children.'
Spend the afternoon travelling in style on an old steam train to the Edwardian Oakworth station. You can order real ale from the buffet cart, or even splash out on a little on afternoon tea as you watch the countryside whizz past your window.
If you don't fancy making the journey you can also stand on the bridge and wave on the passers-by.
Read More: The Best Time to Visit England: A Complete Guide
Have Longer To Explore Yorkshire?
If you're lucky enough to be staying here a little longer than a weekend then you might want to consider taking a few day trips to some impressive locations just outside Haworth.
Cliffe Castle Museum can be found in the nearby town of Keighley. The building itself is worth a visit, and inside you'll find all sorts of weird and wonderful Victorian artefacts. It's a great place for kids to explore as it's pretty quirky!
Alternatively visit East Riddlesden Hall, a National Trust 17th century manor house with beautiful grounds and an interesting backstory. This is the perfect place to spend a summer's day when the weather is glorious and the flowers are in full bloom!
A little further out is the National Trust site of Brimham Rocks. This natural playground of impressive rock structures makes for a great day out. Take picnic and feast among the giant stones as the Victorians did many years ago.
Where To Stay in Haworth Yorkshire
Haworth is full of pretty little stone cottages that make for the perfect cosy hideaway. I stayed in tiny Snug Cottage right next to the village centre. It was full of character and charm while still retaining all the creature comforts you could ask for.
If you're visiting during the winter months then make sure you look out for somewhere with an open fire or wood-burning stove for the ultimate cosy setting to return home to.
When To Visit Haworth Yorkshire
Yorkshire isn't known for its good weather, but no matter what Haworth will still impress. I went during the winter months when the wind howled through the open moors, the puddles on the cobblestones reflected the glow of the street lamps and the open fires welcomed and warmed.
During summer you'll find warm sunny days when you can explore for longer without having to duck inside for shelter from the cold!
Read More: 11 Unique Things to do in York
Written by Emily Nancolas
Emily is a keen traveller, adventure seeker and Scrabble fanatic. In an attempt to follow her dreams of learning to sail she quit her full-time job as a primary school teacher just over a year ago, bought a sailboat in Sicily called Hot Chocolate, and now explores the world from her tiny home on the ocean. She writes travel guides and blogs about her experiences at sea and documents her adventures through film. You can find out more at Two Get Lost.