Where else but London can you find such a marvellous selection of eclectic, unique, and utterly special bookshops?
These beautiful independent bookshops in London exist as champions of feminism, LGBTQ rights and values, left-wing politics and ideals, and celebrations of the written word in all its strength and beauty.
Each of these thirteen bookshops has something uniquely wonderful about it, and deserves your time, love, and dedication. Support them, show them you care, and buy their books.
The world of literature would not be as rich, diverse, and wonderful as it is without them. These are the thirteen best independent bookshops in London.
Read More: London Itinerary for Book Lovers
*Persephone Books has now moved to Bath, UK. You can read all about it and see what their new premises look like in our Guide to the Independent Bookshops in Bath.
London's Radical/Activist Bookshops
London is home to some of the best radical bookshops in the UK. These are bookshops that promote and celebrate Black lives and the queer community.
These are bookshops that offer readers the opportunity to learn more and discover the lives of people who have fought for their right to live a good life.
These bookshops deserve all the power, support, and promotion you can give them.
Read More: 8 Must-Visit London Bookish Cafes and Bars
Gay's The Word
One of the most legendary bookshops in London, Gay's The Word, is another very special independent bookshop which boasts of the welcoming and diverse atmosphere that London offers.
It's a bookshop that couldn't legally exist in many parts of the world, a fact that makes it all the more important to give your love, attention, appreciation, and money to.
Gay's The Word has been out and proud since 1979 and even played a major role in the movement known as Lesbians and Gays Support the Miners.
The alliance would often meet at Gays The Word back in 1984-85 and collect money in support of the miners' strikes of the Thatcher era.
Gay's The Word has a glorious history of hosting literary events and book launches (including the momentous recent launch of Indonesian poet Norman Erikson Pasaribu's collection Sergius Seeks Bacchus – an event that Norman could sadly never have done in his home country).
Gay's The Word is a celebration of liberal progress, of standing for your rights, of the transformative books written by LGBTQ writers from around the world.
Read More: 5 Literary Cities in the UK
The Common Press
We're excited and overwhelmed to report that The Common Press is a London bookshop and cafe that curates and sells the exact kinds of books that we at Books and Bao love to read.
What you'll find at this, one of the most beautiful and friendly bookshops in London, is a range of queer books by LGBTQ writers, books by Black authors, and books in translation from around the world.
This is everything we stand for in a single London bookshop.
The Common Press also happens to be a cafe and events space. Author talks come up frequently, and they even offer studio spaces for podcast recordings (equipment included) which visitors can rent and use as they see fit.
This is the bookshop of the future, promoting the best of contemporary writers. It is activism through kindness and beauty, and a very special bookshop indeed.
New Beacon Books
New Beacon Books is, to use its own words, "Specialists in African and Caribbean Literature since 1966".
This is an incredible London bookshop which offers fiction, non-fiction, and children's books from black British, Caribbean, and African writers.
Having a bookshops in London like this one, it goes without saying, is incredibly important for guaranteeing the spread of diversity, love, and empathy within this enormously multicultural city.
New Beacon Books offers a space for members of the black community to read more of their own literature and history, and for non-black readers to see the world from a different perspective, and to learn as much as possibly about black, African, and Caribbean culture.
Housmans
With an incredible history of its own, Housmans is a bookshop that has, since its doors first opened in 1945, championed the rights of minorities by promoting works by black authors, queer writers, feminist writers, and all written words by minorities fighting to have their voices heard.
If you're shopping for feminist manifestoes, queer stories, the history of the Black Lives Matter movement, comics by transgender writers, or anything else beyond the stories of straight white men, Housmans is a must-visit bookshop that deserves your support.
They have spent decades supporting minorities, and we should likewise support them in this ongoing fight.
Bookmarks
The world at present can seem like a dark place for many of us. The book, as Esra Pound once said, should be a light in one's hand.
And what better kind of book to fan the flames of resilience against evil than ones that come from the left?
Perhaps, as a far-lefty myself, I'm biased, but if you'll allow me one more pretentious quote, I always felt a big connection with what Prime Minister William Gladstone once said: "Liberalism is trust of the people tempered by prudence. Conservatism is distrust of the people tempered by fear."
Gladstone also once said that books are delightful society. And I'm sure that the people at Bookmarks (obvious pun is obvious) agree.
Bookmarks is a London independent bookshop that sells books on politics, history, and society all from a socialist perspective.
It's a bookshop worthy of the support of anyone who cares for truth and good in the world. We need more spaces like Bookmarks in the world.
London's Travel Bookshops
A unique theme amongst bookshops is that of the travel bookshop: an entire store dedicated to the world within books.
Most of these travel bookshops sell maps and guides, as well as personal travelogues, the histories of far-flung places, and (our favourite) literature from countries the world over.
Stanfords
Stanfords (established in 1853) is a bookshop that prioritises travel over all other things. Travel writing, travel guides, maps, globes, and translated literature. It's a bit of a dream shop, from where we're standing.
And, in fact, Stanfords also has a Bristol branch which was immeasurably impactful on the very existence of this site.
During our time living in Bristol in 2016, we frequently visited Stanfords and were inspired to buy and devour book after book on Asian travel and translated literature. Thus, Books and Bao started to take shape.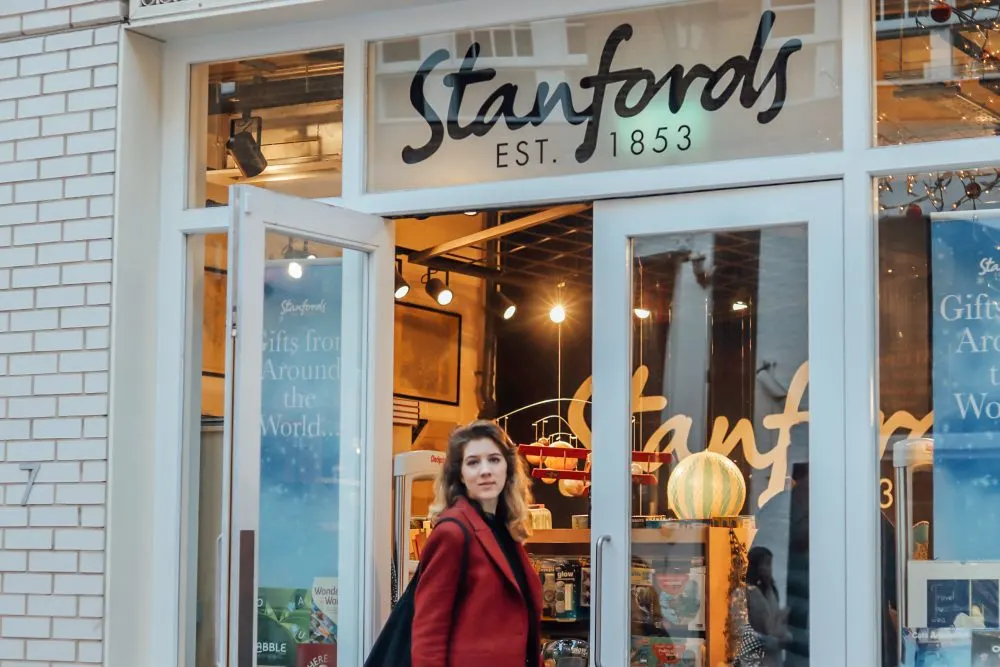 This is the power of a good bookshop: without Stanfords, we would not exist as a site. For that, we are eternally grateful to Stanfords and what it has accomplished as a bookshop.
Daunt Books
There are, in fact, five branches of Daunt Books in London: four smaller ones and a flagship store in Marylebone near Tottenham Court Road.
The flagship store is an enormous Edwardian building with an arched window of glass at the back, framed on either side by wooden walkways walled by bookcases.
The very best thing about Daunt Books, from our perspective, is that it stands for what we stand for: celebrating books by celebrating countries.
Daunt Books categorises its books by continent and country: if you go to the Asia section, you'll find wall-to-ceiling books on China, Japan, Korea etc.
Fiction, biography, and non-fiction all blend together here because the priority is celebrating cultures and nations rather than strictly categorising by genre or type.
We love this shop and its philosophy dearly, and it is perhaps the most grand and beautiful bookshop in London.
If you're a budding bookstagrammer, you need to visit Daunt Books in Marylebone and go crazy.
Read More: 11 Literary Tattoos for Book-Lovers
The Notting Hill Bookshop
In Notting Hill, that iconic British film of British Britishness featuring an American film star, Hugh Grant's character owns a delightful little travel bookshop on Portobello Road.
Well, that bookshop is real, and it did originally exist as a travel bookshop when it opened in 1979.
Today, you'll find a wider range of genres and styles when you visit (perhaps as a result of all the confusion felt by people who visited the film's version of the shop).
Thanks to Notting Hill's massive success (we re-watch it on a yearly basis), The Notting Hill Bookshop has become a frequent destination for tourists visiting London.
And with good reason: it's a quaint and friendly space that very much epitomises the local English bookshop, and thus one of the very loveliest independent bookshops in London.
And it's on one of the most vibrant and eclectic streets in London.
More Great Independent Bookshops in London
Here are a few more independent bookshops in London which deserve your attention and your custom. Each one offers a unique aesthetic or theme, or is simply a heartfelt little business that loves literature.
Check them all out when you visit London!
Bookbar
Located in Islington, Bookbar is a joyous space with an emphasis on community and the social side of being a bookworm. It's one of the most active and exciting bookshops in London, by far.
What sets Bookbar apart is their community spirit. Selling coffee by day and alcohol in the evening, Bookbar invites people to talk, drink, browse, and make new friends through their shared passion for reading.
On the books side, Bookbar is also very impressive. Their shelves are curated so spectacularly with the best of the current bestsellers.
With an emphasis on women writers, Black writers, and books in translation, this is exactly our kind of space. The tastes of the booksellers at Bookbar are immaculate!
Gosh!
Our biggest love (after translated literature) is comic books. And Gosh! is the best independent comic book shop in London.
Gosh! understand the breadth of comic books. They stock translated comic books from across the world, experimental and little-known comics from small art-house publishers, as well as the biggest names in the industry.
Comics are a medium of literature that's very close to our hearts. That love stretches from the campy adventures of classic DC Comics all the way to the very best award-winning graphic memoirs of Fun Home and Persepolis.
And, as die-hard comic book lovers, we couldn't appreciate more the range and quality of comics stocked by Gosh!
Word on the Water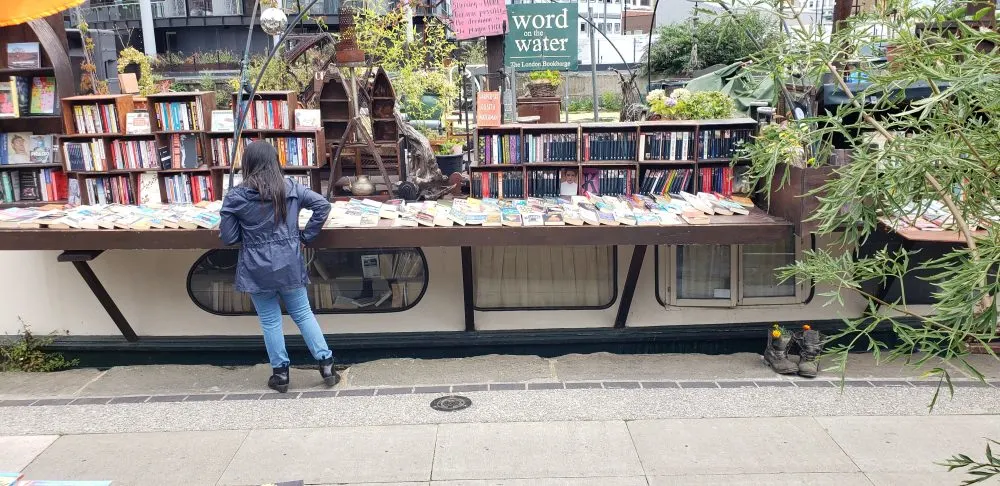 There's a cold war that never ends between London and the other great cities of the West: a hipster war fought with artists, fashion designers, markets, cafes, and bookshops.
Cities like Berlin, New York, and Bristol give London a run for its money but, bitch, please. London has Word on the Water.
Word on the Water is an independent bookshop that floats. And it floats on Regent's Canal near King's Cross in an old 1920s Dutch barge. It is perhaps the most romantic place in all of London to go book shopping.
A tranquil environment where you can find really, fantastically well-priced books. The barge also has a friendly dog, a warm stove, and frequent live music playing on-deck.
Read More: 5 Books for the Literary Traveller
Libreria
Reinventing the concept of the bookshop is a behemoth undertaking, but Libreria has done an impressive job. And where else would you attempt such an undertaking than East London?
As Libreria's own website explains, "Our shelves are arranged according to broad themes like 'Wanderlust', 'Enchantment for Disenchanted' and 'The City', so you're constantly encountering titles you might not have come across otherwise.
Browsing in our bookshop is a world away from the narrow algorithmic recommendations of Amazon.com."
Statements like these are what really raise book-shoppers' intrigue levels to their peak, and draw people in from all over the city.
Libreria is a fantastically modern space with a dynamic aesthetic, but its mission statement is far more traditional, encouraging a love and a dedication to literature and the written word.
We respect and adore everything that Libreria manages to achieve, and we are so glad they exist.
Brick Lane Bookshop
Brick Lane Bookshop is, undoubtedly, one of the most famous and beloved bookshops in London, despite not being a chain. Its fame comes from the strength of its character.
This is a bookshop built by community spirit, with more than forty years of history. It is a bookshop that celebrates readers, language, protest, change, and the strength of the written word.
Found in London's East End, Brick Lane Bookshop is more than a bookshop; it is a community space where booksellers take pride in their work and enjoy the community which a love of literature fosters.
This is one of London's most wholesome and beautiful independent bookshops.
The Open Book
In the fancy borough of Richmond, you'll find a bookshop with a maximalist aesthetic but a deceptively curated selection of new books for sale.
The Open Book is a brilliant bookshop that appears small at first, as you initially step inside, but reveals itself to be a deep space with plenty of shelves to explore.
The layout of this shop is dynamic, with the kinds of diagonal and isometric shelves that you don't see often, but which actually make browsing the books easier and more dynamic.
Adding to the maximalist charm of The Open Book is the way in which books are stacked in small piles below the books, as though the shop values literature more than space, and we thoroughly respect that attitude.
The Open Book is a general bookshop with a focus on fiction, and the front of the shop is where you'll find the newest hardcover releases.
As you explore deeper into the shop, you'll find the usual categories of poetry, crime fiction, and history books. It's a wonderful independent London bookshop to check out when you're next in Richmond.
The Alligator's Mouth
Also located in the beautiful Richmond is the fantastic children's bookshop The Alligator's Mouth.
This is a bookshop whose owners and booksellers have a true passion and respect for children's literature and literacy.
They even have their own yearly book prize, which has been running for several years!
Most big book chains do a terrible job of promoting diverse literature for children, instead leaning on old classics like the books of Roald Dahl or the overrated and problematic David Walliams.
But children's literature is a broad, diverse space that produces exciting new books on a regular basis, and too many bookshops don't promote this.
The Alligator's Mouth stands out by respecting that diversity of children's literature. They visit local London schools and encourage children to read a wide selection of literature.
They also don't strictly categorise by age group, respecting the fact that children read at all different levels. They simply ensure that children of certain ages read books with appropriate content for their age.
The world needs more independent bookshops like The Alligator's Mouth; ones that love and respect the wide world of children's literature.
Queen's Park Books
Located in the peaceful, residential area of Queen's Park, which straddles Westminster and Brent, Queen's Park Books is the perfect idea of a charming neighbourhood bookshop brought to life.
In size, design, and presentation, this is every bookworm's ideal local bookshop. Having this place on your doorstep would be a dream.
The aspect of Queen's Park Books that visitors will be most grateful for is its curation. The booksellers here have immaculate taste.
Whether it be new hardcover releases or paperbacks from the past few years, they only stock the best of the best.
And, beyond sheer quality, there is also a delightful amount of diversity here. Plenty of books in translation, books by LGBTQ+ writers, and books by writers of colour.
Queen's Park Books really do curate and stock only the very best books of the moment. Love that for them.
Lutyen & Rubinstein
A charming bookshop we discovered completely by accident as we were wandering the Notting Hill/Kensington area on the way to our favourite branch of Daunt Books.
Both a bookshop and a literary agency, this two-floor treasure trove has all the latest hardback releases, a children's section, and a downstairs with a range of classics and diverse readers from around the world.
We were also excited to find they stocked a wide range of Persephone Books, those dove grey tomes can never be mistaken.
They serve free coffee downstairs and there's a table for sitting and choosing your latest reads. You can book a consultation with their expert booksellers and can sign up to their monthly subscription Year in Books where they will send you monthly, tailored reads.
There's even a year in Cookbooks options for you foodies. This is very much a bookshop that offers a whole community for book lovers.