Yorkshire, infamously referred to by its inhabitants as 'God's Own County', has been inspiring writers and poets for generations. What makes Yorkshire so special is undoubtedly its natural landscape.
Windswept moors, dramatic coastal cliffs and rolling country fields, are just a selection of Yorkshire's natural beauty on offer. And many of these places of natural beauty are also unmissable places to visit in Yorkshire if you're a bookworm.
Recently, Yorkshire has seen a huge surge of visitors wanting to discover its rich literary history. After all, some of the greatest works of literature in the world were created here! Understandably, thousands of visitors flock to see the places that inspired their favourite stories or poems every year.
Literary Places to Visit in Yorkshire for Bookworms
There's no doubt that Yorkshire has lots to offer tourists, even if they're not book-lovers. However, skipping over Yorkshire's literary sites would be to miss out on some of the best experiences this county has to offer!
If you're planning a trip to Yorkshire, make sure to visit these 6 best places for book lovers to visit.
Read More: 7 Best Things to Do in the Lake District (UK)
1) Haworth & Brontë Country
For fans of the Brontës, nowhere on earth compares to the sleepy village of Haworth, West Yorkshire. The Brontë family moved here in 1820 when Patrick Brontë, the sisters' father, got a job as the town's vicar.
Haworth is a charming town well worth spending the day in, and is popular with tourists year-round. One of the most popular things to do in Haworth is to visit the Brontë Parsonage Museum.
This was the very house in which the Brontë family lived and worked! The interior of the house still looks as it did during the sisters' lives and contains unbelievable treasures, such as the very desk at which Charlotte wrote her novels, some of the sisters' clothing and original manuscripts of Brontë works.
Tickets to the museum cost £9.50 per adult, with £6.50 concession tickets also available. Each ticket buys you unlimited entry to the Parsonage for a full year!
Once you've explored the Parsonage, visit Haworth Parish Church. Brontë enthusiasts stop by the church to pay respects at the site of the Brontë family vault. You'll find the vault's position under the floor on the east side of the church marked with a plaque.
Arguably the most popular thing to do in Haworth, due to its popularity with both hikers and Brontë fans alike, is the Top Withens hike. This hike is around 8.3 miles, starting and ending in the centre of Haworth.
It's an absolute must for any Wuthering Heights fans! It was this rugged landscape which inspired the setting of the book! The walk is best on a cloudy and windswept day when the moors really come to life to recreate the book's haunting atmosphere.
Getting to Haworth is simple, and the town is accessible by public transport. That being said, if you drive to Haworth it'll be much easier for you to explore the gorgeous 'Brontë Country' – the countryside surrounding the town.
If driving isn't an option, you can get the train to Keighley, approximately 3 miles from Haworth, from the nearby cities of Leeds or Bradford. From here, it's just a short bus journey to Haworth.
On summer weekends, you can catch a steam train from Keighley to Haworth, which I highly recommend!
Read More: Get the most out of Haworth with this weekend guide
2) Hull, Home of Philip Larkin
Even the most casual of poetry readers will have come across one of Philip Larkin's masterpieces.
What the casual reader wouldn't know is how influential the East Yorkshire city of Hull was on Larkin's work.
Having moved there in 1955 to become the University of Hull's Head Librarian, Larkin spent a total of 30 years living in Hull, which he described as "fish-smelling" and "a dump". Clearly, not everybody agreed, as Hull was awarded the title of 'UK City of Culture' in 2017.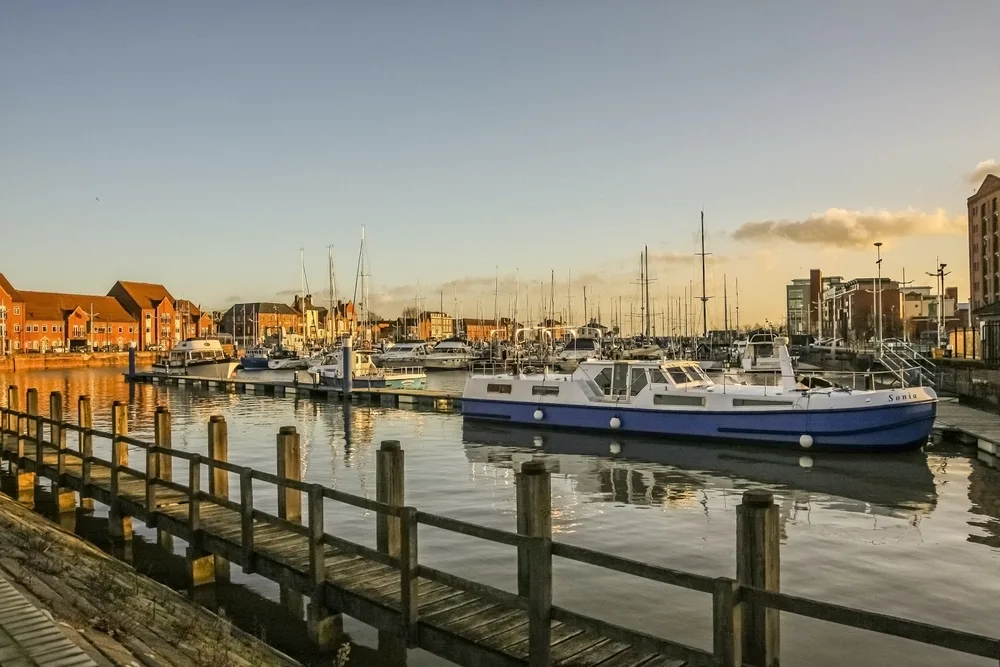 Today, Hull does everything it can to celebrate its most famous citizen – even if that love didn't go both ways.
Highlights for Larkin fans include the Larkin statue at Hull train station and a collection of 25 giant decorated toad sculptures scattered about the city, references to the poems 'Toads' and 'Toads Revisited'.
For a comprehensive visit to Larkin's Hull, follow the Larkin Trail. Designed in 2010, this walk starts just outside Hull train station and guides you past the city's Larkin hotspots. Allow yourself around 2.5 hours to tackle the section of the trail within the city centre.
Later, if the city centre sights aren't enough for you, utilise Hull's many public transport options to get to Larkin's 105 Newland Park residence or the University of Hull.
Read More: 8 Exciting Things to Do in the Yorkshire Dales
3) Mytholmroyd, Childhood Home of Ted Hughes
Pulling into the tiny West Yorkshire town of Mytholmroyd, you'll know straight away who its most famous citizen was.
On the train platform you'll find five storyboards containing excerpts of Ted Hughes' famed children's book, The Iron Man. Barely anybody disembarks at Mytholmroyd, so, for literature lovers, this is an opportunity to get truly off the beaten path.
Ted Hughes was the UK's Poet Laureate from 1984 until his death in 1998. Despite the continued controversy over his marriage to American author Sylvia Plath, he still remains highly esteemed.
After admiring the train station's storyboards, look across the railway tracks to the left and you'll see the green of Scout Rock, a popular hike for both locals and visitors alike.
This rock featured in Huges' autobiographical essay 'The Rock', in which he claimed Scout Rock 'cast its mood' over the town.
Next, check out 1 Aspinall Street, the birthplace and childhood home of Ted Hughes. A blue plaque which adorns the house, making it easy to identify. If you're spending the night in Mytholmroyd, the house is now a holiday rental which you can stay in!
Strolling along the canal, you'll find a tunnel (where the A646 road passes over the canal). This is the tunnel referred to in Hughes' poem 'The Long Tunnel Ceiling'.
Read More: 19 Unusual Places to Stay in the UK.
4) Sylvia Plath's Grave, Heptonstall
Despite being born in Boston, USA, poet and writer Sylvia Plath's burial site is, bafflingly, in the unremarkable West Yorkshire village of Heptonstall, population 1,500.
Located a steep 20-minute walk uphill from the much busier Hebden Bridge, most visitors to Hebden Bridge don't even realise Heptonstall exists. So, why is Sylvia Plath's grave in Heptonstall?
Plath's first visit to the area came shortly after her marriage to Ted Hughes in 1956. Their relationship was notably turbulent, resulting in Hughes leaving Plath for another woman in 1962.
After Plath's untimely death by suicide, Hughes ordered that she be buried in Heptonstall, near to where his parents lived.
Sylvia Plath's grave is in St Thomas' Churchyard, Heptonstall. Her headstone famously reads "Sylvia Plath Hughes", which outraged fans continuously deface so that it simply reads "Sylvia Plath". Unfortunately, there are no signposts to the grave.
This means that, unless there are other visitors already standing by the grave, you will have to read through the many headstones until you find the right one. Focus your search towards the back of the graveyard and towards the left.
To get to Heptonstall, you will first need to get to Hebden Bridge. Hebden Bridge is an 8-mile hike from Haworth, and I highly recommend it! The trail is breathtakingly gorgeous and takes in some of the best of Brontë Country.
If hiking isn't your thing, Hebden Bridge is just a three-minute train journey from Mytholmroyd. From Hebden Bridge, either take the steep walk up to Heptonstall or catch the 596 bus from Hebden Bridge train station, which will take around 10 minutes.
Read More: Haunted York — Ghost Stories and Places to Visit
5) Whitby, An Inspiration Behind Bram Stoker's Dracula
Despite popular belief, the bulk of Bram Stoker's iconic 1897 gothic horror novel, Dracula, did not take place in Transylvania. In fact, the bulk of the story takes place in both Whitby, North Yorkshire, and London.
Visitors to Whitby will soon see where Stoker's inspiration for his vampiric masterpiece came from, and the town certainly doesn't shy away from its claim to fame!
Start your visit to this seaside town at Tate Hill Sands, the place Dracula first came to shore. Next, climb the 199 steps up to Whitby Abbey, one of the town's most famous landmarks.
Fans may remember Count Dracula running up these steps in the novel as he escaped his shipwreck on the beach below. Dracula aside, the ancient Abbey stands majestically overlooking the North sea and has plenty of non-vampire related history.
It's definitely worth spending a couple of hours at. Adult tickets for entry to the Abbey cost £10, with £9 concession tickets available.
Stepping into the graveyard of St Mary's Church, you'll find the headstone of Thomas and Anne Swales. It is thought that Stoker borrowed their surname after seeing it in this graveyard and gave it to Count Dracula's first Whitby victim.
Finally, as darkness falls, take the 'In Search of Dracula' Tour. Established and researched by a local, this walking tour visits all of the Dracula sites and recalls the real facts surrounding Bram Stoker's time in Whitby, and its effects on his novel, Dracula. Tours depart at 7:30 pm, and cost £5 per adult.
It's clear that Dracula has left his mark on the town, a fact that is embraced by the Whitby Goth Weekend, a music festival that's been running since 1994.
Occurring twice a year, this festival entices thousands of goths to descend on the city each year. Time your visit for April or October to join in!
Read More: Learn more about Whitby and the rest of the Yorkshire Coast in this itinerary
6) York Shambles, The Original Diagon Alley
Sometimes referred to as 'Harry Potter Street', York's 'The Shambles' is one of the most popular tourist attractions in the city.
Already a tourist favourite pre-Harry Potter, the narrow and higgledy-piggledy street has capitalised on its rumoured status as the inspiration for Diagon Alley. Along the street you can now find all manner of Harry Potter merchandise.
The timber-framed buildings which overhang the alley date as far back as the 14th century, and the street itself has existed in some form since 1086. The street is arguably the best-preserved medieval street in the world, and wandering through it truly does transport you to another place.
Read More: 11 Unique Things to Do in York
If you want to explore The Shambles in peace and take some photos, get there as early as you can. Definitely aim to get there before the shops open! As you can imagine, this tiny alley becomes overrun with tourists as the day goes on.
The Shambles are a short 15-minute walk from York train station, which is a tourist attraction in and of itself! York trains station is actually where some of the Kings Cross Station scenes were shot for the Harry Potter movies!
About the authour: Ella is a London-based travel blogger who spent 3 years living in Yorkshire. As an avid reader, she spent as much time as she could exploring Yorkshire and its surroundings to learn more about her favourite literary figures. You can read more about her travels over on
her blog, Many More Maps.