What a year 2018 was! A year of incredible literature in translation, and the year that Books and Bao was born. Our list of Best Translated Books of 2018 barley skated the surface of the incredible ocean of translated literature released last year, and this list of upcoming books we're looking forward to in 2019 barely does either. Although, if you are looking for more, this Guardian article does a good job, and R.O. Kwon's list of 48 books from women and nonbinary authours is just outstanding.
Here are ten translated books from around the world landing on English shores in 2019.
Un-su Kim | Translated by Sora Kim-Russell
Behind every assassination, there is an anonymous mastermind–a plotter–working in the shadows. Plotters quietly dictate the moves of the city's most dangerous criminals, but their existence is little more than legend. Just who are the plotters? And more importantly, what do they want?
Published by Doubleday. Read our full review of The Plotters.
By Samanta Schweblin | Translated by Megan McDowell
The brilliant stories in Mouthful of Birds burrow their way into your psyche and don't let go. Samanta Schweblin(authour of Fever Dream) haunts and mesmerizes in this extraordinary collection featuring women on the edge, men turned upside down, the natural world at odds with reality. We think life is one way, but often, it's not — our expectations for how people act, love, fear can all be upended. Each character in Mouthful of Birds must contend with the unexpected, whether a family coming apart at the seams or a child transforming or a ghostly hellscape or a murder.
Published by Penguin Random House. Read our full review of Mouthful of Birds.
Christos Ikonomou | Translated by Karen Emmerich
Christos Ikonomou's collection Good Will Come From the Sea is a dirge for the Greek economic crisis and the devastation it has wrought, a profound meditation on the nature of justice in an unjust world. On an unnamed island, struggling migrants and trapped locals endure the crushing weight of poverty in these four linked stories.
Published by Archipelago Books.
The Boy ( March ) France
By Marcus Malte  | Translated by Emma Ramadan and Tom Roberge
The boy does not speak. The boy has no name. The boy, raised half-wild in the forests of southern France, sets out alone into the wilderness and the greater world beyond. Without experience of another person aside from his mother, the boy must learn what it is to be human, to exist among people, and to live beyond simple survival.
Beginning in 1908 and spanning three decades, The Boy is as an emotionally and historically rich exploration of family, passion, and war from one of France's most acclaimed and bestselling authors.
Published by Simon and Schuster
By Lina Wolff | Translated by Saskia Vogel
Ellinor is thirty-six. She wears soft black sweatpants and a Michelin Man jacket. She fights. Smart and unsentimental, she tries her hand at online dating, only to be stranded by a snowstorm with a literary critic. Cut to Max Lamas, an author who dreams of a polyglot lover, a woman who will understand him—in every tongue. His search takes him to Italy, where he befriends a marchesa whose old Roman family is on the brink of ruin. At the heart of this literary intrigue is a handwritten manuscript that leaves no one unaffected.
The Polyglot Lovers is a fiercely witty and nuanced contribution to feminism in the #metoo era. Pleasure is an elusive thing, love even more so.
Published by And Other Stories.
By Duanwad Pimwana | Translated by Mui Poopoksakul
In thirteen stories that investigate ordinary and working-class Thailand, characters aspire for more but remain suspended in routine. They bide their time, waiting for an extraordinary event to end their stasis. A politician's wife imagines her life had her husband's accident been fatal, a man on death row requests that a friend clear up a misunderstanding with a prostitute, and an elevator attendant feels himself wasting away while trapped, immobile, at his station all day.
With curious wit, this collection offers revelatory insight and subtle critique, exploring class, gender, and disenchantment in a changing country.
Published by The Feminist Press. Read our full review of Arid Dreams.
Roger Mello | Translated by Daniel Hahn
Beautifully illustrated by Roger Mello with sophisticated, highly textural paper cutouts, Charcoal Boys is a poetic and sensitive portrait of a child living under difficult circumstances. Charcoal Boys offers a unique perspective on the life of a young boy working in Brazil's charcoal mines: that of a wasp who follows the child throughout his day. Through the wasp we observe the hardships the little boy faces, from his work at the furnaces to his relationships with the other workers. Mello allows the little boy's strength and resilience to shine through in this moving condemnation of child labor.
Published by Elsewhere Editions
By Yu Miri | Translated by Morgan Giles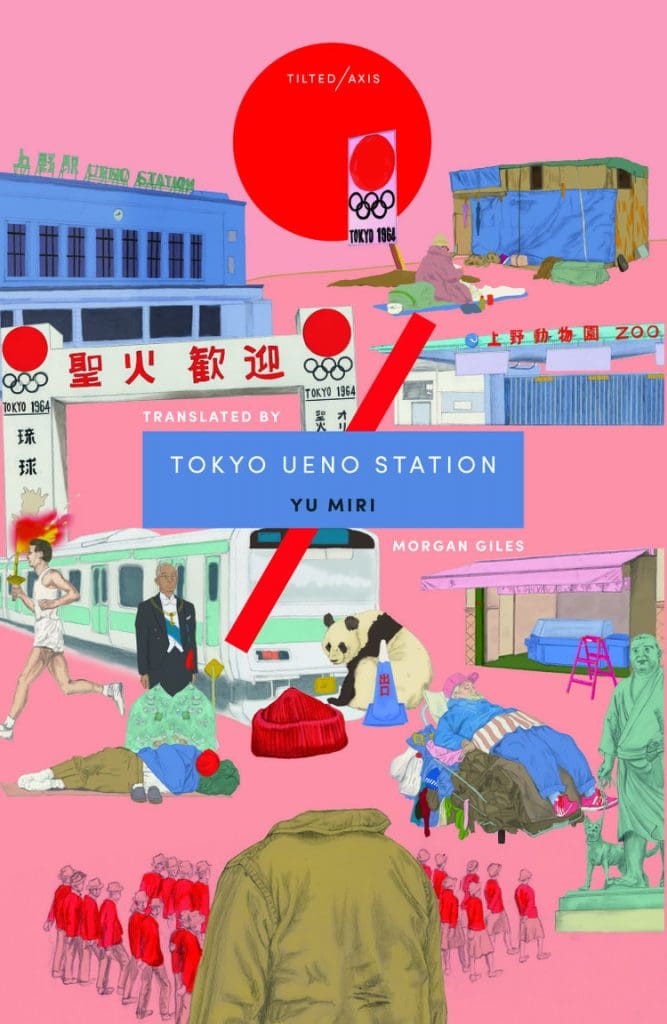 Born in Fukushima in 1933, the same year as the Emperor, Kazu's life is tied by a series of coincidences to Japan's Imperial family and to one particular spot in Tokyo; the park near Ueno Station – the same place his unquiet spirit now haunts in death. It is here that Kazu's life in Tokyo began, as a labourer in the run-up to the 1964 Olympics, and later where he ended his days, living in the park's vast homeless 'villages', traumatised by the destruction of the 2011 tsunami and enraged by the announcement of the 2020 Olympics.
Published by Tilted Axis Press. Read our full review of Tokyo Ueno Station.
By Wioletta Greg  | Translated by Jennifer Croft 
Accommodations follows Wiola after she leaves her childhood village, a close-knit agricultural community in Poland where the Catholic calendar and local gossip punctuate daily life. Her new independence in the nearby city of Czestochowa is far from a fresh start, as she moves between a hostel and a convent brimming with secrets, taking in the stories of those around her. In the same striking prose that drew readers to her critically acclaimed debut, Accommodations navigates Wiola's winding path to self-discovery.
Published by Transit Books.
Fu Ping (September) China
By Wang Anyi  | Translated by Howard Goldblatt
Fu Ping is a keenly observed portrait of the lives of lower-class women in Shanghai in the early years of the People's Republic of China. Wang Anyi, one of contemporary China's most acclaimed authors, explores the daily lives of migrants from rural areas and other people on the margins of urban life. In shifting perspectives rich in detail and psychological insight, she sketches their aspirations, their fears, and the subtle ties that bind them together. In Howard Goldblatt's masterful translation, Fu Ping reveals Wang Anyi's precise renderings of history, class, and the human heart.
Published by Columbia University Press.
If you're considering writing your own stories and becoming an author, take this writing class from author Yiyun Li and a 30-day free trial from Skillshare, or sign up with Skillshare to get access to all of their classes with a free trial.
Will Harris
Predominantly writes about the books of Books and Bao, examining the literature of a place and how the authors have used the art of storytelling to reflect the world and the culture around them.