Mui Poopoksakul is a lawyer turned translator with a special interest in contemporary Thai literature. She is the translator of Prabda Yoon's The Sad Part Was and Moving Parts, both from Tilted Axis Press.
She recently completed her translations of Duanwad Pimwana's story collection Arid Dreams (Feminist Press) and novel Bright (Two Lines Press), both forthcoming in April 2019. A native of Bangkok who spent two decades in the U.S., she now lives in Berlin, Germany. You can follow her on Twitter here.
What made you want to be a translator and how did you get started?
I'm actually a career switcher—I used to be a lawyer before I went back to do my M.A. in translation at the American University of Paris (a program the university sadly no longer offers). My advisor there, Daniel Medin, encouraged me to submit a story from my thesis to Asymptote, and that's how I got my first published translation.
I left the law not because I hated it, but it wasn't something I wanted to do for the rest of my life. I'd studied literature as an undergrad, which I loved doing, and I thought, why not try translating Thai literature? There's so little out there in English, and it would be a meaningful way for me to "return" to my native country and mother tongue. It all started sort of naively.
Do you feel pressure to represent Thailand with your translations?
Because so little Thai literature has been translated, yes, I do feel the pressure, even as I resist the idea—I don't think any one book or author, or a small number of them, should be asked to speak or stand for a whole country. That pressure is why I hope many Thai voices emerge internationally, and why I'm so happy to be translating two very different authors, although I didn't choose them for that reason.
I hope that the two of them—Prabda Yoon and Duanwad Pimwana—will already show some range in Thai writing and that the composite picture of Thailand that is formed will already be fuller.
But ultimately I am just one person with my own tastes and my own life story that surely must make me gravitate more easily toward certain books. The world of Prabda Yoon's early stories, for example, feels like my world when I was growing up in Bangkok, and I'm far from immune from that nostalgia, especially because I haven't really lived in Thailand since those days.
The Thailand of Duanwad Pimwana's Bright—working class, on the eastern seaboard—isn't familiar to me first hand, but I also feel close to this novel because it reminds me of my dad's childhood stories. At the end of the day, I have to view my task modestly. Otherwise, I get paralyzed by the fear.
What are the best and worst parts of your job?
Best: meeting authors, the actual translation process, especially when you find a word or phrase that feels seamless, the high of getting a project picked up, and the thrill of holding a book you translated. My editor at Two Lines recently mailed me a galley of Bright, and I was giddy just holding that.
Worst: Even though I've been doing this for a few years now, I'm still getting used to being a freelancer, and the days—periods, really—when I'm less motivated come with so much guilt, which is only sometimes productive. When you work on your own, it's hard to know if you're ever doing enough.
What are you excited about or working on now?
I have two translations coming out in the spring— Arid Dreams, a story collection, and Bright, a novel, both by Duanwad Pimwana. They are being co-launched by the Feminist Press and Two Lines Press, which is amazing.
I believe that outside of academia Pimwana will, incredibly, be the first female Thai author to be published in English internationally, and, as Prabda Yoon mentioned in an interview, these works will be the first by a contemporary Thai author who writes in Thai to be "commercially" published in the U.S.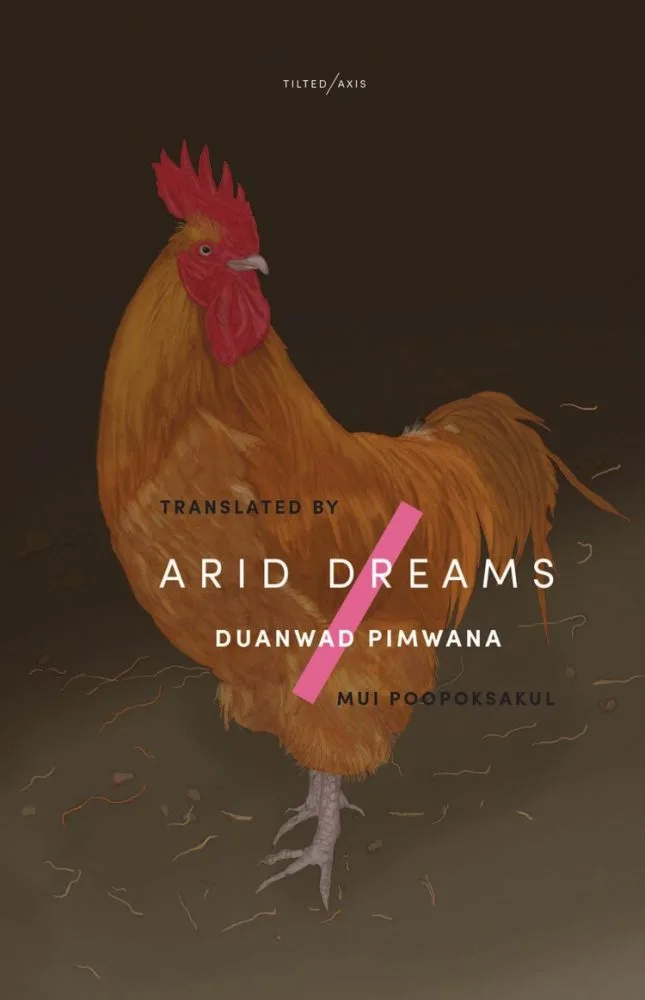 When I started these projects, these aspects weren't at the forefront of my mind, and they're just hitting me now. And speaking of range, these two books are really different. The novel is an episodic coming-of-age story that balances light and dark—the main story arc is sad but the little episodes are told with humour.
I personally love the structure of this novel for the story she wants to tell. Arid Dreams, on the other hand, is full of unsettling, social realist stories—her characters, never blameless, are psychologically worn down by the societal forces they have to contend with. A lot of the stories are real page-turners, too.
How many languages do you speak and what made you learn them?
My first language is Thai, and I left for school in the U.S. when I was twelve. I also have some level of French, Latin and German. My French is not nearly as good as it should be, especially now, but I studied French for a long time.
In college, I really loved reading French literature and theory. I actually started learning a little bit of French in fifth or sixth grade because my mom had a French teacher who was a French nun in her nineties, and when she didn't feel like going to her lessons anymore, she sent me in her place to give her teacher some company.
Once upon a time, I could read Latin decently well, though not anymore, but I often think back to my time studying Latin, because the way the language is taught, it really gave me my first brush with translation. Lastly, I'm learning German because I live in Germany now.
What are you reading right now?
In English: I just started Deborah Levy's Things I Don't Want to Know after recently finishing The Cost of Living. I'm reading them out of order, I know, but I'd read an excerpt of the latter in The Guardian and really wanted to get to it.
There's one passage from it that stayed with me, where she talks about this older man who has no awareness that a young woman he meets "might not consider herself to be the minor character and him the major character." Not to turn Deborah Levy into a self-help book, but for me this is a really important perspective to keep in mind as you move through the world and interact with others. In general, though, I probably spend too much time reading The New Yorker.
In Thai: I'm reading Prabda Yoon's essays and stories by Saneh Sangsuk (a.k.a. Danarun Saengthong), another literary heavyweight in Thailand.
Read through our Meet the Translator series to learn more about other amazing translators. If you'd like to be interviewed send us an email or a message on Twitter.
Follow Mui Poopoksakul on Twitter.