Fantasy is a colossal genre that has had an enormous impact on the lives of its readers and fans. This is a fiercely beloved genre that goes far beyond literature. For these reasons, selecting the best fantasy books of all time is a tall order, as is simply defining what fantasy actually is.
Originally inspired by the folk and fairy tales of Europe, as well as the gods and heroes of old religions, fantasy has since stepped into so many other realms. As well as this, fantasy was once the domain of straight white men, but the landscape of the genre is so much more richly diverse than it once was.
The classic fantasy books of the 20th century soon gave way to fantasy books by incredible Black authors, queer authors, and more; expanding the scope of this exciting genre. And so, here are some of the best fantasy books ever written, from the legendary epics that started it all to the modern fantasy books that are pushing the genre in bold new directions.
The Best Classic Fantasy Books
We are here defining "classic" fantasy books as anything written in the 20th century. These are the fantasy novels that have since become legend; the ones that have inspired countless readers and writers alike; the ones that have been adapted time and again. Some of this you will have loved and read; others you may not have. All are incredible.
Read More: The Best Sci-Fi Books Ever Written
The Hobbit by J.R.R. Tolkien
This is where the fantasy genre began. As he would also do with The Lord of the Rings (as mentioned below), British fantasy author J.R.R. Tolkien created an entire mythology with The Hobbit.
A world inspired by English geography and folklore, as well as the mythologies of other areas of Europe. Tolkien was a linguist, and he wanted to create an entire world of peoples, languages, and cultures. He did all of that in a short children's story, and the success of that feat has been celebrated for decades.
This is a vibrant, mysterious, and exciting world of elves, dwarves, and a race of Tolkien's own creation: the titular hobbits. Our protagonist, the now iconic Bilbo Baggins, is one such hobbit, invited on a grand adventure by an ancient and powerful wizard and a gang of dwarves. This adventure will take Bilbo and the reader through forests, caves, cities, and more. We meet goblins, play with riddles, and eventually steal from a dragon.
Buy a copy of The Hobbit here!
The Lord of the Rings by J.R.R. Tolkien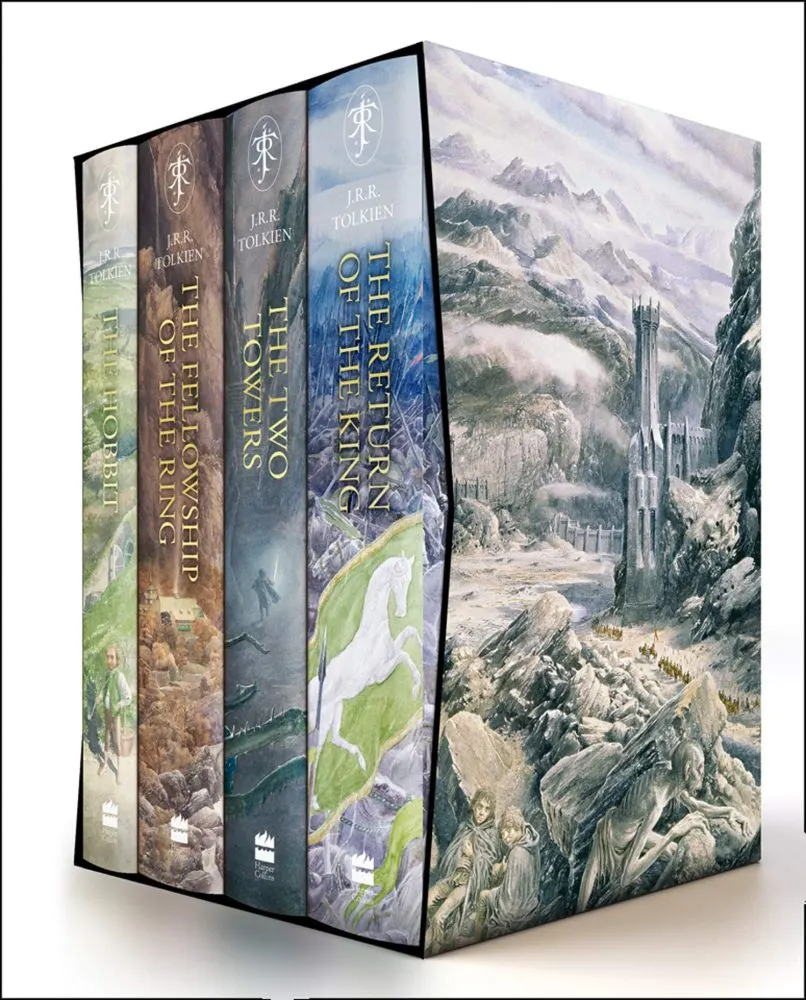 Tolkien's The Lord of the Rings trilogy of fantasy novels is the most important and influential work in the genre's history, and it always will be. With these books, Tolkien took what he began with The Hobbit and turned it into an entire world — a world with its own deep history, lore, and languages.
In fact, in many ways these books are a showcase in building an entire, fully realised fictional landscape. The scope of Tolkien's Middle Earth is unmatched in fiction. This is also the series that took aspects of European folklore and mythologies and turned them into staples of the genre.
If you love what the fantasy genre has given you — if you love its themes and settings and tropes — you need to read the books that started it all. The Lord of the Rings is the definition of true epic fantasy and worldbuilding, and for that reason they are some of the best fantasy books ever written.
The Gormenghast Trilogy by Mervyn Peake
Often compared to The Lord of the Rings because they are both fantasy and were written at similar times, Mervyn Peake's Gormenghast is, in truth, an entirely different beast. Peake himself was an interesting man, having been born in China, dying before his series could be finished, and being celebrated for his illustrations as well as his writing.
Gormenghast is a series beloved by many, including author Neil Gaiman, and it is a trilogy (originally intended as a single massive book) that blends the gothic and fantasy genres. Surrealist and intensely gothic in its tone and setting, Gormenghast helped to pave the way for the grimdark subgenre of fantasy books.
The titular Gormenghast is a remote castle ruled by the Groan family, who have called the castle home for as long as there has been history at all. The series is set within the earldom of Gormenghast, and follows the life of the castle's heir, Titus Groan.
Gormenghast is a piece of intensely surrealist and gothic fantasy fiction. If you love your fantasy to feel claustrophobic and dripping with gothic atmosphere, this is a must-read. As influential classics of the genre go, the Gormenghast trilogy represents some of the best fantasy books of all time.
Buy a copy of Gormenghast here!
Alice's Adventures in Wonderland by Lewis Caroll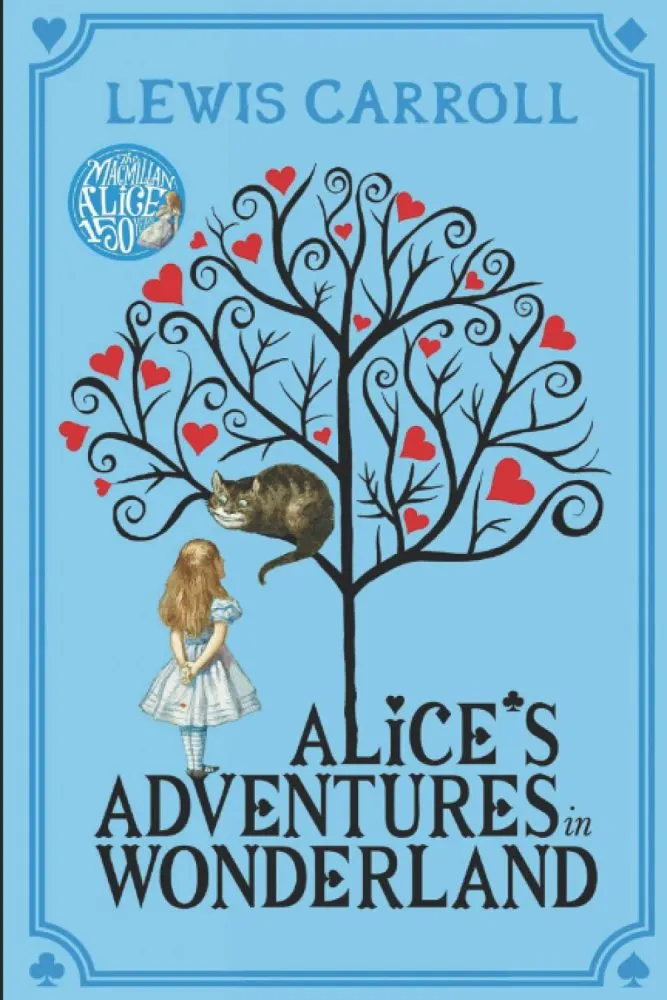 One of the first ever works of fantasy literature and one of the first and most influential children's books ever written, Alice's Adventures in Wonderland is a surreal, charming work of fantasy fiction. If there was ever a work of fiction to inspire the imaginations of children, it's this one. The tale of a bored girl, distracted by a curious creature, who tumbles forever down a rabbit hole, and finds herself in an impossible and fantastical world.
Without Alice's Adventures in Wonderland, the worlds of fantasy fiction and children's stories would look completely different, and we probably wouldn't have isekai manga and anime, either. More than a century after its publication, this children's fantasy book continues to be reimagined through film, animation, and even video games. One of the most influential and best fantasy books ever written.
Buy a copy of Alice's Adventures in Wonderland here!
Read More: 16 Must-Read Cozy Fantasy & Found Family Books
A Wizard of Earthsea by Ursula K. Le Guin
Ursula K. Le Guin was a hero of the fantasy and sci-fi genres; an incredibly kind and powerful and inspirational woman. While she is most celebrated for her genre-defining sci-fi novels, The Left Hand of Darkness and The Dispossessed, she also redefined the fantasy genre with her Earthsea quartet.
Beginning with A Wizard of Earthsea, this is a series of fantasy books for readers of all ages, set in a world of vast oceans and no great continents.
Our protagonist, Ged, is born on a humble island but with incredible innate magical gifts. A Wizard of Earthsea is Ged's coming-of-age story, as he grows from a simple boy to an arrogant youth, and eventually a wise and powerful wizard.
A Wizard of Earthsea established several important staples of the fantasy genre, most obvious of which are magic systems and a school for witches and wizards. After using magic to save his island from raiders, Ged is taken on as a wizard's apprentice, and later is sent to a magical school in order to mature his mind as well as his magic.
The Sword of Shannara by Terry Brooks
Published in 1977, The Sword of Shannara is a staple and a classic of the fantasy genre. The novel is not only the first in a trilogy, but was also the first Terry Brooks novel ever published. Despite Brooks now having an impressive career and an admirable legacy within the genre of fantasy books, The Sword of Shannara remains his most famous work.
This novel takes place in a far-flung future, millennia after a devastating nuclear war decimated much of the world. While the technology that once existed has been mostly lost, magic has taken its place, as do the familiar Tolkien-esque high fantasy races: elves, dwarves, gnomes, and trolls.
The book follows Shea Ohmsford, a half-human, half-elf who lives a blissfully secluded life in The Vale. But that idylic life is disrupted by a the arrival of the druid Allanon, who brings grave news.
An ancient evil, the Warlock Lord, has risen and is about to bring devastation to the land. This is a classic fantasy story in so many ways. An epic high fantasy tale that remains a beloved classic and one of the best fantasy books of all time.
Buy a copy of The Sword of Shannara here!
A Hero Born by Jin Yong
Written by Chinese author Jin Yong, and first published in 1957, A Hero Born is the first book in a series of epic wuxia fantasy novels known as Legends of the Condor Heroes. Wuxia is a genre of Chinese fiction inspired by the legends of martial arts heroes from across Chinese history, and A Hero Born is one of the most beloved wuxia tales to come out of China.
Blending fantasy, adventure, historical fiction, folklore, and martial arts, A Hero Born is set in the 13th century, during a war between the Jin and Song empires of China.
A Hero Born is a fantastic fantasy epic; the tale of a righteous hero, Guo Jing, who is born a desperate moment, who is raised on Mongolia, and who learns martial arts by seven legendary warriors. Guo Jing's father was another legendary master of martial arts, and was cut down by members of the Jin army, who are moving to take complete control of China.
A Hero Born is the first novel in a long series, and is an essential work of Chinese fantasy fiction that puts epic adventure and martial arts at the forefront, rather than the western staples of swords and sorcery. Fantasy fans owe themselves to check our A Hero Born, one of the most unique and best fantasy books ever written, by a master of the craft of Chinese fantasy fiction.
Buy a copy of A Hero Born here!
The Once and Future King by T.H. White
The legend of King Arthur and his knights of the round table is the greatest British myth; a story that has inspired writers and readers alike for centuries. While King Arthur's story has been adapted to film and TV for a hundred years, its most successful and admired novelisation is this: The Once and Future King by T.H. White.
The Once and Future King was originally published as five stories, titled The Sword in the Stone, The Witch in the Wood, The Ill-Made Knight, The Candle in the Wind, and The Book of Merlyn. All the characters of Arthurian legend are here, and the story of Camelot is retold by a master of the fantasy genre.
Without the legend of King Arthur, fantasy fiction likely wouldn't exist at all. Arthur himself was the original chosen one, after all. For fans of the fantasy genre, The Once and Future King remains one of the most important and best fantasy books of all time.
Buy a copy of The Once and Future King here!
Read More: 15 Best Books About Hell (Devils, Demons & Magic)
The Lion, The Witch, and The Wardrobe by C.S. Lewis
C.S. Lewis, a dear friend of beloved fantasy author J.R.R. Tolkien (above), was a beloved British fantasy author who wrote a timeless and legendary series of children's fantasy books: The Chronicles of Narnia. While it is a fantasy series, that all began with its most famous book The Lion, The Witch, and The Wardrobe.
(Although, if readers were to pick up a new collection of the series now, they'd find the sixth book, The Magician's Nephew, placed first in the series. This is because, chronologically, it is the first in the story, serving as a prequel to the other six books).
The story of The Lion, The Witch, and The Wardrobe follows four children who are evacuated during World War II and relocated to a large country house. There, via a portal in a wardrobe, the children visit the magical land of Narnia, and embark on a series of fantastical journeys.
Buy a copy of The Lion, The Witch, and The Wardrobe here!
The Last Unicorn by Peter S. Beagle
This 1968 novel is a precious gem of the fantasy genre. Beloved by kids and adults alike, it has sold millions of copies, been republished again and again, and received an animated film adaptation starring Christopher Lee.
As influential and iconic fantasy novels go, few reach the heights of The Last Unicorn. This is a fantasy novel that leans heavily on its fairy tale influences. Our protagonist, the titular last unicorn, believes herself to be the last of her kind.
To learn, definitively, if this is in fact true, she leaves her magical forest home and travels the land. Along the way, she learns that humans no longer recognise her as a unicorn. She meets and befriends other creatures, is captured by a circus of humans, encounters bandits, and ventures towards a castle that may hold the answers she seeks.
The Last Unicorn is a classic of the genre; a beautiful piece of fairy tale-inspired fiction, and one of the best fantasy novels ever written.
Buy a copy of The Last Unicorn here!
The Little Prince by Antoine de Saint-Exupéry
Loved by young and adult readers alike all around the world, French author Antoine de Saint-Exupery's The Little Prince is a classic work of fantasy fiction and children's fiction. Comparable to Lewis Carroll's Alice's Adventures in Wonderland (above) in terms of its global popularity, The Little Prince is a fantastical tale that has inspired young readers for decades.
Published in the 1940s and full of iconic lines that are still regularly quoted today, The Little Prince tells the story of a spacefaring boy, the titular little prince. Alongside our narrator, who has crash-landed his plane, we meet our little prince in a desert. There, after befriending the narrator, he tells us his curious life story.
This story concerns growing flowers on tiny planets and visiting worlds full of problems caused by adults acting carelessly. It's an uplifting, fantastical tale of friendship and loneliness that has resonated with readers for many years, and remains one of the best fantasy books, especially for younger readers, even decades after its publication.
Buy a copy of The Little Prince here!
Magician by Raymond E. Feist
By the 1980s, the trends of fantasy established by Tolkien had been embedded within the genre: mediaeval castles, wizards, elves, dwarves, swords and sorcery. These staples gave birth to such goliaths of fantasy like the Dungeons and Dragons role-playing game.
Now, there are certain expectations for fantasy books and stories in order for them to be classified as fantasy, and Magician is the perfect example of those high fantasy concepts. Magician, Feist's first published novel, is a perfect example of following those high fantasy traditions. Inspired by fantasy role-playing games, Magician follows a young kitchen boy named Pugh who becomes a wizard's apprentice.
As he studies magic, he rises up and becomes a squire after saving the princess from a mountain troll attack. The stakes rise, the world expands, and Pug is sent out into it. Along the way, he fights with dark elves and befriends dwarves.
A true high fantasy epic for the ages; a huge book full of all the great tropes that fans of fantasy books have come to embrace and cherish. Written at a moment where the fantasy genre really exploded, Magician is a key and influential work of the genre; one of the best fantasy books ever for this reason.
Legend by David Gemmell
David Gemmell was a legendary British author of both fantasy fiction and historical fiction. His first novel, which arguably remains his most famous work, was the 1984 fantasy novel Legend, which was soon expanded into an enormous epic series with a confusing chronology. Legend introduced the iconic fantasy hero Druss, a man written to express all the great virtues of a great hero.
The novel begins with a wild mass of people known as the Nadir having finally come together under the leadership of Ulric, who has tamed these tribal men into the shape of an invading empire. That empire marches on the Denai Empire, whose leader Abalayn tries and fails to negotiate peace. Now war is at his door, and the titular legend Druss is called upon to inspire and lead his people.
The story takes place at the fortress of Dros Delnoch, where it is said the now aged and war-weary Druss will die. Despite this, Druss takes up his axe and fights. Legend is an exciting novel of heroes and villains, warriors and kings. A heroic fantasy from a golden age of the genre, and a novel that remains one of the best fantasy books of its time.
A Song of Ice and Fire by George R.R. Martin
Thanks to the searing success of its HBO adaptation, George R.R. Martin's A Song of Ice and Fire series of epic fantasy novels is as much of a household name as The Lord of the Rings.
This is a bold statement, but no author in the epic fantasy genre has come as close to Tolkien in terms of scale, worldbuilding, and pop-culture influence. And this is for one very good reason: A Game of Thrones is a masterpiece.
Despite being full of the staples of high fantasy: knights, dragons, big stone castles and keeps, seafaring ships, etc, this series is arguably more grounded than others. This is because of Martin's focus on politics. A Song of Ice and Fire is an epic fantasy series that is all about politics on both a micro and a macro scale.
The cogs of war turn, backs are repeatedly stabbed, prophecies are written and broken, twists come fast and often, and beloved protagonists are unceremoniously killed off. The sheer scale of this series is unmatched, and Martin took huge influence from historical events like the War of the Roses to make Westeros' politics feel real and its stakes feel high.
The Eye of the World by Robert Jordan
If you asked someone to name the three biggest names in the fantasy genre, the authors of the best fantasy books ever, you'd likely be hit with these three: J.R.R. Tolkien, George R.R. Martin, and Robert Jordan.
Jordan's The Wheel of Time series of epic fantasy novels, which began with The Eye of the World, is an enormous masterpiece of insane proportions. While the first novel in the series, published in 1990, has been criticised for following the Lord of the Rings formula too closely, it remains one of the best fantasy books ever.
The Eye of the World begins in a rural village called Emond's field, home to our protagonists, which is suddenly attacked by orc-like Trollocs, the footsoldiers of the books' big bad.
This sets in motion an epic journey for our protagonist Rand and his friends. Early in the novel we are introduced to aspects of the world such as Aes Sedai. Aes Sedai are women in touch with the magic of the world, who behave like seeresses or wise women. We are also gradually introduced to the wider world of this series, its politics and magic systems, its big bad, and Rand's quest.
Buy a copy of The Eye of the World here!
The Gunslinger by Stephen King
Stephen King is best known as the master of American horror, having penned some of the most famous horror novels of all time. However, he also wrote an incredible, surreal, and flat-out strange (but very ambitious) series of seven fantasy novels known as The Dark Tower.
Set in a post-apocalyptic fantasy world with a distinctly American Western setting, the series' first book The Gunslinger follows a protagonist named Roland who is on the hunt. Roland has been chasing the enigmatic "man in black" for a long time, and we jump right into the story as the chase is underway.
The Dark Tower series is incredibly surreal, with wildly strange things coming along often with little-to-no explanation, and the chaos of it is half the fun. This is King showing the world how fantasy, surrealism, and even the Wild West can go hand in hand. A daring novel amongst the best fantasy novels ever.
Buy a copy of The Gunslinger here!
The Farseer Trilogy by Robin Hobb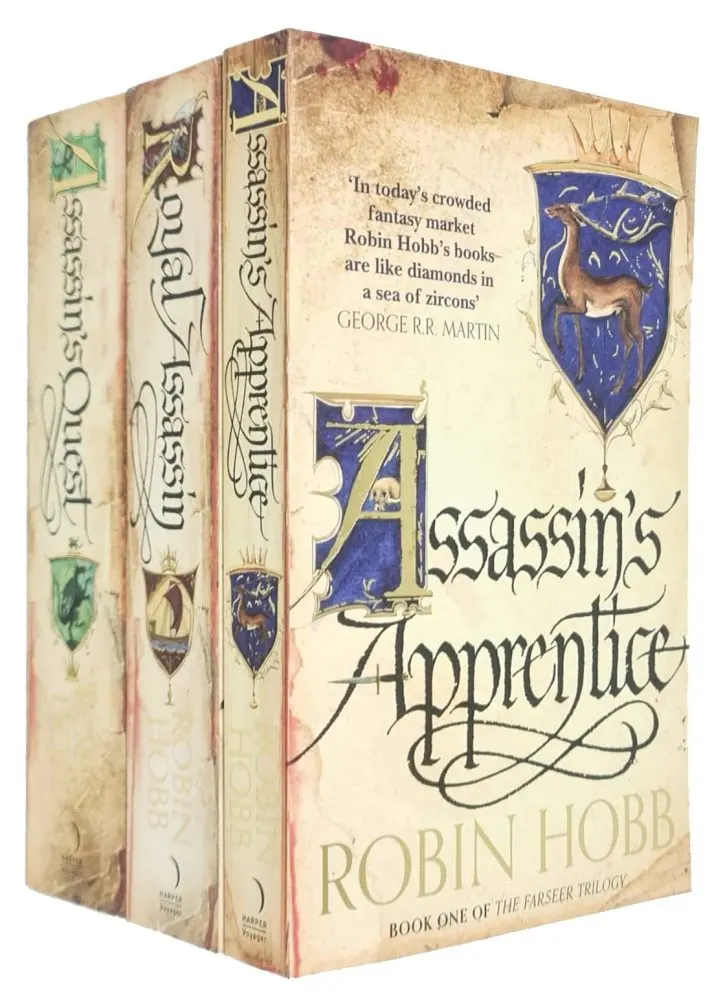 It's hard not to unbottle my own excitement here — Robin Hobb, alongside Joe Abercrombie (below), is my favourite fantasy author. The beauty of Hobb's writing comes in its simplicity. Her world's are deceptively easy to understand and therefore fall easily into.
There is nothing overwhelming about her world-building, her language and characters; no arbitrary use of fantasy tropes. But her characterisation, the politics and relationships and plots that she writes, are all so strong and captivating and savvy. Her books are intensely addictive and moreish.
And this all began with The Farseer Trilogy, which itself began with Assassin's Apprentice, a refreshingly short — and therefore perfectly paced — epic fantasy novel.
Protagonist Fitz is a royal bastard who, in this first novel, trains as a royal assassin while being raised by the kindly stablemaster Burrich. Fitz possesses an ancient magic known as the Wit, which allows him to communicate with animals. The magic of this world is subtle, discreetly woven into the language of the world.
Guards! Guards! by Terry Pratchett
Pratchett's Discworld is a fantasy world that was thoroughly explored and expanded across forty one novels (more than the number of plays that Shakespeare wrote).
Some of my personal favourites include Mort, Small Gods, Wyrd Sisters, and Hogfather, but I've selected Guards! Guards! for this list because of its simplicity and purity.
This classic Discworld novel centres around a mysterious brotherhood who are using forbidden magic to summon a dragon. As the dragon repeatedly appears to ravage the city of Ankh-Morpork, captain Sam Vimes is forced to actually take action and do something about it. He is aided by watchmen Colon and Nobbs, as well as a fresh recruit: Carrot, a huge human raised underground by dwarves.
Guards! Guards! is a great introduction to the Discworld novels because it perfectly showcases the city of Ankh-Morpork, and it's a simple novel with simple stakes. Pratchett penned many of the best fantasy books of all time, and Guards! Guards! is undoubtedly one of them.
Buy a copy of Guards! Guards! here!
His Dark Materials by Philip Pullman
Targeted at a younger audience, and set in an alternate, fantastical version of our world (at least, to begin with), His Dark Materials is a truly magical fantasy trilogy. The trilogy's first novel, Northern Lights, opens in an alternative version of the author's beloved Oxford, in a world where every human has an animal companion. The companions, known as daemons, are in fact aspects of our own souls and personalities, expressed in a separate corporeal form.
Our protagonist is Lyra, a young girl who lives at Jordan College. The novel begins with her spying on her globetrotting uncle as he gives a secret presentation to the college's masters. Via this presentation, Lyra learns about a mysterious particle known as Dust, something that sits between the realms of magic and science.
When Lyra's best friend is kidnapped, she is taken in my a fancy but enigmatic socialite and sets off on an adventure of airships, witches, and talking bears that wear armour.
His Dark Materials is a whimsical adventure series with high stakes and intense religious allegories. The trilogy has come under fire for decades as a work that is critical of organised religion (specifically Christianity), and it presents that criticism through savvy allegories.
The Last Wish by Andrzej Sapkowski
Translated from the Polish by Danusia Stok
The Witcher, a series and world created by Polish author Andrzej Sapkowski, has, in recent years, become almost as much of a household name as Game of Thrones, thanks to its successful video game and Netflix adaptations.
This is a gritty series of fantasy books inspired by Eastern European folklore and mythology. Interestingly, the book which most readers begin with is a short story collection, published before the series' full-length novels.
This book, The Last Wish, is comprised of seven short stories, the first of which is titled The Witcher. As the beginnings of epic fantasy series' go, a short story collection is a unique one. That said, it certainly has the benefit of both placing the reader into the world slowly, through bite-sized, digestible chunks, and of giving us a variety of different places and perspectives to explore from the outset.
The Witcher as a franchise has never done things simply, though, with the first two games in its video game series having cult followings, and the third game blowing up into the mainstream. The very first story in this collection, the first glimpse we get of protagonist Geralt, is a short and action-filled tale of monsters, curses, loss, and violence.
Buy a copy of The Last Wish here!
Gardens of the Moon by Steven Erikson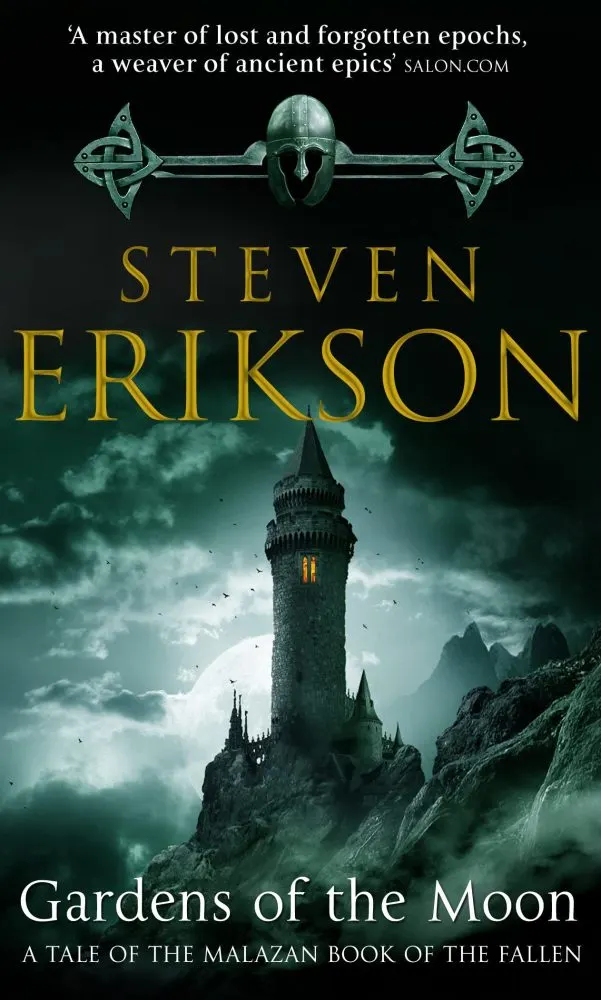 While it may not be the very best fantasy novel of all time, Steven Erikson's Gardens of the Moon is perhaps tied with The Name of the Wind (below) for having one of the coolest titles in the fantasy genre.
In true high fantasy fashion, this is only the first novel in a series of epic fantasy novels called Malazan Book of the Fallen. These novels, similar to those of Raymond E. Feist (above), are known for the ways in which they lean on, and expand on, the tropes of high fantasy, perhaps most notably with their magic systems.
The Malazan Empire, which has existed for a century, is attempting to expand across the continent, waging war against any cities that stand in their way. With the emperor assassinated and the empress now maintaining control with the help of the assassins, internal politics play as much of a role in this novel as external warfare does.
This is a novel of grey areas, reminiscent of A Song of Ice and Fire. Rather than an ultimate evil and a chosen one, this is a story of people being good, bad, and everything in-between.
Buy a copy of Gardens of the Moon here!
Essential Modern Fantasy Books
Here is where diversity really comes into play! The 21st century has seen a massive shift in the fantasy genre, as the best fantasy books are now written by a much more diverse range of writers. This means that modern fantasy books take greater inspiration from world cultures and mythology, from indigenous Australia to Japan to Central Africa. These authors are writing some of the best fantasy books, not only of the modern day, but of all time!
Read More: Essential Modern Fantasy Novels
The Name of the Wind by Patrick Rothfuss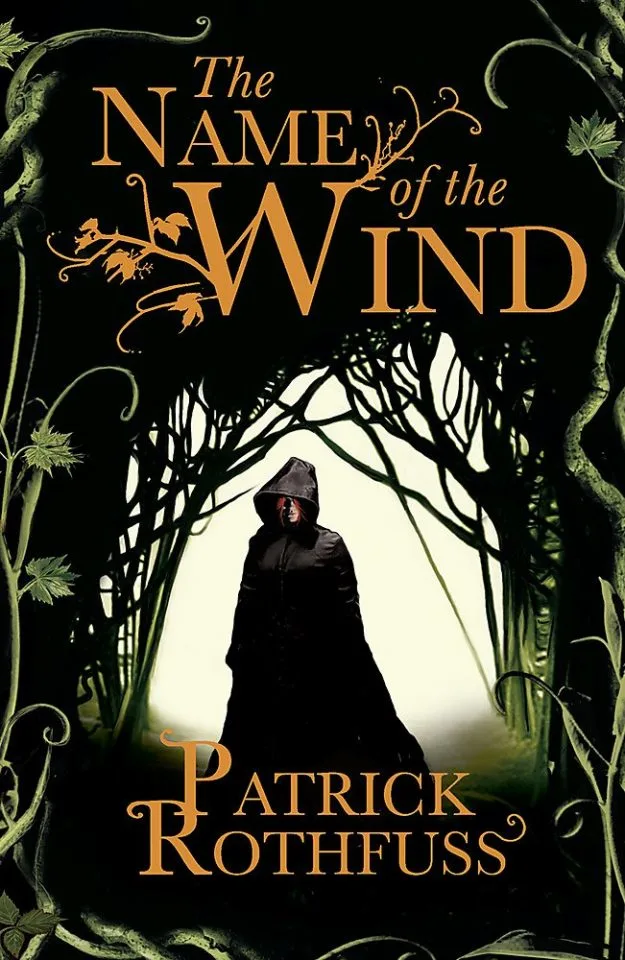 Patrick Rothfuss' The Name of the Wind is one of the most lauded and, frankly, best fantasy novels of all time. Upon its release, The Name of the Wind did a lot to buck the trends and claw out of the pit of tropes that the fantasy genre had fallen into.
We begin with a clever framing device, written with delightfully flamboyant, poetic, and evocative language. Our protagonist, Kvothe, has hidden himself away, living as an innkeeper known as Kote.. However, his identity is uncovered and a scribe has asked to pen Kvothe's story.
And so we are thrown back to Kvothe's childhood as a member of a travelling troupe of performers, before a tragedy turns him out onto the street. Eventually, Kvothe enrols in a university in order to learn the magic system of this world, and this is where the majority of this novel is set.
The Name of the Wind very much did its own beast, ignoring the rules of worldbuilding and narrative that had been established by repetition within the high fantasy genre. For this reason, and for its sheer incredible ambition, it remains one of the very best fantasy books of all time.
Buy a copy of The Name of the Wind here!
The Lies of Locke Lamora by Scott Lynch
A wildly exciting fantasy novel, The Lies of Locke Lamora did something very different within the genre. This is a book about thieves, about the criminal underworld of a fantastical city.
Our protagonist, the titular Locke Lamora, grows up as a member of the Gentlemen Bastards, and now acts as their leader. This is a gang of thieves and criminals who avoid punishment by the law, but the real antagonist of this fantasy novel is an enigmatic and powerful figure who is steadily taking over the criminal world in the city of Camorr.
Brilliantly written and constructed, The Lies of Locke Lamora is a love letter to urban living, romanticising the anti-heroes that thrive in the shadows. The Lies of Locke Lamora shows readers what a blend of lively and imaginative character-writing and worldbuilding can look like in an epic fantasy setting.
Far more intimate and small-scale than most "chosen one saves the world" scenarios, this novel stands out for that reason as one of the best fantasy novels of our time.
The Black Magician Trilogy by Trudi Canavan
Trudi Canavan's Black Magician Trilogy is comprised of The Magicians' Guild, The Novice, and The High Lord. This is a perfect fantasy series for readers who really enjoy intricate and unique magic systems in their fantasy books.
This trilogy of fantasy books follows the journey of a young woman named Sonea, who lives in the city of Imardin, which is ruled over by the Magicians' Guild. The guild is composed of powerful magicians who use their abilities to maintain order in the city.
Sonea, a girl from the city slums, discovers her own magical abilities after accidentally accessing them in a moment of desperation; defending herself from a group of magicians. This magical behaviour puts her in danger, as unauthorised use of magic is punishable by death in the city of Imardin. Thus, Sonea is forced to go on the run while the Magicians' Guild hunts her down in order to bring her under their control, and teach her how to properly harness and weild her own magical abilities.
This is a wonderfully engaging and expansive trilogy of fantasy books from one of the most celebrated and beloved authors of the genre.
Buy the Black Magician Trilogy here!
American Gods by Neil Gaiman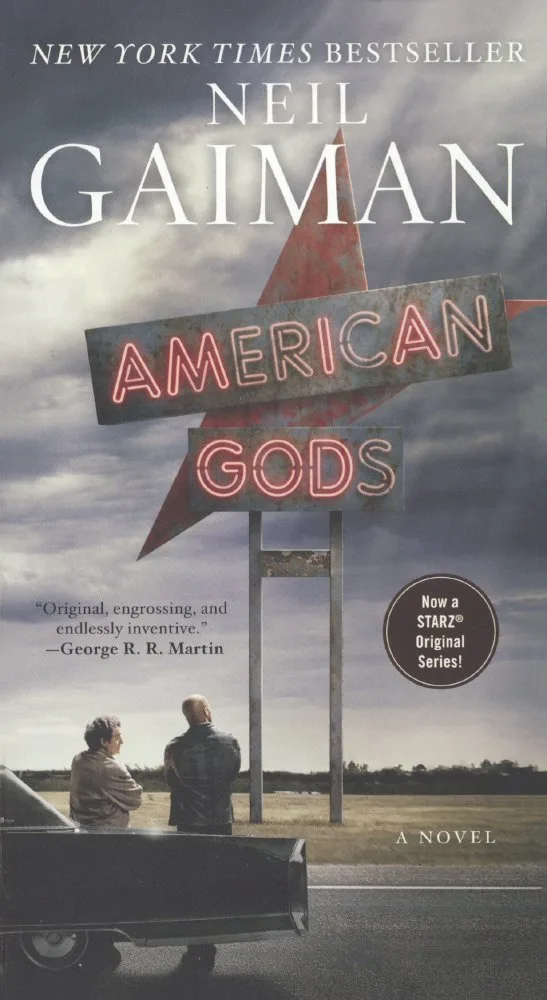 The fantasy genre has its roots in European mythology and folklore, inspired by the gods and heroes of Greek, Norse, and British mythology. With what many would call his magnum opus, Neil Gaiman blended the very things that inspired fantasy with a strange urban fantasy setting within our own world.
American Gods answers the question: when Europeans stole the land of the Americas and brought some of their gods with them, what happened to the gods that were left behind?
This is the story of a war brewing between the old gods of Norse, Greek, and African mythologies, and the new gods worshipped in our modern lives. But, in true American fashion, this is also a road trip; a bastardisation of the "epic quest" that is such a staple of the fantasy genre.
Smartly blending the fantasy genre's tropes with those of the great American novel, and drawing from the mythologies that he so dearly loves, Gaiman has created something very special and wholly unique with American Gods.
Buy a copy of American Gods here!
Jonathan Strange & Mr Norrell by Susanna Clarke
Blending fantasy and historical fiction, Susanna Clarke's epic debut is an absolute masterpiece. It's not often that a novel of this size and scale can justify its length, by Jonathan Strange & Mr Norrell absolutely does. This is epic in all the best ways.
Set in an alternate version of the Napoleonic Wars of the 19th century, this novel follows two magicians: the titular Jonathan Strange and Mr Norrell. The novel begins with Mr Norrell resurrecting the concept and execution of magic, as it has something that was long since forgotten and reduced instead to the study of magical texts.
As he gains fame, Norrell moves to London, where his relationship to magical people and places strengthens. And, eventually, he crosses paths with Jonathan Strange.
This novel is an enormous epic that spans many years and places, overlapping with the Napoleonic Wars and injecting them with an exciting dose of magic. Longlisted for the Booker Prize and winner of the Hugo Award, this is one of the best fantasy novels ever written.
The Final Empire by Brandon Sanderson
The Final Empire is the first novel of Brandon Sanderson's ever-expanding Mistborn series of epic fantasy novels. What began as a trilogy has since evolved into a series that spans multiple eras. And it all began with The Final Empire, a fantasy novel set in an oppressive and dictatorial society shrouded in mist and ash.
The titular Final Empire is a world ruled over by the immortal Lord Ruler, considered by his subjects to be a living god. In this world is a subservient underclass of slaves known as skaa. Lording over them are the lords and nobles, many of whom have access to a magic known as Allomancy.
At first, we are introduced to Kelsier, a rare skaa with Allomantic abilities who once escaped a prison known as the Pits of Hathsin, though not without losing his wife and gaining many visible scars in the process. Kelsier has a plan to overthrow the Lord Ruler, and is building a rebellion to do so. Joining that rebellion is Vin, a young skaa girl from the slums who also has access to Allomancy.
Mixing themes of oppression and rebellion with dynamic character drama and satisfying growth arcs, The Final Empire is an engaging fantasy epic that moves at a satisfying click. On the back of its tight world-building, political themes, and enticing magic system, The Final Empire remains one of the best fantasy novels of this century so far.
Buy a copy of The Final Empire here!
Retribution Falls by Chris Wooding
Easily one of the most underrated fantasy series' of all time is Chris Wooding's Tales of the Ketty Jay, which began with the steampunk fantasy novel Retribution Falls.
Set in a grim but lively world of airships and sky pirates, our protagonists are a hodgepodge group of freelancers who take on work that lies outside the law. They operate out of their airship, the Ketty Jay, and are led by their captain, Frey.
Reminiscent of Firefly and Cowboy Bebop, Retribution Falls is a rip-roaring adventure series that blends steampunk aesthetics with Wild West character and plot archetypes. Frey is one of the most endearing protagonists you'll ever find in fantasy, a Han Solo-esque renegade anti-hero with a heart of gold.
This is a series very close to my heart that I recommend to any and all fans of good world-building, found family dynamics, and ensemble stories with a focus on crime. A real hidden gem of the genre, the whole series represents some of the very best fantasy books of all time. Don't miss out.
Buy a copy of Retribution Falls here!
The Blade Itself by Joe Abercrombie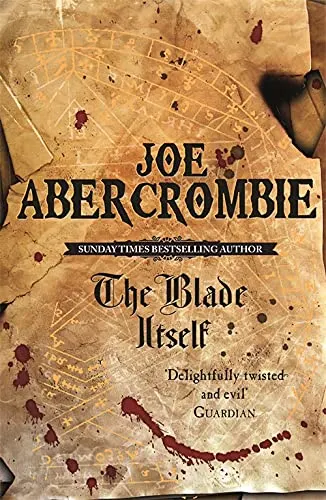 As previously mentioned, Joe Abercrombie — alongside Robin Hobb — is a personal favourite. King of the grimdark fantasy subgenre, the man is incredible. While he has written many excellent fantasy novels, it all began with The Blade Itself, a gritty and bleak story set in an equally gritty and bleak world.
The book that began The First Law series (which is comprised of a trilogy, three standalone books, and a short story collection) is a giant of the grimdark fantasy genre. Our first protagonist is the mighty warrior Logen Ninefingers (whom I imagine to look like Guts from the dark fantasy manga Berserk).
While journeying, Logen meets Bayaz, a magus on a mission. Then there's Sand dan Glokta, a bitter and broken inquisitor with sadistic sensibilities. The world of The Blade Itself is delightfully harsh and blood-soaked, making for a truly metal novel and one of the best fantasy novels of the past few years.
Buy a copy of The Blade Itself here!
The Night Circus by Erin Morgenstern
The Night Circus is a very special debut novel, one that instantly shot its author into the stratosphere, writing her name in the stars alongside other urban fantasy greats. This is a novel of magic in every sense of the world; a novel bursting at the seams with wonder, possibility, imagination, poetry, and beauty.
Gorgeously written, full of mystery and intrigue. This is a fantasy novel, a fairy tale, a piece of historical fiction. It does so much so well.
The titular Night Circus is a magical circus (Le Cirque des Rêves) that appears at dusk and disappears by dawn. Its enigmatic owner, Prospero, has begun a game with his old friend and cohort, in which they must each raise an apprentice.
Eventually, the two will be pitted against one another in a magical duel. And it is these two apprentices, Celia and Marco, that we follow through the course of this novel. The Victorian world, circus setting, and magical characters make this one of the most exciting and original, and therefore best fantasy books of all time.
Buy a copy of The Night Circus here!
A Winter's Promise by Christelle Dabos
Translated from the French by Hildegarde Serle
Set on a floating island (arc) named Anima, A Winter's Promise (the first in the Mirror Visitor series) is a French YA fantasy novel which follows the journey of a young woman named Ophelia.
Ophelia, like everyone on Anima, has a power related to objects in the world. Her power allows her to "read" the history of an object, and so she curates a museum owned by her grandfather. However, Ophelia's hand has been promised to Thorn, a superintendent and a bastard from another arc; Thorn and his Dragon clan have powers far more physical and dangerous than those of the people on Anima.
Thorn and Ophelia are bound by the want of a man who seeks to understand a powerful book, for which he requires Ophelia's power.
Amongst the best fantasy books, A Winter's Promise stands out as an exciting work of YA fantasy fiction with wonderful world-building, clever politics and plotting, and deep lore. The politics of Versailles meets Pride and Prejudice in an enemies-to-lovers tale. Layered storytelling and an aesthetic reminiscent of Studio Ghibli, A Winter's Promise is a delicious epic fantasy novel.
Buy a copy of A Winter's Promise here!
Six of Crows by Leigh Bardugo
Similar to Retribution Falls and The Lies of Locke Lamora (both above), this is a fantasy novel (first in a duology) that focuses on a lovable band of criminals in a fantasy setting.
Set in the same world as Bardugo's first YA fantasy trilogy, Shadow and Bone — known as the Grishaverse — this is a standalone novel that stands above the others. Our protagonists are a team of criminals known as The Dregs, who set out to pull off a deadly heist.
Six Of Crows has been described many times as "Ocean's Eleven in a fantasy world", which is a comparison that will entice some and turn others away, but it's fairly accurate either way. The leader of The Dregs is the lovable but curmudgeonly Kaz Brekker, a man who walks with a cane.
This is an important detail because disabled fans of the books have shown Bardugo (who herself sometimes requires a cane) huge gratitude for disability representation in her books. Six of Crows is a breath of fresh air in the YA fantasy genre, standing high above so many others, making it one of the best fantasy books of recent years.
Buy a copy of Six of Crows here!
The Broken Earth Series by N.K. Jemisin
This staggering trilogy of epic fantasy books by American author N.K. Jemisin represents a vital and necessary turning point in fantasy fiction. These fantasy novels, narratively and conceptually, are unlike anything that exists in the realms of fantasy and science fiction literature. Their breadth and scope is exceptional.
The first novel in this trilogy of best fantasy books, The Fifth Season, follows three separate protagonists, all living in slightly different times on a massive continent called the Stillness.
Essun is a middle-aged mother who sets out on a journey of revenge after she comes home to find that her husband has killed their son and taken their daughter away. Essun herself is secretly able to manipulate the earth itself; this is a skill that a small percentage of people — known as orogenes — possess.
The worldbuilding and character writing of this phenomenal trilogy is what sets it so far apart from all other fantasy books, making them some of the best fantasy books ever written. At the risk of sounding hyperbolic, nothing else in the world of fantasy has managed to marry intimate character moulding with political and social allegories and ingenious worldbuilding quite like the Broken Earth trilogy.
Black Leopard, Red Wolf by Marlon James
The fantasy genre has always been heavily inspired by European mythologies, with mediaeval Europe being used as the genre's go-to setting aesthetic. But as the genre has diversified, and writers from different cultural backgrounds have come in to liven things up and rework how fantasy operates, some much-needed colour and variety has been injected.
Many of those colours have come from award-winning Jamaican author Marlon James, who brought us a series of fantasy books inspired by African, rather than European, mythology and history.
This is a story of two warring states, separated into the northern and southern kingdoms, and follows a man with an incredible nose, appropriately named Tracker. Told to us non-chronologically through Tracker's experiences, the novel builds its world gradually for us to follow, understand, and get comfortably lost in.
Importantly, Tracker is gay, and queer themes abound in this novel. James paints an accurate picture of the vibrancy and variety of pre-Christianity Africa.
The Beast Player by Nahoko Uehashi
Translated from the Japanese by Cathy Hirano
Inspired by the folklore of native Australia, Japanese author Nahoko Uehashi has carved out a vivid and engrossing world of beasts and magic. The Beast Player is a 500 page YA fantasy epic from Japanese author Nahoko Uehashi.
It tells the story of Elin, a young girl who grew up in a village full of caretakers who train and look after a herd of dangerous beasts known as Toda. Elin's mother, originally from a distant and mysterious tribe, is sentenced to death after the most elite beasts in the village all suddenly die at once under her care.
After escaping the village, Elin is raised by a wandering beekeeper and subsequently grows into adulthood at a sanctuary for another kind of dangerous creature: Royal Beasts. The book follows the fantasy tradition of dropping the reader into an impressively detailed world and having its history, geography, lore, politics, traditions, and culture all slowly unfold as the protagonist grows and travels.
Together, these are two of the most exciting YA fantasy books to come out of Japan, or anywhere in the world for that matter.
The Priory of the Orange Tree by Samantha Shannon
Aside from their publication date, how do we actually define what modern fantasy books are? The Priory of the Orange Tree is a great example to use here. This is an epic fantasy novel; a sweeping saga that spans an entire world. It pays homage to the genre's legacy, most obviously by putting the spotlight on dragons.
It has an in-built mythology around dragons; it makes them larger-than-life, and something to be feared. But The Priory of the Orange Tree is also a fantasy novel written by a woman, with a focus on female and queer protagonists.
Historically, the fantasy genre has been dominated by straight, white men. This novel, along with the Broken Earth series, is part of a reclamation of fantasy. Aside from all of this, it is also simply a perfectly-crafted, perfectly-paced fantasy epic. This is a world of queens, of magic, of assassins and outcasts and mages and pirates and dragons. A world with details internal lore and mythology.
The world of this novel lives and breathes; it is entirely three-dimensional. Crafting like this is rarely pulled off on such a massive scale. For this reason, Samantha Shannon really is one-of-a-kind amongst authors of epic fantasy books.
The Invisible Life of Addie LaRue by V.E. Schwab
Faustian deals with the devil have been done a hundred times in a hundred different ways, but here, beloved author of creative urban fantasy fiction V.E. Schwab has managed to breathe new life into that tired concept.
The titular Addie LaRue was born in rural France, and was expected to marry a local boy and live a local life. However, after learning about ancient and forbidden pagan gods, she attempts to make a deal with one. She's told never to make a deal after sunset, but after fleeing and feeling nothing but desperation, she summons a demon to make her deal with.
That deal leads her to live an immortal and invisible life. Addie LaRue is cursed to walk the Earth and never be remembered; she travels far and wide but nobody ever remembers her name or her face. Half of this fantastic fantasy novel is set during Addie's early years, as she travels through France. The other half is set in modern-day New York City, where she meets someone who, for some reason, doesn't forget her.
The Invisible Life of Addie LaRue is a beautiful and shining example of how the subgenre of urban fantasy has developed over the years, especially within the 21st Century. Reminiscent of the works of Neil Gaiman, The Invisible Life of Addie LaRue is V.E. Schwab's magnum opus, and one of the best fantasy books of recent years.
Buy a copy of The Invisible Life of Addie LaRue here!
The Shadow of the Gods by John Gwynne
The Shaodw of the Gods is set in a heavily a viking-inspired world, and it unapologetically leans into all the tropes and trappings that fans of gritty epic fantasy novels know and love.
This epic and frost-covered fantasy novel is an expression of the author's love for Scandinavian folklore, mythology, and landscapes. It feels like a Norse epic, despite being set in a wholly original fantasy landscape. For fans who have been raised by fantasy fiction, The Shadow of the Gods is nostalgic; it is comforting and understanding; it is childhood brought back to life.
As its title suggests, this novel begins three hundred years after a war was waged between the gods, and this war wiped them all out. Now, the staggeringly huge animalistic remains of these gods litter the landscape, and our human protagonists live amongst them, quite literally in the shadow of the gods.
The novel follows three main protagonists, two of whom are women. One is a hunter who is teaching her son how to survive. The second is a runaway slave who joins a mercenary group as he searches for a witch. The third is a member of a viking crew who are hunting down a wanted criminal.
Buy a copy of The Shadow of the Gods here!
Babel by R.F. Kuang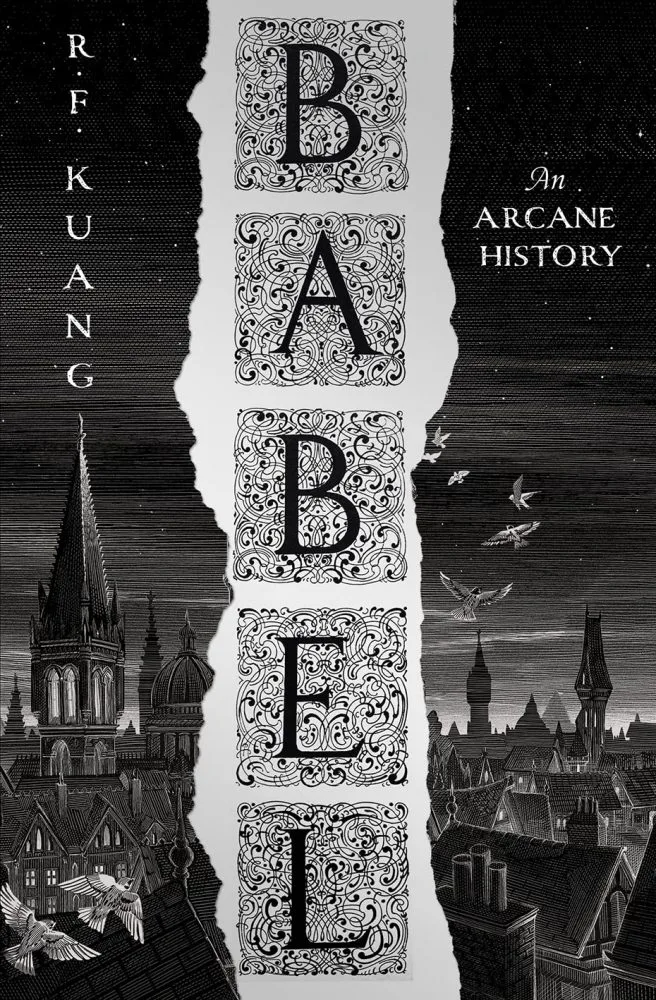 Fantasy author R.F. Kuang first established herself within the genre through her breakout hit The Poppy War and its sequels, but Babel propelled her to new heights of popularity and critical acclaim. Blending historical fiction with fantasy, in a similar fashion to Susanna Clarke's Jonathan Strange and Mr. Norrell (above), Babel is set in an alternative and fantastical Oxford of 1836.
Just like our own world, the England of Babel sits at the corrupted heart of a monstrous global empire. Unlike our England, however, Kuang's is made even more powerful via the hoarding of a magical substance. This substance is silver, and its magic can only be accessed and utilised through the use of language. Words can be etched into the sides of a silver bar in order to command it to do impossible things.
Our protagonist, Robin, is a Chinese boy swept from his Canton (Guangdong) home amidst a cholera epidemic by a rich Englishman who raises him and trains him in the art of translation. Once at Oxford, Robin is quickly recruited into a clandestine group of radicals who wish to destroy the empire and bring justice and equality to those nations in its grip.
This is a fantasy novel with teeth — a deeply political work of anti-imperialism from a Chinese-American author with immense talent. Even the very best fantasy novels rarely reach the levels of political savvy and aggression seen in Babel, and this novel will undoubtedly go down in history as one of the great works of the fantasy genre.
Nettle and Bone by T. Kingfisher
With Nettle and Bone, T. Kingfisher puts her terror talents to fresh use by writing a fantasy novel that inverts the tropes of classic fairy tales in every way possible. Protagonist Marra is the youngest of three princesses, royal children of a small harbour kingdom crushed between two large and threatening neighbours.
In a politically savvy move, Marra's eldest sister is married off to the prince of the Northern Kingdom to strengthen their nations' bonds and gather protection against the Southern Kingdom. But this prince is a monster, and when Marra's eldest sister suddenly dies, he soon offers to take the hand of the royal family's second child.
Marra needs to save Kania from sharing their sister's fate, and to do that she heads out on a quest that will hopefully lead her to a means of killing the evil prince. In order to recruit members of her party, Marra completes several impossible tasks, including reanimating the bones of a dead dog and stitching a cloak out of nettles.
Nettle and Bone is a smart, often fun, lusciously dark inversion of the fairy tale formula, and one of the best fantasy books written in a long time.
Buy a copy of Nettle and Bone here!
Thornhedge by T. Kingfisher
Combining influences from William Shakespeare with fairytales like Sleeping Beauty and Rapunzel, T. Kingfisher's Thornhedge is a dark fantasy novella for fans of fairy stories with a twisted twist. Our protagonist, Toadling, is a girl who was born to a king and queen but stolen away by the fairies and replaced with a changeling.
After being raised in the land of the fairies, Toadling is sent back to the human world and tasked with looking over a tower surrounded by almost impenetrable thorns and brambles. For centuries, men have tried to get through these thorns, hearing tales of a princess locked in the tower. And for centuries, Toadling has watched them fail.
Now, a sweet and charming himbo — and one not so well-practised at knighthood — wishes to take his shot, but as he and Toadling get to talking, we gradually learn the truth of her past, and of what exactly is in the tower. Thornhedge is an exciting twist on the fantasy traditions of the fairy tale.
Buy a copy of Thornhedge here!
The Unbroken by C.L. Clark
The Unbroken, first book of the Magic of the Lost series, is a queer epic fantasy novel about empire and rebellion, presented with real tact and dynamism. Our protagonists are a conscripted soldier named Touraine — taken from her home to fight for those who colonised her land — and Luca, princess of the Empire of Balladaire.
Touraine barely remembers her home, but she has been sent back as part of a consort to quell a rising rebellion in Qazāl. In the book's early chapters, she saves the princess from an assassination attempt.
When pulling the lever at the gallows, one of the rebel leaders recognises Touraine; claims she looks like her mother. Soon after, Touraine is told that her mother is still alive. And so her loyalties to the empire are tested. As a conscript, she has always had to work harder to convince her leaders of her loyalty, and she tells herself that, a a lieutenant, she fights for personal glory within the empire's army.
The Unbroken is a fantasy novel that very adeptly uses the theme of colonialism to tell a compelling and unique narrative within the world of fantasy fiction. That and the book's queer elements help set it apart from the pack as one of the most unique and best fantasy books of recent years.
Buy a copy of The Unbroken here!
Legends and Lattes by Travis Baldree
American author Travis Baldree has worked for many years as a professional audiobook narrator. But while he often narrates epic fantasy novels, his own tastes align with more cosy, low-stakes literature. This led Baldree to write his own debut fantasy novel: a low-stakes cosy novel set in a high fantasy world.
Our protagonist, Viv, is a retired barbarian mercenary who has decided to hang up her blood-soaked sword and open up a little coffee shop.
Legends & Lattes is a heartwarming novel about found family. Viv enlists the help of a himbo builder, a charming succubus, and an adorable rattkin to build her perfect little world. Leaning into fantasy tropes that will be familiar to anyone who has played D&D or Skyrim, Baldree has crafted a sweet and wholesome story set in a world of orcs and elves.
But it's the aforementioned found family that really sells this novel as a glowing success amongst modern fantasy novels. You'll laugh with them and cry for them all. And you'll do anything to protect Thimble.
Buy a copy of Legends & Lattes here!
The Sun and the Void by Gabriela Romero Lacruz
The Sun and the Void is set in a world where the landscape, history, and folklore are all inspired by that of South America (more specifically, Venezuela, according to the author herself). A pair of bordering sovereign nations — Venazia and Fedria — both once under the colonial thumb of Segol, each share histories, peoples, and faiths.
This is a world of penitent humans who worship a Virgin and her saints, as well as races such as the nozariels with their tails, and the valco with their horns who love and fear their own gods and demons.
Our main protagonist is Reina, the mixed-race daughter of a revolutionary who ran from his wealthy home and status. Since his death, however, Reina has been lured away from the streets by her powerful grandmother. Her journey across the mountains puts her in danger, and a fatal wound is fixed by her grandmother's magic, but that magic will lead her down a dark path towards a dark god.
This is a world scarred by colonialism, and those scars have created deep-seated prejudices between races. It's also a world of gods and magic. An enormous landscape; lords and ladies and servants and witches; traditions and folklore and ancient magic. This is a fantasy novel that respects the history of the genre.
Buy a copy of The Sun and the Void here!
Ink Blood Sister Scribe by Emma Törzs
Ink Blood Sister Scribe represents an important moment in the zeitgeist of modern fantasy fiction, where the genre borders blur between urban fantasy, thriller, and dark academia.
Set in the modern day, this urban fantasy novel begins with two estranged half-sisters in their twenties. The oldest, Esther, has been moving from place to place every year, and right now she's on a research base in Antarctica. Her father warned her to move every November and keep moving for twenty-four hours before stopping somewhere new. If she doesn't, she would die just as her mother had.
Joanna, the youngest sister, has been locked away in her Vermont home for years, in a house full of magical books. When the novel opens, her father Abe has every drop of blood drained by a spell book and dies on their lawn. With their father suddenly dead and Esther sensing danger breathing down her neck in the most remote place on Earth, our sisters must search for the truth. There is so much to uncover, so much to learn.
An exciting thriller about old magic in a modern world, Ink Blood Sister Scribe demonstrates a fresh and imaginative take on the fantasy and mystery genres, blending them seamlessly. That blurring of genres makes this one of the best fantasy books of recent years.
Buy a copy of Ink Blood Sister Scribe here!
The Hood by Lavie Tidhar
The Hood is Lavie Tidhar's second foray into rewriting British folklore and mythology with plenty of grit, gore, and spectacle. Like the first — By Force Alone — The Hood is a fantastic fantasy adaptation of iconic English history.
While By Force Alone was set in the world of Arthurian myth, The Hood, as its name states, is about the mythology of Robin Hood and his band of Merry Men. And what sets this fantasy book apart is how it tells that tale.
The story follows the life of Rebecca, the daughter of a Jewish money lender in Nottingham. She dives deep into the heart of the criminal underworld of the city, discovering a world full of dark, gory secret and ancient magic.
Spending hours in this world of historical fantasy will make you feel grateful for modern amenities like electricity and indoor plumbing. It is a bleak, gritty, frightening world of magic and treachery. Fantasy at its finest.
Godkiller by Hannah Kaner
Inspired by the presence and power of gods in world mythologies, Hannah Kaner's debut fantasy novel Godkiller takes a fresh approach to the epic fantasy genre of literature.
The prologue opens with a truly harrowing scene, as our protagonist Kissen and her family — descendents of a water god — are taken by a cult of zealots to be ritualistically sacrificed to a fire god. From here we jump forward to an adult Kissen making a living out of assassinating gods for money, a job which this bitter woman finds great satisfaction in.
However, early in this fantasy book, Kissen meets out second and third protagonists: a young noble's daughter and a tiny god which has bonded with her like a daemon from His Dark Materials (above).
The two beg Kissen for help, and she begrudgingly agrees to do so. From here, they set out on a journey across a land which we come to know and become fascinated by as the story goes on.
Luda by Grant Morrison
Comic book legend Grant Morrison turns their hand to prose in the form of an urban fantasy novel, and the results are twisted, eccentric, theatrical, and magical. Morrison has written some of the most revered and celebrated comics in the history of the medium, including some of the finest Batman and Superman stories.
Set in an alternative version of Scotland's Glasgow — Gasglow — Luda is narrated by protagonist Luci LaBang, a fifty-something drag queen who has built a successful career in theatre and TV.
Luci also has mastery over a magic she calls the Glamour; a way of peeling back the veil of reality, a method of manipulation and transformation. That magic is eagerly sought-after by the titular Luda, a young genderqueer performer who auditions to replace a key actor in a pantomime which Luci is due to star in.
As rehearsals go on, Luci and Luda form a tight bond — professionally, sexually, and socially — but Luda is up to something. The play is cursed, and people are getting hurt. Is she at the heart of it?