If you're looking for somewhere literary to head on your next holiday, consider a visit to the East of England. More specifically, why not check out all the bookish things to do in Norwich, a UNESCO City of Literature.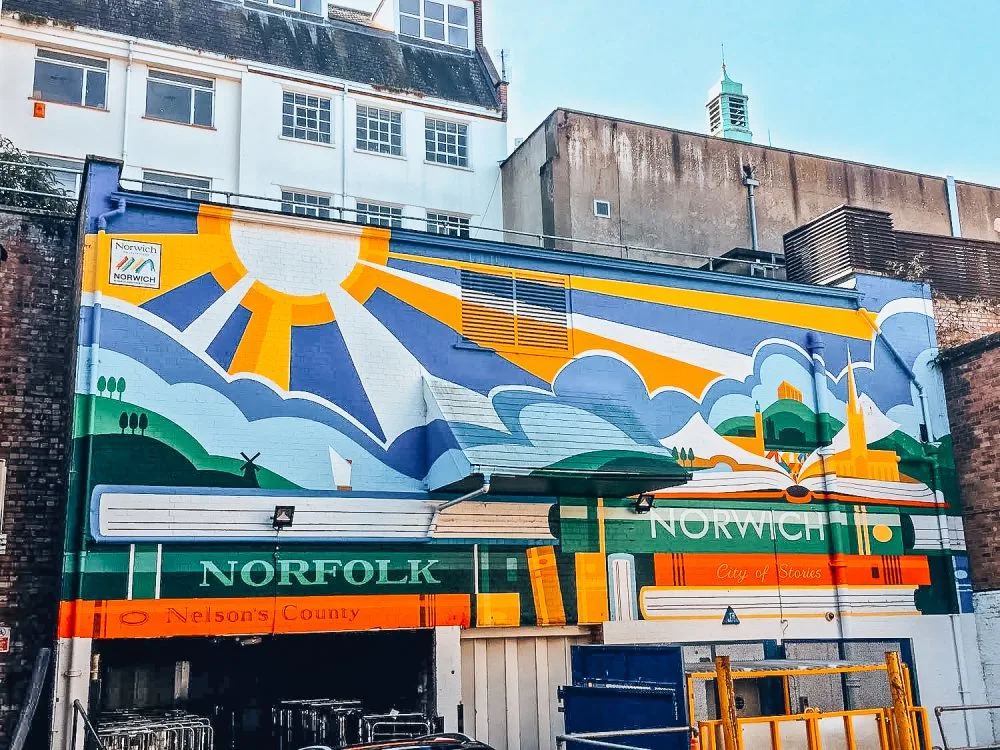 The Best Things to Do in Norwich for Book Lovers
In 2012, Norwich became the first UNESCO City of Literature in England. It was the second in the UK after Edinburgh, which was the first city in the world to be awarded this status in 2004.
Some other UNESCO cities of literature include Bucheon, South Korea, Montevideo, Uruguay, and Prague, Czech Republic, which is known for its libraries and the Golem of Prague who has been immortalised in Gustav Meyrink's The Golem.
Since then, the city of Norwich has undergone a massive rebranding, really embracing the title – and rightfully so. In fact, Norwich is now known as 'the city of stories.' So it should come as no surprise that this city attracts writers and book lovers from all over.
There's also no shortage of independent bookshops in Norwich to explore once you do get there. Here are the most exciting things to do in Norwich for book lovers.
1) Visit the home of Julian of Norwich
One of the top places to visit in Norwich on any book lovers list should be the Julian Centre. Whether you are religious or not, Julian of Norwich's significance to English literature is paramount.
Julian of Norwich was an anchorite (a religious recluse, similar to a hermit) who spent most of her life locked up in St Julian's Church engaged in prayer. As her real name is not known, the name she is known by is derived from the church she lived in.
Next to nothing is known about Julian of Norwich, and what we do know about her comes from her book Revelations of Divine Love. This book is what makes her an important literary figure as it is considered the first book written by a woman in the English language – or at least the earliest known manuscript by a woman to survive.
Although written in the late 1300s, the book was not published until 1670. Visitors to St Julian's Church can learn more about this remarkable woman and see where and how she spent her life. There is also, of course, more information about the church.
2) Go on a Ghost Walk
Norwich is considered to be one of the most haunted places in the UK. Over half of the population of Norfolk have reported paranormal experiences. So it should come as no surprise that the city has a pretty popular ghost tour.
The tours have been ongoing since 1998 and, after a brief hiatus, resumed in April 2018 with a new guide: The Shadowcaster (it was previously The Man in Black).
This tour takes you through all the haunted spots in Norwich. The Shadowcaster recounts the haunting stories attached to each spot, weaving frightening tales that will stay with you long after you've gone home.
Make sure to grab a drink afterwards at one of the many pubs in Norwich sporting their own ghosts.
Read More: Visit the Haunted Houses, Castles and Hotels of Wales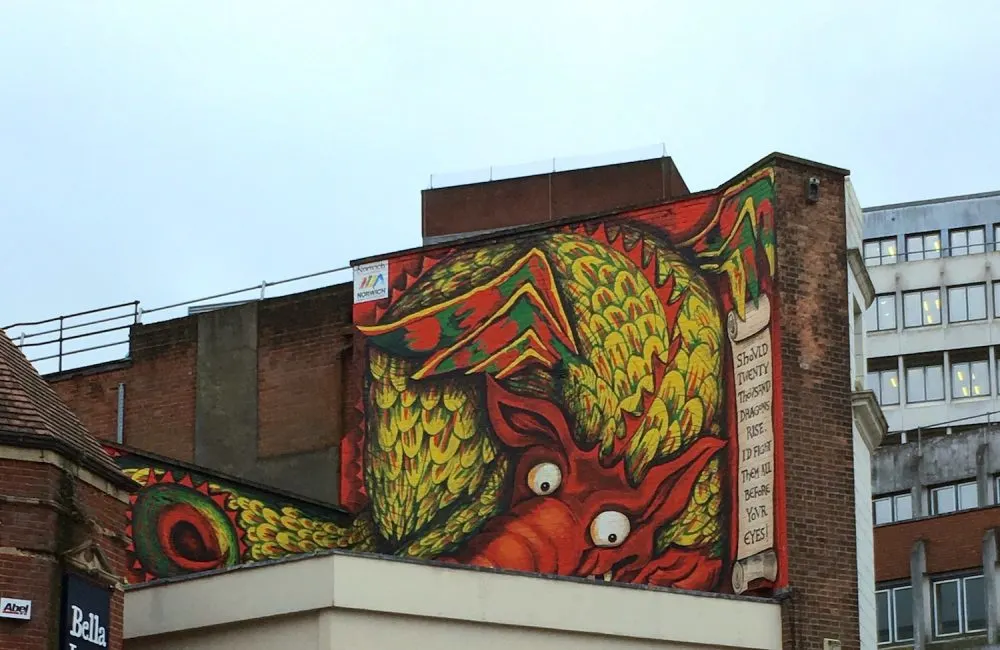 3) Check out the literary street art
Over the last few years, several beautiful murals have sprung up around Norwich. Many of these celebrate the city's literary connections.
Our favourite is this Dragon piece. Although I've never been real clear on the connection, Norwich seems to have a long history of dragons. In fact, there are dragons hidden all throughout the city in various churches and other buildings.
I was told it once had something to do with Saint George and the dragon. But to the best of my knowledge, Saint George had nothing specific to do with Norwich or the surrounding area. Still, Norwich loves its dragons. Every few years there is even a Dragon Festival.
In addition to the year-round murals, Norwich gets new painted animal statues every few years. So far there have been gorillas, dragons and hares. These are used to raise money for charity and have many different designs. Inevitably, though, a few are commissioned by the city to be literature focused.
4) Head to the Norfolk and Norwich Millennium Library
It may seem odd to recommend a library as a must-visit Norwich attraction, but libraries are important to Norwich's history. The city was the first to open a civic provincial library in 1608 and the first to implement the Public Library Act of 1850.

Today, the Millennium Library continuously issues more books than any other library in the UK (according to the Chartered Institute of Public Finance and Accountancy). So if you're a literary geek, you'll want to include a visit to the Millennium Library on your list of places to visit in Norwich.
To be fair, it isn't the library so much as the building it's housed in; the Forum. The Forum always has an event on, and while these events aren't always literary, it's worth checking out what's happening.

For book-specific things to do at the Forum head to the Norfolk Heritage Centre. This small room within the library may not look like much, but it contains the most comprehensive collection of published material about the everyday life of people living in Norfolk.The Norfolk Heritage Centre actually houses the collection from the 1608 library, which no longer exists.
5) Visit the Sainsbury Centre
An art museum may seem like a strange suggestion for book lovers, but the Sainsbury Centre has an unexpected (and okay, convoluted) tie to the written word.
First off, it is located on the UEA campus. The Art History and World Art degrees are housed out of the building, which boasts a world class library (separate from the university library. Visitors who are not staff or students can use the library for research reference only).
However, more importantly, visitors might recognise the Sainsbury Centre as the Avengers Headquarters in the new Marvel movies. The Avengers, of course, being based on comic books. And yes, comic books count as books.

Okay, admittedly, this one is a stretch, but I really think if you appreciate good literature, you'll appreciate art from around the world. And the Sainsbury Centre has an amazing collection!
Plus, over the past year, in keeping with UEA's reputation as the top writing degree in the UK — and one of the top courses in the world — the Sainsbury Centre has started to house exhibitions that focus on literature, as well. So far there has been a collection dedicated to W.G. Sebald (a former UEA student and lecturer), and a current one focused on Doris Lessing.
Read More: 7 Books and Comics to Read if You Loved Good Omens
6) John Jarrold Printing Museum
Sadly this museum is closed until summer 2020 since the street it was on was demolished and the museum will need to be rehomed. However, it has been confirmed this is happening, though it will be scaled down considerably. Nevertheless, I have no doubt it will remain one of the most unique things to do in Norwich for book lovers.
The intention of the John Jerrold Printing Museum is to share the history of printmaking with the world, as well as to preserve the skills and techniques needed for the trade.
Printmaking is important to the history of Norwich, which established the first provincial newspaper in 1701. Additionally, Harriet Martineau, one of the world's first female journalists, was born in Norwich.
Today Norwich is home to 27 independent publishing companies, with eight more in the rest of Norfolk. This represents 5% of the UK's independent publishing sector, the largest percentage of any region outside of London.
The museum is staffed entirely by former printmakers, all of which are volunteers.
7) Attend a Literary Festival
Norwich has a lot of festivals year round, with everything from a gin festival to a Thai festival. It also has three different festivals that put literature at the forefront. It should be noted that most authors in attendance are British, some are American, and very few write in other languages.
But hopefully that changes over time! If you're in the area while any of these festivals are on and you love books, I thoroughly recommend adding one to your list of what to do in Norwich.
Noirwich
A relatively new festival in Norwich that celebrates crime writing. But as I said above, crime fiction about Norfolk is weirdly popular, so it's not so surprising that this festival was an instant hit. Top crime fiction authors from around the country (and even some from abroad) have come to speak at this festival.
Noirwich always runs on a weekend in mid-September and has already managed to pull in names like John Banville, Val McDermid, Paula Hawkins, Nicci French, Louise Doughty, and Yrsa Sigurðardóttir. Buy tickets and see the lineup here.
UEA Literary Festival (also called LitFest)
This festival has been going on for 27 years! Every autumn (and sometimes in the spring, as well) UEA invites several distinguished authors across several genres to come to UEA. It is spread out across the fall (and spring) semester, typically with one event a week.
Each author is interviewed by the host before questions are opened up to the public, and followed by a book signing. We've seen some big writers such as Kazuo Ishiguro (who studied at UEA), Jesmyn Ward, Jonathan Franzen, Madeline Miller and Stephen Fry. You can buy tickets and check out the programme here.
Norwich & Norfolk Festival
The biggest festival in Norwich (and Norfolk), and one of the oldest running festivals in England having been held annually since 1824. While it is not exclusively focused on literature, it does play a large roll in the festival, and separate tickets can often be purchased just for the literary events.
The festival normally runs the length of May or June; acts, presenters and events are added to the calendar throughout the year (especially closer to the time). Tickets and what's on can be found here.
Other literary festivals in the Norfolk area include the King's Lynn Literature Festival, Fly (hosted by UEA for young writers) and the Holt Festival.
New Routes' Refugee Week typically has a few events centered around books. This is particularly important as one reason for Norwich being chosen as a City of Literature is due to Norwich being the only city to join the International Cities of Refuge Network, which is dedicated to sharing the stories of refugees.
Read More: Why the Silence of the Girls is Better Than Circe
8) Read a Book By a Local
We're firm believers that before you head anywhere, you should read something written about the place – preferably by a local.
Norfolk as a whole is home to a lot of great writers. Norwich, in particular, has seen its share of writers, particularly those who have gone through UEA's writing programs. For some reason, the vast majority of books set solely in Norfolk tend to be murder mysteries (which explains why we have a whole festival dedicated to crime fiction), although few are written by Norfolk residents.
If you're interested in some books set in Norfolk by authors with ties to Norfolk, check out:
This House is Haunted by John Boyne — A gothic horror set in 19th century rural Norfolk. Eliza Caine is sent to Gaudlin Hall to look after some children. However, when she arrives there are no adults to be found and the children have no explanation. Things get weirder from there and soon Eliza must come to terms with the fact that this house is haunted. Boyne's book The Absolutist also features Norwich.
Salt by north Norfolk native, Jeremy Page follows three generations of one Norfolk family. It is a lyrical portrayal of love, loss and finding your way in the world with a bit of magical realism thrown in. Set amongst the Norfolk salt marshes, the descriptions of landscape in Salt are evocative. It's not an easy book, though.
The Hippopotamus by Stephen Fry is a bit of a dark comedy set in the Norfolk countryside. The book follows the rather miserable anti-hero, Ted Wallace. Ted is a divorced, newly unemployed failed poet who moves out to his country house, Swafford Hall, to get some clarity. Instead, weird stuff keeps happening to Ted and he starts to wonder if there isn't more to Swafford than meets the eye. And yes, Stephen Fry did grow up in Norfolk!
I'm also partial to Never Let Me Go by Kazuo Ishiguro which is set partially in Norfolk. Kazuo Ishiguro isn't from Norwich, but he did spend a few years living there while doing his masters at UEA. In Never Let Me Go, Norfolk is known as England's "lost corner," the place where lost people and things wind up. The main character, Kathy, spends a lot of her time driving around the Norfolk countryside.
Apparently Philip Pullman's His Dark Materials trilogy also has several references to Norwich, Norfolk and the Fens (pictured above). This makes sense since Pullman was born in Norwich. However, I can neither confirm nor deny cause I've actually never read them…
Although all their books are not necessarily set there, Norfolk is also home to writers Eimear McBride (whose debut A Girl Is a Half-formed Thing was first published by Norwich's Galley Beggar Press), Sarah Perry, Emma Healy, Rose Tremain, Anna Sewell and Thomas Paine.
9) Visit the Book Hive
For book lovers, a visit to Norwich's independent bookshop The Book Hive is a must. Although it is small compared to the Waterstones around the corner, readers looking for something unique will feel at home here.
The selection at The Book Hive is top-notch – and what they don't have, can typically be ordered – and the staff are friendly and always available to give their suggestions. The selection available is pretty impressive, but is especially wonderful if you're interested in translated lit, politics, indie authors or children's books.
The Book Hive even has their own publishing company, Propolis, which do their best to publish lesser known and debut authors. In fact, it was Propolis that originally published A Girl Is a Half-formed Thing by Eimear McBride, despite numerous rejections from other publishing companies.
The book then went on to win numerous literary awards, including the Bailey's Women's Prize for Fiction in 2019.
If you can, visit while an event is on as The Book Hive champions lesser-known authors from around the UK and abroad.
You can continue to support the store when you're not in Norwich by signing up to receive specially picked books each month One of my favourite things about these subscriptions is that you can select different categories for the year, such as books in translation, books by women or LGBT authors!
Read More: 9 Translated Horror Stories to Chill Your Blood
If you want to know what to do in Norwich as a literature lover, Dagney from Cultura Obscura has you covered. Dagney is a self-proclaimed literary geek who lived in Norwich for five years. Here are her recommendations for the top things to do and places to visit in Norwich.