Are you ready for Hay on Wye's bookshops? It's noon on a Saturday; the sun above is floating in an ocean of blue. You're driving a little car down twisting, winding English country lanes lined with hedgerows. Birds outside sing you on your way to the happiest little town in Britain.
You're on your way to visit Hay on Wye, Britain's book town. It's nestled on the border between England and Wales, with rolling hills and valleys spreading out in every direction.
The houses are medieval stones; the roads are a tiny labyrinth; there's a market square on the hill in the centre, surrounded by pubs and cafes serving traditional English grub. And every street is lined with bookstores.
While there have been some changes over the year, the saddest being the closure of The Castle Bookshop, everything a true bookworm could ever need is right here. Hay on Wye is the home you, as a bibliophile, have been searching for your entire life.
You might think me hyperbolic for saying all of this, but it's the experience and the feeling that thousands of book-lovers get every year when they visit Hay on Wye book town. I was lucky enough to grow up less than thirty miles away from Hay o Wye; it's been a constant source of happiness for me for so many years.
Every single trip back home isn't complete without a trip to Hay for us both and many of our happiest times have been sent in this lovely place. The town is a lesson in charm; full of warm, happy, smiling people all silently sharing in the warmth of the bookshops and the joy of being surrounded by so many like-minded people and so many more damn beautiful books.
So, how do you go about spending a perfect day in Wales' book town? There are a good few Hay on Wye bookshops you must visit, a few pubs and cafes you should eat at, and some charming Hay on Wye accommodation you can stay at.
Just be warned: once you spend a perfect day in Hay, you might never find true joy anywhere else. A visit to Hay, after all, is the key to happiness.
The Best Hay-on-Wye Bookshops
Richard Booth's Bookshop
Richard Booth is the man credited with the transformation of Hay-on-Wye from sleepy idyllic Welsh town into the book town of Britain. After completing his education at Oxford, he returned home to Hay and invented a way of transforming his home into the world's first book town.
Richard Booth's Bookshop is the most beautiful bookshop in Hay, without question. A staggering two-storey wooden structure that looks totally out of place in a town of stone houses, and stands out even more as a result. The shop stocks mostly new books, and they really do get the newest stock in every week.
The space itself is open, all dark wood, and rows of neatly-kept bookcases. The presentation is gorgeous; upstairs and downstairs they have areas to sit and flick through your chosen books.
The booksellers are the friendliest around and they'll happily have a proper good chat with you about whatever you pick up. The light pours into this place, making Richard Booth's Bookshop the most beautiful building in Hay on Wye, and one of the unmissable Hay on Wye bookshops.
Read More: Discover Hiraeth Giftboxes – Welsh Luxury Products Delivered
Murder & Mayhem
One of the most unique Hay on Wye bookshops. In fact, one of the most unique bookshops in Wales, full stop. Murder & Mayhem, as its name suggests, primarily stocks and sells horror novels, crime fiction, thrillers, and gothic masterpieces. You'll know them by the wonderful artwork painted below the window outside, depicting the stalking silhouette of a certain hound roaming the moors, a glowing moon on the horizon.
Inside the decoration is just as delightfully spooky, with a real log fire! The shop stocks books of all sorts, from all periods of time, just as long as they're chilling enough. From Agatha Christie to Edgar Allan Poe, if you're looking for scary, you'll find it here. This is, it goes without saying, the perfect bookshop to visit in the Autumn months.
Hay Cinema Bookshop
One of the lesser-visited Hay on Wye bookshops, being just a little ways down the road from the centre of town. This massive building was, as I'm sure you can guess, once the cinema of Hay on Wye. It's also the oldest bookshop in the whole book town! And, because of its size, it stocks the widest range of genres and styles. It's nothing less than a library!
The old creaky floorboards have been trodden by thousands of people over the past fifty years, with every one of them coming away with something unique to treasure.
The stock at Hay Cinema Bookshop is fantastically cheap as well! While they don't stock the newest books, they do stock new copies of older classics from every genre, for a crazy reduced price. You can really get carried away here, darting down row after row of massive shelf finding treasures upon treasures for a fraction of their regular price.
Addyman Books
Addyman is that quintessential quirky bookshop. I mean, every bookshop in Hay-on-Wye is that in its own way, but only Addyman ticks every single box. Stacks of books in every corner? Check. Cramped rooms with bookshelves looming high over you? Check.
Old walls, shelves, and pillars, decorated with paint and filigree? Check. They even have this beautiful little annexe at the back of one room that looks like something between a fireplace and a shrine, and it's filled from bottom to top with old orange Penguin Classics of every kind.
Addyman Books has more atmosphere than any other bookshop you'll visit in Hay. Everything is disjointed and random; there's such a quaint, vintage delight to every corner of every room, you'll find it hard to tear yourself away.
The Poetry Bookshop
Britain's only all-poetry bookshop is found in the heart of Hay-on-Wye, automatically making it one of the must-visit Hay-on-Wye bookshops. Rare poetry, antiquarian poetry, contemporary poetry, out-of-print poetry, new poetry, translated poetry. The Poetry Bookshop has one niche and it owns that niche with expertise and pride.
Beyond that, the aesthetics and atmosphere inside somehow successfully convey a more poetic than a prosaic tone. You'd get the sense, if you were brought into the shop blindfolded, that what you were surrounded by was poetry; not fiction or history. Poetry. How they've managed this, I cannot say. But they have. Go see it for yourself.
Hay-on-Wye Booksellers
This old Tudor building with its black-and-white sign is hard to miss. It's a squat and charming little building that exists as a catch-all bookshop.
They stock every kind of used book, from rare and valuable antiquarian books to used copies of last year's bestsellers. They're the traditional booksellers, for sure. The Tudor wood outside gives way to an exposed stone interior that encourages so much comfort and warmth in every visitor.
It's a calm, stress-free place to browse. Make sure to check every nook and cranny; you're likely to find here just what you were looking for, even if, perhaps, you didn't know you were looking for anything in particular at all.
The Honesty Bookshop
This wonderful little space is found on the grass at the foot of Hay Castle (one of the most stunning old structures in Wales without a doubt). The Honesty Bookshop is an open outdoor collection of bookshelves with nobody working there. You simply drop the money in a box and go.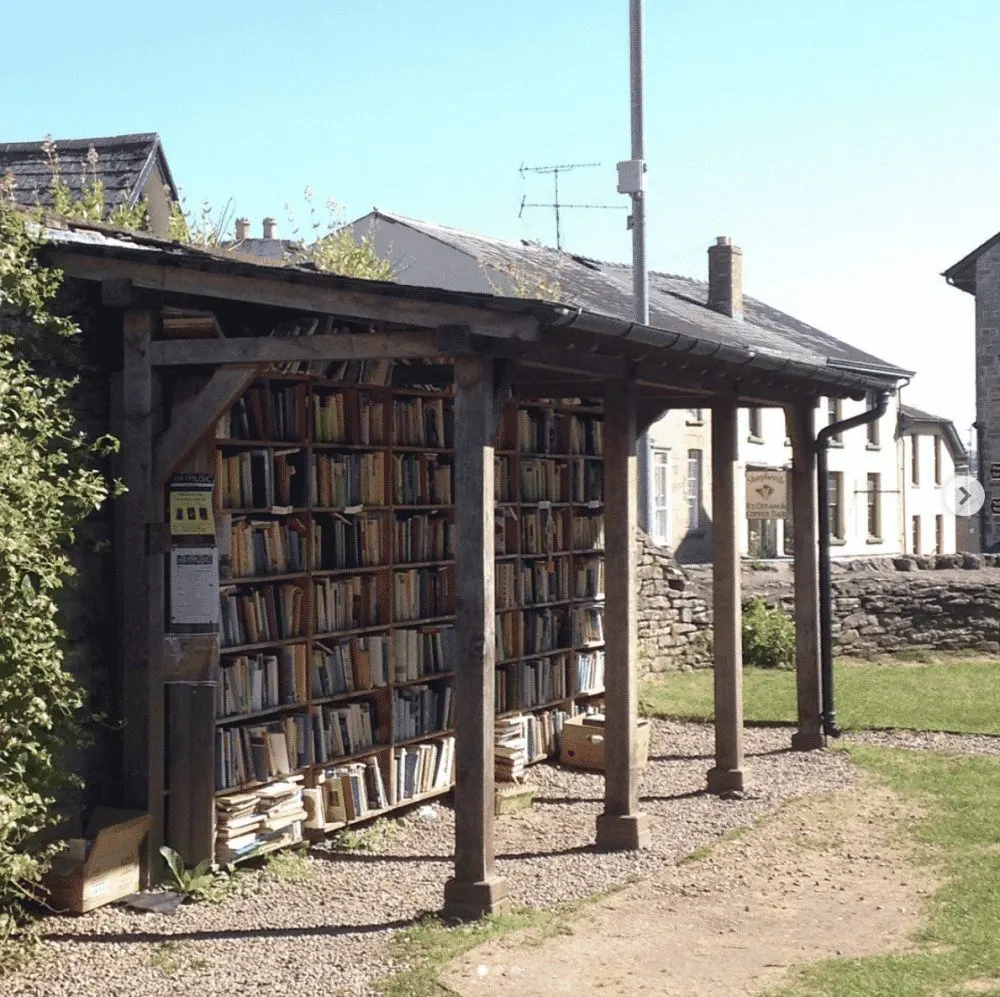 Your honest payment goes to the restoration of Hay Castle. You'll found a few other honesty boxes in various other shops in the town, they're a lovely part of the culture there and I hope it never leaves.
Where to Eat: Hay-on-Wye Restaurants
The Blue Boar
The Blue Boar is, to put it simply, a proper traditional British pub. Wood tables, wood chairs – some of them church pews because that's the pub way – and a proper fireplace with a mantle decorated with statuettes and a clock. Huge framed paintings of landscapes and boats.
Red carpets, worn down by years of diners and drinkers marching through to enjoy their meals of roast dinners, meat pies, burgers, and chunky yellow chips.
Everything from the decor to the food – The Blue Boar has the look and feel of a quintessential British pub down to a fine art. And the food is wholesome, fresh, and filling to boot. If you visit Hay-on-Wye and don't eat at The Blue Boar, you're doing it wrong.
Red Indigo
Continuing on with the colour theme, Red Indigo is an Indian restaurant with a huge menu. They do a great job of blending traditional Indian dishes with a more British style, making sure that there's something for everyone. And considering the range of vegetarian and vegan options, we really do mean everyone.
If you're heading to Hay for a taste of the local English village flavour, but then find yourself in the mood for something a little more exciting, Indian food will always hit that spot. And Red Indigo is a fine choice.
Shepherds Parlour
Making its name for its own original homemade ice cream, Shepherds Parlour is as much a part of the Hay-on-Wye recipe as the books are. Beyond their ice cream, they also have breakfast and lunch menus of a range of sandwiches, toast, soups coffees, and teas.
Everything that defines a traditional British cafe. If you're heading to Hay-on-Wye just for the day, and you're looking for a place to get yourself a good lunch, a coffee, and some ice cream on a blue-sky summer's day, Shepherds Parlour is absolutely it.
The Granary
This might be the most charming little country cafe you'll ever visit in the UK, with the highest quality food. Full English breakfasts, melt-in-your-mouth roast beef, fruit and cheese platters, home-made traditional welsh cakes. And the decor of the place itself is rustic, warm, friendly, and welcoming.
There's some outside seating as well. The manager is also one of Hay's sweetest, friendliest people. And given just how sweet and friendly almost everyone is in Hay-on-Wye, that's certainly saying something.
Where to Stay: Hay-on-Wye Accommodation
This charming 17th-century inn is the ideal Hay accommodation if you want to keep the tone and aesthetics of your Hay trip going. A browse of all the Hay-on-Wye bookshops, lunch at The Blue Boar, and then dinner and a room at The Old Black Lion: that's a perfect Hay day right there. The Old Black Lion has rooms decorated with all the charm of an old English cottage, and it also has a downstairs pub where you can drink and enjoy some traditional British home-cooked meals.
If you visit Hay-on-Wye as a couple, this is an ideal place to stay. The Smithy is a sweet, tranquil, peaceful little bed & breakfast that makes for the perfect Hay accommodation, and not only because it serves full English breakfasts every morning. Some of the rooms have balconies with old iron railings, giving you a view of the gardens and the surrounding countryside to wake up to. The lighting is moody, the rooms are snug and charming; everything about The Smithy says idyllic country cottage.
This Hay accommodation little more grandiose than the other inns and B&Bs in Hay-on-Wye, the Swan Hotel serves top-notch meals of the best British cuisine and hosts you in spacious rooms bathed in natural light. The building itself is a listed Georgian inn with views of the surrounding gardens and hills. Staying here, you also have a bar that serves fantastic ales and ciders, the traditional drinks of choice for this part of the UK.
Day-Trips from Hay-on-Wye
Visit Hereford
This massively overlooked little English city at the very edge of Wales is so hidden away that people who live just fifty miles away may not have heard of it. It's also my hometown.
Hereford is an easy day-trip if you visit Hay-on-Wye, being only thirty minutes' drive away and hosting one of Britain's most gorgeous cathedrals.
When you visit Hereford, the world-famous Chain Library (across from the cathedral on Broad Street) is where the Mappa Mundi is held: a 700-year-old medieval map of the entire world (as it was understood at that time). There's also a cider museum that's well worth a visit!
Read a complete guide to Hereford for cafes, shops, where to stay and more.
Explore the Brecon Beacons
Rolling hills upon rolling hills. The Brecon Beacons are a popular weekend getaway destination for people from all over England and Wales.
They're the ultimate in easy hiking, with views of the Black Mountains and the Welsh valleys. If you're staying in Hay-on-Wye and you fancy a stroll in the countryside, there's no stroll like one you'll do in the Brecon Beacons.
Wander Tintern Abbey
This almost thousand-year-old skeleton of an Abbey was made famous by William Wordsworth, who composed the gorgeous poem "Lines Written a Few Miles Above Tintern Abbey" two hundred years ago, a poem which was also referenced in Mary Shelley's Frankenstein. It was also made legendary by the ominous romantic painting "Visitor to a Moonlit Churchyard".
The site of this medieval abbey, now just an empty shell of magnificent stone walls, has so attracted romantic and gothic artists for centuries. It's a chilling, beautiful place of British history that can be visited by car from Hay-on-Wye and should not be missed!
If you're interested in more literary wonders in Wales, why not stay the night at Britain's only hotel library and reader's/writer's retreat: Gladstone's Library or visit some of our favourite literary cities in the UK.