Every bookworm — every passionate and voracious reader — dreams of the perfect home library. What obstructs this dream is the reality that we all have different homes and different living situations.
However, you can craft your own home library with the best bookshelves for you. You just need to work with the space you have. When you do some digging, it's amazing just how much variety exists in the bookshelves and bookcases available to us.
The Best Bookshelves and Bookcases for Your Home Library
So, taking into consideration our different requirements (space, size, aesthetics, materials, colour, weight, and more) these are the best bookshelves and bookcases for your home library.
There is a huge variety to be found here, as well as where you can buy these bookshelves. You'll definitely find the shelves that are perfect for you and your ideal home library.
Read More: Unique Literary Gifts for Book Lovers
Ladder Bookshelf
While a bookshelf or bookcase with a ladder is the dream for so many of us (Belle gif), it's not a realistic one for almost all of us. A quick browse on Etsy for a bookcase with a ladder revealed a $1000 price ceiling.
So, what's the next best thing, aesthetically? A ladder bookshelf! Meaning: a bookshelf that is also a ladder.
A ladder bookshelf is an aesthetically gorgeous thing. Pressed against a wall, it leans like a ladder, offering you a tier system that allows for a lot of creative freedom when it comes to how you wish to arrange your books and other pretty things.
The downside is that a ladder bookshelf doesn't hold that many books. It's certainly a case of fashion over function. But if you want to display your prettiest hardbacks, while also decorating your living room with some potted plants and ornaments, a ladder bookshelf is one of the best bookshelves you could ask for.
Industrial Bookshelf
While the name is weird, giving off metal and concrete vibes, an industrial bookshelf is actually a very pretty piece of furniture.
Combining a metal structure with wooden shelving, an industrial bookshelf is one of the best bookshelves in terms of combining stability with home library aesthetics.
Usually consisting of five or six shelves, an industrial bookshelf gives you the height needed to store big hardback books, as well as the width to break up your bookshelf with other items — plants, souvenirs, picture frames, ornaments etc.
A thin black metal frame means stability with no danger of your shelves bowing; and a deep natural wood for the shelves themselves guarantees a warm, satisfying, homely feeling.
For a mix of strength and beauty, an industrial bookshelf is one of the best bookshelves for your home library.
Geometric Bookcase
Always a popular choice for the modern homeowner, a geometric bookcase is one of the best bookshelves for bookworms who are looking for variety in their design aesthetics.
A geometric bookcase is made up of decently-sized and roomy cubby holes, usually made from painted wood, that allow for plenty of customisation variety.
You can choose to fill one cubby with books stacked in a row, another with books stacked on top of each other, and a third filled with candles, photo frames, or a potted plant. The choice is yours.
A collector may choose to use every bit of available space to fill up their geometric bookcase with as many books as possible. While minimalists who love to show off their favourite books may relish in the space and opt for displaying only the most beautiful hardback books.
There's no right or wrong way to design your own home library, and a geometric bookcase is one of the best bookshelves to allow for that freedom of customisation.
Solid Wood Bookcases
Solid wood bookcases are classic; quintessential; timeless. They represent the best bookshelves for any and every type of reader and book collector. Sturdy, reliable, beautiful. Who doesn't want a set of solid wood bookcases?
They're also the most common form of bookcase, but choosing to buy a really big, heavy, gorgeous set of solid wood bookcases can set you back a bit. But that's your choice. Prices for the best bookshelves all vary, and that certainly applies to solid wood bookcases.
These are the best bookshelves for serious bookworms and collectors who have a lot of beautiful books, want to stack them messily and haphazardly, and want their living room to be primarily defined by books (that certainly describes us, at least).
Solid wood bookcases can also be made out of a dozen different types of wood, expanding your options when it comes to colour, sturdiness, density, style, and more.
Montessori Bookshelf
If you're a parent feeding your kids regular knowledge through picture books the best bookshelves for you/them come in the form of the montessori bookshelf. This small bookcase is purposely designed to display slender picture books with pretty covers.
A montessori bookshelf isn't just for little kids and their parents, though. If you're a comic book collector who wants to display a few of their favourite comics because they're rare or particularly stunning, a montessori bookshelf is the best thing for the job!
Multipurpose, affordable, perfect for displays, ideal for parents, entirely made out of wood, and very aesthetically charming. A montessori bookshelf is one of the best bookshelves for your home library, especially if you're a parent.
Farmhouse Bookshelf
First of all, what is a farmhouse bookshelf? A farmhouse bookshelf refers to any bookshelf or bookcase that would fit in a home designed with a farmhouse decor. What that means is a farmhouse bookshelf should be made from raw, earthy materials like wood and metal.
A farmhouse bookshelf is rustic, old-timey, authentic, and other adjectives that nicely and romantically describe the past. Thick cottage-core.
We've already mentioned solid wood bookcases and industrial bookshelves. Made of wood and metal, both of these types fall into the bracket of "farmhouse bookshelf".
However, since we've already given you some great options for solid wood bookcases and industrial bookshelves, here are some of the best bookshelves that don't fit those moulds but are still definitely considered farmhouse bookshelves.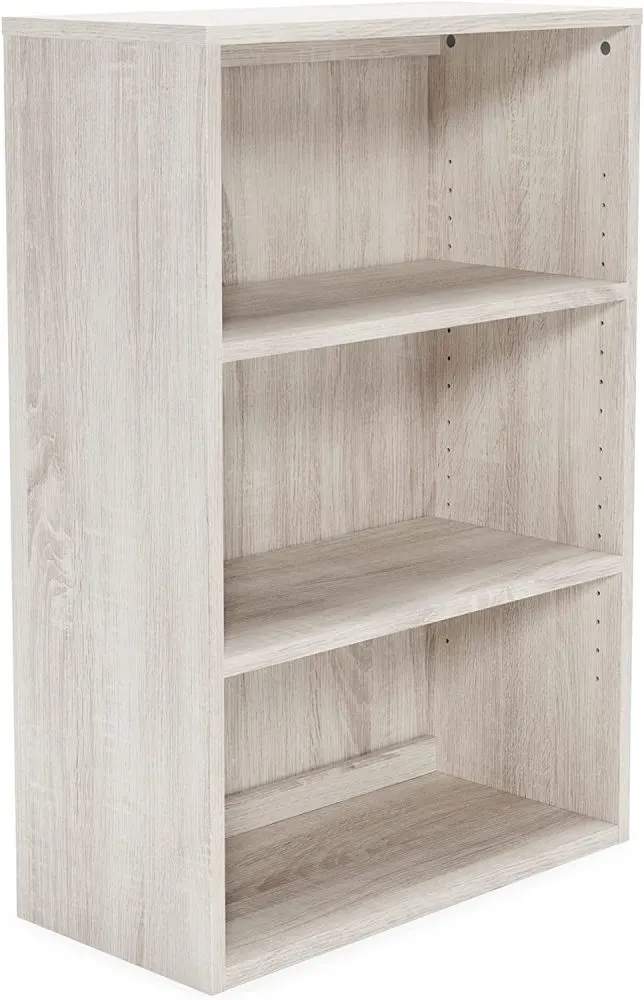 Bamboo Bookshelf
Bamboo is incredible stuff. It grows at an impossible rate, is versatile and strong, looks gorgeous, and is super eco-friendly. When we lived in Shanghai we saw bamboo being used for so many ingenious things — most notably as scaffolding.
If you're aiming to be environmentally conscious and you also want one of the best bookshelves in terms of strength, aesthetics, and cost, you need to get yourself a bamboo bookshelf. They're gorgeous, affordable, and entirely made from wood.
Whether you're an environmentally conscious person or not (for whatever reason), a bamboo bookshelf is undeniably a cool, unique, and pretty addition to your living space.
Decorative Bookshelves
"Decorative bookshelves" is a pretty broad term, and it means whatever you want it to mean, honestly.
In our opinion, decorative bookshelves can be defined as any kind of bookshelf that does something strange or unique with its design in order to stand out and be eye-catching.
This does usually mean that decorative bookshelves are not the most ideal things for storing a large number of bookshelves. If you're a bookworm with a lot of books to store and display, you'll need an industrial bookshelf or solid wood bookcases.
However, if you want to display a handful of books in a creative fashion, you'll want the best bookshelves for the job. Here are some great decorative bookshelves that fill this particular need.
Bookshelf With a Glass Door
For the organised and the refined, a bookshelf with a glass door is the ultimate in respectable bookshelf organisation. Not sure I even know what that means, but I have faith that you do. Basically, a bookshelf with a glass door looks elegant.
If you love to organise your bookshelves in a very specific way (maybe even by colour), then using a bookshelf with a glass door to finalise the effect is the cherry on top. Sort of like laminating or framing a piece of art.
If you have pride in your book collection, and you wish to display them like artwork, a bookshelf with a glass door is one of the best bookshelves to provide that kind of finish.
Bookshelves With Doors
Bookshelves with doors aren't to everyone's taste. Most of us like to display our books as a point of pride, as a form of decoration, and as a great talking point for visitors who come round. But some of us prefer the privacy and tidiness that bookshelves with doors provide.
If that describes you — someone whose books are a private affair and would prefer to tidy them away behind wooden doors, then the best bookshelves for you are, obviously, bookshelves with doors.
The doors mean that you're going to see a lot more of the wood than you normally would. This means choosing the prettiest and most pleasing wood finish is an absolute must when selecting bookshelves with doors. Here are a few options.
Corner Bookcase
The best bookshelves for people trying to make the most of their space — especially if they have a small living room or a studio apartment — are corner bookcases.
They still work well as practical bookshelves but they gel so perfectly with your home decor, as though they were always meant to be there. A corner bookcase straddles that line between function and fashion, looking refined and satisfying while also holding a decent amount of books.
They also work great if you really want to line your walls with books. Get a traditional bookshelf for one wall and a corner bookcase (or two) for the corner. Turn the walls of your home into bookshelves. Who needs wallpaper when books will do?
Narrow Bookshelf
A narrow bookshelf can solve a lot of unique issues. If you have some annoying gaps in your living space; if you need a bit of extra book storage (but not too much); if you have limited space and only a narrow bookshelf will do.
A short, narrow bookshelf can also double as a bedside cabinet or a shelf for a potted plant, all the while storing some of your favourite books.
Whatever you need it for, a narrow bookcase is often the perfect solution to your problems. You can buy multiple without breaking the bank, and then fit them into every room in your house (or apartment).
Need a bookshelf in your kitchen? How about the bathroom? Maybe the larder (no, I don't know what one of those is either). Whatever the (book)case, a narrow bookshelf can be your answer.
Wall-Mounted Bookshelves
These are the best bookshelves for the lucky few who own their own home and can just go to town stabbing holes into their own walls to set up some beautiful wall-mounted bookshelves.
These types of bookshelves come in a few different flavours: single shelves and multi-shelf units. You can mount single individual shelves wherever you please, sporadically or in a pattern. Or just stop at one, if one is all you need.
Alternatively, you can buy and mount a multi-shelf unit of wall-mounted bookshelves. This is a set of three or four connected shelves that all get mounted in one place together. A small bookcase mounted on your wall!
Desk With Bookshelves
Equal parts aesthetic and practical. Function meets fashion. The perfect tool for any work-from-home person who loves their desk and often needs quick access to reference materials like dictionaries and textbooks.
A desk with bookshelves can also simply be used as a two-in-one tool for storing all your favourite things in one convenient location. My two favourite things are my books and my laptop. Having them in one pretty location is heaven.
For this reason, getting a desk with bookshelves is a way to get the best bookshelves for your home library.