Bristol is often considered the hipster capital of the UK. It is also our former home and one of our most cherished cities. A large part of the reason for that is the enormous selection of magnificent Bristol bookshops.
In Bristol, you'll find two Waterstones and a Foyles. There's also a wealth of independent bookshops selling comics and graphic novels, world literature and travel books, and books on socialist politics. These Bristol bookshops also provide warm and charming spaces for booklovers to browse, chat, drink coffee, and feel completely at home.
If you've ever wondered why Bristol is such a beloved city for so many people, these frankly magical Bristol bookshops are one of the many reasons why.
Read More: Discover more in this Art & Culture Guide to Bristol.
Central Bristol Bookshops
Stanford's
The original Stanford's can be found in London's Covent Garden. But this second Stanford's sits proudly on Corn Street in Bristol, between the city centre and the harbour. One of the most important and original, as well as beautiful Bristol bookshops, Stanford's specialises in both travel books and world literature.
For us at Books and Bao, Stanford's isn't only one of the most wonderful Bristol bookshops, but one of the most vital bookshops in the world.
It was after a few visits to Stanford's during some Bristol shopping trips that the spark for Books and Bao was born. Stanford's does a magnificent job at championing world literature, and it inspired us to do the same.
When you enter this, one of the most beautiful shops in Bristol, you'll see the deep dark wood of the bookshelves, and the magnificent selection of novels and travel books on display. Downstairs, you'll find maps and globes for sale, as well as hundreds of travel guides and even more world literature.
Most bookshops are divided into genre and type, but in Stanford's they're organised by country, encouraging shoppers to browse the places they love. When you do, you'll find travel guides, fiction, and non-fiction relevant to your country of choice. Just one more feature that makes this one of the best shops in Bristol.
Read More: Discover more bookshops in nearby Bath.
Foyles
We flat-out adore Foyles. Their booksellers are second to none when it comes to the vital skill of curating the best books and putting them proudly on display. We find ourselves visiting the London branch on Tottenham Court Road over and over again for this very reason.
The Bristol branch of Foyles, found in Cabot Circus (a Bristol shopping centre), is equally excellent, albeit a lot smaller and more intimate. Despite its size, however, this best of the Cabot Circus shops still manages to house a cosy cafe right in the centre of the shop.
In Foyles, one of the very finest Bristol bookshops, you'll find everything from latest fiction (including a great selection of translated fiction) to gifts and graphic novels. Foyles stocks everything that Waterstones stocks, with the benefit of being independent.
Beware of the Leopard Books
What a name! And well suited to the wonderful space that is St Nicholas Market (commonly known as Sant Nick's and found just steps away from one of the other great Bristol bookshops: Stanford's).
Beware of the Leopard provides everything a great second-hand bookshop should: floor to ceiling books, jaw-dropping bargains, and thrilling hidden gems.
Saint Nick's isn't strictly a Bristol shopping centre but ask anyone who often goes Bristol shopping and you'll quickly learn that it's an integral and beloved part of the culture in Bristol.
While the Cabot Circus shops are mostly big high street brands, Saint Nick's is a magnificent traditional market that hides pubs, record stores and, of course, Beware of the Leopard Books, one of the most charming Bristol bookshops.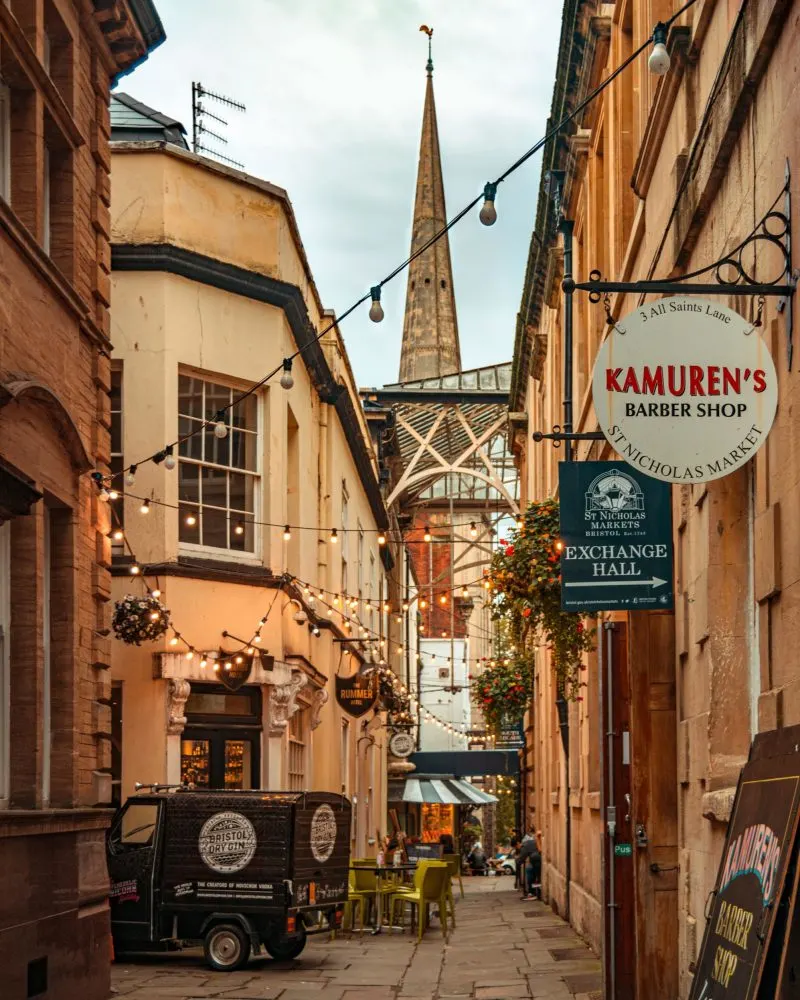 Excelsior Comics
This most friendly of Bristol bookshops is the best independent comics shop we've ever set foot in. Not only is Excelsior Bristol's foremost comic book shop, it also has a sister shop just a few doors down which specialises in manga and board games of all kinds.
Excelsior Comics is a dedicated comic book shop in the heart of Bristol, tucked behind all the Cabot Circus shops. The best thing about it (besides the walls of both single-issue and trade collections of comics)? The friendliness of its staff.
When we lived in Bristol I used to while away literal hours chatting with the guys in Excelsior about comics old and new. They're the best people. As such, if you only visit one of the great Bristol bookshops when you go Bristol shopping, let it be Excelsior!
Read More: A Literary Guide to Devon and Cornwall.
Waterstones
Bristol has one of the very best branches of this classic UK book chain with every new book of fiction and non-fiction that you'd expect to find (plus gifts and board games thrown in for good measure). What makes this not only one of the best Bristol bookshops but also one of the best branches of Waterstones?
That would be the café! A lot of Waterstones branches have their own café, but this whole Waterstones (found in The Galleries – another Bristol shopping centre) is on a single level, with the café on a raised mezzanine that overlooks the shoppers excitedly browsing the bookshelves.
This Waterstones represents the beating heart of Bristol, and when you're out Bristol shopping, it makes for a great place to stop, browse, feel at ease, and sit with a coffee. We have some warm memories of browsing these shelves, buying books, and leafing through them while nursing a hot coffee.
Read More: Where to Stay in Bristol ( +Neighbourhood Guide).
Stoke's Croft Bookshops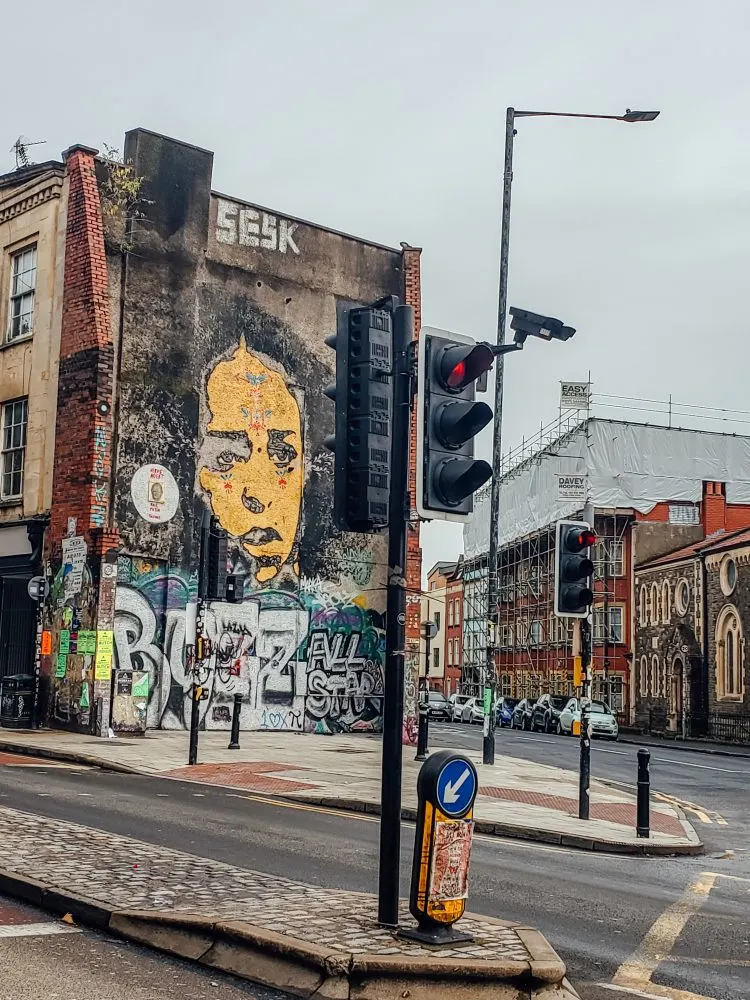 Hydra Books
Part of the Alliance of Radical Booksellers, Hydra Books can currently be found downstairs in Café Kino, Stoke's Croft.
This bookshop specialises in supporting independent non-commercial publishers and authors. Their books primarily focus on politics, history, feminism, animal rights, and environmentalism. Topics often considered rebellious and radical but should really be common sense in this day and age.
Just as importantly, Hydra Books provides a safe meeting space for likeminded people – the kinds of people drawn to the kinds of books that Hydra Books stocks and sells (us, in other words – and you, we hope).
Here
Simply called Here, this is one of the most singular and standout of the Bristol bookshops. Why? Because it's primarily an exhibition gallery which features artists both local and international. That said, it is still a bookshop.
Here specialises in books that keep in line with their aesthetics. That means you'll find here a lot of comics and graphic novels, as well as illustrated children's books and a swathe of magazines. There's a punk sensibility to Here, and if the book you're looking for is heavy on illustration and visual style, you'll probably find it here.
Park Street & Clifton Bookshops
Bloom & Curll
Perhaps the sweetest and charming of all the Bristol bookshops, Bloom & Curll is found on Colston Street, an offshoot of Park Street. This little bookshop is packed to the rafters with every kind of fiction and non-fiction book you can imagine. Their staff are kind and helpful, and the décor is so warming.
You know that bookshop you always have in your mind's eye? It has a particular smell and it's not too neat and organised. It's eclectic, painted beautifully and decorated with a few odds and ends. That bookshop you dream of is Bloom & Curl, one of the most special and cherished of all the Bristol bookshops.
The Last Bookshop
Park Street is a charming and slightly steep hill of a street, the crown of which is the Bristol Museum & Art Gallery. It also carries you northwest, away from Bristol centre and towards Clifton Village. Halfway up, you'll find The Last Bookshop.
Ominously but appropriately named, this distinctive diamond amongst all the Bristol bookshops is unique for its way of selling books.
Almost every book in the shop is £3, with frequent deals like "2 for £5" and "£3 for £10". Their stock doesn't frequently change but it's a reliable place to find cheap copies of old favourites and beloved classics.
Waterstones Clifton Village
Clifton Village, one of the most delightful and fancy areas of Bristol, is a beautiful area to explore. It is also home to some lovely cafes but, unfortunately, was lacking in bookshops for a good while (except for their lovely Oxfam bookshop).
Now, however, Clifton has its own branch of Waterstones, giving people out Bristol shopping a choice of two places to peruse while they're up in the lofty heights of Clifton Village.
It might not be one of the most unique Bristol bookshops but given how far Clifton Village is from the centre and all those Cabot Circus shops, it's a welcome new bookshop indeed.
Read More: A Perfect Bath Day Trip for Culture Lovers
Other Bristol Bookshops
Dreadnought Books
Found on Sant George's Road, a little walk west of Bristol Cathedral and Bristol Aquarium, this is the most unique and special of all the Bristol bookshops. Perhaps, as a lefty socialist, I'm a little biased, but this bookshop's uniqueness is still without question.
Dreadnought Books offers a massive range of second-hand history books, both modern and ancient, as well as an enormous host of left-leaning political books of all kinds: philosophy, economics, biographies, and more.
The guys who own Dreadnought are great to chat with, and the mission of their shop, in what seems to be an increasingly fascist Britain, is a powerful and rebellious one indeed.
Storysmith
We used to live around the corner from North Street, where this newest of the Bristol bookshops can be found. And, frustratingly, this shop opened not long after we left Bristol. Still, perhaps that was a blessing in disguise for our wallets.
The two best things about this most charming of Bristol bookshops are its aesthetics and its selection of children's books. While they're not a specialist children's bookshop, they have a really great selection of them here. And the atmosphere of this still new bookshop is charming, warming, sweet, and kind.
Storysmith host events (check their website for more info). They also offer gift vouchers, subscriptions, and signed copies of new books.
And the cherry on top: they host three different book clubs! If you live in the area of Bedminster and Southville and you've always been tempted by a book club, definitely consider one of the three at Storysmith.