Covent Garden is famous for being one of the most picturesque, photogenic, and lively areas in London. Tourists and locals alike flock there every single day for the market, the unique shopping experiences, and the great pubs, restaurants, and Covent Garden hotels.
Covent Garden is also a haven for bookworms! Here, you'll find some of the best bookshops in London, as well as a Covent Garden bar that serves literary cocktails, a pub named after Phileas Fogg, and blue plaques immortalising authors like Austen and Dickens. You'll find all of this and far more in our ultimate bookish guide to Covent Garden!
Visit Quinto Bookshop
Right on the edge of Covent Garden, and a short walk north of Leicester Square station, is one of the most magical and pure bookshops in London. London, of course, is chock full of incredible bookshops, and so many of them are speciality shops: queer literature, socialist political texts, feminist classics.
But there's something so pure and historic about Quinto Books. What makes this Covent Garden bookseller unique is its focus on antiquarian – often very valuable – literature. If you're a collector of old tomes and first editions, popping into Quinto Books is like stumbling across a goldmine.
Shop at the Moomin Shop
One of the most unique things to do in Covent Garden is to visit the Moomin Shop. In case you're not familiar, Moomins are a Finnish national treasure: a series of now iconic books and comics featuring these strange white hippo-like characters that toe a fine line between being completely adorable and slightly eerie.
Moomins have successfully built a home at the edge of the uncanny valley. And a second home in Covent Garden! In the heart of Covent Garden market building is this two-storey Moomin Shop full of books, plushies, posters, and all collectable things Moomin. It's a dream, in more ways than one.
Read More: Our Guide to Five the UK's most Literary Cities.
Eat at Rules
Rules is one of the most essential Covent Garden restaurants. In short, this is because it's the oldest restaurant in London! Established in 1798, Rules has been open for more than 220 years. It also doubles as one of the best Covent Garden pubs, serving some really excellent cocktail choices at their upstairs Winter Garden Cocktail Bar.
At Rules you can enjoy traditional English food at its absolute finest, including steaks, pies, soups, and the best game (pheasant, hare, duck) you'll ever it. It's a little pricey but you pay for the best. And Rules is the best of the Covent Garden restaurants.
Tip: If you have time visit The London Transport Museum!
Enjoy Bao at Buns and Buns
Yes, that is the restaurant's real name. Buns and Buns, the most delightful of Covent Garden restaurants, is found in a glass box in the middle of Covent Garden market building. Reasonably priced and the freshest food around, Buns and Buns has something delicious for everyone.
As our site name suggests, we love bao. And at Buns and Buns you can enjoy the best bao in London. Or, if you want something European, their freshly baked pizzas are to die for. Basically, Buns and Buns is all about them quality carbs, making them one of the most fun and indulgent yet healthy of Covent Garden restaurants.
Read More: 11 Best Covent Garden Restaurants.
Have Literary Cocktails at The Library Members Bar
Take a walk down Saint Martin's Lane, just around the corner from Cecil Court (which we'll come to in a moment) and you'll find a small door with a single word above it: 'LIBRARY'. Library is a lot of things: a hotel, an events venue, a cocktail bar, and a member's club. The reason for its name is two-fold: it used to be an old public library.
The other reason is that it has kept that literary spirit alive by being one of the most original Covent Garden bars around. How?
Well, all of the drinks on its cocktail menu are named after authors. The cocktails do a fantastic job of capturing the tone of the authors, making this one of the most fun and unique Covent Garden bars. However, being a member's club, it does cost £500 a year to join, or you can get a day's entry for £20.
Read More: 8 Must-Visit London Bookish Cafes and Bars
Drink Coffee and Go Book Shopping in Stanford's
Stanfords is one of the most original and awesome bookshops in London. Established while Victoria was still on the throne, Stanford's is a travel bookshop that centralises around world literature, travel writing, travel guides, maps, and globes.
We first fell for Stanford's when visiting their second branch in Bristol, where we used to live. These shops ooze charm and inspire an irresistible urge to head out on an adventure.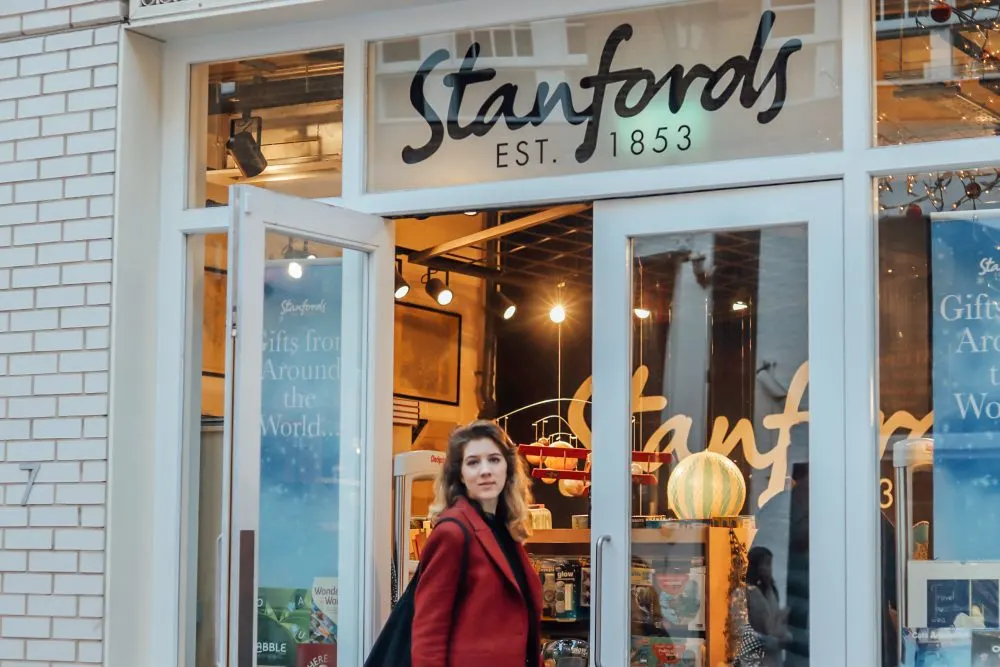 Located just around the corner from Neal's Yard, Stanford's also has its own lovely little cafe area where you can enjoy a latte and a fresh slice of cake as you flick through your newest read. Stanford's doubles as a fantastic Covent Garden cafe and bookshop. What in the world is better?
Visit Cecil Court for More Book Shopping
The once brief home of Mozart and birthplace of the founders of Foyles, Cecil Court today is a haven for bookworms. It's a single pedestrian street, lined with lamps and so many unique booksellers. One shop, Goldsboro Books, sells exclusively first editions. Another, Alice Through the Looking Glass, is themed after the same book.
Our favourite bookseller in Cecil Court is Marchpane. Though we aren't huge lovers of children's literature, the shop itself is an absolute delight and a treasure.
The Daleks are originals from the '60s and '70s, as are the Paddington Bear toys. There's a selection of first edition children's books. The staff are the most enthusiastic and charming people. Visiting this shop is how you cure a bad mood.
Read More: Discover London's Best Independent Bookshops
Buy Alice in Wonderland Themed Tea Sets at Whittards
There are a lot of Whittards shops around the UK, but this one in Covent Garden market building has the best mood of them all. It feels at home there; it belongs in Covent Garden. Here, you can sample the teas, lemonades, and hot chocolate for sale, and browse some of the highest quality teas available.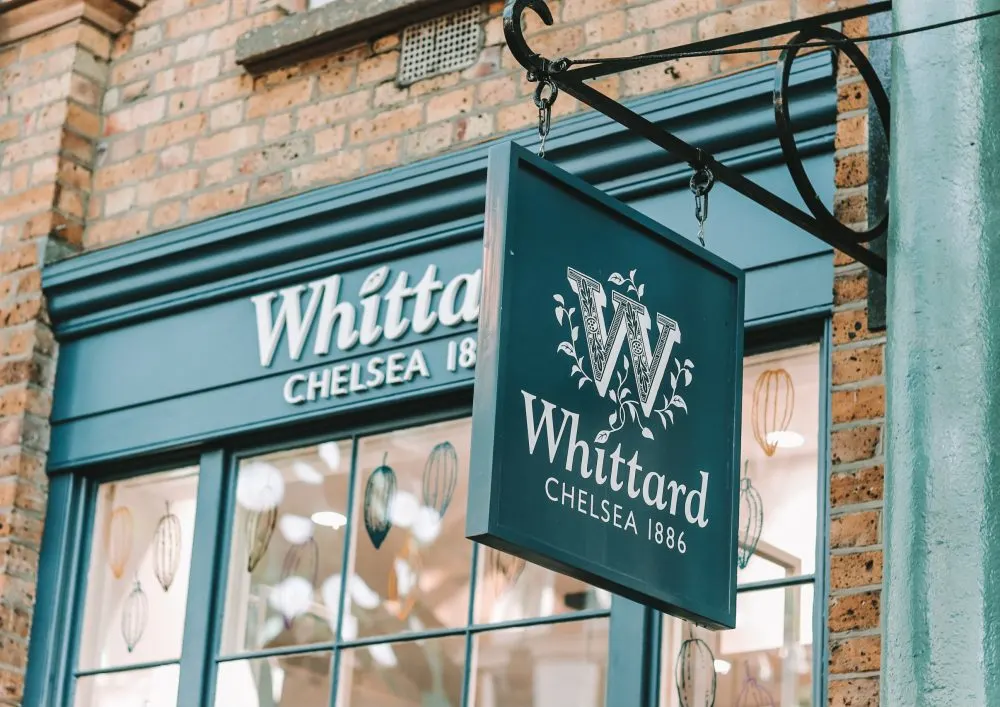 Downstairs, you'll find cutlery and crockery. Most charming and sweet of all is the Alice in Wonderland tea set, which includes mugs and plates and a teapot, all designed with original illustrations from the book. You can even buy their Alice-themed collection online.
Read More: Take a Day Trip to Blenheim Palace
Drink Gin at Mr Fogg's Tavern
Phileas Fogg, the protagonist of the joyous Jules Verne novel Around the World in 80 Days, has had his name proudly fixed to this most delightful of Covent Garden pubs Mr Fogg's Tavern.
The downstairs tavern area is the quintessential English pub with its aesthetics turned up to eleven: a fireplace, taxidermied crows, hanging ornaments like birdcages, and portraits adorning the walls.
Then, you can head upstairs to Mr Fogg's Gin Parlour! There's something far more literary about gin over beer. And this gin parlour has over two hundred gins for you to choose from. The choice of tavern and gin bar makes this one of the very special Covent Garden pubs.
Tip: Visit More Literary London Pubs on the Historical Pub Tour
Visit Dickens' Old Curiosity Shop
You might know the name of this shop from the Dickens novel of the same name. But here's a fun fact! Although the shop did inspire Dickens' novel, the shop only took the name "The Old Curiosity Shop" after the book was published, giving them a sort of symbiotic relationship.
The Old Curiosity Shop can be found on the Western edge of Covent Garden, and it is still open today, making the shop almost four hundred years old! And what does it sell? Shoes! Lovely women's and men's shoes.
Explore Neal's Yard
Ah, Neal's Yard. This is a curious little area hidden down some back alleyways at the northern edge of Covent Garden. What makes it unique, as you can see from the photo, is its brightly coloured walls and how bohemian its aesthetic is.
Inside Neal's Yard, you'll find a sweet selection of places to drink both coffees and cocktails. At the front of Neal's Yard is Monmouth Street. And on Monmouth Street is Monmouth Coffee, an utterly splendid Covent Garden cafe.
Go Literary Blue Plaque Hunting
The blue plaques of London are legendary. They showcase all the historical links and wonders of London.
In Covent Garden alone you'll find two Charles Dickens plagues, one of Margot Fonteyn, legendary ballerina, and Jane Austen! For a list of all the blue and green plaques of Covent Garden, see the official site right here before you go plaque hunting in Covent Garden!
Read More: Discover the Best Japanese Restaurants in Covent Garden & Soho.
Watch The Woman in Black at Fortune Theatre
We all have our own first experiences with The Woman in Black. For many, it's the Hammer Horror film starring Daniel Radcliffe and Ciaran Hinds. For others, it's the original book by Susan Hill. For me, it was this play. Having now seen the film and read the book, I stand firm that the play is the best experience of the lot.
The Woman in Black is a truly clever, thrilling, and haunting performance. It is a play within a play that uses minimalist staging, clever lighting, a two-way cyclorama, and other savvy techniques to create the most memorable of theatre-going experiences. The Woman in Black is unmissable.
Catch a Show at the Royal Opera House
The London Royal Opera House can be found at the corner of Covent Garden, just at the edge of the market building. Pay attention to their website in order to see what performances are coming up.
If you'd rather not see a performance, the Royal Opera House is still worth a visit for its impressive interior design and architecture. And the gift shop is one of the most classy in London, with some great opera and ballet themed gifts, as well as a selection of books to pick up.
Enjoy a Cookie At Ben's Cookies
Ben's Cookies is a small company that has steadily spread across the world. But the Ben's Cookies at Covent Garden was the first one we ever visited. What makes this particular Ben's Cookies so unique is its design.
The now iconic logo of Ben's Cookies was designed by the owner's friend, a legendary illustrator whose drawings have brought joy to millions of children for generations: Quentin Blake, illustrator of the books of Roald Dahl!
Enjoy the Calm of Teatulia
We've saved the best for last. Teatulia manages to be both the best Covent Garden cafe and the very best of the Covent Garden bars. How so? Teatulia serves the best teas and cocktails in the area! As well as delicious mocktails, if you prefer.
Teatulia also features an enormous wall of bookshelves which frame a comfortable sofa. When you visit, you're encouraged to pick your drink, select a book from the shelf, and lose yourself in the book and the atmosphere while escaping from the busy bustle of Covent Garden. What a haven!
The spending money for this post was gifted by Hotels.com, but all views are my own.