So many of us grew up as bookworms: living in fantasy worlds, escaping reality through the pages of our books, and much of that was because the real world just doesn't measure up. But these days we have thousands of creative bookworms out there bringing to life characters, themes, and ideas from our favourite books for us in the shape of jewellery, clothes, household things – even tea! Today, there's no shortage of fantastic, creative, beautiful, lovingly-crafted literary gifts that you can get for your bookish loved ones, or your book nerd self!
As with all good gift-shopping prepare to buy three things for yourself per one bookish gift for someone else. We're only human.
Literary Tea
Literary Tea offers a tea selection for every kind of book fan and every kind of tea fan, I'm particularly fond of the Beatrix Potter tin myself. I don't think there are many things that go better with a good book than a cozy cup of tea. For people who prefer tea bags, Novel Teas have you covered.
Shop for your bookish tea break on Etsy.
Chatty Feet Socks
Wear your favourite literary icon, playwright, artist, or singer on your feet. There's no end to the cool people that Chatty Feet have decided to put on their socks and all with a cool pun to boot. We love puns. We opted for Virginia Wool and William Shakes-Feet (although I was also tempted by these Dali ones) to show off how adorable we are as a couple (yes, we're standing by that). These are eye-catching, incredibly soft and good quality cotton socks. Perfect for a literary gift!
Get your fun and funky socks here.
Handmade Cat Bookends
If your bookshelves are anything like mine then you're probably in danger of meeting an untimely end under a pile of books making their bid for freedom. Put them in their place with some stylish bookends and you get to look at cute cats to boot.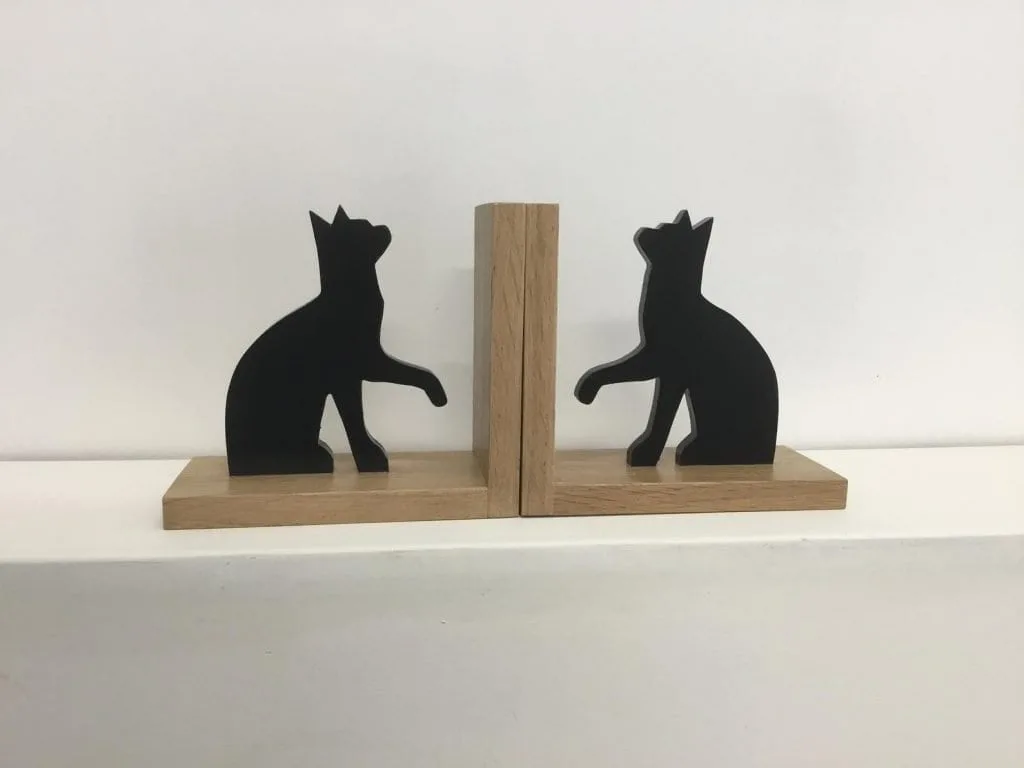 Get some structure in your life on Etsy.
Hand Woven Afghan Blanket
You know the image you have of yourself curled up under a blanket, lounging on a Chesterfield sofa, the glow of a roaring fire illuminating the pages of that old copy of Jane Eyre you're re-reading for the tenth time? Well, you can make a start on that with this gorgeous Afghan blanket! The Chesterfield can wait; the blanket is key.
Handmade Literary Scarf
Why talk about your favourite books when you can wear them around your neck? You can even have custom books added to make it truly personal, although as she also has a scarf made of entirely classic horror stories, I think I'm good.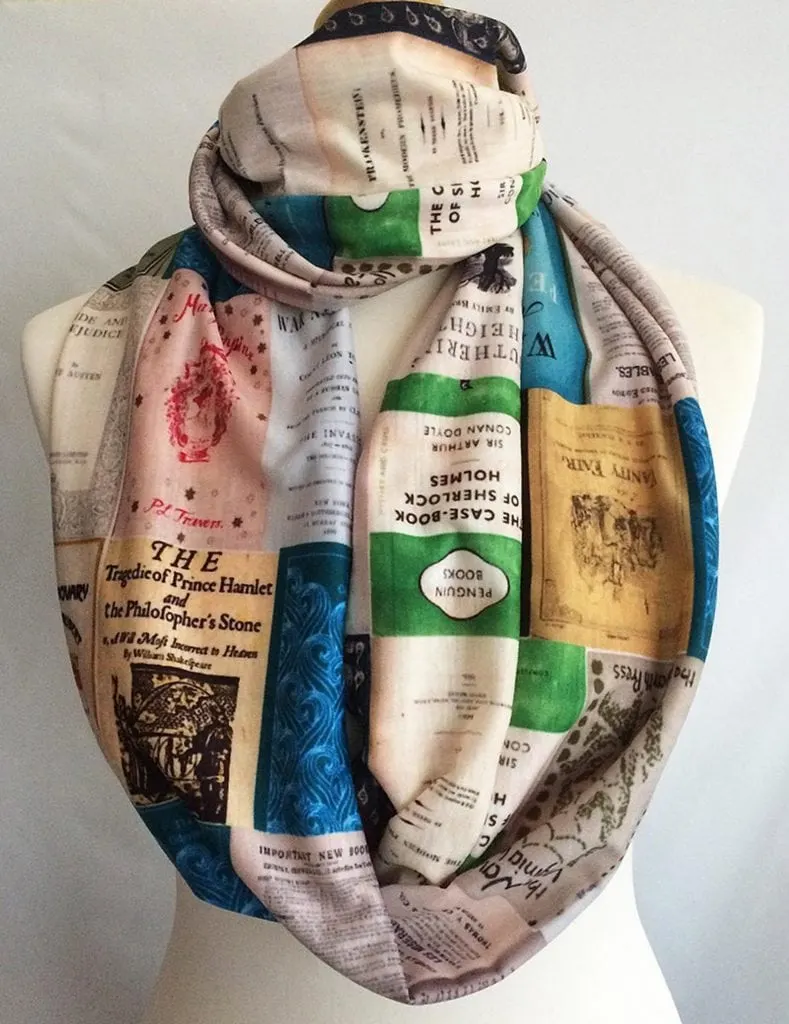 Get your new signature scarf on Etsy.
Women Poet's Enamel Pin Collection
If you know us at all then you know we champion women writers from around the world and even though the enamel pin craze has become dangerous to those who love collecting things (ouch), this is quite possibly the most beautiful set I've come across and it's not just the rose gold finish making me say that. Created by the Literary Emporium, they're inspired by – Maya Angelou, Anne Brontë, Sappho, Qiu Jin, and Sylvia Plath, some of the most badass of women around and well-deserving of sitting proudly upon your lapel or rucksack. If you're more into your Gothic literature then check out this gorgeous collection or their gorgeous Shakespeare's heroines set.
Find these irresistible pins on Etsy
---
Read More: 15 Amazing Enamel Pins for Book Lovers.
---
Book Binding Set
If you're someone who keeps a journal, enjoys scrapbooking, or writes novels for fun – whatever you create when you put pen to paper, you can now bind it with these and create your own books. This very simple, classy-looking bookbinding sets allow you to turn your hobby into something tangible and real.
Create your new masterpiece on Etsy.
The Locket Library Jewelry
Quite frankly, The Locket Library could extract every last penny from me if I wasn't careful. I have very little self-control when it comes to jewelry anyway and these are just the most gorgeous, classic pieces. If you don't like any of the jewelry on offer you can request your own classic book cover, like this Edgar Allen Poe pendant which is my new best friend.
Adorn yourself in literary jewels on Etsy.
---
Read More: The Best (and Most Tasteful) Literary Jewelry
---
Handcrafted Fountain Pen
Here's one for the writers or would-be writers, I recently listened to Neil Gaiman talk for half an hour about different fountain pens for different situations and even found out there's a fountain pen hospital in New York – a half hour very well spent. I've always been a fan of the fountain pen and a handmade one just demands to be held. It's a lasting gift and a loving nudge to anyone who's been meaning to write that novel their whole life.
A Literary Tote Bag
No more tote bags I hear you shouting at me. It's a truth commonly acknowledge that once purchased a tote bag will keep multiplying forever until it takes over whatever space it can find. Am I still going to suggest you need another tote bag in your life. Of course! Especially when they are as pretty and witty as the ones from Obvious State.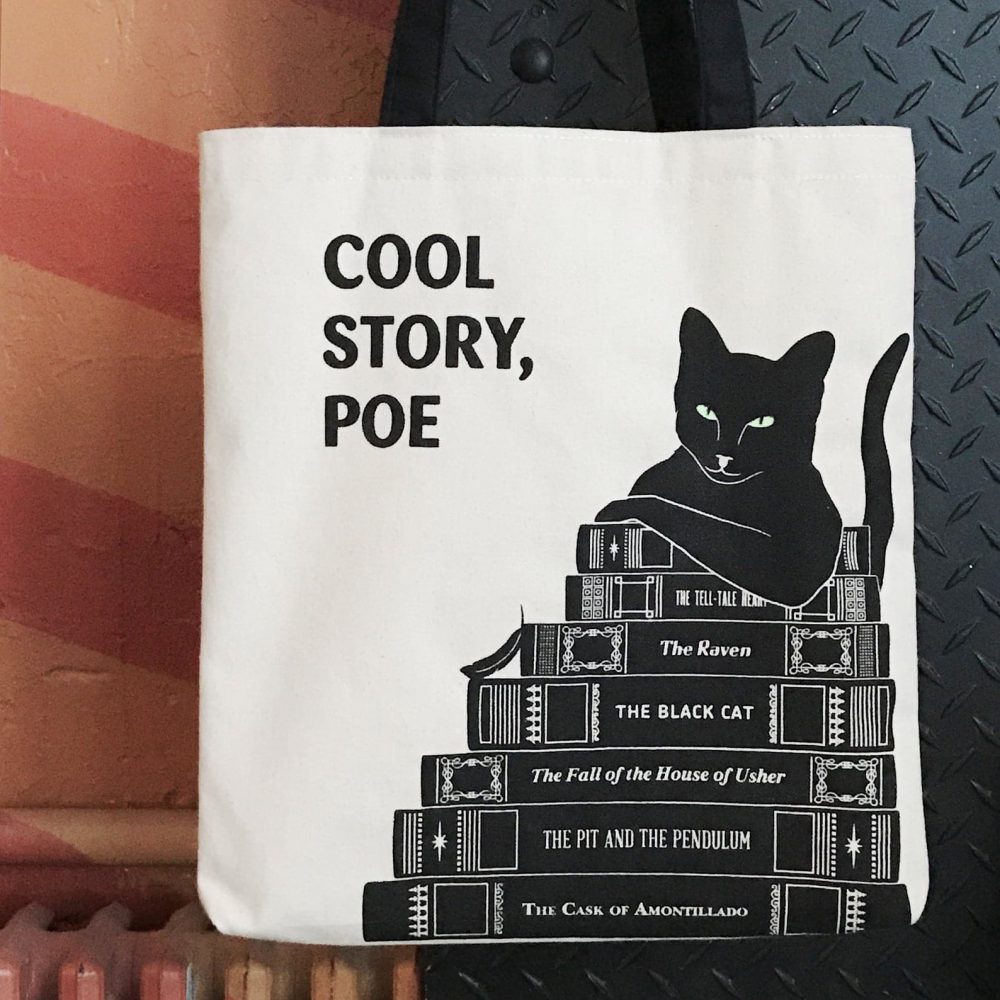 Don't let your tote bags get lonely, find more on Etsy.
Hand Covered Reclaimed Fabric Notebooks
Imagine having the creative mindset to take old, now-useless fabric from here, there, anywhere, and thinking, 'This would make the world's most beautiful notebook!' Well, now you don't have to. You can just buy one. All of the fabric used for these notebooks has been reclaimed and hand-made into something personal, unique, and beautiful. Some are even made from the gorgeous obis used to wrap kimonos!
Shop for stunning notebooks here.
---
Read More: Check these Perfect Harry Potter Gift Ideas for Fans.
---
Indulge in a Literary Print
Those with eagle eyes may have noticed that I'm recommending more products by Obvious State here and it's genuinely because they're literary gifts are just so damn lovely and unique. Their literary prints are by far my favourite style and put a characterful spin on each and every poster, they also include a wide range of authors from around the world instead of the usual favourites. Let your walls celebrate the words and metaphors that these writers have so lovingly bestowed on us.
Rainy Day Reads Candle
Reading all happens in the brain, right? We build the words we read in our mind's eye and we live there for a little while. But, with these candles, you can take that atmosphere one step further by drawing out your favourite bookish scents and filling your living room with them! What could be better than this Rainy Day Reads Candle? Or, if you'd prefer the scent of old books, there's a candle for that too.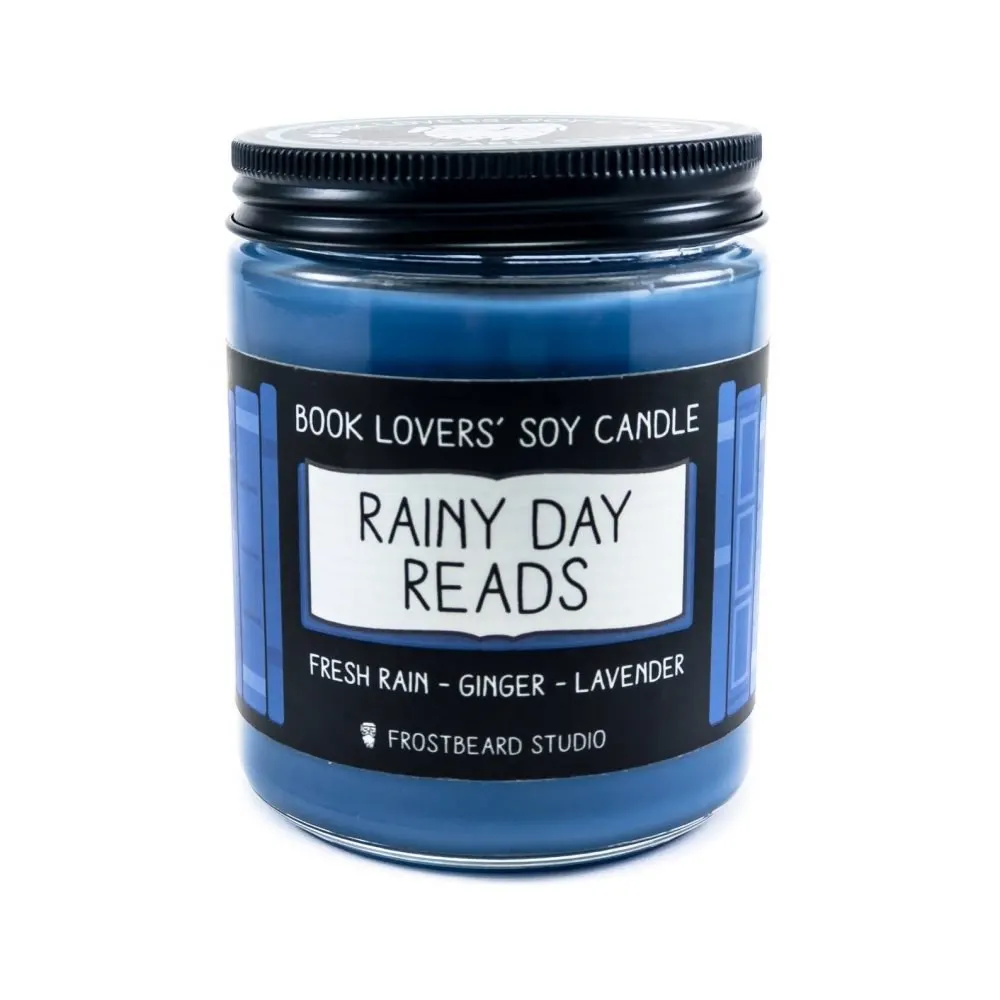 See the whole range of candles on Etsy.
Cashmere Blend Writing Gloves
For the budding writer in all of us, there are certain things we'd prefer to have: fountain pens, parchment, a typewriter, maybe a MacBook? How about gloves! Typing can cause a lot of aches in strange places, but with these gloves you can write for days in complete comfort!
Warm up your hands at Literary Book Gifts
Metal Bookmark
Bookmarks can get a little boring. They're usually card. Sometimes, when we're desperate, they're whatever flat thing we have lying around. The real daring readers out there don't even consider them, and just dog-ear every page. The savages! If you want to mark your page with something so gorgeous you could wear it or frame it, consider one of these metal bookmarks with a Japanese aesthetic. They also have many more stunning Japanese art-inspired products in their shop.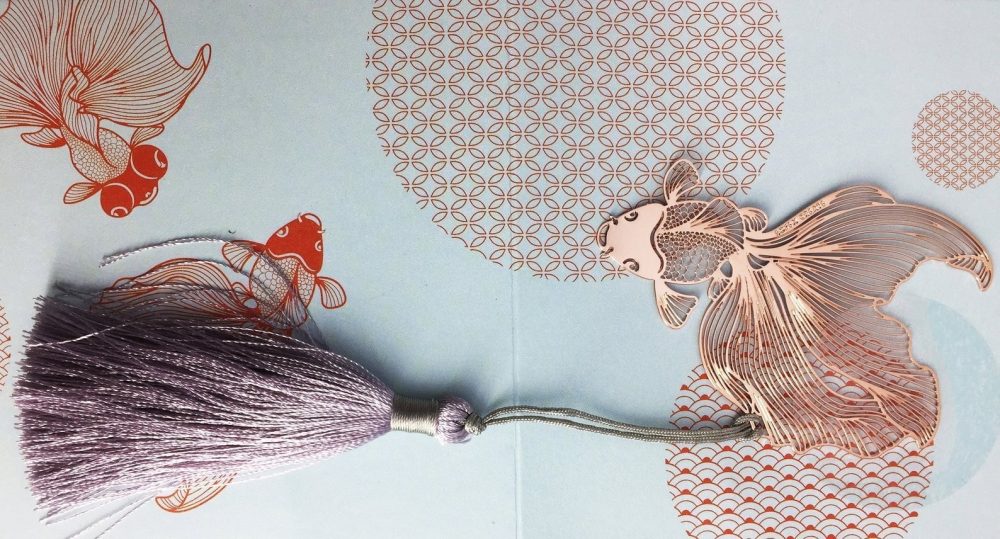 Penguin Clothbound Classics
A lot of publishers over the past few years have rebound classic books in new covers: hardback, leather, books with deckled edges (ugh). But Penguin do it best with these highly collectable clothbound classics. We adore these. They're about the same price as your average book and yet they're so much prettier! They're more pleasant to hold and read, and they look so great as a collection on your shelf. There's nothing in the world like them. Get all your great gothic and romantic feminists together by building a clothbound shelf-full of Brontës, Austens, and Shelleys!
Gift a Writing Class
We love Skillshare and with a membership, you'll suddenly have access to thousands of writing classes with famous and beloved authors at your fingertips. And much more! Everyone gets a 30-day free trial.
Become an English Pen Member
Without the Pen grants many of the wonderful books we get to read and review wouldn't exist and our world of literature would be a much narrower less representative place. If you're looking for a more charitable gift that keeps giving then this is an ideal choice. Members can look forward to all kinds of benefits, not least getting to enjoy literature from around the world and the money goes toward.
Become an English PEN Member | Or a PEN America Member
Jessica Esa
Jess is the creator and editor of Books and Bao. She's passionate about the world, its literature, food, culture, and people. She enjoys sharing her travel tips with others and capturing those perfect moments.