if you are looking for the best bookish cafes for book lovers in London then look no further. Here are some of our favourite hidden gems just waiting for you to settle with a book and cake.
More than a hunting ground for latte lovers, a bookish café or bar provides a soothing sanctuary of calm for those looking for a place of rest and reflection.
There's something healing about letting your mind wander as you cradle hot brew in your hands and watch the world go by out the window.
Cafes are also a hotspot for readers, who like to curl up with a favourite book and enjoy cup after cup of coffee, letting the hours tick by in peace and quiet.
In a city of exceptional literary reputation, it's no surprise to discover a number of cosy reading hideouts that inspire many to park up with their paperback.
Here are some of our favourite cafes and bars for book lovers around London.
Cozy Book Cafes in London to Settle With a Good Read
Planning your next literary adventure? Read on to discover the best bookish cafes in London!
Part of Glass House London — a sober and queer space in Shoreditch — The Common Press is a beautiful bookshop and one of the most exciting bookish cafes in London.
The Common Press bookshop stocks and sells everything that we at Books and Bao stand for: fiction by Black authors, books by queer writers, and literature in translation. It is a paradise for diverse literature.
This is also a sober space that serves fantastic coffee. Browse the shelves or your newly-purchased reads while you sip an oat milk flat white and chat with the owners and booksellers about their most highly-recommended books of the moment.
You can even rent a booth at the back of the cafe if you fancy recording a podcast or video while you're there.
'We are here to provide you with a little hideaway to finish that gripping novel'.
18 Calvert Ave, Shoreditch, London E2 7JP
Your next reading spot is Paper and Cup. This non-profit café was created by the Spitalfields Crypt Trust, an East London charity helping people the homeless, drug addicts, and alcoholics transform their lives.
Just off Shoreditch High Street, Paper and Cup sells second-hand novels, local artists' works, wonderful cakes, and mountainous mugs of coffee at mind-bogglingly cheap prices. The perfect setting to 'settle in with a good book' (their words!). Cosy, homely, philanthropic. Why not donate to their book pile?
Read More: The Best Snacks and Cakes to Try When You're in the UK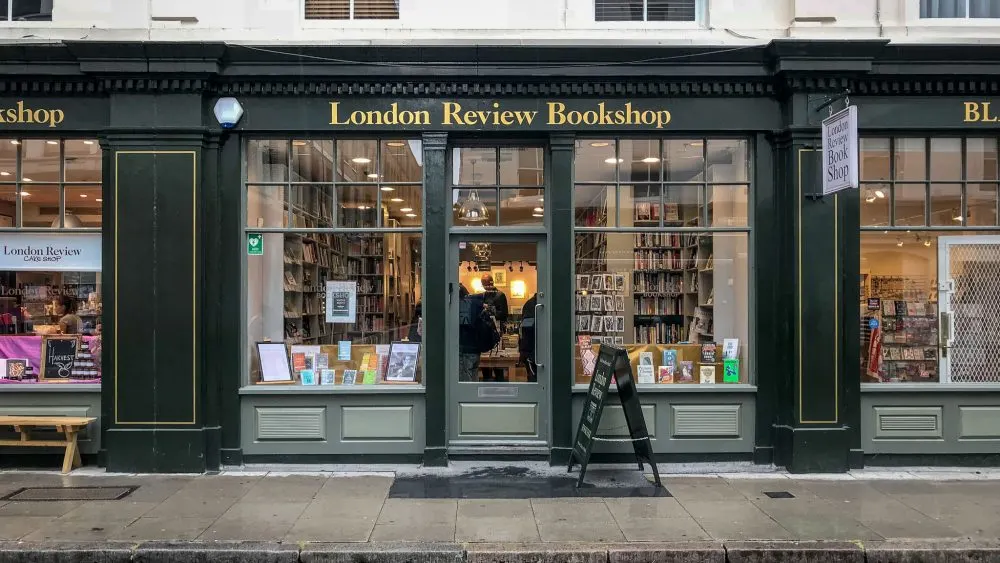 14-16 Bury Pl, Holborn, London WC1A 2JL
In a cosy corner just 100 yards from London's British Museum, The London Review Bookshop proudly stands as one of London's Best Independent Bookshops.
Bookworms can drink in the unique, tranquil atmosphere within its walls and let their curiosity run wild while browsing 20,000 books and magazines from across the globe – including classic and contemporary fiction, poetry, philosophy, history, politics, and more.
Attached to the bookshop, the cake café is the perfect place to break up your browsing or crack open your new book. Bite into to tasty sandwiches, cakes and pastries all 'hand-made with love', or head out to the outdoor patio in summer for some vitamin D. A visit here deserves to be cherished.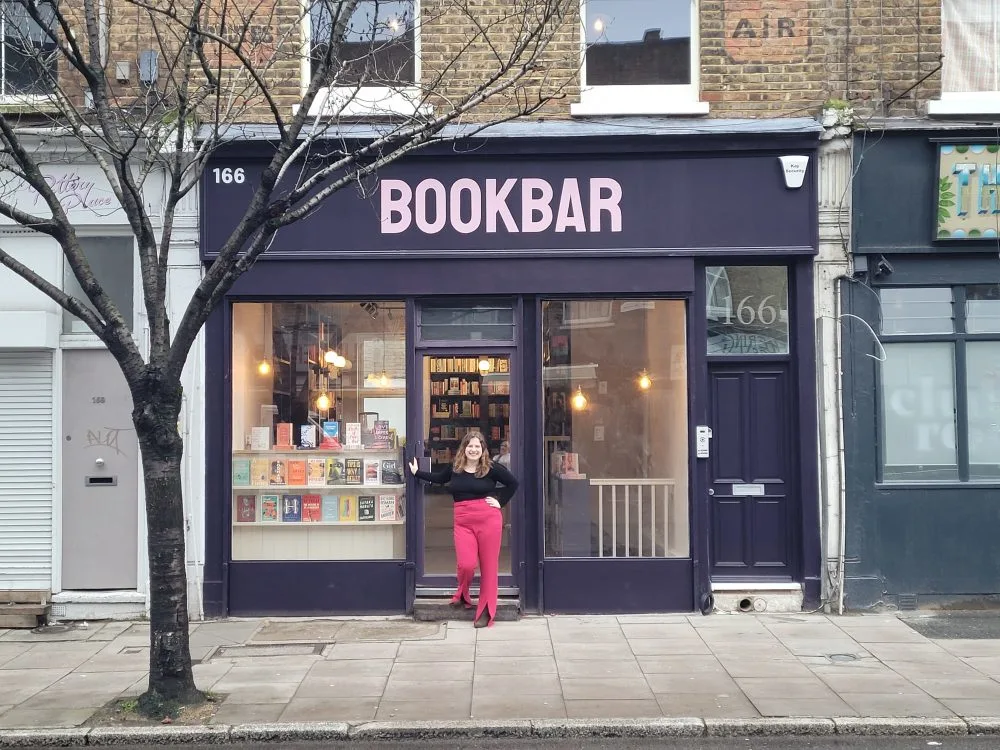 166 Blackstock Rd, Highbury, London N5 1HA
Opened by a former bookseller who had spent her career working in the book industry around the world, BookBar is a real treasure found in Highbury, Islington. Creating a relaxed atmosphere focused around socializing around books, BookBar is welcoming to new readers and dedicated bibliophiles alike.
Fun, regular events create a community around books in an inclusive and open way, with live music, readings, wine tastings, and even 'read-dating' being part of the lineup.
BookBar's 'Shelf Medicate' idea is genius, making an effort to help those who are stuck in a reading rut or are new to reading with ready-made 'prescriptions' with one of my favourites being the 'literary fibbers prescription because who among us hasn't claimed to have read something we feel we should have or at least nodded along quietly?
308 Kennington Rd, Oval, London SE11 4LD
Lambeth locals go crazy for Vanilla Black Coffee and Books. Open the door to a cosmopolitan interior of dazzling yellow walls and towering bookshelves. Take a seat as gigantic windows throw light into the café – illuminating your food, book, and conversation.
Mouth-wateringly fresh smoothies erase any hint of a hangover and wash down the infamous smashed avocado on sourdough toast with poached eggs nicely. Descend downstairs in gloomy weather to perch by the fireplace: an atmospheric setting for reading and rain watching. Visit Vanilla Black.
Read More: A Perfect London itinerary for Book Lovers
58 Stoke Newington High St, Clapton, London N16 7PB
Café Z Bar is the chill-out place for cool creatives. Step off 'Stokey' high street to an array of arty posters and rustic wooden tables scattered with magazines and books. Funky tunes vibrate out speakers and lift your excitement further as you gaze at the well-priced, Turkish-inspired menu.
A colossal staircase dominates the middle space, each downward-twisting step revealing yet more books that overflow side spaces and cascade down the staircase as you walk.
This is effortless hipster. Cool and care-free. Happy staff. Generous portions. Brilliant brunch. A bookish jewel in Stokey's crown.
159 Francis Rd, Leyton, London E10 6NT
This East London gem will transport you into a world of excellent fiction, non-fiction, and children's books within bright and airy surroundings. Each book is lovingly chosen by avid readers and is perfect if you're looking for something unique for a loved one or something new for yourself.
Truly passionate about books, the staff at Phlox Books are always ready to talk books or recommend you something new.
Books, booze, and coffee is their mantra and, yes, if you prefer your books with a good IPA or glass of wine then Phlox Books is going to be your new best friend. The store holds events and online events including a book group so there's a real sense of community surrounding the store.
'We are all about slinging great coffee and good vibes!'
111 Brixton Hill, Brixton, London SW2 1AA
Stir Coffee keeps their promise. The rustic but chic café on Brixton Hill sucks you in with one sip of their speciality coffee. Brilliant bookshelves stand over spacious tables, perfect for working.
Smooth jazz serenades you from the ceiling as you sample a menu including countless vegan options. Baked goods almost overflow the stands as staff brings out burgers seemingly too big to bite!
Treat yourself with one of their wine and beer options or sip on what many call the 'best oat latte in London' as you unwind with your latest read.
31 Norfolk Pl, Tyburnia, London W2 1QH
250 steps from Paddington station lies Kioskafe: a newspaper and magazine hub-come-café inspired by old European kiosks, or newsstands.
Created to show that modern print is still alive, 2500 print-on-demand newspapers and 150 magazines flood the room with colour and creativity – designed to 'take you round the world in a blink of an eye'.
Whether you're after an old Argentinian newspaper or Czech magazine – you're in luck. You can order a newspaper or magazine in advance, or wait for it to be printed as you sip on premium New Zealand coffee and mouth-watering Swedish pastries.
Stop in for something to read (and even purchase some travel essentials!) before hopping on a train from Paddington station. Devour Swiss breakfast pots and bagels. Admire literary artistry. This is Kioskafe.
Settle in with a drink and gripping novel – and transport yourself to another world. Plan your next coffee shop experience now.