A rapidly growing sub-genre, there's no feeling like reading charming, cozy fantasy books when you're looking for a low-stakes, slice-of-life story brimming with whimsy and the connection of found family.
Cozy fantasy books are often the kinds of stories defined by friendship, curiosity, and self-discovery — they also typically centre queer characters and stories, which is always a bonus.
Cozy fantasy books that you shouldn't miss
If you're in the mood for some feel-good storytelling, then let's dive into some of the best cozy fantasy books out there right now.
With vibrant settings — whether that's a magical forest, a tea shop, or a cute house in Hertfordshire — these cozy fantasy books will touch your heart and take you somewhere exciting, sweet, and new.
1) A Psalm for the Wild-Built by Becky Chambers
Becky Chambers has garnered an ever-growing following among science fiction enthusiasts, but she's also given us some of the most endearing found-family book series' (two of which you'll find on this list).
In her novella-length Monk and Robot series of science fantasy books, which starts with A Psalm for the Wild-Built and continues in A Prayer for the Crown-Shy, Chambers introduces us to a youthful non-binary tea monk named Dex, who decides to go beyond 'The City' into the wilderness to find their purpose.
Dex's tranquil existence is unexpectedly disrupted when a robot with a lot of questions materializes, resurfacing its ancient vow to connect with humans.
Bound by an unfulfilled obligation, the robot remains unable to retreat until the profound question of "what do people truly require?" is resolved.
This tranquil and introspective tale delves into the essence of existence with a hopeful and wholesome perspective on life, be it human or otherwise, and for that reason it is one of the best cozy fantasy books around.
Buy a copy of The Psalm for the Wild Built here
Read More: 14 Queer Fantasy and Sci-fi Books
2) The Very Secret Society of Irregular Witches by Sangu Mandanna
A light-hearted (and very British) found-family story with plenty of charm, a romance, and some truly loveable tiny witches.
Mika Moon is a solitary witch who has learned to conceal her magical abilities.
Having lost her parents early on, Mika grew up isolated and cautious, only flouting her strict, self-imposed rules through an online persona where she playfully portrays herself as a witch.
She never expects anyone to take her videos seriously until she receives an urgent call for help.
The plea comes from Nowhere House, a secluded manor where three young witches in need of guidance live.
Mika becomes entangled in the peculiar lives of the house's occupants, including Ian and Ken (truly gay couple goals) and Jamie the stern librarian come love interest.
As she starts to belong, a threat emerges, and a crucial decision: whether to risk it all to safeguard the newfound family she didn't realise she was seeking.
Buy a copy of The Very Secret Society of Irregular Witches here
3) Legends and Lattes by Travis Baldree
Legends & Lattes is a heartwarming novel set in a high fantasy world, and is one of the best examples of how to do cozy fantasy books right.
Viv, a retired barbarian mercenary, leaves her violent past behind and opens a coffee shop.
Breaking away from traditional fantasy narratives, the story focuses on brewing drinks instead of epic adventures and battles.
Viv forms a close-knit found family, including a himbo builder, a charismatic succubus, and an adorable rattkin, as they work together to create Viv's ideal world. It's extremely low-stakes and reminiscent of the game Coffee Talk.
With familiar fantasy tropes and a strong emphasis on the power of found family, this feel-good novel captivates readers with its sweetness and wholesomeness. Prepare to laugh, cry, and become fiercely protective of Thimble.
If you enjoyed this, then you can also check out Baldree's second book Bookshops & Bonedust.
Buy a copy of Legends & Lattes here
Read More: The Best Fantasy Books of All Time
4) The House in the Cerulean Sea by TJ Klune
A gently unfolding, whimsical found family and queer love story, The House in the Cerulean Sea is the epitome of cozy fantasy.
TJ Klune has made a huge name for himself writing great cozy fantasy books, and it's this one that thrust him into the limelight, and for good reason.
Linus Baker is a lonely case worker at the Department in Charge of Magical Youth who is handed a top-secret mission: to evaluate the potential danger from six distinctive children residing at the Marsyas Island Orphanage.
Throughout his exploration of the island's enigmas and deepening bond with the mysterious custodian, Arthur Parnassus, Linus stumbles upon an unexpected family.
He is left with a hard choice: dismantle their haven or risk a catastrophic global event.
This touching narrative emphasizes the strength of chosen families and the profound influence of acceptance and love.
A delight from start to end, TJ Klune has become a defining writer of charming books that use the found family trope so you'll see more of him on this list.
Buy a copy of The House in the Cerulean Sea here
5) Light From Uncommon Stars by Ryka Aoki
In this captivating sci-fi novel, we meet a transgender violin virtuoso, a cosmic alien peddling donuts in a Californian eatery, and a woman who's entered a perilous pact with the devil.
This powerful book tackles themes of migration and the significance of found families. While it's more sci-fi than fantasy, it is still necessary reading for fans of cozy fantasy books.
Each of the three central figures is fleeing from something, a hostile home environment, the infernal reaches of hell, or an expansive galactic regime finding refuge with each other.
Both sci-fi and cozy fantasy, it's an incredibly fun and compelling book (enough that it has brought numerous friends out of reading slumps) and deftly weaves in lessons on love, music, compassion, and personal evolution.
It prompts us to extend love to others, and perhaps even more crucially, to ourselves. A genuinely riveting, and special book.
Buy a copy of Light From Uncommon Stars here
6) In the Lives of Puppets by TJ Klune
TJ Klune's newest book and perfect for fans of A Psalm for the Wild Built, this whimsical dystopian novel similarly focuses on the philosophies of what it means to be human – "How can I exist when I have no one to exist with?".
Drawing on Carlo Collodi's The Adventures of Pinocchio, an eccentric group dwells in a tree home: the father figure and inventor robot Giovanni Lawson, a delightfully twisted nurse automaton, a petite vacuum yearning for affection, and their human companion Victor Lawson.
The serenity shatters when Victor unearths and restores a mysterious android named "HAP." Through HAP, the threads of a haunting secret unravel, revealing the sinister history that Giovanni and HAP share – a time when they were hunters of humans.
Chaos ensues as HAP inadvertently summons robots from Giovanni's grim past and the motley group must journey across a stark, surreal landscape to rescue him.
Buy a copy of In the Lives of Puppets here
7) Nettle and Bone by T. Kingfisher
What starts as a typical fairytale soon turns into an epic dark fantasy adventure featuring a truly ragtag found family of friends and magical creatures.
Marra, once a timid girl sheltered in a convent sets out to rescue her sister and the kingdom from an abusive and malevolent prince.
We meet Marra as she crosses paths with a potent grave witch who presents her with a formidable challenge: she can end the prince's reign, but only if she can conquer three seemingly insurmountable tasks.
As the narrative unfolds, Marra finds unexpected allies in the grave witch herself, an ambivalent fairy godmother, a dashing ex-knight, and an oddly charming demonic chicken.
Nettle and Bone is perfect for fans of Diana Wynne Jones and Terry Pratchett, or anyone who enjoys good banter and strong characters.
Buy a copy of Nettle and Bone here
Read More: Must-Read Modern Fantasy Books
8) Six of Crows by Leigh Bardugo
Perhaps Leigh Bardugo's most beloved and famous novel, Six of Crows (and its sequel Crooked Kingdom) is a found family fantasy heist story set in the exciting world of the Grishaverse.
Though these books do spin off from The Grisha Trilogy, they do also stand on their own and can be enjoyed easily, without having read Shadow and Bone (and its sequels) first.
Kaz Brekker, budding young criminal mastermind, is offered the chance at a life-changing heist, and assembles a crew (known as the Dregs) to make it happen.
If you're here because you watched the Netflix adaptation of Shadow and Bone, and your favourite characters were Kaz, Jesper, and Inej, you're in luck. This book is difficult to put down and full of unexpected twists and turns.
Buy a copy of Six of Crows here
9) The Long Way to a Small Angry Planet by Becky Chambers
The Long Way to a Small Angry Planet may be sci-fi but its cozy elements make it perfect for anyone who enjoys the other books on this list.
Set in far-future space, aboard a ship named The Wayfarer, The Long Way to a Small Angry Planet is a found-family sci-fi novel about a crew whose job is to punch literal holes in space, which can then be used as intergalactic shortcuts for travelling vessels.
The novel begins with the ship's space-born human captain, Ashby, who meets with new Martian crewmember Rosemary. He shows her (and us) around his ship and we get to meet its diverse crew of strange and wonderful alien races.
Much like Star Trek or Mass Effect, this is an epic space opera that shows off its author's imagination. We meet races with interesting physiology, abilities, beliefs, and politics. We travel to far-flung worlds and meet unexpected obstacles.
The Long Way to a Small Angry Planet is a true space opera with a heavy focus on found family, love, and friendship
Buy the Long Way to a Small Angry Planet here
10) The Raven Boys by Maggie Stiefvater
Maggie Stiefvater weaves a heartwarming tale of friendship, destiny, and the complexities of love, underscoring the beauty of found families in unexpected places.
In the chilly atmosphere of a churchyard, Blue Sargent has always watched the spirits with her psychic mother, yet she's never seen them herself — until a boy named Gansey steps out from the shadows.
As a student from the elite Aglionby school, Gansey, along with his group of friends known as the Raven Boys.
As Blue gets entangled with these young men, she confronts a prophecy that's always loomed over her: that she would be the cause of her true love's death.
The beginning of a beloved series that gets better and better, the twists and turns of these books will have you guessing right until the very end.
Buy a copy of The Raven Boys here
11) Under the Whispering Door by TJ Klune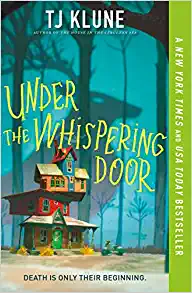 Another heartwarming book by TJ Klune, Under the Whispering Door takes us to Charon's Crossing—a unique tea shop where the tea is always warm, scones delectably fresh, and the departed get a brief respite before moving on.
Wallace, a man who dedicated his life to ceaseless work, is taken aback when he's informed of his own passing. Yet, as he spends time with Hugo, the quirky tea shop owner, and interacts with the shop's ethereal patrons, he begins to understand that there might be more to life than just work.
From chuckling with a friendly ghost to experiencing the simple joys he missed while alive, Wallace embarks on a journey of rediscovery.
With only seven days left to cross over, he's determined to make each moment count. Klune masterfully showcases the beauty of second chances and the families we find in the unlikeliest of places.
Buy a copy of Under The Whispering Door here
12) Strange the Dreamer by Laini Taylor
A lyrical and engrossing cozy fantasy duology Strange the Dreamer and its sequel Muse of Nightmares have an irresistible dreamlike quality that will charm any fan of cozy fantasy.
Lazlo Strange is a war orphan sheltered within the walls of a monastery and its ancient library, who repeatedly dreams of and studies Weep an enigmatic city veiled in magic and almost erased from memory.
Destiny knocks on the door of Lazlo's sanctuary in the form of an emissary from Weep, who seeks able individuals to undertake a quest.
Seizing the moment, Lazlo's fluency in their language lands him a cherished spot in the expedition.
He doesn't just dream of Weep, however, he also dreams of a blue-skinned goddess whose story is inexplicable tied up in the mystery of the city and why it's cut off from the world.
Buy a copy of Strange the Dreamer here
13) The Undertaking of Hart and Mercy by Megan Bannen
Perfect for fans of The Very Secret Society of Irregular Witches, The Undertaking of Hart and Mercy is a whimsical and macabre slow-burn romance between two unlikely characters.
Hart is a grumpy marshal patrolling the magical stretches, who often finds himself reflecting on solitude and Mercy is the owner of Birdsall & Son Undertakers and is incredibly overwhelmed by it all.
When Hart writes an anonymous letter to "a friend" and unexpectedly receives an anonymous reply, the two start a correspondence that deepens their ties.
With vibrant worldbuilding and two loveable characters, this is a perfect novel for fans of cozy romance.
Buy a copy of The Undertaking of Hart and Mercy
14) Cursed Cocktails by S.L. Rowland
If you loved Legends and Lattes, this should be your next cozy read. After two decades of safeguarding the icy frontiers from the gravest dangers that the nine kingdoms have to offer, Rhoren "Bloodbane" finally hangs up his sword in favor of a quieter life in a warmer climate.
In the congenial environment of Eastborne, Rhoren uncovers a renewed sense of purpose and community. He uses his treasured inheritance, a tome of cocktail recipes passed down from his father, to open a tavern.
Managing a tavern may not have the high stakes of a battlefield, but it certainly presents its own set of unique challenges.
Bursting with warmth and whimsy, with easy-to-love characters, Cursed Cocktails is perfect for fans of the genre.
Buy a copy of Cursed Cocktails here
15) Can't Spell Treason Without Tea by Rebecca Thorne
A heartwarming lesbian cozy romance filled with charming mishaps, intriguing mysteries, and a vengeful queen. This is for all the people who've dreamed of leaving it all and opening a book and tea shop with someone they love.
Reyna and Kianthe dream of opening their dream bookshop, a vision complicated by their current roles — Reyna is a member of the Queen's elite guard, and Kianthe is an extraordinarily powerful mage.
When Reyna survives an assassination attempt, both women seize the opportunity to leave their high-stakes lives behind.
They find solace in Tawney, a quiet town near dragon territory, where they finally go for it and open the shop. But the adventures don't stop there.
Buy a copy of Can't Spell Treason Without Tea
16) The House Witch: by Delemhach
The House Witch serves a delectable feast of fantasy, romance, and mystery that will leave readers voraciously flipping through its pages.
With a heartwarming narrative and dashes of whimsical humor, the novel introduces us to Finlay Ashowan – a witch with domestic powers who employs his culinary sorcery to serve the royal household of Daxaria sumptuous meals.
As the narrative unfolds, Fin is dropped into a hotpot of courtly intrigue, where he must outwit knights of dubious honor, safeguard the expectant queen, and expose a traitor within the castle walls.
For those seeking an indulgent escape into a world of magic, romance, and royal subterfuge, The House Witch is a delight.
Buy a copy of The House Witch here
If you enjoyed this list of cozy fantasy books then please consider sharing. Or suggest some more to me!