It's hard to ignore the fact that, historically, the genres of sci-fi and fantasy have been dominated by straight, white men, with a few notable exceptions.
Over the past few years, however, there has been a colourful shift to queer fantasy and sci-fi books, and books of that genre written by incredible women and authors of colour.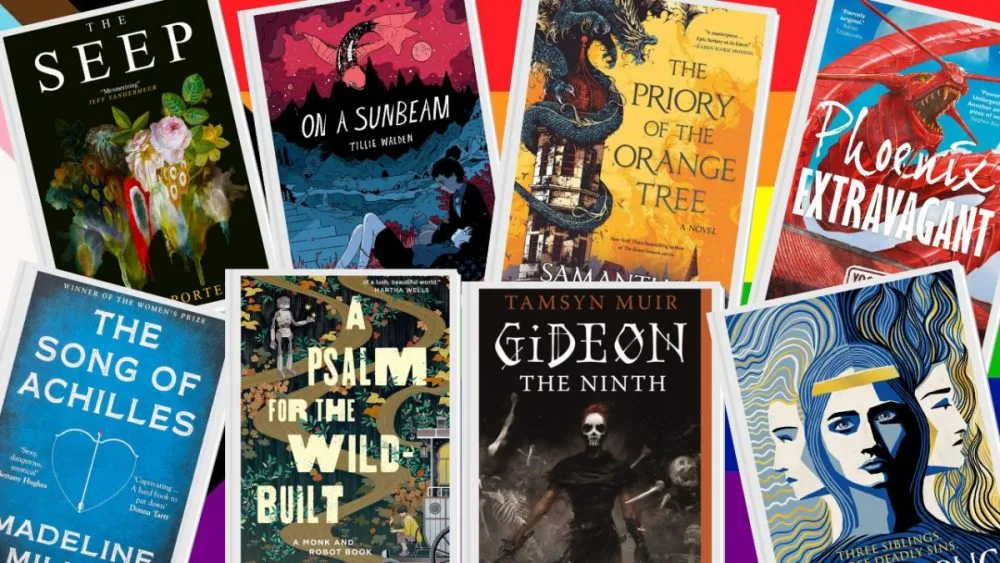 Now, the genres of sci-fi and fantasy are gloriously diverse, with so many novels pushing the boundaries of gender and sexuality in exciting and liberating ways.
Queer authors are bringing new perspectives, new ideas, and fresh eyes to sci-fi and fantasy literature.
So, here are some incredible queer fantasy and queer sci-fi books by LGBTQ authors for you to check out!
Read More: Essential Modern Fantasy Books
Queer Fantasy Books
These queer fantasy books range from alternate histories to mythological retellings via fresh takes on classic fantasy tropes.
These LGBTQ authors are taking new steps into uncharted territory with their amazing queer fantasy books and we all need to be paying attention.
Not only should we be paying attention; we should be revelling in the variety, beauty, and vibrancy of these amazing queer fantasy worlds and characters.
Fantasy books are all about magical spaces, and these queer novels are all, indeed, magical. Enjoy this amazing queer fantasy books.
Read More: The Best Fantasy Books of All Time
She Who Became the Sun by Shelley Parker Chan
She Who Became the Sun is a queer fantasy retelling of the life of the first emperor of the Ming Dynasty in late 14th Century China.
Shelley Parker-Chan's novel reimagines this founding emperor's origin story and turns it into something beautifully queer and excitingly clever.
Zhu Yuanzhang was, famously, a peasant before rising to power. He was a monk, then a rebel leader, and finally an emperor. His army defeated the Mongols This is all true.
In She Who Became the Sun, we begin with a peasant family; a father and son are killed, and only the daughter remains.
The son was prophesied to become a legend, and yet he has died, and so the girl takes up that destiny for herself, disguises herself as a man, and becomes a monk.
As her life goes on, her disguise becomes part of her identity; she no longer sees herself as a girl or a boy; both gender identities are true.
This is a beautiful genderqueer exploration of legacy, destiny, and triumph, and one of the most exciting queer fantasy books of recent years.
Sistersong by Lucy Holland
Sistersong is Lucy Holland's debut novel, and it toes the line between historical fiction and queer fantasy.
Here is a mediaeval British novel set during the Saxon invasion of Britain.
We have three siblings: two girls and a third who spends the course of the novel coming to understand his identity as a transgender man.
Their father is king of a small region of England, and the Saxons are knocking at their gates.
While this is, in some ways, a grounded piece of historical fiction, it also features very literal magic and sorcery that brings the fantasy genre to this novel's pages in a very welcome way.
The exploration of our young trans protagonist is expertly done; given its fantastical and historical setting, words like "trans" and "binary" are not used, but his journey is taken with tact and elegance.
This really is a stunning piece of fiction that blends queer fantasy with the setting and events of a historical epic.
Read More: LGBTQ Bedtime Stories for Children
The Priory of the Orange Tree by Samantha Shannon
Samantha Shannon's fantasy epic, The Priory of the Orange Tree, is one massive self-contained story. It's a queer fantasy novel that brings dragons back to the forefront of fantasy novels.
This is an intricately plotted, perfectly woven narrative with a broad cast of deep and dynamic characters. It also has a stunning title and cover, which always helps, even superficially.
A truly epic 800-page fantasy novel, The Priory of the Orange Tree follows a colourful collection of diverse characters who are spread far and wide across a massive landscape.
World-building, lore, and language are all expressed beautifully here, just like in Tolkien's Lord of the Rings, and the epic geographic scale is reminiscent of Game of Thrones.
The characters that we follow are queer and colourful, brooding and salacious, twisted and calculating. There is vibrancy and pomp and splendour in abundance here.
Easily one of the great queer fantasy novels of all time.
Wolfsong by TJ Klune
Wolfsong, the first in TJ Klune's Green Creek series of fantasy books, is a novel that answers the question, "What if Twilight was gay and also good?"
Klune is known for blending queer romance with urban fantasy, and this is his most expansive queer romantic fantasy story yet, spanning four lengthy books.
Wolfsong is the first book in that series, and it is predominantly a gay romance between a boy named Ox, who grew up in a nowhere Oregon town for which the series is named, and the youngest son of a pack of werewolves.
Around the time Ox turns sixteen, the Bennett family (whose matriarch is genuinely called Elizabeth Bennett), move in next door.
Ox soon learns that the Bennetts are not only shapeshifters, but that his friend and boss, Gordo, already knows them. and that Gordo (protagonist of the series' second book) is also a witch.
Ox and Joe, the youngest of three boys, become tethered together in an intense friendship that soon blossoms into a vicious, feral kind of romance.
Wolfsong is a queer fantasy novel full of bloodshed, revenge, cruelty, and savage love.
Read More: 16 Must-Read Cozy Fantasy & Found Family Books
The Unbroken by C.L. Clark
The Unbroken is an epic modern fantasy novel set in a world of empire and rebellion.
The Empire of Balladaire has conquered the land of Qazāl, and our protagonist, Touraine, was one of many children taken by the empire's army to be raised as a soldier.
Twenty years on and Touraine is a lieutenant who has been sent back to Qazāl, along with other conscripts and the empire's princess Luca, to quell a rising rebellion against the empire.
Getting closer to the rebels means learning that her mother is still alive, and so Touraine's loyalties will inevitably be tested.
When she is invited into the princesses inner circle, a romance between the two — a lesbian soldier and a bisexual princess — has a chance to blossom.
But the relationship between these two queer protagonists is far more fraught and enticing than a simple romance. After all, this is a fantasy book about colonisers and rebels.
This is a queer fantasy novel that brilliantly explores themes of colonialism and rebellion with style and savvy, and with two queer women as its protagonists.
Buy a copy of The Unbroken here!
The Sun and the Void by Gabriela Romero Lacruz
A sapphic fantasy novel set in a world inspired by South American history, folklore, and landscapes. The Sun and the Void is an epic novel that tackles colonialism and deep-seated prejudices.
Our protagonist, Reina, is a girl with a tail, a mixed-race daughter of a revolutionary who received a letter from her grandmother, which sets her out on a journey across mountains.
Gravely injured along the way, Reina is nursed back to health by her witch grandmother. From there, she lives and works at the house of a great lord and begins to fall for his daughter.
This is a world of myriad gods, traditions, races, and alliances. Reina is lured into dark magic while fearing the cruel prejudices of those around her.
An epic queer fantasy novel about sapphic love, and a confident sign that the future of fantasy is bright and diverse.
Buy a copy of The Sun and the Void here!
Phoenix Extravagant by Yoon Ha Lee
Put bluntly, Phoenix Extravagant is one of the coolest queer fantasy books you'll ever read. A non-binary novel about art and politics and dragons.
American Author Yoon Ha Lee is a transgender man based in Texas, and in Phoenix Extravagant he has written one of the most exciting LGBTQ fantasy books of our time.
Our protagonist is Gyen Jebi, a non-binaary artist recruited by their nation's Ministry of Armour to paint the magical sigils which bring the occupying army's automatons to life.
In a world allegorical of Japanese-occupied Korea, this is a cleverly political queer fantasy novel.
The Song of Achilles by Madeline Miller
The story of Achilles and Patroclus is one of the great tragic tales of love and warfare in the Western canon, but it's also one that has been whitewashed by Christian conservatism over centuries.
The legendary warrior Achilles and his brother-in-arms Patroclus were a gay couple, but their romance has been "purified" in a fearful and pathetic way.
That is until Madeline Miller came along and rewrote their story, reinjecting the queerness back into their story and writing something truly beautiful in the process.
While not strictly fantasy, The Song of Achilles features on this list of queer fantasy novels because mythology has inspired fantasy; we wouldn't have one without the other.
In that sense, this iconic and gay tale of Greek mythology deserves a spot on this list of colourful queer fantasy books.
Queer Sci-fi Books
If there's one genre that has always, since its inception, pushed at the edges of ordinary life, looking upwards and outwards and into exciting new worlds and spaces, it's science fiction.
Much like with gothic fiction, sci-fi and queerness have a long history, even when the authors themselves haven't been explicitly queer.
But now, LGBTQ authors are taking sci-fi literature in wild and wonderful new directions, to new frontiers where no one has gone before (enjoy that).
Queer sci-fi books are vital for the genre to continue shifting and changing and evolving, and these stories really are something special.
A Psalm for the Wild-Built by Becky Chambers
Becky Chambers is considered by an increasing number of sci-fi readers to be the modern queen of science fiction, and the evidence for why is clear.
Chambers comes at the genre of sci-fi with wide-eyed wonder, positivity, hope, and an expansive imagination.
In her Monk and Robot series, beginning with A Psalm for the Wild-Built, Chambers introduces us to a young non-binary monk who leaves their city to explore the wilderness.
They are a tea monk, someone who brings tea to people and listens to their problems. They live on a moon that once created AI and eventually freed its robot slaves.
Those robots vanished to live out in the wilderness and were never seen again, until our monk meets one on their journey, and the two spend the novel discussing big philosophical and existential questions.
This is a calm, quiet, reflective little novel about the nature of being. It's a warming comfort and proof of Chambers' hopeful and healthy outlook on the nature of life, human or otherwise.
A Psalm for the Wild-Built is one of the most beautiful, comforting, welcome queer sci-fi novels ever written.
Light From Uncommon Stars by Ryka Aoki
American author Ryka Aoki's Light From Uncommon Stars is a blending of genres that mixes queer science fiction with urban fantasy.
Here, we have three protagonists: a transgender violin prodigy, a space alien who sells donuts at a California diner, and a woman who made a faustian deal with the devil.
This is a wonderful queer sci-fi novel that emphasises migration and found family. Our three protagonists are all running from something: an abusive home, hell itself, or a galactic empire.
It's an experimental novel about love and music and kindness and growth. It reminds us to love one another and, maybe even more importantly, to love ourselves.
Ryka Aoki celebrates music with this novel, emphasising its power, its healing properties, its ability to bring us together and bring out the best in us.
It's also a sci-fi novel with a focus on everyone who isn't a white man. Set in California, its protagonists are all from other places: Japan, Vietnam, outer space.
In this way, it is a perfect American novel; one that reminds us of who and what created the US as it exists today.
Read More: The Best Sci-Fi Books Ever Written
Gideon the Ninth by Tasyn Muir
To be clear, Gideon the Ninth and its sequels have been labelled science-fantasy. In terms of their structure and tropes, they are queer fantasy novels. But in their setting, they are sci-fi.
This is reminiscent of works like Dune and Star Wars, sci-fi stories with deep and intrinsically fantastical elements.
Gideon the Ninth is also an unbridled celebration of queerness. Im part, this is thanks to its explicitly lesbian characters and storylines, but also in its setting and aesthetics.
Queerness has forever been tied to the gothic, to alternative fashion, to vampires and blood and dark things. This novel really leans into that gothic edge to the nth degree.
Gideon the Ninth begins with the titular Gideon, an angry young swordswoman who was born into a life of servitude.
She serves Harrowhark, princess of their planet. They despise each other, but they have been invited by the leader of their planetary system to take part in a contest.
This contest may, if they succeed, lead to immortality and immense power.
This is a novel that is at times laugh-out-loud funny; one that doesn't always take itself too seriously; one that revels in the absurd, the queer, and the camp.
It's an incredibly fun and frantic queer sci-fi novel that cannot be recommended highly enough.
The Seep by Chana Porter
Chana Porter's short novel, The Seep, is a unique kind of queer sci-fi that pushes the genre in new directions while also harkening back to the golden age of the genre.
In spite of how modern and boundary-pushing this queer sci-fi novel is, it also has strong John Wyndham vibes, which is fun.
The titular Seep is an alien lifeform which invades Earth in a very quiet way. It literally seeps into our water supply, into our minds, and our lives. It causes capitalism to fall and life to become far more hedonistic for all.
Under the thrall of the Seep, all is possible. People live longer, pursue their dreams, change their physiology, and live free.
Our protagonist is a fifty-year-old trans woman who, after many years of living with the Seep, creating art, and retraining as a doctor, is suddenly floored when her wife says she wants to use the Seep to be reborn afresh, as a baby with no memory of her life.
The Seep is a novel about what a world of infinite possibilities might look like, when we still retain our need for companionship and love and kindness.
It's a book of uncomfortable juxtapositions and a real twist on the alien invasion concept.
On A Sunbeam by Tillie Walden
Every page of this queer sci-fi graphic novel is more breathtaking in the last, notably the full-art pages which are fully deserving of being framed.
The use of red and blue throughout On a Sunbeam is a feast for the eyes and forces you to linger and reread for full impact.
Our main protagonist, Mia, is part of a diverse crew of queer characters that rebuilds beautiful and broken-down structures throughout space, piecing the past together.
As Mia gets to know her team, who are each well fleshed out with their own stories that become relevant later, we flashback to Mia's time in a boarding school where she fell in love with a mysterious new student.
Mia finally reveals that she's joined their ship to track down her lost love. This is a queer and colourful sci-fi epic that's not to be missed, especially for fans of comics and graphic novels.
This Is How You Lose the Time War by Amal El-Mohtar and Max Gladstone
An abstract and beautifully lyrical sapphic love story unfolding through unique letters sent across time and space.
Two rival agents named Red and Blue come from opposite sides of warring factions of a time war and fall in love through the course of this novella.
This is How You Lose the Time War is highly poetic and may not be for you if you prefer a structured plot and world-building, but this unstructured approach lends itself well to emphasising the fractured yearning and tenderness between these two agents.
The co-writing of This is How You Lose the Time War also means that the two agents have very distinct voices and personalities which makes their love all the more endearing.
A truly unique narrative amongst queer sci-fi novels, and one not to be missed!