We're living through a turbulent and unknowable time where all aspects of life are shifting. What was once clear is now murky, and nothing is certain anymore.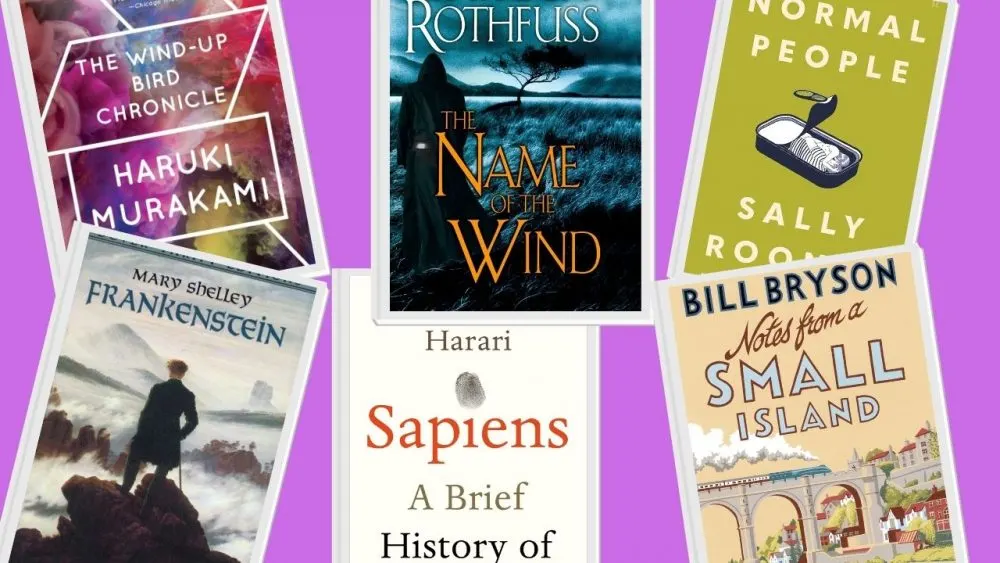 For many of us, the first thing to go was our enjoyment of simple pleasures like reading (myself included). Where did all that happy reading go? Many of us need to remember how to enjoy reading once more.
It may not even be a product of the times. Maybe your love for reading vanished when you had bills to pay and adult life starting creeping in. Maybe yours is the story of a childhood bookworm, but now you simply don't have the time or the will to enjoy reading again.
Well, you do. It simply takes the right book. You need to approach reading with this question in mind: "What's the right book for me?"
The Best Books to Help Enjoy Reading Again
We all read for a hundred different reasons and reading certainly doesn't have to be fun. But for the purpose of loving books again, happy reading makes for a happy reader.
You need to enjoy reading again before you can challenge yourself and experiment beyond the borders of your comfort zone. So, with that out of the way, here are a few books that will help you enjoy reading again.
Quick note: Every reader is different, and tastes are complex. So, I've done my best to incorporate books from a wide spectrum of fiction and non-fiction. Whatever your tastes, there should be a book here for you. Happy reading!
Frankenstein is, straight up, my favourite novel. That's not why it's on this list, though. It's here because I grew up reading a lot of genre fiction (mostly sci-fi and fantasy) and when I wanted to dig into classic literature, Frankenstein was my gateway.
Mary Shelley wrote the first ever sci-fi novel, but it's also a book that speaks to so many kinds of readers.
Frankenstein is a sci-fi novel, but it is also a fiercely intelligent piece of classic literature. It's haunting and harrowing with spine-chilling horror elements.
Most importantly, though, it is written with an intense amount of poetic language that melts into your mind like butter. Two hundred years have passed since Shelley wrote this genius novel, and it is as gripping and unputdownable as it ever was.
Want enthralling and eye-opening non-fiction? Read Sapiens
While it was Frankenstein that led me to classic literature, it was Yuval Noah Harari's Sapiens that led me to history books. Until this book, the only non-fiction I had read were memoirs and travelogues. Sapiens had me falling hard in love with history books.
And when I say that Sapiens is eye-opening, I don't mean in some gross or problematic way like how some people talk about the objectivist works of Ayn Rand. I mean here is a fiercely ambitious history book full of metaphor and truly fascinating facts and figures which will actively reshape the way you perceive the saga of human history.
Sapiens covers the entire span of human existence, and it peppers this history with incredible facts that end up nestling themselves comfortably in your mind for the rest of your life, like how the concept of money began, or what forms the written word once took (knots on a rope).
It also doesn't skimp over the philosophy and musings over racism, patriarchy, and gay rights. This book has everything. Read it.
I once found myself not so much in a reading slump but, rather, bogged down with too many review copies and dismal literary fiction. Reading And Then There Were None — considered by many to be Agatha Christie's magnum opus — was the perfect tonic for this reading burnout.
And Then There Were None reminded my why reading is such a pleasure. Such a delicious and mentally stimulating hobby.
This slim little murder mystery tells the story of a handful of strangers who are all drawn to Soldier Island, a tiny island with a single mansion off the coast of England. When they arrive, their host is missing, only two servants are waiting for them, and each of them begins to die one by one.
The most satisfying thing about this novel is how perfectly plotted it is. The resolution is perfect and the route to get there is electrifying. Never has the term "page-turner" felt more apt.
If you've forgotten how to enjoy reading, or even how reading can be enjoyable at all, you need to read And Then There Were None.
There may not be a more poetically, beautifully written book. Oscar Wilde seems to have owned a key to a door which led him through a secret route through the English language. He selected and manipulated our language's 26 letters like no other writer before or after.
It brings shame to consider that the same words we use to order pizza were used by this genius to pen the most beautiful prose in the history of the English language.
The Picture of Dorian Gray is also a slender novel that can be enjoyed in a couple of days. Its story is one of beauty and sorrow and so much human fallacy. It's a very personal tale that will have you falling in love with reading again as both the story and the language captivates like no other book can.
Not all of us love fantasy but, as a fan of the genre, I truly believe that there is one fantasy novel that speaks to so many kinds of readers. That book is The Name of the Wind by Patrick Rothfuss.
Here's a fantasy epic on a small and intimate scale. It's a book for YA fans breaking into adult fantasy. It's a poetically written book of book ideas for fans of literary fiction. It feeds off the classic fantasy of old and pushes the genre into a whole new space.
The Name of the Wind tells the story of Kvothe, a man who killed kings and now hides out as an innkeeper. The novel proper takes us back to his childhood and his university days of learning sorcery and so much more.
The book covers the entire spectrum of human emotion, with one chapter so funny it had me laughing in such intense hysterics I had to put it down. This book is the full package. It does everything right. It's perfect. This is happy reading at its finest.
Read More: New Fantasy Novels for Fans of Game of Thrones
Did you ever watch Joss Whedon's Firefly? The show that Fox cancelled before it ever really got off the ground. The show that fans have compared The Mandalorian to?
If you want a series of adventure books that live up to the capers and hijinks of Firefly and the personal drama of The Mandalorian, Chris Wooding's Ketty Jay series is for you. And that begins with Retribution Falls.
This is a series of steampunk fantasy novels. Its eccentric cast of characters are led by Frey, captain of the airship Ketty Jay. Frey's love story, by the way, is the best I've ever read in a fantasy series, hands down.
There is so much fun to be had with this series. Every character has a complete and captivating narrative; they're given so much love and attention. You'll love them all with so much intensity.
I adore this series, and Retribution Falls is the most fun of the bunch. An unbridled, twisting and turning rollercoaster ride of a novel. Chris Wooding is one of fantasy's unsung heroes, and if you're looking for a fantastic and fun romp of a novel to get you out of your reading slump, Retribution Falls will do the trick.
Looking for empathy and catharsis? Read Fun Home
Fun Home is a unique kind of book. It's an intensely sombre and philosophically considered memoir about family, personal expectations, and sexuality. But because of how it is digested (in the form of a graphic novel) it is accessible and filtered down into something digestible.
Alison Bechdel is a legend of the comics industry, having made a name for herself with her 25 year-long comic strip Dykes to Watch Out For (which birthed the infamous 'Bechdel Test').
Fun Home is a memoir concerning her odd childhood, her sexuality, her father's admittance to his own sexuality shortly before his death (which may or may not have been suicide).
There is so much to cling to in this book. I read its follow-up, Are You My Mother?, while going through a severe personal crisis of my own, and the empathy and catharsis I felt was like a cleansing balm. This is a book to help you reconnect to the world and to your own feelings.
Normal People exploded into the world in 2018, and a TV adaptation is imminent. Never have I seen a book become an 'instant' classic so immediately as Normal People.
Beyond all the accolades and praise, Normal People is an intensely readable book. I haven't read a book before or since, in recent memory at least, that refused so fervently not to leave my hands.
It's very difficult to look away from Normal People. Sally Rooney uses a Cormac McCarthy method of minimal punctuation and grammar to create a narrative that flows and flows like water from a burst damn. And with that intensely gripping style she tells a moving modern love story set in Ireland, one that deals with class in a smart way.
I won't be the first person to call Rooney a Jane Austen for the 21st century, but that doesn't mean I don't believe it.
Here's a smart author attuned to the political motions of her landscape and the ways that young people communicate, socialise, and fall in and out of relationships. Everything Austen achieved in the late 18th century, Rooney is doing for the early 21st century.
For many of us, the reason we struggle to enjoy reading anymore is that we don't have the attention span. I've recommended a few chonky boys like The Name of the Wind already and these are not always wise for people getting out of a reading slump, I know.
They're exhausting just to look at. The solution to this problem is the short story collection.
There are a lot of great short story collections out there that can work as a cure for a short reading attention span, like those of Stephen King (I don't love his novels, but his short stories are on a whole other level) and Neil Gaiman (who manages to bottle his extravagant imagination into tiny bites of magic).
But the most enthralling short story collection to come out in recent years is easily Intan Paramaditha's Apple and Knife.
This is a collection of short stories from an original and ambitious mind. Apple and Knife takes fairy tales and folklore from around the world (though mostly from Indonesia, where Paramaditha hails from) and adds a biting feminist twist to them. Some are horrifying, some are eerie, others are twisting mysteries. All are unique and gripping.
Short stories are often the perfect cure for a reading slump, and you won't find better than Apple and Knife. When my partner hit a reading slump a few months ago, this was her cure. It may just be yours, too.
Read our review of Apple and Knife here!
If you're thinking that most literature simply doesn't captivate you anymore, that you're done with stories about ordinary people doing ordinary things, then I present you: Haruki Murakami.
Easily the west's most beloved Japanese writer, Murakami has a bingo sheet (hello, Grant Snyder fans) of tropes that he whips out when writing a new book. They reliably create, each and every time, a surreal and captivating adventure story about talking cats, lost woman, and gateways to another world.
The Wind-Up Bird Chronicle, many fans would agree, is Murakami's best work. It's a novel that contains every trope, theme, and idea that Murakami is known for. The bingo sheet is full here.
But the important thing is that The Wind-Up Bird Chronicle is a fun, intriguing, strange, and wonderful romp through a surreal landscape filled with hateful people and led by a plot that really tugs at you to keep reading. Happy reading this book certainly is.
Read More: Our guide to reading Murakami
Here is how you enjoy reading from the very first sentence (in fact, pro tip: don't skip the intro; it's the funniest part). For those uninitiated, Bill Bryson is an American writer who has lived in the UK for, I think, decades.
When he decided to move his family back home to the US (he came back again), he took himself off on a walk across the UK to admire its landscape, reminisce on his life here, and describe its people in hysterical detail.
This is a travel memoir that will make its readers love and hate the UK in equal measure (which most of us do already). It's written with intense wit and marvellous observational skills.
If you're British, you'll see parts of yourself in the people he meets that you've never even considered. If you're not, he'll make us seem like the strangest bunch of happy and angry beasts.
This book is a laugh a second, and it really does a lot to highlight the invisible beauty of the British landscape and its people. I read this book when I was living in China and it made me homesick for the first time.
You will laugh in public reading this; you have been warned. This is how you truly enjoy reading again.
Read more: 10 Travel Books to Explore the World
There might be better dystopian novels than The Hunger Games but that's not what we're here for. We want books that remind us why reading is fun, that teach us how to enjoy reading again. The Hunger Games will do that for you.
It's a YA novel with very ambitious and intelligent adult themes (especially the third one, once you make it that far). It's a book of savvy characters, a tangible world of monstrous but believable politics, and an action-packed setting that scratches its reader's need for page-turning intensity.
Set in a North America inspired by the brutal Communist regimes of Eastern Europe, Russia and China of the 20th century, The Hunger Games takes a girl from the poorest district of the continent and has her fight for survival for the amusement of the gluttons in the capital district.
Suzanne Collins' choice of present tense first person, along with the YA prose and nods to bloody violence make for a really enjoyable and enthralling reading experience. I read it in a day, unable to look away from the page, and I'm sure you will, too.
Read More: 9 Translated Dystopian Novels
You might have heard of Flowers for Algernon. It's often touted as the sci-fi novel nobody has read. One of the smartest and most insightful sci-fi novels ever written.
And all of that is very true. But this book is also written with a welcome simplicity that makes it a treat for readers of all kinds. It's also a book that had me bawling.
Our protagonist is Charlie, a man with an IQ of 68, and the titular Algernon is a mouse. Algernon was the subject of an experiment to raise intelligence, and Charlie is to be the subject of the experiment's first human trial.
Written as Charlie's diary, the novel begins with bad spelling and no grammar; as Charlie grows more intelligent, his writing evolves, and his vocabulary expands. But the weight of the world grows heavier, as a result.
Never have I read a book more charming and full of humanity than Flowers for Algernon. It's a sci-fi novel, but one without robots and space travel. It's a human tale full of sorrow and philosophical musings.
If you haven't picked up or truly enjoyed a book for some time, grab Flowers for Algernon. You won't regret it.