Representation saves lives. For non-cisgender people, finding fiction and nonfiction that speaks to our feelings and lived experiences is important, uplifting, and validating.
As a non-binary reader and writer, feeling seen and inspired by non-binary books has changed everything for me, and it can do the same for you.
Essential Non-Binary Books to Read
What you'll find here are two lists of non-binary books: one of non-binary fiction, the other of non-binary nonfiction.
The non-binary fiction is diverse, covering various formats and genres. It features books by non-binary writers as well as books that feature non-binary characters (which may have been written by non-binary, trans, or cisgender authors).
The non-binary nonfiction mostly features memoirs and inspiring non-binary books that aim to educate, console, and inspire cis and non-cis people alike.
These lists are far from definitive, but every book here matters. I hope you feel inspired.
Non-Binary Fiction
As I mentioned, the non-binary books on this list range from novels featuring non-binary characters to books which feature characters of all genders but were written by non-binary writers.
She Who Became The Sun is a genderqueer retelling of the origin story of one of China's most iconic historical figures: Zhu Yuanzhang, founding emperor of the Ming Dynasty.
Set in the 14th Century, She Who Became The Sun takes the story of Zhu Yuanzhang — the story of a peasant who became a monk, then a rebel leader, and finally an emperor — and makes it into a beautiful fantasy-inspired genderqueer epic.
In its first chapter, She Who Became The Sun shows us a peasant family on the brink of starvation. Though a fortune teller has told the father that his son will find greatness, the father and son are soon killed, and all that's left is the fateless daughter.
This daughter takes the name Zhu Chongba, the name of her brother, disguises herself as a man, seeks refuge at a monastery, and from there rises up through the ranks of a rebel army as they gain power against the mongols who currently occupy China.
As a piece of non-binary fiction, She Who Became The Sun explores the life of someone who is at first a woman disguised as a man, but who later finds their identity as both and neither. Zhu Chongba is a truly inspiring non-binary protagonist.
Nettleblack by Nat Reeve
Nettleblack is the debut novel by non-binary British author Nat Reeve. Of all the non-binary books we've ever read, this one is the greatest celebration of queerness.
Taking influence from Shakespeare, Dickens, Agatha Christie, and being reminiscent of the settings found in Hot Fuzz and Schitt's Creek, Nettleblack is an absolute delight.
Written in an epistolary style, Nettleblack is set in the late 19th Century and tells the story of Henry Nettleblack, youngest daughter of a family who made their fortune developing a medicinal tincture.
When Henry's eldest sister wishes to marry her off into the gentry, she flees, and a strange twist of fate lands her in the ranks of a local vigilante group called the Dallyangle Division.
There, she meets and works clumsily alongside a host of eccentric characters with names that would make Dickens jealous and personalities lifted from Shakespeare's finest comedies.
One of these characters is Pip Property, a wonderful dandy of a non-binary character.
In a scene that should go down in history, Henry's meeting with Property involves them explaining they/them pronouns by asking Henry to "stumble in sweet Shakespeare's footsteps and use them".
Nettleblack warms and entertains in equal measure; it is a celebration of strangeness and difference. It congratulates those of us who don't fit the status quo and gives us a wonderful world to escape to.
X by Davey Davis
X is a very mature novel about obsession, sex, and kink. We closely follow our non-binary lesbian protagonist, Lee, as they wander Brooklyn in search of the titular X.
Lee recently spent a night with X and now spends every waking moment thinking about her. They are desperately asking friends and other contacts if they have seen or heard from X.
While we follow them on their search, we also learn about Lee's troubled past, their friendships and past relationships, and their kinks.
This is a uniquely mature novel amongst non-binary books that explores sex and kink, as well as the ordinary lives of genderqueer people in big cities.
This is a book all about the queer community, populated with characters who are all queer, and almost entirely genderqueer to boot.
We spend this novel in a dark but exciting genderqueer bubble where sex and kink are normalised, but so are difficult and toxic relationships. A daring noir novel.
Truth & Dare by So Mayer
Truth & Dare is a wonderfully strange, punk, and daring collection of stories that blend memoir, science fiction, philosophy, and essay seamlessly together to create a cacophony of concept and expression.
Written by non-binary author and essayist So Mayer, Truth & Dare explores queer bodies, queer history, popular culture, historical narratives, and personal examination.
The first story, green children, is about the power of the written word, of books and libraries and stories. It also reminds us of the absurd/hilarious backlash to a non-binary alien library mascot named Tala.
Another early story, diable, recalls an encounter with the devil themself at a London gay bar, while also throwing out historical anecdotes about queer scenes and spaces in London.
A later story, fairy, is an essay on the queer metaphors at play in Dead Poets Society and the etymological origins of the word "fairy", both to describe the fae creature and as code for a gay man.
So Mayer uses Truth & Dare as a platform to explore their own personal history, their relationship to their own body (as seen in oestro junkie), to queer history and culture, and to film and literature.
These are stories both intimate and unknowable; at once perfectly relatable and impossibly alien, peppered with references to everything from the writings of Paul B. Preciado to the Spongebob Squarepants movie.
By merging memoirs and philosophy, fiction and memoir, So Mayer has created a book like no other; essential reading for trans and non-binary readers everywhere.
Buy a copy of Truth & Dare here!
Paul Takes the Form of a Mortal Girl by Andrea Lawlor
Written by non-binary author Andrea Lawlor, Paul Takes the Form of a Mortal Girl is a lot of things, and it executes those things perfectly.
This is, at its heart, a coming-of-age story about a young queer man in the early '90s. The twist is that Paul can shapeshift. He can make himself taller, change his penis size, and even transform into a woman.
As he works, studies, and travels, Paul meets friends and lovers, experiments with his gender and his sexual orientation, and attempts to find and understand who and what he is.
But Paul is also wonderfully hedonistic; a kind of anti-hero to follow thirstily as he makes mistakes and hurts people.
Setting this novel in the '90s, with conservatism on the rise in the wake of the AIDS crisis, politics of all kinds play a part in this story, and in Paul's growth.
This is a smart, fun, funny, raucous novel about self-discovery, hedonism, gender expression, and sex. A clever and engaging non-binary novel.
Alice Oseman is a queer cisgender author. Her novels and comics have inspired and comforted countless readers, young and old. In Loveless — a novel inspired by her own experiences — she introduced a memorable non-binary character.
While the focus of Loveless is on its protagonist, a young woman figuring out her asexual identity, an important secondary character is Sunil, a non-binary character who plays the role of new president of Durham University's queer society.
Sunil is written with both sensitivity and gusto, a wise and considered non-binary character who made a big impact on this writer as I was first figuring out my own non-binary gender identity.
Chlorine by Jade Song
Written by non-binary Chinese-American author Jade Song, Chlorine is a sapphic coming-of-age tale inspired by their years spent as a competitive swimmer.
Our protagonist, Ren, is a Chinese-American girl with a deep love for swimming. We learn from the beginning that she is telling her story after having somehow transformed into a mermaid.
We follow Ren as she grows through her teen years, experiencing puberty, sex, depression, friendship, and crises. All the while her friend Cathy, who holds a deep romantic love for Ren, remains by her side.
Occasionally, the narrative switches to Cathy's perspective, expressed via letters which she has been casting out to sea in the hopes that they will reach the mermaid Ren.
The build up to Ren's supposed transformation is one fraught with feelings of pain, stress, disappointment, dysphoria, violence, and more.
The metaphor being played with can be interpreted in a variety of ways, as one which explores a general sense of truth and honesty, or more specifically feelings of dysphoria, sexual repression, and freedom from society.
This is a raw and difficult coming-of-age story, a tale of sapphic love and self-hatred. A story of frustration and pain; a difficult read that tackles many difficult themes with honesty and empathy.
Put bluntly, Phoenix Extravagant is one of the coolest non-binary books you'll ever read. A fantasy novel about art and politics and dragons.
American Author Yoon Ha Lee is a transgender man based in Texas, and in Phoenix Extravagant he has written one of the most exciting non-binary books of our time.
Our protagonist is Gyen Jebi, a non-binaary artist recruited by their nation's Ministry of Armour to paint the magical sigils which bring the occupying army's automatons to life.
In a world allegorical of Japanese-occupied Korea, this is a cleverly political fantasy novel.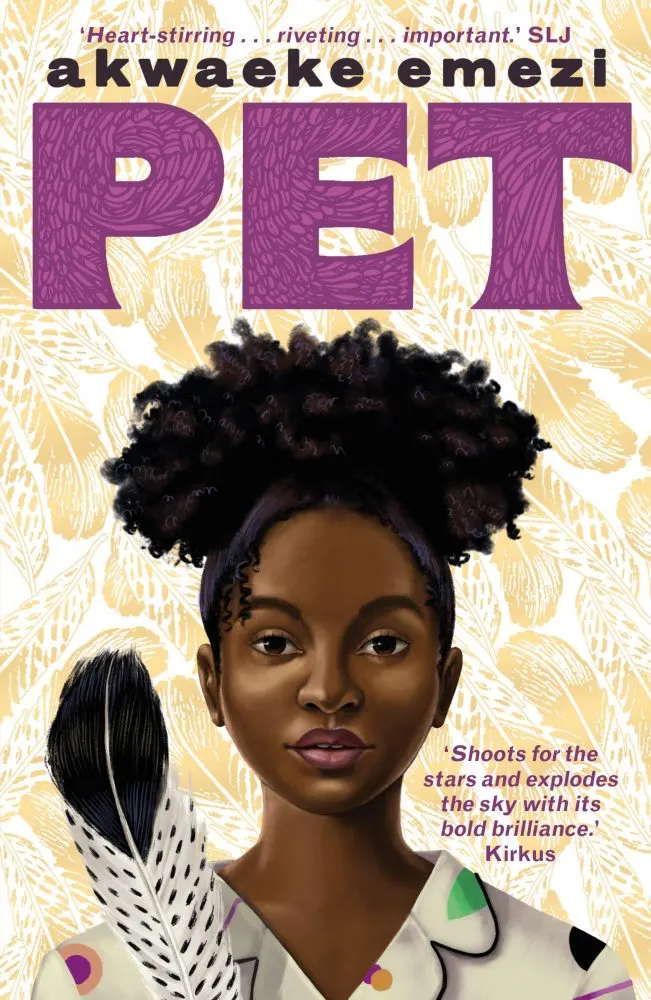 Akwaeke Emezi is a visionary writer; there is no other word for it. Their debut novel Freshwater turned countless heads, won awards, and put them on the map as an author to pay very close attention to.
They have been churning out books of every genre and style in a shockingly short space of time, and Pet marked their YA debut.
Pet is an exciting novel with some poignant themes concerning the generational divide between young and old, as the youth rise up and the older generations shrug off their words with instinct and eagerness.
In Pet, we follow Jam, a young woman who has been taught that there are no monsters anymore. And yet she has come to meet Pet, a creature born from one of her mother's paintings.
Emezi is a bold voice in contemporary literature, a non-binary writer penning some of the smartest non-binary books (and books in general) of our time.
Neon Yang (formerly JY Yang) is a non-binary writer from Singapore. Their novellas The Black Tides of Heaven and The Red Threads of Fortune were published in tandem and tell the story of twins Mokoya and Akeha, children sold to the Grand Monastery.
The twins each possess powerful prophetic gifts, with Mokoya seeing what will happen and Akeha seeing what is possible. When Akeha sees the monstrous political moves his mother, the Protector is soon to make, he leaves to join a growing rebellion. This leads to a widening schism between the twins.
This is a beautiful pair of fantasy novellas by one of the most exciting non-binary authors writing today.
Rivers Solomon is an American author based in the UK. Fae are a non-binary writer who uses fae/faer pronouns. Faer debut science fiction novel, An Unkindness of Ghosts explores systemic and structural racism in a sci-fi setting.
Taking place aboard a generation ship (an interstellar ship that travels for generations), An Unkindness of Ghosts uses the structure of the ship Matilda to explore systems of racial divides.
Rivers Solomon is one of the most exciting non-binary writers of today, making An Unkindness of Ghosts one of the most exciting and topical non-binary books, especially when considering its mainstaging of racism through science fiction.
Mason Deaver's novel I Wish You All the Best is at the top of a lot of readers' lists of non-binary books. It tells the story of Ben, a senior in high school who comes out to their parents as non-binary and are then immediately kicked out.
Ben moves in with their older sister and her husband, comes out to them, and goes back to navigating what is left of their school life. Things are further complicated when they are befriended by a boy named Nathan, who — personality-wise — is the yin to Ben's yang.
This relationship between Ben and Nathan begins to grow, change, and complicate as time goes on. I Wish You All the Best is one of the most charming and touching YA non-binary books on the shelves. It has the power to touch a lot of lives in a lot of ways.
California-born, New York-based journalist Anna North has here penned a fantastically fun piece of American historical fiction in Outlawed.
Taking place in the wild west, loosely inspired by real people and events, Outlawed follows the story of Ada, a young woman who cannot conceive. Confined both mentally and physically by her community, she escapes and joins the outlaw Hole in the Wall gang.
The gang of women outlaws is led by a character known only as The Kid. he Kid is never gendered or given any pronouns. They exist only as The Kid. This is a truly inspiring non-binary character, especially for a piece of historical fiction.
Despite Anna North being a cisgender woman, she takes a professional interest in gender issues through her journalism and has created here one of the coolest non-binary books thanks to her creation of The Kid.
On a Sunbeam is the most beautiful and ambitious graphic novel by multi-talented writer/artist Tillie Walden.
Set between a boarding school in space and a craft whose crew are charged with visiting and repairing space ruins in order to rebuild the past, On a Sunbeam follows Mia, new member of the Aktis' crew.
What makes this one of the coolest non-binary books is the existence of crew member Elliot, a non-binary character and silent member of the Aktis ship.
The inclusion of a non-binary character is always cause for celebration, and framing such a character's existence as ordinary to the point of being unremarkable is satisfying, demonstrating how acceptance can morph into normalcy as time goes by.
On a Sunbeam is also a topical, engaging, and flat-out gorgeous graphic novel. A true treat for the eyes.
Translated from the Dutch by Michele Hutchison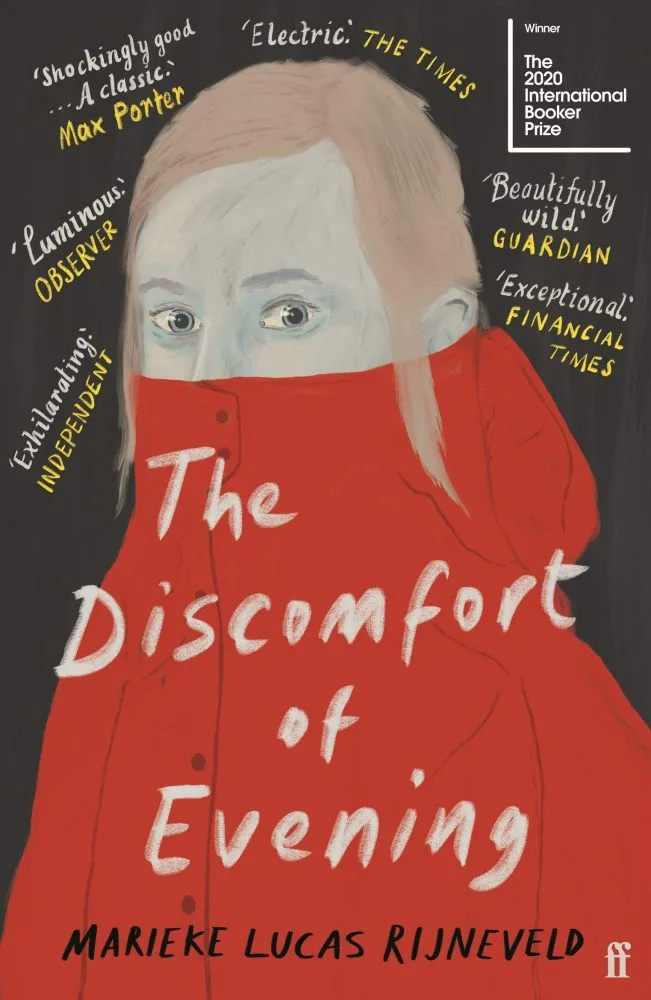 The Discomfort of Evening was the winner of the International Booker Prize 2020. A Dutch novel by non-binary author Marieke Lucas Rijneveld. It is also Rijneveld's debut novel.
Told from the perspective of ten-year-old Jas, The Discomfort of Evening is a story of grief and the impact of religion on a family.
When the family's oldest son dies, Jas' parents spiral into depression and away from one another. This family are rural farmers and devout Christians.
The family is ripped apart by grief and its own relationship to religion. This is an exploration of the ways in which parents' attitudes, behaviours, and beliefs can severely impact the inner and outer lives of their children, and we see it all from the child's perspective.
The Echo Wife is non one of the defining non-binary books in an ordinary sense, since this excellent piece of science fiction includes only cisgender characters. Its author, however, is a non-binary writer.
Sarah Gailey identifies as non-binary, and their mere existence as an enby writer is cause for celebration; representation in the world of literature doesn't always have to come from fiction and its characters, but rather from the personal successes of non-binary writers.
Sarah Gailey does a lot by simply existing publicly. Luckily for them, and for us, The Echo Wife is also a phenomenal science fiction novel.
The Echo Wife follows Evelyn, a research biologist who has just gone through a divorce. Early in the novel, we discover that her ex-husband's new wife is, in fact, a clone of Evelyn that he created. This close is also pregnant.
This is such a fantastic science fiction novel, and the fact that it is written by an awesome non-binary author is cause for celebration.
Read More: Must-Read Sci-fi Books by Women (And Non-Binary Authors)
Mordew is another curious one, as non-binary books go. Cisgender author Alex Pheby has here created a murky, nasty, Lovecraftian fantasy world. In it, however, is an inspiring and imaginative non-binary character.
Mordew is set in the titular city of Mordew, a place where the mud is alive and its slum-dwelling protagonist Nathan trawls that mud to collect things he may be able to sell.
Early in the book, Nathan meets, and is welcomed into, a gang of dastardly youngsters. One member of this gang is a non-binary character: a pair of twins who exist in the same body.
As the light shifts, their countenance seems to morph between the male and female binaries. They are an original and exciting non-binary character that, all by themselves, turn Mordew into one of the most original non-binary books (and fantasy books) on the shelves. Unexpected and delightful.
Non-Binary Nonfiction
What you'll find here is a selection of inspiring and educational non-binary books from queer, non-binary, and transgender writers.
If you are experimenting with your gender identity; if you think you may be non-binary; if you know you're non-binary but want to understand the history and culture deeper; if you're cisgender but want to educate yourself; or if you have a non-binary friend you want to understand better, these non-binary books are for you.
Maia Kobabe is a non-binary writer who uses e/em/eir pronouns. In Gender Queer e have created an impactful and educational graphic memoir.
Tracing a line from childhood to adulthood, Gender Queer uses a blunt and honest openness to create a kind of discourse between writer and reader, encouraging the reader to listen and consider and understand.
This is a candid story of self-discovery that everyone can relate to, even if they're cis. We have all, after all, experienced self-discovery in some way, shape, or form.
What makes this one of the best non-binary books for modern readers is its honesty, clarity, and how both of these aspects are enhanced by its art. Creating a graphic memoir rather than one built entirely from prose somehow makes it more alluring and more honest.
Beyond the Gender Binary is part of a collection of pocket books known as Pocket Change Collective: little books written by big names in the world of art and activism.
Written as a short manifesto and survival guide for queer people of all stripes, Beyond the Gender Binary seeks to educate, enlighten, and celebrate genderqueer lives. Written with love, kindness, and understanding by a gender non-conforming American icon.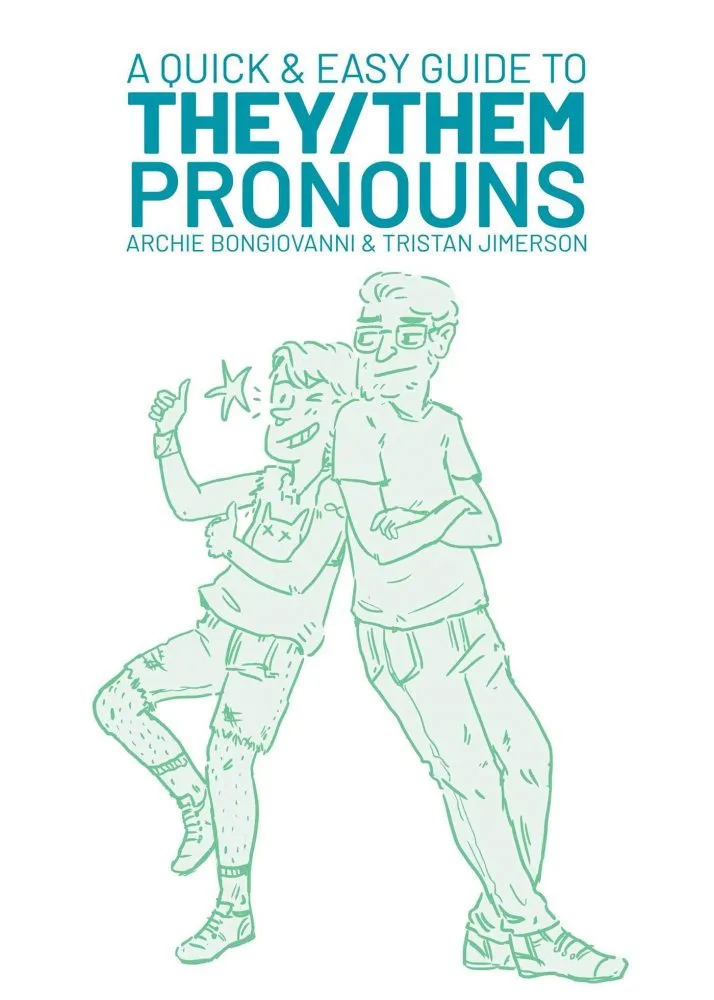 This is a short and fun graphic guide created by two best friends — one a non-binary artist and the other a cisgender guy, both of whom want to help the world understand and navigate the world of pronouns.
Their mission led to the joint-creation of this fun little graphic guide that goes over the importance of using pronouns correctly, and even how to handle your own slip-ups if and when they happen.
This is an insightful guide amongst non-binary books that is especially valuable for our cisgender friends.
Laura Kate Dale is a transgender legend. A video games pundit, podcaster, and author (whose memoir Uncomfortable Labels is a very inspiring and empathetic read).
In Gender Euphoria, Dale has gathered the words of non-binary, transgender, and intersex writers, compiling them in an uplifting celebration of genderqueerness.
Gender Euphoria is a warming anthology of non-cisgender writers celebrating their own gender journey.
Too many stories — both fiction and nonfiction — focus on the scary, the tragic, the difficult sides of non-cisgender life. The mission of Gender Euphoria is to show the world how beautiful and exciting and liberating being trans, intersex, and non-binary can be.
This is such an important book for young readers who are figuring out that they might be trans or non-binary, or for anyone who needs to see the positive, the good, the powerful side of being a non-cisgender person.
This is, without a doubt, one of the most vital, moving, and exciting non-binary books and transgender books ever assembled. Thank you, Laura Kate Dale.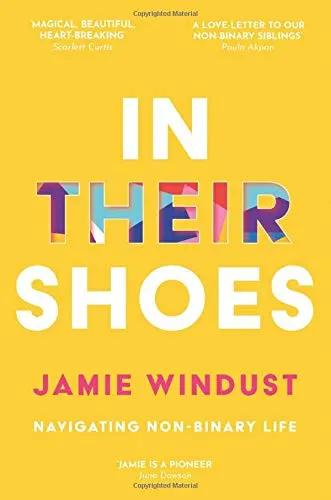 Of all the non-binary books that exist, this is the one I wish I could have written. A frank, funny, uplifting, inspiring book about being non-binary from a non-binary writer living their happy life.
In Their Shoes blends memoir and manifesto in order to create something that can serve as a guide to non-binary life for trans, non-binary, and cisgender people alike.
Personal stories and experiences range from fashion to pronouns, from work life to sex, from physical to mental health. Jamie Windust covers it all, and they do so with humour and wonderful wit.
While this is a fun and funny books, In Their Shoes also has an infinite number of important lessons to teach; one of the most important being this: there is no right or wrong way to be non-binary. It is a gender identity that you get to craft for yourself.
Life Isn't Binary is a pretty fantastic piece of nonfiction, existing both as one of the most impactful non-binary books and as a guide for rethinking our approach to all the other binaries of ordinary life.
This is an engaging, almost interactive, book that invites readers to consider their own binaries. It discusses the fluidity of human experiences. It uses the non-binary and bisexual experiences as examples of a less rigid way of seeing and experiencing the rigidity of modern life.
While it does celebrate non-binary life, Life Isn't Binary goes a lot deeper than that, projecting the non-binary experience onto all aspects of life, from sex to work and beyond. A savvy, progressive, and inspirational book for our time.
Author of This Book is Gay Juno Dawson has here turned to the transgender and non-binary experience, writing a book for teens to better understand the world of non-cisgender young people.
Juno Dawson is a former teacher and trans author who has invited other trans and non-binary writers to offer up their own insights, ensuring that, like Gender Euphoria, What's the T? is a diverse examination and celebration of trans and non-binary experiences.
Written specifically for teens, What's the T? offers advice on sex, relationships, and coming out as a non-cisgender young person in the 21st Century.
Important and impactful as one of the best non-binary books and transgender books of today.