Wondering where to stay in Seoul?
You wake up in a hotel room to the thrum of traffic and the sound of laughter on the streets below. You head downstairs and grab a coffee from Ediya, the blue-and-white coffee shop on the corner. Ahead of you, there are vendors selling sweet eggy bread, tubs of spicy rice cakes, quirky glasses frames, and socks – lots of socks. Along the way, you pass posters adorned with the pretty faces of K-pop idols, and in the distance, you hear a live performance from a group of boys hoping to have their faces up on these walls someday soon. This is the one city, after all, where you can tour the streets with a handsome oppa. You couldn't be anywhere else but Seoul.
Regardless of where you stay, there's always this same unabashedly happy theme to Seoul's streets. The people are smiling, music is playing, and coffee is being drunk. But that doesn't mean there aren't good places to stay and bad places to stay in Seoul. In fact, there are five perfect districts that offer you the best Seoul experience you could ask for. In this vast city of 10 Million people, let's take a look at the five coolest neighborhoods and where to stay in Seoul when you visit.
Where to Stay In Seoul — Neighbourhood Tips
Where to stay if you like partying: Hongdae or Itaewon
Check out Seoul's best party districts and how to get home safely after.
Where to stay for culture lovers: Insadong
Visit the Jimjilbang for a cultural sauna experience.
Where to stay if you like shopping: Gangnam
Here are some of Korea's cutest cafes and some of their best tattoo artists.
Where to stay for your first time in Seoul: Myeongdong
A Korean BBQ is a must – here's how to enjoy BBQ like a local.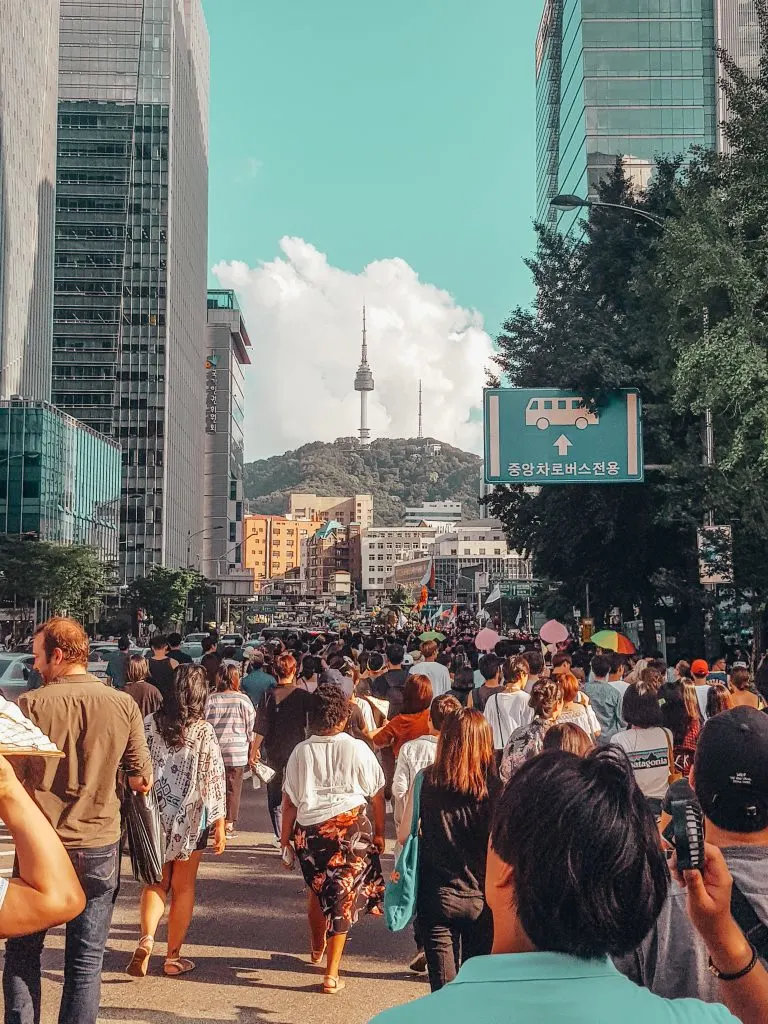 Itaewon
Itaewon is the geographical heart of Seoul, right in the centre of it all. Ironically, the heart of Seoul is the least quintessentially Korean district. Itaewon used to be defined by its US military base, and so is still to this day the 'foreign capital of Seoul'. You'll find as much English spoken here as Korean. Usually, that can be a turn-off for visitors looking to experience the real culture of a city, but not so much in Seoul. Koreans are friendly, international people, and many of them thrive in Itaewon. It's a lively place full of the city's best bars and international restaurants. It has two great English-language bookstores: Itaewon Foreign Language Bookstore and What The Book, as well as shops that sell bigger clothes for bigger foreigners. It's an easy way to ease into Korean life, but you don't lose much of what makes Seoul what it is by staying there and exploring Itaewon to its fullest.
Where to stay in Itaewon:
Enjoy the Views at Art Hotel: Just outside of the craziness of Itaewon but close enough that you can enjoy all of the action, this lovely hotel has a rooftop garden where they grow organic vegetables.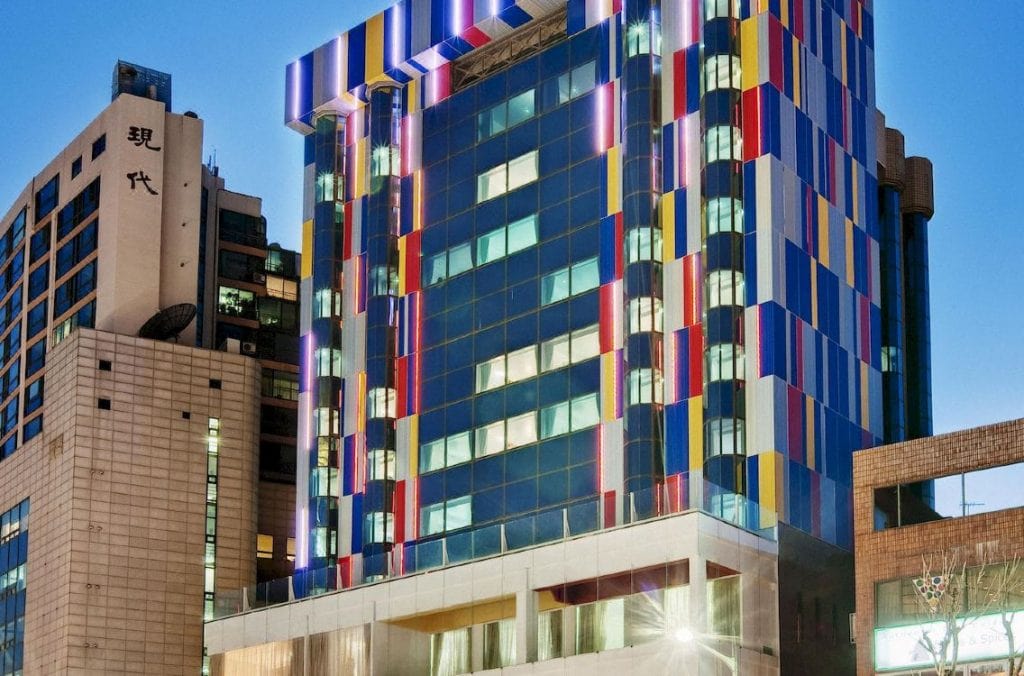 Get colourful at Imperial Palace Boutique Hotel –This brightly decorated hotel pushes the boundaries in contemporary hotel design and places you right in the heart of Itaewon.
Read More: The Ultimate 3-Day Seoul Itinerary
Myeongdong
Myeongdong is the district which best encompasses the soul of Seoul. It blends the old and the new of Korean culture to make for an open and exciting place that's full of charm, laughter, and dynamism. On the weekends, buskers stake their claim to little sections of the promenade that have been carved out specifically for them. Some of these buskers will be K-pop idol hopefuls, busting out choreographed dance moves to the whoops and cheers of enthusiastic onlookers. Others will be soulful crooners with acoustic guitars. Not too far from them are the street food stalls. These vendors sell a selection of traditional Korean snacks, including these delicious bite-size sweet lumps of eggy bread called, funnily enough, gyeran bbang (egg bread). You'll also find chicken sticks, spicy rice cakes (tteokbokki), and sweet bread (hotteok). To finish it all off, this is the best place in Seoul to but Korean beauty products, which is half the reason many people visit and want to stay in Seoul.
Where to stay in Myeongdong:
Enjoy a Classy Stay at Sejong Hotel — Named after Korea's famous King, this elegant hotel just five minutes walk from all the shopping action of Myeongdong. There's also an on-site art gallery and a garden for a calm retreat once you're done in the city.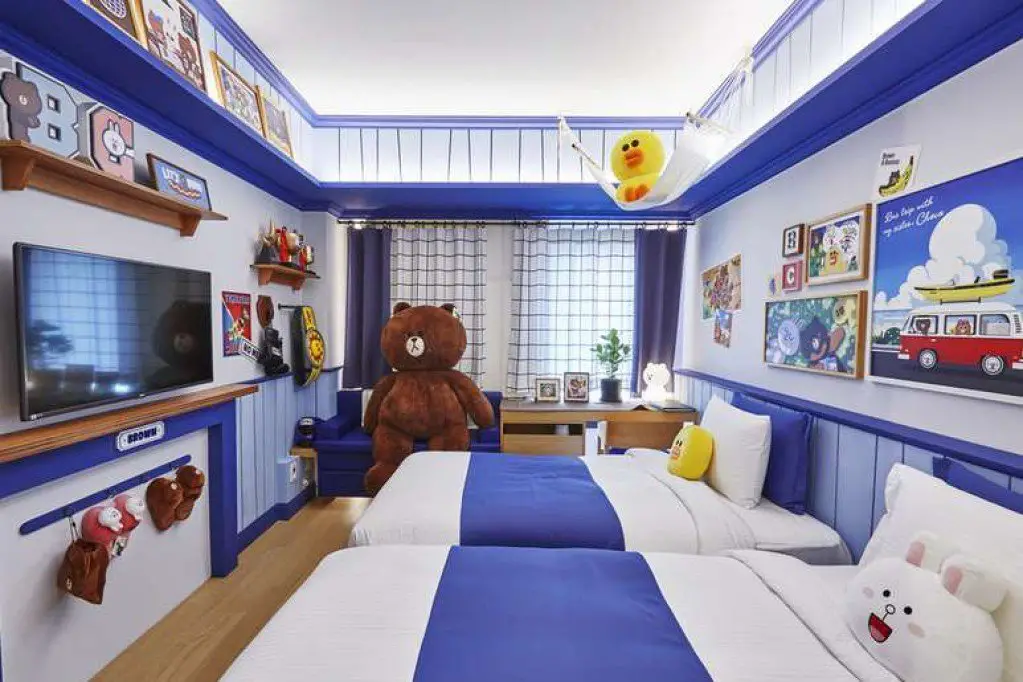 Embrace the Colours at Sotetsu Hotels The Splaisir — If you're hoping to enjoy some of Seoul's quirkiness while you're there then this adorable hotel with rooms packed with Line themed toys is the ideal choice. There's also a roof garden with amazing views out on to the city making this one of the best places to stay in Seoul.
Hongdae
Hongdae gets its name from Hongkik University, and so it's unsurprising that the big student presence can be found here. Lots of students means lots of bars, boutique shopping, cute independent cafés, and an electric atmosphere on the street level every day of the week. Hongdae is a fun kind of labyrinth; you can get lost easily, and that's okay. Go with the flow. Follow the other fish along the streams of pathways, duck into a café or a little boutique clothing store when you see an opening, and enjoy the rush that Hongdae gives you. Hongdae is also home to some adorable animal cafés, the coolest of which definitely being the Meerkat Café (don't worry; they're very very well looked-after). Also, when you stay in Hongdae, make sure to check out the Trick Eye Museum. It's an interactive museum of big displays and 3D paintings – along the walls, standing in the open, and even across the floor. When you go in, you'll use the WIFI to download a free camera app that interacts with the art and causes it to move and come to life, making for a laugh-out-loud experience from start to finish.
Read More: Best Things to Do in Seoul's Gwanghwamun Square
Where to stay in Hongdae:
Embrace Your Inner BTS at Kpopstay — This is a real gem, it's a budget hotel with crisp, minimalist design and genuinely lovely bunks. Kpop pictures adorn the walls and TVs play Kpop in the common areas at all times. Whether you like Korea's biggest export or not, this is one of the best budget hotels in the city.
Enjoy the Photogenic Orbit Cafe & Guesthouse — This adorable hotel is decorated in whites and pinks and serves a fantastic homemade breakfast each day. Excellently located near all the action of Hongdae, Orbit is honestly a pleasure to come back to.
Insadong
Insadong is a living, breathing slice of Korean history. Its most famous area is the Bukchon Hanok Village, which is a maze of streets lined with traditional Korean homes of wooden walls and slate roofs. In the village you'll find that some of these homes have been turned into cafés, bakeries, and artisan jewellery stores. Delightfully, none of this destroys the aesthetic of the village itself. Make your stay in Seoul special by renting a Hanbok (traditional Korean dress) to wear as you explore the village and conduct your own personal photoshoot. Beyond the Hanok Village, Insadong is also a quietly bustling district of traditional tea houses that serve a range of healthy, healing brews with vintage snacks, and even a few Buddhist vegetarian restaurants which serve the actual cuisines prepared and eaten by Buddhist monks in Korea's temples. Not too far from Insadong, you'll also find Seoul's most famous landmark: Gyeongbokgung Palace, and in front of that the statues of King Sejong (the genius who created the Korean Hangul alphabet) and the naval military legend Yi Sun-sin (who fought off the Japanese during the Joseon Dynasty).
Where to stay in Insadong:
Go Traditional at Anguk Guesthouse — If you're here to experience the history and culture of Seoul (a wonderful choice) then why not stay in a traditional building. Anguk Guesthouse is artistic, memorable, and above all beautiful. Traditionally, Korean sleep on heated floors but you'll also find standard sleeping options here.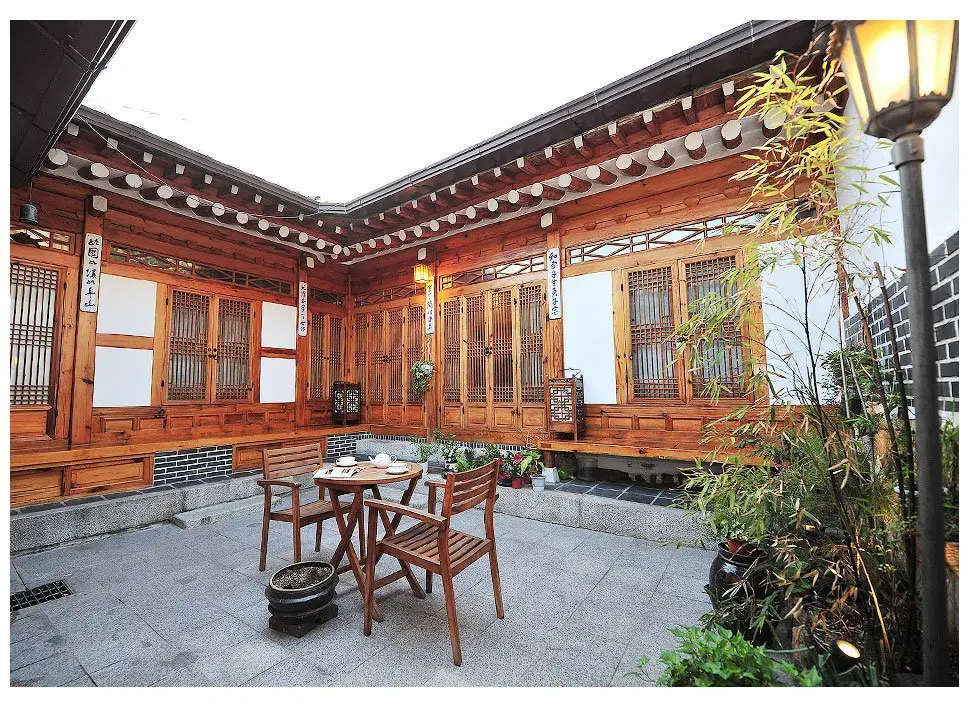 For a Modern Stay Go For Grid Inn Hotel — Found right in the heart of Insadong, you can enjoy a contemporary living space on budget within easy reach of the temples and hanok village Seoul is so famous for.
Gangnam
Although not the most central district, it's still perhaps Seoul's most famous neighbourhood, thanks to a little known pop song which cheekily poked fun at the upper-middle-class atmosphere of the area. Gangnam is Seoul's most impressive area from an aesthetic standpoint, particularly if you're looking for the big skyscrapers and modern side of Seoul as opposed to the more traditional spots. This is the biggest party district outside of Hongdae, although does tend to attract the older partygoers and you'll find no shortage (seriously they're everywhere) of cosmetic surgery and general beauty enhancement spots. Whether you want cheap laser hair removal or a nose job, you'll find it here.
Gangnam massively resembles Manhattan, with towering skyscrapers that are resplendent on a summer's day, and wide avenues that stretch on into the distance. Gangnam is an area of fancy restaurants, Seoul's best nightclubs, and the highest quality cinemas, hotels, and bars around. If you're looking to stay in the more luxury part of Seoul, you can't do better than Gangnam. Don't forget to go out for some Korean BBQ, wander the backstreets and go shopping in nearby Lotte World Mall. It's worth bearing in mind that this is the most expensive part of the city and finding a budget hotel isn't easy.
Where to stay in Gangnam:
Hang With the Girls at Cheongdam Guesthouse — If you're a female traveller and are looking for a budget spot to stay at in Seoul then you're in luck! This gorgeously designed hostel is in the heart of Gangnam and only accepts female guests. It even attracts famous k-pop guests due to its ideal location.
Enjoy the sleek Hotel Newv — New in name, this is one of the more recent additions to the Gangnam hotel scene, it's sleek, elegant and in a perfect location. You'll even find a sauna and yoga classes to embrace some good habits while in Korea.
Read These Seven Books Before You Visit South Korea.
If you're interested in learning Korean, you can take this introductory class through Skillshare and get a 30-day free trial.
If you're interested in also becoming a travel blogger or a travel photographer, check out these classes and get a 30-day free trial with Skillshare.