K-pop (or Korean pop) continues to shape the global music scene with its infectious melodies, intricate dance routines, and inspiring fashion.
This vibrant genre has stolen the hearts of millions around the world (myself included).
As fans, there's always a desire to dive deeper into the fascinating world of idol culture, it's larger than life, and the stakes couldn't be higher.
If you want stories of glitz and glamour that delve into the hard work and passion that fuels this phenomenal music scene, then this curated list of must-read books for K-pop fans is everything you need.
Whether you're looking for the captivating tales of trainee experiences and the inner workings of the K-pop industry, cozy K-pop romances that interweave idol drama and heartfelt connections, or darker tales that delve into the shadow of unhealthy obsessions, our selection of must-read K-pop books has you covered.
Best Books for K-Pop Fans
For those who see music as a way to forge genuine connections and find solace in vibrant communities, these K-Pop books serve as love letters to the power of fandom (one is even about exactly that).
Each story allows you to immerse yourself in the enthralling fictional world of idols, with their own loveable protagonists and bold plot lines. So, what are you waiting for? Go (Go Go)!
1) XOXO by Axie Oh
This wholesome YA novel XOXO centres on Jenny, a dedicated cellist who unexpectedly falls for K-pop idol Jaewoo after a chance meeting in a noraebang in K-Town Los Angeles.
Their paths cross again in Seoul when Jenny attends an elite performing arts academy while her mum takes care of her grandma for a few months. With Jaewoo's dating restrictions as a K-pop star and lead singer of the popular band XOXO, they must decide if their love is worth risking their careers and friendships.
A low-stakes contemporary forbidden romance, XOXO will immerse you in the K-pop industry and make you fall in love with Seoul and the group of friends Jenny makes there.
Read More: 16 Best Korean Manhwa (Webtoons)
2) On BTS: Pop Music, Fandom, Sincerity by Lenika Cruz
A love letter to the Korean pop sensation BTS and a celebration of their fandom. As senior culture editor at The Atlantic, Cruz explores the group's rise to global stardom, attributing their success to authenticity, artistry, and social awareness.
Through her personal journey into the BTS fandom, Cruz highlights how the non-English-speaking band has ushered in a more inclusive era in the music industry.
A wonderful introduction to the fandom and culture for new ARMY while being a true expression of love that will satisfy long-time fans.
3) K-Pop Confidential by Stephan Lee
This book is unreasonably addictive and throws you into the realities of debuting as an idol and everything the industry entails while seamlessly weaving in Korean phrases, cultural insights, and a secret romance.
Candace Park, a Korean-American girl, secretly auditions for a spot in a girl group at a top K-pop company.
As she navigates the strict trainee program in Seoul, she struggles with industry rules, complex relationships, and maintaining her family's expectations.
Faced with the challenges of becoming an idol, Candace must decide if her dreams of stardom are worth risking her friendships, future, and beliefs.
A fast-paced coming-of-age novel that provides an intriguing insight into the world of K-pop.
4) K-Pop Revolution by Stephan Lee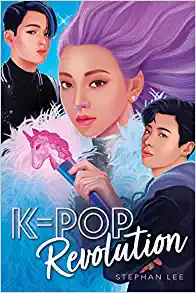 The sequel to K-Pop Confidential, K-Pop Revolution is just as thrilling and fast-paced, perhaps even more so.
Now a rookie idol, Candace navigates the glamorous world of idols with her boyfriend YoungBae, as part of the new hot girl group THE GIRLS.
In response to the events in the first book, Canadance aims to transform the industry with the help of her label, S.A.Y.
However, when a rival girl group threatens their debut and online bullies target her, Candace must decide the cost of standing up for her beliefs.
Amidst these challenges, she realizes she cannot face these struggles alone and must rely on the support of those around her. The development of her relationship with her mother was particularly satisfying.
Read More: Best Korean Books (in Translation)
5) Shine by Jessica Jung
K-pop legend Jessica Jung — a former member of Girl's Generation — introduces us to the glamorous, high-stakes world of idols, where one girl must navigate the challenges of success, love, and self-discovery.
Shine follows the story of 17-year-old Korean American Rachel Kim, who was recruited by DB Entertainment, one of Seoul's largest K-pop labels. Despite the strict rules of training and perfection, Rachel strives to become a star.
However, she soon discovers the industry's dark side with dramatic scandals and exploitation. As she questions her strength to be a winner, Rachel develops feelings for K-pop star Jason Lee, who understands her aspirations.
If you're interested in learning about trainee life and pre-debut challenges faced by idols, this book offers valuable insights.
It also highlights the stark realities girl groups confront and the double standards between girl and boy groups.
6) Idol Burning by Rin Usami
Translated from the Japanese by Asa Yoneda
Idol Burning, the prestigious 2020 Akutagawa Prize winner, is a slim, fast-paced, and powerful Japanese story of idols and obsession.
The story follows a high school girl whose life revolves around her favourite male idol, her oshi, Masaki. Her world is shaken when he faces a massive social backlash after punching a female fan.
The novel delves into idol culture, cancel culture, and the complexities of being a devoted fan. With its honest and transparent portrayal, Idol Burning explores both the healthy and unhealthy aspects of idol fandom.
Although this novel focuses on J-pop, anyone who has spent any time as a K-pop fan, or just spent a day on idol stan Twitter, will appreciate what this book is doing.
7) Comeback: A K-Pop Novel by Lyn Ashwood & Rachel Rose
The first in a series Comeback: A K-Pop Novel is an addictive book that chronicles the life of Emery Jung, known as M, a member of the ascending K-pop band NEON.
His celebrity status brings both adoration and scrutiny, with even minor missteps potentially leading to widespread controversy.
The narrative intertwines with the story of Alana Kim, who abandons her passion for music while grappling with a personal tragedy and retreats to her family in Korea.
A chance encounter with M disrupts her seclusion, and they find themselves collaborating to avert a scandal that threatens NEON's rising fame.
As they navigate the tumultuous terrain of fame, friendship, love, and recovery, they learn that balancing love and a high-profile career in K-pop is no easy feat.
8) Once Upon a K-Prom by Kat Cho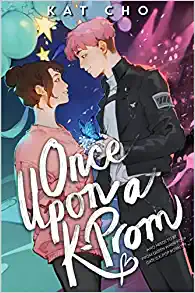 A must for K-drama fans, the whimsically named Once Upon a K-Prom introduces Elena Soo, a young girl who feels perpetually eclipsed by the success and popularity of those around her.
Content with her work at the local community center, which provides her a sense of belonging, she has no interest in the prom frenzy consuming her school.
Her life takes a bewildering turn when Robbie Choi, her childhood best friend, now an international K-pop sensation, asks her to prom resurrecting old feelings.
Elena must now grapple with the idea of attending prom with Robbie, which would entail navigating throngs of screaming fans, online trolls, and persistent paparazzi, a scenario far removed from her idea of a perfect prom night.
Read More: 12 Best Korean Cookbooks
9) I'll be the One by Lyla Lee
Skye Shin is a vibrant girl determined to defy societal norms and prejudices to become the first plus-sized K-Pop star.
Despite the societal, media, and even familial pressures that discourage her from drawing attention due to her size, Skye audaciously pursues her dream of joining the glamorous world of K-Pop.
As she outperforms thousands of contestants in an international reality TV competition, she is plunged into a world filled with grueling practices, thrilling performances, and unexpected idol fame.
She also contends with the industry's harsh beauty standards and finds unexpected romance with fellow competitor, Henry Cho.
Amidst all this, Skye remains steadfast in her mission to win the competition while remaining true to herself. Filled with diversity and beautiful writing, Skye Shin is a character very easy to fall in love with.
In Idol Gossip we meet Alice Choy who, along with her younger sister Olivia, indulges in weekly karaoke sessions in Myeongdong, Seoul.
After leaving her life and singing lessons behind in San Francisco due to her diplomat mother's move, these sessions become her sole musical escape.
Her talent catches the attention of a scout from Top10 Entertainment, a major K-pop company, leading to an opportunity at their Star Academy.
Alice must navigate cultural differences, inflated egos, and the rigorous training regime of K-pop, hoping to lead her group to perform before a massive crowd of 50,000 fans.
However, her journey is further complicated by a powerful blogger and antis.
This fun and easy to read debut novel explores themes of individuality and conformity, ambition and authenticity, resonating with K-pop fans and anyone striving to elevate their talent.
11) How to Speak KPOP: Mastering the Most Popular Korean Words from K-POP by Jungho Park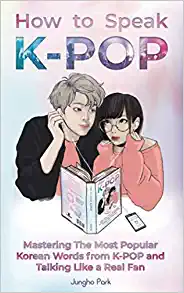 How to Speak K-POP is a unique language learning guidebook offering an enjoyable and simple way to learn popular Korean words and phrases often found in K-pop culture, dramas, and movies, but absent from regular Korean language textbooks.
The book also helpfully provides a comprehensive understanding of the cultural context behind these words and phrases.
This includes visual representations of the links between English and Korean, a detailed explanation of popular Korean words, pronunciation guides, and real-life examples.
The book even includes Romanized pronunciations of words and thoughtful examples to help you sound like a native speaker and a true K-pop fan.
12) Astral Season, Beastly Season by Tahi Saihate
Translated from the Japanese by Kalau Almony
This is the darkest novel on this list, though not overly graphic, and another focused on the world of J-pop but one K-pop fans will appreciate.
Centreed on the division between two junior high students, Yamashiro and Morishita, who are both obsessed with an underground pop idol, Mami Aino.
When Mami commits a gruesome murder, the boys unite to free her from punishment, despite their differing perspectives on her.
Morishita embarks on a murder spree to take the blame for Mami's crime, leading to a fast-paced, 70-page story of violence.
13) Y/N by Esther Yi
A new K-Pop book for fans of literary fiction, Y/N is a novel that explores the life of a Korean American woman residing in Berlin who becomes infatuated with an idol named Moon.
Her fascination leads her to write fanfiction where readers can immerse themselves in an imagined relationship with Moon. This obsession drives her to Seoul when Moon suddenly retires, disappearing from public view. The protagonist's quest in Korea results in a series of misunderstandings and missteps, culminating in a surreal encounter with the elusive star.
Yi's debut novel questions the boundaries between high and mass art, presenting a unique portrayal of modern loneliness and the quest for individuality in the face of globalization.
Thank you for reading. Learn more about Korean food and culture in our Korean Snacks, Korean Ramen, and Seoul Guides.