Gwanghwamun Square is one of the coolest, most historic, artistic, and beautiful parts of Seoul. It's where you'll find the epic statues of King Sejong and General Yi Sun-sin, as well as the Sejong Center and the grand Gyeongbokgung Palace.
Just outside of Gwanghwamun Square is also the Bukcheon Hanok Village, where you can rent traditional Korean hanbok and explore away with friends. This whole area is one of the coolest places in Seoul, so let's take a look at all of the things you can get up to in Gwanghwamun Square when you visit Seoul.
King Sejong in Gwanghwamun Square
When you first arrive at Gwanghwamun Station (which you can get to on line 5 of the Seoul Metro), make sure you take exit 9. This is really important to start your afternoon at Gwanghwamun Square off on the very best foot. Exit 9 leads to a ramp which leads out into the open air of Gwanghwamun Square.
And as soon as you reach the top, you'll receive a special greeting from the legendary King Sejong (or, rather, a statue of him reaching out to greet you).
The Sejong statue should absolutely be the first thing you see upon emerging into Gwanghwamun Square. It sets the tone for everything you're about to see, and it's a really breath-taking first sight.
King Sejong the Great (which is what is written in Hangeul across the base of his statue) was famous for following the Confucian ideology and prioritising scientific advancement during his time as the fourth king of the Joseon Dynasty.
This 15th century king's greatest accomplishment was crafting the Korean Hangeul alphabet (not many kings or queens can lay claim to devising an entirely original writing system!) Until the creation of Hangeul, Koreans read and wrote using Chinese characters which are incredibly time-consuming and complex to learn.
Sejong, being the wise king that he was, wished for all of his subjects to have equal chance to read and write easily. And so, he created an entirely new alphabet that could be grasped quickly and easily.
To this day, Hangeul is known the world over for being the most logical alphabet on Earth, and it really is! I learned the whole alphabet in about two hours, and you can too.
Yi Sun-sin Statue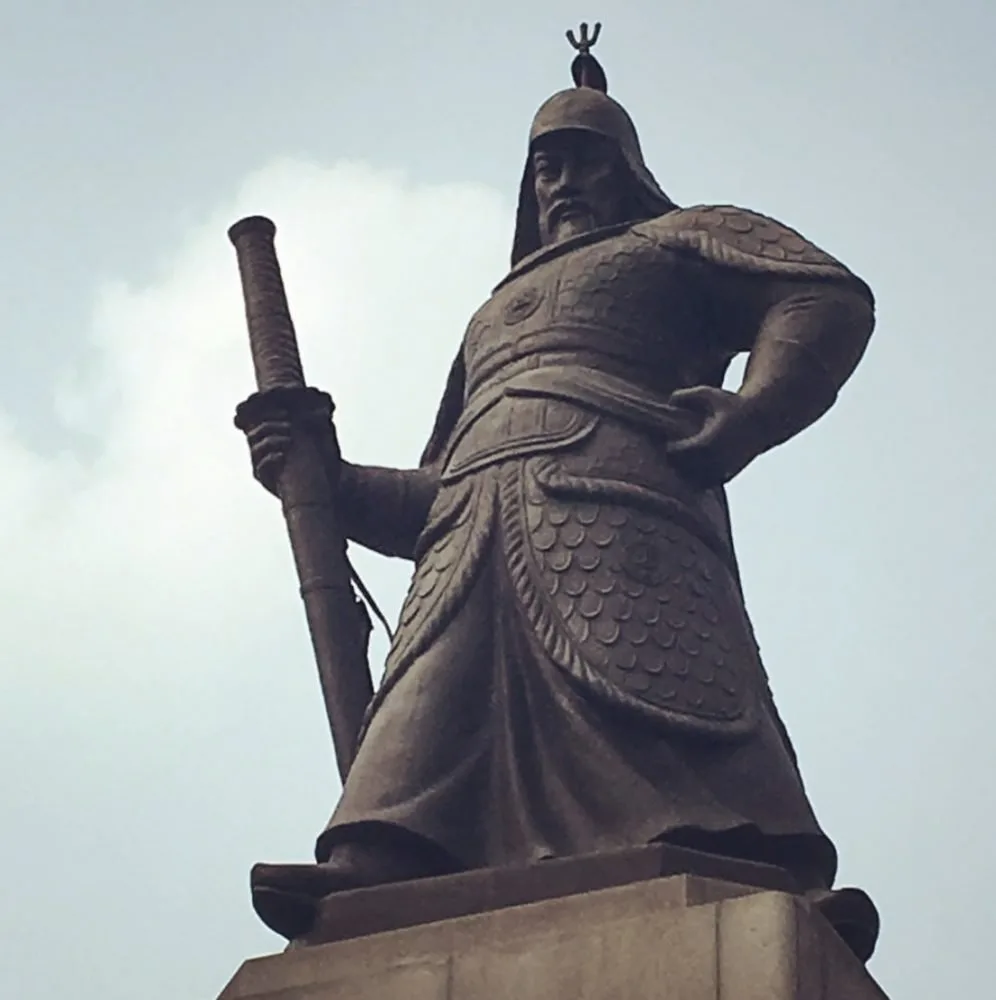 As you're facing the statue of King Sejong in Gwanghwamun Square, turn on your heels and you'll see, just on the other side of the ramp from exit 9, another statue. Take a walk over and you'll soon be up close and personal with another great leader from Korean history: General Yi Sun-sin (pronounced like 'Ee Sun-shin').
General Yi's legacy is enormous within Korean history, and it's more than well deserved. Y Sun-sin won a successive series of naval battles against invading Japanese ships during his time.
Through the history of East Asia, the Korean peninsula has been attacked, invaded, and warred against on-and-off for as long as anyone can remember, most infamously by the Japanese.
While Japan did manage to occupy Korea for several dark decades until their surrender at the end of World War II (something that, to this day, has caused immense and impassioned animosity from many Koreans towards the Japanese, even from children as I learned first-hand in my teaching days), General Yi has been praised for five centuries for keeping the Japanese invaders at bay during his tenure as naval general.
His statue is also one of the most badass things you'll see in Seoul.
Read More: A Complete Neighbourhood Guide to Seoul
Sejong Center
The first indoor stop on your tour of Gwanghwamun Square should be the Sejong Center, which you'll find at the edge of Gwanghwamun Plaza framed by enormous stone pillars. Named after the great King Sejong, whom you've just spent a little time admiring, the Sejong Center is an art gallery, theatre, and convention centre.
If you're in Seoul for a while, or even living in Seoul as we did, you'll see that almost every major art installation which comes to Korea will be set up and and displayed at the Sejong Center.
While we were living in Seoul, we visited the Sejong Center to see first-hand the original woodcuts and drawings of M.C. Escher on display in the gallery. A few months later there was a grand exhibition of the posters and artwork from the entire history of Studio Ghibli movies, including 3-D models and statues from several of the movies.
When you visit, it's hard to say what will be on, so make sure to visit the Sejong Center website to find out before you go! But whatever you see, it will be worth it. And it gives you more reason, if you're able, to visit Gwanghwamun Square a few times, which is always a joy.
Kyobo Book Centre
Kyobo bookstore is the Korean Waterstones (or Barnes & Noble, if you prefer). Its flagship store can be found here in Gwanghwamun Square, across the square from the Sejong Center (and accessible straight from Gwanghwamun Station if you follow the signs and don't feel like walking across the square itself).
While we have dedicated a whole article to the Itaewon Foreign Bookstore, Kyobo bookstore is a fantastic option if you're looking to pick up some English books while you're visiting Gwanghwamun Square. Kyobo bookstore stocks the newest titles released in English, as well as a few English comic books.
They take pride in Korean literature, naturally (and as well they should – it's magnificent), so you'll find here various displays that will encourage you to pick up some English translations of Korean books. Which, of course, you definitely should!
We recommend picking up anything by some of our favourite Korean women authors: Hye-young Pyun (author of The Hole), Han Kang (author of The Vegetarian), and Kyung-sook Shin (author of The Court Dancer).
Read More: 7 Best Day Trips from Seoul
Gyeongbokgung Palace
Before you can enter Gyeongbokgung Palace or take a Gyeongbokgung Palace tour, you have to pass through the enormous and breathtaking Gwanghwamun gate.
Gwanghwamun was once one of the eight gates (along with Namdaemun, which also still stands) that allowed access into Seoul through the fortress walls.
Today, Gwanghwamun works the other way around: from inside the city you pass through Gwanghwamun to access Gyeongbokgung Palace or take a Gyeongbokgung Palace tour. This Korean palace is one of the best sights in Seoul and an unmissable part of any visit to Gwanghwamun Square.
Gyeongbokgung Palace is perhaps the most famous historic building in all of Korea. Gyeongbokgung was the seat of power and the home of the kings of the Joseon Dynasty.
Today it stands as the defining statement of Korean history. It's a perfect example of Korean heritage, architecture, and majesty. Take an hour or so to wander the grounds by yourself and allow yourself the chance to be taken back in time to the epic era of the Joseon Dynasty.
Gyeongbokgung Palance entrance fee: 3,000 won for adults; 1,500 won for children
Gyeongbokgung Palace entrance fee (for groups of 10+): 2,400 won for adults; 1,200 won for children
Gyeongbokgung Palace Tour
If you'd prefer to be guided through the history and architecture of this Seoul palace, English tours start at 11:00am, 1:30pm, and 3:30pm from the information centre at Heungnyemun Gate. This way, you can take a Gyeongbokgung Palace tour and you're guaranteed not to miss a thing.
The Gyeongbokgung Palace tour lasts for approximately 1-1.5 hours, which is exactly the time it would take to do a solo Gyeongbokgung Palace tour, if you'd prefer to explore the palace solo. Either way, the Gyeongbokgung Palace entrance fee is 3,000 won for adults and 1,500 won for children. You can read more right here.
Read More: Seoul's Best Party Districts
Bukcheon Hanok Village
Bukcheon Hanok Village, located just outside and to the northeast of Gwanghwamun Square, not far from the walls of Gyeongbokgung Palace, is one of the quintessential and most delightful places to visit in Seoul Why?
Bukcheon Hanok Village is a perfectly intact slice of pre-modern Jeoson Dynasty life that you can still witness today in the 21st century. This hanok village is a labyrinth of traditional Korean houses made of of wood walls, elaborately carved wooden doors and gates, stone walls, and slate rooves.
Many of the hanok houses have been transformed into cafes and shops today, but they still each retain their traditional beauty and aesthetics. Some of those that have remained completely unaltered can be entered and explored (unless they're lived in, which some are by a few lucky people).
Here at the Bukcheon Hanok Village you can see the origins of the Korean ondol heating system. If you ever spend a winter in South Korea, you'll find that Korean homes don't have wall radiators or traditional western central heating, but rather their own heated floor system which works so much more effectively — even in apartments!
Hot air rises, after all. It's in these hanok houses where ondol became the typical method of heating homes: a gap beneath the floor is heated by a stove and causes the entire room to be heated from literally the ground up.
Hanbok Rental in Gwanghwamun Square
A must-do activity in Bukcheon Hanok Village is to rent a traditional Korean hanbok (the female and male dress popularised during the Joseon Dynasty). Hanbok have come back into fashion in a huge way, that's to the patriotic passion that young Koreans have for their fashion, history, and culture.
In hanok villages you'll find locals and foreigners alike get dressed up in hanbok and conducting makeshift photoshoots it's really delightful and fun to join in with). You can rent hanbok from stores all around the hanok village, including a few just outside outside Gyeongbokgung Palace.
Many people rent hanbok and wear them during their Gyeongbokgung Palace tour as well.
Wearing and walking around in hanbok is a fantastic way to immerse yourself in the ancient culture that's making somewhat of a comeback, and to of course get some fantastic photo memories as you explore Gwanghwamun Square, Gyeongbokgung Palace, and Bukcheon Hanok Village.