Seoul is a wonderfully unusual city. It's one of the world's most popular capital cities; a place of colourful music, a lively bar scene, fantastic spicy foods, and passionate people.
Yet, despite its popularity, it's easy to get around. Seoul isn't big, not compared to neighbouring cities like Tokyo and Shanghai.
You can see the best that the city has to offer in a 3-day Seoul itinerary, and that's what we're going to give you here.
You can, of course, spread this out and spend 5 days in Seoul or even longer, if you want to, but for now, let's give a clear and concise perfect 3-day Seoul itinerary that will give you all the best sights, museums, restaurants, bars, and more in Korea's colourful capital.
Seoul has six districts which are must-see areas: Myeongdong, Gangnam, Itaewon, Hongdae, Gwanghwamun, and Insadong. We're going to divide them into half a day each and cover all of them in a 3-day Seoul Itinerary.
Seoul Itinerary Day 1: Myeongdong and Gangnam
You've just arrived in Seoul – you're on the train from Incheon Airport, and you're wondering where to go in the city first.
We're going to start with the two districts which best resemble the modern landscape of Seoul: Myeongdong and Gangnam. Two examples of exciting and vibrant areas which showcase why Seoul is such a tantalising and wonderful place to explore.
Morning and Lunch: Myeongdong
Myeongdong is the life and soul of modern-day Seoul condensed into a single vibrant area. It's a place of boutique shops, street food, and live music. Myeongdong is where you go to both feel the atmosphere of Seoul properly and taste the wonderful authentic Korean street food for yourself.
Read More: 11 Unique and Interestings Hotels and Hostels in Seoul
Korean Street Food
It's a great place to go for breakfast because you can simply wander through the street food stalls found right outside Myeongdong Station and sample the wonderful delicacies they have to offer.
If you have a morning sweet tooth, we recommend the hotteok sweet breads and sweet gyeran-bbang (literally meaning egg-bread). Both of these are sweet, soft, bready yumminess.
If you're rather a local favourite Korean food with a bit more of a kick, track down and try some tteokbokki. These are a pile of thumb-sized rice cakes slathered in a traditional Korean spicy sauce or why not try some Korean instant ramen?
They're a favourite amongst young people and they really do pack a punch but they're filling, soothing, and they definitely do a good job of waking you up!
Read More: A Culinary Trip Around South Korea
Korean Fashion and K-Beauty
As for what to see, well, this is what makes Myeongdong one of the best places to visit in Korea. Myeongdong is very much a boutique shopping district. Korean fashion and Korean beauty products are what Seoul is known for today, and you'll find both of them here in abundance!
You don't need a strict route in Myeongdong; let the crowd carry you. The area is always packed, and you'll find that most of the shops and stalls are not part of major labels.
They're individual boutique shops offering original and unique elements of Korean fashion. You'll find Korean skin care products, makeup, iconic face masks, and more.
Myeongdong is very much the fashion capital of Korea; it's where locals and tourists alike mingle to find the best and most unique fashion choices. The area is a fantastic introduction to Seoul culture today.
Read More: Must-Try Health and Wellness Experiences in Korea
Where to eat in Myeongdong
After a morning of shopping and exploring, and hopefully snacking on some fantastic Korean street food, you'll want a good heart lunch.
Isaac Toast: Korea is so good at combining traditional Korean food with foods from other cultures or even just some cheap snacks. Unlike in neighbouring Japan and China where such an act can be seen as sacrilege, Korea will take a thousand-year-old recipe and slather it with cheese or add some slabs of spam to it for fun.
Isaac Toast epitomises this attitude by taking the traditional Korean staples consisting of fried chicken, eggs, and rice cakes and mixing them with toast to get some truly original (and sometimes frightening) results. Isaac Toast represents Korean culture in a rather unexpected way.
It's not traditional food but, honestly, Korea isn't entirely about tradition these days. It's about innovation, fun, and creativity. That's what makes it such an enticing place. In short, get your lunch at Isaac Toast.
Read More: The Best Day Trips from Seoul
Afternoon and Dinner: Gangnam
Now that you're energised and full of unusual food, it's time to head to the second area of Seoul for the remainder of day 1 of your Seoul itinerary: Gangnam.
Gangnam was put on the world map back in 2012 with the dizzyingly popular k-pop song by Psy: Gangnam Style. But what is Gangnam style? Well, think of it as the way of life for the most privileged youth of Seoul.
Gangnam Style was very much a tongue-in-cheek poke at the culture found in Gangnam. To put it bluntly, Gangnam is Seoul's rich, up-market district. It's an area of technology, skyscrapers, and expensive restaurants. And no Korea itinerary, let alone a Seoul itinerary, would be complete without a visit to Gangnam.
When you're looking for where to go in Seoul with friends, or on a date, Gangnam may well be at the top of the bill for all its great high-end restaurants and the generally street-level atmosphere it provides.
While it is great to just wander the streets (and visit the Gangnam Style stage on the corner by Gangnam Station), Gangnam is all about quality restaurants, bars, and cafes.
So, when you arrive, take your time wandering and taking photos of the area, then we have an afternoon café, a dinner spot, and an evening bar for you to visit.
Afternoon Coffe at Dessertree
This is your first stop in Gangnam. Dessertree is as much a gallery as it is a café. What I mean is that Dessertree is a French-style patisserie where every single cake and pastry is a work of hand-crafted, impeccable art.
They're the kinds of pastries that are so exquisite to behold that you really will hesitate to take that first bite. Dessertree epitomises the atmosphere and the philosophy of Gangnam culture: perfection, art, modern living, and modern beauty.
Dinner at MADE
This is your dinner spot. MADE is an Italian-America bistro. While we can go on debating traditional Italian food vs American adaptations of Italian food (like New York pizza), MADE is going to go ahead and offer you the best of both, in true typical Korean style.
Here, you'll find American style sliders (several miniature burgers), as well as more traditional Italian dishes like tiramisu and chicken parmesan.
MADE is perhaps the best foreign restaurant in Seoul. And while you may be tempted to only seek traditional Korean food while you're in Seoul, fight that urge because Western food is really celebrated here and almost always improved upon. So, enjoy it!
Evening Drinks at Once in a Blue Moon
Now that you've enjoyed an indulgent café and a satisfying dinner, spend your evening at one of the best bars in Gangnam: Once in a Blue Moon. Gangnam relishes quality, and this bar is no different. It's a three-floor jazz bar that offers plenty of live jazz music night after night.
Yes, while Korea is of course most famous for its pop music, there's still a lively and celebrated jazz scene here, just like there is in neighbouring Japan. And what goes better with live jazz music than whiskey and cocktails? You'll find the best of both here at Once in a Blue Moon (which is also a fantastic name for a bar).
Read More: Where to Stay in Seoul (+ Neighbourhood Guide)
Seoul Itinerary Day 2: Gwanghwamun and Insadong
From the modern to the traditional! Now that you've had a day soaking up the modern world of Seoul, it's time to take a trip back in time to the more traditional side of Korean life and Korean culture. You'll find that in the northern areas of Gwanghwamun and Insadong (both found in the Jongno district).
Side note: we used to live in Jongno and it's a super chill part of the city to live, if ever you're tempted to spend more than 3 or 5 days in Seoul.
So, if you've been wondering what are the best places to visit in Korea for a look at the more traditional, historic side of Korean culture, this here is it. Let's take a look at Gwanghwamun and Insadong for day 2 of your Seoul Itinerary.
Morning: Gwanghwamun
'Mun' in Korean means gate, and Gwanghwamun was once one of the eight gates that provided access into Seoul through the fortress walls.
Today, it kind of works the other way: from inside the city you pass through Gwanghwamun to access the legendary Gyeongbokgung Palace, one of the best sights in Seoul and an unmissable part of any Korea itinerary. But one thing at a time.
King Sejong Statue
To start, when you arrive at Gwanghwamun Station, be sure to take exit 9 for the full impact of what you'll see. Exit 9 follows a ramp up into Gwanghwamun Plaza for a spectacular greeting from the legendary King Sejong. The Sejong statue should absolutely be the first thing you see upon emerging into Gwanghwamun.
Sejong was famous for a lot of things, but most notably this 15th-century king is celebrated today for crafting the Korean Hangul alphabet. Until then, Korea used Chinese characters which are incredibly time-consuming and complex to learn.
Sejong was a great king who wanted his subjects to all have the chance to read and write easily. And so, he created an alphabet. To this day, Hangul is known the world over for being the most logical alphabet on Earth, and it really is! I learned the whole alphabet in about two hours, and you can too.
Yi Sun-sin Statue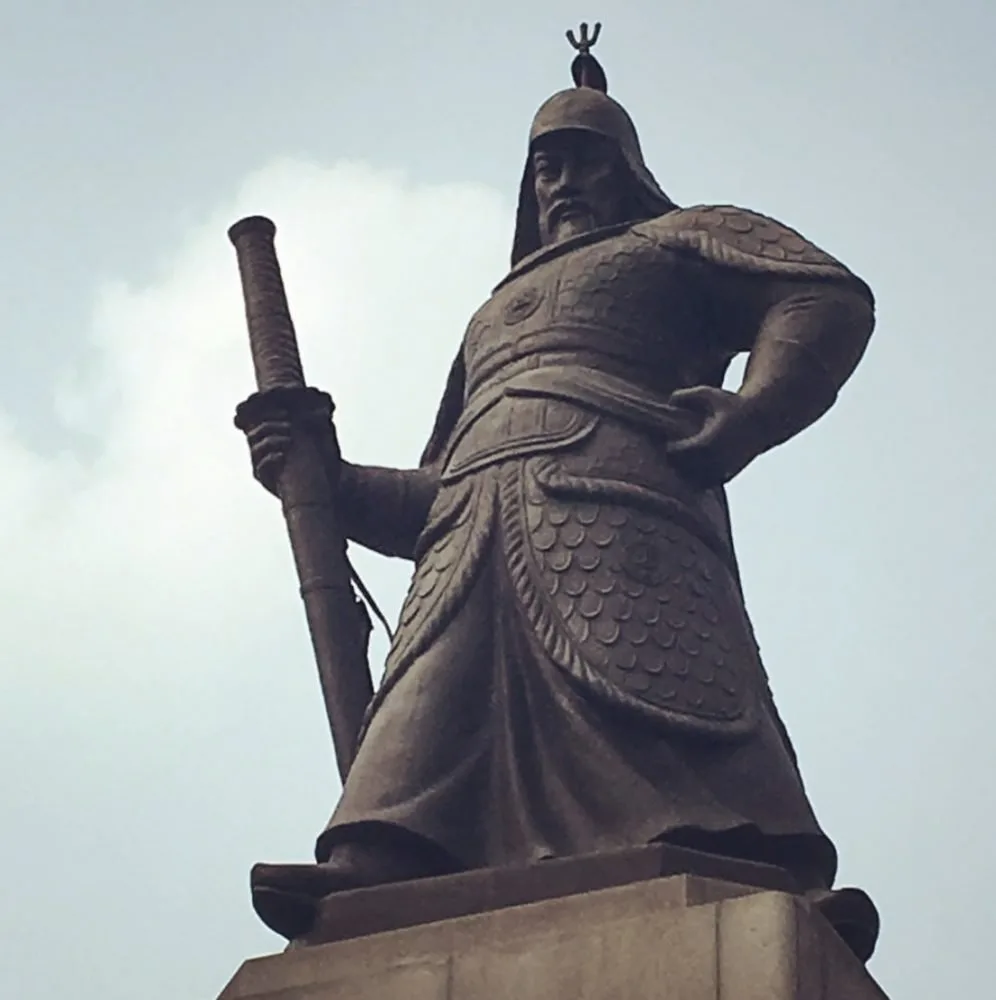 When facing the Sejong statue, turn around and you'll see, just beyond exit 9, another statue: that of general Yi Sun-sin.
General Yi's legacy is another sacred of the Korean history books thanks to his series of naval victories against invading Japanese ships. Korea has been attacked, invaded, and warred against for centuries, most famously by Japan.
While Japan did occupy Korea for several decades until the end of World War 2 (something that, to this day, causes immense and impassioned animosity between the neighbouring countries), General Yi has been praised for 500 years for keeping the Japanese invaders at bay.
The Yi Sun-shin statue statue is also one of the most badass things you'll see in Seoul.
Sejong Center
So, those are the statues. Next, you have the Sejong Center, which you'll find at the edge of Gwanghwamun Plaza framed by enormous stone pillars. The Sejong Center is an art gallery, theatre, and convention centre. Every major art installation which comes to Korea sets itself up in the Sejong Center.
During our time living in Seoul we saw the original artworks of M.C. Escher on display in the gallery as well as an exhibition of the posters and artwork from the entire history of Studio Ghibli movies. When you visit, it's hard to say what will be on, so make sure to visit the Sejong Center website to find out before you go!
Kyobo Book Centre
Kyobo is the Korean Waterstones (or Barnes & Noble, if you prefer). Its flagship store can be found here in Gwanghwamun Plaza, opposite the Sejong Center. While we've previously dedicated a whole article to the Itaewon Foreign Bookstore, Kyobo is a great option if you're looking to pick up some English books while you're visiting Seoul.
Kyobo stocks the newest titles released in English, as well as a few English comic books. They take pride in Korean literature, naturally, so you'll often find displays that will encourage you to pick up some English translations of Korean books. Which, of course, you absolutely should!
We recommend picking up anything by our favourite Korean authors: Hye-young Pyun, Han Kang, and Kyung-sook Shin.
Gyeongbokgung Palace
This is Gwanghwamun's pièce du résistance. Gyeongbokgung Palace is the most famous historic building in all of Korea, and is of course a must-visit part of an Korea itinerary or Seoul itinerary.
You'll find it by passing through Gwanghwamun gate. Gyeongbokgung was the seat of power and the residential palace of the Joseon Dynasty. Today it stands as the defining statement of Korean history. It's a perfect example of Korean heritage, architecture, and majesty.
Take an hour or so to wander the grounds and be taken back in time to the great era of the Joseon Dynasty.
Read More: Seoul's Best Party Districts
Lunch and Afternoon: Insadong
Hold off on lunch until you're in Insadong, which can be walked to from Gwanghwamun by simply heading East. Or you can take the subway to Anguk Station. Insadong is an historic area of Seoul which has a far more relaxed atmosphere than places like Gangnam and Myeongdong.
Insadong is a place of tea houses, quiet cafes, and traditional Korean restaurants. A perfect place for lunch.
Where to Eat in Insadong
Sanchon is the definitive restaurant for unique and traditional Buddhist food. If you know anything about Buddhism, you'll know that, traditionally, the way of life requires its monks and followers to be vegetarian.
Sanchon is a vegetarian restaurant in Insadong which was originally opened by a local Buddhist monk who brought the traditional meals and cooking traditions of Korean Buddhist monks to the public.
At Sanchon, you can eat a spread of incredible vegetarian meals cooked in a completely traditional Buddhist style. It's a wonderful chance to peek behind the curtain and see how Buddhist monks cook, prepare, and eat their meals.
The restaurant itself is a beautiful place with an ambience that is exactly what you'd expect from a place that offers a vegetarian Buddhist cuisine. This is where to go in Seoul for real, hearty, traditional Korean food.
Bukcheon Hanok Village
After lunch, head north of the Insadoing area to Bukcheon Hanok Village, which exists equidistant from Gwanghwamun and Insadong (so you can skip Sanchon as part of your Seoul itinerary if you'd rather head straight here).
Bukcheon Hanok Village is another unmissable part of any Korea itinerary, and you'll find it on almost every Korea tour. It's one of the quintessential places to visit in Korea and a must-visit whether you have 2 or 3 or 5 days in Seoul. Why? Bukcheon Hanok Village is a slice of ancient Korean life brought forward into the 21st century.
It's a labyrinth of traditional Korean houses of wood walls, slate rooves, and sliding doors. Many of them have been transformed into cafes and shops, but still retain their traditional beauty and aesthetics. Those that have remained unaltered can be entered and explored (unless they're lived in, which some are).
Here you can see the origins of the Korean ondol heating system. If you spend a winter in Korea, you'll see that Korean homes don't have wall radiators, but rather a heated floor system which works so much more effectively – even in apartments! Hot air rises, after all.
It's in these hanok houses where ondol became the typical method of heating homes: a gap beneath the floor is heated by a stove and causes the entire room to be heated from literally the ground up. Genius!
Hanbok Rental
A must-do activity in Bukcheon Hanok Village is to rent a traditional Korean hanbok (the female and male dress popularised during the Joseon Dynasty). Hanbok have come back into fashion in a huge way, and in hanok villages you'll find locals and foreigners alike get dressed up and conducting makeshift photoshoots.
You can rent hanbok from stores all around the hanok village, and even outside Gyeongbokgung Palace. It's a fantastic way to immerse yourself in the local village and get some fantastic photo memories during your Korea itinerary. One more reason why Bukcheon Hanok Village is one of the best places to visit in Korea.
Seoul Itinerary Day 3: Hongdae and Itaewon
While day 2 of your Seoul itinerary was all about the traditional and historic side of Korea, now it's time to return to the present with your last day in Seoul (of course, it doesn't have to be your last.
Everything we've talked about here can be extended into 5 days in Seoul or even 7 days in Seoul. There's always more to see, after all). Let's begin day 3 with the university district of Hongdae.
Morning and Coffee: Hongdae
Hongdae is similar to Myeongdong in many ways. It's a place of boutique shopping, great cafes, and places to buy k-beauty products. But it's far less about the shopping and the street food, and more about live street music, quirky and unique café culture, and a fantastic must-visit museum.
Here's how to spend a morning in Hongdae.
Animal Cafes in Seoul
Something you've undoubtedly heard about when looking up where to go in Seoul or places to visit in Korea are the animal cafes. If this interests you, then the best ones can be found in Hongdae.
If you have more time, say 5 days in Seoul, there are several to check out but, for now, let's look at two of them: Thanks Nature Café (the sheep café) and Meerkat Friends (the meerkat café).
Meerkat Friends: This Seoul café is a wholesome and delightful place. If you're a little sceptical about the ethics of a café in Seoul full of African meerkats, you're not alone. We were wary, too.
But when you do visit, and you see the love and care given to these meerkats by the people who work there and look after them, all your fears will disappear completely. Visiting Meerkat Friends costs the equivalent of $10 and includes a drink.
The only downside is that the drink has to be bottled because coffee machine noises scare the meerkats.
Thanks Nature Café: Two sweet and fluffy little sheep, an indoor tree covered with shiny decorations, and a stack of waffles. It's certainly not your average café experience, but it is an absolutely delightful one.
There's nothing to worry about here with regards to ethics; these sheep (Honey and Sugar) are beloved and completely looked after. This is also a great opportunity to try traditional Korean bingsu (shaved ice covered with various fruits and sweet sauces).
Japan and China have their own variations but most of us agree than Korean bingsu is the best of the bunch.
Trick-Eye Museum
If you're going to visit one museum that's unique to Seoul, let it be the Trick-Eye Museum. This place is an incredible hour or so of hilarious fun.
When you enter, you're instructed to download an app (it's free) which will combine with your phone's camera and bring the exhibits to life. Keep the app loaded and your phone in hand the whole time.
The museum experience itself involved moving from room to room, and in each one is a selection of clever artworks that you can interact with.
These artworks are either clever distortions where one person stands inside the artwork (it's usually on the walls or floor) and another person takes a photo from a specific angle to make the art look 3D. Or they are pieces of art which, when viewed through the app, come to life (like a dragon breathing fire or a Pegasus flapping its wings).
You can film your friends interacting with the art through the app and bring their experiences to life. It's not the most serious gallery or museum in the world but the Trick-Eye Museum is a morning of memorable and delightful fun with friends.
Read More: 10 Cute Cafes in South Korea
Lunch, Afternoon, Dinner, and Drinks: Itaewon
That's a lot to do in one area, but that's what Itaewon calls for. This area in the very heart of Seoul can split opinions a little. That's because it's the foreigner district. Most of the restaurants and bars are owned by westerners who live and work in Seoul, and some of us find that comfortable; others find it lacking in culture.
But you've just spent two days seeing the very best of both modern and ancient Korean culture and Itaewon is a fun and fantastic place to finish off your Seoul itinerary. So, let's see where to get lunch and dinner, as well as what shops and bars to visit in Itaewon.
Lunch at Fat Cat
When we lived in Seoul, we visited Fat Cat an embarrassing number of times. It's a delightful little western-owned, English-speaking bistro that serves the very best sandwiches and their own special (and mouth-watering) maple syrup lattes.
Fat Cat is a great place to fuel up, relax, read a book, and catch up with friends. You'll find a lot of foreigners in here from all walks of life, and it's got the friendliest atmosphere of any café or bistro in Seoul. I love and miss this place.
Book Shopping in Itaewon
There are two English language bookstores in Seoul: one for secondhand books and one for new books. Itaewon Foreign Bookstore is a lovely little bookstore with a green awning which you'll find on the way back from Fat Cat to the main street in Itaewon.
It's everything a dusty old bookshop should be: stacks of books, that musty smell, not enough room, and a grumpy old owner who doesn't like to banter. It's a delightful place full – from floor to ceiling – with second hand English books of every genre and type.
What The Book is at the end of a long row of antique stores, and it sells brand new English books imported from the US and the UK. They get the very newest books in, just like any bookshop back home, and they're all very reasonably priced despite the imports.
What The Book is a great place to visit in Itaewon so you can see how the local westerners who live here shop and spend their weekend afternoons (or, at least, it's how I spent mine).
Dinner at Plant
It can be difficult to find good vegetarian and vegan food in East Asia, where meat is an ordinary part of life. But Plant is Seoul's answer to the need for great vegan food. Most of the food here is Western in style (think sandwiches and burgers etc), but it's all fresh, completely delicious, and explicitly vegan or vegetarian friendly.
And if you're neither, like me, it's still utterly fantastic food. Word of warning: Plant is so popular that you may end up waiting in line for a seat. But it's so worth it, and you don't want to miss out on Plant during your 3-day Seoul itinerary.
Drinks at Magpie Brewing co.
One of Seoul's most famous and most celebrated bars is Magpie Brewing co. It's a neighbourhood bar in Itaewon that brews its own ales from locally sourced ingredients. Magpie Brewing co. was originally the brainchild of four North American friends in Seoul, and since its inception in 2011 it has grown in size and popularity.
They even now have their own brewery which they opened, of all places, on Jeju Island. It's a great place to see how western bars and restaurants have flourished in Seoul – especially in Itaewon. And the beer is, of course, top-notch.
Read More: Take a Culinary Trip Around South Korea or find the best Health and Wellness Spots right around the country.