When we think about tattoo art, and especially the history of tattoo art, we often think of traditional American tattoo art (the likes of Sailor Jerry and the classic old school nautical art of the early 20th century).
We might also think about Japanese tattoo art. But tattoo artists in South Korea represent some of the most creative in the tattoo industry today.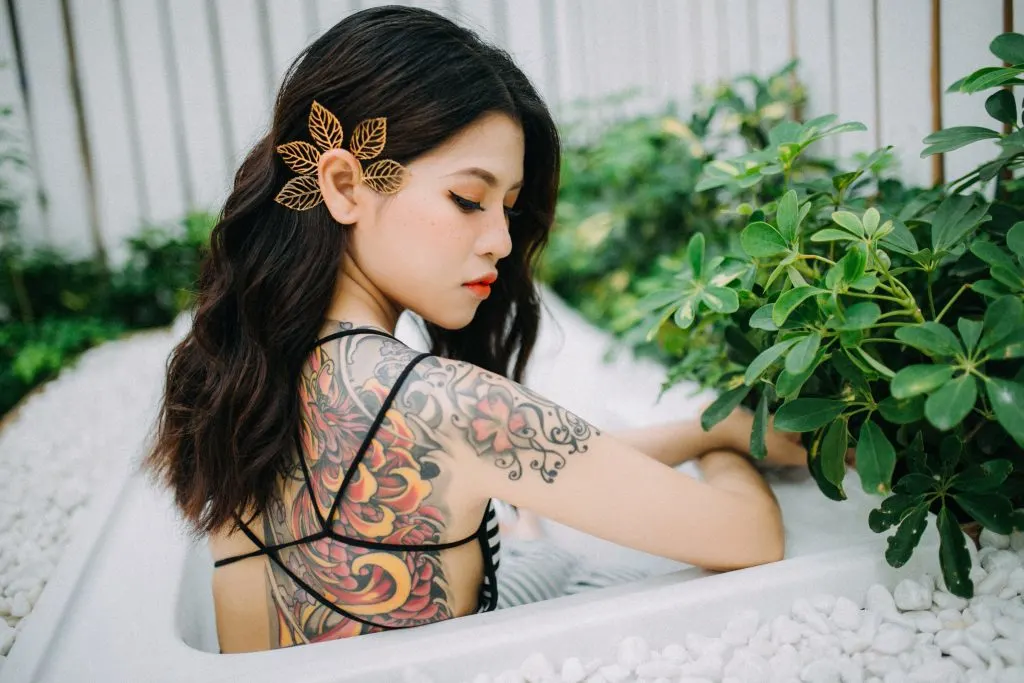 Just like with so much Korean literature and Korean cinema, tattoo artists in Korea are pushing the tattoo industry in exciting new directions. Korean tattoo artists are thinking outside the constraints of traditional tattooing to bring us work that is wholly new and dynamic.
Before we dive into the best tattoo artists in Korea, here's a quick history lesson.
History of Tattoos in South Korea
Korea has had a turbulent history with its tattoo culture. Similar to the views amongst the older generation in the West and attitudes which persist in Japan, tattoos have been associated with crime and general 'untrustworthy types'.
Any actors and performers visiting and working in Korea have often had to, in the past, cover up tattoos while on stage to avoid offending anyone.
While having tattoos in Korea isn't illegal, there's still the issue of the law stating that actually getting a tattoo illegal if not performed by a licensed medical practitioner (this law is the same the same in Japan, though on the verge of changing).
Obviously, this makes it very difficult for talented artists to become licensed tattoo artists in South Korea (though far from impossible, as this list demonstrates).
The history of tattoos in Korea actually goes back to the 4th century when fishermen would get tattoos to ward off evil spirits. During the 19th century, however, things took a more negative turn when criminals were branded with tattoos.
Later, in the 20th century, tattoos in South Korea became associated with organised crime, much like how they still are in neighbouring Japan.
Additionally, there's the issue that it goes against traditional Confucian values, which is similar to the religious argument in other countries, that you shouldn't change the body your parents (or God) gave you.
Thankfully, tattoos are very quickly becoming de-stigmatised in Korea (compared to how they're seen in neighbouring countries) and it's not unusual to see young people on the Seoul subway with tattoos these days.
During our time living in Seoul, having tattoos ourselves has led to many conversations with curious locals that we just wouldn't have had otherwise.
Check out our lists of other outstanding tattoo artists in Tokyo , Osaka, and Taiwan.
The Best Tattoo Artists in South Korea
Here are some of the best tattoo studios and tattoo artists currently working, and thriving, in South Korea. Scroll to the bottom for tips about getting a tattoo in South Korea.
85tattooer
The artist known as 85tattooer is one of the most unique tattoo artists in South Korea. They have a very specific style that makes their work instantly recognisable.
Almost every tattoo they do depicts either a grinning tiger (a modern take on an icon of Korean culture and mythology) or a grinning red devil with a gold tooth.
The devil can take many forms, from impersonations of recognisable characters from comic books and anime to dressing up as certain people or in certain roles, poses, and uniforms.
Cartoonish and bright, these wonderfully bold and inventive tattoos make 85tattooer one of the most exciting and original tattoo artists in South Korea today.
Dokhwa
Based in Seoul, Dokhwa is easily one of the most stand-out tattoo artists in South Korea working today. Her art is both hyper-realistic and adorable. This is because she mostly focusses on pets.
Not entirely, however. Dokhwa occasionally tattoos portraits and even characters from pop culture. But the majority of her tattoos are of dogs and cats looking both irresistibly cute and hypnotically realistic.
In spite of the realism on display here, Dokhwa still injects a unique sense of personality into her tattoos, through a recognisable and consistent colour palette.
This means you can spot one of Dokhwa's tattoos easily, but also gasp at the sheer photorealism of them. She's an incredible Korean tattoo artist.
Roha
Roha is a sensational Busan-based tattoo artist who specialises in a unique approach to portraiture (mostly women).
While her tattoos have a realistic quality to them, she almost always cleverly overlays the busts or entire bodies of women with natural imagery (ocean waves, sunsets, etc).
The end result is a piece that feels ethereal, calming, and yet also entirely captivating. Her line work also has a scrawling quality that sets it apart from other tattoo artists in South Korea.
Her approach to human form through her art is a breath of fresh air, and she has captured many hearts through her technique.
For more than ten years, the most popular growing trend and style in the world of tattooing is that of neotrad tattoos.
Neotrad is a style that takes old school traditional tattoo art and beefs it up with modern quality standards and, often, a more imaginative and playful approach.
Of all the tattoo artists in South Korea, it's Krystal who represents the best neotrad tattoo art of the bunch. Her art is a consistent wave of beauty. Her colour palette leans heavily on shades of red and deep blacks, greys, and yellows.
Taking cues from traditional tattoo designs of old — skulls, ships, anchors, copasses, and other nautical tropes — Krystal not only imbues this style with new energy, she also does so with jaw-dropping skill and techniue.
If you like your tattoos bursting with colour, popping with depth and texture, and inspired by histories most iconic tattoo themes, Krystal represents the best of South Korea's tattoo artists.
Here is a Korean tattoo artist who really shows what it means to bring originality and style to your work as an artist. While, at the same time, drawing on your own heritage and local artistic traditions.
Pitta uses gorgeous traditional colours from Korean paintings, including classic reds, greens, pinks, and golds (the gold is stunning), to create scenes from Korea, Korean-inspired art, bold animals, and even Japanese anime-themed tattoos.
He often works in block shapes so his tattoos are instantly recognisable, without much background shading or even thick black line work.
Pitta is one of the best tattoo artists in South Korea if you want a traditional design in a uniquely modern style.
For tourists and travellers looking to get a uniquely Korean tattoo, Pitta is the artist you're looking for.
Read More: Best Fine Line Tattoo Artists Around the World
Another one of the great tattoo artists in South Korea whose use of colour will blow you away. From natural florals and birds to beautiful fans and talismans.
Sion leans heavily on shades of pink with soft, delicate black line work to make their art quietly pop.
These are the perfect kinds of tattoos for someone looking for an understated, soft, yet infinitely stunning piece.
These are not loud, proud, intimidating tattoos. They are silky, soft, serene works of art that take their cues from classic crafts and natural elements.
If you're looking for lush, dynamic, natural beauty then Sion is the artist for you.
While Sion is an artist who opts for the soft and quiet approach, Shiryu is an artist who revels in the bold, the loud, and the extreme.
Excelling at enormous torso pieces, inspired by demons and Japanese elements like the phoenix and the peony flower, there is no artist like Shiryu.
One of the most exciting and abrasive tattoo artists in South Korea, Shiryu is all about that intense blast of bold colour, covering ever inch of skin with deep blacks, red, and golds.
These tattoos are metal; they are intense and loud; they are like nothing else you'll find in South Korea.
If you're s fan of fine line tattoo art, Hongdam is for you. These are some of the most captivating, outstanding examples of fine line tattoo art you'll ever find.
Hongdam creates fine-lined and whimsical watercolour tattoos and has made a huge name for themselves in the South Korean tattoo scene in recent years.
If you've been looking for a floral design or some delicate script tattoos then turning to Hongdam for your tattoo is an excellent choice. Their tiger designs are particularly inspired and, in turn, inspiring.
Delicate fine art, watercolour tattoos. They create highly detailed pictures in the smallest of sizes. Sol tattoo is not only one of the finest artists of fine line tattoos in the world, but one of the best tattoo artists in South Korea.
Nana specialises in the ever-growing in popularity neo-trad tattoo designs, while also managing to lean a little harder on the old school tattoo side of things.
Beautiful ,bold colours and thick black lines abound. For a striking tattoo in South Korea, this could be the one for you, especially if you're a fan of the traditional and the real American old school style of tattooing.
This is one for delicate, small tattoos that make a statement. Thin lines, high detail, and majestic watercolours make Tattooist Banul's style so distinctive.
Watercolour has become an increasingly popular style of tattooing in recent years, but quite often it can seem almost too pastel and quiet.
Banul manages to toe that line between bold colour and watercolour just perfectly.
One of the best ways to make a name for yourself as an artist in any medium, and especially in the world of tattooing, is to have a specific personal brand or a recognisable style.
Nobody is one of the tattoo artists in South Korea who absolutely nails this.
Almostvery tattoo that Nobody designs is incorporated into a heart shape, regardless of what the content and design of the tattoo actually is. This is a genius move that is as unique as it is memorable.
Ridiculously cute, small heart and cartoon-inspired tattoos with bold lines. Totally unique and fun to simply admire, we absolutely love Nobody's work!
Based in Busan, this Korean tattoo studio specialises in traditional Japanese designs and tattoo sleeves. Beautiful dragons, waves, and cranes are their signature styles and they do it so very, very well.
How to Get a Tattoo in South Korea
If you're considering getting a tattoo in Korea I wouldn't hesitate. The standards are equal to what you'd expect and with some of the most incredible tattoo artists in South Korea are below for you to choose from. You're bound to come out with something special.
Most Korean tattoo artists have an Instagram page so if these aren't your thing, that's the best way to find someone who is. Find the best way to message them and fire over your ideas or visit the store and have a chat.
Most of these tattoo artists are based in Seoul but many of them do guest posts at tattoo conventions and studios around the world. If you need help with booking or want to find more artists, this Facebook page is a huge help.
Have fun getting a tattoo in South Korea, some of the very best artists to date are based there so don't miss out.
If you like this then you might like: South Korean Films That Aren't Oldboy, Books to Read Before Visiting Korea or find out Where to Stay in Seoul. For foodies, take a culinary trip around South Korea with us.