Whether you're travelling to Korea or craving Korean fare to enjoy at home, Korean instant noodles are a delicious treat. We're going to share the best Korean ramen for you to enjoy.
You'll find here something delicious for everyone, from spicy vegetarian ramen to meaty, bold noodles, and much more, from beloved brands like Samyang noodles and Shin ramyun.
Korean ramen (ramyun) can be a filling snack or a tasty meal, and you can even jazz it up by adding eggs, vegetables, spring onions, and extra spices.
Ramen or Ramyeon?
Before we get into these must-try Korean instant noodles, let's take a look at how brands spell 'ramen' differently.
You'll often notice that Korean ramen is spelled 'ramyun' and 'ramyeon.'
Originally from China, ramen gained worldwide fame thanks to Japanese marketing and branding, and in Japan it is called ラーメン (ramen).
Meanwhile, in Korea the food is called 라면 (ramyeon). Korean brands usually spell it 'ramyun' or 'ramyeon.'
While all of these spellings refer to a tasty noodle dish, Japanese and Korean noodles aren't the same.
Japanese ramen, as we tend to think of it it, isn't an instant noodle and is usually more brothy than Korean noodles, which are also known to be spicy.
Though, of course, Japan also has many brands of delicious instant noodles and ramen to enjoy.
The Best Korean Ramen (Ramyeon)
Now that you understand the key differences between Japanese ramen and Korean ramen (ramyeon) below, you'll find the best Korean ramen. Let's take a look!
Kimchi Ramyun
Korea's iconic ramen, Kimchi Ramyun is a delicious spicy noodle. Kimchi is a traditional Korean side dish that consists of salted, fermented vegetables. The vegetables usually also have a savoury mix of spices.
Jongga is Korea's leading Kimchi brand, and their instant Kimchi Ramen is delicious. It comes with authentic, fresh kimchi to add to your noodles.
This Korean instant ramen is full of flavours, with an abundant spicy taste and crunchy texture.
Buy Jongga Kimchi Ramyun here.
Jajangmyeon (Black Bean) Instant Noodles
If you prefer something less spicy, Jajangmyeon Instant Noodles is another traditional Korean noodle dish. This tasty noodle is topped with a semi-sweet black bean sauce made with pork and vegetables.
Most Jajangmyeon Noodles come with soy sauce and a crunchy fried onion to add to your meal. And although this noodle doesn't have heat, it boasts intense flavours. You can also add extra spices if you want to take it up a notch.
Buy Jajangmyeon (Black Bean) Instant Noodle here: US; UK
Hwa Ramyun
We're bringing the heat back with Hwa Ramyun. You'll notice the packaging of this noodle has the Chinese symbol for fire to represent its spicy flavour. This is the perfect dish to warm you up on a chilly winter day!
Hwa Ramyun is also a tasty choice for vegetarians. It's packed with veggies, including red peppers, mushrooms, and carrots.
Buy Hwa Ramyun here.
Shin Ramyun
Another popular Korean ramen, Shin Ramyun is a classic that's known around the world. In fact, it's one of the easiest to find at local markets or online.
Shin Ramyun has is made of a thick noodle, a beef broth base, and a bit of spice. It's filled with vegetables and beef, creating a delectable taste.
Read More: 12 Best K-Pop Books (For Stans Everywhere)
Paldo Cheese Noodles
This tasty Korean ramen is a bit different than the others. It's vegetarian and has a delectable and robust cheese taste. If you've never tried cheesy ramen, we highly recommend this one!
Paldo Cheese Noodle contains a cheese powder and dried vegetable pack that you mix into your noodle and soup base. It also has a spicy kick to add to its flavour without being too overpowering.
Buy Paldo Cheese Noodle here.
Nongshim Soon Vegetable Ramen
If you enjoy a savoury vegetable noodle soup, you'll love the Nongshim Soon Vegetable Ramen. It's 100% vegan and even registered with the Vegan Society. It's so good that even meat lovers enjoy it.
The Nongshim Soon Vegetable Ramen is filled with vegetables and a hearty vegetable broth. It makes for a simple yet filling snack or small meal that's full of flavour.
Buy Nongshin Soon Vegetable Ramen here: US; UK.
Nongshim Champong Noodle Soup Spicy Seafood Flavour
This Korean ramen is for seafood lovers! Nongshim Champong Noodle is one of the most popular Korean dishes you can order.
It's a robust soup that's made of noodles, a red hot soup base, vegetables, and seafood. You can also expect a spicy kick that adds to its fantastic taste.
Buy Nongshim Champong Noodle Soup here.
Rabokki (Teokbokki and Ramen)
This unique dish is easily one of our favorites! The noodle has a deliciously soft texture, and the sauce is the perfect combination of sweet and spicy.
We definitely recommend trying this one if you're travelling to Korea, and it's also easy to find in markets around the world.
Read more: 18 Best Korean Snacks (& Where to Buy Them Online)
Best Samyang Ramen Noodles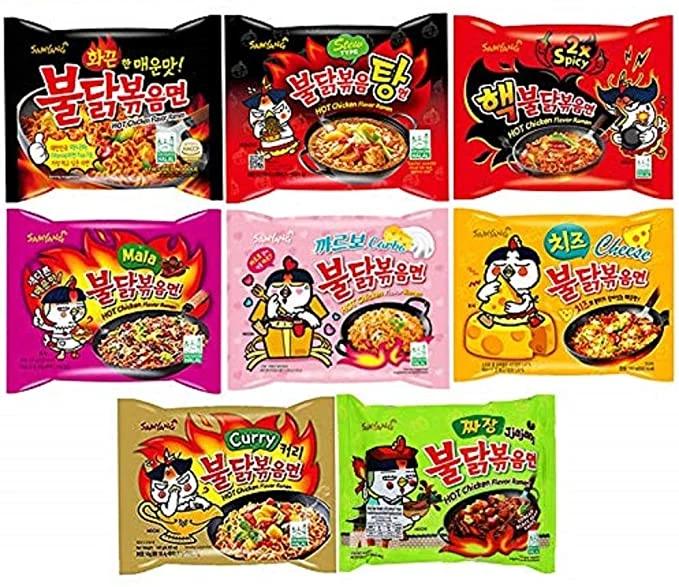 Samyang Ramen Noodles are some of the best instant Korean ramen made by a well-known Korean grocery company.
Since the iconic Nuclear Fire Noodle challenge about 10 years ago, Samyang has come out with many variations.
There are endless flavours from the original fire noodle to cheese hot chicken and so many more. Best of all, you can find these in many grocery stores worldwide.
Here are the 5 best Samyang Ramen Noodles:
Best Korean Cup Noodles
Korean cup noodles are another quintessential staple. These noodles are typically thinner than ramen, and they're just as flavourful.
There are so many tasty options, including a beef soup and a cold, dry soup that's a fan-favorite.
Here are our favourite Korean Cup Noodles:
Yuk-gae-jang sa-bal-myun: Korea's most famous cup noodle that offers a mild spice and delectable taste (buy in Korean food markets).
Nongshim Shin Noodle Soup: a noodle in savoury, rich broth with a veggie-packed topping to add for extra taste (buy here: US; UK).
Nongshim Soon Kimchi Noodle Cup: a satisfying vegan kimchi soup with a mild kick (buy here).
Teum-sae-ramyun: one of the spiciest Korean cup noodles that boasts a powerful flavour (buy in Korean food markets).
Where to Buy Korean Ramen
If you're craving some Korean ramen, you're in luck! No matter where you are in the world, you can enjoy the taste of Korea.
In Korea
If you have the opportunity to travel to Korea, consider yourself lucky! Not only can you experience a rich culture and beautiful country, but it's also where you can find all of these incredible Korean ramen dishes. As we shared above, you can find instant noodles in just about every market, too.
Shop Online
If you're somewhere else in the world but want to try some mouthwatering Korean ramen, you can always order online. Most of these noodles can be ordered on Amazon, so that you can try them no matter where you are in the world.
Subscription Box
Are you interested in trying various new-to-you Korean snacks? Consider a subscription to SeoulBox, where you have a Korean experience delivered right to your door!
Each month, you'll receive a box of authentic snacks and goodies, and you may even find some of these delicious Korean instant noodles.
If you enjoyed learning about the best Korean ramen, you might be interested in reading a culinary guide to South Korea or how to drink like a Korean.