Books about witches take many different forms. Some are horror novels; others are historical accounts. Some are charming children's stories; others are strange and disturbing mysteries.
Setting witches at the heart of a novel, a comic book, or a nonfiction book can mean many different things and can cover many different genres, settings, and styles.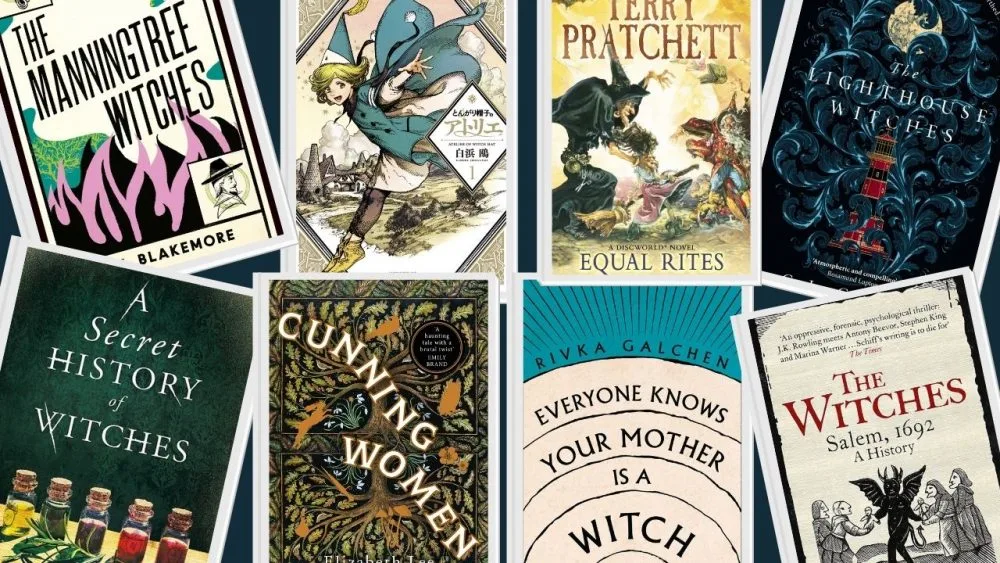 Across this list, you'll find a variety of different kinds of books about witches and witchcraft: fantasy novels, magical manga, nonfiction accounts, historical fiction, and more.
The Best Books about Witches and Witchcraft
Some of the books about witches on this list are infused with magic; others are disturbing mysteries. Some are bleak gothic tales; others are YA stories.
Here is a hefty cocktail of books about witches, spanning many different genres and styles, by some of our best modern authors.
The Bewitching by Jill Dawson
Jill Dawson's The Bewitching is a mesmerising piece of historical literary fiction inspired by the real-life English trial which came to be known as the Witches of Warboys.
That trial, which took place in the late 16th century in Cambridgeshire village of Warboys, concerned the accusations of witchcraft directed at local woman Alice Samuel.
Dawson's novelisation of that event is a staggering and moving piece of historical fiction which begins with Alice introducing herself to her new neighbours: the Throckmortons and their serving staff.
We spend most of the novel seeing the events through the eyes of the Throckmorton family's maid, Martha; occasionally turning to Alice and other characters to better understand their experiences.
Since arriving at Warboys, the family's daughter Jane has been plagued with fits, and those fits seem to be contagious. In a moment of hysteria, Jane accuses Alice of witchcraft, and the seed of suspicion is planted.
Written with a poetic flair and a staggering emotional breadth, The Bewitching is a moving piece of literary fiction and one of the most impressive books about witches and witchcraft you're likely to read.
Buy a copy of The Bewitching here!
Scottish author Kirsty Logan gifts us with a raw and powerful novel set against a backdrop of medieval religious cruelty and brutal misogyny.
When Lux returns to her isolated home from the sanctuary she had been sent away to, she finds her home burned and her mother killed.
Lux and her mother had lived on the edge of society as cunning women, healers, all but shunned by regular folk, and now they had gone so far as to murder her mother.
Lux is then approached by Else, a woman with a singular mission: journey to a northern stronghold and poison its lord in an act of revenge. Lux agrees to go with Else, seeing no other option open to her.
As we journey with Lux and Else, we learn their backstories; we hear stories of witches; we meet travelling players.
Else is a mystery to Lux, enigmatic and solitary, but she leads them closer to the stronghold and their goal of infiltrating it in order to murder a man who surely deserves it.
Now She Is Witch pulls no punches. It is an angry feminist novel that bites back against religious persecution and patriarchal oppression.
Read More: 15 Best Books About Hell (Devils, Demons & Magic)
The Ruin of All Witches by Malcolm Gaskill
Author and professor Malcolm Gaskill is considered one of Britain's leading experts in the history of witches and witchcraft, and here he turns his knowledge and research skills to the history of a specific time and place.
The Ruin of All Witches: Life and Death in the New World is a historical account — a piece of nonfiction written with the fluidity and narrative heft of a novel — about a small New England town in the 1600s.
That town is Springfield, Connecticut; a remote town one hundred miles from Boston, MA.
We begin near the end, with the town of Springfield flooded with paranoia; residents are having dreams and fits. And a Welsh woman named Mary has been arrested for witchcraft.
Gaskill then returns us to the beginning, painting us a detailed picture of the town, its founder (William Pynchon) and its residents.
This is the story of an ordinary town of God-fearing Christians, English and Welsh colonisers who have set down roots in a small corner of New England.
It's also the story of the first cases of alleged witchcraft in the New World. Until this moment, witch hunts and trials had been left behind, in Europe, but this is where and when they began in the USA.
Several years before the infamous Salem Witch Trials, there was the story of Mary Parsons and her husband. The Ruin of All Witches is a masterwork of history writing and an incredible story of witchcraft.
Buy a copy of The Ruin of All Witches here!
The Witches of Vardø by Anya Bergman
The Witches of Vardø is an unapologetically raw and intense novel about witch hunts and the persecution of women in pre-modern Europe.
Set in 1660s Norway, we follow two protagonists, Anna Rhodius and Ingeborg. Anna was once the secret mistress of the king of Denmark. Now, she has been exiled to a fortress on the island of Vardø.
Ingeborg's mother, Zigri, lost her husband and son to a tragic storm while fishing, and she blames Ingeborg's younger sister, Kirsten, for it. Witch fever can even turn women against each other and mothers against daughters.
In order to pay off her husband's debts, Zigri gave her body to a powerful local merchant, was discovered, accused of witchcraft, and has also been sent to the fortress to be imprisoned and stand trial.
Ingeborg has stood witness to all of this, and sets out on a journey to save her mother and clear her name.
This is the story of patriarchy and how accusations of witchcraft at a time of superstition were nothing more than tools of the fearful and powerful.
The Witches of Vardø is written with rage and beauty; one of the best books about witches and witchcraft in recent years.
Buy a copy of The Witches of Vardø here!
Her Majesty's Royal Coven is the first adult novel by prolific transgender author of YA fiction and nonfiction, Juno Dawson.
Set in a version of the modern world in which a small percentage of us are born with magical powers, our protagonists are a group of thirty-something British witches.
Once close childhood friends, they are now living separate — but still closely connected — adult lives.
One is head of the titular HMRC (Her Majesty's Royal Coven); one has started her own queer London-based coven; one is mother to a budding young witch; and one is reeling from the death of her fiancé.
The novel's catalyst is a young boy who is taken into custody by HMRC after her proves to have dangerous levels of magical power (very uncommon for a warlock; in this world, witches are far stronger).
To make matters more complicated, the witches and warlocks of this world are still reeling from an internal magical war between HMRC and a terror cell of magical people several years ago.
Her Majesty's Royal Coven is a fantastic exercise in urban fantasy world-building; an exciting new approach to writing witches and magic users into the modern day.
And, with its author being a trans woman, the queer representation in this novel is celebratory and beautiful to say the least.
A light-hearted (and very British) found-family story that lacks some of the depth of others on this list but has plenty of charm and some truly loveable tiny witches.
Mika Moon is a solitary witch who has learned to conceal her magical abilities.
Having lost her parents early on, Mika grew up isolated and cautious, only flouting her strict, self-imposed rules through an online persona where she playfully portrays herself as a witch.
She never expects anyone to take her videos seriously until she receives an urgent call for help.
The plea comes from Nowhere House, a secluded manor where three young witches in need of guidance live. Mika becomes entangled in the peculiar lives of the house's occupants, including Ian and Ken (truly gay couple goals) and Jamie the stern librarian come love interest.
As she starts to belong, a threat emerges, and a crucial decision—whether to risk it all to safeguard the newfound family she didn't realize she was seeking.
Author V.E. Schwab is perhaps best known for her A Darker Shade of Magic series and her fantastic novel The Invisible Life of Addie LaRue, but The Near Witch was her first ever published novel, and it's a doozy!
The Near Witch makes for a great place to begin this list of magical books about witches, given just how excellently it leans on the mood and tone evoked by the very concept of witches.
The real history of witches and witchcraft is a bleak one, but in The Near Witch, V.E. Schwab manages to use the fear and hysteria conjured by witches as fuel for her novel.
The Near Witch tells the story of a village, the titular Near. It isn't ever clear if Near exists in our world or not (and if so, when). It almost seems to float in the ether, surrounded by endless moorland and forests.
There is a legend in the village of Near, that of the Near Witch, who befriended the local children and let them play in her garden, until one child suddenly turned up dead.
Our story begins with Lexi Harris, a young girl who spies a stranger in Near. This never happens; there are no strangers in Near. At the same time that this boy appears, children begin to go missing one by one.
Is this stranger the cause of these disappearances, or is it something tied to the legend of the Near Witch?
For its simple narrative as a pseudo YA fantasy novel, and for its deliciously bleak and lonely tone and atmosphere, The Near Witch excels as one of the best magical books about witches.
Set in a lighthouse that sits on a lonely island off the coast of Scotland — Lòn Haven — The Lighthouse Witches blends folklore, mystery, death, superstition, and the supernatural into a bleak and gothic family drama.
The island of Lòn Haven has seen a history of witch hunts, and now locals are disappearing. It certainly seems like Lòn Haven is cursed.
Our family is led by Liv Stay, a woman fleeing for her freedom with her daughters. They arrive at the lighthouse on Lòn Haven and Liv ignores the stories of witches and curses. Yet, soon enough only one member of their family, Liv's daughter Luna, will be left alive.
After twenty years have passed, we follow Luna as she returns to the island and the lighthouse, in order to uncover the truth.
The best books about witches draw on folklore and mystery; they are gothic and suspenseful. The Lighthouse Witches certainly succeeds in these areas.
Set in the Lancashire of the 17th Century, a time of witches and witchcraft, whispers and distrust, Cunning Women is a book about love and female empowerment.
As the book's tagline says: "When it is no longer safe to be a witch, they call themselves cunning."
In a rundown hamlet, the family of Sarah Haworth live in isolation following the famed Pendle witch trials (in which ten accused witches were tried and hanged for witchcraft).
They make their living by treating the people of the neighbouring village with their balms and medicines. The people don't trust them, despise them, but also need them. And one of these villagers — a boy named Daniel — comes to know Sarah Haworth very well.
Soon, the smell of strange death leads a magistrate to investigate the area, and his witch-hunting nose is pointed directly at Sarah and her family of cunning women.
Not many books about witches deliver on the promise of atmosphere and excitement in the way that Cunning Women does. It's an absolute thrillride of a novel.
Read More: Essential Vampire Books
Manningtree can still be found today: a small town in Essex. And this is also the setting of A.K. Blakemore's beloved and award-winning novel The Manningtree Witches.
With a similar initial setup to The Mercies (below), The Manningtree Witches begins in 1643, in a place almost devoid of men, after so many went off to fight in the English Civil War.
Now, we follow Rebecca West and her bitter mother Beldam West, as they come face-to-face with the Witchfinder General.
This is a novel which reveals the blackest hearts of men and the true power and reason behind the witch hunts of Europe and America.
We follow a battle between the powerful and the vulnerable, the men and the women, the suspicious and the suspect, the strong and the weak.
The Manningtree Witches is a beautiful short novel about patriarchy, written with wit and strength and stunning language the evokes the time period perfectly.
The House Witch serves a delectable feast of fantasy, romance, and mystery that will leave readers voraciously flipping through its pages.
With a heartwarming narrative and dashes of whimsical humor, the novel introduces us to Finlay Ashowan — a witch with domestic powers who employs his culinary sorcery to serve the royal household of Daxaria sumptuous meals.
As the narrative unfolds, Fin gets embroiled in a hotpot of courtly intrigue, where he must outwit knights of dubious honor, safeguard the expectant queen, counter the hostilities of the royal mage, and expose a traitor within the castle walls.
His enigmatic past lurks just around the corner, threatening to boil over, while his romantic endeavors add a pinch of spice.
For those seeking an indulgent escape into a world of magic, romance, and royal subterfuge, The House Witch promises a banquet of delights.
This is a novel that doesn't just satiate but leaves you yearning for the next course in this charming series.
Jenni Fagan is one of Scotland's most celebrated writers, and her novella Hex is a wonderful example of why this is.
Hex can be read in a single sitting, and in that time it will take you on a journey through time; teach you about the plight and pain of womankind over centuries.
As books about witches go, this is an extremely literary affair, but also one not without its fantastical elements. Our protagonist is a modern woman named Iris who has cast a spell to transport herself half a millennium into the past.
Iris' goal is to met with Geillis Duncan, a woman who has one night left to live before she is hanged for the crime of witchcraft.
We follow the conversation between these two women as they sit together in a cold jail cell over a single night. Iris teaches Gellis about the modern day world and she keeps Gellis company before she faces the gallows.
Norwegian author Camilla Bruce presents us with an engaging and addictive dual narrative that takes the reader's hand and yanks them from place to time to place.
Our two protagonists are former childhood friends who grew apart, and when the novel begins, one of them is dead.
The one who is still alive, Cathy, lives in a small town, works at a school, and has been trying to write a novel about the local legend of the book's titular witch for years.
After her childhood friend Elena died a year ago, Cathy has been a prime suspect of Elena's potential murder. Naively, Cathy has chosen to defend herself by writing a public diary on her own Facebook page.
When we aren't reading Cathy's public diary, we are reading the private journal of Elena, specifically the months leading to her death.
Elena didn't live in the town, and only visited during her childhood summers. As an adult, she returned to the town to sell the cabin she once stayed at, and now she's dead.
However, in the weeks leading up to her death, she began to believe that the ghost of the town's witch had latched itself onto her, and she felt compelled to write her own book inspired by the witch, Ilsbeth.
This is a witchy novel full of twists and turns, paranoia and insecurity, folklore and hearsay. Questions are posed, answered, and replaced with even more enticing questions as the story goes on.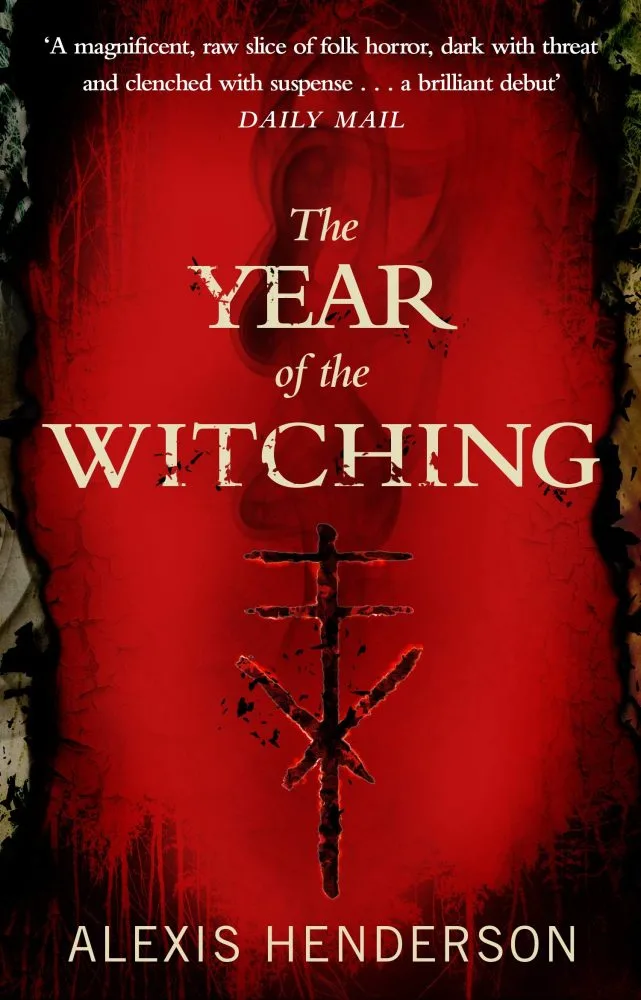 If you want your books about witches and witchcraft to be true gothic fantasy romps, look no further than The Year of the Witching.
Set in the town of Bethel — the place where the first Prophet hunted down and killed four dangerous witches — we follow Immanuelle as she does her best to follow the Holy Protocol of the Church.
Beyond the limits of Bethel is the Darkwood, a place haunted by the ghosts of those witches. When Immanuelle finds herself drawn to the Darkwood, the ghosts of the witches gift her the diary of her mother.
When the diary reveals that her mother consorted with the witches, Immanuelle sets out to discover the truth. This means the truth of the witches, the Church, and the sinister goings on behind it all, and behind the town of Bethel.
While not strictly about witches, like many of the other books about witches on this list, The Mercies instead cleverly embodies the concept of what witchcraft meant and represented in centuries past.
Kiran Millwood Hargrave's first adult novel is set in 1617, on a lonely and isolated Norwegian island. One Christmas Eve, every man on the island drowns in a freak storm, leaving the women alone to live free and fend for themselves.
That is, until a Scottish Christian with a mission comes to the island. Absalom is here to restore religious law and order through patriarchal suppression, and he has brought his new and miserable young wife along with him.
Beginning with the storm, then the arrival of the man, The Mercies ends in a climactic third act called "Hunt", which, given the tone of this novel, the time period, the dogma, and the topic of this list, is exactly what you might assume it to be.
The Mercies isn't one of the most obvious books about witches; instead, it's a book about the paranoia and systemic, religious oppression that led to the witch hunts of history and legend.
Like The Familiars by Stacey Halls (below), Everyone Knows Your Mother is a Witch is a piece of historical fiction inspired by real people and real events. In the case of this novel, that real person is/was Katharina Kepler.
Kepler was a 71-year-old woman accused of witchcraft, and this novel tells her story. She was the mother of a renowned astronomer and mathematician of the royal court. In fact, Johannes Kepler's name remains important and influential to this day.
It is incredible to think that the mother of one of the world's great mathematical minds was put on trial for witchcraft, but that absurd series of events is what Everyone Knows Your Mother is a Witch documents with passion, verve, and rawness.
Set in the 17th Century, this is also a time of plague, and the moment at which The 30 Years' War was just beginning. As books about witches go, this one is educational, impactful, and chock full of heart.
All the Birds in the Sky is a novel of big ambitions that wants to cater to several different types of readers. And it succeeds! Blending witchcraft and folklore with science fiction, All the Birds in the Sky is one of the more unique books about witches you're likely to read.
Patricia is a witch. Laurence is a scientist. They both went down to Berlin, joined the Ice Capades (that part isn't true; it's a Ramones reference).
As outsiders in their own unique ways, the two bonded as children: her discovering magic and witchcraft and him building a supercomputer in his bedroom.
As adults, Laurence is a San Francisco-based genius of engineering, while Patricia is a graduate of the secret school for magically gifted people: Eltisley Maze.
The world is ending. As a mad scientist, Laurence is looking for a way to escape a doomed world. As a witch, Patricia is working to fix the world's wounds. Their feats and endeavours will bring these childhood friends and strange misfits back together.
All the Birds in the Sky is YA fantasy goodness. It's fun, charming, and full of big ideas. One of the more unique and strange books about witches, without a doubt.
Alix E. Harrow's historical novel is set in 1893: a time when the social paranoia surrounding witches has all but vanished, and witchcraft now means nothing but fun and funny superstitions.
However, amidst the fight for women's suffrage and equal rights, we have three sisters who are looking to mix into this fight a pinch of the supernatural and the dark.
What makes The Once and Future Witches one of the best books about witches is its willingness to be stern and upfront about its own love for witch-related folklore and its passion for feminism and women's rights.
Empowering and exciting in equal measure, The Once and Future Witches is a fun, frantic, and frenetic novel.
Beginning in Brittany in 1821, and following several generations of Romani travellers across the 19th Century and into World War II era England, A Secret History of Witches is a hefty family saga all about the Orchière family and their power as witches.
As witches and Romani people, the Orchière family faces prejudice and persecution as they attempt to survive and hold on to their traditions.
Translated from the Spanish by Sophie Hughes
Hurricane Season is one of those rare masterpiece novels. Difficult, testing, and exhausting, it is not an easy read, but it is one that absolutely deserves your time and your dedication.
Framed initially as a whodunnit of sorts, Hurricane Season's first and shortest chapter — at just a single page — takes us by the hand to see a dead body. That of a woman known by the book's locals as The Witch.
To find out whodunnit, we have to trace the lives of the various people who, in one way or another, knew The Witch.
These people all reside in the Mexican village of La Matosa, and the woman they simply refer to as The Witch was someone many of them would come to from time to time.
The women of the village would seek her out for 'potions' and 'spells', often with regard to illness, pregnancy, or other issues.
While the men would take refuge in her house to enjoy orgies that outside society would not approve of. The Witch, in other words, took on the burdens that the people could not — or would not — hold themselves responsible for. And now she's dead.
Each chapter of Hurricane Season is, in part, a self-contained story. Characters are shared, and we often get to know one character as our protagonist after seeing them in the periphery of an earlier chapter.
Each time they're framed differently, and it becomes clear that this is a deceptive book.
Everyone is an unreliable narrator. Or is it simply that we cannot help but be biased when it comes to events surrounding ourselves. We shift blame, colour ourselves in brighter or darker shades. We lie, either comfortably or guiltily.
That's the pain that Hurricane Season brings: unwanted honesty. While its characters are undeniably despicable, for reasons their own or sometimes not, they are never anything less than human. And the honesty there can bring us some real guilt.
Read More: The Best Modern Mexican Novels
Set in Lancashire, UK, 1612, and inspired by real people and events of that time period, Stacey Halls' debut novel The Familiars tells the story of Fleetwood Shuttleworth. Not yet even twenty years old, Fleetwood is pregnant by her husband, a rich lord of the land.
However, Fleetwood has had several failed pregnancies and is unlikely to survive another. In fact, her husband has received a letter from her doctor that states as much.
Early in The Familiars, Fleetwood meets a young girl named Alice who is accidentally hunting on her husband's land. Alice is a medicine woman and a midwife who becomes a dear companion to the frightened Fleetwood.
But The Familiars is also a historical British novel about witch hunting and the superstitions surrounding witches at that time in British history. In fact, King James himself wrote a book called Daemonologie: a compendium on witchcraft lore.
While there is nothing explicitly supernatural in The Familiars, this remains one of the best magical books about witches and witchcraft by virtue of it dealing with the very real superstitions of the time period in which it is set.
Other than his standalone Discworld novel Small Gods (which also happens to be many readers' favourite), every book in Terry Pratchett's expansive Discworld series follows one of seven central protagonists:
Rincewind the wizard, Death, the Witches, the Ankh-Morpork City Watch, the wizards of Unseen University, apprentice witch Tiffany Aching, and con artist Moist von Lipwig.
Most Pratchett fans have their own preferred protagonist. Here, we are of course focussing on his Witches, and the novel in which they first took centre stage: Equal Rites, published in 1987 as the third official Discworld novel.
Equal Rites begins with a wizard, Drum Billet, who wishes to pass on his staff and his power to the eighth son of an eighth son. That son turns out, however, to be a daughter: a girl named Esk (a character based on Pratchett's own daughter, Rhianna Pratchett).
As Esk grows and reveals incredible powers, she is taken in by the witch Granny Weatherwax, who travels with Esk to the Unseen University in order to help her manage her magical powers.
Equal Rites, its name a clever play on the term "equal rights", is the perfect place to start reading Pratchett's Witches series of Discworld novels, and is also one of the smartest and most memorable books about witches and witchcraft you're ever likely to read.
Every other book on this list is a novel, a comic, or a manga. The Witches, however, is a nonfiction history book by Stacy Schiff. As its subtitle makes clear, The Witches closely examines the history of Salem in the year 1692.
Consider The Witches an account — perhaps the definitive account — of paranoia and hysteria at a time of accusations, witch hunts, and hangings. Set in the infamous town of Salem, Massachusetts, The Witches takes a look at the year that changed everything.
Stacy Schiff combines astute writing with detailed research to pen a meticulous, haunting, and unsettling account of a community that turned on itself, cannibalised and butchered itself; infected with fear and superstitious fervour.
A document of the historically infamous and shaking Salem Witch Trials is, it goes without saying, one of the most essential books about witches you'll ever read.
Comics and Manga About Witches and Witchcraft
Translated from the Japanese by Stephen Kohler
Kamome Shirahama has drawn some fantastic comics and comic book covers for Marvel and DC, but she truly established herself as an outstanding mangaka with her debut series: Witch Hat Atelier.
As magical books about witches go, this manga series is absolutely one of my personal favourites, both for its characters and its imaginative art style.
Witch Hat Atelier has real Diana Wynne Jones energy, with one character who feels reminiscent of Howl from Howl's Moving Castle and a setting reminiscent of that seen in A Charmed Life.
This magical manga series begins with a young girl named Coco, who lives rurally with her dressmaker mother. One day, a wizard named Qifrey comes along and helps Coco out of a jam. Coco observes his magic and attempts to copy it.
This attempt backfires and leads to Coco's mother being petrified. Qifrey promises Coco that there may be a way to restore her mother, but she will need to become his apprentice in order to find it.
So begins a fantastical journey filled with unique magic systems, charming and eclectic characters, beautiful landscapes, and exciting events.
Witch Hat Atelier is beautiful and imaginative in its world-building. It has Harry Potter energy as well as a heavy Diana Wynne Jones influence, and Shirahama's stunning, textured art does wonders to enhance the story and events of Witch Hat Atelier.
Translated from the Japanese by Taylor Engel
Initially an anime franchise created by the brilliant animation studio Trigger, Little Witch Academia was also adapted into a manga, written by series creator Yoh Yashinari.
Little Witch Academia is perhaps the ultimate answer to Harry Potter. It takes a lot of the tropes, rules, settings, and magical ideas established in the Harry Potter franchise and twists them, distorts them, reinvents them, and plays with them in endlessly inventive, charming, and often hilarious ways.
It cannot be overstated just how much sweetness, charm, and creativity exists in this adorable, magical series. It is beautifully drawn, expertly plotted, and filled with infinitely likable characters.
Little Witch Academia is an absolute dream of a series. Any manga fan needs to read this if they're looking for the best books about witches and witchcraft.
While he is most famed and celebrated for his stellar run on DC's Batman and his own American Vampire series, one of Scott Snyder's coolest creations was the Image comic he created with Scottish artist Jock: Wytches.
Books about witches take different forms: they can be sweet and charming, they can be historically accurate, they can be colourful and cartoonish. Wytches chooses to be dark as all hell. Bleak, twisted, frightening, and entirely unhinged; Wytches is true comic book horror.
Beginning in true American horror story fashion, Wytches opens with a family moving to a rural town in New Hampshire (a state famous for its witch hunts) looking for a fresh start. But there is something awful, evil, and violent hiding in the woods outside town.
Wytches puts the visceral and raw style of Jock's art to use better than almost any other comic book he's ever worked on. Together, he and Snyder have created one of the most impactful and terrifying books about witches ever written.