What it means to identify as queer differs by person, it's an umbrella term that encompasses a wide range of sexual orientations and gender identities, including lesbian, gay, bisexual, transgender, non-binary, asexual, amongst many others.
Queer graphic novels are a diverse and growing genre that reflects the diversity of the queer community, they're full of the real lived experiences of those in the community and fantasy worlds that centre queer love and lives.
In this article, we have attempted to represent a broad scope of queer writers and stories. You'll find a lesbian memoir, a gay romance, queer graphic novels filled with asexual and non-binary characters, as well as books by trans writers featuring trans characters.
The LGBTQ+ community has stuck its flag in the comics and manga scene, and we are living for it. This list might not be exhaustive by any means, but these are all queer graphic novels and manga that have affected us and we hope that you will love them equally.
Read More: LGBTQ+ Books from Around the World
Queer Graphic Novels and Manga
From queer memoirs to gay romances to action series' with queer protagonists, here is a deep and varied list of some of the best queer graphic novels available right now.
On a Sunbeam by Tillie Walden
Tillie Walden is legendary on the queer graphic novel scene by this point but if you have managed to miss this stunning work then here's your friendly push to pick it up next.
There's so much going on in this story which balances Star Wars, space adventure romp with multiple timelines, romance, and newfound family.
Every page is more breathtaking in the last, notably the full-art pages which are fully deserving of being framed. The use of red and blue throughout On a Sunbeam is a feast for the eyes and forces you to linger and reread for full impact.
Our main protagonist, Mia, is part of a crew that rebuilds beautiful and broken-down structures throughout space, piecing the past together.
As Mia gets to know her team, who are each well fleshed out with their own stories that become relevant later, we flashback to Mia's time in a boarding school where she fell in love with a mysterious new student.
Mia finally reveals that she's joined their ship to track down her lost love.
Tip: If you love queer literature, then you'll love Queer Book Box. You can choose to just receive a handpicked queer book a month or and All Out Box where you'll get access to a book club, bookish gifts, queer zines and comics plus an all-manner of goodies.
You can receive five pounds off your order by using our Queer Book Box referral link.
Fun Home & Are You My Mother? By Alison Bechdel
Upon its publication, Fun Home very quickly started winning prizes and found itself at the top of many Book of the Year lists. Bechdel herself already had a long and loved career as the cartoonist of Dykes to Watch Out For, but Fun Home propelled her into the literary stratosphere.
Fun Home and its sequel, Are You My Mother? are both biographies that muse on the shaky and threadbare relationships between parents and their children, specifically from the perspective of a queer daughter struggling with her mental health.
Fun Home's initial conceit is that Bechdel's own father came out as gay shortly before dying after he was hit by a truck.
Whether or not his death was suicide hangs over the book while Bechdel attempts to piece together her fractured relationship with him, her own queerness, her success, and even her relationship with her psychiatrist.
Are You My Mother? focuses more on Bechdel's relationship with her mother, both while growing up and as an adult. It's a quieter book in some respects, but it does go into detail about Bechdel's ongoing mental health struggles and how they are linked to her upbringing.
Both of these books are gorgeously, intimately drawn and written with such a raw, stripped-bare kind of intensity.
Mooncakes by Suzanne Walker (with Wendy Xu)
This cozy and colourful YA graphic novel is beautifully diverse and a wonderful portrait of both young queer love and older queer couples with one of my favourite older lesbian couples I've seen in literature.
Nova Huang, a teenage witch with a deep knowledge of magic, works at her grandmothers' bookshop where she helps them loan out spell books and investigate supernatural occurrences in their New England town.
One night, she follows reports of a white wolf into the woods and stumbles upon a shocking sight: her childhood crush, Tam Lang, battling a horse demon.
Against the backdrop of witchcraft, untested magic, occult rituals, and family ties both new and old, Nova and Tam's latent feelings are rekindled as they work together to unravel the mysteries surrounding Tam's past and protect the magic of wolves.
The Well by Jake Wyatt (with Choo)
In this breathtaking and witty graphic novel, Jake Wyatt and Choo explore the power and limits of wishes in a modern fable rooted in magic and family secrets.
On the archipelago, Lizzy cares for her grandfather and their goats, flirts with the ferrywoman, and avoids the fog and monsters that come with night. But when she steals coins from a sacred well to cover a debt, her life is turned upside down.
The well demands repayment in wishes, and its minions will drown Lizzy if she doesn't comply. To break the curse, Lizzy must uncover hidden memories, bestow wealth, and face the magical secrets that nearly destroyed her family before it's too late.
If you love fantasy adventure stories, don't miss this wonderful queer graphic novel.
When I Came Out by Anne Mette Kaerulf Lorentzen
Translated from the Danish by Charlotte Barslund
When many graphic novels and novels featuring LGBTQ+ stories are aimed at young adults and tell the stories of young adults, it's refreshing to read the memoir of someone who has taken a longer route to discover their sexuality.
Louise, our protagonist, has been married for twenty years to her husband and has four children but is realising that she's not being honest with herself and yearns for a relationship with another woman.
When We Came Out takes us on a trip through her life as she recounts those subtle signs that were always there and ultimately her journey towards coming out. It's funny, poignant, and you truly bond with Lousie from the get-go.
With elegant anthropomorphic pink and green drawings taking us through the story, this is a delightful and uplifting queer graphic novel that needs to be read.
Read More: Books to Read Before You Visit Denmark
Bloom by Kevin Panetta and Savanna Ganucheau
Now here is a meet cute: a young baker, sick of his job and anything to do with it, falls for an interviewee looking to take over his job, spurred on by his passion for baking. This is a sweet and charming story of blossoming queer love, to say the least.
Bloom also doubles as a phenomenal celebration of baking and baked goods in general, thanks to Ganucheau's lovingly rich and detailed visual descriptions of the food which plays such a major role in the story.
This loving detail carried on to the rich and lived-in environments and the characters' expressions and posture. This is an artist with a sense of personality and place.
Lumberjanes
Here is a queer graphic novel that had an exciting start in life and continued to morph, change, and develop as time went by.
Initially created by Noelle Stevenson and drawn by Grace Ellis, multiple writers and artists have now worked on the series, including transgender writer Lilah Sturgess, who penned Lumberjanes: The Infernal Compass.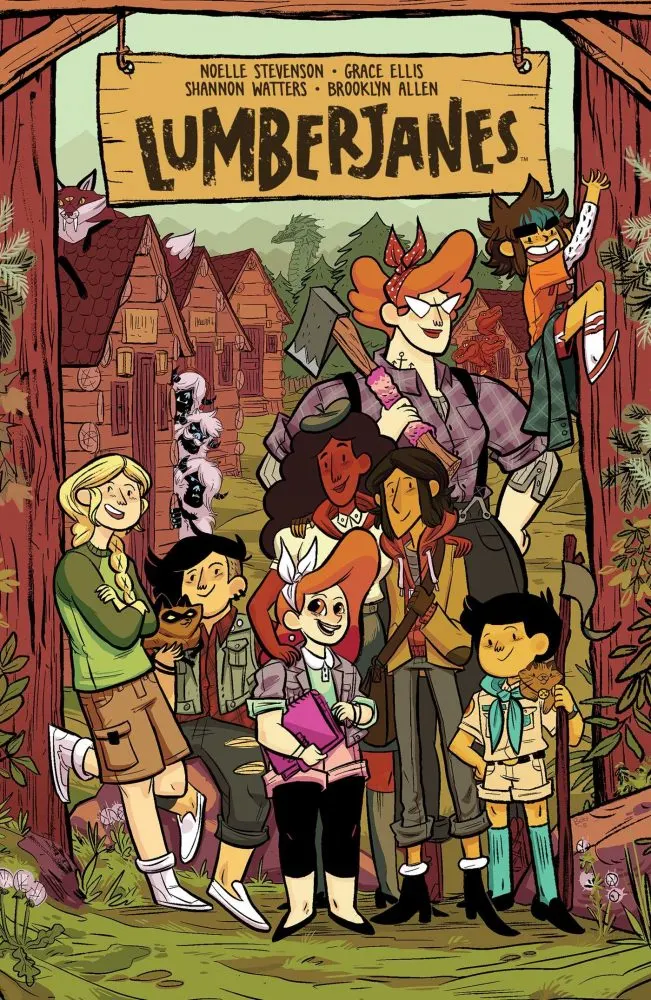 Lumberjanes began as a celebration of female strength and friendship. It's a corny, cheeky, cheerful comic book series that pops with colour and goofy humour. A campy, raucous ride for all ages.
Having been taken on by multiple writers and artists over the years, however, its diversity has grown and spread, celebrating not only women but also queer people of all shapes and sizes.
Heartstopper by Alice Oseman
Alice Oseman is a big name in the YA genre these days, covering various avenues of queerness with her comics and novels. Her book Loveless is both a lesson in, and a poignant letter to, asexuality and aromanticism. But if you're looking for a beautiful queer graphic novel, check out her series Heartstopper.
Heartstopper is something of a spin-off from Oseman's debut novel Solitaire, focussing on the blossoming gay romance of the brother of that book's protagonist.
As its cover succinctly explains, this is the story of boy meets boy, with Charlie — an out but awkward gay British teenager — gently falling in love with the more traditionally jockish Nick.
What makes Heartstopper such a breath of fresh air, both in the romance genre and as a queer graphic novel, is its approach to romantic tropes.
Quite often, the book will teasingly lean into a cliche about arguments, misunderstandings, or poor communication, only to resolve, circumvent, or even outright poke fun at that trope. This leads to a very fresh and refreshing kind of gay romance story.
Lovingly drawn and written with charming awkwardness, Heartstopper delivers moments that'll make you crease up and squeal with excitement, and others that'll have you sighing and swooning with love and sympathy for its characters.
This queer graphic novel isn't just a delightful story; it's a celebration of young gay romance.
Laura Dean Keeps Breaking Up With Me
Freddy is trapped in a toxic on-off relationship with her girlfriend Laura Dean who repeatedly blows hot and cold, treats her badly, and messes around with other women.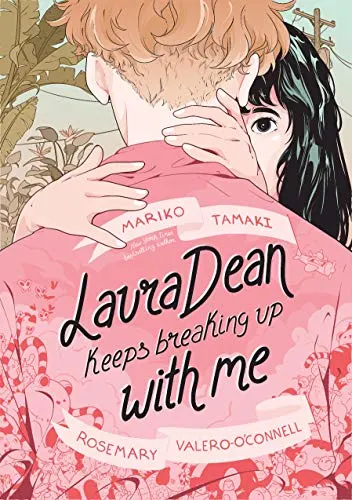 Freddy gets in touch with advice columnist Anna Vice to work through her emotions and become a better friend after spending so much time absorbed in her relationship and letting everyone else down.
A highly relatable, high-school drama that deals with some tough themes like abortion. It's refreshing to see an example of a Lesbian relationship with problems we often only see in heteronormative stories, that also has a happy ending.
Laura Dean Keeps Breaking Up With Me is also beautifully drawn and coloured in black and pink.
How to Be Ace: A Memoir of Growing Up Asexual by Rebecca Burgess
Very slowly, more ace fiction and nonfiction is being introduced into the world as awareness is raised and more people are sharing their own stories.
While there's a long way to go in terms of good ace representation in popular media, this graphic memoir is an important read for anyone and a must-read for aces of all ages.
Feeling different and alone in your feelings is inevitable at times for ace (asexual) or aro (aromantic) people with a world that pushes romance and sex as the norm and ignores the other relationships that bond us – like friendship and familial.
So, reading Rebecca Burgess's colourful memoir, and other recent novels like Alice Oseman's Loveless, can certainly help with that feeling even if many of us wish they existed while we were in school.
How to be Ace takes us through Rebecca's life from her school life where she was bullied and confused to an adult struggling with her identity and experiencing anxiety and OCD. It's insightful, honest, and depicts asexual relationships in ways that we're yet to see elsewhere.
Gender Queer: A Memoir by Maia Kobabe
Being queer — and, more specifically, being gender queer — means a lot of different things to a lot of different people. But most of us have struggled with our identity and how we outwardly project ourselves to others at some point or another.
In Gender Queer, writer and artist Maia Kobabe retraces their own journey through life as a gender queer individual.
This is a queer graphic memoir which traces the steps of a life lived, as well as one explored and tested. The journey to understanding Maia's own non-binary identity and asexuality, while traversing a gendered and binary world, is a fascinating one.
It will either draw out empathy and understanding from other queer readers, or will offer invaluable insight into this queer world for those who reside outside of it.
Read More: 9 Transgender Stories and Books by Trans Writers
Stone Fruit by Lee Lai
Stone Fruit has a simple premise that delivers a quietly heartbreaking and tender story with a very real look at when relationships break down due to mental health issues and unresolved family trauma.
Bron and Ray are a queer couple who enjoy their role as the fun weirdo aunties to Ray's niece, six-year-old Nessie enjoying escaping into the fantasy world they create together.
Bron, a trans woman estranged from her religious family is struggling with wanting to reconnect with her terrible family, and address her declining mental health. Ray struggles with Bron's emotional absence and her own fraught relationship with her sister.
The unifier in Stone Fruit is Nessie who loves both of them and creates a special bond between the three that remains past Ray and Bron's relationship breaking down highlighting the beauty of found family.
Monstress by Marjorie Liu and Sana Takeda
Monstress is a lot. This is a deep dive into fantasy fiction that has far more lore, history, and politics wrapped up in it than your average comic book.
This queer comic carries the weight and intensity of a fantasy epic, and its incredible scope can be as daunting as it is impressive. But in her world-building, Marjorie Liu has achieved so much.
First off, she has created a compelling yet terrifying matriarchal society with so many intricate moving parts.
Secondly, she has carved out a powerful queer protagonist in Maika Halfwolf, a stoic and often terrifying main character. This is a delightfully gay story set in a gritty and dark steampunk world.
Fantastical and overflowing with imagination and narrative worldbuilding, Monstress can often feel overwhelming but having a protagonist as elegant yet gruesome as Maika, and having her be queer (and not the only queer character either) is endlessly exciting.
Monstress is an Image Comics series beloved by fans and a wonderful example of how to writer a powerful queer protagonist.
Read More: Best Batman Comics for New Readers
Bingo Love by Tee Franklin, Jenn St. Onge, and Joy San
This is something you so rarely see in any kind of medium — queer, cis, gay, straight, whatever — and that is a romance between two older people. Love stories are often reserved for the young and the spritely.
But here is a queer comic book that features two women of colour in their mid-sixties, falling in love and enjoying their own queer romance.
The story begins with tragedy, as our protagonists fall in love at a young age but are forced apart and into more traditional marriages by family and societal pressures.
When they reunite so many years later, they get a second chance at love and life together. Bingo Love is a wonderful queer romance that will make you sing.
Lights, Planets, People by Molly Naylor (& Lizzy Stewart
A beautiful graphic novel that sees right into your soul and revels in picking apart your own worst anxieties. The narrative flits between renowned astronomer Maggie Hil lecturing a hall of students as she attempts to inspire young women to work in science and her first therapy session.
Here Maggie discusses, with difficulty, her own neurodivergence, mental health, problems with being in relationships (focusing specifically on her recent relationship with Jane), and her intense desire to make a difference to the world through her work.
The full-page spreads and art in Lights, Planets, People will take your breath away. Avery Press is publishing some of the most exciting queer graphic novels at the moment, and this is one of their best.
Buy a copy of Lights, Planets, People
Best Queer Manga
Queer manga has a long and interesting history with distinct genres being prominent from the 1970s onwards including Yaoi, or Boy's Love and Yuri Girl's Love from the 1970s onwards. Here are a few very recent collections to get you started on your LGBTQ+ manga journey.
My Lesbian Experience With Loneliness & My Solo Exchange Diary by Kabi Nagata
My Lesbian Experience with Loneliness is a graphic memoir written and drawn with a raw honesty. It opens your eyes to an important yet painful reality in Japan, all through the use of dark humour, minimalist art, and self-acceptance.
This queer memoir tells the story of Kabi, a woman who decided against attending university, and spent her early twenties in a haze of depression, drifting through jobs at stores and bakeries and, when she finds the energy to do so, she writes manga.
Eventually, she arrives, age twenty-eight, at a turning point. She decides to hire a female escort and a room at a love hotel, in order to learn and understand all that she believes she has missed out on in her youth.
The art of My Lesbian Experience With Lonliness, made up of pastel pinks against thick blacks and empty whites, is stunning. It has a calming energy that offsets the bleak humour and tragic personal tales.
But it meshes beautifully with this sense of opening up, risking pain and vulnerability, in the search for acceptance and happiness. The sequel My Solo Exchange Diary take us further into Kabi's life.
Buy a copy of My Lesbian Experience With Loneliness
Read More: Best Asian Graphic Novels
My Brother's Husband Gengoroh Tagame
My Brother's Husband tells the story of Yaichi, single father of his kawaii-as-hell daughter Kana, and the arrival of the bear-like Canadian, Mike, who has come to share grief and comfort over the loss of his husband, and Yaichi's twin brother, Ryoji.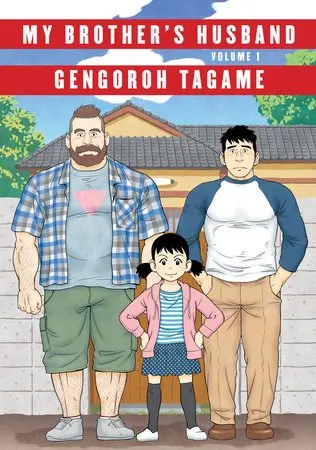 It is made clear from the start that Yaichi never quite accepted his brother's sexuality, nor his immigration to Canada. On top of that, the theme of acceptance is hammered home by Kana, a young and infinitely positive child who sees the good in everything.
My Brother's Husband is a beautiful, well-crafted queer manga; a tale of family and love. At its core, it really is about nothing more than love in all its forms. It is unrelentingly cute, sweet, and joyous; a celebration of love both familial and romantic, and a true pleasure to read.
Buy a copy of My Brother's Husband
Our Dreams at Dusk by Yuhki Kamatani
Tasuku Kaname is a gay teenager trying desperately to come to terms with his sexual identity and find peace within it, all the while he is bullied and shunned by his classmates.
Slowly, he is introduced to a selection of colourful queer characters who all have their own struggles and their own lessons to teach Kaname.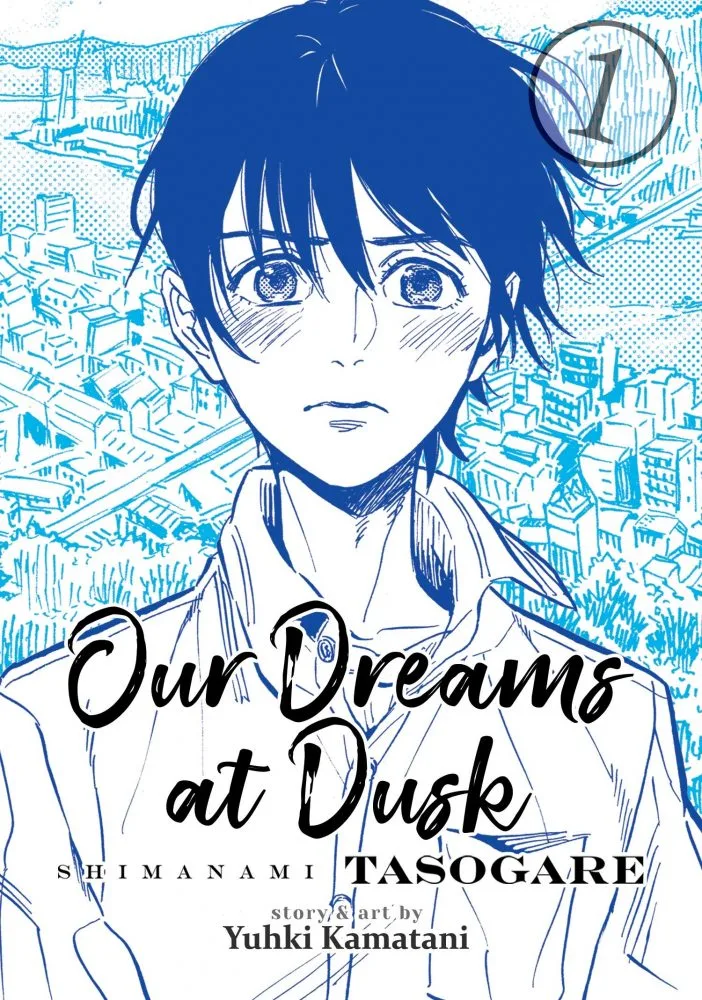 Our Dreams at Dusk is a gorgeously drawn queer manga, full of love for the entire queer community. It celebrates the act of love and, specifically, of loving oneself above everything else.
This queer manga explores the dangers of marginalisation and the strength it takes to overcome, find a community, and feel loved. It is very much a story of empathy, love, and community.
Buy a copy of Our Dreams at Dusk
To Strip the Flesh by Oto Toda
Translated by Emily Balistrieri
To Strip the Flesh is a short manga, comprised of just two chapters, which explores the life of a young trans man named Chiaki.
Chiaki lives with his father, a hunter, and makes money from documenting their hunts on YouTube. His followers, however, enjoy seeing his large breasts in tight clothing.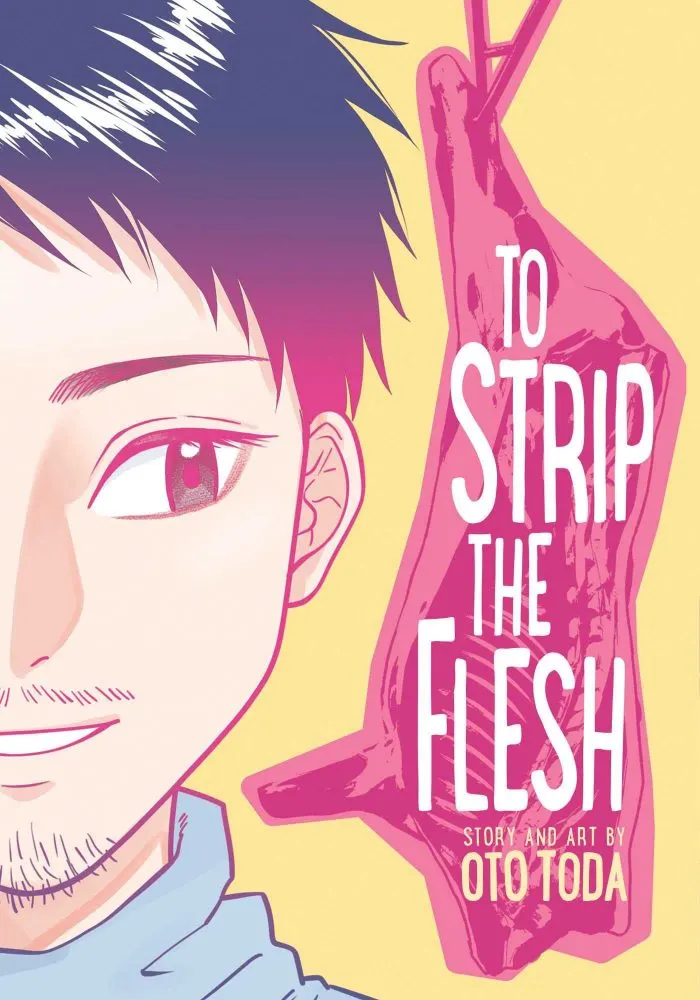 Despite this, and his father's wish for him to get married and be a beautiful bride, Chiaki has been pursuing HRT and wishes to also have GRS.
Chiaki is attempting to balance what he wants with what he sees as his duty to make his dying father happy.
We watch as their relationship changes and Chiaki finds his own happiness over the course of this short but beautiful queer manga.
Buy a copy of To Strip the Flesh
The Bride was a Boy by Chii
Too many transgender stories end in, or are peppered by, tragedy. The Bride was a Boy bucks that trend by being a sweet, warm, adorable transgender story of love and romance. This is the story of a young trans woman whose boyfriend completely adores her. Now, she is to become a bride.
Drawn in an absurdly adorable chibi art style, with squashed, kawaii characters bubbling with life and colour, this is a celebration of love and transness.
This queer manga is an essential transgender story and trans manga for anyone who wants to see what a more positive, celebratory trans story can bring to the table. It's funny; it's sweet; it's heartwarming.
The Bride was a Boy will have you singing and laughing and cheering for the sweet romance of a young trans woman and her doting future husband.
Buy a copy of The Bride Was a Boy
If you enjoyed this list of queer graphic novels and manga, please share with anyone you think would enjoy it.