Pat Barker, whose books feature on this list of the best Greek mythology books, once said that history is about then, but myths are about now. If anything proves that statement to be true, it's the books on this list.
What you'll find here are two kinds of Greek mythology books: compendiums of Greek myths and legends by some of the most renowned authorities on classics writing today; and the best novels that make up the genre of "Greek myths retold".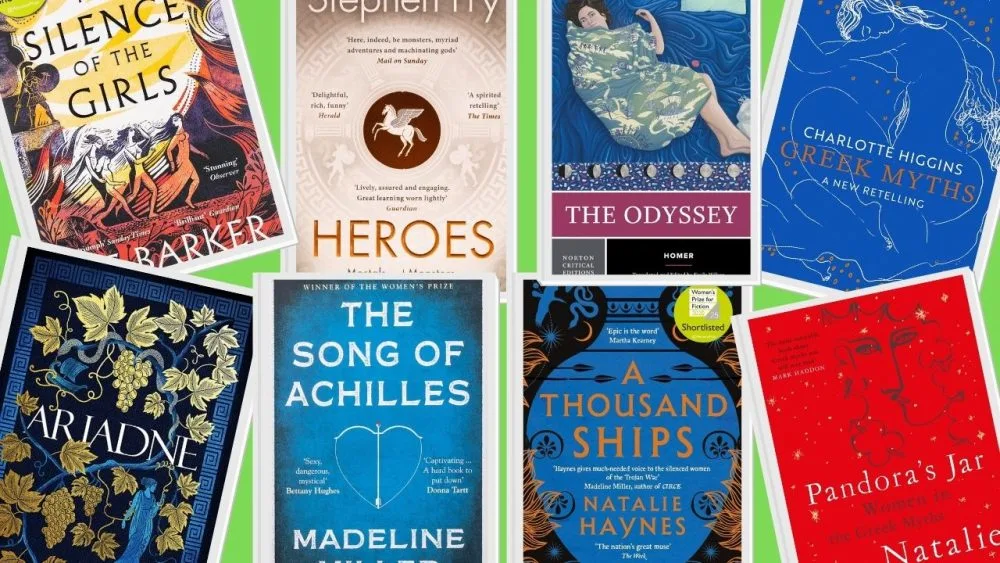 The Best Greek Mythology Books (Compendiums and Novels)
Retellings of beloved Greek myths have become very popular amongst writers and readers alike over the past few years, beginning with The Song of Achilles, and for good reason!
Whether you're looking for the best Greek mythology books that give you an overview of the gods, titans, heroes, and events of Greek mythology, or you're looking for full novels that take Greek myths and legends, and breathe new life into them, you'll find them both here!
Greek Myths: A New Retelling by Charlotte Higgins
The stories of Greek mythology — whether they be about gods, heroes, or monsters — have a nasty habit of focussing on the exploits of men.
Almost all the books on this list of the best Greek mythology books focus on correcting this.
But the only book that is taking on this challenge in the form of a complete compendium, rather than a novelised single story, is Greek Myths by Charlotte Higgins.
If you're looking for the best Greek mythology books that cover everything from the creation myths, the titans, and the gods, all the way to the events of the Trojan War, this is the book you need.
Greek Myths puts the women of Greek mythology at the front, using a framing device of tapestry weaving to tell its narratives.
In an interview with Charlotte Higgins which we attended, she discussed the historical importance of visual storytelling through objects like tapestries, pottery, and even Achilles' shield.
And so Higgins uses this visual method to create her own framing device.
The gods and heroes of Greek mythology are all here; their stories are all retold beautifully by Higgins.
But, as she mentioned in the interview, she avoids using "the h-word", given how outdated it seems today to refer to war criminals as heroes.
Greek Myths is a gorgeous, detailed book on Greek mythology, retold by an expert in the field of classics, and one of the definitive best Greek mythology books on the shelves right now.
Buy a copy of Greek Myths here!
Clytemnestra by Constanza Casati
Clytemnestra, the debut novel by Costanza Casati, is the new gold standard for Greek Mythology retellings, pushing the genre even further forward.
This is a dark, angry, intimate, epic novel that follows the life of the titular Clytemnestra, a Spartan princess who is known for being the wife and murderer of Agamemnon, king of Mycenae.
Clytemnestra begins with our protagonist's youth, growing up alongside her sister Helen, falling in love with a decent man, and eventually having his son.
But we know that, eventually, she will be married to the bloodthirsty tyrant king Agamemnon; her sister Helen will marry his brother and be stolen to Troy by Paris, thus beginning the Trojan War.
This masterpiece of a Greek Mythology retelling covers all of this and more, sparing none of the tragedy that befalls our protagonist.
We watch her become abused, traumatised, and twisted into a vengeful, venomous queen. We clench our fists in hope that she will be vindicated, find her revenge, spill the blood that deserves to be spilled.
A tense, angry feminist masterpiece of a novel, Clytemnestra is a must-read for all fans of Greek Mythology books.
Buy a copy of Clytemnestra here!
The Song of Achilles by Madeline Miller
Arguably the book that kicked off this entire genre of novels that retell Greek myths and legends, and the reason we're talking about the best Greek mythology books at all!
The Song of Achilles rewrites the story of ancient Greece's most treasured hero, reinjecting into it the queerness that academic history has gradually removed.
This is the story of Achilles and his lover, friend, and brother-in-arms Patroclus.
In the first half, we are told the story through the eyes of Patroclus. We see his childhood, his banishment, his teen years spent training with — and falling in love with — Achilles.
The second half retells the Trojan War from an intimate perspective, as Patroclus and Achilles speed to Troy, and to the fates we all know are waiting for them both.
This is a story many of us know, but Madeline Miller has made sure to put the romantic and fraternal relationship between Patroclus and Achilles at the forefront.
A true modern masterpiece of queer literature and one of the best Greek mythology books out there.
Buy a copy of The Song of Achilles here!
Circe by Madeline Miller
After the success of The Song of Achilles, Madeline Miller turned her attention away from heroes and instead to the Greek gods.
Beginning on Mount Olympus, in the House of Helios the sun god, Circe is born a witch, not a goddess.
As a result, she is banished to an island on Earth, alone, but fated to cross paths with recognisable gods and heroes of Greek mythology.
Circe has always been a minor god; a footnote in many stories of Greek myth.
Here, Madeline Miller rights this wrong by telling Circe's story in full, featuring her at the centre and making heroes like Odysseus the footnotes instead.
This is, loosely, the story of The Odyssey with a feminist twist, and we are here for it.
The Silence of the Girls by Pat Barker
Published around the same time as Madeline Miller's Circe, Pat Barker's The Silence of the Girls takes a similarly feminist, but far more grounded, approach to Greek myths and legends, and the result is one of the best Greek mythology books ever written.
Also like Circe, which was inspired by The Odyssey, this novel focuses on retelling The Iliad from the perspective of ordinary people, not heroes.
The Silence of the Girls retells the story of the Trojan War from the perspective of Briseis — queen turned captive turned prize for Achilles as a spoil of war.
Pat Barker has a knack for taking eras and stories that typically focus on the masculine and the heroic, and putting the focus instead on the tragedy of it all.
She did it with Regeneration and World War I, and she's done it here with The Silence of the Girls.
This is one of the most powerful books about Greek mythology you're ever likely to read; a novel that highlights the darkest, most desperate, most deplorable acts of warfare. A feminist retelling of the highest calibre.
Buy a copy of The Silence of the Girls here!
The Women of Troy by Pat Barker
Following on from her amazing success with The Silence of the Girls, Pat Barker kept her momentum up with The Women of Troy. The Greeks have won the war and Troy has fallen.
Now we see the aftermath of war, once again from former queen Briseis' perspective as she forges alliances in a desperate bid to survive a brittle landscape and an era of enraged gods.
Nobody writes war like Pat Barker does. Her depiction of Briseis is amongst the best of any done by authors of Greek myths retold.
Pair this with The Silence of the Girls and you have some of the best Greek mythology books ever written.
Buy a copy of The Women of Troy here!
Read More: More books on Greek, Norse, and Japanese mythology
The Wolf Den by Elodie Harper
While not set in Greece, but rather Italy, and not about mythology, The Wolf Den is still up the alley of everyone who enjoys retellings of Greek myth and legend.
When we think of Pompeii, most of us think of its destruction by the eruption of Mount Vesuvius, but here in The Wolf Den, Elodie Harper presents us with the Pompeii that was.
Harper is also taking the Pat Barker approach to Greek mythology, legend, and history by focussing on the people on the ground, the ordinary and the overlooked.
Specifically, The Wolf Den tells the story of a brothel and a woman named Amara, sold after the death of her beloved father. This is a story of one woman's survival; Amara uses her own wits, wiles, and strengths to live against the odds.
The Wolf Den is a staggeringly successful piece of historical fiction that explores the unique strengths of a woman, rather than painting her as strong by the archetypal male standards and frameworks.
Buy a copy of The Wolf Den here!
A Thousand Ships by Natalie Haynes
Natalie Haynes' A Thousand Ships brilliantly places itself somewhere between the more fantastical and god-focussed Circe and the more grounded and raw The Silence of the Girls by once again focussing on the Trojan War but featuring the gods of Greek myth as well.
Most of the best Greek mythology books featured here focus on one solo protagonist: Patroclus, Circe, Briseis, etc. A Thousand Ships takes a more ensemble approach by giving space and voice to many different women during the Trojan War.
Like in Barker's novels, Briseis is mentioned. The goddess Calliope also comes and goes. Then there's Gaia herself, and the legendary Penelope, who writes letters to her darling Odysseus as he is off doing his exploits.
This is a fractured and broad exploration of the lives and experiences of the women of Greek Mythology. We get many different voices, both god and mortal alike, and A Thousand Ships is all the richer for it.
I wrote a full review of A Thousand Ships for BookBrowse, which you can read here!
Buy a copy of A Thousand Ships here!
Stone Blind by Natalie Haynes
Stone Blind shows Natalie Haynes taking control of the narrative around monsters, and showing us how a monster is nothing more than what a man tells us it is.
This is the story of Medusa and her sisters, the gorgons. It is the story of her birth, abandonment, and the care with which she is raised by her sisters.
It is also the story of Perseus, the hapless and reckless boy who is sent on a quest to kill a gorgon, as well as that of the goddess Athena, who curses Medusa out of spite and jealousy and nothing more.
Stone Blind is an angry book written by someone at her wits end with the patriarchy and the narratives it spins around women and things that are not themselves patriarchal.
Multi-layered, written from various perspectives, and bubbling over with rage, Stone Blind is one of the best Greek Mythology books for fans of great retellings.
Buy a copy of Stone Blind here!
Ariadne by Jennifer Saint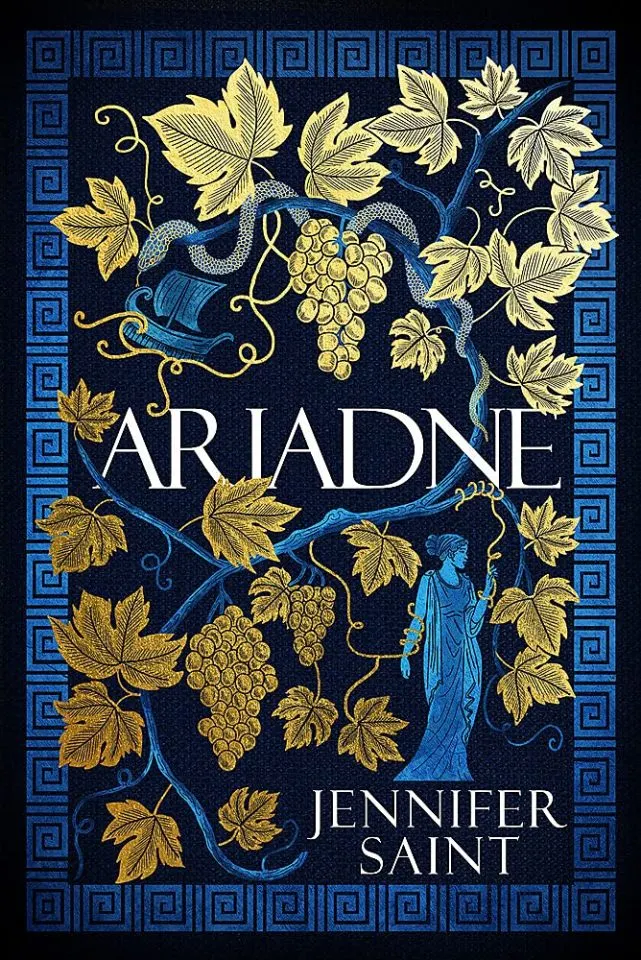 Of all the best Greek mythology books on this list, Jennifer Saint's Ariadne is one of the finest.
It is another retelling of a specific Greek myth, but this one steers clear of the Trojan War and also manages to feature a nice selection of classic Greek myths in its telling.
Ariadne begins by retelling the origin story of the Minotaur: brother of the titular Ariadne, son of Crete's king Minos, and locked away at the heart of a labyrinth built but genius inventor Daedalus, father of Icarus.
From here, we are introduced to Theseus, prince of Athens, and so the myth of Theseus and the Minotaur begins. And then it ends, but Ariadne's story continues, with so much left to tell.
Ariadne is a playful, impactful, and beautiful novel that takes another fascinating woman of Greek mythology and puts her in the role of protagonist.
It reframes Theseus as an egomaniac, Minos as deluded and dangerous, and the god Dionysus as layered and broken.
Elektra by Jennifer Saint
Jennifer Saint's second novel, Elektra, is another sharp and angry feminist retelling of a tale from Greek mythology.
Spanning an entire lifetime, and with a narrative shared by three women, Elektra is a tale of heredity, of curses, and of revenge.
The titular Elektra was the daughter of Agamemnon, king of Mycenae, who waged war against Troy in order to return the beautiful Helen to his brother, Menelaus.
But Elektra is only one of our heroes; another is her mother, Clytemnestra, and the third is the cursed Trojan princess Cassandra.
The lives of these women, governed by powerful men, are intertwined by blood and curses. We watch them grow, face tragedy, and become embittered while the men wage war against one another.
A powerful feminist novel and one of the best Greek mythology books of recent years.
Daughters of Sparta by Claire Heywood
Helen and Klytemnestra, Agamemnon and Menelaos, Sparta and Troy. These are people and places most of us have read about in other stories. But here, in Daughters of Sparta, Claire Heywood breathes new life into their myth.
Much like the other best Greek mythology books here, Daughters of Sparta puts a clean and clear focus on the women of legend, who suffered at the hands of men; women relegated to trophy status; women known for their beauty.
After being married off to foreign kings, Helen and Klytemnestra are treated with bitterness and cruelty, and that's when their own stories truly begin.
Buy a copy of Daughters of Sparta here!
Mythos by Stephen Fry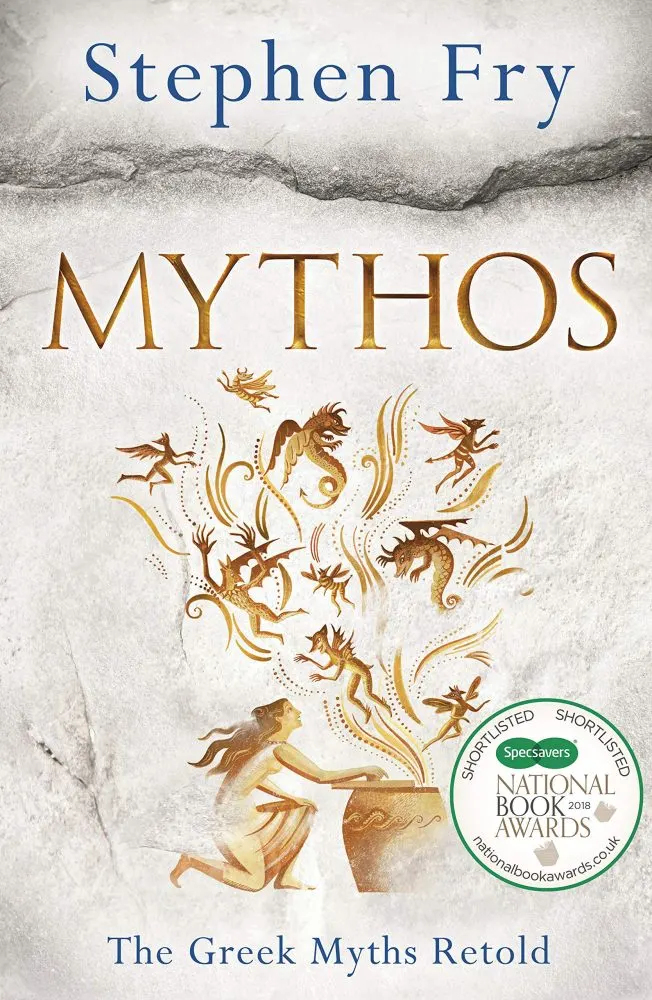 Like Charlotte Higgins' Greek Myths, Stephen Fry's Mythos is an excellent compendium of Greek myths, and one of the best Greek mythology books for children, specifically.
While anyone of any age can read Mythos and thoroughly enjoy it, it's clear from the tone and language that Fry employs in this book of Greek myths that it is intended for younger readers.
There is a playful and sweet tone of voice here, and it encourages a wide-eyed fascination from its younger readers who are eager to become enthralled by the tales of Greek gods and titans.
It's those gods and titans who take centre stage here. This is truly a book about impossible, magical people, not the heroes and humans of legend. This is about myths, monsters, gods, and their parents.
Heroes by Stephen Fry
Following on from the runaway success of Mythos, which, as mentioned, focussed on the gods and monsters of Greek mythology, Stephen Fry then brought us Heroes.
As its name boldly states, this is a book about the heroes of Greek mythology: Herakles, Achilles, Odysseus, Theseus (I could go on).
Much like its predecessor, this is a book geared more towards younger readers but remains educational and entertaining for all.
While many of the best Greek mythology books on this list retell the stories of "heroes" from more feminist perspectives, Heroes refocusses us on those core hero tales.
Pandora's Jar: Women in the Greek Myths by Natalie Haynes
Natalie Haynes saw huge success with her fractured novel A Thousand Ships, and rightly so. This led to the successful publication of a more traditional compendium style of book: Pandora's Jar.
Much like Charlotte Higgins' Greek Myths, Natalie Haynes' Pandora's Jar puts the focus on the women of Greek mythology (as its subtitle makes clear). As the tales of heroes got retold again and again, the women were left by the wayside.
This borderline chauvinistic, and sickeningly patriarchal, approach to Greek mythology is historically unfair. And so, Haynes fixes it by reminding us of the great tales of Greek myth that focus on its women, beginning with the titular Pandora.
Buy a copy of Pandora's Jar here!
The Odyssey by Homer
Translated by Emily Wilson
Many of the best Greek mythology books recommended here are retellings by contemporary authors, and more than a few hone in on The Odyssey and The Iliad. But the originals already exist, and you can read them!
Translator Emily Wilson made a huge splash as the first woman to bring us a fresh translation of Homer's epic poem, The Odyssey, and in keeping with the female focus of this list, it's the version we recommend you read.
Buy a copy of The Odyssey here!
The Greek Myths: Stories of the Greek Gods and Heroes Vividly Retold by Robin Waterfield and Kathryn Waterfield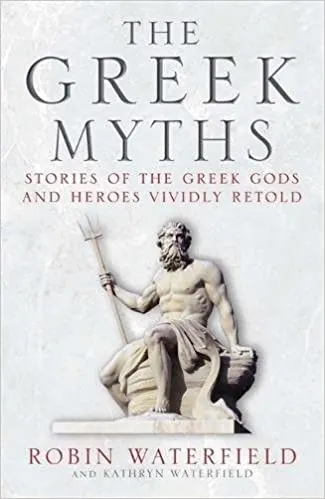 This was the first book on Greek mythology that I ever read. I remember picking it up at a little independent bookshop in London one day and almost missing my stop on the train after opening it later that afternoon.
This is an enthralling compendium of Greek mythology, from creation myths to the tales of gods, monsters, and heroes. It has everything you're familiar with and far more besides. An essential read and one of the best Greek mythology books out there.
Percy Jackson and the Lightning Thief by Rick Riordan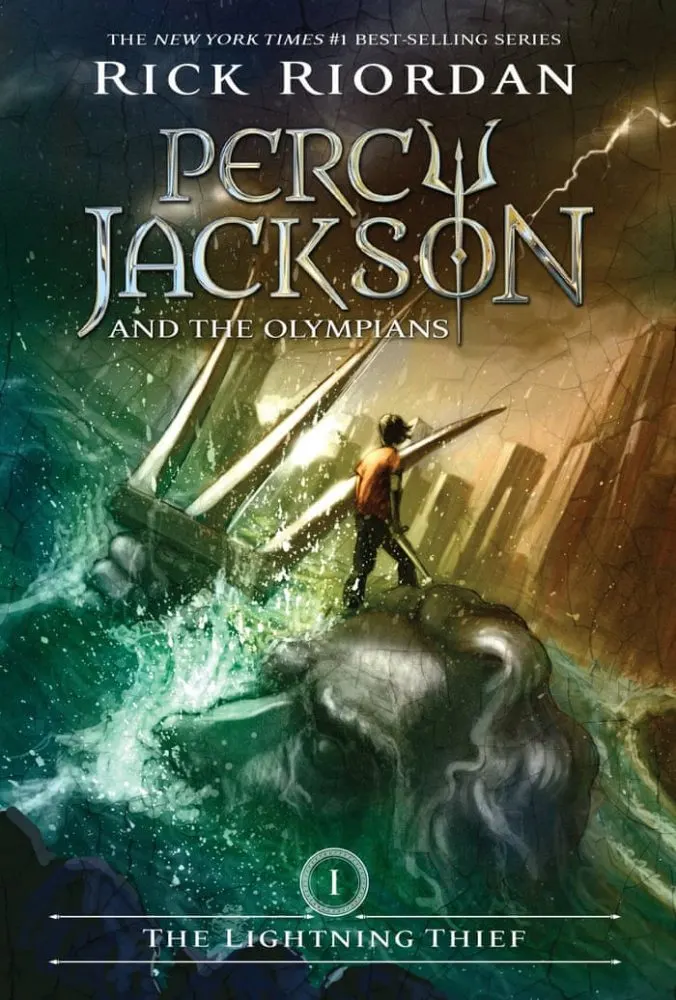 If you are, or if you know, a young reader with their eye on Greek mythology, start with Stephen Fry's Mythos but also point them to the children's book sensation that is Rick Riordan's Percy Jackson series.
This beloved series of books begins with Percy Jackson and the Lightning Thief and, as a former school teacher, I can attest to its staggering popularity amongst young, voracious readers.
Buy a copy of Percy Jackson here!
Pandora by Susan Stokes-Chapman
While this novel is actually a piece of British historical fiction, it is also (as you can tell by the title and cover) inspired by Greek mythology. Any fan of Greek mythology will likely enjoy and respect Pandora.
Set during the Georgian period, Pandora follows a protagonist of the same name. Daughter of two famous antiquarians who died at a dig site in Greece, Dora now lives with her poisonous uncle, who has just come into possession of a mysterious Greek jar (or pithos).
Dora is an aspiring jewellery artist, and she wishes to find inspiration for her jewellery in the world of Greek art. She also wishes to know what this jar is and how her uncle came to own it. To do so, she enlists the help of a young antiquarian named Edward Lawrence.