Queer poetry explores so many different facets of the human experience. From trauma and self-hatred to happy marriages and messy break-ups.
From retellings of folk tales to sci-fi poetry as a metaphor for the queer experience; from punk and angry voices to warming, soothing comfort food — everything that can be felt is felt here.
Essential Queer Poetry Collections
The scope of queer poetry and what it can offer us (just as is the case with feminist poetry) is broad and endless.
Here, you'll find a spectrum of queer love, sex, and experiences that speak to our broader loves and lives (and even some queer children's poetry, too!)
Limbic by Peter Scalpello
Gay, non-binary, and Glaswegian poet Peter Scalpello has put together a collection of raw, punk, open-hearted queer poems.
These are intimate, personal poems that come straight from the heart. They speak of specific experiences that are both theirs and ours; things we can all understand and related to.
These poems seethe with anger, regret, fear, confusion, but also love and compassion and hope.
Scalpello is a writer full of empathy and consideration. They offer that to us here with Limbic. But these poems are also raw and crude and harsh. They balance pain and pleasure perfectly.
Published by the wonderful Cypher Press, Limbic is like a fresh wound being treated. A beautiful collection of varied and tough and powerful poetry, and one of the finest queer poetry collections around.
You Better Be Lightning by Andrea Gibson
Non-binary American poet Andrea Gibson has gathered together here a collection of lyrical, sometimes surreal, sometimes narrative poems about love, identity, growth, and so much more.
In You Better Be Lightning, you'll find longer narrative poems that tell specific tales of experiences both personal and universal.
You'll also find dense metaphors that border on the strange and the surreal, but which will nonetheless strike a nerve deep inside; a primal connection of love and understanding between you and them.
It's the shorter poems, ones made up of just a handful of short lines, that hit hardest though. These poems can be quickly memorised and carried around like a mantra.
They encourage us to think differently about queer identity, abuse, depression, oppression, hope, and relief. They offer us empathy and ask for it in return.
There will be at least one poem in this collection of queer poetry that will make you cry. It might be one that speaks specifically to the queer experience, or something more abstract that hits you just right with its language and tone.
These poems speak loudly and without a filter; they speak from a heart that has been damaged and stitched back together, stronger and stranger than before.
Deep Wheel Orcadia by Harry Josephine Giles
Magic meets science fiction in this unique verse novel by Harry Josephine Giles. While not a poetry collection, Deep Wheel Orcadia remains poetry in the classical sense.
This is easily one of the most impactful and important pieces of queer poetry in years, by a powerful voice amongst transgender authors.
The story follows Astrid, who recently returned home from art school on Mars, and Darling, who is fleeing another life and searching for a place to hide.
The unlikely pair meet on the Deep Wheel Orcadia, a distant space station fighting for survival as the pace of change threatens to leave the struggling community behind entirely.
A gorgeous feat of poetic verse, Deep Wheel Orcadia weaves a story of place and belonging while introducing a compelling cast of characters that you're sure to resonate with.
Orcadian Harry Josephine Giles strikes into an exciting new realm with this exciting new piece of queer poetry.
What Girls Do in the Dark by Rosie Garland
If you are a fan of mythology and the gothic then this enchanting collection is for you.
Garland blends fable, fantasy, and sci-fi to create a memorable collection that is both grounded in the body and the lived experience of queer people, while also hurling us deep into outer space and the cosmos.
Wonderfully readable, this is a collection that you will keep coming back to.
Soft Science by Franny Choi
With Soft Science, Franny Choi has written a collection of carefully-curated themed poems which combines science-fiction with the presentation of queer people, people of colour, and immigrants within modern Western society.
Each poem examines the relationship between people of different colours, genders, and sexualities within the human race, and uses the Blade Runner philosophy of examining what it means to be conscious, to have a soul, to have free thought and conscience – to be human.
It asks us – especially white people – to be honest about whether or not we see every human as equal, even today. Is our moral code as fair as we think it is?
Soft Science asks us to consider the sum of our parts: where do we come from, what makes us, how do we classify ourselves, and why is that important or unimportant?
There are few queer poetry collections as unique, adventurous, and daring as Soft Science.
Time is a Mother by Ocean Vuong
Ocean Vuong is arguably one of the most famous, beloved, and impactful poetry writing today, especially within the queer community.
His initial poetry collection, Night Sky With Exit Wounds, made such a huge splash that it felt as though the world suddenly held its breath.
This was followed by one of the most intimate and emotionally sensitive debut novels one could ever read: On Earth We're Briefly Gorgeous.
Vuong's second poetry collection, Time Is A Mother, was written after the death of his mother. It's a collection about love, family, queerness, modern American life, and many other topics.
Some poems are grounded in his life and experiences; others are incredibly, beautifully abstract. They communicate through tone and emotion and language, even if the theme or concept isn't clear.
The poems in this collection are transportive. They take you somewhere else entirely. They truly demonstrate the beauty of poetry, in every sense of that word.
This is one of the greatest queer poetry collections of all time.
Swollening by Jason Purcell
Swollening is a slender, 100-page collection of queer poetry that invites you to chew on it slowly, over time. To return to it when you feel differently and let it wash over you again and again.
Canadian poet Jason Purcell is the co-owner of Glass Bookshop, a person who lives and breathes language and literature. And here they put their own command over language to impeccable use.
This is. a queer poetry collection about bodies and minds and connections and traumas. There's an experimentation and playfulness with language here that gives experiences a different kind of volume.
Trauma is a real focus here: how it is experienced, how it gets stuck, how it is moved through and past and over.
Self-forgiveness when it comes to pain and trauma is something that takes courage, and Purcell invites you to try.
These are relatable experiences but the way that Jason digests and expels them gives them a new light, and a possible new way for you to understand them.
Sergius Seeks Bacchus by Norman Erikson Pasaribu
In this intimate collection of queer poetry, Norman Erikson Pasaribu has taken the names of Sergius and Bacchus – and what they represent – for his collection's title, phrasing it as Sergius Seeks Bacchus perhaps as a reflection of the repeated theme found in the book's pages: that of uprooted unrest, searching, longing. Seeking.
Despite his tumultuous relationship with religion, the impact it has had on Norman and his writing is painted widely across his poetry. He decries its ability – its willingness – to abandon queer people, to make pariahs of them.
There is a wider breadth to the wanderings of these poems, too, as they concern themselves with the broad strokes of love as it exists today.
The awkward and rigid binaries of heterosexual relationships are examined through a piteous lens, and the secrets of frightened, closeted gay married men are exposed.
Much of the poetry in Sergius Seeks Bacchus is freeform, unrestrained by rhyme and metre as, perhaps, the lives of the queer people of Indonesia should be allowed to be.
Queerness and religion, the way in which these two interact, wage war, and cause heartache when mixed — this is all felt with both deep sorrow and a flighty wit in this, one of the most important queer poetry collections ever written.
The Human Body is a Hive by Erica Gillingham
This gorgeously titled collection, separated into two halves, is an exploration of queer lives, loves, and families.
It is a collection that begins with a celebration of queer sex, lust, and desire, before moving into how we build our families and friendships. How things fall apart, and how we mend ourselves.
When things break, what do those pieces look like? And what can be done with them?
In a collection that passes across the scope of lives and relationships, The Human Body is a Hive also moves through the spectrum of human emotion.
These poems are harrowing and harsh, funny and furious and unsettling and beautiful. They feel so much and make you, in turn, feel exposed and raw and understood and hopeful.
There is a focus here on growing a family as queer people: pregnancy and birth and raising children.
It looks at the intricacies and difficulties and modern miracles of queer family life. It is a very unique queer poetry collection that should be cherished.
Wain: LGBT Reimaginings of Scottish Folklore by Rachel Plummer
This queer poetry collection does exactly what it says on the tin. With a target audience of younger readers (though it can be enjoyed by anyone), Wain retells myths from Scottish folklore with a queer twist.
Reimaginings of folk tales and mythology are a popular genre these days, but even in that crowded space Wain is doing something unique, by virtue of being queer, poetry, and for children.
Familiar creatures are visited here, including Nessie herself. You'll meet kelpies and selkies and learn more about yourself in the process.
These are poems written with wit, kindness, and imagination that encourage queer kids and young people to understand themselves better, feel less alone, and feel like magic.
This is a very clever approach to queer poetry, to folklore, and to community. It does so much so well.
Smitten: This is What Love Looks Like, Poetry by Women for Women
Smitten is a dense collection of queer poetry that speaks to the lesbian experience in the broadest possible way.
120 lesbians of all ages, from all corners of the globe, have written here about love and loss and sex and hatred and anger, and loneliness, and every other feeling you can imagine having.
While these are poems about lesbian love and lives, they are still universal and can be understood and appreciated by anyone, queer or otherwise.
Because love is love, and pain is pain, and you will see and know all of it.
That said, this is also still and specifically a celebration of lesbian love: the love between women. The love and lust and appreciation that women feel for one another.
Sexy, sensual, and so much more.
100 Queer Poems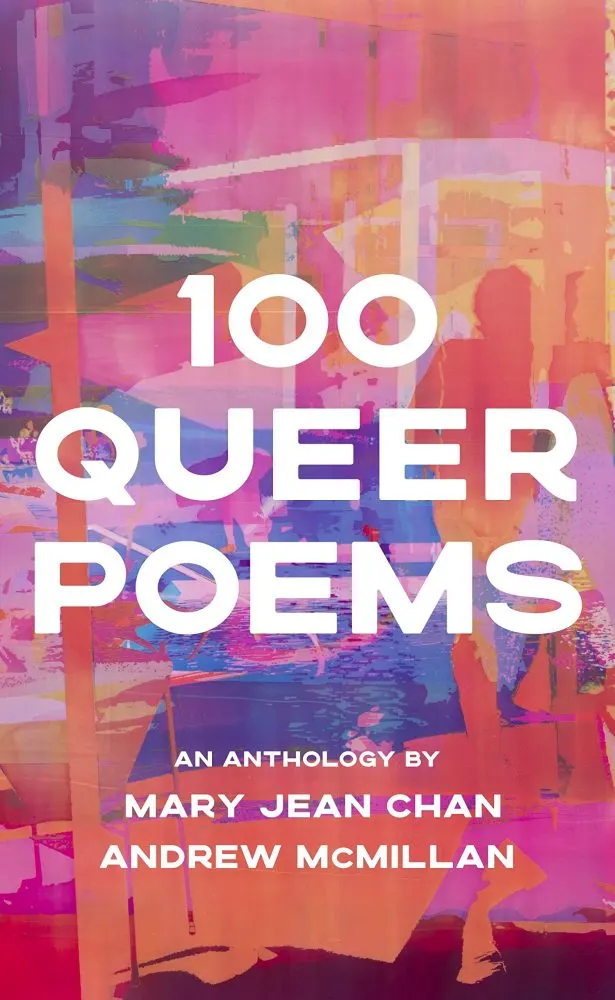 Any poetry fan is going to recognise some of the bigger names featured in this collection — Kae Tempest, Ocean Vuong, Carol Ann Duffy.
But there will also be plenty that are new for you to discover, empathise with, and fall in love with.
Contemporary and classic poems are collected here as a kind of time capsule, showing the state of the queer poetry landscape and how it has morphed over time.
There aren't many collections that include both Wilfred Owen and Harry Josephine Giles but that's the scope and beauty of this collection.
No other queer poetry collection offers so much breadth, such a journey through time and space and across the full LGBTQ+ spectrum of experiences. Incredible.