Shoujo is a broad genre of manga that has existed for almost as long as there have been manga readers.
The name shoujo literally means "young woman", and the shoujo manga label is stamped on any manga suitable for (or that appeals to) readers who are young girls.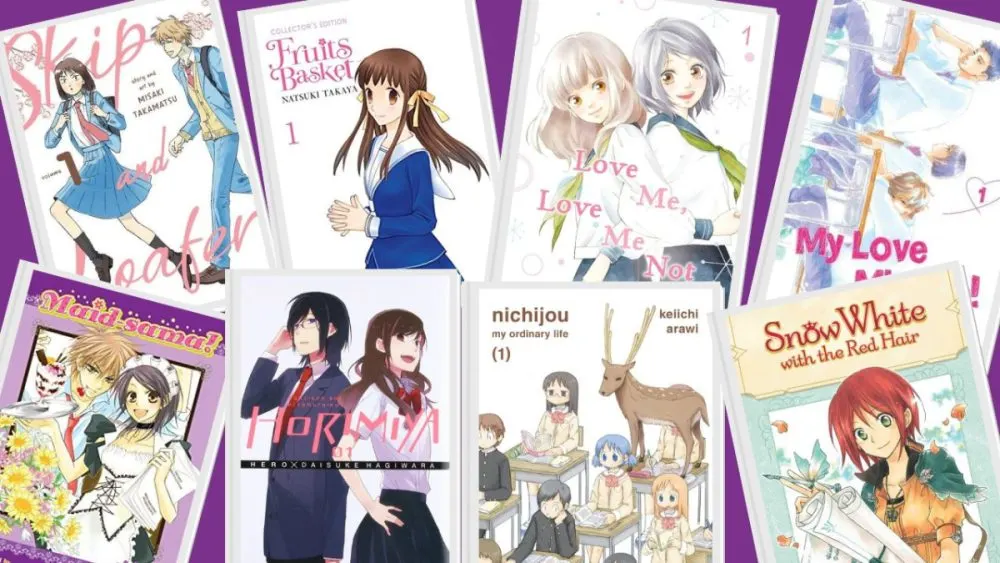 This means that a lot of stereotyping goes on with regards to the themes, events, characters, and subject matter of shoujo manga.
Typically, shoujo manga involves cute magical girls, romance (usually heterosexual), and slice-of-life stories involving middle or high school girls.
The Best Shoujo Manga
Here are some of the best shoujo manga, both classic and contemporary, for fans of the genre to check out right now.
Some of these very much meet the stereotypes, while others fall outside of it, offering something fresh and experimental. Enjoy!
Fruits Basket by Natsuki Takaya
Few shoujo manga have as much of a beloved fanbase as Fruits Basket.
This is a series that received a decent enough anime adaptation many years ago and has since received the 'brotherhood treatment' with impeccable results.
Natsuki Takaya's classic shoujo manga tells the story of Tohru Honda, a girl who lost her mother and now lives in a tent in the woods.
Tohru is certainly down on her luck but she keeps on smiling regardless. She is the epitome of a glass-half-full character, clinging to hope as much as her strength will allow.
One day, Tohru stumbles upon the home of her classmate, Yuki Soma: a traditional and secluded Japanese house. Yuki's older brother, Shigure, is a laid-back stay-at-home author who welcomes Tohru into their home.
The Soma family secret is soon discovered, however, and Tohru is burdened with the knowledge that each member of the family is possessed by an animal of the Chinese zodiac.
When hugged by a member of the opposite sex, members of the Soma clan suddenly transform into their animal form, often resulting in awkward and hilarious situations.
The series goes to some very dark and strange places, with the cat character, Kyo, being the most endearing and fascinating member of this shoujo manga's cast.
Fruits Basket is a reverse-harem slice-of-life romance manga for the ages, and a beloved classic of the shoujo manga genre.
Buy a copy of Fruits Basket here!
Skip and Loafer by Misaki Takamatsu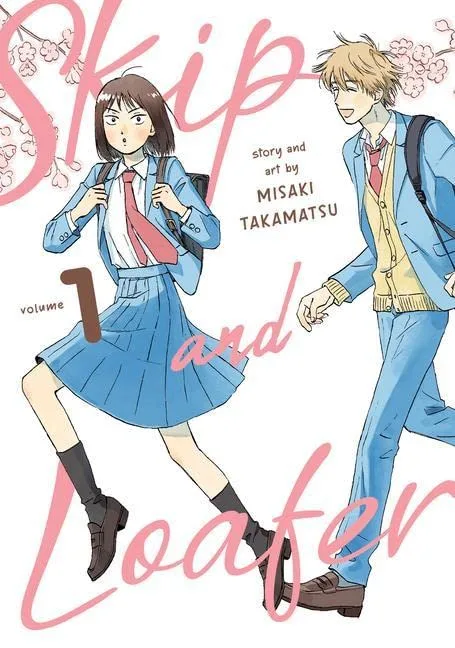 One of the key ingredients for a good shoujo manga is charm. Charm beats out even romance where shoujo is concerned.
Skip and Loafer has charm coming out of every pore. There is a wide-eyed sweetness, as well as a goofiness, to our protagonist, which is emphasised by her unique appearance.
Iwakura is drawn differently from the other characters on the roster, with her expression being more minimalist and blank, reminiscent of Mob Psycho 100.
The fact that even her face elicits a laugh (but not in a cruel or mocking way) is charming. Then there is the focus on friendship over romance.
Our other protagonist, Shima, is a delightful himbo that every girl crushes on, and he has chosen to befriend Iwakura on her first day at school.
In fact, it's her first day in Tokyo, having grown up in the sticks. A lot goes wrong, and Shima is there to lend a hand (although he's not great at doing so).
This is a shoujo manga that blends the slice-of-life and romance genres into something hilarious, warming, and entertaining.
The stellar English translation carries that comedy and charm across every line and page, and a consistently growing cast of characters keeps us engaged chapter after chapter.
Buy a copy of Skip and Loafer here!
Ao Haru Ride by Io Sakisaka
Also known by its English title Blue Spring Ride, this is a shoujo manga that epitomises the will-they-won't-they narrative.
It injects grounded, often harsh and dark, themes and events to offer readers a romance story with real weight and substance.
Ao Haru Ride is a fairly beloved romance manga with a dedicated following, especially in Japan.
The story follows sixteen-year-old Futaba whose first love has returned from a long stint of living in Nagasaki.
However, Kou is not the boy she remembers; he is now aloof and guarded. We soon learn that this is because, while living in Nagasaki, Kou lost his mother.
Ao Haru Ride is a mature and hard-hitting shoujo story that really showcases how life throws down obstacles to happiness, and how we often build those obstacles ourselves due to naivete, self-destructive tendencies, and an inability to see the future or read the past.
This is a series with plenty of twists and turns that are worth experiencing first-hand, and a romance manga that comes highly recommended.
Buy a copy of Ao Haru Ride here!
Love Me, Love Me Not by Io Sakisaka
While Ao Haru Ride is this shoujo mangaka's most celebrated work, her newer manga Love Me, Love Me Not is refreshingly unique amongst shoujo manga.
Drawn in her iconic bubbly, soft, and (at this point) retro style, but featuring more believable and grounded problems and personalities, Love Me, Love Me Not really sets itself apart.
We have a pair of protagonists, Yuna and Akari. When they meet, they have each said goodbye to a best friend who moved away and are about to start at the same high school.
Yuna is a head-in-the-clouds romantic who believes in waiting for her perfect true love. Akari, however, "meets love head-on". She's full of confidence and a lust for life.
The quiet, shy romantic versus the flirtatious and curious realist. This romance manga's creator has made it clear that neither is right or wrong, which is why they share the spotlight as protagonists.
Akari also has a brother, Rio, whom Yuna immediately romanticises as a beautiful prince, and Yuna has a childhood friend, Inui, whom Akari believes would be perfect for Yuna.
Early on, Akari is dumped by her long-distance boyfriend and rumours of her flirtatious nature start to spread. The drama here is real, relatable, and sometimes difficult.
But it being drawn in a cute and muted '90s style gives this romance manga a comforting warmth, as does Yuna's sweet — if childish — romanticism.
But this is a shoujo manga that is just as much about female friendships as it is about love and romance. Yuna and Akari's relationship is the most important and interesting one of the manga.
They grow together and learn from each other, and that's what helps this manga stand out so well against a sea of cookie-cutter romance stories.
Nana by Ai Yazawa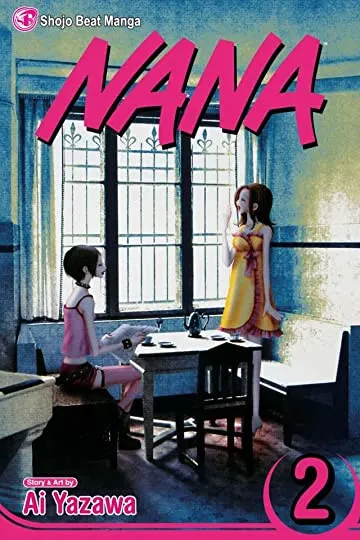 Nana Komatsu was born in a small town which she describes as being neither a small village nor a bustling city.
She is a middle child, neither rich nor poor. Entirely ordinary. And her older boyfriend is leaving her for Tokyo.
Nana Oosaki doesn't remember her parents. She was raised by a sarcastic grandmother who worked her hard, and now she is the frontwoman of a punk band called BLAST. And her bassist boyfriend is leaving her for Tokyo.
These two Nanas, when they each reach the age of 20, decide to move to Tokyo, one pursuing big dreams of a name in lights, the other looking for love.
They meet on a train and, against all odds, become friends first, then roommates.
Nana is a dynamic and sweet slice of life manga, and a masterwork of the shoujo manga space. Essential reading for any fan of shoujo or slice-of-life manga.
Nichijou by Keiichi Arawa
Nichijou is a shoujo manga masterpiece that takes the very concept of "slice-of-life" and plays with it in a very meta, constantly hilarious way.
Set in the town of Tokisadame, Nichijou (Everyday) centres around two main groups of characters: a group of three young schoolgirls and an odd trio made up of a child professor, her hand-built robot, and a talking cat.
Despite the second trio's strangeness being seen from a mile away, the three schoolgirls of this slice of life manga are just as eccentric.
One is deadpan serious, the second is cheerful to a fault, and the third is wildly emotive.
Each chapter of Nichijou sets up a fairly ordinary scenario — one that is relatable or, at least, understandable and reasonable — but that scenario quickly morphs and deteriorates into absurdity. Almost without fail, the events of each chapter will have your guts in knots.
My Love Mix-Up by Aruko and Wataru Hinekure
What we typically know as a "love triangle" isn't actually a triangle at all; it is one person trying to choose between two others.
If you're after a true love triangle, you need to read My Love Mix-Up!. This funny and sweet shoujo manga about high school kids crushing on each other is proud of just how silly and charming it is.
Here you have two boys — Aoki and Ida — and a girl, Hashimoto. Aoki likes Hashimoto but he learns quickly that she has her eye on Ida instead.
Through a clumsy bit of miscommunication, Ida comes to believe that it's Aoki who likes him, not Hashimoto. Having never crushed on anyone before, he's open to the idea that he might be gay.
And so he begins to form a strong attachment to Aoki, whom he still thinks has a crush on him.
So now we have Aoki crushing on Hashimoto, who is crushing on Ida, who is now crushing on Aoki. That's a proper love triangle.
Twists and turns also come pretty frequently as this fun dynamic develops further, and we get to enjoy these sweet archetypal characters (especially the adorable himbo Aoki).
These characters are fun to follow and root for, and the wholesome nature of this romance manga means that the stakes are low while the humour is high.
If you like your love stories on the sweet and charming side, rather than the heartbreaking soap opera-esque drama, My Love Mix-Up! is the romance manga for you.
Horimiya by Hero and Daisuke Hagiwara
Originally known as Hori-san to Miyamura-kun, Horimiya is a charming and wholesome romance manga, originally written and drawn by Hiroki Adachi (Hero) before being adapted and redrawn by Daisuke Hagiwara.
Horimiya also has a hugely popular romance anime adaptation, and the anime has proven to be a truly outstanding adaptation of the original manga source material.
The Horimiya manga follows the quickly-blossoming romance between high-schoolers Kyoko Hori and Izumi Miyamura.
She is a popular honour student with a secret home life packed with responsibility and raising her adorable little brother.
He is an introverted, all but invisible middle-of-the-road student with a secret private life as a tattooed and pierced himbo.
Horimiya is one of the most popular romance manga ever written. What has helped it succeed so splendidly is how well-developed its two protagonists are.
Their dramas, issues, dreams, and daily lives as individuals are fleshed out and given real attention.
Pile a romance on top of this and you have two characters that you not only care about, but whose romance is a joy to watch unfold.
Their romance also moves forward refreshingly quickly and smoothly, as opposed to those seen in the majority of romance manga.
Horimiya is a comedy romance manga, but the comedy serves more to keep the story light rather than to be laugh-out-loud funny. Come for the romance and stay for the chuckles.
Our Wonderful Days by Kei Hamuro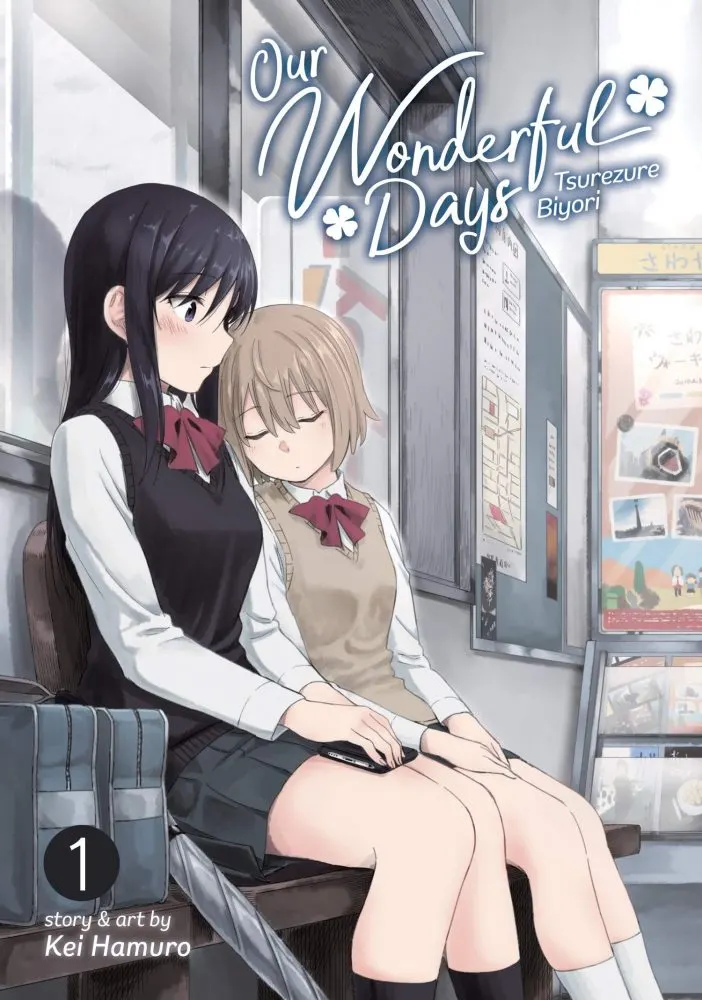 Our Wondferful Days is a sweet, charming, and wholesome shoujo manga about four high school girls living their lives and growing closer in a beautiful and peaceful rural setting.
In elementary school, Koharu and Mafuyu were best friends, but Mafuyu moved to Tokyo for several years.
Now that she's back the two quickly rekindle their friendship and we watch through happy tears as that friendship gradually and tenderly blossoms into something more.
Blending the shoujo, slice-of-life, and yuri genres of manga together, Our Wonderful Days is something very special. Heartwarming and serene, it will calm your nerves and warm your heart.
Then there's Kei Hamuro's artwork, which reminds us of the tranquil elegance and beauty of the Japanese countryside on almost every single panel.
This is such a tender tale of female friendship, of self-discovering, and of young love, set against a stunning backdrop of rolling hills and quiet rural homes.
Beautiful in so many different ways, Our Wonderful Days is an essential shoujo manga.
Buy a copy of Our Wonderful Days here!
Orange by Ichigo Takano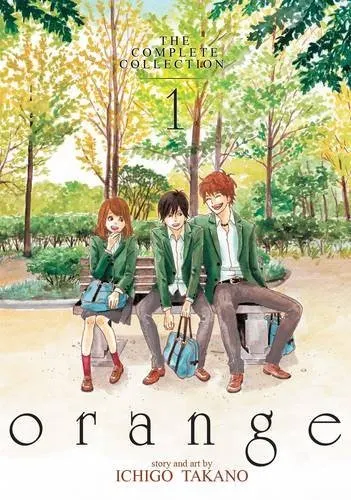 Orange straddles quite a few genres, including romance, slice-of-life, and even the supernatural. It's also a short manga, available in two oversized volumes that you can binge over a weekend.
This makes Orange a satisfyingly complete and focussed manga experience.
The story of Orange closely follows a group of friends, the main character of which is high-schooler Naho Takamiya.
At the start of a new school year, Naho receives a letter from someone who claims to be her future self. Future Naho explains that her biggest regret was her failure to save the life of a boy named Kakeru Naruse.
The letter has arrived on this particular day because it is the same day that Kakeru joins their school in Matsumoto from his former life in Tokyo.
Kakeru is quickly assimilated into Naho's group of friends, becoming their sixth member.
The letter which Naho received is filled with a list of detailed instructions on how to save Kakeru's life. Naho must decide whether or not to trust and follow these instructions each day.
Meanwhile, in the future, Naho is married to Hiroto, and we are occasionally sent forward into their life as they reminisce about their high school days ten years ago, and about their now late friend Kakeru.
Orange is a beautiful, hard-hitting story of love, friendship, mental health, and the responsibilities we have to and for one another.It's a romance manga, for sure, but it's also so much more.
And Ichigo Takano is a genius mangaka for putting together something as beautiful as Orange.
Snow White with the Red Hair by Sorata Akizuki
Snow White with the Red Hair (Akagami no Shirayukihime) is a shoujo manga that has been running for an awful long time.
If you were sold on Orange in part because of how short and tight it is, getting into something like Snow White with the Red Hair is a big ask. But, for many, it's worth it.
This fantasy shoujo series follows Shirayuki (literally Snow White) a herbalist of the Tanbarun kingdom. Her story, at the beginning, is very loosely inspired by the Snow White fairy tale.
Shirayuki is a refreshingly capable and self-realised female protagonist who turns down the advances of the local Prince Raji. When she scorns him, cuts her hair, and flees, she falls into the company of the neighbouring kingdom's Prince Zen.
After saving Zen from a poison apple that was sent from Prince Raji and meant for her, she establishes herself as a herbalist of Zen's royal court and, to the surprise of nobody, a romance between the two slowly blossoms.
If you're a fan of romance and fantasy manga, as well as European fairy tales, Snow White with the Red Hair is a romance shoujo manga right up your alley.
Maid-sama! by Hiro Fujiwara
Maid Sama! (Kaichou wa Maid-sama! or The Class President is a Maid!) is another hugely popular classic romance manga with an unusual premise.
The title of the series certainly paints a particular image which, when peeled back, actually reveals a far more mature romance story.
The titular president/maid is our protagonist: Misaki Ayuzawa. As a student at a school that was once only for male students, Misaki has a lot to prove. She rises to the top and becomes student body president.
However, Misaki has a student: in order to help support her sick mother, Misaki works part time at a maid cafe.
When popular boy Takumi Usui finds out the truth, he keeps it to himself. Usui is intrigued by Misaki and the two soon fall in love.
The story continues to twist and turn from here, so I won't say anything more, but it does continue to throw a few surprising curveballs. They're dramatic, sure, but also mature and have a lot of social commentary wrapped up in them.
Maid Sama! is another classic romance manga, the reputation of which continues to this day.
Buy a copy of Maid-sama! here!
Ouran High School Host Club by Bisco Hatori
Like the modern Kaguya-sama, the classic Ouran High School Host Club (Ōran Kōkō Hosuto Kurabu) is a shoujo manga that leans hard on comedy to satirise the tropes and themes of the shoujo genre.
In the vein of Shakespearean comedy, Ouran High School Host Club centres around a case of mistaken gender identity.
Haruhi is a student of the titulaer Ouran High School. One day, while looking for a place to study, she stumbles upon the unofficial clubroom of the Host Club.
The Host Club is a small group of boys who play host to female clients by entertaining them with tea and cakes. At first, after breaking something valuable, Haruhi has to work off her debt as the club's errand boy, before eventually becoming a fully-fledged host herself.
Haruhi's appearance causes the host boys to mistake her for a boy and, even after the truth comes out, they still want her as a host for her natural ability to charm and entertain the girls of the school.
It's a strange story and, as I said, one that will strike a chord with fans of Shakespeare's comedies. But this is a series that has endured for years and will go on being a firm favourite of many shoujo manga fans.