Of all the great genres of literature, thriller books can be some of the hardest to define and box into a specific style or collection of tropes.
The best thriller books often tip into similar genres: mystery novels, horror novels, and crime novels. For that reason, you'll find plenty of genre overlap here.
But it's that overlap which gives the genre of thriller books such flavour and variety.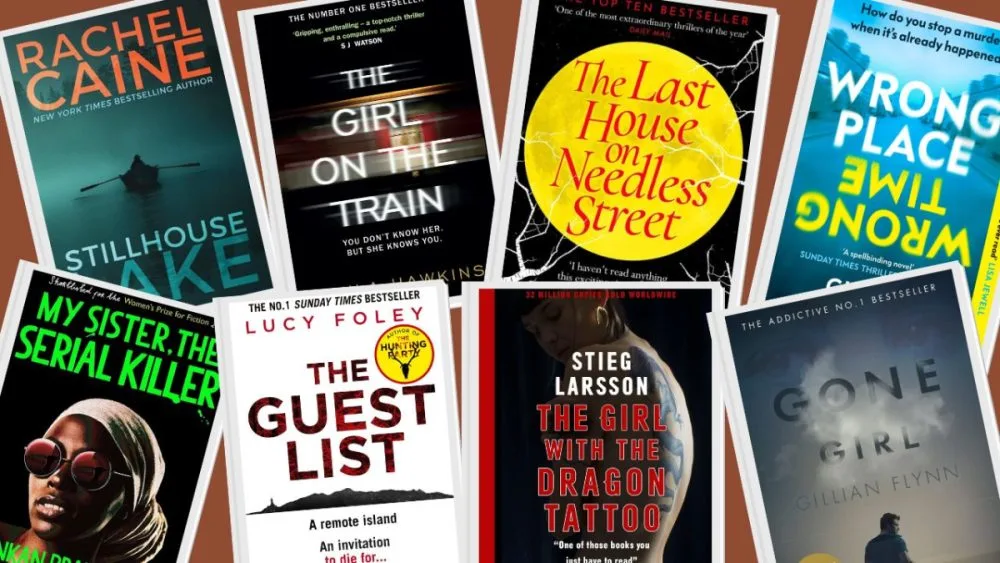 The Best Thriller Books of All Time
The thriller genre remains one of the most popular genres in literature, thanks to its constant ability to adapt, shift, and change.
Here, you'll find a mix of thrillers, crime novels, and mysteries, both new and old. Some you'll know and love; others you may never have heard of.
Either way, this is the cream of the crop. Celebrated authors and rising stars of the genre are all here in this selection of the very best thriller books.
From Agatha Christie to Gillian Flynn, and so many fantastic thriller writers in-between, here are your essential thrillers.
The Last House on Needless Street by Catriona Ward
The Last House on Needless Street is a real triumph of the genre; a novel which takes the tropes and trappings of thriller books and blends them with horror and mystery in such a savvy way.
And let's not forget the intense gothic influence (something which often goes unrecognised and underappreciated amongst many thriller novels).
Our main protagonist is an isolated and lonely man named Ted, who was a prime suspect when a girl disappeared from the nearby lakeside a decade ago.
Since he was cleared of all suspicion, Ted has led a solitary life with his cat, and the occasional visit from his daughter.
We never meet the girl's mother, and so Ted's odd relationship with her is our first red flag — as is the odd but unique choice to have Ted's cat be a point-of-view character in some chapters.
Claustrophobic and drained of light and colour, The Last House on Needless Street is a mystery thriller that plays with our expectations over and over again.
This is a slippery novel; difficult to get a firm grasp on. It bleeds terror and has the reader feel as though they're losing their grip on reality.
A masterpiece amongst modern thrillers, and one of the very best thriller books you'll ever read.
Buy a copy of The Last House on Needless Street here!
Endless Night by Agatha Christie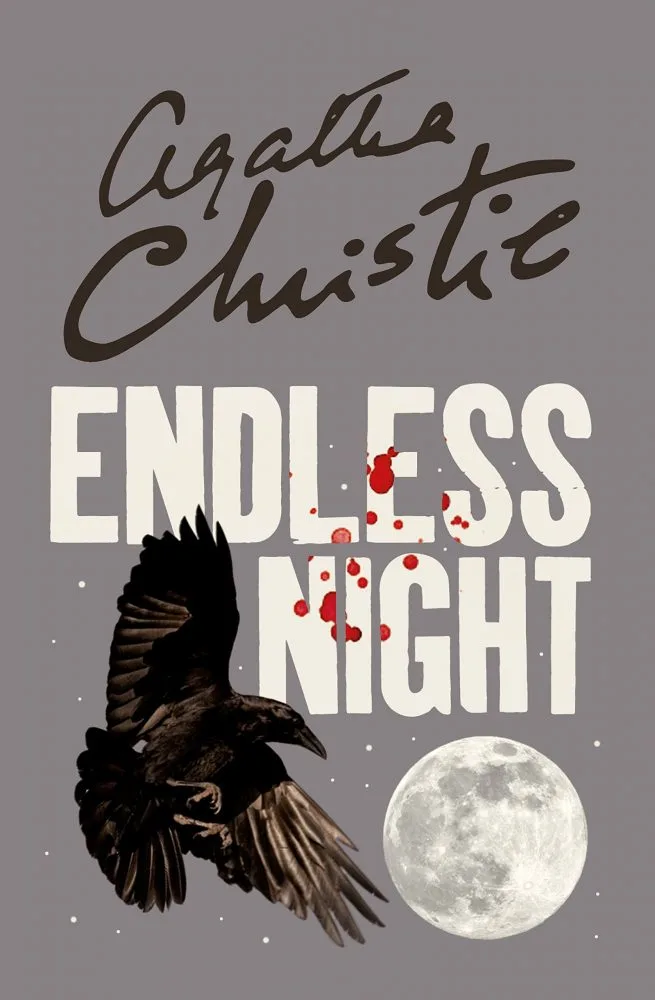 Agatha Christie was, and always will be, queen of the murder mystery novel. And while her books are often considered "cosy mystery novels", a few are far too dark for that title.
One of those is Endless Night, one of Christie's few standalone novels — that means no Poirot or Marple to be seen.
Endless Night is another gothic-inspired mystery thriller, and one of the best novels Christie ever wrote.
The novel takes place in a small English village, in which a young chauffeur named Mike meets a wealthy American heiress named Ellie, and the two quickly fall in love.
They buy a house in this village, one which the locals insist is cursed, and employ a famous architect to restore and renovate it to their liking.
The house's curse begins to show itself, as do strange and suspect supporting characters, including Ellie's long-time companion Greta.
Endless Night is a claustrophobic gothic mystery novel, one of the best novels Christie ever wrote, and one of the best thriller books of the 20th Century.
Buy a copy of Endless Night here!
And Then There Were None by Agatha Christie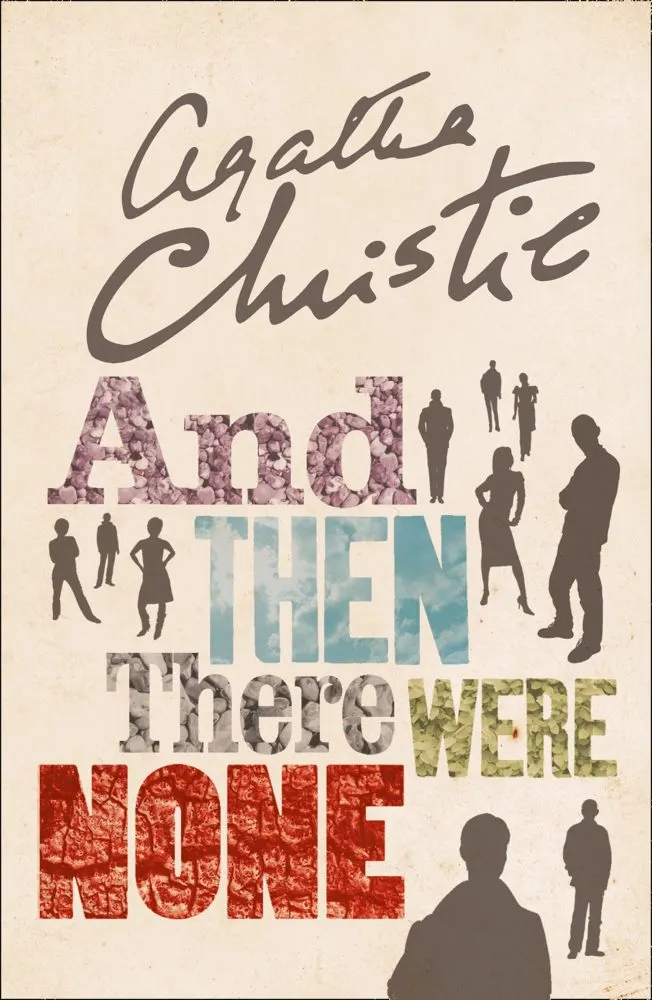 Another dark Christie novel that is far more thriller than cosy mystery, and also the book that is considered by countless fans to be Christie's magnum opus: And Then There Were None.
Once again, this is a standalone Christie novel, set on an isolated island off the coast of Devon. Our protagonists have all been drawn there by a letter.
When they arrive, a recorded voice is played, claiming that each of them has committed a murder.
From here, the guests begin to die one by one, and so a game of survival and escape begins, all the while their enemy and captor is unknown.
Short and swift, moving at a brisk pace, And Then There Were None is one of the most exciting thriller books you'll ever read.
An exciting, bloody, and stressful read; this novel is the definition of a page-turner. You'll be tearing through the pages to see who survives, who set them up, and why.
Beast in the Shadows by Edogawa Ranpo
Translated from the Japanese by Ian Hughes
Written by one of the great Japanese legends of the mystery thriller genre (known in Japan as honkaku), Beast in the Shaodws is a hundred-page thriller from the early 20th century.
Our narrator-protagonist is an author of crime novels, and one day he befriends a woman after a chance meeting at a Tokyo museum. They exchange letters and, eventually, she reveals that she is being stalked.
In her youth, she had a brief tryst with a boy who revealed himself to be too intense and strange, and so she broke it off. He spent time stalking her home but, once she married a successful businessman, her stalker gave up.
Years later, he has begun stalking her again. He watches her home and sends her threatening letters. She also reveals that her stalker is also a writer of crime fiction; an author whom our protagonist hates.
And so our crime writer, entangled in this intense cat-and-mouse game, is drawn to solving the mystery and keeping his new friend safe — partly because of his love for crime and mystery, and partly because he fancies her.
Given the brevity of this Japanese thriller, revelations come fast and they hit hard. This is a swift tale that can be enjoyed in an afternoon, but won't soon be forgotten.
For a book from a century ago, it is impressive how metatextual Beast in the Shaodws is, with a protagonist who isn't a sleuth himself, but rather someone who writes fanciful fiction about sleuths. Very clever and wildly immersive.
Buy a copy of Beast in the Shadows here!
Yellowface by Rebecca F. Kuang
Rebecca F. Kuang has, under the name R.F. Kuang, quickly become one of the most talked-about authors of the fantasy genre. With Yellowface, she turns her talents to the thriller genre with an impeccable social satire.
Yellowface follows the life of white American author June Heyward, who witnessed her friend (and far more successful author) Athena Liu die, drunkenly choking on a pancake.
Before she left the apartment, June took the first draft of a manuscript that Athena hoped would be her magnum opus, but that nobody but the two of them knew about.
When she finished and polishes the novel, June submits it and becomes an overnight sensation, just as she'd always dreamed. But her cultural appropriation and plagiarism will come back to haunt her.
As she is tormented and harassed on social media, and accusations start coming out that she allegedly stole the novel from Liu — which is true, but she must, of course, deny it — her life is turned upside down.
This is a scathing satire about the ugly, racist side of the publishing industry; how diversity is just a tactic and a tool for making money.
It's also an indictment of social media and it's ability to twist our minds and turn us mad through threats of exposure and "cancelling".
But most of all, this is a thriller about white privilege, entitlement, and the stealing and rewriting of non-white narratives.
Yellowface, for all these reasons, is one of the best thriller books of recent years.
Buy a copy of Yellowface here!
Penance by Eliza Clark
Penance, Eliza Clark's second novel, is a remarkable subversion of the thriller; a kind of meta-fiction presented as a piece of true crime nonfiction, written by a man named Alec Z. Carelli.
Carelli is a journalist-turned-crime writer, and after being embroiled in controversy, suffering the loss of his daughter to suicide, and his previous two books flopping, he decides to write about a tragic, infamous case of child murder.
That murder took place on the night of the 2016 Brexit referendum, in the fictional seaside town of Crow-on-Sea in North Yorkshire.
Three teenage girls, who all attended the same high school, tortured their classmate — Joan Wilson — inside a beach chalet, before dousing her in petrol and setting her alight.
Penance is fiction presented as investigative journalism, written in a mostly epistolary style: a collection of interviews, accounts, transcripts, and blog and social media posts.
The novel opens with a detailed account of the evening of the murder, before then spending the rest of its time telling the stories of the three murderers.
Penance is a remarkable piece of crime fiction. A book that brilliantly captures the myriad experiences of British teenagers, both at home and at school.
It explores the effects that pop culture has on us, that the Internet has on us; the often dizzying divide between our online and offline worlds and experiences.
It also cynically investigates the concept of true crime writing and the effects that it has, both on narratives and broader culture and, more specifically, on the lives of those involved.
Penance is a novel like no other; one of the few thriller books that subverts the concept of the thriller, of the crime novel entirely.
The Cabin at the End of the World by Paul Tremblay
With The Cabin at the End of the World, renowned American horror writer Paul Tremblay blends the horror and thriller genres together flawlessly, creating something familiar yet wholly unique.
The story begins with a married couple and their adopted daughter, relaxing at a cabin in rural Massachusetts.
While the girl is playing outside, a strange and enormous man who has taken a long walk to their property explains to her that he needs to be let inside.
In fact, he has three more "friends" who are on their way, and these four strangers need our protagonists' help to stop the world from ending.
This is a terrifying and suspenseful horror-thriller, set across a single day and in a single location, which explores themes of faith, cult behaviour, and prejudice.
How much of what they say can be believed? Do they have ulterior motives? Who are they, and how did they all come together? How dangerous are they?
These are only some of the questions readers will be asking themselves over and over as they rip through one of the best thriller books of recent years.
Side note: M. Night Shyamalan adapted Tremblay's novel into the Hollywood thriller Knock At the Cabin, but we haven't seen the film so we can't compare them.
Buy a copy of The Cabin at the End of the World here!
Read More: The Best Horror Novels Ever Written
Gone Girl by Gillian Flynn
As thriller books go, Gone Girl might be the most famous, successful, and celebrated novel of this century so far.
That fame was hugely bolstered by the massive success of David Fincher's excellent film adaptation; perfectly paced, with an immaculate tone and incredible performances.
Fincher really knows how to direct a thriller (Se7en, in my eyes, remains his masterpiece), and you couldn't find a better pairing than his directorial eye and Flynn's original story.
Gone Girl focusses around the disappearance of Amy Dunn, a woman who vanished on her fifth wedding anniversary.
All eyes are on her husband, Nick. Public consensus is that he was involved in her disappearance, but how? What role did he play? Where is she? Is she even alive?
This is a novel of two halves, with an enormous midpoint twist separating it into two distinct narratives.
In the first half, we follow a pretty standard investigation, with public interest in the case gaining steady momentum, and Nick in the spotlight.
But that twist changes and refocusses everything we thought we knew.
Few thriller books nail their execution and pacing as well as Gone Girl does, making it a real masterpiece of the genre.
Out by Natsuo Kirino
Translated from the Japanese by Stephen Snyder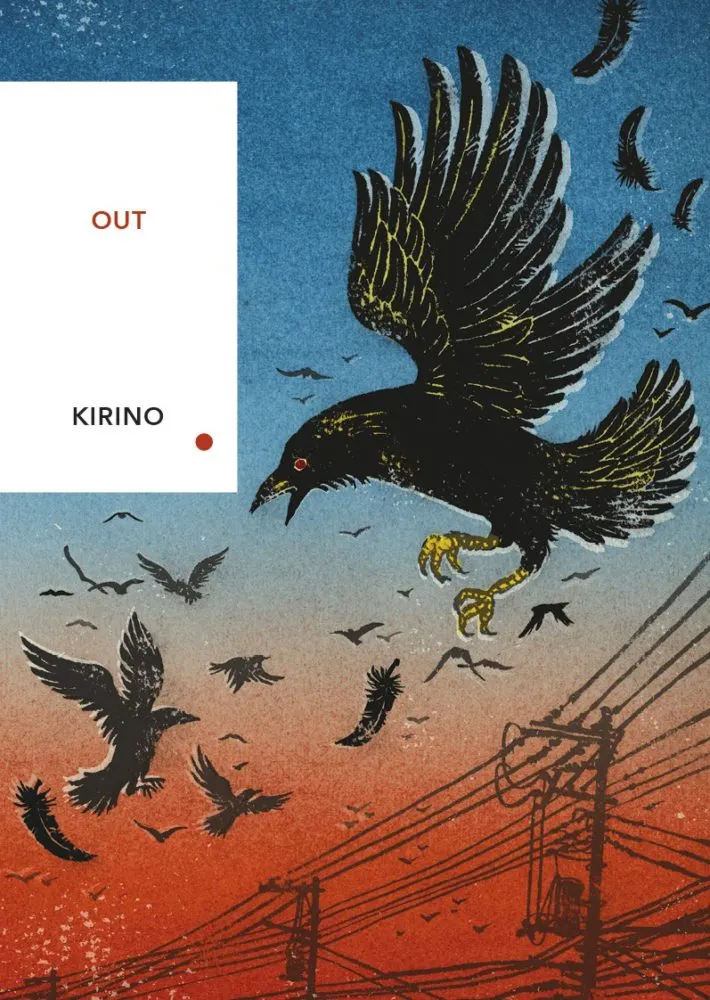 Out is a celebrated masterpiece of Japanese literature, and one of the gnarliest thriller books you'll ever read.
Natsuo Kirino is one of the best Japanese authors of the day, and her translator, Stephen Snyder, is at the top of his game here.
Out follows the stories of four women who work at a bento box factory in Tokyo.
When one of these women finally snaps and murders her husband by strangling him with his own belt, all while their children sleep in the next room, she enlists the help of her colleagues to cut up and hide the body.
Thus begins a race against time, the authorities, and even the yakuza to avoid detection and get away with murder.
This is a complex and angry feminist Japanese thriller, a revenge tragedy against patriarchal oppression, and one of the best Japanese novels of the past few decades.
It's a dense book of 600 pages, and an intricate book that follows multiple threads, several of which lead us down to the criminal underbelly of Tokyo.
Out is a must-read Japanese thriller; a gritty and frightening novel about death, liberation, and desperation.
The Other Black Girl by Zakiya Dalila Harris
The Other Black Girl has been called "The Devil Wears Prada meets Get Out" and this is a surprisingly accurate comparison for this fresh and unique literary thriller.
Set in a competitive and renowned Manhattan publishing house, The Other Black Girl is a mystery with themes of race, class, microaggression, and chess-like tactics.
Nella is a Black twenty-something woman from Connecticut, raised amongst white people and now working as the only Black person in her company.
One day, Wagner hires Hazel, another Black girl. Hazel is from Harlem, wears impressive dreadlocks, and has just moved from Boston.
Shortly after Nella and Hazel get to know each other, Nella finds a note left on her desk which simply reads: "Leave Wagner Now". Hazel is the obvious culprit, but far from the only potential one.
What plays out from here is something of an intimate literary thriller that spirals further and further down, as The Devil Wears Prada indeed morphs into Get Out.
However, despite being reminiscent of both, The Other Black Girl is also its own beast. a furious, vicious page-turner of a thriller; terrifying and addictive.
There are few novels out there that simultaneously have both this much bite and this much thematic nuance. One of the most ambitious thriller books you'll ever read.
Buy a copy of The Other Black Girl here!
The Plotters by Un-su Kim
Translated from the Korean by Sora Kim-Russell
The Plotters is a Korean novel that both blends and defies genres. While it is mainly a thriller, it also tantalisingly brings in other influences while also denying influence altogether.
Our protagonist is an assassin named Reseng, who operates out of an old library in Seoul, raised by and now working for a man simply known as Old Raccoon.
While it's common knowledge that North Korea has been under a dictatorship since the Korean War, many don't know that South Korea had one, too, until the mid-1980s.
This is the setting for The Plotters; as South Korea shifts from military dictatorship to democracy, a power struggle between its underground assassins emerges.
This is a political thriller with a subtle commentary on the nature of democracy, capitalism, martial law, and fascism.
This is a mystery of betrayal and control within a guild of assassins in what is now one of the richest and most prosperous cities in the world.
A fantastically unique and strange novel that stands tall amongst the best thriller books of its time.
Buy a copy of The Plotters here!
Prophet by Helen Macdonald & Sin Blaché
Prophet is a dizzying and exciting blend of thriller and science fiction, co-written by Sin Blaché and H is for Hawk author Helen Macdonald.
The punch-happy, casually alcoholic, former British MI6 agent Sunil Rao and the workaholic American military agent Adam Rubenstein have been assigned a peculiar case to solve.
In a remote English field, an American diner has suddenly materialised. Stepping inside reveals that the place feels fake; wrong; like it was cobbled together by vague ideas of what a classic American diner might feel like.
Nearby, a fifty-year old soldier from a local airbase seems to have built a bonfire and set himself alight on it. These things are connected.
Rao is chaotic and unpredictable, but he has the unique skill of being a human polygraph test, being able to tell truth from lie and real things from fake. Only he can untangle this strange web, while Adam keeps him upright.
Between Rao and Adam's chapters, we are presented with snippets of a life. A nameless boy is abused by his militant father and finds comfort in the support of his aunt. But what does this boy have to do with anything?
Twists and turns come hard and fast as everything gradually falls into place in one of the strangest blends of sci-fi and thriller you're ever likely to read.
Prophet is one of the most engaging, experimental, and best thriller books to have been published in recent years.
The Girl on the Train by Paula Hawkins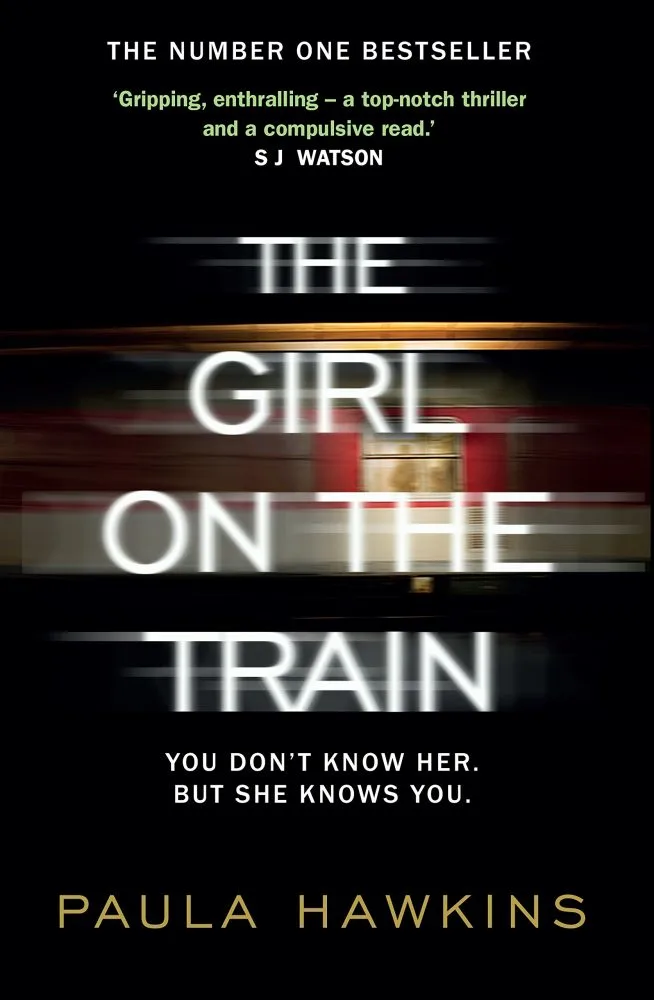 It's hard to deny the way in which Gillian Flynn's Gone Girl reinvigorated the thriller books genre, and The Girl on the Train very much rode that success.
Once again, a solid film adaptation — directed by Tate Taylor and starring the sensational Emily Blunt — really helped make Hawkins' novel a runaway success story.
One key difference between the novel and film, however, is that Hawkins is a British author and the novel is set in England, while the film is set in New York.
This is a novel of three different perspectives, though the titular girl on the train, Rachel, is our key protagonist.
Rachel has descended into alcoholism after her marriage fell apart, and her mental state deteriorated even further when her ex-husband married and had a daughter with a new woman, Anna.
From her daily commute, Rachel is able to watch her husband in his happy new marriage as her train passes by the window to their home.
But she also develops a kind of parasocial relationship with her husband's neighbours, watching their lives unfold as she cruises past their window twice a day.
One day, she sees the wife of this neighbour couple kissing a different man, and then learns that she has disappeared.
Rachel is questioned by the police after having woken up, bloody and disorientated, alcohol muddying her memories.
This is a twisty and disorientating novel, one of the most exhilarating thriller books on the shelves right now.
Buy a copy of The Girl on the Train here!
Cutting Teeth by Chandler Baker
Cutting Teeth is a savvy thriller that subverts the tropes of the murder mystery in some clever ways, while also being a thoughtful and sometimes funny commentary on modern-day motherhood.
Our protagonists are three mothers, all of whom live in the same neighbourhood and have preschool-age children who attend the local Little Academy.
We learn about these women — Rhea, Mary Beth, and Darby — quickly and intimately. One has a suspect and useless husband; one hates what pregnancy and birth has done to her body; one is a vegan hippie mother.
As soon as the novel begins, these mothers' children are part of a strange viral outbreak at their preschool that has given them all the taste for human blood, and thus the urge to bite. A lot.
Soon enough, the smiley, educated, but enigmatic preschool teacher Miss Ollie turns up dead. Suicide is considered, then more likely murder, and the kiddies turn from witnesses to suspects.
While this is an excitingly unusual thriller with an enticing mystery at its heart, Cutting Teeth also, and arguably more interestingly, explores the societal and self-realised pressures and expectations of motherhood.
Each of these women is at once likeable and unlikeable, a good and a bad parent, each for myriad reasons, and the ways in which they react to this vampiric behaviour and the suspicion of their children is excellent.
Captivating and satisfying, Cutting Teeth is a wonderfully modern thriller that explores the pressures, pretences, and price of parenthood.
Buy a copy of Cutting Teeth here!
The Book of the Most Precious Substance by Sara Gran
Sara Gran doesn't write like other girls. It's easy to imagine her confidently pointing at a shelf of books in a library and declaring, "I don't play by your rules!"
And this daring attitude has brought her a lot of success, especially with her refreshingly strange horror possession novel Come Closer, which has fantastic Rosemary's Baby vibes.
With The Book of the Most Precious Substance, Gran turned her attention to the thriller genre and created a wholly unique erotic thriller that certainly won't be for everyone.
Lily was, briefly, a successful author. This success led her to fall in love with an equally successful writer named Abel. But after Abel lost his mind and motor skills to early-onset dementia, Lily needed to find new work.
Together they live in upstate New York with a live-in carer for Abel, and Lily plies her trade as a rare books dealer in NYC.
When the novel opens, Lily hears whispers of a rare, 500-year-old occult text, of which only a handful of copies remain, locked away in private collections around the world.
Buyers are willing to pay up to $1,000,000 for this book of dark sex magic, and this sends Lily on a globetrotting quest to find it, all the while people connected to this text seem to be dying suddenly and unexpectedly.
Lily hopes to sell this book and make a fortune, but she also wonders if its magic might work, and might help reverse her husband's condition.
Erotic but far from sensual, The Book of the Most Precious Substance is a strangely compelling thriller novel that urges the reader on as we see where this journey might end.
Conceptually bizarre, at turns both bleak and funny, and often coated in sex juices, this is one of the more unique thrillers you're ever likely to read.
The Maidens by Alex Michaelides
The Maidens is a novel that teeters on the edge between three different genres: mystery, thriller, and dark academia, all of which work together so elegantly here.
Mariana was once a student at Cambridge University. Now a therapist, she gets a call from her niece Zoe, who herself is a Cambridge student. Zoe's friend was a member of a secret society of all-female students known as The Maidens, and now she's dead.
Caught up in her niece's plight, and driven by an empathetic need to help, Mariana places her sights on the university's professor of Greek Tragedy: Edward Fosca. He did it, she is sure of it. And soon another body will be found.
The setting of Cambridge University, one of the most prestigious and beautiful universities on Earth, really helps make this feel like an evocative and aesthetic thriller novel.
The Cambridge setting adds both weight and character to the gothic mystery of this tale, but what also helps is the compelling and building mystery at the heart of The Maidens.
In many ways this is a murder mystery that uses the dark academia setting and tropes to enhance its plot and atmosphere with staggering results.
The twists and turns, the ways in which characters tease and rage at each other; this is an edge-of-your-seat thriller amongst the very best modern thriller books.
Buy a copy of The Maidens here!
Death of a Bookseller by Alice Slater
Alice Slater's debut novel, much like the later films in the Scream horror movie franchise, is an almost metafictional thriller about people caught up in the obsession with true crime and serial killers that is our current zeitgeist.
We follow two protagonists who both work in an East London bookshop: Roach's narrative is written in the past tense; Laura's in the present tense.
Roach (first name Brogan) is a young woman who considers herself edgy and alternative; obsessed with true crime podcasts, Netflix shows, and nonfiction. She's a metalhead and a grimy social outcast.
Laura, on the other hand, is a bubbly and sociable bookworm, daughter of a wealthy father, but someone with a dark past which Roach seems to sense. And it's that dark history which leads Roach to obsess over Laura.
That obsession is the escalating force of this novel. First, Roach tries to bond with Laura by reading her poetry and connecting over shared interests. When that doesn't work, things get tense and frightening.
As we flit back and forth between perspectives, with an early hint implying that Laura is not long for this world, we find ourselves frantically flipping the pages.
This is also a savvy and literary novel that pokes and prods at our modern obsession with true crime, while also making assertive and feminist arguments against its perverse nature.
Slater's characters and dialogue carry this novel. She understands these subcultures of bookworms and death-obsessed nerds extremely well. And when Roach's boyfriend Sam enters the scene, you'll cringe at just how horridly true to real life he is.
An incredibly moreish novel and one of the best thriller books of the past few years.
Buy a copy of Death of a Bookseller here!
I Am Pilgrim by Terry Hayes
A former spy extraordinaire and master of forensic pathology codenamed Pilgrim has retired. He served his country and government with honour, wrote a book, and now wants a simple life. But we don't always get what we want.
A serial killer is on the loose and Pilgrim is asked to come out of retirement to solve a case that sickens him. The killer has made their crime scene unsolvable, by using tactics that come directly from Pilgrim's book.
On the other side of the world, a young man discovers the road to extremism when his father is executed by corrupt overlords.
He takes the name 'Saracen' and vows to make those responsible pay for their crimes, vowing to do whatever it takes.
What Pilgrim doesn't yet know is that these seemingly unrelated events could be linked and could end humanity as we know it.
Though it may not sound like the most original concept for a novel, especially a spy thriller, it's Hayes' writing that separates I Am Pilgrim from even the very best thriller books out there.
Reminiscent of genre masters like John Le Carré, Robert Ludlum, and Tom Clancy, Hayes weaves an intricate tale of revenge and high stakes.
Some may be put off by the tropes (American hero and Middle Eastern villain being the most egregious), and it is unlikely to convince those who are adamantly uninterested in the genre.
That said, if you do have a curiosity about spy thrillers, I Am Pilgrim may just be the pinnacle of its craft.
(This entry was submitted by Adam Cook. Read Adams other work here.)
Buy a copy of I Am Pilgrim here!
Wrong Place Wrong Time by Gillian McAllister
Here's another modern thriller that garnered a lot of excitement and chatter, and for very good reason. This is the kind of thriller that elicits gasp after gasp from its readers.
Our protagonist, Jen, is waiting for her teenage son Todd to come home. He's late, it's after midnight, and when he eventually appears outside, Jen watches Todd kill someone.
The police arrive, Todd is in possession of the knife, has the victim's blood on his clothes, and his own mother saw it happen.
But this isn't where it ends. In fact, from this moment, Jen goes to sleep and wakes up a day earlier.
Every single night she goes to sleep and wakes up a day earlier, rather than later, as time steadily moves backwards and she is given a chance to follow this thread back to its beginning.
A dizzying thriller that plays with time in fun new ways. Mixing time travel and thrillers is nothing new, but the way that McAllister does it is fresh and addictive.
Wrong Place Wrong Time is one of the most exciting modern thriller books you could read right now.
The Final Girl Support Group by Grady Hendrix
Any fan of horror cinema will be familiar with the "final girl" trope: the one young woman left alive at the end of a slasher movie. She's usually a sweet, innocent virgin.
The trope has become an important element of the slasher formula, but also a key ingredient when creating "meta horror", which at this point is also an exhausted genre of its own.
The Final Girl Support Group is a novel that blends meta horror with the thriller genre.
It leans hard on the final girl trope in a fresh and clever way, and the result is something truly exciting, messy, fun, and clever.
The titular final girl support group is a collection of middle-aged women who all survived real slasher stories in the '80s and now meet on a regular basis; their meeting chaired by a famous psychiatrist.
But when the novel begins, one of these final girls doesn't show up, and we soon learn that she's dead. A recent slasher incident has also created its first final girl in decades.
So begins a slasher about slashers: the story of someone killing off final girls. This is a love letter to the genre while being an exciting and eccentric thriller in its own right.
The Final Girl Support Group begins with a fun concept and quickly morphs into a chilling adventure that places it amongst the very best thriller books.
Buy a copy of The Final Girl Support Group here!
My Sister, the Serial Killer by Oyinkan Braithwaite
Upon its publication, My Sister, the Serial Killer was quickly lauded for its freshness and ingenuity within a genre that leans on tropes and formulas.
Winning awards across the US and the UK, this is a novel that really had people sitting up, paying attention, and throwing praise in its direction. All for good reason.
Published in 2018, My Sister, the Serial Killer was written by Nigerian-British author Oyinkan Braithwaite, and was her debut novel. And what a debut it is.
Our protagonist, Korede, has gotten into the unfortunate routine of helping her younger sister clean up her messes after she inevitably murders her boyfriend (something she has now done three times).
The two cover their tracks and behave naturally, to keep the attention off Ayoola and keep her from being arrested and convicted.
But now, Korede has fallen for a man who has, in turn, fallen for Ayoola, and Korede is sure that he will be her next victim. So, Korede has some hard choices to make.
This is an enticing page-turner, and one of the best thriller books you'll ever read.
Ink Blood Sister Scribe by Emma Törzs
Ink Blood Sister Scribe is one third thriller, one third urban fantasy, and one third dark academia. This blending of genres makes for something wonderfully original and intensely exciting to read.
Set in the modern day, but full of old and dangerous magic, this is a wonderful mystery thriller about isolation and secrecy.
Ink Blood Sister Scribe begins with two estranged half-sisters in their twenties. The oldest, Esther, has been moving from place to place every year, and right now she's on a research base in Antarctica.
Her father warned her to move every November and keep moving for twenty-four hours before stopping somewhere new. If she doesn't, she would die just as her mother had.
Joanna, the youngest sister, has been locked away in her Vermont home for years, in a house full of magical books. When the novel begins, her father Abe has had every drop of blood drained by a spell book and dies on their lawn.
Soon enough, a third protagonist is introduced: Nicholas, a young English nobleman who has been raised in a similarly isolated world of magical books. A library hidden in plain sight.
With their father suddenly dead and Esther sensing danger breathing down her neck in the most remote place on Earth, our sisters must search for the truth. There is so much to uncover, so much to learn.
This is both a chase and a hunt, and the sisters learn what happened to their father and what is after them. A bold blend of genres and a wonderful mystery story, this is one of the best thriller books of the past few years.
Buy a copy of Ink Blood Sister Scribe here!
The Maid by Nita Prose
Written by Canadian author Nita Prose (whose name is as suited to her profession as her beloved protagonist's is to hers), The Maid is a claustrophobic mystery thriller set within the confines of a fancy hotel.
Our protagonist, Molly, is the star of the show here. An autistic-coded character (whose neurodivergence is never explicitly spelled out), Molly is sweet, charming, honest, and wholly good.
In The Maid's opening chapters, Molly performs a routine cleaning of the room of a regular guest, only to find him dead on the bed. Was it murder? Most likely. But why? How? And whodunnit?
While Molly's lovable personality and demeanour makes The Maid a borderline-cozy murder mystery novel, the grittiness and cruelty that lies beneath the surface makes this a harsher thriller than it first appears.
Dealing with buried trauma, prejudice towards the neurodivergent, abuse of immigrants, and drug trafficking all being themes and elements of this novel, The Maid is a thriller that hits particularly hard in places.
Casting an female autistic-coded character (if a slightly too stereotypical one) as the novel's protagonist adds a real freshness to this novel, as does her innocent job.
There are no sleuths here, and only one detective — who is callous, cruel, and generally dreadful at her job. And so this is a novel that pits good people against those who are abusive and corrupting.
A satisfying mystery novel and one of the more unique and original thriller books of recent years.
The Lamplighters by Emma Stonex
The Lamplighters begins in 1972, with three lighthouse keepers all going missing at once, with the setup being evocative of classic locked room mystery novels.
Locked room mysteries are a staple of the murder mystery genre, especially within the honkaku genre of Japanese mystery novels, but Stonex does something very different here.
Twenty years later, in the '90s, an author of crime novels wants to turn this infamous disappearance into a novel.
In order to do that, he interviews the wives and girlfriends of the vanished men, and we are flies on the wall during those interviews.
From here, the novel methodically flits back and forth between the days and weeks leading up to the mystery, and the interviews with their partners in the '90s.
In both time periods, we gradually become very intimate with these characters; we learn their habits and behaviours, and we begin to speculate on the mystery.
It's a thrilling tale, told in a freshly unconventional way, and one that will certainly stay with you.
The Lamplighters is a bold new entry into the genre of mystery thriller books.
Buy a copy of The Lamplighters here!
The Guest List by Lucy Foley
Lucy Foley turned plenty of heads with her debut thriller The Hunting Party, and her follow-up novel The Guest List cemented her as a new queen of the mystery thriller genre.
The Guest List is wonderfully reminiscent of the works of Agatha Christie, but with an added sprinkle of modern grittiness.
Set on an isolated island off the Irish coast, The Guest List follows a murder at a wedding party.
But not just any wedding party; the groom, Will, is a rising star in the world of television and the bride, Jules, is a successful magazine editor.
These are fancy people; it's a fancy party. But the shadow of death looms large and loud nonetheless.
With multiple perspectives and a slow-burn narrative, we have plenty of time to get to know these people, their relationships, and their clashing opinions.
Tense and exciting, this is as much a character drama as it is a murder-mystery, and all of that leads to an intoxicating thriller of a novel.
Buy a copy of The Guest List here!
My Annihilation by Fuminori Nakamura
Translated from the Japanese by Sam Bett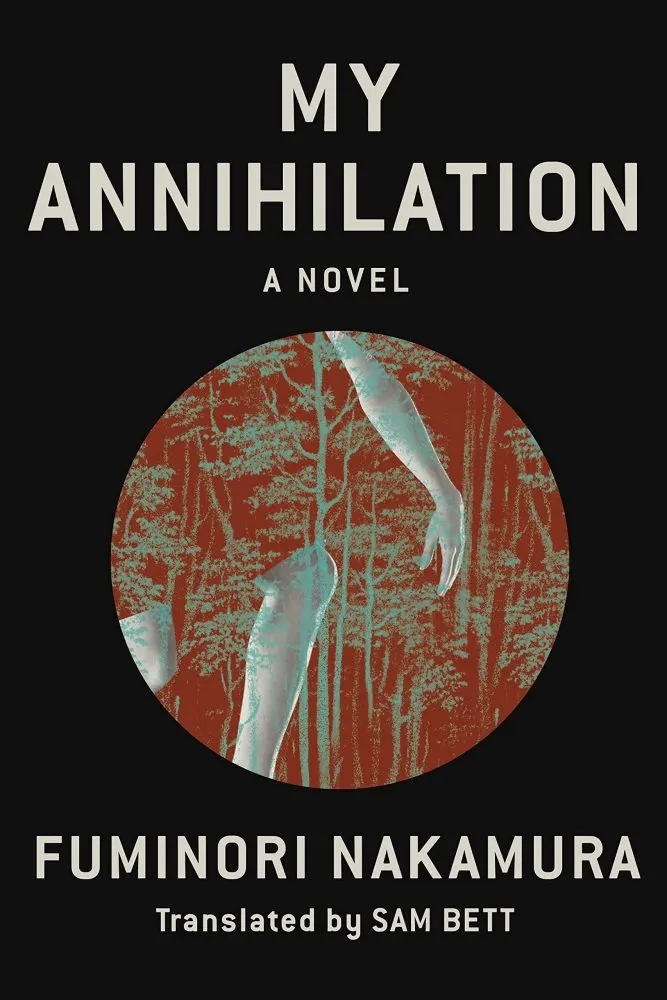 The terrorof Fuminori Nakamura's My Annihilation is the clever way in which the author sits the reader down right next to his protagonist. You're beside him; you're in his head; you watch everything he does.
You feel his anger, his confusion, his malice. Everything. And it's all quite frightening. The thrills are intense.
My Annihilation begins with an anonymous man who is planning to steal another man's identity. He read's that man's journals and learns about his youth.
Those journals take you on a journey deep into the callous mind of a dangerous youth. Then our anonymous protagonist is captured, called the same name he was reading earlier, and is taken to a facility.
From here, identities blur together and you, the reader, have no choice but to hold on tight and white-knuckle the choppy, dizzying journey through one of the best thriller books of recent years.
There are puzzles within puzzles to attempt to solve here, and you'll probably fail. You're in the dark, and you must just read on and on and on. This is an anxiety-inducing thriller that's not for the feint of heart.
Buy a copy of My Annihilation here!
How to Kill Your Family by Bella Mackie
Here is another one of those thrillers that had every kind of reader sitting up and paying attention, likely in part because of its delightfully cheeky title.
Reminiscent of Emerald Fennell's daring 2020 film Promising Young Woman, How to Kill Your Family is an angry thriller about class disparity, selfishness, and cruelty.
Our protagonist is a young woman who was raised by a poor, single French woman in London.
Grace's mother was knocked up by a philandering playboy billionaire who cast her aside and refused to even look in her or their daughter's direction.
After the death of her mother, Grace decides to head out on a killing spree, murdering the members of her father's rich family one by one, and we get to sit back and watch.
The mystery is revealed in the prologue, however. The novel's framing device: Grace is in prison, writing her memoir.
Here, she tells us that she actually got away with all of these murders, and was locked up for the only murder she didn't commit.
There's our hook; there's our mystery.
From here, we read on and laugh as the sardonic and murderous Grace goes out on the hunt.
This is a wonderfully funny, grim, and satisfying book that stands out amongst the very best modern thriller books.
A Certain Hunger by Chelsea G. Summers
Chelsea G. Summers' A Certain Hunger, like American Psycho before it, is a kind of inversion of the thriller, by which I mean that this alluring piece of fiction places the reader, uncomfortably, by the side of a killer.
Dorothy is a cannibal and a food critic. When the novel begins, we watch her seduce a man at a hotel and then kill him. In chapter two, we see that she is now in prison for life.
From there, we read her life story. We are impressed by her career successes — Dorothy is a prolific and successful food writer with two books under her belt. But she also loves killing and eating people.
Men, specifically. Men come into her life and offer her something (usually love, sex, or a job), but by this point they are not long for this world.
We stand by while Dorothy kills these men in creative and gruesome ways, before selecting a part of them to cook, prepare, and devour in a very Hannibal Lecter fashion.
While this could be described as a feminist novel, in which a woman takes revenge on the men who have wronged her, and on the patriarchy in general, it's also just a delectable, disgusting fantasy thriller.
The best thriller books are ones that twist the genre and offer a new angle, and A Certain Hunger does just that. Written with a creative flair and a dark sense of humour, this is a must-read thriller.
Buy a copy of A Certain Hunger here!
11/22/63 by Stephen King
Stephen King is best-known for his horror novels; he is, after all, known as the king of horror. But he has also written some incredible fantasy novels and thriller books.
One of those excellent Stephen King thrillers is 11/22/63.
An English teacher is shown a wormhole that leads to the late 1950s. A friend convinces him to use his time in the past to stop the assassination of President John F. Kennedy.
Jake finds that the past may be changed for the better but the future may not react so positively to this shift.
11/22/63 is one of King's few massive modern success stories; it's also one of his rare creations with no tangible horror to speak of.
There is threat and suspense, naturally, but this novel is far more a science fiction thriller than anything horror-related.
A massive boon to the book is the relationship between Jake and his love interest, Sadie. Both bring incredible warmth to a novel which rather than just being a tense thriller, becomes a romantic sensation too.
Misery by Stephen King
One of King's most celebrated and beloved novels, Misery, is far more commonly categorised as horror, but it is absolutely also a thriller, and a sensational one at that.
(Rob Reiner's 1990 film adaption, for which the sensational Cathy Bates won an Oscar and a Golden Globe for best actress, is also a must-watch movie.)
Misery follows an author of historical romance novels named Paul, who crashes his car in a snow storm and is rescued by Annie, who happens to be a big fan of Paul's novels.
However, Annie isn't happy about Paul killing off his series' protagonist in its final novel, and his hopes to move on from that series altogether.
Trapping the injured Paul in her home, Annie forces him to burn his new manuscript and write a new novel in which the protagonist returns to life.
Taking place entirely in the claustrophobic home of a mentally unstable woman, Misery is a nail-biting thriller; we constantly fear for Paul's safety, and wonder what Annie will do next.
Unpredictable, psychotic, and physically aggressive, Annie Wilkes is one of the horror and thriller genres' most memorable villains.
The Glass Hotel by Emily St. John Mandel
Mandel is an author of several modern masterpieces — a true visionary who elevates genre fiction to new heights, and has proven herself to be a master of several different literary writing styles.
With The Glass Hotel, Mandel takes the tropes of the thriller genre and imbues them into a literary novel about doubt, grief, and regret.
We begin with Paul, a young man who made some bad decisions, but has ended up working at a remote hotel on Canada's west coast; a hotel owned by a wealthy New Yorker named Alkaitis.
Paul loses his job after he's blamed for leaving threatening graffiti on the glass wall of the hotel lobby, and from here we follow the narrative of his sister, Vincent, who also worked at the hotel but is scooped up by Alkaitis as his arm candy.
The graffiti and what become of Paul remain mysteries that prick at the back of your mind as you read, and you also know early on that it is Vincent's fate to disappear from the deck of a ship years later.
How will we get to that moment? What leads Vincent to be on that ship? Is she killed? Does she die voluntarily, given how we also know that Alkaitis' empire comes crumbling down when it is exposed as a Ponzi scheme.
Across The Glass Hotel, perspectives shift frequently, from Paul to Vincent to Alkaitis, and more. We also move through time, from the '90s to the present day, and back again.
All the while, questions emerge, mysteries are solved, sympathies shift, and revelations come to light.
The Glass Hotel is a very different kind of thriller; a literary mystery novel that demonstrates Mandel at the height of her craft.
Buy a copy of The Glass Hotel here!
Stillhouse Lake by Rachel Caine
Stillhouse Lake is a bloody thriller that wastes no time in getting to the action. It doesn't tease or tantalise; it goes straight for the jugular.
The excitement of the novel's opening chapter isn't just to get you hooked; either. Stillhouse Lake doesn't let up from there; it builds and only gets louder.
Our hero, whose birth name is Gina but who is forced to rename herself as Gwen for her own protection, was at one time a typical suburban American housewife.
But when her husband's secret — that he is, in fact, a serial killer — comes to light and he is convicted, she takes her children and heads out on the road.
Eventually, she settles in the idyllic titular Stillhouse Lake, but is being hounded by online trolls and stalkers who believe that Gwen isn't as innocent as she insists on being.
To make matters worse, a dead body soon appears in the lake. Gwen isn't yet done with running from murder.
Stillhouse Lake is a white-knuckle mystery novel, and a champion even amongst the very best thriller books.
Buy a copy of Stillhouse Lake here!
The Girl with the Dragon Tattoo by Stieg Larson
Translated from the Swedish by Reg Keeland
The Girl with the Dragon Tattoo is one of those very rare thriller books that had everyone sitting up and paying attention, whether they were fans of the genre or not.
Its original Swedish title literally translates to Men Who Hate Women, which is wonderfully suitable and arguably far more evocative, too.
Then there were the adaptations. In Sweden, all three novels in the Millennium trilogy were adapted to the big screen, and Hollywood also adapted the first book as well.
Just like with Gone Girl, legendary thriller director David Fincher made a worthy adaptation of the source material, this time starring Daniel Craig.
Allegedly, the story of this novel was inspired by a tragic event that happened in Larson's own youth, but this is doubted by some people.
The Girl with the Dragon Tattoo is a gritty thriller that follows a middle-aged journalist who has been hired to uncover the truth of a wealthy girl's disappearance forty years prior.
This novel turned so many heads, transforming countless readers into fans of thriller books for the rest of their lives.
A Flicker in the Dark by Stacy Willingham
The debut novel by rising star of the thriller genre, Stacy Willingham's A Flicker in the Dark has made a real lasting impression on fans of the genre.
A must-read for fans of Catriona Ward and Gillian Flynn, A Flicker in the Dark follows Chloe, a psychologist who is engaged and finally allows herself to feel happy and content.
That is until a string of local disappearances dredge up memories of her own traumatic childhood.
As a girl, Chloe's father was convicted as a serial killer after six girls went missing in their local area. Now, twenty years later, something shockingly similar is unfolding around her.
This is a thriller that feels at once entirely new and entirely respectful of the genre's conventions; a modern classic amongst thriller books.
Buy a copy of A Flicker in the Dark here!
American Psycho by Bret Easton Ellis
Another legendary literary thriller, American Psycho is a smart and engaging, if delightfully unhinged, novel about consumerism and corporate culture in capitalist America.
Made infinitely more famous by Mary Harron's 2000 film adaptation of the same name, a film that really skyrocketed Christian Bale's career, American Psycho is a classic of the genre.
What makes this one such a classic, beyond its clever themes and tongue-in-cheek tone, is its first-person narrative.
A postmodernist thriller, American Psycho puts the reader in the shoes of Patrick Batemen, investment banker by day and serial killer by night.
Set in the '80s, at the height of American capitalist and consumerist culture, American Psycho is a brash critique of the world of middle class New York.
An absolute stunner, and one of the absolute must-read thriller books of its time.
Buy a copy of American Psycho here!
The Silence of the Lambs by Thomas Harris
While Thomas Harris' 1988 novel is, in fact, a sequel (to Red Dragon) it is easily his most famous and celebrated novel.
This is, at least in part, thanks to the success of Jonathan Demme's Oscar-winning film adaptation, starring Jodie Foster and Anthony Hopkins.
This is the novel that made both the iconic heroine, Special Agent Clarice Starling, and the iconic villain Hannibal Lecter household names.
Lecter is the definitive cannibal in fiction; to this day, when people think of cannibalism, they picture Hopkins grinning behind his muzzle.
That's the power of Harris' Silence of the Lambs, one of the great thriller books of all time.
The Snowman by Jo Nesbø
Translated from the Norwegian by Don Bartlett
Mystery thrillers are the bread and butter of modern Norwegian literature, and Jo Nesbø is the most successful thriller author to have ever come out of Norway.
Not only that, but his novel The Snowman (the seventh in his Harry Hole series) is easily his most famous and celebrated work, having been adapted to the big screen in 2017 by director Tomas Alfredson.
The film, starring such big names as Val Kilmer, J.K. Simmons, and Michael Fassbender (as Harry Hole) likely turned a lot of crime movie fans into Nesbø readers.
This Harry Hole mystery thriller begins with the disappearance of a woman in Oslo. A boy named Jonas wakes up to find that his mother has vanished.
Strangely, a snowman now stands in their yard wearing Jonas' mother's scarf. And she is not the only woman to go missing on the first day of snow that year.
If you enjoy the grittier police drama side of thriller books, rather than the cosy, Agatha Christie-esque murder mystery end of the spectrum, you need to check out Jo Nesbø and The Snowman.
Buy a copy of The Snowman here!
The Distant Echo by Val McDermid
It's 4 am, and St. Andrews School is blanketed in mid-December snow when Alex and his three friends are heading home from a party. Suddenly, they discover a girl's body.
More than two decades later, Rosie Duff's cold case is reopened. When two members of the suspected quartet are killed under suspicious circumstances, Alex knows he must uncover the true killer of Rosie before he's the next one in trouble.
Award-winning author Val McDermid, one of the absolute treasures of modern thriller books, is sure to captivate you with this novel that just can't be put down.