Scottish literature is some of the best in the world, and it's shaped many incredible writers. If you like reading dark, interesting, and thrilling literature, you'll love these Scottish books. Whether you're looking to get inspired, spend a few hours on the edge of your seat, or catch a glimpse of another time, you're sure to find it in one of these essential Scottish books.
Essential Scottish Books
We've got a few gothic novels, some science fiction, and modern Scottish literature. Find several books set in Scotland while others are written by Scottish authors — all under the beautiful umbrella of Scottish books. Let's check out some favourite Scottish reads!
This exciting new Gothic novel by Scottish author and poet Jenni Fagan will take you on a journey through the unsettling experience of living at no.10 Luckenbooth Close. This is one of our favourite modern Scottish books. In 1910, when the devil's daughter rows to Edinburgh in a coffin to work for the Minister of Culture, a series of events are set off that curse the eccentric residents of the tenement building for the next nine decades.
Luckenbooth is the type of novel that will transport you to another world and another time, one where seances, bone mermaids, and the spirit world are a reality. Jenni Fagan has crafted this novel of unsettling horror and a stunningly entertaining cast of characters.
Hex by Jenni Fagan
As one of Scotland's most celebrated writers, Fagan deserves to make this list twice, and her novella Hex is one of the most impactful modern Scottish books you're likely to read. Hex can be read in a single sitting, and in that time it will take you on a journey through time; teach you about the plight and pain of womankind over centuries.
As books about witches go, this is an extremely literary affair, but also one not without its fantastical elements. Our protagonist is a modern woman named Iris who has cast a spell to transport herself half a millennium into the past.
Iris' goal is to meet with Geillis Duncan, a woman who has one night left to live before she is hanged for the crime of witchcraft. We follow the conversation between these two women as they sit together in a cold jail cell over a single night. Iris teaches Gellis about the modern day world and she keeps Gellis company before she faces the gallows.
Magic meets science fiction in this unique verse novel by Harry Josephine Giles. Readers can experience science fiction written in an Orkney dialect for the first time ever. This is easily one of the most impactful and important queer Scottish books in years, by a powerful voice amongst transgender authors.
The story follows Astrid, who recently returned home from art school on Mars, and Darling, who is fleeing another life and searching for a place to hide. The unlikely pair meet on the Deep Wheel Orcadia, a distant space station fighting for survival as the pace of change threatens to leave the struggling community behind entirely.
A gorgeous feat of verse, Deep Wheel Orcadia weaves a story of place and belonging while introducing a compelling cast of characters that you're sure to resonate with. Orcadian Harry Josephine Giles strikes into an exciting new realm with this exciting piece of Scottish literature.
Douglas Stuart's Booker Prize-winning debut novel, Shuggie Bain, is a stunning masterpiece of modern Scottish literature. A book that has shaken the landscape of modern Scottish books, and for good reason.
Set in the run-down public houses of 1980's Glasgow just before the notorious drug epidemic hits the city, Shuggie Bain tells the story of Hugh "Shuggie" Bain, a sweet and shy boy whose siblings leave him to care for their alcoholic mother.
Agnes Bain dreamed of a perfect life that was the opposite of her grey reality. But, with this lifestyle out of reach, her alcoholism begins to hurt everyone around her. Shuggie Bain is a heartbreaking and eye-opening story of addiction, love, and blossoming self-discovery. This stunning debut gives a fresh perspective on the harsh reality of the working-class struggle and tells an important story in a unique way.
If you're into thrillers, this is a must-read amongst contemporary Scottish books! Lauren and her father Niall live alone in a small village in the Scottish Highlands, surrounded by pine forest and not much else. Mysterious deaths and disappearances aren't unusual here.
Francine Toon weaves the perfectly suspenseful horror story in this smashing debut, winning Bloody Scotland's McIlvanney Prize in 2020 for the best Scottish crime novel and giving readers a peek into the unsettling possibilities of life in a small town at the edge of the world.
Longlisted for the Highland Book Prize 2020, Grimoire is a new and thrilling take on Scottish folk tales. Narrated by a doomed shape-shifter, Grimoire tells folkloric tales of violence and magic, witches and selkies, and of the beauty and hostility of the Scottish landscape itself, which is as much a character as any of the creatures of this book.
Robin Robertson's book of folktales written poetry is a masterpiece of Scottish literature, and of mythology and superstition, that transports the reader to a world where the mysteries of life can only be explained by the extraordinary.
What is the reality of life for a Scottish man who dropped everything and moved from Glasgow to a remote fishing village in Japan? Written entirely on the notes app of his phone, John Gerard Fagan's debut memoir attempts to answer the question with humour, wit, and total honesty.
As he nears 30, Fagan is disillusioned by a life of working in factories or being unemployed, so he makes the daunting decision to sell all of his possessions to move across the world to Japan. Without any knowledge of the language or his new home whatsoever, Fagan's experiences in the seven years he lives in this small Japanese fishing village are humorous and offer countless moments of learning.
Fish Town is a beautiful story told piecemeal for everyone who wonders what else life may hold for them if they're willing to take a leap of faith and do something a little strange. It's also essential reading for people who might consider moving to Japan.
Written by Scottish author Martin MacInnes, In Ascension is a literary sci-fi epic that has the potential to change the way you think and feel about the world around you, about what we are, where we came from, and where we might go.
Set in the present day, In Ascension is a modern Scottish novel that follows a Dutch biologist named Leigh, who grew up in Rotterdam and is captivated by sea life.
In the novel's first part, Leigh joins an expedition to the north Atlantic ocean, to explore a deep sea vent that might tunnel deeper than the Mariana Trench, and therefore house life never seen before. The life in this vent, untouched for billions of years, would be like a time capsule, taking us back to the earliest forms of life on this planet.
What Leigh discovers in the vent takes her to the Mojave Desert, to a job working with a NASA-like space agency that is using a newly-discovered form of fuel to send people to the furthest reaches of our solar system and beyond.
The questions that In Ascension poses, and the incredibly discoveries made, ask the reader to deeply consider that old cliche: we are all made of star stuff.
In Ascension is a modern Scottish science fiction novel that takes us from the most inaccessible parts of the deepest darkest ocean to the furthest point in our solar system. And, as we explore these places old and new, big and small, we ask ourselves what we are, where we came from, where we will go, and how it is ultimately all the same. We are all star stuff.
The Gingerbread Men by Joanna Corrance
Published by the fine folks at Scotland-based indie publishing house Haunt, Joanna Corrance's novel The Gingerbread Men is a fantastically gothic fairy tale for adults.
We begin at a Christmas market in Edinburgh, where protagonist Eric is suddenly and inexplicably drawn away from his fiancee by the allure of a woman named Delia. Showing no regret for his actions, however uncharacteristic, Eric is taken in a taxi to a remote hotel in the Scottish highlands; a place that never sees any guests and the snow never stops falling.
Enchanted by Delia's spell, Eric remains at this hotel for weeks. Those weeks become months, and soon enough Christmas rolls back around.
Only men work at the hotel, and they occasionally pass the time by telling horror stories, which we also get to enjoy. These stories act as allegories and warning signs against Delia, the hotel, and the power she seems to have over them. Eric considers leaving, but fails, and quickly falls into a comfortable life at this labyrinthine place, under the spell of the enigmatic Delia.
Blending the tropes of classic fairy tales with the horror of an unknowable, claustrophobic, and gothic environment, The Gingerbread Men is a nightmare of a novel that sets the reader on edge and keeps them there until the end.
Buy a copy of The Gingerbread Men here!
A groundbreaking novel in an unexpected format, Ali Smith's How to be Both comes in two parts to allow you to choose how you read this novel about art's versatility.
Ali Smith is a literary genius who once again gives her readers an unforgettable, mind-bending story. Centred around a Renaissance painter in the 1460s and the child of a child in the 1960's, the story weaves between the two tales of love and injustice and twists into a single thread.
Time isn't linear, knowledge isn't absolute, and fiction becomes a reality in this innovative story of love and second chances.
It's 4 am, and St. Andrews School is blanketed in mid-December snow when Alex and his three friends are heading home from a party. Suddenly, they discover a the corpse of a girl.
More than two decades later, Rosie Duff's cold case is reopened. When two members of the suspected quartet are killed under suspicious circumstances, Alex knows he must uncover the true killer of Rosie before he's the next one in trouble.
Award-winning author Val McDermid, one of the absolute treasures of Scottish books and literature, is sure to captivate you with this novel that just can't be put down.
James Robertson's And the Land Lay Still is a quintessential novel of the story of modern Scotland. It's one of the few books set in Scotland on our list. It's told through the experiences of native Scots and immigrants, people from all backgrounds and in various professions, And the Land Lay Still brings to life the tremendous and rapid changes Scotland has experienced.
Be ready to be immersed in the growth change of a country in this sweeping tale of family, friendship, challenges, and hope.
Janice Galloway's debut novel was first published in 1989. It's a painful tale of the struggles of mental health and the difficulties of surviving trauma. 27-year-old Joy Stone is a teacher who struggles with the weight of life. She only blames herself for the problems she faces instead of understanding that the traumas she has experienced aren't her fault.
A story of grief and pain, Trick is to Keep Breathing is a masterpiece in its ability to be a tale of intense sadness and pain while still having a sense of wit and eventual salvation.
One of the more disturbing yet intriguing Scottish books, The Wasp Factory, is a true dark comedy. All kids go through phases. But, are Frank's bad decisions childlike mistakes or something more? While perhaps best known for his science fiction books, Banks here turns his eye homeward to Scotland.
This book offers a strange, disturbing, and unexpected look into the mind of a 16-year-old psychopath. Controversial since its debut, this novel will delight lovers of darker fiction while being a breath of fresh air with its humorous voice and strangely likeable protagonist.
Knots and Crosses, the premier novel in the Inspector Rebus series, introduces Inspector John Rebus. He's retired from Britain's elite SAS and now serves as a cop in Edinburgh. Hiding from his memories and generally showing little interest in progressing his career, Rebus can't ignore the ghoulish strings of crimes now tormenting the city. He isn't just a cop trying to catch a bad guy, but he's also a man who knows more about this story than he lets on.
Mystery novelist Ian Rankin hits it out of the park with the first novel in his beloved series, weaving an unpredictable mystery that readers can't get enough of.
When Glaswegian ex-con Sammy awakens in an alley, disoriented and confused, he struggles to remember the events that happened during his two-day drinking binge. After fighting with some soldiers, Sammy finds himself in a jail cell, badly beaten and completely blind.
As if that isn't bad enough, further complications ensue. His girlfriend goes missing, he is questioned by the police for an unknown crime, and his attempts at receiving disability compensation are met with the endless red tape of bureaucracy.
Scottish writer James Kelman's Booker Prize-winning novel is a story of the Scottish working class, a dark and political tale of struggle and survival.
The definition of a cult classic, Irvine Welsh's Trainspotting, is one of the most well-known and revered Scottish novels. Following the turbulent lives of a group of lads who both do terrible things and experience terrible things, Trainspotting is a masterpiece of authentic writing and paints a tragic portrait of its characters' lives.
Written entirely in Scottish dialect, this groundbreaking novel inspired the 1996 cult film of the same name, starring Ewan MacGregor and directed by Danny Boyle.
Another one of the most iconic Scottish novels, Lanark tells the interwoven stories of Lanark and Duncan Shaw and their lives in the disintegrating cities of Unthank and Glasgow. This playful narrative tackles heavy topics while conveying a profound message about humankind's struggle to love and refusal to give up on trying.
First published in 1981, Lanark immediately placed Alasdair Gray in the league of great British writers, with reviewers calling him, "the best Scottish novelist since Sir Walter Scott" – Anthony Burgess.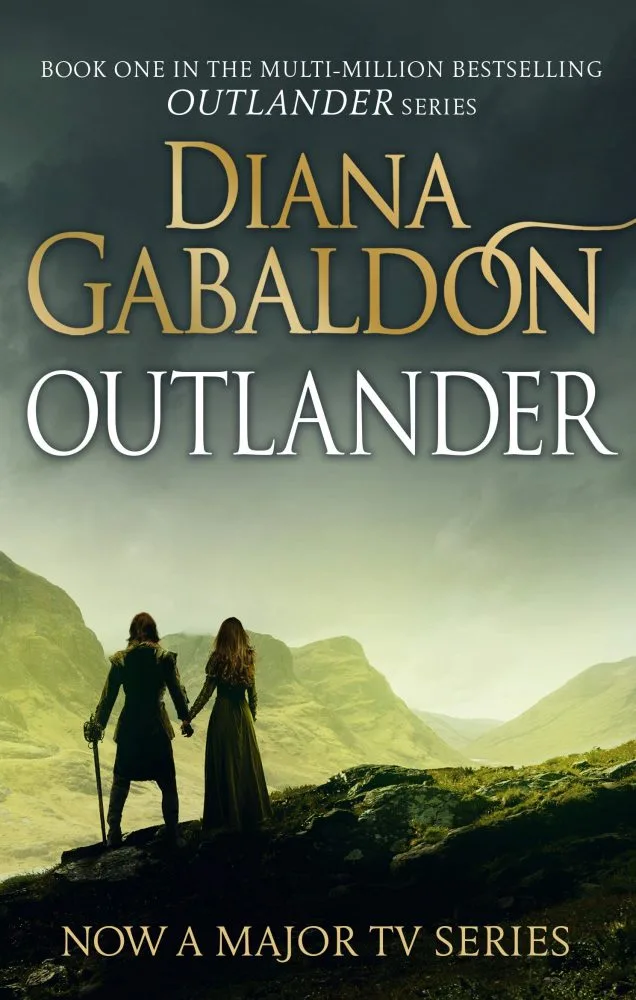 The basis for one of the most popular television series of our time, Diana Gabaldon's Outlander is the first book in the series that follows Claire Randall, a former combat nurse, and her adventures in love and war throughout time. Another one of our favourite books set in Scotland, it's 1945 when Claire and her husband Frank take their second honeymoon to the Scottish highlands.
When Claire steps into one of the mysterious stone circles dotting the land, she finds herself in the midst of Scotland's war for independence. She quickly finds herself accepting the protection of a brave and sometimes foolish Scots warrior: Jamie Fraser.
An exciting tale of love and of being torn between two lives, Outlander is one of Scotland's most beloved works of literature and one that is sure to excite you if you dream of a chance to escape to another time.
The Prime is set in 1930 in Edinburgh, as the world is teetering on the brink of change. A happy-go-lucky teacher at Marcia Blaine Academy is leading the charge. Her catchphrase is, "Give me a girl at an impressionable age, and she'll be mine for life. I'm dedicated to you in my prime."
The glamorous Miss Brodie charms and manipulates girls known as the Brodie Set with fantastic notions of adventure and romance while a cruel betrayal waits in the wings. The Prime of Miss Jean Brodie is Muriel Spark's masterpiece and is now a stage play, tv series, and film.
One of Sir Walter Scott's best-known and most influential works of literature, Ivanhoe, tells the knight Ivanhoe's epic story and his adventures through medieval England and to the Holy Lands. This Scottish novel tells the stories of heroic battles, romance, and historical events. It should be on every history buff's 'must-read' list!
Set in the time of King Richard the Lionheart, Ivanhoe is a true classic that just confirms Sir Walter Scott's position as one of the greats.
The Strange Case of Dr. Jekyll and Mr. Hyde is one of the most far-reaching Scottish novels. It's even become a part of the American English vernacular. The phrase "Jekyll and Hyde" refers to a person's duality and ability to switch from unassuming and normal to shockingly evil.
This classic gothic book tells the story of a respected London solicitor, Gabriel John Utterson, who is investigating the strange occurrences between his friend Dr. Henry Jekyll and the evil Edward Hyde. This one will keep you on the edge of your seat, as it's been doing to readers for generations!

If any of these Scottish books intrigued you, you might also enjoy this list of 15 delectable dark academia books!