Denmark is a proudly bookish nation. Perhaps the true source of happiness for this happiest country on Earth is that it's bursting at the seams with literary charm.
When you do visit the overwhelmingly bookish Copenhagen, you'll find a slew of delightful indie bookstores, book cafes to lose an afternoon relaxing in, and fairytales come to life around every corner. To find it all, follow our bookish guide to Copenhagen.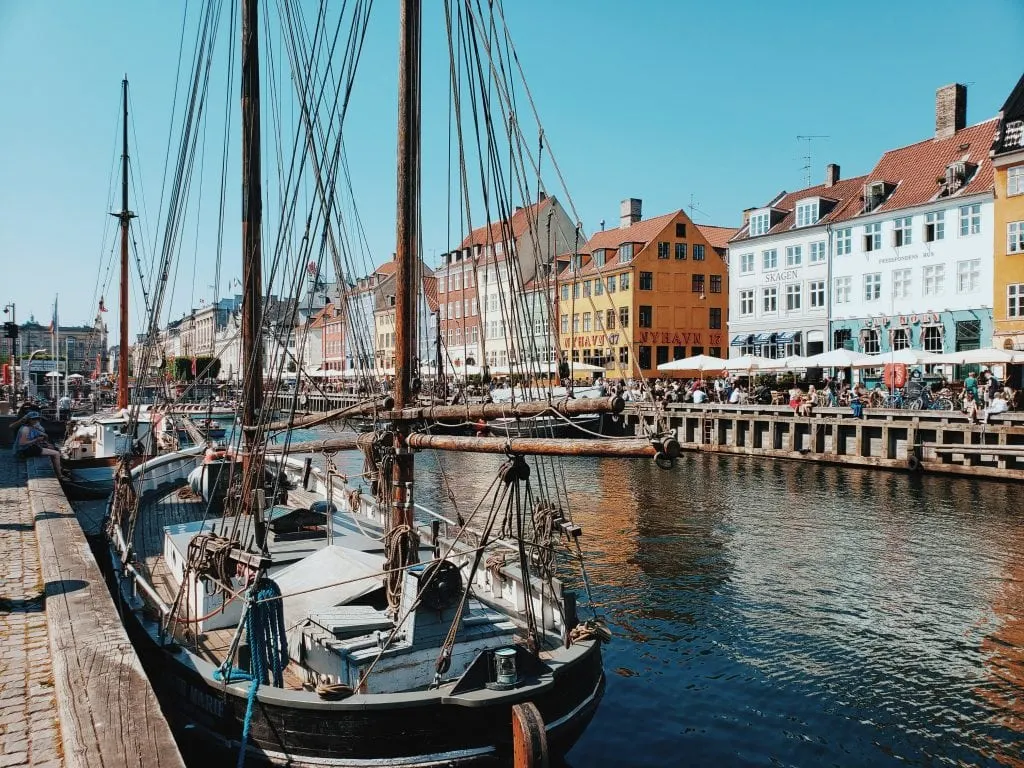 There are even day-trips to Hamlet's castle and the birthplace of Hans Christian Andersen if you want to leave the city.
Seriously, Copenhagen may very well be the ultimate book lover's fantasy city, and for that reason, it has fast become one of our favourite cities on Earth (a list that gets longer all the time). If you're a lover of literature, fairytales, and Shakespeare come check out what Copenhagen has to offer!
Hunt for Hans Christian Andersen
Denmark's most famous writer is also the man who brought the Western world many of its best fairytales, still read, adapted, and deeply loved to this day.
Though he was born in Odense, he spent much of his adult life as a writer in Copenhagen. And it's here you can find so much of his legacy! We love this Hans C Andersen walking tour of Copenhagen.
Read More: Explore literary Odense for more Andersen
Hans Christian Andersen Fairytale House
Located right opposite the inner-city wonderland of Tivoli, the Fairytale House is an awesome interactive exhibit that documents Andersen's childhood in Odense, his life in Copenhagen, and the journeys he took which inspired his creations.
You'll also see your favourite fairytale characters come to life (in a far less Disney style than we're used to). It's a perfect place for children of all ages to visit!
Also just outside the Fairytale House and overlooking Tivoli theme park is a detailed and epic statue of Andersen himself sitting proudly. The most photogenic man in Copenhagen, for sure!
Tip: You can also stay in the Andersen Boutique Hotel in Vesterbro (near central station) to carry on the theme!
Read More: Here are some great books to read before visiting Denmark.
Tivoli Gardens
You're going to want to explore Tivoli when you visit Copenhagen, Andersen or no Andersen. But when you do, just know that it comes Andersen-approved! He visited this vintage theme park himself the day it opened, and had a deep love for it. So much so, in fact, that Tivoli itself inspired him to write his fairytale The Nightingale.
Also make sure, when you visit, to ride The Flying Trunk, a ride that brings many of Andersen's fairytales to life all around you!
Andersen's Nyhavn
Nyhavn (or New Haven) is the most photographed place in Copenhagen. A row of picturesque houses of all different bright colours which lead to a pier at the eastern edge of the city centre.
Today it has a bridge covered in love-locks and a huge selection of fantastic (albeit pricey) Danish restaurants and cafes. You can take a boat down the canal or just watch the world go by at this picturesque spot.
For Andersen fans, he also spent most of his life living here. Andersen wrote one of his most famous stories The Princess and the Pea while living in no. 20 Nyhavn. He also lived for twenty years in no. 67 Nyhavn, which today exists as the H.C. Andersen Cafe, where you can enjoy some traditional Danish lunch and soak up the electric atmosphere of Nyhavn.
Tip: If you'd like to be based in this enchanting area, try 71 Nyhavn Hotel — it's right on the waterfront.
Read More: Where to Stay in Copenhagen (Hotels and Neighbourhood Guide)
Assistens Cemetery
Next, take the metro to Carlsberg station and turn south. There you'll find the peaceful Assistens Cemetry which is home to the graves of Denmark's most beloved writer, Hans Christian Andersen, and its most accomplished and famous philosopher, Søren Kierkegaard.
Nearby the station there's a whole street of things to do and eat plus you'll eventually end up at Thiemers Magasin bookshop. On the way pop into So Last Year for second-hand and vintage items (including books) and coffee and Brooklyn Charm for making your own jewellery souvenirs.
The Little Mermaid
Overlooking the water just beside the old military fortress of Kastellet is the iconic statue of Andersen's Little Mermaid. It's a great photo spot but, be warned, the statue is – as many people often say after they've seen it themselves – very small and a little underwhelming but should you take the time to see it, absolutely.
The Bookish Cafes and Bars of Copenhagen
Tranquebar
A mix between a cafe and bookstore, Tranquebar is run by a former librarian who ventured into the travel industry before coming back to books. The books mainly travel literature but you'll find some other gems there too. Writers and poets often hold lecture sand talks and they occasionally have small concerts.
The cafe itself is just perfect, a place to retreat for a few hours with a book or some work complete with cosy chairs, a light menu and genuinely great coffee.
Pauldan Bog & Cafe
This utterly delightful place is a spacious eatery that serves fantastic European meals and fresh coffee. Every wall is a bookcase lined with gorgeous old tomes, leather-bound and beautiful. The stairs creak and the smell of books mix with that of coffee to create a perfect haven for book-lovers.
The bookshop downstairs is a treasure trove mix of English and Danish books begging to be explored. Pauldan Bog & Cafe was our very first stop when we arrived in Copenhagen and it didn't disappoint.
The Library Bar
Although it's found in the Copenhagen Plaza Hotel, this most bookish Copenhagen bar is open for anyone to enjoy.
If you're a book-lover who has always fantasised about having that perfect library in your house — complete with leather wing-backed chairs, a big globe, garish Victorian portraits of anonymous nobles, bookshelves from floor to ceiling lining every wall, and vintage scientific gadgets like brass telescopes and maybe a human skull — this is that fantasy. The Library Bar also serves cocktails named after famous writers like Shakespeare and Dickens.
The Indie Bookshops of Copenhagen
Ark Books
Here's the bookshop that most stole Books and Bao's heart. A shop that sells exclusively English books in translation from every corner of the world. Their mission is to introduce readers to lesser-known books and writers from all over the surface of our beautiful planet.
For people with the same exact goal, visiting Ark Books is the kind of venture that makes us break down and sob happy tears.
Politkens Boghal
Found in the heart of the city, this is Copenhagen's biggest bookseller with a huge range of English books. They also stock the most interesting literature from around the world, we were discovering new authors by the second! The store itself was set up by Politiken, a left-leaning broadsheet newspaper that's existed in Denmark for over a hundred years.
Books and Company
This is where you go if you're staying in Copenhagen, you're looking for a new release in English, and you want to meet some good bookish people. Books and Company are dedicated to the craft of writing and the joys of reading.
They offer events that include author talks, and they have their own book club that you're welcome to join! The store is beautifully decorated and is a must-visit for book-lovers visiting Copenhagen.
Thiemers Magasin
This is your quintessential indie bookshop. A delightful store, beautifully painted in blue with a quirky and inviting font displaying itself proudly on a quiet Copenhagen street. It's a tiny nook of a shop, bright and cheery, selling a mix of Danish and English books. They also hold their own reading club and book receptions!
Cinnober
Cinnober proudly calls itself a bookshop and gallery, and when you go its easy to see why. The shop is owned by a pair of graphic designers who have used their skill and crafts to design a gorgeous shop with a white, sun-lit and minimalist design.
All of the books they choose to stock match the store's lovely aesthetic and they also sell crafts and stationery supplies in keeping with their illustrative style.
Copenhagen's LiteraturHaus
"In an abandoned church in Nørrebro, there is an assembly house that loves literature." This LiteraturHus is a megaphone that spreads the word about the powers of literature across Copenhagen. Walk inside and you'll find almost daily events, all based around the love of books as a rich and beautiful art form.
They host lectures, book receptions on newly-launched books, and even concerts and festivals! If someone wants to put on an underground concert, host an interesting lecture, or celebrate anything bookish, LiteraturHaus will host and celebrate it. If you wanted to see just how bookish Copenhagen truly is, look no further!
Church of Our Saviour
There are two reasons to visit this badass-looking church. The first is that it's, well, badass. The tower is a tapering spiral that reaches for the sky, and the stairs that take you to the top — painted in royal gold — are on the outside. It's certainly one of the more unique experiences in Copenhagen.
The other reason is that this is the same tower mentioned in Jule's Verne's early sci-fi masterpiece (and my own favourite Verne story), Journey to the Centre of the Earth.
The Royal Library (Black Diamond)
As the name suggests, this hulking Goliath of a building looks like a huge diamond-shaped chunk of obsidian. It's a sight to behold, and an example of real eye-catching modern architecture. Inside The Royal Library, you'll find one of the grandest, beautiful, and exquisite libraries in Scandinavia.
From the inside, the huge multi-storey glass walls overlook the waterfront, and as you explore you'll find an incredible blend of modern architecture and traditional library aesthetics. The library holds original the manuscripts of both Hans Christian Andersen and Søren Kierkegaard.
Take a Bookish Denmark Day-Trip
Denmark is a relatively small country, and there are three fantastic day-trips that you can do from bookish Copenhagen as a book-lover, one of which involves visiting an entirely different country!
Read More: Magical Daytrips from Copenhagen
Kronborg Castle
Just a little ways (20 miles) up the road from Copenhagen, you'll find Kronborg Castle. Just follow the coast until you reach the end.
This fairytale come to life was built in 1420 by King Eric of Pomerania and was then the home of the royal family for about two hundred years. This UNESCO World Heritage site is a great day-trip for its history and beauty alone, but for us bookish types it's also an unmissable experience.
Kronborg Castle is the home of Shakespeare's most beloved mad prince: Hamlet. Though Hamlet never really existed, this is the castle that Shakespeare chose as the home of Hamlet.
As such, there is a carving of Shakespeare you can find in the castle; the gift-shop is overflowing with Shakespeare-related goodies; and you can see for yourself how Hamlet would have lived as the prince of Denmark. For more info on Kronborg Castle, check out our day-trip itinerary (complete with video).
If you'd rather an easy tour to Kronborg and Frederikborg then we love this one.
Odense
Denmark's third-largest city of Odense is capital of the island of Funen. It's also the home of Denmark's beloved fairytale father: Hans Christian Andersen. You can take a train straight to Odense from Copenhagen that only takes ninety minutes each way, making for an ideal day-trip! Once there, you can visit The Andersen Museum dedicated to his legacy, his birthplace and his childhood home.
You can go on an Easter egg hunt for all of the stunning fairytale statues dotted across the city as a tribute to the man and his wonderful imagination. Don't leave without visiting the outstanding Brandts Museum, it was one of our favourite visits this whole trip! If you'd like to stay overnight try Milling Hotel Plaza, it's gorgeous! Read More about our amazing day trip to Odense here.
Read More: Copenhagen's Incredible Tattoo Studios
Malmö, Sweden
Beyond bookish Copenhagen, you can also explore bookish Sweden! Malmö is a peaceful, idyllic Swedish city that sits at the nation's southern tip, an hour's bus ride from Copenhagen (over the coolest bridge you'll ever cross!) Getting there cheap and easy, and totally doable in a single day. For book-lovers, there are two delightful things to do: visit the library and go shopping at the SF-Bokhandeln.
The library is a beautiful, charming building that blends a kind of post-renaissance gothic style with a hyper-modern interior to make for a very unique library experience.
And the SF-Bokhandeln is a fantastic sci-fi bookstore that stocks a heavy amount of fantastic sci-fi and fantasy books in English and Swedish (as well as nerdy merchandise, board games, and toys). We took the trip to Malmö ourselves and stayed the night at Story Hotel — check out what we got up to.
For an easy tour to Malmö and nearby Lund then we recommend this tour.
Fancy eating at one of Copenhagen's delightful food halls? Check out this guide to Torvehallerne taking you through everything from coffee, to porridge, and spice and tea shops.