The Wizarding World of Harry Potter takes up a lot of space in Universal Studios LA. A colossal recreation of Hogsmeade and Hogwarts Castle, complete with iconic shops lifted straight out of Diagon Alley, make up the very best part of Universal Studios.
In fact, this California Hogwarts can be seen from almost anywhere else in the park, like the cathedral in an old English town; even poking up above the Kwik-E-Mart in Springfield.
There is an incredible number of things to see, do, eat, drink, and enjoy in the Wizarding World of Harry Potter. A whole day could be easily spent in this part of Universal Studios alone.
Before you know it, you've spent most of your day in Hollywood riding the Flight of the Hippogriff, shopping for wands at Ollivanders, and drinking Butterbeer at the Three Broomsticks. And now, you'll have to return another day to see the rest of Universal Studios LA.
If you're looking to perfectly plan your day at the Wizarding World of Harry Potter, you need to know what the best rides and attractions are, where they are, how they work, where to eat, drink, and shop, and everything else you might want to know about the Wizarding World of Harry Potter.
All of that can be found if you read on and enjoy our complete guide to this area of Universal Studios in Hollywood.
The Rides of the Wizarding World
There are only two rides in the Wizarding World of Harry Potter, and one of them is, without any hyperbole, the best theme park ride we've ever experienced in our lives. And that statement comes from one obsessive Potterhead and one casual fan who really loves rollercoasters.
That best theme park ride in the world is the one found inside Hogwarts Castle: Harry Potter and the Forbidden Journey. The ride lifts its name from Rowling's now iconic trend of titling her books, and features some of the most intelligent ride design we've ever seen.
The other ride is the Flight of the Hippogriff, which is a fairly chill rollercoaster that can be seen whizzing around from the streets of Hogsmeade.
Read More: Magical Books & Manga For Harry Potter Fans
Harry Potter and the Forbidden Journey
If you only do one thing in Universal Studios Hollywood, make sure it's this ride. Wander down the streets of Hogsmeade and make your way to Hogwarts Castle. Enter through the gates, protected by the iconic winged boar gargoyles.
The line to the ride takes you on a tour of the Hogwarts interior that's almost as much fun as the ride itself! Portraits depicting the likes of Dawn French as the Fat Lady come to life and talk at you as you pass by, and you even bear witness to a scene involving Harry, Ron, Hermione, and the invisibility cloak.
But what is the ride itself? What can you expect from it?
Harry Potter and the Forbidden Journey is similar to Space Mountain at Disneyland. It's an indoor roller coaster ride where nothing of the rails themselves can actually be seen. You're not aware of where you're going or what is coming next. The ride is a magical blend of roller coaster and flight simulator.
Once it's your turn, you'll be strapped into a seat with your feet left dangling. The ride carries you crablike to the left, rather than forward like most rollercoasters. A screen that mimics a magic portal then transports you to the most thrilling wizarding experience you can imagine.
The entire ride is a mix of on-screen action and real rooms filled with animatronics and lighting effects. You're taken on a journey by Harry Potter himself, played by Daniel Radcliffe, around all of Hogwarts and the castle grounds.
The enormous screen in front of you transports you from iconic place to iconic places, from the halls to the Forbidden Forest to the Great Lake and beyond.
When you stop in each place, the screen is swapped out for a real room filled with impressive animatronics of spiders, a dragon, and more. All the while, the ride shakes you around, tips you back and forward, and thrusts you forward in an intense and thrilling journey around the whole wizarding world of Harry Potter.
It's like a greatest hits of every adventure Harry and friends ever experienced.
If you're visiting Universal Studios during a particularly busy time of year, it is definitely worth seriously considering an express pass. These get you into the fast lane for every ride, and Harry Potter and the Forbidden Journey is the busiest of the bunch.
You really don't want to miss this ride and, with an express pass, it's easy to ride it more than once. That's the dream.
Flight of the Hippogriff Ride
This ride is a lot shorter and tamer than Harry Potter and the Forbidden Journey. It's a short roller coaster ride that's over fairly quickly, and a very traditional one at that. There are no loops or intense moments, and the height restriction is relatively low.
The theme of this ride is, obviously, that you are riding a Hippogriff. The rocky scenery that flashes past you is evocative of the grounds of Hogwarts Castle.
You're lifted up, dropped quickly, turn some sharp bends left and right, and then it's over. It's a fun and exhilarating ride, as every good rollercoaster is. But it's nothing particularly unique apart from the Hippogriff theme.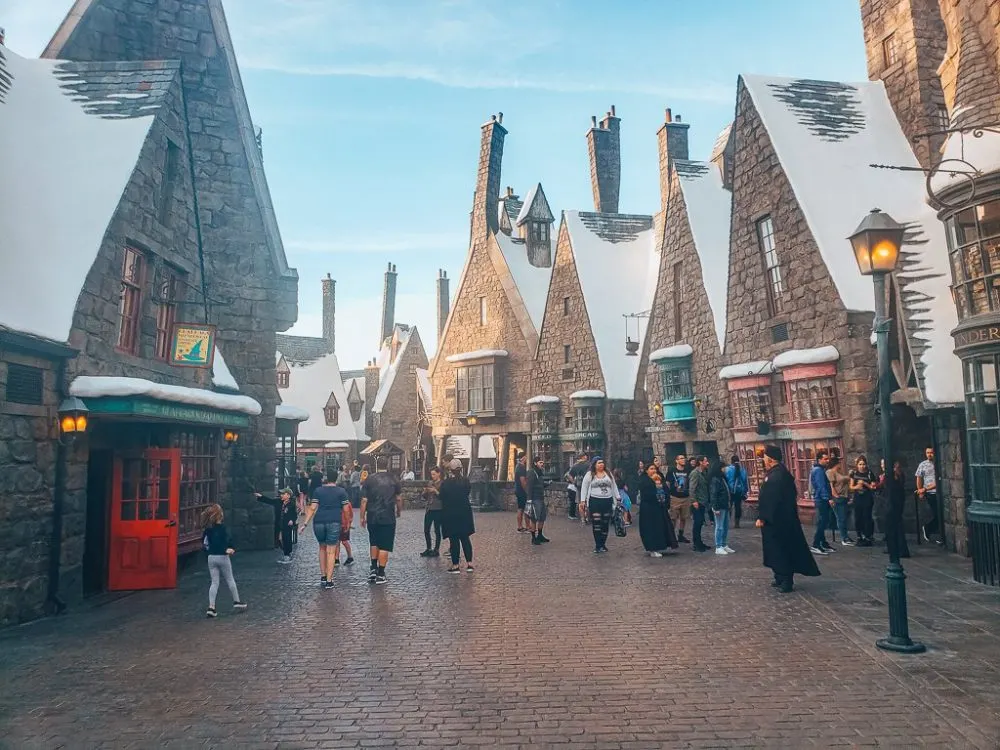 If the lines are short or you have an express pass, of course this ride is worth a few good minutes of fun. But, unlike Harry Potter and the Forbidden Journey, whose line alone is worth the price of admission, this ride can be skipped if there is any kind of long wait.
All of that being said, if you're coming with children, this ride is far more accessible to them than Harry Potter and the Forbidden Journey, which may be off limits to them. If that's the case, of course the Flight of the Hippogriff is a must-experience theme park ride.
Read More: 5 Days in Los Angeles (Complete LA Itinerary)
The Food and Drinks of the Wizarding World
If there's one drink that the Harry Potter universe is famous for, it's Butterbeer. And there are actually only a handful of licensed places around the world that sell the official brew (one of them being the Harry Potter Studios Tour in London).
Butterbeer is, indeed, sold at Universal Studios Hollywood. You'll find it at the Three Broomsticks and Hog's Head in the Wizarding World of Harry Potter.
The Three Broomsticks and Hog's Head are actually one interconnected building. So, when you've had your fill of rides and you've worked up an appetite, head over to The Three Broomsticks, a beautiful recreation with the atmosphere of a medieval fantasy tavern.
A high wooden ceiling supported by beams and arches, wooden bannisters and balustrades, candelabras and sconces lining the place. The atmosphere is absolutely on point; the Three Broomsticks has texture and detail to spare.
The back room of the Three Broomsticks is Hog's Head pub. You'll know it by the long bar and enormous tapped casks (or barrels, if you prefer) that complete the medieval fantasy aesthetic.
It's here that you can order yourself a Butterbeer, with a choice of having it cold or frozen (when we asked what the difference was, the waitress repeated the phrase twice without explanation, so we had to guess). Frozen, it turns out, is more like a milkshake: thick and creamy. Cold is more like a sweet, cold, non-alcoholic beer.
The Butterbeer at the Wizarding World of Harry Potter is extraordinarily large, sweet, and filling. It's also a little on the pricey side. All of this means we strongly suggest you get one to share between two. Seriously. Not doing so was our only regret of our entire day. It hurt our teeth and our wallets.
As for the food, this might be the only place in Los Angeles where you can enjoy traditional British food options. There's a reason why you don't find British food in California: it's a bit rubbish. We're British; we can say this. In fact, anyone can say this because it's true.
That said, fish and chips is an undeniably enjoyable meal for anyone, and at the Three Broomsticks you can enjoy some of the best fish and chips around. It's in-keeping with the style and aesthetic, and so of course we recommend it.
The Shopping at Universal Studios
There might not be a more dedicated fanbase than those who love and cherish the world of Harry Potter. Potterheads are a devoted and enthusiastic bunch, to say the least.
And for fans of the Harry Potter franchise, there is nothing more exciting than really, really good merchandise.
While you can scour London looking for the best Harry Potter souvenirs, or shop on Etsy for some clever fan-made dedications to the beloved books and films, there's no place on Earth with as much variety when it comes to shopping for Harry Potter merchandise.
What makes the shopping in the Wizarding World of Harry Potter the second best part of the LA park (after Harry Potter and the Forbidden Journey, of course) is the aesthetics and design of the world.
It feels like you're shopping as a student of Hogwarts, that you're paying with galleons, sickles, and knuts (though please don't do that; it won't work). Shopping in the Wizarding World of Harry Potter is a joyous experience, even if you don't actually buy anything.
Almost every single door that you see on the streets of the Wizarding World of Harry Potter can be entered, and it will lead you to a unique shop (or possibly into the Hog's Head or Three Broomsticks).
These shops, recreated from the design of Hogsmeade in the films, are lovingly designed with unique internal and external details that encourage you to pass through every door that you find.
Ollivanders at Universal Studios LA
Ollivanders in Hogsmeade is the best of the bunch. While the rest of the shops in Hogsmeade all sell various clothes, household objects, bags, snacks, and other items, it's only in Ollivanders that you can get your own wizard's or witch's wand.
More unique is how that process actually happens. Ollivanders is one of the most delightful experiences in The Wizarding World of Harry Potter. Why is that? Because it's not simply a matter of walking in and browsing.
At Ollivanders, you must first join a queue of people who you'll probably see lining up outside the shop. In big bunches of around 20 people, you're ushered forwards and eventually enter the shop.
You're greeted by one of Ollivander's own helpers who explains that s/he will be along shortly. You wait a minute or so and then are ushered once more into the back room, where a fantastic actor playing the iconic character will talk you through the magic of wands.
During our visit, Ollivander was a woman with an accent that slipped constantly and adorably between posh English and campy Scottish (we loved her).
She picks a random person, usually a child, from the group and tells them that they have great magical potential. From here, there's a lot of special effects and pantomime shenanigans that are delightfully entertaining.
When it's all done, you can pass through onto the shop floor where the walls are lined with wands for you to purchase. They have every character's wand that you can imagine, boxed beautifully with the Ollivanders logo.
Other Shops at the Wizarding World of Harry Potter
The rest of the shops in the Wizarding World of Harry Potter are all mostly themed after some part of the Harry Potter universe. There's Honeydukes, which sells all the magical sweets and candy seen in the Harry Potter movies.
Then there's Hogsmeade Station, which sells a lot of Harry Potter souvenirs based off the iconic Hogwarts Express, as well as a few cosplay clothing options.
Zonko's joke shop is filled with old school toys and games, as well as jokes and gags that you can pick up. Nothing here grabbed us specifically, but the aesthetics of the shop is absolutely fantastic, bringing to mind a magical Victorian toy shop, the kind that may or may not come to life at night when everyone has left the theme park.
One of the most beautiful shops, inside and out, is Owl Post, which sells a lot of owl-inspired gifts and toys.
It's this sheer range and beauty of stores and the things they sell that makes this such an exciting experience for fans young and old. Nowhere in the world has as much to offer in the way of a true Harry Potter experience.
As Brits, however, we could never quite shake how strange it was that all of this, including the snow-covered rooftops of Hogsmeade, was in Los Angeles and not London. Still, we can hardly complain about the blue skies.
For more to things do in Los Angeles, check out our 24 Hour Guide to Venice Beach and the 12 best tattoo artists in LA.