Seoul is an exciting and electric metropolis of incredible food, a vibrant music scene, and some of the best bars in East Asia. But it's also surrounded on every side by mountains, islands, traditional villages, and beautiful historic sites. All of which are easy day trips from Seoul.
The Best Day Trips from Seoul
Take a look at this list of seven awesome Seoul day trips so that you can easily explore even more of beautiful Korea while you're in Seoul.
Nami Island
Nami Island is a serene and tranquil crescent moon of an island; a pristine slice of nature covered in ginkgo trees and surrounded by dense forest and flowing river waters. It's a little paradise just to the east of Seoul, and one of the best day trips from Seoul.
Nami Island was named for the legendary General Nami of the Joseon Dynasty, who is said to have died on the island. It's also famous as the setting for the 2003 Korean drama Winter Sonata. In fact, you'll even find a sculpture to the film at the centre of the island.
The fun of visiting Nami Island starts before you even arrive, as you can choose to enter the island via ferry, or pay extra to enter dramatically across the water via a zipline!
Once you're there, you've got a cool afternoon of exploring, taking in the clean air, and photographing to your heart's content. Nami Island is certainly at its prettiest in the spring and autumn months (with autumn winning out if you have to pick one).
Pro Tip: If you visit Nami Island, the Garden of the Morning Calm and Petite France are both in the same area, so you can tackle all three in a single one of your day trips from Seoul.
How to Get to Nami Island from Seoul
This most magical of Seoul day trips takes a little time but it's still easy to do in a day. Your journey from Seoul to Nami Island starts online.
Book a ticket here via Korail for whatever day you want. On that day, take subway line 1 to Yongsan Station and hop on the ITX train heading for Gapyeong Station.
This train journey takes roughly an hour. From there to Nami Island is still a bit of a distance, so it's best to finish your journey with a quick 5-minute taxi ride. And there you have one of the best day trips from Seoul!
Read More: The Ultimate 3-Day Seoul Itinerary
Korean Demilitarized Zone (DMZ Tour)
The Korean DMZ is the dividing line between North and South Korea. There's 4km of no-man's-land across the DMZ, and the entire demilitarized zone spans the entire breadth of the two nations, 250km from sea to sea.
The DMZ is the only one of our day trips from Seoul which can't be accessed solo. To get there, you must take a DMZ tour. While we're on the subject, many people consider a DMZ tour to be unethical: turning the forced divide of Korea into a tourist attraction is certainly not a kind thing.
But the other side of the argument is that a DMZ tour is a chance to learn first-hand the dark history and state of Korean separation.
The best part of the DMZ tour is visiting an abandoned but pristine subway station which could someday allow passengers to hop on a train to Pyongyang if the two nations are ever reunified. It's a haunting place, but also a symbol of hope for reunification.
How to Take a DMZ Tour from Seoul
If you want to learn more about the political history of North and South Korea, a DMZ tour can be booked on a number of websites. These DMZ tours offer pick-up and drop-off and are an incredible full-day experience.
Read More: 11 Unique and Interesting Hotels and Hostels in Seoul
Jeonju
Jeonju is one of the most rewarding day trips from Seoul you can take. It's a gorgeous little city, full of charm, historical beauty, and culinary wonders. Jeonju is most famous for two things: the creation of bibimbap and its perfectly preserved hanok village.
Jeonju is often called the Kyoto of Korea, and while that comparison makes perfect sense it's also a place that should be recognised in its own right. Jeonju is where the queen of all Korean meals, bibimbap, comes from.
Bibimbap is a rice bowl, traditionally cooked in a clay pot that causes the rice at the bottom to crisp deliciously.
On top of the rice is a selection of fresh, raw vegetables, beef strips, a raw egg, and a chilli pepper sauce. If you love bibimbap, you owe it to yourself to spend a day trip from Seoul to Jeonju. And also check our culinary journey around South Korea which includes Jeonju bibimbap and lots more!
Jeonju's hanok village – a labyrinth of traditional Korean streets and houses made from wood and slate – is a wildly beautiful piece of Korean history frozen in time, and easily the best hanok village in all of Korea. It makes for one of the most magnificent and romantic day trips from Seoul.
How to Get to Jeonju from Seoul
Jeonju looks like one of the longer day trips from Seoul, but it doesn't take long thanks to Korea's high-speed train network. Simply hop on a KTX train at Seoul's Yongsan station. The journey there takes around ninety minutes, making for one of the longer but easily doable day trips from Seoul.
Read More: Complete Seoul Neighbourhood Guide
Pocheon Art Valley
What was once a mining quarry is now a natural spectacle. Situated halfway between Seoul and the DMZ, Pocheon Art Valley is one of the most fabulous escapes and truly rewarding day trips from Seoul.
Many people take Seoul day trips to get away from the hustle and bustle of the metropolis, and Pocheon is the best of those Seoul day trips for that exact reason.
When you arrive, you'll make your way up a steep hill and, at the top, you'll be greeted by high cliffs, a serene reservoir of turquoise waters, and scattered stone monuments and sculptures.
Pocheon Art Valley is a sculpture park, a tranquil garden, a serene hilltop, and a dramatic landscape of craggy cliffs. To top it off, you get a seemingly endless view of the surrounding lowlands and mountains. You won't find a more perfect escape from the city than Pocheon Art Valley, one of the absolute best day trips from Seoul.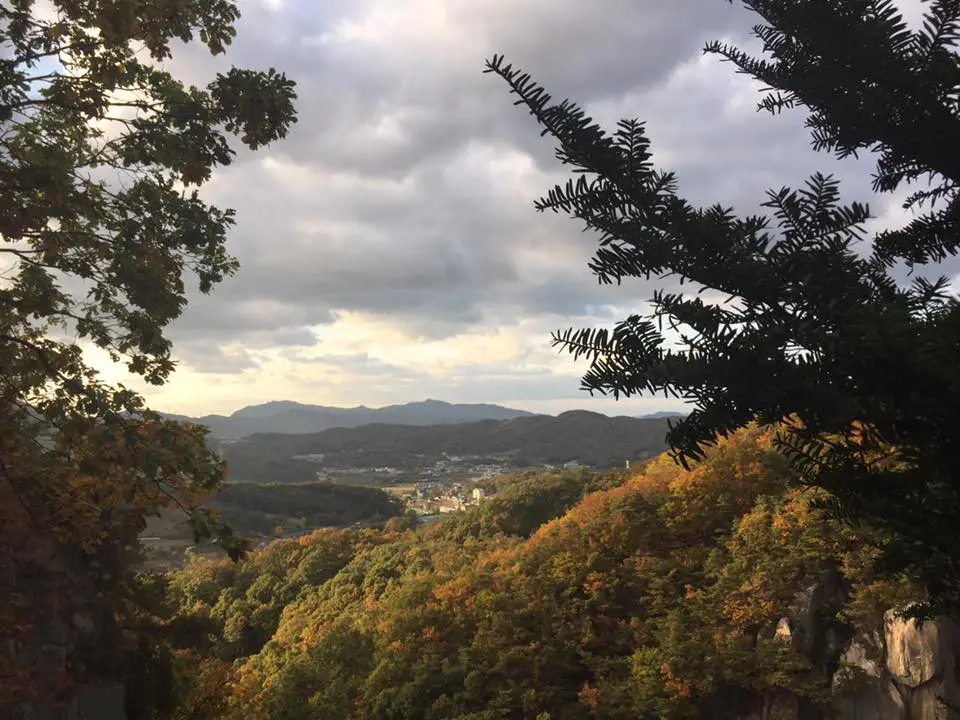 How to Get to Pocheon Art Valley from Seoul
To get from Seoul to Pocheon Art Valley, you'll need to take two buses. First, get yourself to Nowon Subway Station via subway line 4. Walk north out of exit 3 and hop on the 3200 bus to Eoryong 2-tong (45 mins).
Switch to the 138 bus and ride for 10 more mins. Get off at the Agricultural Technology Center and walk east for 15 mins to arrive at Pocheon Art Valley, the most tranquil of day trips from Seoul.
Read More: 10 Cute Cafes around South Korea
Bukhansan
Perhaps the most remarkable thing about visiting Seoul is being in a city that shares the same space as a national park.
Bukhansan National Park is an expansive landscape of rugged mountains and hills that spread out from the northern edge of Seoul, and makes for the best hiking spot in the Seoul area, and thus one of the most exhilarating of Seoul day trips.
As day trips from Seoul go, a hike up a truly epic mountain like Bukhansan is pretty special. Bukhansan National Park can be seen from many of Seoul's streets and spreads far to the north until it touches Uijeongbu, a city of American soldiers.
Spending a Sunday hiking up Bukhansan is a pretty common pastime in Seoul, even for its elderly residents, and definitely one of the day trips from Seoul you should not pass up! If you're looking for more natural escapes and wellness spots in South Korea, you'll love this South Korea wellness guide.
How to Get to Bukhansan from Seoul
Hop on Seoul subway line 3 and get off at Gupabal Station. Head out exit 1 and hop on the 704 bus headed for Bukhansanseong Fortress. Get off when it reaches the entrance to Bukhansan National Park, one of the most unmissable Seoul day trips.
Suwon
Surrounding Seoul are several impressive 'satellite cities'. Satellite cities are exactly what they sound like: smaller cities at the edge of Seoul metropolis which are very much their own place but easily accessed for simple Seoul day trips. Perhaps the best of these is Suwon.
Suwon is to the south of Seoul, and easily accessible via subway. When you get to Suwon you'll find one of the most impressive monuments of Korea's ancient world: Hwaseong Fortress. Hwaseong Fortress is a colossal beast of a structure built in the late 18th century and is today designated a UNESCO World Heritage site.
It's one of the most impressive sights in the entire Seoul metropolitan area and easily reason enough to head out on one of your day trips from Seoul.
But if you do need a few more reasons, Suwon also has a lively restaurant scene, and the delightful Manseok Park and Baegun Lake to explore, making for a lovely escape from the business of central Seoul.
How to Get to Suwon from Seoul
This is what makes Suwon one of the most chill day trips from Seoul. To get from Seoul to Suwon, simply hop on subway line 1 and ride it south until you hit Suwon Station. From Yongsan Station, the journey to Suwon should take around 45 mins.
Read More: Best Things to Do in Seoul's Gwanghwamun Square
Incheon
Incheon is most famous for being the home of Incheon International Airport. If you're flying into Seoul, there's a good chance you'll arrive in Incheon. But Incheon is in fact one of Seoul's satellite cities, and another one of the freshest and simple day trips from Seoul.
Incheon is unique for its Chinatown. In fact, Incheon Chinatown is, officially, the only Chinatown in all of South Korea, despite the close cultural ties between the two nations.
Incheon Chinatown is a wonderful experience with some truly traditional Chinese restaurants where you can enjoy foods like bao, Beijing duck, and the breadth of Sichuan and Xi'an cuisine.
Beyond Chinatown, Incheon also has a fantastic hub of shopping, dining, bars, and cafes with the delightful name of Bupyeong. While not that far removed from the shopping districts of Seoul, it still makes for a nice change of scenery.
How to Get to Incheon from Seoul
This is another one of the easy Seoul day trips. Getting from Seoul to Incheon simply involves taking subway line 1 west until you arrive at Incheon Station, where you'll find Incheon Chinatown. Bupyeong is a few stops earlier.