The murder-mystery genre is seeing something of a renaissance at the moment. So many great authors and translators are tackling the genre from new angles.
These authors owe an impossible debt to the works of Agatha Christie, but they are also undeniably paving their own paths.
The Best Modern Mystery Novels
From Argentina to Japan, here are some of the finest mystery novels that are revitalising the genre right now, all of which deserve your attention.
Get ready to scratch your head and remark at the ways in which these mystery writers are blending genres and casting aside the rulebook to achieve great things.
The Seven Deaths of Evelyn Hardcastle by Stuart Turton
Few modern mystery novels lean as hard on the definition of "mystery" as The Seven Deaths of Evelyn Hardcastle does.
There are countless mystery novels which present an answer which reveals a dozen new questions, but this puzzle box of a novel actually pays all of that off with aplomb.
We begin halfway through a word that has just left the mouth of our nameless, amnesia-stricken protagonist. It is as though he has just woken up in his own body.
He is in a forest, shouting a name he doesn't know, and he is alone.
He walks, and eventually arrives at a manor house. The people there tell him he is their friend, and that he is a doctor.
The next morning, he wakes up as a different person in the house, and it is then that he learns that he will continue to flit from body to body for eight days, tasked with solving and preventing the death of the titular Evelyn Hardcastle.
The Seven Deaths of Evelyn Hardcastle is a dizzying novel, masterfully crafted and thrilling at every turn.
Stuart Turton showed absurd and admirable confidence in writing such a mystery masterpiece as his debut novel. Incredible work.
If We Were Villains by M.L. Rio
One of novels which stands at the summit of the dark academia genre, If We Were Villains is also an excellently crafted murder mystery story.
What sets this apart from other mystery novels is the fact that its mystery sits quietly at the back of the room. You can't forget about it but you are encouraged not to look at it.
We begin with a man named Oliver, who has just been released from prison for a murder he didn't commit. We then flash back to the year of that fateful murder.
Our cast is a group of college students, all studying theatre at a specialist arts academy. They live in the mind and works of Shakespeare, and one of them will soon die.
We don't know who the victim will be until it happens, and we know that Oliver didn't do it.
The drama of this dark academia novel is at its forefront, with the murder mystery sitting like a ghost offstage.
The blend of these two genres is what makes If We Were Villains one of the great modern mystery novels.
Buy a copy of If We Were Villains here!
The Last House on Needless Street by Catriona Ward
This genre-blending gothic horror mystery thriller wasn't Catriona Ward's debut, but it was the novel that broke her into the mainstream and landed her on every reader's lips.
The Last House on Needless Street is a rare book that pushes the world of mystery novels forward, mixing terror and strangeness into its formula to create an unforgettable experience.
Our main protagonist is a man in his thirties named Ted. More than a decade ago, he was the prime suspect in the disappearance/murder of a girl at a nearby lakeside.
Now, Ted lives a secluded life with his cat and his daughter. We sometimes see things from the cat's perspective, and the daughter is not always there.
Assumptions can very quickly be made, but they are all so telegraphed, so predictable, that they can't be true.
This is a novel that wrongfoots the reader constantly, and has fun doing so. The gothic and horror themes and tropes that have been mixed in make for an atmosphere that you feel as though you're drowning in.
The Last House on Needless Street set Catriona Ward up as the new queen of mystery novels.
Looking Glass Sound by Catriona Ward
With The Last House on Needless Street, Catriona Ward turned the genres of mystery, thriller, horror, and the gothic into Lego bricks to play with in new and experimental ways.
With Looking Glass Sound, she takes that approach several steps further, writing a book within a book that examines the very concepts of fact and fiction, of memoir and narrative, of lives and lies.
Our protagonist, Wilder, first provides us with a memoir about two teenage summers spent on the coast of Maine, about the two friends he made there, and about the dangerous Dagger Man haunting the town.
This doesn't last long however; soon, we move with Wilder to college in Pennsylvania, and the strange roommate who calls himself Sky.
We watch has Sky steals Wilder's memoir and publishes it as his own novel, propelling him into fame and leaving Wilder alone with nothing.
Now, Wilder is an ageing man going blind, who has returned to coastal Maine with the aim of setting the record straight, of writing his memoir at last, and of exposing the now-dead Sky as the thief he was.
Looking Glass Sound is a dizzying modern thriller that puts the genre under a microscope and examines what it has to say about us as readers, as writers, as storytellers.
Buy a copy of Looking Glass Sound here!
Scorched Grace by Margot Douaihy
Scorched Grace is a very different kind of mystery novel. Not so much because it breaks convention in a genre sense, but certainly in a tonal one, and in terms of what we expect from a mystery novel protagonist.
Sister Holiday was a punk kid; a young lesbian from Brooklyn, covered in tattoos, playing in a band, doing drugs, and tangling with her parents.
She's also a devout catholic, and after escaping to New Orleans, she was taken in by the progressive nuns of Saint Sebastian's School, where she has worked as a teacher ever since.
A tattooed, chain-smoking, filthy-mouthed nun isn't your typical sleuth, and that's what makes her such a breath of fresh (if tar-filled) air for the tropey genre of mystery novels.
The mystery she becomes tangled-up in is a series of arson attacks targeted at her school — arson attacks which also lead to the deaths of people she knows and cares about.
When the police prove all but useless, Sister Holiday takes things into her own hands, especially when she feels prying eyes on her, and all signs point to her being set up for the crime.
Set against the backdrop of a scorching, sweltering, oppressive summer heat, with a supporting cast of angry nuns, punk teenagers, and unreliable cops, this is one of the most unique and compelling mystery novels in a long time.
Buy a copy of Scorched Grace here!
The Readers' Room by Antoine Laurain
Translated from the French by Jane Aitken
The Readers' Room is a delightful French murder mystery novel, very much in the vein of Agatha Christie and her compatriots. This is a bright yet twisted mystery that grows and tangles as it goes.
Laurain really captures Christie's beloved tone; that which warms readers by the fireside. Laurain, however, still manages to set himself apart from Christie here, while also paying homage to the spirit of her writing.
The Readers' Room is set in a Paris publishing house. The head of the publishing house has been sent a manuscript which she sees as something truly unique and special. It's fresh, daring, and exciting, and she has big plans for it.
Meanwhile, the novel also remarks on the mechanics of publishing houses in a very intimate and satisfying way.
That new novel is published, but the identity of the author remains a mystery. When it is nominated for a prize, the prize can only be given if the identity of the author is revealed.
They have been conversing via email, and eventually the author of the manuscript reveals that there are eerie connections between the events of their novel and real-world deaths that begin to occur.
Because she said yes to publishing this mysterious, prophetic manuscript, our publishing director is now caught up in the investigation of real-world murders tied to the events within this strange new mystery novel.
The cozy, warming note of The Readers' Room is so at odds with its content, and that's often the pleasant paradox of so many beloved murder mystery novels.
Buy a copy of The Readers' Room here!
The Tattoo Murder by Akimitsu Takagi
Translated from the Japanese by Deborah Boehm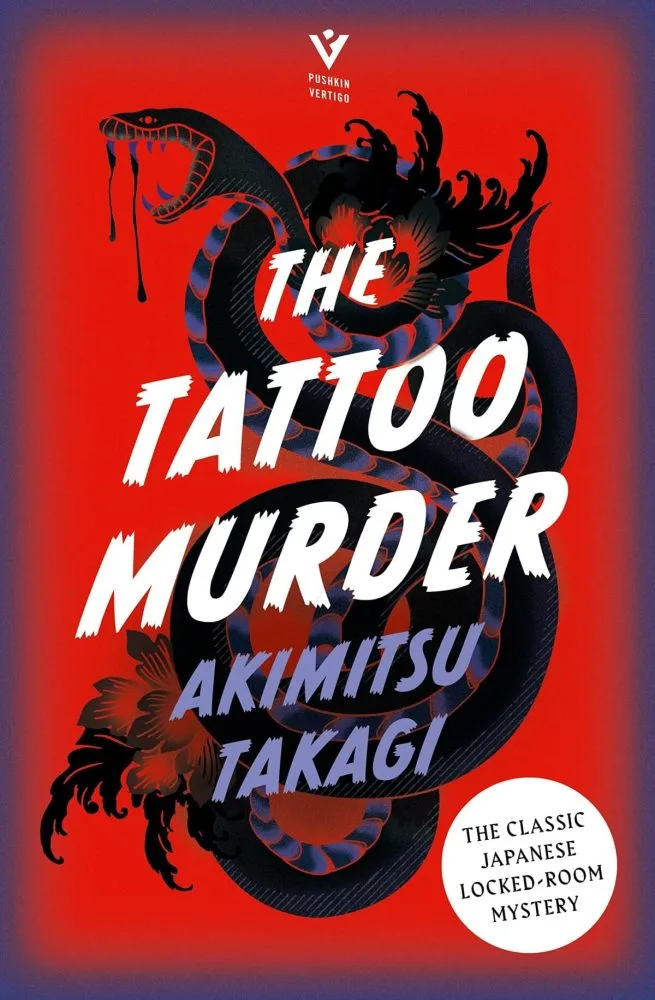 The honkaku genre of Japanese murder mysteries is a broad and beloved thing. Many talented authors have added small masterpieces to this genre over the past century.
The genre has a legacy so grand that it is difficult to pick one that stands above the rest, but what makes 1948's The Tattoo Murder unique is its dedication to character drama.
Translated by Deborah Boehm, The Tattoo Murder was honkaku author Akimitsu Takagi's debut mystery novel.
Set in the aftermath of World War II, after the fall of the Japanese Empire, The Tattoo Murder is a locked-room murder mystery novel that satisfies as much as it surprises.
Our protagonist is a medical student who becomes enamoured with a young woman: the heavily tattooed daughter of a late legend of the Japanese tattooing world.
She tells him that her brother and sister were both lost to the war, and that she believes she herself is not long for this world.
Her prediction proves true when she is found dead and dismembered in her own home's locked bathroom, the water still running.
Her torso, the canvas for her stunning tattoo art, is missing.
This is a classic Agatha Christie-esque murder mystery, but with added emphasis on blood and character drama.
The Tattoo Murder spends a satisfying amount of time with its characters, even those fated to die, in order to strengthen the bonds between them, and to attach the reader to them as well.
This is a gruesome murder mystery but also a wonderfully satisfying character drama, making it stand tall amongst other Japanese mystery novels.
How to Kill Your Family by Bella Mackie
Here is one of those modern mystery novels that had every kind of reader sitting up and paying attention, likely in part because of its delightfully cheeky title.
Reminiscent of Emerald Fennell's daring 2020 film Promising Young Woman, How to Kill Your Family is an angry mystery novel about class disparity, selfishness, and cruelty.
Our protagonist is a young woman who was raised by a poor, single French woman in London.
Grace's mother was knocked up by a philandering playboy billionaire who cast her aside and refused to even look in her or their daughter's direction.
After the death of her mother, Grace decides to head out on a killing spree, murdering the members of her father's rich family one by one, and we get to sit back and watch.
The mystery is revealed in the prologue, however. The novel's framing device: Grace is in prison, writing her memoir. Here, she tells us that she actually got away with all of these murders, and was locked up for the only murder she didn't commit.
There's our hook; there's our mystery.
From here, we read on and laugh as the sardonic and murderous Grace goes out on the hunt.
This is a wonderfully funny, grim, and satisfying book that stands out amongst other great modern mystery novels.
The Decagon House Murders by Yukito Ayatsuji
Translated from the Japanese by Ho-Ling Wong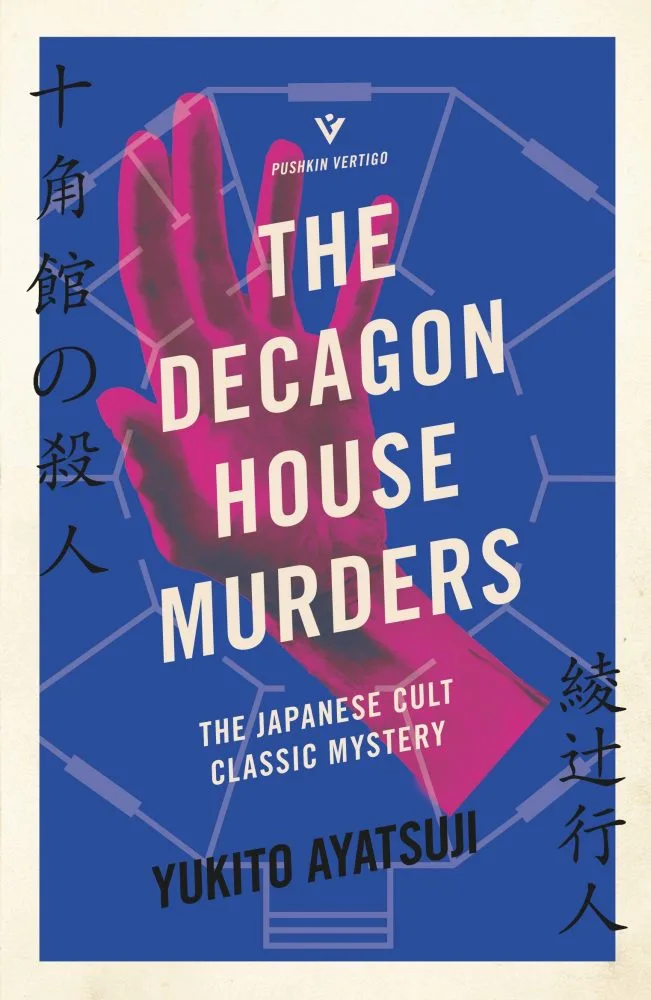 The Decagon House Murders is another masterpiece of the Japanese honkaku genre of murder mystery novels, and one that uniquely and specifically pays homage to the legacy of Agatha Christie.
Many (including myself) consider Christie's magnum opus to have been her novel And Then There Were None, a story which has inspired so much art and media in the decades since its publication.
One of those writers inspired by it was Yukito Ayatsuji, and his novel The Decagon House Murders proudly echoes Christie's novel in brilliantly inventive ways.
Our protagonists are a group of university students who are all members of their college's mystery club.
These students have headed out to an island which, only a few months prior, was the site of an as-yet-unsolved murder.
Now that they're here on the island, they are teased by the suggestion that they may all be in grave danger.
The honkaku genre is a pool of fantastic mystery novels, and even amongst all these great books, The Decagon House Murders stands out as a mystery masterpiece.
The Final Girl Support Group by Grady Hendrix
Grady Henrix is an author of horror novels, all of which have brilliant titles and subvert the tropes of the genre in fun ways.
This particular novel, however — The Final Girl Support Group — is as much a murder mystery as it is a horror novel. Maybe moreso, honestly.
Our protagonist is Lynette, a middle-aged woman who was once a final girl (a term used to describe the last victim left alive at the end of a slasher movie).
For years, Lynette has been attending the titular therapy support group for massacre survivors, but now one of these final girls stops turning up to their sessions, and is found murdered in her home.
Someone is targeting final girls, it seems. And to make things stranger, a new final girl has just appeared, having survived a fresh massacre (the first in decades).
The Final Girl Support Group is a fun and imaginative meta-commentary on the slasher film franchise, while also being a dizzying and tantalising murder mystery.
Lynette makes for a great protagonist; as something of an outsider and an incredibly paranoid person, she is an unlikely hero. This adds a lot to the fun and the tension.
The Key in the Lock by Beth Underdown
Here is an exciting piece of historical drama that doubles as a compelling murder mystery story.
The Key in the Lock is a narrative that is split chronologically. We follow both the adult Ivy, who lost her son in the Great War, and the younger Ivy of the past, scarred by a dreadful fire.
The mystery of the novel surrounds the fire itself, the boy who died in that fire, and the reasons behind it.
As a child, Ivy was the daughter of the village daughter. When the fire broke out, she and her father were called to the big house, and are tangled in the web of lies surrounding the cause of the blaze.
As an adult, Ivy has not only lost her son but her husband is also incredibly sick, and as we flit back to the past we see how she and her husband's relationship initially began.
The Key in the Lock is a shining example of both historical British fiction and the legacy genre of murder mystery novels.
The Leviathan by Rosie Andrews
Set in 1643, during the English Civil War, The Leviathan is a creeping, gothic piece of historical fiction that will have you gripping the pages like the wheel of an out-of-control car.
Our narrator protagonist, Thomas Treadwater, is a young man who has returned from war to his father's farm.
His younger sister is all out of sorts because she believes that their new servant has been seducing and manipulating their ageing father.
On occasion, chapters shift forward to Thomas as an old man, married and comfortable, but haunted by something in his house. Something he must periodically feed and watch over.
The Leviathan is, frankly, delicious. It is a camp piece of mystery and melodrama. It has all the insane beats of a gothic horror B-movie, while also leading us by the nose with its ridiculous puzzles and problems.
It's wonderful to see a piece of historical fiction be so lively and campy, as opposed to the more typical slow-burn approach to the genre. This is gothic historical fiction at its finest, while also being a shining example of the mystery genre.
The Confessions of Frannie Langton by Sara Collins
Here is one of the most impactful mystery novels of the past decade; all the more impressive considering it is a debut novel.
Sara Collins is a Black British writer and ex-lawyer. Her debut novel The Confessions of Frannie Langton has also been adapted into a beautiful TV show.
The Confessions of Frannie Langton begins with our protagonist on trial for murder. It's 1826, she was born and educated on the plantations of Jamaica, and she has since worked as a maid for Benham family.
Mrs Benham, a woman Frannie dearly loved, is dead, and it's Frannie who stands to hang for the murder. But did she do it? And if so, why?
The Confessions of Frannie Langton isn't only one of the best historical novels of today; it is also a twisting, turning, tantalising murder mystery novel.
A truly mind-bending tale of race, class, empire, love, queerness, and so much more. A true modern classic of historical fiction and mystery fiction.
Elena Knows by Claudia Pineiro
Translated from the Spanish by Frances Riddle
Though Claudia Pińeiro is most famous for her crime fiction, Elena Knows is a slightly different beast.
This heavy yet short literary mystery novel that tackles big themes of religion, sexism, responsibility, and fantasy vs reality.
The novel's titular Elena is a woman in her sixties who is suffering with Parkinson's. It's hard for her to move around and yet she is on a journey across Buenos Aires to meet and talk with someone she hopes will understand her situation.
The situation in question concerns Elena's daughter, Rita, who three months prior was found dead at their local church.
Rita was found hanging from a rope in the belfry; the death was immediately written off as suicide but Elena refuses to believe that.
Her only evidence being that it was raining on the day of Rita's death, and Rita had always avoided the church on rainy days for fear of lightning strikes.
Elena Knows takes place over a single day, as she journeys across Argentina's capital, and we are treated to flashbacks to Rita's death and funeral, and their life together as mother and daughter before that.
This is an Argentinian novel that heavily explores the effects of religion on women and children; it asks us to consider our relationships to the people around us vs the relationships we have to the invented versions of them which our minds have cooked up.
There is more to Rita, more to Elena, more to everything than is first laid out, but this is not a crime novel. It's a mystery story with a laser focus on religion, gender, and family dynamics.
Bad Cree by Jessica Johns
Blending the tone and tropes of horror fiction and mystery novels, Bad Cree tells the story of a young cree Canadian woman whose dreams are following her into reality.
When Mackenzie wakes up on page one, she has the freshly severed head of a crow in her hands, and this isn't the first time a thing from her nightmares has appeared in her waking world.
The dreams themselves are guiding her back to a lakeside forest, a place where her older sisters once briefly disappeared, before emerging, dishevelled and shaken up, but safe.
That is, until one of these twin sisters, Sabrina, suddenly died of a brain aneurysm, and now she seems to be haunting her little sister's nightmares.
The memories, the haunting, the blurring of dreams and reality all make for some really disturbing and chilling horror, as well as a very compelling supernatural mystery story.
When Mackenzie confesses some of these occurrences to her family, she learns that many of them have powers related to their dreams, and so the plot thickens.
Twisted and chilling as a horror novel, and utterly compelling as a mystery thriller, Bad Cree is a unique spectacle of a novel.