It's often the great European and American mystery writers of the 19th and 20th centuries — writers like Agatha Christie, Edgar Allan Poe, and Arthur Conan Doyle — whom we first turn to when looking for a great detective novel.
However, the truth is that the Japanese mystery novels (honkaku) of the 20th century and beyond offer some of the finest detective stories ever penned.
Authors like Seishi Yokomizo, Soji Shimada, and Masako Togawa were and are known as the Christies and Doyles of Japan.
These Japanese authors created their own golden age of mystery fiction in Japan — often referred to as honkaku — and modern writers like Yukito Ayatsuji have continued that legacy, carrying the torch with gusto.
Read More: Amazing Japanese Short Story Collections
The Best Japanese Mystery Novels
On your hunt for the best mystery novels ever written, turn to Japan. These Japanese mystery novels, and their writers, represent some of the best locked room and puzzle box detective stories of all time.
The Tattoo Murder by Akimitsu Takagi
Translated by Deborah Boehm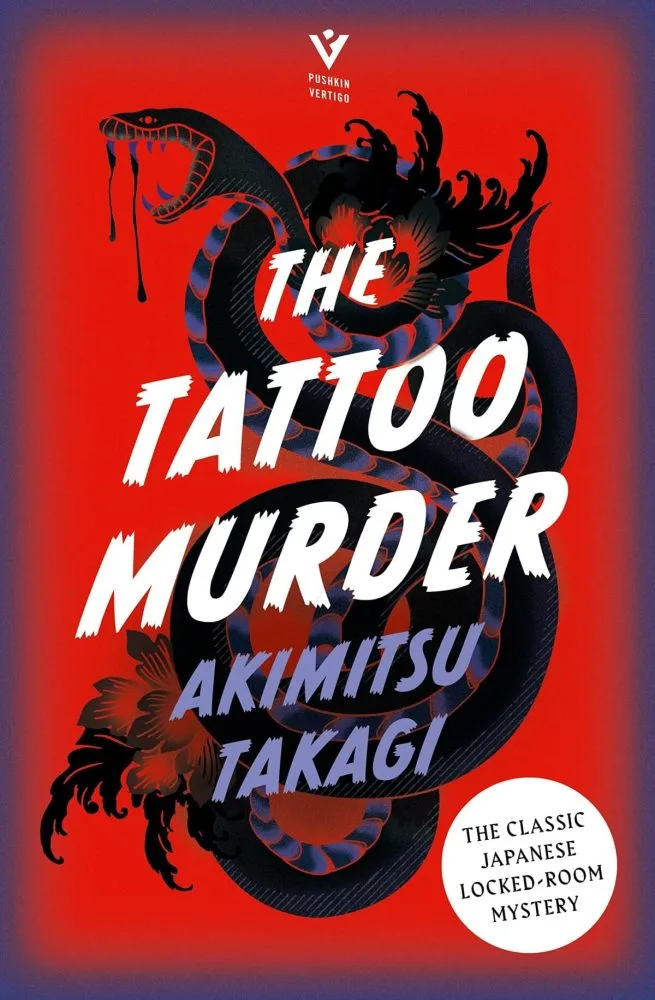 Here is one of the very best Japanese mystery novels of all time.
Written and set in late 1940s Tokyo, in the aftermath of World War II, The Tattoo Murder was the debut novel of honkaku author Akimitsu Takagi.
At nearly 400 pages in length, this is a deeply detailed and electrifying Japanese murder mystery novel that explores the rich history and culture of Japanese tattooing.
Our victim is Kinue, the tattooed daughter of a famed tattoo artist. During a tattoo competition — which she wins — she meets our protagonist Kenzo, a twenty-something medical student.
We spend an unusually decent amount of time bonding with Kinue before Kenzo finds her dead and dismembered in her own bathroom, with the light on and the water still running.
Kinue's torso has been removed from the scene, and our first suspect is a professor with a deep obsession with tattooed skin, who confesses to removing it from the dead.
Fortunately, Kenzo's brother is the chief of police, and Kenzo's fresh attachment to Kinue has him dedicated to helping his brother identify and track down Kinue's murderer.
The Tattoo Murder is as much a richly detailed character drama as it is an intense murder mystery. It elevates the genre by encouraging the reader to emotionally invest in these characters and events.
Amongst Japanese mystery novels, a genre already celebrated and respected, The Tattoo Murder is undoubtedly one of the finest ever written.
Buy a copy of The Tattoo Murder here!
The Decagon House Murders by Yukito Ayatsuji
Translated by Ho-Ling Wong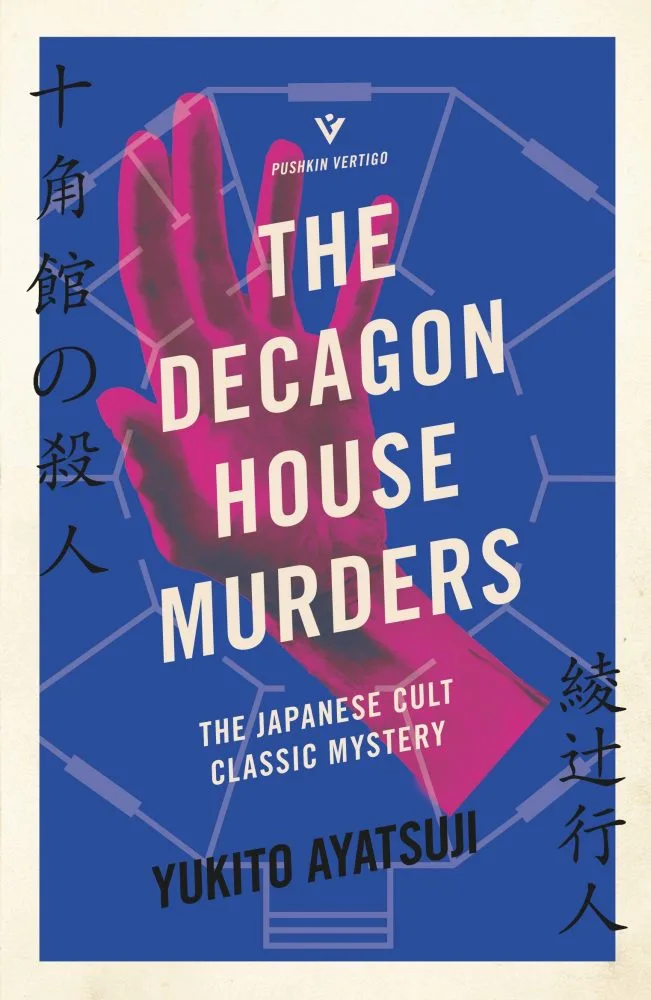 Yukito Ayatsuji is one of the founders of the Honkaku Mystery Writers Club: a group of Japanese mystery authors who echo the golden age of detective stories to outstanding effect.
His first novel — now available in English thanks to some outstanding translation by Ho-Ling Wong — was The Decagon House Murders.
Paying homage to Agatha Christie's masterpiece, And Then There Were None, The Decagon House Murders follows the story of a group of young mystery novel fanatics who spend a few days on an island which was, just one year prior, the scene of a brutal murder.
The story is split in two, with one narrative following these students as they fall into a murderous trap while staying in the island's one remaining building, the Decagon House. This trap echoes And Then There Were None to great effect as the students are picked off one by one.
The second narrative follows two remaining members of the club as they remain on land and begin their own investigation after receiving a letter from the deceased owner of the island.
The central question we face is this: is the killer one of the students, or is it the not-so-dead owner of the Decagon House?
This is a fantastically satisfying novel, full of unexpected beats and littered with fun red herrings that really trip you up on the way to the end. A true traditional honkaku mystery novel.
Masterfully translated and with a real taste of the Christie style and tone, this is one of the most perfect and satisfying Japanese mystery novels.
Buy a copy of The Decagon House Murders here!
The Honjin Murders by Seishi Yokomizo
Translated by Louise Heal Kawai
Seishi Yokomizo, who died in Tokyo back in 1981, carved out a real legacy with his series of detective stories. In the character of Kosuke Kindaichi — first introduced here in The Honjin Murders (originally published in 1946) — Yokomizo invented his own Sherlock Holmes.
Now, at last, what many consider the best honkaku Japanese detective story has arrived in English in the form of a punchy, thrilling translation by Louise Heal Kawai.
This 'locked room murder mystery' is a unique take on the formula made iconic by major Western writers like Arthur Conan Doyle, Agatha Christie, and Gaston Leroux. It takes place in a fixed location: the Ichiyanagi household in the village of Okamura.
Read More: The Best Thriller Books Ever
The Ichiyanagi family are a proud, wealthy, high-class family, and one of their sons, Kenzo, is due to marry the young Katsuko.
On the night of their wedding, they are murdered by a mysterious assailant who flees into the night, leaving nothing but a handprint and a bloodied katana in the snow.
The Honjin Murders is a wickedly fun time. Its short length, quirky cast of characters, engaging mystery, and theatrical setting and plot make for a fantastic murder mystery tale.
While it isn't a revelation of a story, it is a seriously clever one.
The balancing of theatrical components with a surprisingly weighty political theme that gently unravels towards the conclusion makes for one of the best Japanese mystery novels ever written.
Buy a copy of The Honjin Murders here!
The Inugami Curse by Seishi Yokomizo
Translated by Yumiko Yamazaki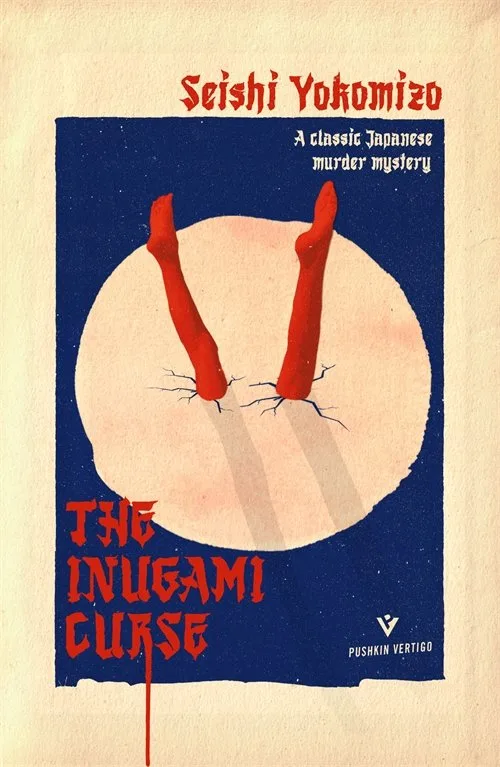 Read More: Classic Japanese Ghost Stories
Seishi Yokomizo provided the world with a hefty library of works, most of them centred around his legendary and adored detective Kindaichi.
His second novel, The Inugami Curse, is also available in English and indicates a hopeful trend that all of his books will eventually, one day, be available in English.
Much longer than its predecessor, The Inugami Curse also puts Detective Kindaichi centre stage as he is tasked with solving the murder of the head of the powerful Inugami Clan.
The clan itself is marred with dark and dirty secrets, many of which come out when a series of murders begin, following the death of the clan patriarch.
This is a macabre but fun and intensely exciting Japanese mystery novel that lays down enough twists and turns to keep the plot feeling fresh, despite its longer length.
You're also given enough of a breadcrumb trail to follow, meaning you might well solve the murder even before our legendary Kindaichi does.
Buy a copy of The Inugami Curse here!
The Village of Eight Graves by Seishi Yokomizo
Translated by Bryan Karetnyk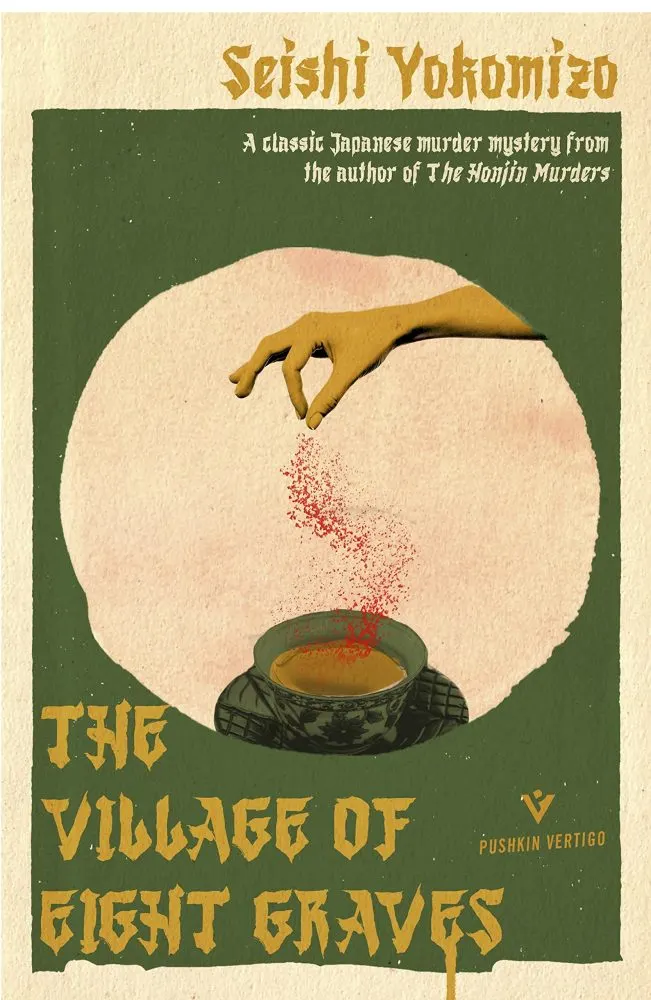 The third Japanese murder mystery novel by the king of the craft, Seishi Yokomizo, is a different beast to the first two.
The Village of Eight Graves begins with a prologue that sets both the tone and the scene. The prologue's first half details the origin of the village's name: a massacre of eight samurai who were hiding out in the village.
The prologue's second half describes a more recent tragedy that befell the cursed village: a villager going on a killing spree before vanishing into the forest. That villager, however, had an infant son who survived the massacre.
That son, now grown, is our protagonist. Having grown up in a city, with no knowledge of the village or his ancestry, he is soon enough whisked off to the village to learn about his family and hometown's dark history.
This is a camply dark tale with a cloud of gloom hanging over it at all times. It's the atmosphere of The Village of Eight Graves that makes it such a page-turner. Despite how bleak it is, the mood is absorbing and addictive.
And, of course, there is a murder mystery here. After our protagonist's arrival, a new series of deaths start to occur, and all eyes turn to him as the new arrival and the son of the village's last killer.
The now legendary Detective Kindaichi does feature in Yokomizo's third novel, but he very much takes a back seat this time, with the village itself being the stand-out character of the story.
Buy a copy of The Village of Eight Graves here!
Beast in the Shadows by Edogawa Ranpo
Translated from the Japanese by Ian Hughes
Written by one of the great Japanese legends of the honkaku genre of Japanese mystery novels, Beast in the Shaodws is a hundred-page thrill ride from the early 20th century.
Our narrator-protagonist is himself an author of crime novels, and one day he befriends a woman after a chance meeting at a Tokyo museum. They exchange letters and, eventually, she reveals that she is being stalked.
In her youth, she had a brief tryst with a boy who revealed himself to be too intense and strange, and so she broke it off. He spent time stalking her home but, once she married a successful businessman, her stalker gave up.
Years later, he has begun stalking her again. He watches her home and sends her threatening letters. She also reveals that her stalker is also a writer of crime fiction; an author whom our protagonist hates.
And so our crime writer, entangled in this intense cat-and-mouse game, is drawn to solving the mystery and keeping his new friend safe — partly because of his love for crime and mystery, and partly because he fancies her.
Given the brevity of this honkaku novella, revelations come fast and they hit hard. This is a swift tale that can be enjoyed in an afternoon, but won't soon be forgotten.
For a book from a century ago, it is impressive how metatextual Beast in the Shaodws is, with a protagonist who isn't a sleuth himself, but rather someone who writes fanciful fiction about sleuths. Very clever and wildly immersive.
Buy a copy of Beast in the Shadows here!
My Annihilation by Fuminori Nakamura
Translated by Sam Bett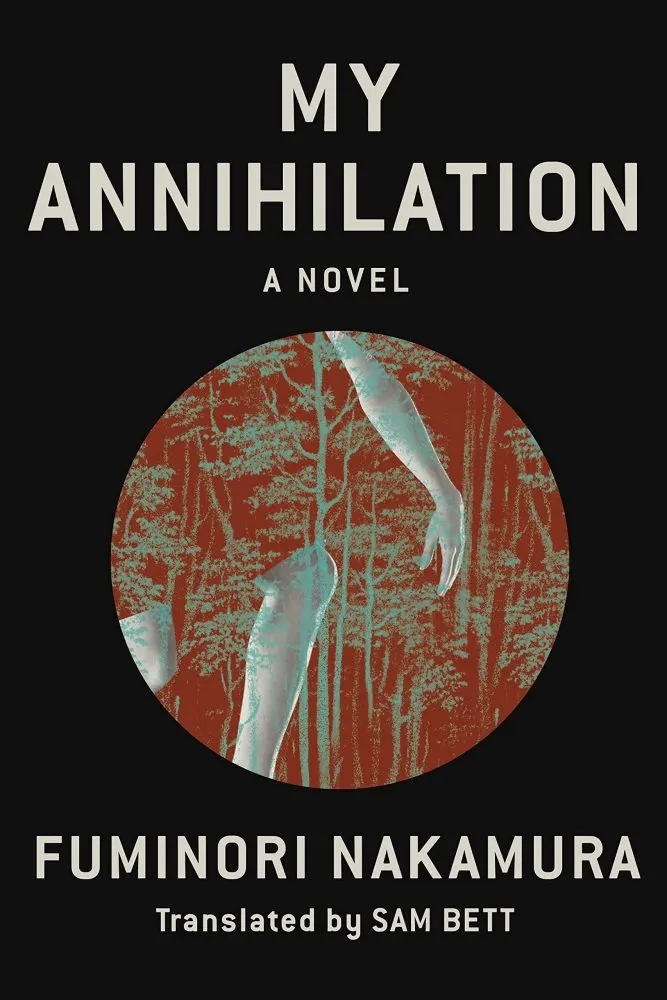 The horror of Fuminori Nakamura's My Annihilation is the clever way in which the author sets the reader down right next to his protagonist. You're beside him; you're in his head; you watch everything he does.
You feel his anger, his confusion, his malice. Everything.
My Annihilation begins with an anonymous man who is planning to steal another man's identity. He read's that man's journals and learns about his youth.
Those journals take you on a journey into the callous mind of a dangerous youth. Then our anonymous protagonist is captured, named the same man he was reading, and is taken to a facility.
From here, identities blur together and you have no choice as a reader but to hold on tight and ride the waves.
There are puzzles within puzzles to attempt to solve here, and you'll probably fail. You're in the dark, and you must just read on and on and on. This is an anxiety-inducing horror/mystery tale not for the feint of heart.
Buy a copy of My Annihilation here!
Murder in the Crooked House by Soji Shimada
Translated by Louise Heal Kawai
There are two key elements that make the best mystery novels so compelling (aside from the murder and the question of whodunnit), and those are the cast of eccentric characters and the setting.
Murder in the Crooked House is one of those honkaku Japanese mystery novels that leans on the latter, focussing on the compelling intricacies of its setting over everything else.
That setting is the titular Crooked House. The house sits on a snowy cliff in a remote part of Japan, and it is an intricately-designed place that works as a kind of puzzle box.
While the characters in the story aren't all that interesting, it's the character of the house that carries the story. Drawn with compelling detail, the Crooked House is like a Rubix cube or a puzzle box that the reader can almost fiddle with in order to solve the central murder.
Within the book's narrative, that job falls on detective Kiyoshi Mitarai, but can you solve the murder even before he can?
Buy a copy of Murder in the Crooked House here!
The Tokyo Zodiac Murders by Soji Shimada
Translated by Ross Mackenzie
The Tokyo Zodiac Murders is a Japanese mystery novel with a wonderfully compelling narrative hook. An artist lives with seven women, all members of his family. In his notes and diaries, he has plotted out a scheme to murder each of them, one by one.
Before he can, however, he is killed. This is a classic honkaku locked room mystery, with him having died in his locked office with no way in or out.
Following his death, however, the women begin to die, as he had planned, and our two protagonists — amateur detectives — set out on a journey to track down the murderer, and they take you along with them.
The possibility that our artist never died at all remains at the back of our minds the entire time, as does the question of how he died and who is doing the killings in his place.
This is one of the sharpest Japanese mystery novels around; one of the finest ever written. The journey we take is engaging and the central conceit is something to be chewed on for hours and hours.
Buy a copy of The Tokyo Zodiac Murders here!
The Master Key by Masako Togawa
Translated by Simon Grove
Masako Togawa was one of the most beloved Japanese mystery authors around, and her novel The Master Key is available in English for us to enjoy as well. This book is set in a large apartment complex in Tokyo, every resident of which is a woman with a secret.
Rather than beginning with a murder, the story follows the theft of the master key, which opens every door to every apartment in the building.
With these tangled secrets coming out, the book promises that, at the centre of this tangled web, we will find a murder.
Buy a copy of The Master Key here!
The Lady Killer by Masako Togawa
Translated by Simon Grove
Masako Togawa's other mystery novel available in English is The Lady Killer. This is a book with similar vibes to those of Ryu Murakami, as it leans into the seedy underbelly of Tokyo life.
The book follows a serial killer named Ichiro Honda as he turns from hunter to hunted.
While he lives his days as an ordinary, unassuming urban husband, at night Honda is a man who enjoys seducing the vulnerable women of Tokyo's clubs and bars.
However, as a trail of bodies winds its way towards him, Honda becomes someone else's prey.
Buy a copy of The Lady Killer here!
Out by Natsuo Kirino
Translated by Stephen Snyder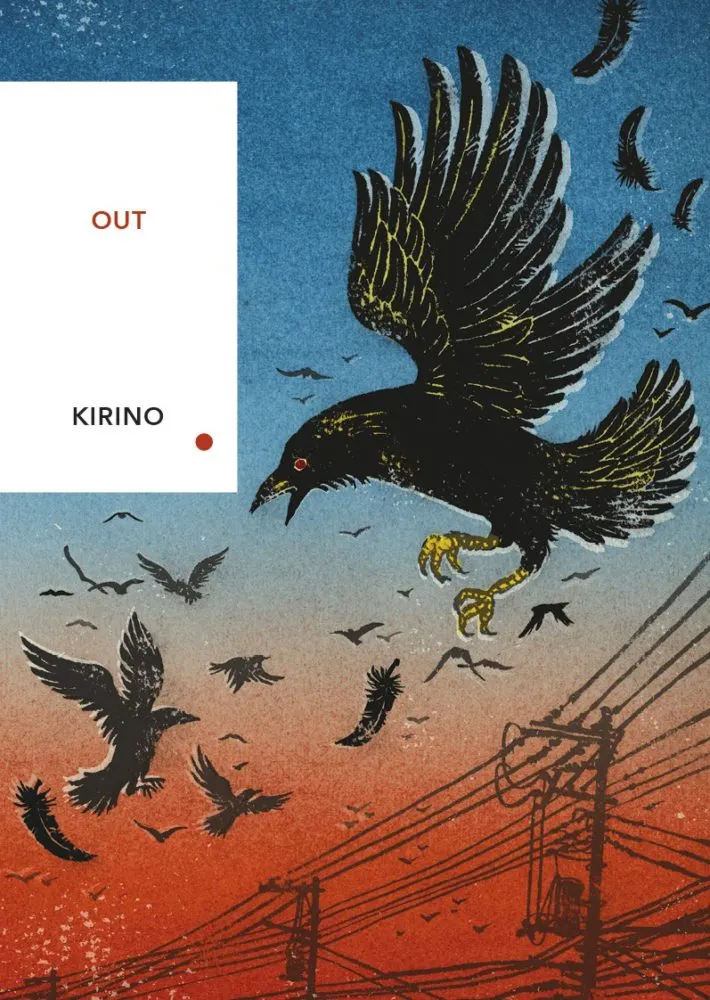 Out is something of a wild card on this list of Japanese mystery novels. That's because, while it is a story of crime and murder in Japan, it's not a detective story.
Nevertheless, it's a masterpiece of Japanese literature that fans of mystery novels will adore. Natsuo Kirino really is one of the best; and her translator, Stephen Snyder, is at the top of his game here.
Out follows the stories of four women who work at a bento box factory in Tokyo.
When one of these women finally snaps and murders her husband, while their children sleep in the next room, she enlists the help of her colleagues to cut up and hide the body. Thus begins a race against time and the authorities to avoid detection and get away with murder.
This is a complex and angry feminist Japanese novel, a revenge tragedy against patriarchal oppression, and one of the best Japanese novels of the 20th century.
It's a dense book of 600 pages, and an intricate book that follows multiple threads, several of which lead to the yakuza and the criminal underbelly of Tokyo.
Out is a must-read Japanese novel, full stop, but especially for fans of the best Japanese mystery novels.
Malice by Keigo Higashino
Translated by Alexander O. Smith
Keigo Higashino is one of Japan's foremost modern mystery writers, penning some of the most successful Japanese mystery novels of recent years. Malice is the first in his Kyoichiro Kaga series.
Like Yokomizo's beloved Detective Kindaichi, police detective Kyoichiro Kaga is a legendary detective protagonist, and Malice was his debut novel, followed by Newcomer.
Malice begins with the brutal murder of a famous Japanese novelist, Kunihiko Hindada — killed in his own home.
Being murdered is never pleasant, but when it happens the day before a big move to Canada was planned, it really stings.
This is a modern take on the classic locked room murder mystery. When the author's body is found by both his wife and fellow writer Osamu Nonoguchi, it is in a locked room in a locked house.
A case like this needs a detective like Kyoichiro Kaga. When the twist personal element comes into play, however, the book's drama really amps up. For, you see, our famous detective recognises the author's best friend from his previous life as a teacher.
Before becoming a police detective, Kaga was a teacher, and Nonoguchi was his colleague, who eventually also left the job to pursue a career as a writer. His success never reached the heights of the murder victim, though.
What makes this book stand out in a sea of Japanese mystery novels is the fact that Nonoguchi, very early, confesses to the murder — just as Kaga suspects — but that's just the beginning.