Many of us grew up with the Harry Potter franchise – be it the books, the films, or both. In the 90s, Harry Potter hit the world harder than any book series in history, and it's hard to imagine a series ever making that same splash again.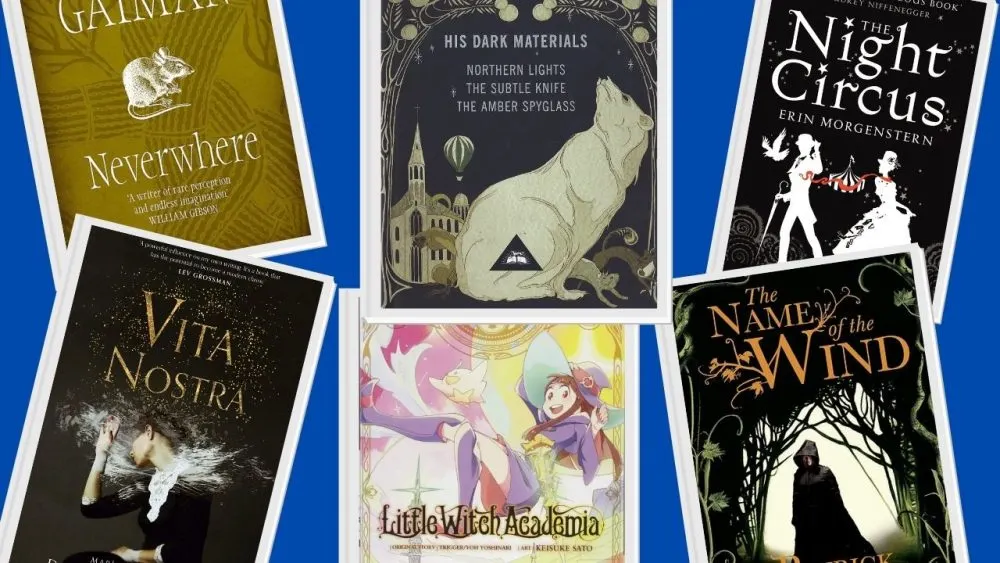 However, some of us (this writer included) no longer wish to support the series' author. Others simply want more magical books to get lost in. So, for those readers looking for alternative books like Harry Potter, where do you turn?
This list of children's books, adult literature, and Japanese manga is a veritable buffet of magical books like Harry Potter that will delight and captivate you.
These books spark your imagination and cast a spell that will keep you hungrily turning the page until the book is finished.
A quick reminder: Trans rights are human rights. Read books by trans writers. Read books about trans people, real and fictional. Donate to Mermaids.
Books like Harry Potter for Kids
This list is split in two: this first half is a selection of books like Harry Potter for kids of varying reading ages and levels. Several of these books inspired Harry Potter, others make for fantastic alternatives to the wizarding world. All are magical books for magical readers.
Diana Wynn Jones was a legend of the magical and the mystical. Best known for her novel Howl's Moving Castle, which was later adapted into a celebrated anime movie by Hayao Miyazaki and Studio Ghibli, Diana Wynn Jones had a 40+ year career of writing illuminating magical books for children and adults alike.
Her long-running Chrestomanci series began with Charmed Life back in 1977, and this beautiful book is said to have heavily, heavily inspired the Harry Potter series. Where better to start reading more books like Harry Potter than the series that inspired it.
Charmed Life begins with a tragedy, as sister-and-brother pair Gwendolen and Cat Chant lose their parents.
For a while, they live with Certified Witch Mrs Sharp. Gwendolen, being a young witch herself, is thrilled but, soon enough her excitement shifts to the prospect of living with powerful sorcerer Chrestomanci in his very own castle.
As they live and study under the guiding hand of the enigmatic Chrestomanci, Gwendolen becomes a rather obnoxious and arrogant young witch.
This is what sets the series apart from Harry Potter: far more dimensionalised characters and arcs. That and the wonderfully playful language that Diana Wynn Jones employs throughout.
This is a fantastic series of books like Harry Potter for kids, but it doesn't treat its audience like kids. Rather, it treats them like wide-eyed young people ready to believe in magic, and to learn that people are complicated mistake-makers and lesson-learners.
Translated by Emily Belistrieri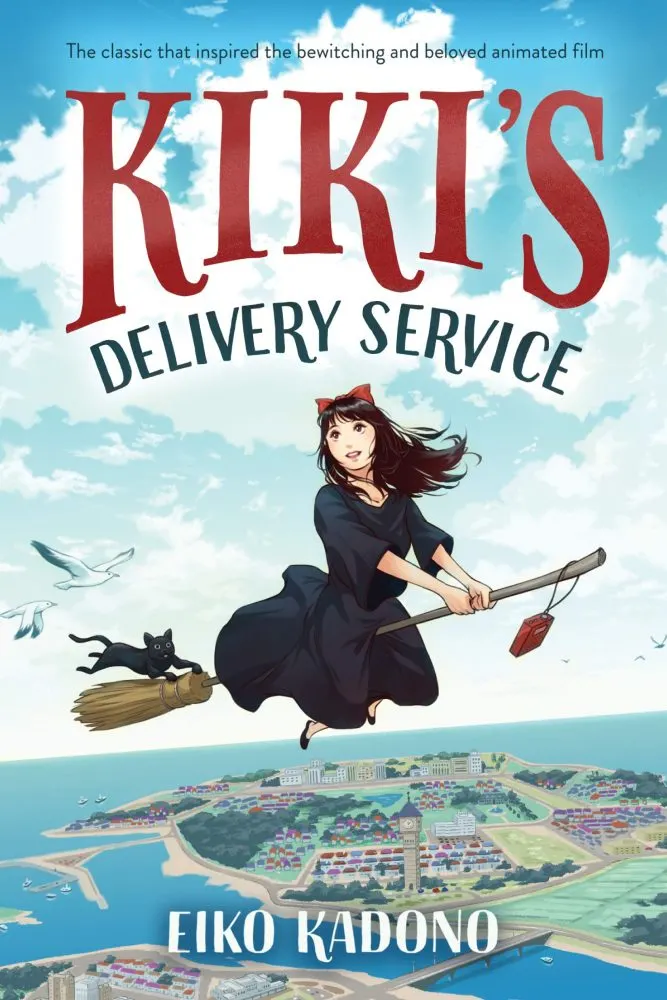 Here's another famed children's author who had her book adapted into an animated film (by the very same director and studio, no less!) Kiki's Delivery Service originally existed as the first in a series of children's books about the titular young witch Kiki.
A magical new translation of the original Kiki's Delivery Service hit shelves recently, translated from the Japanese by the playful and deft hand of Emily Balistrieri. This is a wonderful alternative to Harry Potter, especially for younger readers of middle grade-ish.
Kiki's Delivery Service follows our titular protagonist as she leaves home to find her place in a new town, where she might be that town's resident witch.
The town doesn't warm to her immediately, and Kiki finds herself in more than a handful of awkward and absurd scenarios which she must think her way out of.
This is a book full of lessons, taught with imagination and wonder. Kiki is a lovable and roguish girl with a heart of gold and a sweet black cat familiar. She is eager to help people and find a reason to be proud of her actions. This book is charm layered on top of charm.
I swear I didn't intend for this list to be a who's who of Ghibli films. Though, like many Ghibli fans, I haven't actually seen the film adaptation of this particular beloved book.
For many people of the pre-Potter generation, Le Guin's Earthsea series was their Harry Potter. I have my own fond memory of reading A Wizard of Earthsea while on vacation in Oban, Scotland.
Without A Wizard of Earthsea there would be no Harry Potter. Ursula Le Guin was a revolutionary author of both sci-fi and fantasy, and for many readers, the Earthsea series, which begins with A Wizard of Earthsea, is her magnum opus.
A Wizard of Earthsea follows the story of a young boy with great power. Born on a small island, Duny is taught magic by his aunt before using what he's learned to protect the island from invaders.
Soon enough, a powerful wizard named Ogion takes Duny under his wing to teach him the true ways of magic.
Of all the books like Harry Potter, this is one which can be enjoyed by kids and adults alike, and it has a transformative effect on the imaginations of those who read it.
An enormous influence not only on the author of Harry Potter, but on countless other great fantasy authors around the world.
Read More: 11 Best Fantasy Audiobooks
Here is a series with so much heart. Little Witch Academia is a series of anime films and seasons from the creative mind of Yoh Yoshinari.
Yoshinari also penned a manga adaptation of Little Witch Academia, drawn by Keisuke Sato, for those who would rather read than watch Little Witch Academia.
However you choose to enjoy this series, Little Witch Academia is perhaps the ultimate answer to Harry Potter. For fans of Harry Potter looking for something very similar but also uniquely its own thing, this manga/anime series is what you're looking for.
Little Witch Academia takes a lot of the tropes, rules, settings, and magical ideas established in the Harry Potter franchise and twists them, distorts them, reinvents them, and plays with them in endlessly inventive, charming, and often hilarious ways.
It cannot be overstated just how much sweetness, charm, and creativity exists in this adorable, magical series. It is beautifully drawn, expertly plotted, filled with infinitely likable characters, and perfect for fans of Harry Potter. Little Witch Academia is an absolute dream of a series.
Harry Potter wasn't really my childhood like it was that of other people my age. I didn't get into reading until my teens and, by then, I was over the Harry Potter hype (though I enjoyed the films well enough).
The magical books that turned me into a voracious reader were Philip Pullman's His Dark Materials.
A trilogy comprised of Northern Lights/The Golden Compass, The Subtle Knife, and The Amber Spyglass, these books were everything to me as a teenager, and they still remain irreplaceable favourites for myself and many, many readers my age.
Call me biased but here is a trilogy of children's/YA books with so much more complexity than the Harry Potter franchise.
Fuelled by an anti-theistic philosophy, His Dark Materials follows the adventures of Lyra, a young girl who has grown up in an alternative Oxford.
It is a world where every person has half of their soul on the outside, in the form of a daemon: an animal-like creature of the opposite sex that remains every human's lifelong companion.
The world of His Dark Materials is a dangerous but deeply alluring place full of strange inventions, northern witches, and travelling Gyptians, and across the entire trilogy Lyra will leave Oxford, traverse landscapes and even dimensions on a mystical journey. These books are pure magic.
Books Like Harry Potter for Adults
While many of us grew up with Harry Potter, well, that's just the thing: we grew up. Now that we're all grown up, where can we go to get our fix?
What are the best books like Harry Potter for adults; ones which capture that same impossible reality-defying magic and wonder, but also slake our thirst for stories and characters that are a little more nuanced and complex? You'll find them below.
Now this is magic. The Night Circus took the world by storm upon its release, and fans of fantasy, magic, fairy tales, and everything in-between were enraptured by Morgenstern's hypnotically gorgeous and vivid world. The Night Circus remains a stunning, exciting, captivating novel from start to end.
Set in Victorian England, The Night Circus follows Le Cirque des Reves, a truly magical circus which travels and appears only at night.
The circus' performers, and the circus itself, perform impossible feats of illusion and transformation. But the circus is also a kind of arena for two powerful magicians to pit their wards against one another.
The book's protagonists are those same wards: Celia and Marco, two trainee magicians who are being groomed for magical battle against one another but whose relationship takes a few twists and turns on its own.
This is a truly incredible book, written with wit and creative flair. A modern classic and one of the best books like Harry Potter for adults that you'll ever come across.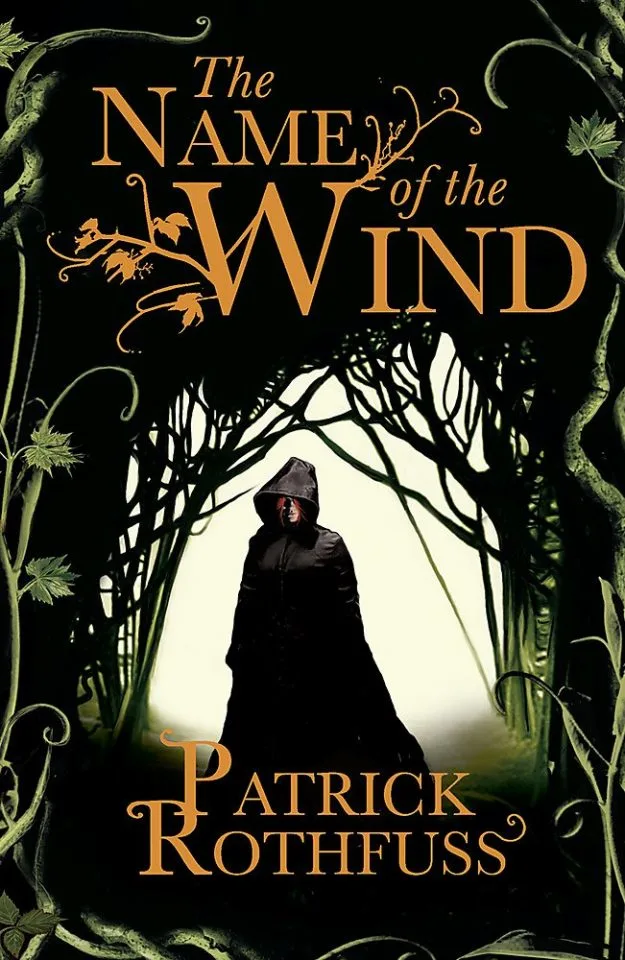 It's hard to ignore the sheer impact that this novel had on the fantasy genre. The Name of the Wind hit bookstore shelves in 2007 and the novel represented a shift in the fantasy genre. This was like the second coming of Lord of the Rings.
What makes The Name of the Wind one of the best books like Harry Potter for adults is that it takes the imaginative magic systems and the school setting that people love about the Harry Potter franchise and implants those details into a dark, rich world of adult fantasy.
This is a thick novel of big ideas, set almost entirely in the University, a place of unparalleled knowledge and opportunity. Our protagonist, Kvothe, narrates his own story of those university years, as he studies not only the magic system of this world but also its history, lore, politics, and more.
Our narrator is a much older Kvothe, now going by Kote and quietly owning a roadside inn, attempting to live a life of obscurity. The young Kvothe of his story is a world away from the narrator.
Thus, one of the driving forces of the narrative: the question of what happened to Kvothe: what did he see, do, learn, accomplish?
Both the story and the character of Kvothe were inspired by the author's own experience at university, studying for years and switching modules all the time; hungry for more knowledge and skills. In many ways Rothfus' novel reads like an adult Harry Potter
Whether or not this novel, like most Neil Gaiman novels, is strictly only for adults is up for debate.
Gaiman writes a lot of surreal and magical stories that can be read by anyone of any age, but Neverwhere gets very dark in places so, while it could be read by kids, we're putting it in the "books like Harry Potter for adults" camp just to be safe.
While he first cut his teeth (and became an international superstar writer) with comics, and he co-wrote the iconic Good Omens with friend and fantasy legend Terry Pratchett, Neverwhere was Gaiman's first solo novel, and what a first novel it is.
Neverwhere takes the iconic London Underground phrase "mind the gap" and runs with it, exploring the idea of a London Below: an eerie, impossible, supernatural place where the shadows and strange people of London wind up when they slip through the cracks.
The novel follows Richard Mayhew, a man out of his depth, as he saves an enigmatic girl named Door, escapes a pair of assassins, and enters London Below with the help of fan-favourite character the Marquis de Carabas.
London Below is what many adults fans of Harry Potter are looking for to replace the more kid-friendly world of Hogwarts.
Much like the Wizarding World, London Below is a secret place just out-of-view, hidden in plain sight, a place (like Hogwarts) where anything is possible, everything is dangerous, and magic is real.
Australian author Trudy Canavan really made a name for herself with The Black Magician Trilogy, the first book of which is Magicians' Guild. While fantasy trilogies for adults are a dime a dozen, it's this trilogy that will really speak to adult fantasy fans who grew up with Harry Potter.
The first book's titular Magicians' Guild is exactly what it sounds like, and each year the guild members perform a purge of their city to get rid of the urchins of the slums.
One of these slum children is our protagonist, Sonea, soon discovers that she is capable of great magical feats. Sonsea must be captured and trained by the guild, lest she become too dangerous to control.
This is a dark, adult take on the magical school genre, taking the concept of a Hogwarts or a Jedi Council, and inverting it into something more grey and complex than it is typically portrayed to be.
That's what makes this such a compelling series of books and a fantastic trilogy of books like Harry Potter for adults.
Vita Nostra by Marina and Sergey Dyachenko
Translated by Julia Meitov
The internationally bestselling Ukrainian duo Marina and Sergey Dyachenko are coauthors of over 20 novels, short stories, and plays.
Their striking novel Vita Nostra was translated from the Russian by Julia Meitov Hersey and published for English language audiences in 2018, and has since developed a small yet devoted following for its unique and esoteric charm.
Vita Nostra follows Sasha, a sixteen-year-old girl on a seaside vacation with her mother, who finds herself followed by a mysterious man with pale skin and dark glasses.
When this stranger finally confronts her, he entreats her to complete a shocking task: she must wake up at 4am, go to the beach, and swim out to a buoy and back.
Completing this task (and several others equally bizarre in nature) eventually gains Sasha admittance to the Institute of Special Technologies, a remote university whose classes are unlike anything Sasha has ever known.
The Harry Potter comparison lies not only in the magical boarding school setting, but in how utterly spellbinding this novel is. It sweeps the reader up into a setting much darker, stranger, and more menacing than Hogwarts – but every bit as enchanting for the right reader.