When we think of fantasy books, a few ideas and images start popping off in our minds like fireworks: war, politics, magic, adventure.
The best fantasy audiobooks are imbued with enough energy and bombast to carry those big ideas.
We also think of length. Most fantasy books are of a pretty impressive length (the word 'epic' often comes up), and they also expand into trilogies or entire series'.
If you're going to be clocking up dozens of hours listening to fantasy audiobooks, the narrators really need to be top-tier, carrying just the right tone and atmosphere to propel the story forward.
With all of that in mind — the length, tone, atmosphere, themes, and excitement of fantasy novels — these are the best fantasy books on Audible for you to listen to right now.
Every one of these audiobooks is carried by solo, pair, or ensemble narrators that bring so much magic to these best fantasy audiobooks.
Also, as the title says, all of these books are available on Audible (some are even Audible exclusives). So consider these the best fantasy books on Audible right now. Let's jump in.
Sign up to Audible here and get a 30-day free trial!
Narrated by Riz Ahmed, Kat Dennings, Taron Egerton, Neil Gaiman, James McAvoy, Samantha Morton, Bebe Neuwirth, Andy Serkis, and Michael Sheen
This is a very unique and exciting fantasy audiobook for a number of reasons. For one, the original source material is a comic book, and it's not often you find a comic book adapted to audiobook format.
To pull off this daring feat, an ensemble cast of A-list actors was assembled for the job. This list of actors is almost intimidating in terms of its quality.
Speaking of quality, you're also getting a ton of sound effects and music that works to replace the comic book visuals.
It's a bold move and, while it isn't flawless, it is still one of the best fantasy books on Audible right now.
Beloved Scottish actor James McAvoy plays Morpheus, and adds a lot of human empathy to the role, while Neil Gaiman himself takes on the role of the narrator — something the author is experienced at and loved for by his fans.
Other adored actors like Michael Sheen, Andy Serkis, and Kat Dennings help to flesh out a star-studded cast, and they all bring their best. The Sandman really does represent an exciting new step for audiobooks, and is easily one of the best fantasy audiobooks available right now.
The Sandman is also an Audible exclusive, so you will need an Audible subscription to listen to it, and this really is one of the best audiobooks on Audible right now.
Read More: The Best Fantasy Manga
Narrated by Christopher Lee, James McAvoy, Natalie Dormer, David Harewood, Sophie Okonedo, Benedict Cumberbatch, and Anthony Head
While it might seem excessive to start this list off with two Neil Gaiman books, the reasons are simple: Gaiman is an astonishingly talented narrator of his own books, and he is famous enough to get the best ensemble casts for his fantasy audiobooks.
While the audiobook of Neverwhere is available on Audible (which is awesome), it was originally recorded as a BBC radioplay (very cool).
Given how Neverwhere was originally written for TV and then reworked into a novel, this ensemble cast works so very well.
Once again, James McAvoy takes the starring role as protagonist Richard, but we're also gifted by an amazing performance from the late, great Christopher Lee as the Earl of Court and national treasure Benedict Cumberbatch as the Angel of Islington.
This being a full radio drama, Neverwhere also enjoys background sound effects that add just the right amount of immersion and illusion to draw you into the world of London Below.
This is one of the best fantasy audiobooks out there and the fact that the original BBC radio drama is now readily available on Audible is so very cool. Another of the best fantasy books on Audible, without question.
Read More: The Best Fantasy Books of All Time
Narrated by Dominic Hoffman, Dion Graham, Bahni Turpin, Allan Corduner, Fiona Hardingham, and Jorjeana Marie
Keeping with the ensemble cast theme for one more book, we have The Starless Sea by the legendary Erin Morgenstern, who rose to immediate fame with her debut novel The Night Circus.
While I personally preferred the story and events of The Night Circus, The Starless Sea is by far the superior audiobook. The ensemble cast adds so much texture and tone to the narrative, bringing it to new heights.
The Starless Sea is one of those cases of a fantasy audiobook being the preferred way to experience the text. While the physical book is beautiful, this really is one of the best fantasy audiobooks you can listen to right now.
Read More: Books to Help Enjoy Reading Again
Narrated by Andy Serkis
Many of us, regardless of our generation, grew up reading The Hobbit. For countless readers, this was our first experience with fantasy books (and even books in general). Speaking for myself, The Hobbit was one of my earliest reading experiences.
Despite The Hobbit being such a classic, and so universally beloved, it still deserves a spot on this list for the fact that it is narrated by Gollum himself: Andy Serkis.
Serkis has already been mentioned above, as he features in the audiobook cast for The Sandman, but here he takes solo duty narrating The Hobbit and what a job he does.
Andy Serkis is known for his voices, accents, and diverse character acting. Who better to embody a cast of men, dwarves, trolls, and hobbits in a single children's book? For old fans and young children alike, this is a dream come true.
Here, Serkis also reprises his role as Smeagol/Gollum, providing us the best way to enjoy the iconic Riddles in the Dark.
It goes without saying that The Hobbit, narrated by Andy Serkis, is one of the very best fantasy audiobooks available anywhere right now (and you can enjoy it on Audible).
Read More: 18 Best Bookish Podcasts to Listen to Now
Narrated by Kate Reading and Michael Kramer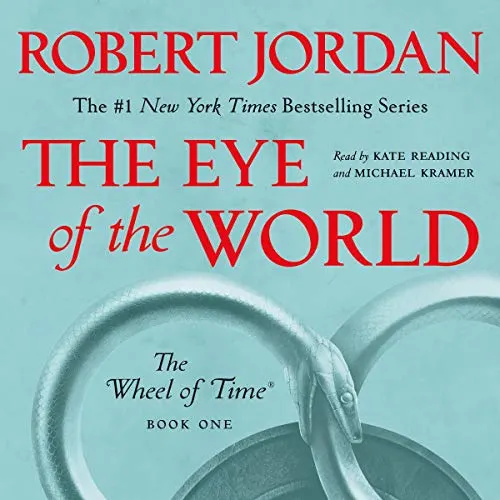 The Wheel of Time is big. So big that Robert Jordan passed away before it was finished, leaving Brandon Sanderson (more on him below) with the job of finishing the series.
If you're going into a series this massive with a view to finishing it, choosing between book and audiobook is a very big dedication. Fortunately, the narration here — shared by veteran fantasy audiobook narrators Michael Kramer and Kate Reading — is top-tier stuff.
That said, a lot of fantasy fans take issue with American-accented narrators because fantasy settings are typically reminiscent of medieval Europe, and we always imagine our fantasy characters to have British accents.
If you can get over that gripe, though (or if it doesn't bother you in the first place), what we have here are two exceptional narrators (one woman, and one man) delivering one of the best fantasy audiobooks in existence. A very exciting ocean to dive into.
Read More: Essential Modern Fantasy Novels
Narrated by Anne Flosnik
Speaking personally, Robin Hobb is my favourite fantasy author, and so I was always going to include her on this list. It was only a question of which book/series.
I settled on The Liveship Traders for its choice of audiobook narrator. British actress Anne Flosnik does such a bang-up job of narrating this trilogy from start to finish. She brings so much heart and soul to every line.
Fantasy literature is also often considered a man's domain, and seeing a series written by a woman and narrated by a woman is refreshing. When the narration is this strong, we have a winner.
The Liveship Traders is also my favourite trilogy of Hobb's, which is a bonus. It was her second trilogy after the Farseer Trilogy, and it so perfectly blends a large cast with varied island, city, and ocean settings, all of which Anne Flosnik handles with a gusto.
Read More: Best Sci-Fi Audiobooks (On Audible)
Narrated by Liyah Summers
The Priory of the Orange Tree represents a revitalisation of the fantasy genre. Rather than being a series of a trilogy, Samantha Shannon's fantasy epic is one massive self-contained story. It also brings dragons back to the forefront of fantasy novels.
This is an intricately plotted, perfectly woven narrative with a broad cast of deep and dynamic characters. It is also queer as hell, which is refreshing and wonderful.
As for the audiobook, narration is handled entirely by Liyah Summers, who does a great job. The only downside is that this is the kind of epic fantasy novel that would have benefitted from an ensemble cast, but not every author gets to be as big as Neil Gaiman (even though Shannon deserves to be).
Judged as an audiobook, this isn't one of the absolute best fantasy audiobooks ever, but Priory of the Orange Tree is one of the best fantasy novels of our time and, if you prefer your fantasy books on Audible, you owe it to yourself to read this modern classic of the fantasy genre.
The Priory of the Orange Tree is also an Audible exclusive so, if you want to listen to it, you'll need a subscription to Audible.
Narrated by Steven Pacey
There aren't many modern fantasy fans who don't adore the works and style of Joe Abercrombie. King of the grimdark fantasy genre, Abercrombie plays into bleakness, gore, and desolation to astonishing effect.
The First Law is where it all started for Abercrombie, with his first novel in the trilogy The Blade Itself. This trilogy is frighteningly addictive; not many fantasy authors write as well as Joe Abercrombie.
What enhances that addictive quality even further is the audiobook narration by Steven Pacey, who does an astonishing job here.
Pacey's voice and delivery marries with Abercrombie's style so perfectly. This is a match made in heaven, making for one of the best fantasy books on Audible, no contest.
When it comes to fantasy, it doesn't get much better than the grimdark works of veteran author Joe Abercrombie. And, with the narrative chops of Steven Pacey, this is, without a doubt, one of the best fantasy audiobooks you'll ever read.
Read More: Must-Read YA Fantasy Books
Narrated by Julia Whelan
V.E. Schwab is a truly beloved author of the fantasy genre. Like Neil Gaiman, she plays with genre and manages to blend urban fantasy with historical fiction exceptionally well. The Invisible Life of Addie LaRue is one of her best.
Audiobook format is also the best way to experience this novel, with narrator Julia Whelan carrying the plot and it's whirlwind of emotions with masterful energy from start to finish.
Whelan really is an incredible audiobook narrator, and she elevates Schwab's narrative to new heights. This is one of the best fantasy audiobooks you can listen to right now, and a reason all in itself to grab an Audible subscription.
Narrated by Michael Kramer and Kate Reading
There aren't many fantasy authors held in higher regard than Brandon Sanderson. The American author was gifted the task of completing Robert Jordan's Wheel of Time series (above) and he has even expanded from fantasy into YA sci-fi adventure in recent years.
While it was his Mistborn trilogy that skyrocketed Sanderson to immediate legend status, when it comes to audiobooks it's his Stormlight Archives series that makes for some of the best fantasy audiobooks around.
The reason for this is the delivery from Michael Kramer and Kate Reading, whom you should recognise from their epic dual-narration of Jordan's Wheel of Time. Here, they have reunited to deliver an outstanding narrative experience.
The Stormlight Archive is an amazing series of four books, and Kramer and Reading are here to deliver the entire series; one of the best fantasy books on Audible for sure.
Narrated by Rupert Degas
Not much has to be said about Patrick Rothfuss and The Name of the Wind. Over the past decade, this book and its sequel have garnered Lord of the Rings level status. These are godly fantasy books in the eyes of fans.
To live up to that, an audiobook narrator really has to deliver in every single area, and Rupert Degas really, truly does.
This is one of the best fantasy audiobooks out there, partly because it's one of the best fantasy novels ever written, but also because of the sheer quality of Degas' narration skills.
However you choose to read The Name of the Wind — whether in book or audiobook format — you're going to have a life-changing experience, but Rupert Degas really does an astonishing job with this one, making it one of the best fantasy books on Audible.