Neil Gaiman is one of the world's most visible, most successful, and most celebrated authors alive today. Almost all of the best Neil Gaiman books have been adapted to film, the stage, or one of those fancy audiobooks with a celebrity cast.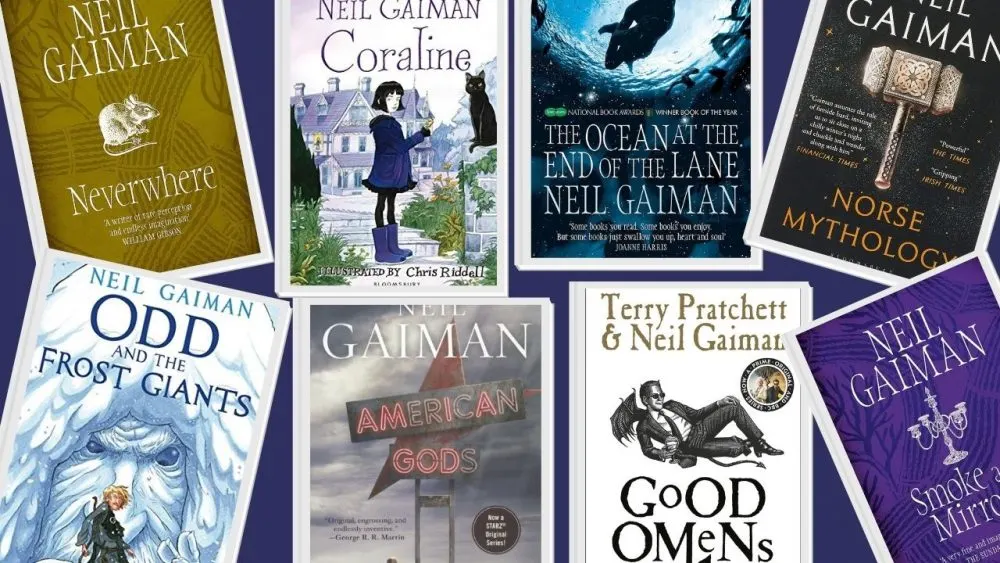 Neil Gaiman is also a jack-of-all-trades kind of writer, having cut his teeth as a journalist, then breaking first into the comics industry.
After comics, he shifted into writing novels for adults and novels for children, as well as short story collections, and even running a successful blog and writing episodes of Doctor Who.
As a lifelong reader of Neil Gaiman's works, I've read almost every book and comic he has ever published, including his books written for little children. As a budding reader, I basked in his infinite imagination, being inspired time and again.
The Best Neil Gaiman Books, Ranked: Worst to Best
What you'll find here is my ranking of the best Neil Gaiman books. Not his comics or his non-fiction. These are Neil Gaiman's fiction books. You won't find Sandman or any of his work for Marvel and DC here.
This list of the best Neil Gaiman books includes his novels for children, his novels for adults, and his short story collections all ranked from worst to best. If it's good Neil Gaiman prose, it's on this list.
So, if you're wondering where to start reading Neil Gaiman, or you're simply looking for the very best Neil Gaiman books, here is my own ranking. We're starting with his worst and moving down to his best.
It feels a little mean putting this at the bottom but, honestly, Neil Gaiman has never written a flat-out bad book. I also read this book at the age of 23, knowing that the target demographic is very young children.
This is still a lovely Neil Gaiman book, in part because Chris Riddell's illustrations are utterly gorgeous. This is a real flexing of this writer-artist pair's imagination muscles.
It's also lovely because it demonstrates how well Neil Gaiman is able to adapt his ideas to an audience of children rather than adults. To him, readers are readers and he caters to both seamlessly.
Fortunately, the Milk… is a children's book, heavily and beautifully illustrated by Chris Riddell, which tells the whimsical tale of a father's journey around the world.
He recounts this tale to his child after returning home from an adventure that should, actually, have been a quick trip to the shops for milk.
It's a sweet tale with a charming premise and a stegosaurus scientist in a hot air balloon. And no book with a stegosaurus scientist in a hot air balloon can actually be a bad book, can it?
Neil Gaiman is often at his strongest when writing short stories (as many writers are), but, unfortunately, Trigger Warning is not a great example of this.
While his first two short story collections delivered dark, twisted, and monstrous tales that stick like barbs in the reader's mind, Trigger Warning is that very worst of books: a forgettable one.
As I've already said, Gaiman has never written a bad book but this is far from being one of the best Neil Gaiman books, which is even more of a shame considering his other short story collections do actually rank amongst the strongest of his works. More on that below.
Anansi Boys is one of the more curious Neil Gaiman novels. It overlaps with the world and characters of American Gods but not in any meaningful way. It's also an impressively bloated novel. Unlike American Gods, however, it has no good excuse for that.
Anansi Boys tells the story of Fat Charlie, a sad and angry Floridian man whose rubbish dad dies while doing karaoke. Turns out that his dad was Anansi the spider god.
From here, the book becomes a rivalry of sorts between Charlie (a wholly unlovable protagonist) and his sinister brother Spider.
Anansi Boys is a rather flat novel, especially compared to Neil Gaiman's other books for adults. In fact, within that bracket of the best Neil Gaiman books for adults, Anansi Boys is certainly the weakest.
Read More: 11 Best Fantasy Audiobooks
Here is a lesser-known Neil Gaiman book. Written for children and charmingly illustrated (once again by the wonderful Chris Riddell), Odd and the Frost Giants is a very slender book set in the world of Norse Mythology (Neil Gaiman's biggest influence).
Set in a Norse world, frozen over thanks to the Frost Giants who have invaded Asgard, Odd is a young boy who is enlisted to help an eagle, a bear, and a fox (who, if I remember rightly, are Odin, Thor, and Loki) reclaim Thor's Hammer and liberate Asgard from the Frost Giants.
This is a very charming tale; a story of Norse Mythology told by the writer who has proven himself an expert in that field. Unlike Fortunately, the Milk…, this is one of the best Neil Gaiman books for children that adults can also enjoy just as much.
Placing Stardust so far down this list may or may not be a divisive move. I honestly have no idea. But this is not, in my opinion, one of the best Neil Gaiman books. In fact, every creative move that the beloved film adaptation makes is an improvement on the original book, in my opinion.
Stardust is a fairy tale of sorts set in an English village known as Wall (it has a wall).
When our protagonist, Tristan, fails to win the hand of his beloved, he sets off to retrieve a fallen star for her, only to find that the star is a woman whom he enthusiastically binds in manacles and drags across the land.
While it might be a fairy tale of sorts, Stardust is not for children. It has one explicit sex scene and has a hugely unlikeable male protagonist. Neil Gaiman is quite good at writing those.
It's certainly an original tale and not his worst book but, as I said, this is far from being one of the best Neil Gaiman books of all time.
From here on, everything is good. We're really getting into Neil Gaiman's best books now. The bottom five are good books but either flawed or lacking the spark of his better books. Consider this a top ten Neil Gaiman books and it begins with The Sleeper and the Spindle.
The Sleeper and the Spindle is a very different beast. As a Neil Gaiman fan, I was very surprised when I first picked it up. The storybook format the gorgeous fairy tale cover made it clear from the start that this was a different kind of Neil Gaiman book: an illustrated fairy tale for adults.
This is exactly what a reimagining of a fairy tale should be. It respins the helpless damsel and the brave hero dynamic into something fresh, modern, and very exciting. It's a thrill of a story that feels both fantastical and contemporary.
Without a doubt, this is one of the best Neil Gaiman books for its beauty and originality. All that holds it back is that it's a little on the short side. I was left hungry for more.
In both its name and its content, this is a nod to The Jungle Book, but told in true dark Gaiman style. Opening with a murder that leaves the dead family's child alone, The Graveyard Book then opens up into an eccentric tale of a lonely boy growing up in a graveyard.
Like Mowgli being raised by the animals of the jungle, Bod is raised by the ghosts and ghouls of the graveyard. It's a Burton-esque tale (I'm surprised that he's never adapted it to screen, actually), and it is a book for children.
In fact, this is one of the best Neil Gaiman books for adults and children to share. Children can get mixed up in the strangeness and the excitement, projecting themselves onto Bod and his journey, while adults can appreciate the character writing, sinister tone, and wonderful world-building.
The story goes that Neil Gaiman wrote this book while his wife (singer-songwriter Amanda Palmer) was away for several months. He wrote it for her and he wrote it about himself. First, it was a short story, then it grew into a novella. At last, it became a short novel.
The Ocean at the End of the Lane is a surreal and terrifying novel inspired by Neil Gaiman's own youth. Our protagonist is, in a fashion, him as a child.
Gaiman is often lauded for his boundless and strange imagination and this book, more than any other, feels like a window into his mind. It takes his real world and plunges that world into surreal waters.
Fear and danger and magic and impossible things take hold and you feel like you're drowning in the unknown.
The Ocean at the End of the Lane is a bizarre novel, and a very good place to start reading Neil Gaiman. It is like a gateway between the world and the mind of this incredible writer.
Fragile Things is Neil Gaiman's second short story collection. While it doesn't quite live up to the magical and lyrical quality of Smoke and Mirrors (below), it is still a phenomenal collection of tales that demonstrates his strength as a writer.
For new readers, this is one of the best Neil Gaiman books for getting a sense of both his style and his imagination. One of his most famous stories, How to Talk to Girls at Parties, is found here. It was turned into both a comic book and a feature-length film.
Fragile Things also ends with a novella-length sequel to his novel American Gods, set in Scotland and titled The Monarch of the Glen. If you've read and loved American Gods, this story is worth the price of the collection alone.
I'm happy to admit that, when this book first released, I was a little disappointed. Shortly before, I read Joanne Harris' The Gospel of Loki, a charming novel which took all of these stories of Norse Mythology and stringed them together into a single narrative.
After reading The Gospel of Loki, Neil Gaiman's Norse Mythology almost felt lazy by comparison. But the truth is that this is a very accessible collection of incredible Norse myths.
I've found myself returning to this collection time and again, dipping in and out at random to enjoy a fun tale of Loki, Thor, and the other Asgardians.
This is, if you're not already aware, a retelling of the best Norse myths, told by a writer who is passionate about, and obsessed with, the tales of Norse Mythology. It couldn't have been written by a better author.
If you want to get a sense of Gaiman's writing style, removed from his own imagination to a degree, this is one of the best Neil Gaiman books to pick up for a new reader.
Arguably Neil Gaiman's most famous book, Coraline was adapted into an incredible stop-motion animated movie by Laika in 2009 (who then went on to make the equally stellar ParaNorman and Kubo and the Two Strings).
Coraline is a children's book that adults can enjoy just as much. This is thanks to Gaiman understanding that stories are universal, and that what is scary for children is also often scary for adults.
So, yes, Coraline is scary. It tells the story of the titular Coraline, a girl who moves to a new house with her parents and comes to lash out and rebel a little. She is lured into a mirror world where seemingly kinder versions of her parents exist to welcome her, but all is not what it seems.
Other Mother and Other Father have buttons for eyes and they are hoping to trap Coraline in their reality. The story escalates quickly, with an eccentric cast of supporting characters helping to colour the pages beautifully.
Coraline absolutely holds up as one of the best Neil Gaiman books, for adults or for children, and the film adaptation also remains a complete masterpiece.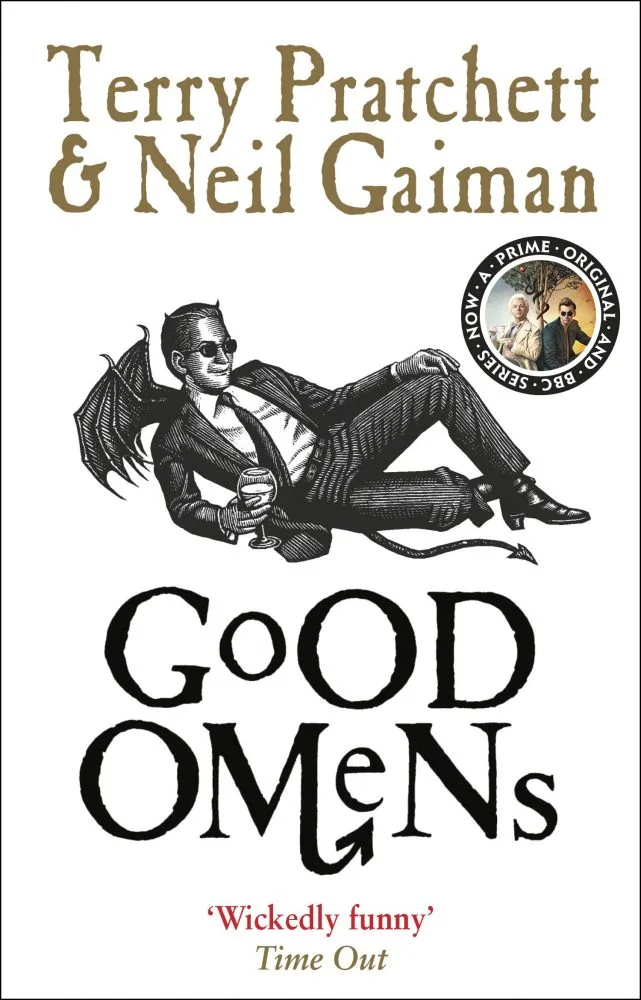 Written as a joint effort by Neil Gaiman and Terry Pratchett, Good Omens is the book on this list with the biggest cult following. People who like this book really, really love it (myself included, of course).
Good Omens is a supernatural comedy novel that begins by parodying the story and tropes of The Omen but is actually far, far larger in scope than that.
Our protagonists are an angel and devil pair who have been friends from the literal beginning, watching the Earth grow and change from the sidelines.
A hilarious and awkward baby swap occurs at the novel's beginning which causes a frantic panic in heaven and hell and it's up to the angel and demon Aziraphale and Crowley to watch it unfold but also maybe help fix it.
Good Omens is often considered one of the funniest novels ever written and it truly is laugh-out-loud funny. It has also been adapted into a miniseries with Gaiman himself at the helm and a star-studded cast leading the charge (yes, Michael sheen).
Good Omens is essential reading and, undoubtedly, one of the best Neil Gaiman books. You'll be hard-pressed to find anyone who disagrees.
I have already mentioned more than once that Neil Gaiman's imagination is best seen through the lens of his short stories, and Smoke and Mirrors represents the very best of them.
In fact, Smoke and Mirrors is one of the best Neil Gaiman books, full stop, comics included. It is a genius collection of short stories. So many of these have stuck in my head for a full decade, including the iconic Don't Ask Jack, Troll Bridge, and Nicholas Was…
If you need convincing of the power of these Neil Gaiman stories, give Nicholas Was… a quick google search. That story has never left me. It is haunting and beautiful and less than 100 words long.
Neverwhere was Neil Gaiman's first novel. He had already made a massive name for himself in the American comics industry thanks to The Sandman but now he was stepping into the world of the novel, and what an entrance.
Neverwhere has been a massive inspiration to countless authors, and remains one of the best Neil Gaiman books. A near flawless masterpiece of urban fantasy fiction.
Following the story of Richard Mayhew, an unassuming Scot who, after moving to London, ends up meeting and saving the life of a girl named Door. Richard's actions send him spiralling into London Below: a place of forgetting and magical people.
Neverwhere is a hunt, with Richard and Door as the prey. Inspired by the iconic TFL phrase "mind the gap", Neverwhere asks us to ponder where things go if they don't mind the gap. The answer is, of course, London Below. And what a place it is.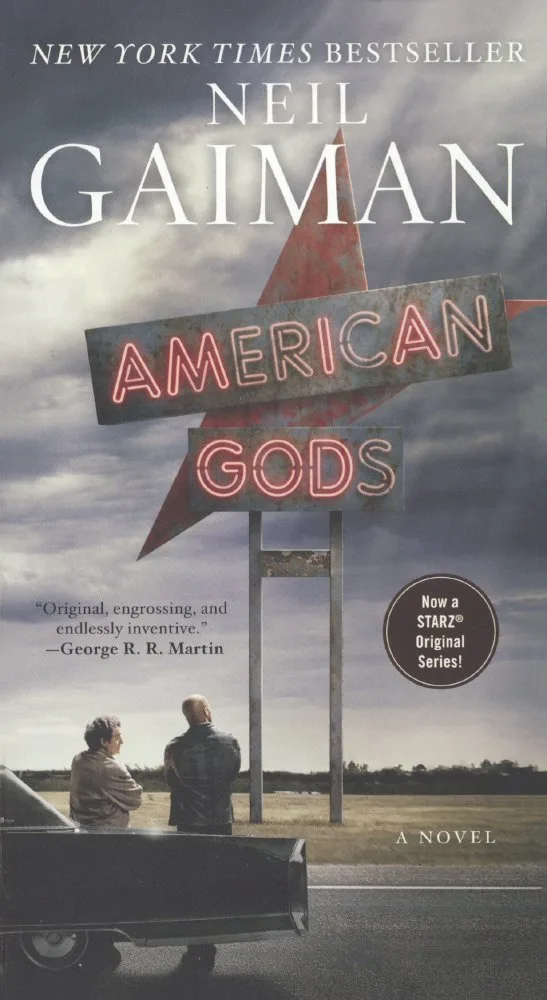 This is it. Of all the best Neil Gaiman books, American Gods comes out on top. This does come with a few caveats, however. American Gods isn't a perfect novel; it is overly long and its protagonist is frustratingly bland compared to the rest of the book's cast.
However, flaws aside, American Gods still comes out on top thanks to its big ideas and its setting.
American Gods follows Shadow, a man newly released from prison at the same time that his wife is murdered. Recruited by a man known as Wednesday, Shadow takes an odd road trip across the US, seeing all the stranger sights along the way.
It's this American road trip setting that first sells the novel. Dripping with a rich and detailed atmosphere, it is a journey that absorbs the reader completely. You live Shadow's journey wholly and completely, and what a thrillride it is.
American Gods also has a truly masterful central concept. Gods need people to invent them, worship them, and dedicate their lives to them. Without people, gods disappear.
So, what happened when Europeans moved to the New World? Some brought their gods with them while others got abandoned.
There are also new gods; new things to worship: TV and internet and microwaves. There is a war brewing between the old gods and the new, and Shadow is caught in the middle.
This is a fascinating and gripping premise that makes for a perfect novel. American Gods is Neil Gaiman's best novel. A true masterpiece.