History through the lens of the unrighteous is sometimes the most compelling. In our age, demons and the devil can represent things only certain people think are evil, a difficult decision, or they can just be plain cool.
In the past, writing about Hell could represent how they felt about the world, when they otherwise wouldn't be allowed to have such an opinion.
It could mean trouble and public ridicule. But these authors still had a story to tell.
Essential Books about Hell
Here's a list of hellish literature, spanning many years and genres.
Good Omens by Neil Gaiman & Terry Pratchett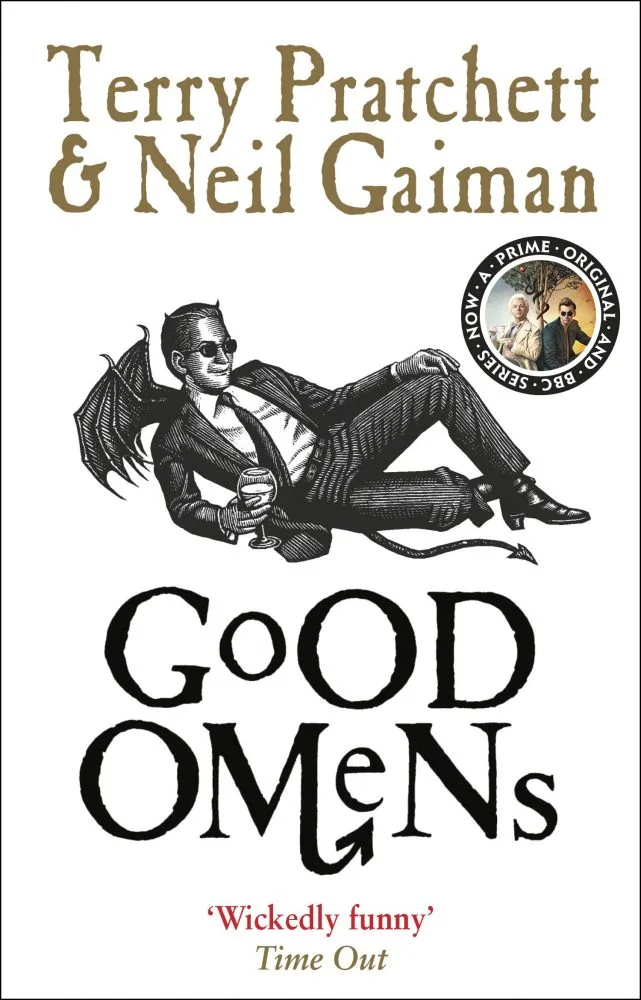 There was bound to be Pratchett and Gaiman on this list, so let's start with the book they wrote together!
Good Omens is the tale of an angel named Aziraphale and a demon named Crowley whose friendship blossomed in the time of Adam and Eve.
And after a couple of thousand years on earth, the two do not feel like having their existences flushed out by the apocalypse, meaning it's up to them to prevent it.
Banding together with a cast of charming characters, Azerophale and Crowley try and change the mind of the Antichrist, harbinger of the end times…except that he's not exactly where they expected him to be.
Read More: 16 Must-Read Cozy Fantasy & Found Family Books
Hell Bent by Leigh Bardugo
The sequel to Ninth House will take protagonist Galaxy 'Alex' Stern to hell and back again – literally.
With myriad problems that range from keeping up her grades at Yale to saving her mentor and possibly the world from unspeakable evil, it seems Alex might be out of luck.
But this doesn't stop her. She has a crew of murderous new friends and an assortment of tricks up her sleeve, and she will stop at nothing to stop the dark forces brooding around every corner.
Hell Bent builds on the concepts and world of Ninth House as only Bardugo could. It takes a master to make real-life places like Yale just as interesting as all the fantasy elements coming into play at the school.
If you're a lover of magic, or can find magic in everyday places, Hell Bent comes highly recommended.
Read More: Best YA Novels You Should Check Out Now
The Library of the Unwritten by A. J. Hackwith
The concept of The Library of the Unwritten is so relatable and clever, it's incredible no one's written something like this before.
In this book, unfinished books have a special place in Hell – a library. As with any unfinished project, these stories are restless, and just might turn into characters and escape at any given time.
Protagonist Clair, the Librarian, has been tasked with making sure this doesn't happen.
When one of the stories escapes, it should be a pretty simple job to bring them back, but things get messy, and suddenly the line between Heaven, Hell, and earth gets blurry.
This book is funny, queer, and, excitingly, the first in a series.
With so many authors and readers constantly being told we're going to Hell for who we love and how we live, it's always fun to make sure we've written versions of the underworld we'll enjoy, and this is certainly one of them.
Buy a copy of The Library of the Unwritten
Read More: 16 Best Books About Vampires
The Master and Margarita by Mikhail Bulgakov
Often when you read a book where the devil is involved, there's an element of good and evil.
In The Master and Margarita, the point is to prove that the line between the two is blurry. And when you read Russian fiction, you often expect harsh realities and bleak outlooks.
That's not the case with The Master and Margarita.
Telling the wild and complex tale of characters who are trying to decide just what they believe: the devil, religion, and whether one character's death was predicted or just coincidence, The Master and Margarita is a reminder not to take things too seriously.
It's not a well-known novel, but it's well loved by those who do know it. You just have to make sure to get the correct version, because it's been changed and censored quite a bit.
Buy a copy of The Master and Margarita here
Read More: 44 Best Classic Novels of All Time
Eric by Terry Pratchett
Eric is Pratchett's take on the Faust legend, to the point that the title of this novel is technically Faust Eric.
In it, Eric, Discworld's only (13-year-old) demonologist, tries to summon a demon to grant his three wishes, and ends up summoning frequent Discworld protagonist Rinsewind.
Their encounter will take them not only outside of time, but to Hell itself.
It's always fun to dive a little deeper into aspects of the Discworld like religion and all the ways it's different than, and yet so very similar to, our own version of things.
Read More: Where to Get Started with Terry Pratchett's Discworld
Dante's Inferno (The Divine Comedy)
Dante's Inferno is absolutely invaluable to the world of literature. It's the first in three epic poems in the Divine Comedy, charting Dante's trek through Hell.
Though these poems aren't ha-ha funny, they speak to the political climate and religious views at the time of their creation (which took about 20 years).
They give one of the most imaginative and interesting explanations of Hell, and have helped form aspects of the afterlife that we still use in entertainment today.
Buy a copy of The Divine Comedy here
I Have Asked to Be Where No Storms Come by Gwendolyn N. Nix
This is a book that isn't afraid to be weird. Protagonist Domino is a dead, male half-witch in Hell. He's on a wild west journey with his mom. His brother is trying to resurrect him. It's an interesting concept, to say the least.
I Have Asked to Be Where No Storms Come is also the tale of a family's romp through the afterlife, trying to resurrect one another and also learn to use their magic.
Though it's been compared to Dante's Inferno and Stephen King, it's still one of the most unique titles on this list.
Buy a copy of I Have Asked here
Read More: 27 Books About Witches 🧙‍♀️
Lucifer
In the series of DC comics, Lucifer is one of the most powerful beings in existence, and also one of the most handsome.
And he's well-loved enough to go from being a side character in the Sandman comics to having his own comic spin-off and even his own TV series.
He's charming and able to create whole worlds, which leads to wild adventures both on earth and in Heaven.
The Invisible Life Addie La Rue by V E Schwabb
The Devil (or in this case, Dark) is always at peak devilry when he's making deals.
In The Invisible Life of Addie La Rue, our titular character lives in 17th century France. When she makes a deal to escape her awful husband, she's offered to be immortal.
This only sounds too good to be true because it is: the flip-side of this deal is that she will also be forgotten by everyone she meets.
Through Addie's eyes, and her curse, readers will see the world over centuries. You will envy and feel sorry for Addie in equal measures, and, ironically, not forget this story anytime soon.
Buy a copy of The Invisible Life of Addie LaRue here
Light From Uncommon Stars by Rika Aoki
Light From Uncommon Stars is an Otherwise Award (an award given to fantasy or sci fi novels that handle the ideas of gender) winning novel about Satomi, the world's best violin teacher whose students have a tendency to die tragically.
This is no coincidence; Satomi has a contract with a demon to send seven souls to Hell, and so far she's sent six down. She's found her seventh victim, too.
But when Satomi also starts a romance with an alien refugee turned doughnut shop owner, her plans go slightly awry.
A sci fi with the most down-to-earth themes, Light From Uncommon Stars does not only a spectacular, but important job of representing transgender people.
Buy a copy of Light From Uncommon Stars
The Private Memoirs and Confessions of a Justified Sinner by James Hogg
Possibly the most mysterious, most baffling, and most interesting book on this list, this novel's full title is 'The Private Memoirs and Confessions of a Justified Sinner: Written by Himself: With a detail of curious traditionary facts and other evidence by the editor'.
Private Memoirs was first critically ignored, then critically acclaimed, and a renowned representation of evil. Sometimes, the slow burns are worth it.
Presented as a book found on a grave, this novel bounces between the narrative of the sinner, and the author himself. It tells the story of two half-brothers raised by different fathers.
One is more sinful, the other ridiculously pure…but it's the pure one who decides to commit murder. And though he thinks this is because it's his godly right, it becomes more and more apparent that the Devil has a hand in the matter.
Buy a copy of The Private Memoirs of a Justified Sinner here
If Cats Disappeared from the World by Genki Kawamura
If Cats Disappeared from the World is kind of like the manga Death Note, just incredibly emotional and existential.
When the lonely protagonist finds out that he only has a couple of months to live, all seems lost, until the Devil shows up in his life and gives him an offer (as the Devil is wont to do).
For everything the main character decides to make disappear from the world, he gets another day of life.
So, what can he do without? What would make the extension of his life worthwhile, and what would he simply miss too much?
These are bigger questions than one might initially think, and soon our protagonist is left pondering the meaning of things he once took for granted…
Buy a copy of If Cat's Disappeared From the World here
Doctor Faustus by Christopher Marlow
Who doesn't love a story about the rise and fall of a star? Our titular doctor grows bored with worldly knowledge and decides it's time to dive into the otherworldly.
He practices magic, eventually meets a devil, and decides to offer his soul to Lucifer. He gets all his questions answered — except about the creation of the universe.
And he might have his doubts about the situation, but he sees the seven deadly sins personified, so that's fun at least.
This well-loved but controversial German tragedy might have been written by several authors or just one, the mystery of its creation is yet another layer of what makes it so cool.
It's a classic that's just as interesting to read about as it is to read.
Buy a copy of Doctor Faustus here
Daughter of Smoke and Bone by Laini Taylor
There's so much for a fantasy reader to love in Daughter of Smoke and Bone, the first book in its trilogy.
A naturally blue-haired protagonist artist living in Prague, trading wishes for teeth, feeling not at home in the normal, everyday world.
And, possibly the coolest part, demons coming out of a rift in the sky. The world building, creatures, and characters are expertly written, the perfect blend of original ideas and concepts we all know.
If you enjoy this series, don't miss Taylor's duology Strange the Dreamer.
Buy a copy of Daughter or Smoke and Bone here
The Monk by Matthew Gregory Lewis
Through two subplots about nuns, lust, and making deals with the Devil, Matthew Gregory Lewis gives us a novel people once received as downright evil.
The plot follows a monk who is eventually corrupted by a demon and a pregnant nun who tries to escape her convent.
These plots intersect to leave cliffhangers and keep the reader guessing at every twist. People were furious about the themes of lust and evil's triumph, at once claiming Gregory a genius and a terrible person for having written it.
Nowadays, it's a shining example of gothic horror. Now, people study The Monk's reviews the way they study the novel.