Mexico is one of the great literary nations of the world; home to some of the most celebrated poets and novelists of all time.
Here, rather than focus on the classics and the poetry, we're celebrating the finest modern Mexican novels by the best contemporary Mexican authors.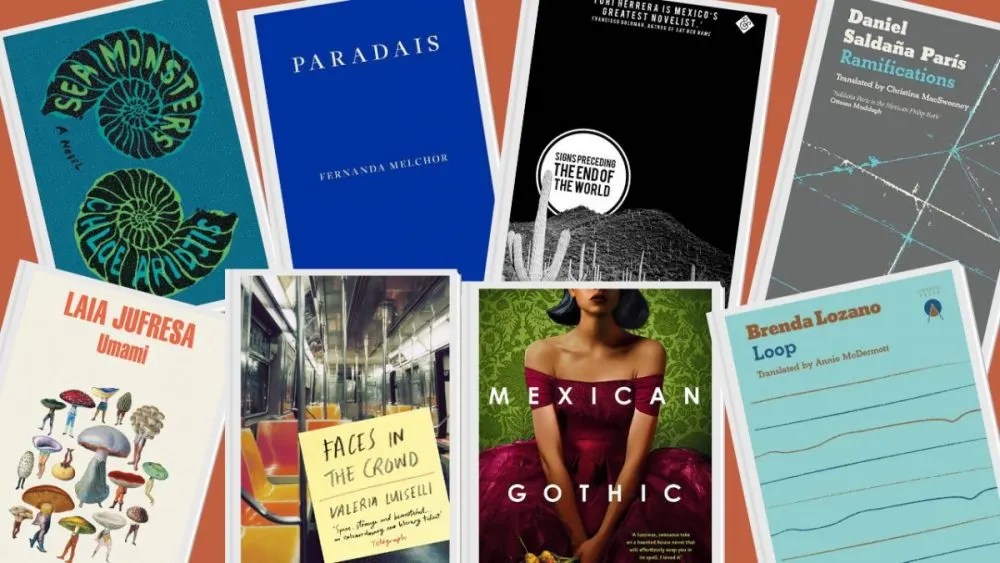 The Best Modern Mexican Novels
If you want to discover, understand, and fall in love with the state of modern Mexican literature, these are the Mexican novels you need to be reading right now.
Loop by Brenda Lozano
Translated by Annie McDermott
This is both one of the finest epistolary novels and one of the best modern Mexican novels we've ever read.
Loop is a diary of sorts, or at least the diary is used here as a framing device for the narrator's story.
Unnamed, she is a woman who impatiently awaits the return of her boyfriend after he sets off on a family trip to Spain – which also takes him to Portugal and France – from their home of Mexico City after his mother passes.
Our narrator flippantly compares herself to Penelope, switching out the weaving of her shroud for writing in this notebook.
Our scrawling protagonist is one of the most charming narrators I've come across in a long time. She's impatient, well-read, introspective, thoughtful, witty, and ambitious.
Her notes toe the line between a succinct narrative, a dislocated train of thoughts, and a series of philosophical musings (whatever such a line would look like).
Some days we learn about her friends and how she spends time with them – other times we read with fascination as she turns Proust into a character in her own life.
Despite this almost chaotic method to storytelling – this disconnected and fractured notebook novel – the themes and motifs of Loop are far more clearly laid out as a result.
Ramifications by Daniel Saldaña París
Translated by Christine McSweeney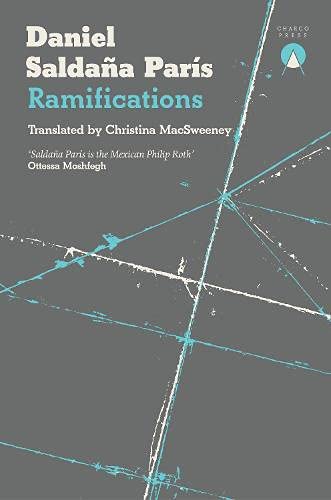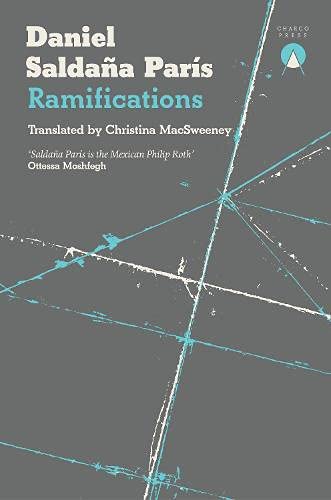 The English translation of Ramifications is published by the wonderful Charco Press, and this is one of the most impactful Mexican novels you'll ever read.
Ramifications is a first-person narrative, told from the perspective of a man in his thirties confined to a bed in his rundown apartment in a rundown district.
We learn about our narrator-protagonist by journeying through his childhood memories, and slowly piecing together the complex relationship between him and his immediate family.
In 1994, when he was just ten years old, his mother left home to join the Zapista uprising. His father is unfit and unable to parent and teach our narrator and his sister.
In order to cope, he develops habits, hobbies, and eccentricities that only serve to make him a target at school, and to isolate him even further as an outcast.
This is a masterful Mexican novel that explores the effects of our families' actions, of memory on the present, and how we are little more than what our experiences make us.
Sea Monsters by Chloe Aridjis
Although set in the late 80s, Sea Monsters is a powerful protest for those wandering, distracted, pondering what life has in store.
Luisa, seventeen years old and with everything ahead of her, is going through that rebellious phase where life begins to open up.
Drugs and music hold untapped wonders, boys are enigmatic and sometimes cruel, but in an interesting way, and she knows that there are strange things beyond the horizon.
She just needs an excuse, and when a newspaper headline tells her of a group of Ukrainian dwarfs have escaped a touring Soviet circus, she decides to chase them down.
With her is the new boy in her life, Tomas, a boy she has been drawn to and treats her about as well as she treats him.
Sea Monsters doesn't pander to or placate its audience. It speaks honestly about its protagonist's feelings of floating in the void, needing something to anchor her down.
Although it's a feeling not unfamiliar to many of us, it has seldom been captured with this much elegance and clarity in prose before.
Paradais by Fernanda Melchor
Translated by Sophie Hughes
Fernanda Melchor is arguably the best Mexican author writing today, creating some of the finest Mexican novels on the shelves.
Paradais, published in English translation by Fitzcarraldo Editions, was longlisted for the International Booker Prize, and deservedly so.
Two teenage boys meet in the titular Paradais, a luxury housing estate full of wealthy locals. One boy lives there with his rich family, while the other simply works there as a gardener.
Franco, the rich, fat, selfish, cruel boy who lives there, buys his new "friend" Polo alcohol so they can sit and drink and Polo will listen to Franco's sexual fantasies about his neighbour.
Polo, with a free means to get drunk, sits and listens and numbs himself as a means of escaping his horrible lot in life for a while.
Both boys are bad people, born and raised by their circumstances, but we focus more on Polo and sympathise with him more as the underdog of the two.
Polo is poor, powerless, angry, and treated like a dog's body by his boss. But he also has no respect for women and may have impregnated his cousin.
There is a deep complexity to him, a character that you feel sorry for because he was born into circumstances beyond his control, but you also can't condone his attitude and behaviour.
Paradais is a tough but rewarding read; a short book of only a hundred pages, and one that will stay with you for years to come.
Hurricane Season by Fernanda Melchor
Translated by Sophie Hughes
Just like Paradais, Melchor's novel Hurricane Season is another glowing example of the sheer pedigree of modern Mexican novels.
There is so much mischief, corruption, deception, and aggression spilling out from Hurricane Season that the book's bindings can hardly contain it.
Hurricane Season is a courageous story, and Fernanda Melchor is undoubtedly a courageous author for committing it to paper.
It's a book about the myriad evils that stain the human spirit. It's a book that can remove any trust you might have left in your fellow man.
It's a book about people being the worst they can be, and it's a wholly compelling book that, once you develop a taste for it, you will lust after it until the story is over.
Not only are the characters of Hurricane Season deceptive and mischievous, but so is the book itself.
In fact, this is one of Melchor's great achievements: turning the book into a spiteful character in its own right.
Framed initially as a whodunnit of sorts, the book's first and shortest chapter – at just a single page – takes us by the hand to a dead body. The Witch. To find out whodunnit, we have to trace the lives of the various people who, in one way or another, knew The Witch.
Each chapter of Hurricane Season is, in part, a self-contained story. Characters are shared, and we often get to know one character as our protagonist after seeing them in the periphery of an earlier chapter.
Each time they're framed differently, and it becomes clear that this is a deceptive book.
There is, quite simply, no book like Hurricane Season.
What begins as a whodunnit where we find ourselves excited to know about this mysterious Witch – her past, her actions, her power – soon evolves into a multi-threaded narrative about a village of twisted and corrupt individuals who speak to the undeniable evils in every human soul.
Mexican Gothic by Silvia Moreno-Garcia
Silvia Moreno-Garcia is the author of the celebrated Gods of Jade and Shadow, but it was her novel Mexican Gothic that made the biggest splash in the world of Mexican novels when it was published.
With the Books and Bao team having a deep adoration for the gothic genre, it's no surprise that we consider this one of the most unique modern Mexican novels.
Mexican Gothic is a novel heavily inspired by the best books of the genre, especially the works of Daphne du Maurier.
But, as the title confidently states, this is a uniquely Mexican take on the genre, combining the tropes established by British and American authors with Mexican culture and characters.
It goes beyond this, however, with Silvia Moreno-Garcia using her narrative to bring our attention to issues of colonialism and the racism and classism that it directly led to.
On its surface, this is a dark, horror-inspired gothic novel that fills up the genre's bingo card, but beneath it all are deep thematic waves that the reader is forced to swim in.
Signs Preceding the End of the World by Yuri Herrera
Translated by Lisa Dillman
While this is one of the shorter Mexican novels on this list, it's also one of the most powerful and impactful.
It's a novel about borders, about language and translation, about loss and family and distance and time.
Our protagonist, Makina, sets out to cross the border between Mexico and the US, in search of her brother.
It's a simple premise, but one full of deep imagery and themes. The border crossing that she undertakes goes beyond physical borders.
These are borders between individual people; the borders between sexes, races, classes, cultures, and languages.
Signs Preceding the End of the World is a hefty little novel that looks at exoticisation, commodification, voyeurism, and of course colonialism and the concept of "othering".
Few novels have such a sting to them, and leave that sting in you for so long after you read them. Signs Preceding the End of the World is a short masterpiece of Mexican literature.
Umami by Laia Jufresa
Translated by Sophie Hughes
This is a novel which Chloe Aridjis, author of the above Sea Monsters, called, "'A wonderfully surprising novel, powered by wit, exuberance and nostalgia."
This is a story about people and places. At its heart, it is exploring the bonds created by time and space.
Like the stories of Mariana Enriquez, it is a novel with an intimate sense of place — the place being the very heart of Mexico City.
And like the novels of Italian author Elena Ferrante, this is also a novel about relationships — between families, friends, and neighbours — and how those relationships shape us as individuals.
In a courtyard, surrounded by five houses, a twelve-year-old girl who has lost her little sister decides to start a vegetable garden.
From here we learn of the different lives that make up this space. One novel of multiple narratives, all exploring their own memories, losses, and relationships.
Umami is one of the most beautiful and intimate Mexican novels you'll ever read.
Faces in the Crowd by Valeria Luiselli
Translated by Christina MacSweeney
Unbelievably, Faces in the Crowd is a debut novel. For being one of the most touching and raw Mexican novels of recent years, that's an incredible achievement.
Translated with both deftness and a delicate touch by Christina MacSweeney, Valeria Luiselli's debut is a magical work of Mexican literature.
This is a rather enigmatic novel, made up of short vignettes that travel through time and space from city to city, character to character, narrative to narrative.
It's disjointed and appears unfocussed, requiring more than one read to fully appreciate, understand, and empathise with. But it's worth the commitment.
Gilberto Owen was a Mexican poet who lived amongst other, more famous poets in Harlem, New York a hundred years ago.
Though he was more obscure than his contemporaries, Owen has been a source of personal and professional obsession for a modern writer and translator from Mexico City.
So much has been written about the sheer cleverness and complexity of this debut novel; it's one of those modern Mexican novels you owe it to yourself to check out.
On Lighthouses by Jazmina Barrera
Translated by Christina MacSweeney
This one can be considered a wild card amongst Mexican novels, given how it isn't actually one. On Lighthouses is a collection of essays.
But it made this list because, just like the rest of the Mexican literature on this list, On Lighthouses is required reading.
Like many of the best essay collections, this is a blend of personal memory, facts and histories, thoughts and anecdotes, and relevant quotes.
Across six chapters, each one focussed on a particular lighthouse, we learn about these places, the people that occupied them, and what they represent to the author.
Lighthouses are popular places of fascination for many of us, and sometimes it's difficult to communicate that fascination. But here, Jazmina Barrera does it for us.