Korean snacks are some of the most famous snacks in the world. Always with a sense of fun and eye-catching packaging, there's so much to explore. Not to mention, unique flavours that you just won't find in any other country.
I have tried to include some of the most popular and best Korean snacks with some that don't get quite as much love internationally as well as some famous street food snacks, hopefully, you will find something new here.
You should be able to find most of these snacks at your local Korean store or online — if they are the kind of snacks that you can make at home then I will also link to a good recipe.
I have also suggested a favourite Korean snack box — Seoulbox — at the end if you would rather the snacks come to you as a monthly surprise.
If you are lucky enough to be in Korea or travelling to Korea soon then these are all easily accessible, most likely at your local convenience store.
Tip: Some of the harder-to-find and healthy Korean snacks can be bought from the Jeollanamdo: Kitchen of Korea online store who are both US and Europe based. They also have a store on Amazon. Sources directly from Jeollanamdo province in South Korea.
Famous Korean Snacks to Try Now
Here are some of the best Korean snacks that you need to try right now.
1) Dried Sweet Potato (고구마말랭이)
A healthy and filling chewy, sweet treat. Sweet potato (goguma) is a popular snack in Korea that you can pick up ready-roasted at street food markets and stalls, especially in the winter. This Korean snack is a great way to enjoy that sweet potato flavour, conveniently, wherever you go.
Resembling dried mango strips, these potato strips are full of fibre and protein and perfect for a lunchtime snack. They can seem like they're coated in white powder but that's a natural part of the oxidization and has no effect on the taste.
They are also gluten-free and vegan so this is one of my favourite Korean snacks for keeping in my bag just in case I can't find anything suitable to eat. You can also chop them up and combine them with nuts for a kind of trail mix.
The JeollaNamdo brand is my personal favourite as they have the best flexible yet chewy texture and are packed with flavour.
Buy dried sweet potato snacks US/ UK.
2) Pepero (빼빼로)
One of the most popular Korean snacks with a whole day dedicated to them — Pepero Day falls on November 11th and involves simply eating and gifting Pepero — perfect!
If you have tried the Japanese snack Pocky, then you will know what to expect here. Pepero differs from Pocky by being slightly thicker with chunkier, more indulgent toppings. Delicious biscuit sticks dipped in flavoured chocolate and topping like almond or cookies; what more could you need?
Pepero is particularly great for carrying around with you in your bag for a sweet treat whenever or sharing with a friend or loved one. They're one of the most famous Korean snacks (and therefore one of the best Korean snacks) for good reason!
Read More: 12 Best K-Pop Books (For Stans Everywhere)
3) Shiitake Mushroom Chips (표고버섯 스낵)
If you can't get enough of that umami mushroom flavour then these low-fat mushroom crisps are it. They are slightly sweet, salty, and surprisingly addictive plus full of protein so they are much more satisfying than your average chips.
This brand is my personal favourite and made using natural practices i.e. no artificial or chemical fertilizers. Don't mix these up with dried shitake mushroom which is widely used in Korean cuisine for making flavourful broth.
Buy shiitake mushroom crisps US/UK.
Read More: A Culinary Guide to South Korea
4) Choco Pie (초코파이)
A truly famous Korean snack, get ready for the ultimate squishy indulgence treat. This is essentially layered marshmallow and biscuit coated in chocolate — it's similar to the British snack Wagon Wheels but five times as dense, and that's a very good thing.
This Korean snack goes perfectly with a cup of tea or coffee as a mid-afternoon pick-me-up. They are usually sold in a box with lots of individually-wrapped Choco Pies inside. This is easily one of the best Korean snacks, and easy to find online or at your local Asian store.
5) Samgak Kimbap (삼각김밥)
The ultimate hunger-buster, these triangle rice balls wrapped in seaweed are the Korean version of Japanese onigiri and are widely sold in convenience stores in the same way.
Samgak kimbap comes in a wide array of fillings, including the immensely popular tuna mayo flavour, but there are also bulgogi, plain salt, and spicy chicken flavours (among many others).
The wrappers for these snacks are clever, though difficult to master at first, as there is a way to pull the plastic off, which is layered underneath the seaweed wrapper to keep it crisp, without disturbing the rice ball at all. The first time you get it right is so satisfying.
Your local Asian store may have these in the fresh area but they are also easy to make at home so there's no need to miss out. You can also make or buy roll versions, called kimbap, which are typically packed with ingredients.
6) Honey Butter Chips, Shrimp Crackers, Onion Rings, and Beyond
Coming from the UK, a country known for its wide range of chips/crisps, South Korea genuinely rivals the crisp-loving nation with their array of weird and wonderful flavours.
Interestingly, Korean chips tend to err on the sweet or spicy side so you can try some truly unique offerings here. This is a controversial choice from a Western perspective, but I think Honey Butter chips is one of the best Korean snacks out there.
Perhaps most famous amongst Korean snacks are the honey butter chips which are melt in your mouth sweet crisps which you either love or hate, I'm firmly in the love camp.
If you love fish flavours, then you will be very happy with shrimp crackers or the huge selection of other seafood crisps. If you prefer a more traditional flavour then onion rings are a savoury and addictive corn snack with a subtle onion flavour.
7) Korean Instant Ramen: Shin Ramyun, Soon Veggie Cup, Samyung, and More! (라면)
Whether you're eating ramen as a meal or as a snack, there's no doubt that it hits the spot and the insane amount of Korean instant ramen flavours is truly worth exploring.
For its range of flavours, its versatility, and for how much it fills you up, this is one of the best Korean snacks you can enjoy.
The flavours in South Korea tend to go big or go home compared to their ramen-loving neighbours in Japan, meaning if you love spicy ramen, then you will meet your limits here from the iconic spicy Shin Ramyun to the fiery Samyang Hot Chicken.
Even the pink creamy favourite Samyang Carbonara Hot Chicken has a sachet of spicy sauce included that can take it to truly devastating levels of spicy.
If you would rather skip the heat then the Soon Veggie ramen is ideal and very customizable if you'd like to add your own toppings due to the mild vegetable flavour.
Another option is the Ottogi Jin Ramen which is mildly spicy with a satisfying mushroom, meaty flavour.
Buy Korean instant ramen online.
8) Lotte Ghana Milk Chocolate (가나 밀크 초콜릿)
Popular across Japan and Korea, this creamy chocolate has four varieties which come in red, black, white, and beige wrappers. Class-wise, these are some of the best Korean snacks.
The name is a homage to the country Ghana which is one of the world's largest exporters of cocoa beans. If you need your chocolate fix then this is it. This chocolate is also very popular in Japan.
Buy Ghana milk chocolate US/ UK.
9) Fried Seaweed Crisps and Sheets (김스낵)
Seaweed snacks can be a bit controversial from a western perspective, you either love them or hate them. As someone who can be a bit iffy with seaweed depending on how strong it is, I've always loved seaweed snacks so it's definitely worth a try!
There are typically two types of seaweed snack: the flat sheets of seaweed which come in a number of flavours such as spicy kimchi, salty soy, or nutty sesame and the chip style which also come in a variety of flavours and will be smaller and crunchier.
As snacks go, this is a very healthy source of iron and antioxidants so a good one if you have those salty cravings.
Buy Korean seaweed snacks US/ UK.
Read More: An Introduction to Korean Vegan Temple Food
10) Korean Jelly Candy (젤리)
There are so many fun and fresh styles and favours of jelly sweets in South Korea that it's impossible to keep with all of the new options.
If you love your sweet chewy then there's plenty to enjoy, some must-try classics include the Lotte Jellylicious Watermelon Gummies, the creamy Lotte Yoghurt Jellies, Petitzel Lemon Gummy Jelly, the marshmallow-like Lotte Soft Malang Cow Chewy Candy, and the Orion My Gummy Jelly Peach.
11) Korean Hard Candy (사탕)
Korea has some truly unique flavours of hard candy, so if you enjoy hard-boiled sweets then don't miss out on some of the truly infamous offerings such as the Lenith grape and plum candies which can be bought in huge bags and last forever.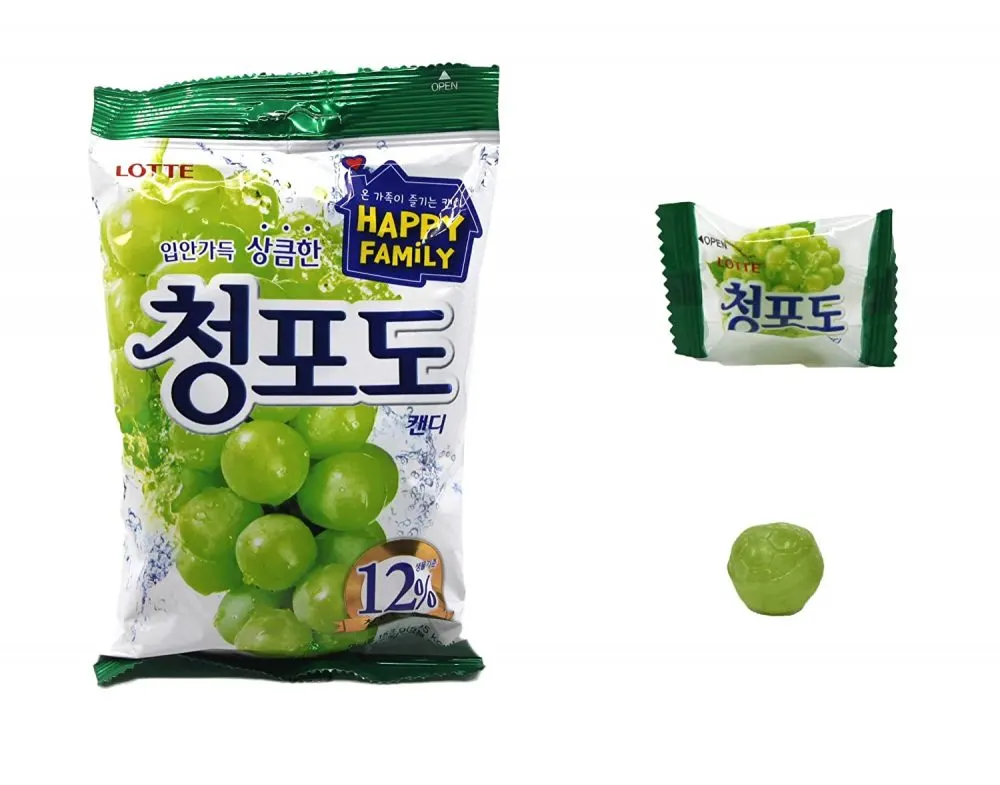 For those that prefer a minty flavour then Lotte Anytime Crown Mint Candy are ideal and if you prefer lemon and herbal flavours then you will find a wide selection including ginseng flavour, lemon and mint, and straight-up citrus which are all perfect if you're feeling a little under the weather.
12) Egg Bread (계란빵)
A cheap and popular Korean street food snack, typically sold around universities for hungry students. It's sweet and fluffy and extremely satisfying with a waffle flavour and an egg inside.
When looking at street food, instead of convenience store packaged food, egg break is one of the best Korean snacks you can ever enjoy.
While it may be difficult to find this snack outside Korea, it's very easy and quick to make at home and uses typical storecupboard ingredients. Here's a great gyeran-ppang recipe.
13) Hotteok (호떡)
Another delicious warm, and incredibly popular Korean street food snack. These sticky filled pancakes are particularly enjoyed in the winter and are typically filled with gooey brown sugar syrup and can also contain honey, chopped peanuts, and cinnamon.
They are made on a griddle similarly to pancakes meaning that they are easy to recreate at home (here's a great hotteok recipe) but can also be found frozen at Asian stores, in a ready-made mix, or freshly made at Asian bakeries.
14) Yakgwa: Korean Honey Cookies (약과)
A beloved traditional Korean snack, these fried chewy cookies with a subtle ginger flavour are dipped in honey and are extremely moreish.
They are typically served on special occasions, alongside traditional teas which can be bitter or simply served as a dessert. They come in a number of shapes like flowers, diamonds, and squares.
You can find yakgwa boxed ready-made but it's also possible to make them yourself, here's a great Yakgwa recipe.
Buy yakgwa online US
15) Dalgona: Korean Sponge Candy (달고나)
A retro snack that recently captured international attention thanks to the Kdrama Squidgame, this Korean dessert (also known as ppopgi) is easy to make at home and holds nostalgia for many Koreans.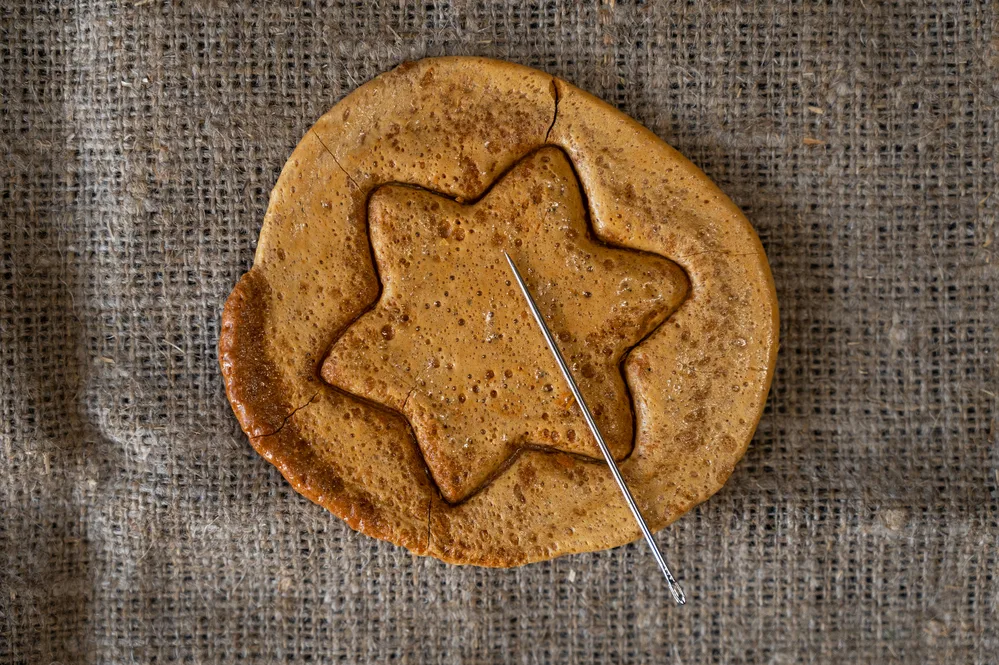 You will very likely see street vendors selling dalgona in Korea, this cheap and fun snack originated in Busan in the 1960s and was popular throughout the seventies and eighties.
16) Korean Fish Shaped Pastry (붕어빵)
Similar to Japanese taiyaki, introduced to Korea around the 1930s during the Japanese occupation, a Japanese adaptation of Western waffles that were introduced to Japan in the 18th century.
A fun way to differentiate the two pastries is that Japanese taiyaki are shaped like a sea-bream whereas the Korean bungeo-ppang is shaped like a carp.
This famous snack is known for its fish-shaped soft and spongy cake shell which holds one of a number of fillings inside.
Traditionally, it is filled with sweet red bean paste but you will also find custard, chocolate, and even savoury pizza fillings. You will notice that they are most commonly sold in the winter because they are a truly warming street food snack.
These are best tried fresh but you can also find packaged commercial versions (like the Samaco version from Binggrae) which are filled with red bean paste and vanilla cream, strawberry and cream, and even chocolate and cream.
If you'd like to have a go making them at home, you can buy a fish-shaped pancake pan online, here's a great bungeo-ppang recipe.
17) Maxbon Cheese Sausage
This iconic yellow sausage snack, that pops up so often KDramas, is great if you prefer your snacks savoury or need something to keep you going on the go.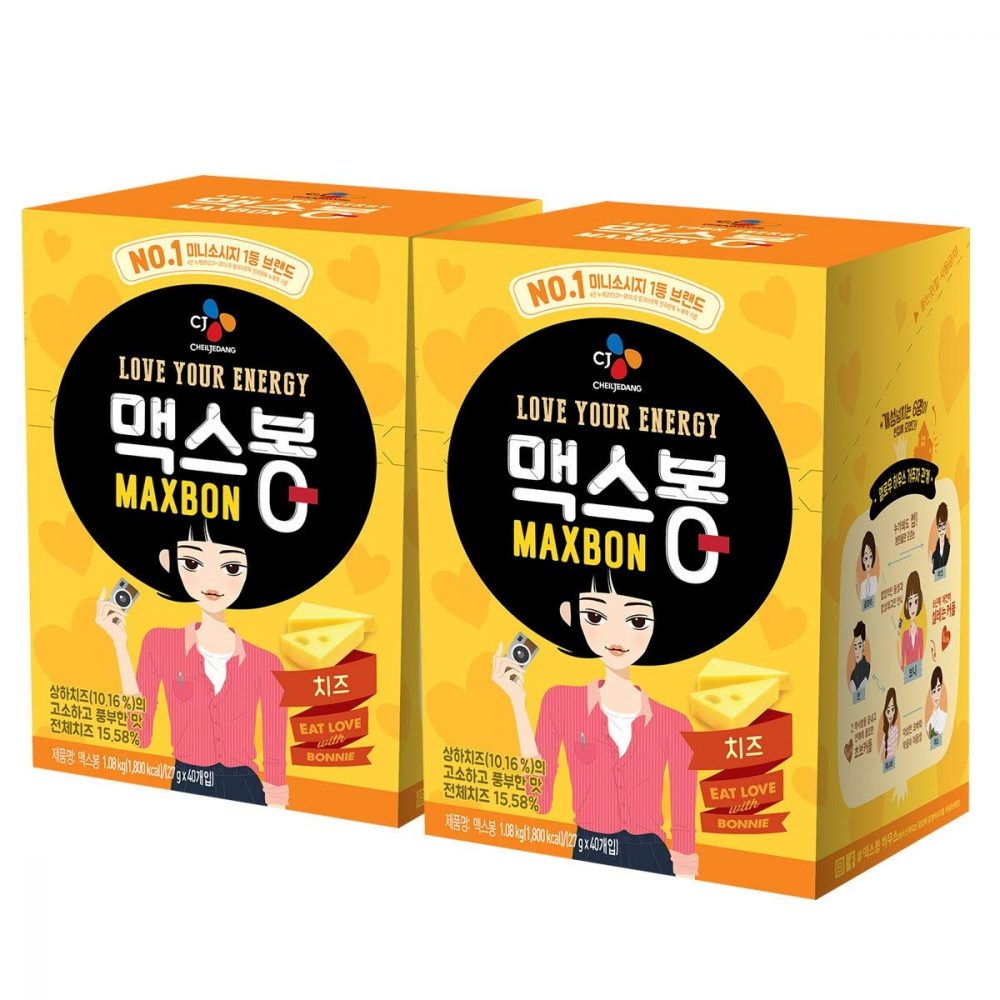 It's a spongy texture with a creamy egg flavoured centre, it's slightly cheesy, and quite sweet. It's a very much, you either love them or hate them situation and I fall into the latter but it's still a popular Korean snack so very much worth a try. Note that they aren't vegetarian.
Buy Maxbon cheese sausage online.
18) Gilim Tom's Farm Seasoned Almonds
This was one of my favourite Korean snacks while working in Korea, I'd always have a pack in my bag to keep me going through the day.
These flavoured almonds come in a few flavours, the iconic sweet honey butter flavour, spicy wasabi, hot chicken flavour, and the extra sweet and salty almond & pretzel flavour to name a few. They come in smaller packets and larger tins and be found online, at your local Asian store, and in convenience stores in Korea.
Best Korean Snackbox — Seoulbox
If you fancy being surprised by authentic Korean snacks once a month then a subscription to SeoulBox could be exactly what you are looking for.
You will receive a box of curated Korean snacks and other Korean treats. They also have other themed boxes including great options for Kpop and Kdrama fans.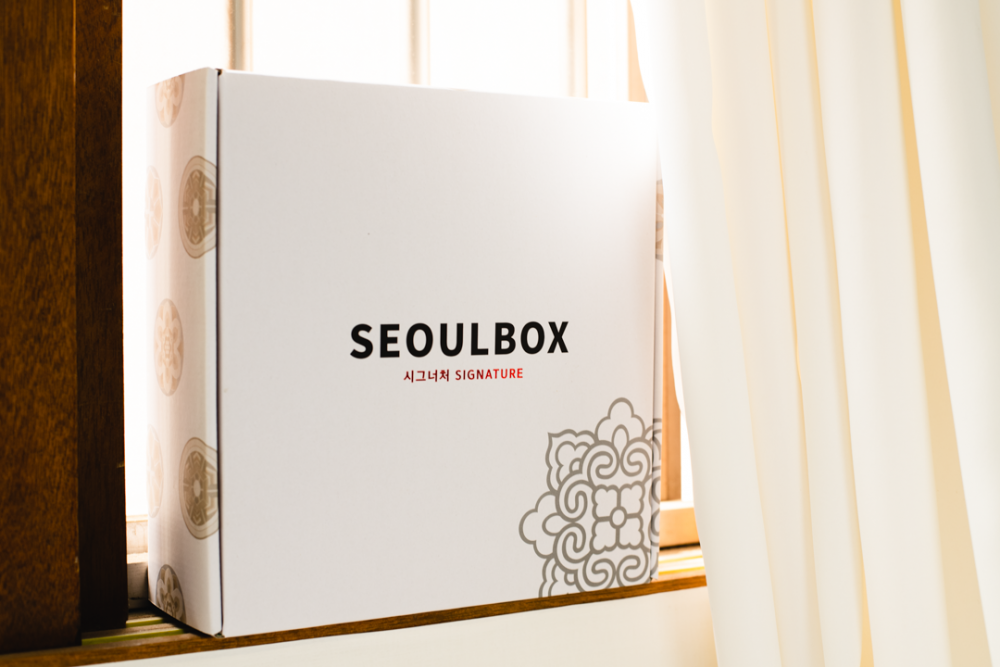 If you enjoyed this best Korean snacks article, then you may also be interested in our favourite Japanese and British snacks.