French literature is widely regarded as some of the best ever written. Classic French authors like Proust, Camus, Victor Hugo, and Simone de Beauvoir represent the height of literature, politics, and philosophy.
Classic French books are almost inexhaustible. Jules Verne, Voltaire, Colette, Sartre, Antoine de Saint-Exupéry. There is almost no end to the list of great authors when looking at classic French literature.
But what about modern French books? Often overlooked, the French authors of today are experimental, daring, fierce, and feminist. They write surrealism, fantasy, and nonfiction like no other writer might dare to do.
Essential Modern French Books
Here are some of the finest French books in translation from the past few decades, right up to today. Some are literary fiction, others are genre fiction.
Some are memoir, others essays. There is a fine selection of French books in translation here for you to enjoy.
Translated by Anna Moschovakis
Winner of the International Booker Prize 2021, At Night All Blood is Black is a heartrending novella by Senegalese-French author David Diop.
At Night All Blood is Black tells the story of Alfa, a Senegalese man in the French trenches of the Great War. When the novella opens, Alfa is cradling the dying body of his friend Mademba, whose body has been torn open.
From here, At Night All Blood is Black uses the backdrop of trench warfare to explore the relevant themes of racism, humanity, and masculinity.
It's a story of binaries: the in-group and out-group; us vs. them; Black and white; hero and coward.
At Night All Blood is Black is not an easy read. It's a visceral story that takes its toll on the reader. It explores the toxic side of male camaraderie and how racism continues to live and thrive even while staring death in the face.
While you do need a steeled mind and a strong stomach to read it, At Night All Blood is Black is undeniably one of the greatest modern French books in translation.
Translated by Holly James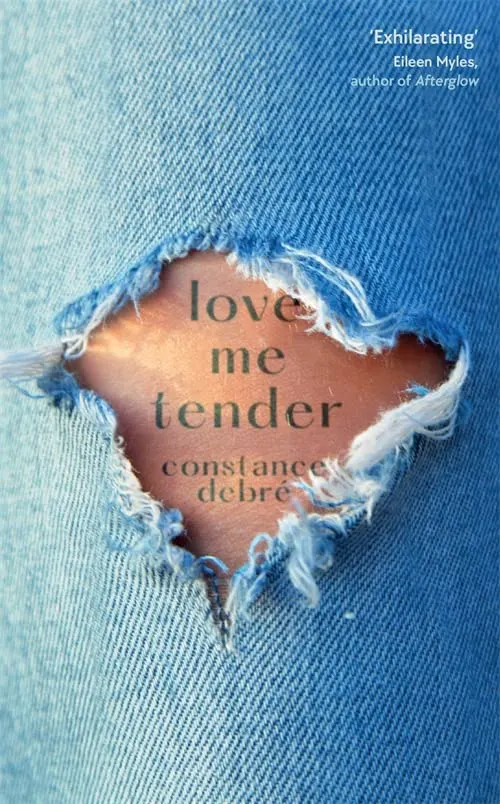 Love Me Tender is a short but emotionally powerful modern French novel inspired by the author's own lived experiences.
Constance is forty-seven, and three years ago — after twenty years of marriage and raising a child — she realised she was gay, and so she left her husband to go live her truth.
She lives in a studio flat in Paris, and she spends her days getting tattoos, going swimming, reading in cafes, sleeping with women, and trying to write a book.
But her bitter and homophobic former husband is making her life difficult by weaponising their eight-year-old son against her, and maintaining full custody of the child.
This is a sapphic French novel about individualism versus family; about what we owe ourselves and each other, about hedonism and truth and personal justice.
Constance can be viewed as a tragic hero, trying to understand herself in her middle age, fighting back against a homophobic husband and system, and trying to re-win the love of her own child.
She can also be viewed as an inspiration, living her life how she sees fit and enjoying it as best she can.
But some readers might also see her as selfish, putting herself before her son and ruining a functioning family unit in order to abandon them and live her own independent life.
Love Me Tender is a punk French novel that packs a punch and leaves a mark.
Translated by Laura Francis
Jeanne collects and mentally catalogues the images of men's penises. She gives no rhyme or reason for her habit. Or is it a hobby? A job? An obsession? Even that much is unclear. It is merely a collection.
For 160 pages of The Collection we the readers follow Jeanne's routine, all of which is centred around sex, sexual organs, and the sexualising of everything around her. But why? To what end?
As you begin your journey with The Collection (one of the most powerful modern French books), you'll be struck by the vivid yet surreal strangeness of it all.
So much of the book's opening pages are dedicated to the sensational details of male genitals: sight, smell, taste, texture.
We are involved intimately with the fascination which Jeanne has with the penis, and her obsession with creating what she calls a 'palace' in her mind of phallic images.
As the story builds, we begin to see Jeanne as more than just a person with a fetish or a desire. Jeanne represents much more than that.
She represents the source of all of our guilt and shame; she can be found in those moments where we are too afraid to admit our kinks to our partners.
The book taunts and teases us, and it's at this point that its powerful feminist theme is placed boldly on display: there must be something wrong with Jeanne, mustn't there?
She must be the butt of a joke, the victim of abuse or trauma, a woman with a vendetta. She can't just be her, can she?
The Collection is as much a protest as it is a story. As a protest, it shines a light on the weak and tired tropes of heroines in literature.
It demands an apology from the writers who have normalised hysteria in women, wounded and victimised women, strange and slutty women, and women who must be ashamed and apologetic for their lives and their choices.
Translated by Frank Wynne
Set in 1885 Paris, The Mad Women's Ball is one of the most hypes French books of recent years. It is a short piece of feminist historical fiction inspired by the treatment of women by the European patriarchy for centuries.
Our first protagonist is a nurse named Geneviève who works at the Salpêtrière asylum in Paris. Geneviève is a devout believer in the science practised by Dr Charcot, who runs the asylum and is progressing psychology and psychotherapy with the hopes of healing the troubled minds of the women who enter his asylum.
Our second protagonist is Eugénie, the young daughter of a bourgeoise and conservative Parisian man. Eugénie is a bold, brash feminist who has no interest in marriage and traditional gender roles.
She wants to live her own life by her own rules. Her father does not like this; nor does he like the fact that she can see and hear ghosts.
Eugénie is taken to the Salpêtrière asylum by her father and brother after she convinces her grandmother that she can see the ghost of her grandfather. She proves it, too, but her father cares not whether it is true or false. Either way, she belongs in an asylum.
The Mad Women's Ball follows a few weeks of difficult life for both Geneviève and Eugénie, leading gradually to the titular Mad Women's Ball, in which the patients of the Salpêtrière asylum will dance and perform for the delight of Paris' foul gentry.
Translated by Hildegarde Serle
Set on a floating island (arc) named Anima, A Winter's Promise (the first in the Mirror Visitor series) is a French fantasy novel which follows the journey of a young woman named Ophelia.
Ophelia, like everyone on Anima, has a power related to objects in the world. Her power allows her to "read" the history of an object, and so she curates a museum owned by her grandfather.
However, Ophelia's hand has been promised to Thorn, a superintendent and a bastard from another arc; Thorn and his Dragon clan have powers far more physical and dangerous than those of the people on Anima.
Thorn and Ophelia are bound by the want of a man who seeks to understand a powerful book, for which he requires Ophelia's power.
Amongst modern French books, A Winter's Promise stands out as an exciting work of fantasy fiction with wonderful world-building, clever politics and plotting, and deep lore.
The politics of Versailles meets Pride and Prejudice in an enemies-to-lovers tale. Layered storytelling and an aesthetic reminiscent of Studio Ghibli, A Winter's Promise is a delicious French novel.
The Readers' Room by Antoine Laurain
Translated by Jane Aitken
The Readers' Room is a delightful French murder mystery novel in the vein of Agatha Christie. No gritty police drama here; rather, a bright yet twisted mystery that grows and tangles as it goes.
If you've read Agatha Christie or seen her adaptations, you'll be familiar with that tone of hers: the tone that warms you in the sun or by the fireside. Laurain, however, still manages to set himself apart from Christie here with one of the most unique modern French books on this list.
The Readers' Room is set in a Paris publishing house. The head of the publishing house has been sent a manuscript which she is bowled over by. It's fresh, daring, and exciting, and she has big plans for it.
Meanwhile, the novel also remarks on the mechanics of publishing houses in a very intimate and satisfying way.
The novel is published, but the identity of the author remains a mystery. When it is nominated for a prize, the prize can only be given if the identity of the author is revealed.
They have been conversing via email, and eventually the author of the manuscript reveals that there are eerie connections between the events of their novel and real-world deaths that begin to occur.
Because she said yes to publishing this mysterious, prophetic manuscript, our publishing director is now caught up in the investigation of real-world murders tied to the contents of this strange new book.
The cozy, warming note of this (and many other murder-mystery novels) is so at odds with its content, and that's the paradox of murder mysteries!
Translated by Faith Evans
Madeleine Bourdouxhe is at last getting the attention she deserves. Where better to start appreciating her than with A Nail, A Rose, a collection of surreal feminist stories of post-World War II women in Western Europe.
There are women who survive, fight, fantasise, compromise, and empathise with the dark, twisted, comical, and frightening world around them.
Madeleine Bourdouxhe was born in Belgium in 1906 and lived through both World Wars, during which time she was already a published novelist.
Her most famous novel, Marie, was actually published in 1943, as the Second World War was still being waged across Europe.
A Nail, A Rose is one of the great feminist French books; a collection of musings on the lives, thoughts, and experiences of women of every kind in post-World War II Europe.
Many of them have a surrealist bent to them, blending bleak and visceral gore, obsessions with the flesh and bone of human bodies, with the ordinary and the mundane truths of our everyday lives.
Each of the stories in this wondrous collection is concerned – in some way or form – with putting a spotlight on the abusive, suppressive, pathetic, and radical behaviour of the patriarchy.
This is all done with absolute success through inventive, succinct, perfectly-paced, eerily surreal, and painfully vivid storytelling talent.
Translated by Euan Cameron
It purportedly took legendary French author Didier Decoin fourteen years to complete this most wonderful of French novels.
That info paints an image in my mind of a man locked away in a lakeside cabin in Switzerland, stacks of books on Japanese history and culture surrounding him. He pores over them for years.
He takes the odd trip to Kyoto and Niigata for his research before returning to the cabin. He does this for more than a decade before emerging with a 300-page book that gently glows golden, and he smiles, his eyes glistening.
I doubt that much of what I've guessed here is true, but the way this story reads – the delicacy of its language, the focus of its plot and its characterisation – it could all very well be true. This is one of those French books which words like 'masterwork' were made for.
Set during the Heian Period of 12th Century Japan, at a time when Kyoto – the former capital – was known as Heian Kyo, Miyuki is a fisherman's wife. Her husband, Katsuro, is twice her age and the greatest carp-catcher in their hometown of Shimae.
After catching a batch of fine koi, he drowns. Beyond being their town's fisherman, Katsuro was also given the job of carrying twenty koi to the capital, where they would be used by the emperor as sacred decoration in the Imperial Palace's ponds.
Now that Katsuro is dead, his grief-stricken widow, Miyuki, must take up the task and make the month-long journey to the capital.
And if you want to know what a modern take on a Japanese folk tale, mixed with European fairy tales and a dash of Shakespeare could possibly look like, this book is, indeed, that.
In short, there is nothing this perfect book cannot do or be. I will hold it close to my heart for years to come.
Translated by Tanya Leslie
Ernaux begins Happening — a narratively-presented autobiographical account of her seeking out an illegal abortion during her university years in the early '60s — with a visit to the hospital for an HIV test.
Whilst there, she is reminded of the struggle she went through in 1963 to get an abortion in Paris when, at the time, abortions were classified as illegal, immoral, and scandalous.
This short framing device of a quick glance into the HIV test of the future helps to immediately encourage the reader to remember context – how our world views are malleable and shift with time and with law.
Last generation's abortion scandal is this generation's AIDS scare.
The narrative of this, one of the most striking French books, follows only a few short months of Ernaux's life as a twenty-year-old student who has found herself pregnant and with no wish to keep the child.
Thus, we have 77 pages of a tragic adventure, as she attempts to rid herself of the foetus – at one point manually – and in the end through an illegal abortionist.
In order to successfully broaden and maintain our perspectives on gender, class, and the impact of change, we must read more French books (and nonfiction books in general) like this one.
Translated by Ruth Diver
Not only is The Revolt a successful medieval historical epic; it is a gargantuan triumph of one. And the book's humble length is certainly one of the ingredients for its success.
Some of the others include: richly vivid and poetic language that echoes the writing of Oscar Wilde, playful manipulation of history to tell an engaging fictional narrative, a quietly sustained pace, and an electrifying feminist tale told from a surprising and satisfying perspective.
The Revolt retells the story of the 12th Century queen of France and England, Eleanor of Aquitaine. It covers the majority of her life, and injects the narrative with themes and an atmosphere reminiscent of Wolf Hall and Shakespeare's Macbeth.
But what makes The Revolt so smart in its telling is the novel's narrative perspective. The Revolt is told to us by Richard Lionheart, son of Eleanor.
This choice of perspective – making Eleanor's son the book's narrator and second protagonist – is evocative of John Watson telling the stories of Sherlock Holmes.
This short medieval epic begins with Richard painting a vivid picture of his mother: her savvy, her venom, her opportunistic mind. He places us in the stalls and builds a stage around his mother.
The Revolt is one of those perfect French novels, and one of my favourite French books, full stop. It succeeds at everything that makes a novel great.
Translated by Alison Anderson
A Single Rose begins with a Chinese myth about a prince and a field of flowers. Each chapter begins in the same way: with an East Asian tale about flora, poetry, and beauty. The main story concerns the titular Rose; a French woman in Kyoto.
Rose is forty, and she's in Kyoto for the reading of her father's will. He was a man she never knew, a wealthy art dealer who lived amongst Kyoto's eccentric painters and potters.
His assistant — a Belgian man named Paul — takes Rose on a tour of Kyoto.
A Single Rose is very much a love letter to Kyoto, to Japanese art, poetry, history, and aesthetics. It spends time painting a vivid image of the city, its natural elements, and the green hills beyond.
Rose is angry, conflicted, and confused. She is told that her father observed her from afar, yet never reached out to her.
Paul insists that Rose's father loved her, but how can she believe that, and what difference does it make?
A Single Rose is a short novel, primarily concerned with beauty, inside and outside. Muriel Barbery depicts the world and characters of this — one of the sweetest French books — with care and concern.
Translated by Jordan Stump
Self Portrait in Green is, reportedly, what happened when Marie NDiaye was asked to write a memoir. It is, in a word, anti-memoir. Set across the years of 2000 – 2003, indiscriminately jumping back and forth, this is one of the most dreamlike and experimental French books.
While it is supposed to be a personal memoir, Self Portrait in Green reads far more like a piece of surrealist French fiction.
It begins with the French river of La Garonne, which passes through a small town in which NDiaye lives.
The river is rising and about to burst its banks, threatening to flood the town. The way that NDiaye depicts it, it feels as though this flooding is fated; that the river was destined to do this. Her painting of the event is mystical.
This approach to fate and destiny carries us, the reader, all the way through the book. NDiaye is constantly comparing herself to everyone else around her, even La Garonne.
Early in the book, Marie is driving with her children and she sees a woman in the garden of a local cottage; the woman is dressed all in green and staring back at her.
When Marie asks her children what they see, they do not see the woman in green.
This eerie surrealism continues to build throughout the book. It is surreal but it speaks to you. It encourages interpretation and emotional connection.
We get to know the women in Marie's life; all the while we are haunted by the colour green. Whenever Marie meets a woman who is in green, that woman represents something that Marie dislikes about herself and her own life.
It is a deeply personal exploration of vulnerability, personal failings and fears, and how our sense of self impacts our relationships with the people in our lives.
Translated by Charlotte Mandell
Paul B. Preciado is a gargantuan figure in so many ways. A Spanish, French, and English-speaking transgender — and rather nomadic — philosopher, essayist, and writer with an enormous scope of expertise in the realms of sexual politics and identity.
An Apartment on Uranus is a collection of chronological essays which begin in March 2013 in Paris, one of Paul's three great geographical loves, and ends in January 2018 in Arles (captured by Van Gogh's alluring painting Café Terrace at Night).
Blending personal observations — both inward and outward — with musings on borders, laws, pornography, sex, patriarchy, capitalism, Marxism, and issues surrounding trans rights and the lives of trans people, An Apartment on Uranus is enormous in terms of the ground that it covers and the concepts which it discusses.
And thanks to the intricately beautiful translation work by Charlotte Mandell, this French book is entirely and poetically captivating at every turn.
From exploring in heart-breaking detail his relationship with his dog in the early essays, to buying dildos with Annie Sprinkle in San Francisco, there is as much joy and laughter to be found in this collection as there is anger and a sense of awakening.
We travel with Paul from Paris to Athens to Kiev to New York, London, San Francisco, Barcelona in one of the boldest French books in translation you'll ever read.
All the while Paul's body is changing, and his experiences shape the topics he discusses with us next. In that sense there is a clear and captivating narrative unfolding from beginning to end.
Translated by Alison Anderson
Exposed is a French novel which leans into French stereotyping in a fun and delightful way.
We have provincial towns and dreams of Paris lights; a painter struggling to reconcile his past obsessions with his present wants and needs; a newly old man careening obliviously towards, well, exposure – and, beyond that, maybe a second beginning.
Louis Claret is a disenfranchised English teacher in a small French town. He has gone through a divorce but attempts to maintain a close relationship with his two daughters as well as, at times, his ex-wife.
Alexandre Laudin was once a pupil of Claret's, one of many who came and went as pupils do. Now, years later, he's an almost-famous painter, and after reconnecting with his former teacher at one of his art openings, he asks Claret his permission to paint him.
From here, the short novel stitches together a wonderful relationship between the two men.
There are stoically hidden emotions being forced down by both at times, but never enough to stall the growing connection between them as they become more intimate and more dependent on one another.
Exposed is a French book that excels at the more honest side of things. Love and intimacy, romance and sexuality – they're all portrayed with a real deft hand by Blondel.
An Attempt at Exhausting a Place in Paris by Georges Perec
Translated by Marc Lowenthal
An Attempt at Exhausting a Place in Paris (which is a fabulous title) begins with Georges Perec remarking on how Paris' Place Saint-Sulpice has had its various buildings and features described and recorded in some way by other people before him.
What Perec is doing here is spending a single long weekend describing what happens within this place, not merely what statically exists in its elements.
He records movements and happenings and conversations, as a way to paint a vivid picture of life.
The first chapter of Day 1 is used to describe the elements of the place as he sees it: signs, buildings, vehicles, even colours. The second chapter records movement and direction: what goes where and how.
By the third chapter, the first person enters the picture, as Perec records his own movements and position, followed by what he observes and overhears.
It is like watching a painting go from canvas to sketch to colour, and it is so satisfying.
The great purpose of this French book is up to you to decide, but the mere voyeuristic satisfaction that comes with enjoying An Attempt at Exhausting a Place in Paris is reason enough to read and enjoy such a strange and unique French book.