Home to everything that traditional Kyoto has to offer, photogenic districts like Higashiyama and Gion plunge you into a world of Shinto shrines, rickshaws, cobblestone streets, and Buddhist temples.
Far from sleepy, however, you can also enjoy boutique shopping, sake bars, cafes, and tea shops without ever leaving this dynamic neighbourhood.
Discover historical Kyoto with this Higasyiyama and Gion Neighborhood Guide
Wander the district at sunset to see geiko (geishas) heading to their evening work, and during the day is the magnificent Maruyama Park, best strolled through on a sunny day and especially during the spring hanami season.
Kyoto is known for being one of the great historic cities of East Asia, and Higashiyama and Gion are a big part of the reason why. When you think temples, parks, cherry blossoms (sakura), geisha, rikshaws, ryokans, you're thinking of Higashiyama and Gion. That's the legacy of this marvellous and tranquil district of Kyoto.
Breakfast in Higashiyama: Tamagoyaki
Starting the day off with a solid breakfast is very much part of Japanese culture. In fact, the traditional Japanese word for breakfast — asagohan — literally means 'morning rice bowl'.
One of the best places to try a hearty local breakfast consisting of tamagoyaki (omelet – literally 'cooked egg'), fresh, warm rice, grilled salmon, pickles, and miso soup is at Roji Usagi.
The views of their garden are picturesque making this a tranquil and healthy start to your day. Everything on the menu is hearty and warming.
Not only is it guaranteed to fill you up for a day of exploring, but it's also a perfect encapsulation of all that is good in a traditional Japanese breakfast: eggs, fish, rice, and miso soup, all present and all cooked to perfection. You can't get a better start to the day.
Read More: Japanese Language Essentials and Travel Phrases
Morning in Higashiyama: Sannenzaka & Ninenzaka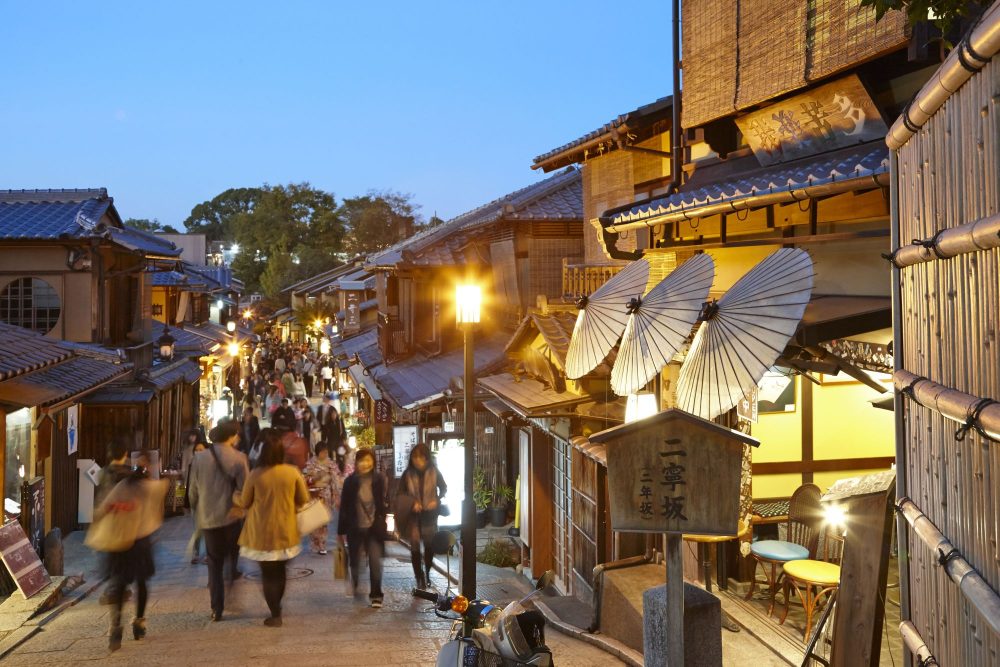 Take a fifteen-minute walk from Roji Usagi and you'll come to the historic lanes Sannenzaka and Ninenzaka, two of the most well-preserved streets in the city. These two lanes are what Kyoto is all about, and they're one of the most atmospheric and traditionally picturesque parts of Higashiyama.
Here, you can pick up Japanese local delicacies, arts crafts like furoshiki cloths, and other souvenirs. Or simply wander and admire the gorgeous traditional Japanese architecture.
The streets have several cafes to pick from if you need a caffeine hit mid-morning, including the sleek Arabica Kyoto — a real local favourite and known to serve some of the best coffee in the city.
If you're hoping to try on some traditional clothing, there are also several kimono rental shops in this area and the backdrop is perfect.
As in, you can't really get more perfect. Wearing a kimono and strolling the lanes of Sannenzaka and Ninenzaka will transport you back to Edo Japan better than anything else ever could (rent a kimono for the day here).
Lunch in Higashiyama: Oshizushi
One of the specialties in Kyoto is Oshizushi or 'pressed sushi', Izuju is a local favourite, famous for their high-quality mackerel oshizushi. It's a perfect size for lunch and really provides a perfect sampling of the local cuisine.
Almost every town in Japan has its own cuisine — something that was born there (Osaka, for example, has both okonomiyaki and kushikatsu). Well, Kyoto has oshizushi, its own unique style of preparing sushi. And the mackerel is the most flavourful of the lot.
If you don't fancy sitting indoors, you can get their sushi to go and eat it in Maruyama Park and admire Yasaka Shrine. Picnics in the park are a beloved part of Japanese culture so you won't be alone. If it's cherry blossom season, don't miss the famous shidarezakura weeping cherry tree in the park.
Read More: Explore outside the main city and find Kyoto's Hidden Spots.
Afternoon in Higashiyama: Maruyama Park
Continue through Maruyama Park until you reach Chion-in, a stunning Buddhist temple complex built in 1618. Depending on the day you visit, you can encounter various services occurring at the temple which you can quietly witness and learn a thing or two about the importance of Buddhist traditions in Kyoto.
Towards the end of the park is the grand Shōren-in Monzeki Temple, a serene space with bamboo groves to wander and historic shrines to visit. Finally, stroll out of the park to the nearby Tatsumi Bridge, one of the most scenic bridges in the city, to take pictures and enjoy the view before dinner.
Top Tip: Take a night walking tour in Gion to see the geisha, learn about kimono, geisha hairstyles and more
If you have extra time, you'll find Kahitsukan, Kyoto Modern Art Museum on the way which is an ideal way to see some of the photography and art of modern Kyoto to juxtapose the historical atmosphere. Not everything in Kyoto is historic, after all.
The artists — both young and old — who live there today are producing some incredible contemporary artwork which you can see on display at Kahitsukan.
Exploring the museum is a great way to really digest the ways in which Kyoto has maintained its ties to tradition and historic architecture, while still being able to move on into the realms of modern art. Japan really does blend its old and its new so beautifully.
Dinner in Higashiyama: Wagyu Steak
A day in Kyoto isn't complete without some wagyu beef, and Premium Wagyu Steak Hanasato is an ideal choice. This restaurant offers Teppanyaki style (pan-fried) meals in relaxed surroundings where you can really unwind and tuck into your meal after a long day.
Watch the chefs in action as they work like artists while enjoying premium cuts of grilled steak and seasonal local ingredients from Kyoto. There's also a great wine and sake list to choose from, which all goes very well with wagyu steak.
Read More: Books to Read Before You Visit Japan
'After Hours' in Higashiyama
There are two options for spending the evening in Higashiyama: either catch a show at Minami-za, Japan's oldest kabuki theatre, where you can witness a colourful performance made popular during the Edo period.
Or you can head to one of Kyoto's fantastic bars. If it's the latter then how about choosing from a list of 500 whiskeys (both Japanese and international) a sake, or a custom cocktail at Gion Samboa, a classic Japanese bar that originally opened in 1918.
Read More: 24 Hours in Daimyo, Fukuoka
Where to Stay in Higashiyama
Gion Hatanaka Ryokan: This friendly ryokan with spacious rooms and ensuite bathtubs is perfect if you want to be in the centre of the historic district and experience some of the best of traditional Japanese culture.
They offer large dinners combined with geisha performances which is an enchanting way to spend the evening in Higashiyama.
Bonus: If you love geisha and want to treat yourself then we highly recommend this Maiko makeover photoshoot